"An invaluable guide to using Google Calendar in Schools"
This step-by-step quick guide takes you through the setting up and configuring of Google Calendar, to take advantage of the many great features this free calendaring application has to offer.
The use of Google Calendar as a tool within schools has the ability to totally transform the way Administrators, Teachers, Students and Parents, co-ordinate and plan term dates, lessons, work, events, resources and even exams.
This book introduces you to the many benefits of Google Calendar and why every school should be using it on a day to day basis. It starts by showing how you can sign up with Google to create and customise your first calendar as well as to create secondary calendars for different purposes including sharing with others.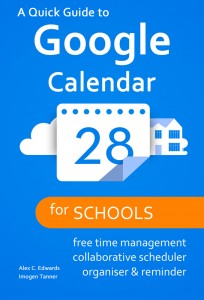 Among the things that this book covers are:
the many benefits of using Google Calendar in schools
how to set up a Google account
creating a new calendar
adding secondary calendars
customising and sharing your calendar
making your calendar public
controlling how you share your calendar
managing the events in your calendar
subscribing to publicly shared calendars
creating multiple events quickly with CSV
publishing your calendar on your school's website or VLE
making your calendar available on Outlook, iCal and mobile devices
We also explore the different options for sharing of your calendar including allowing other users access to the calendar and be able to edit and share it on. This is particularly useful when a group of people need to work collaboratively such as members of a club or association, the PTA, the schools management team and the student council.
The book also delves into how users can import ready-made public calendars such as UK holidays, Sports fixtures and more available from Google. With devices such as smartphones and tablets becoming increasingly common in schools, the use of Google Calendar is ideal as most devices such as iPhones, iPad, iPod Touch and Android smartphones and tablets support Google Calendar.
"This book is a must-have for anyone considering Google Apps for Education"