You would have thought that being from the same N series, these Intel Celeron Processors would be ordered by the most powerful to least based on the model number i.e. bigger means faster. But not in this case. Powering majority of the budget and affordable laptops for students right now, which of these is the best processor? Let's find out.
It is not as easy as it seems when buying a budget laptop as a processor's performance is not true to its model number as we will see in the following sections. But, before we do that, let's take a closer look at what makes these processors tick?
Intel Celeron N4020 Processor
Intel Celeron N4020 is based on 14nm processor and was first introduced in Q4 of 2019. It is still going strong, meaning it still powers a large number of budget laptops on the shelve. The dual-core dual-thread processor has a base frequency of 1.10GHz and can boost up to 2.80GHz when pushed. It has a modest onboard cache memory of 4MB. But the true selling point of the Gemini Lake Refresh processor is in its power efficiency. With a small TDP (Thermal Design Power) of 6W and a SDP (Scenario Design Power) of 4.8W it is super efficient for an old processor. The other things to note about N4020 is its maximum supported memory of 8GB LPDDR4 via dual memory channels and integrated Intel UHD Graphics 600 (650MHz burst, 200MHz base) with 4K 60Hz support.
Search Intel Celeron N4020 Laptops on Amazon
Intel Celeron N4120 Processor
Next, we have Intel Celeron N4120. Also from the Gemini Lake Refresh family, the processor is from a 14nm fabrication processor but has double the CPU cores and therefore double the computing thread. With its 4 core and 4 thread, it will truly push the power the consumption envelope to beyond those with dual core processor. The CPU is again clocked at a base frequency of 1.10GHz and a high 2.60GHz boost frequency. The limit is again its 4MB cache memory. But even with double the memory, it still has a low TDP of 6W and SDP of 4.8W giving it a higher efficiency, bigger performance to watt ratio. The N4120 shares the same memory limit of 8GB LPDDR4 and embedded GPU, the Intel UHD Graphics 600 albeit at a slightly higher Graphic speed of 700MHz burst, 200MHz base.
Search Intel Celeron N4120 Laptops on Amazon
Intel Celeron N4500 Processor
Last but not least, we have Intel Celeron N4500. This is a newer processor launched around Q1 of 2021. It also uses a newer 10nm Fabrication process versus 14nm on the Intel Celeron N4020 and N4120. However, this did not give it an edge over the N4120 because it is significantly held back by the dual-core GPU over quad-core. Had the N4500 come with double the core, it would be both energy efficient and powerful. With a base frequency of 1.10GHz and burst frequency of 2.80GHz, it squeezes past N4020 in terms of performance but lags behind N4120. However, it does have a couple of advantages, in that it can support up to 16GB of memory and is equipped with new and improved Intel UHD Graphics with 16 execution units, higher base frequency of 350MHz and higher boost frequency of 750MHz. How that is realised in benchmark numbers, we will see in the next section.
Search Intel Celeron N4500 Laptops on Amazon
Here is a look at the processors again, side-by-side.
| | | | |
| --- | --- | --- | --- |
| Intel Celeron | N4020 | N4120 | N4500 |
| Litography | 14nm | 14nm | 10nm |
| CPU Cores | 2 | 4 | 2 |
| Threads | 2 | 4 | 2 |
| Burst Frequency | 2.80GHz | 2.60GHz | 2.80GHz |
| Base Frequency | 1.10GHz | 1.10GHz | 1.10GHz |
| Cache | 4MB | 4MB | 4MB |
| SDP | 4.8 | 4.8 | 4.8 |
| TDP | 6 | 6 | 6 |
| Launched | Q4 2019 | Q4 2019 | Q1 2021 |
| Max Mem Size | 8GB | 8GB | 16GB |
| Max Mem Channel | 2 | 2 | 2 |
| GPU | Intel UHD Graphics 600 | Intel UHD Graphics 600 | Intel UHD Graphics |
| GPU Base Frequency | 200MHz | 200MHz | 350MHz |
| GPU Boost Frequency | 650MHz | 700MHz | 750MHz |
| Execution Unit | 12 | 12 | 16 |
| 4K Support | 4K 60Hz | 4K 60Hz | 4K 60Hz |
| Max Display Supported | 3 | 3 | 3 |
Comparing the Performance of Intel Celeron N4020 vs N4120 vs N4500
From the benchmark figures submitted by real world users, we can safely say that there is "safety in numbers". Quad cover wins over dual core any day. The Intel Celeron N4120 with its 4 cores and 4 computing threads achieved an Average CPU Mark of 2543, that is 62% faster than Intel Celeron N4020 and 26.2% faster than Intel Celeron N4500. It does take a light hit with its single thread performance but not enough to cause an alarm. When compared to Intel Celeron N4020, its single thread performance is 4.6% slower and when compared to the newer Intel Celeron N4500, it is 19.5% slower.
| | | |
| --- | --- | --- |
| Intel Celeron  | Average CPU Mark | Single Thread |
| N4020 | 1570 | 1159 |
| N4120 | 2543 | 1105 |
| N4500 | 2015 | 1373 |
Benchmark results derived from cpubenchmark.net
Below are the graphical representations to illustrate the performance differences. You may click on them for a closer look.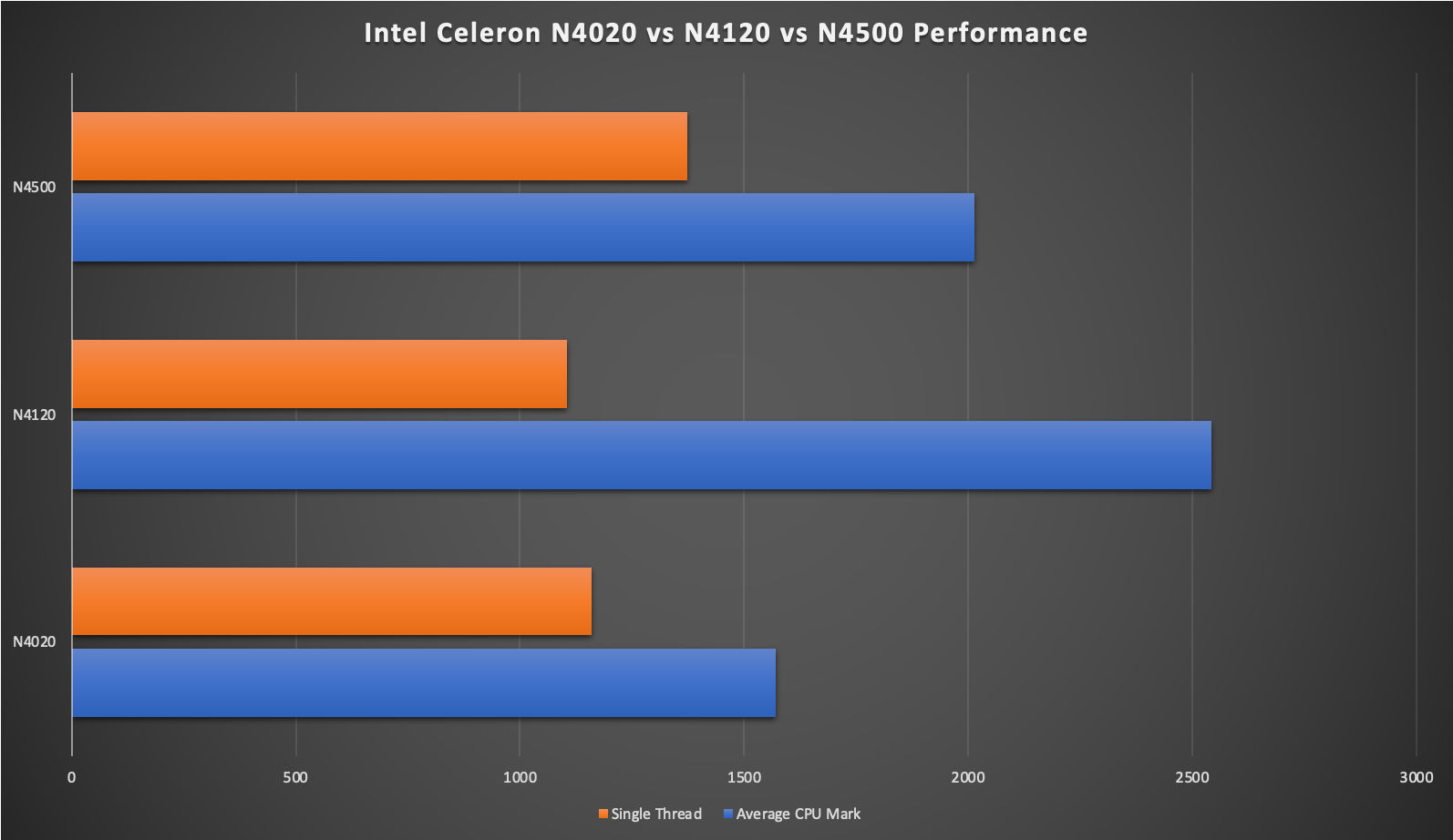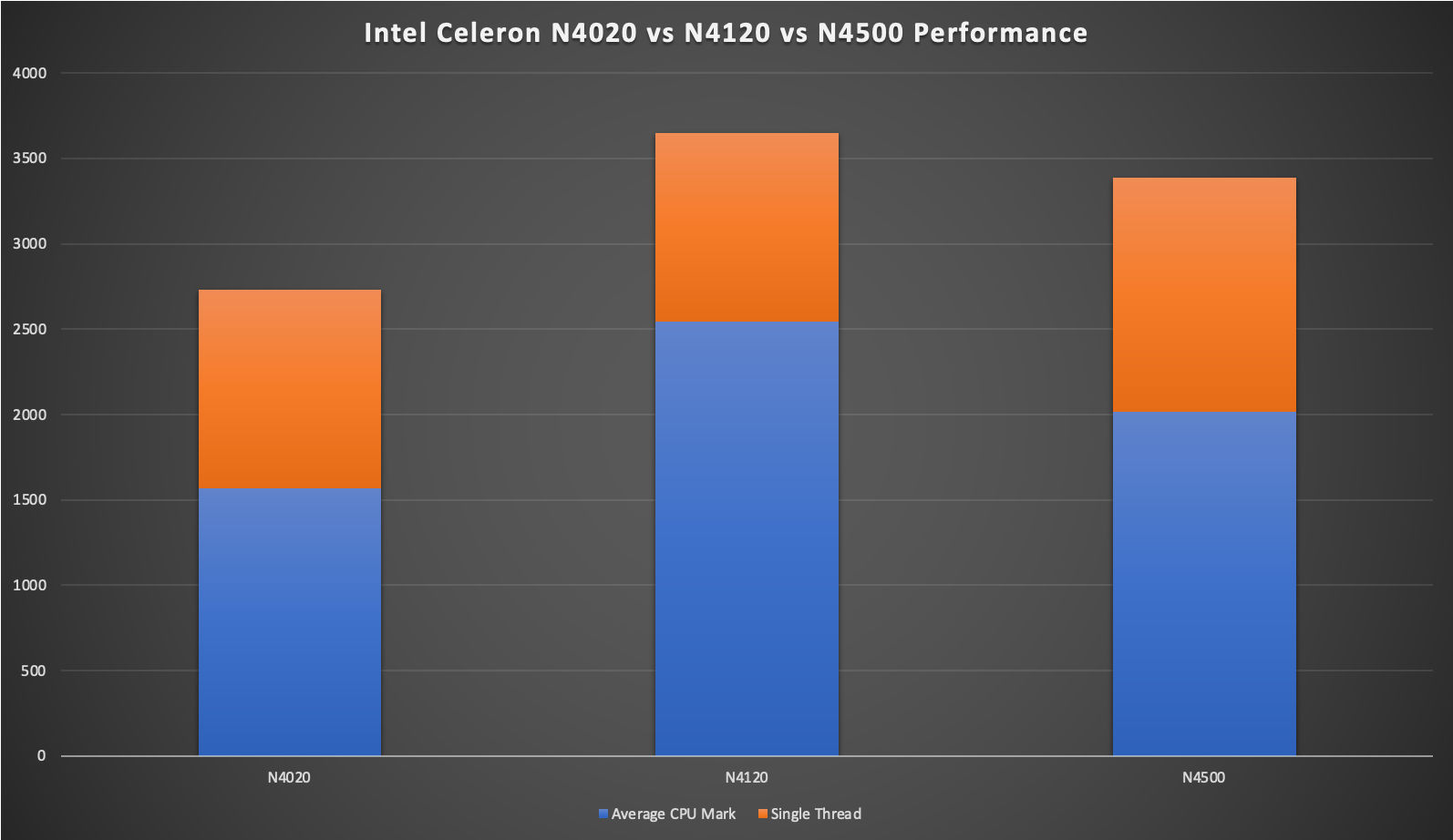 The numbers are further corroborated by notebookcheck.net that runs a combination of benchmarks including CineBench R14, R20, 7-Zip, X265, Blender and 3DMark 11 CPU.
Intel Celeron N4020 vs Intel Celeron N4120
The comparison between Intel Celeron N4020 and N4120 shows that Intel Celeron N4120 lead on majority of the benchmarks. Overall, the Intel Celeron N4120 achieved 139%, nearly 40% faster over Intel Celeron N4020 100%. Some of the best results achieved by Intel Celeron N4120 are 3DMark Time Spy CPU at 197%, 3DMark Fire Strike Standard Physics 199%, Geekbench 5.4 at 181%, Cinebench R15 at 176%, Cinebench R23 at 200% and TrueCrypt Twofish at 194%.
Intel Celeron N4120 vs Intel Celeron N4500
When it comes to comparing the Intel Celeron N4120 vs its newer counterpart, the Intel Celeron N4500 on a handful of benchmarks. Again, we see the Intel Celeron N4120's multi-core advantage shines on multi-core benchmarks but falls behind on single thread benchmarks. Based on a comparison between Intel Celeron N4120 vs N4500 by notebookcheck.net , the average results derived from benchmark took like CineBench, wPrime, WinRAR, 7-zip, X265, TrueCrypt, Blender, 3DMark, Geekbench, PCMark and Power Consumption puts N4120 on the lead. If you place Intel Celeron N4120 as the baseline (100%), Intel Celeron N4500 trails behind at 83%.
Final Thoughts
So the answer to which is the better buy in terms of performance, the answer is Intel Celeron N4120 followed by Intel Celeron N4500 and finally Intel Celeron N4020. Laptops based on Intel Celeron N4500 and Intel N4020 are quite common. However, one will need to look hard for budget laptops powered by Intel Celeron N4120.
Lenovo IdeaPad i1 14 Laptop
Lenovo IdeaPad i1 14-inch is a fine specimen. Powered by Intel Celeron N4120, it has 4GB memory and 128GB eMMC storage. The 14-inch Full HD display is big enough for everyday applications and the 11 hours battery life ensures all days use without needing to charge. The laptop is also compact and weighs just over 1.3kg.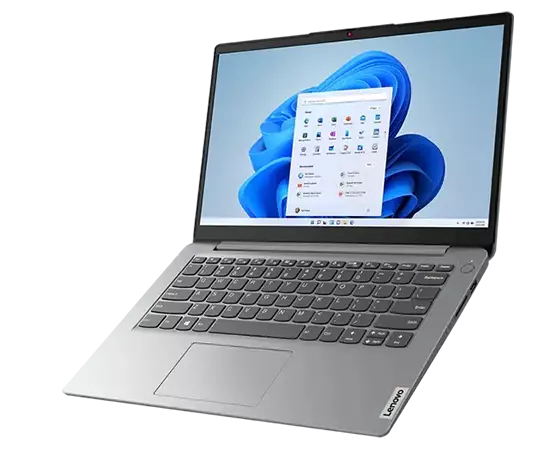 Search Intel Celeron N4120 Laptops on Amazon
More Intel Celeron N4120 Laptops