If you already have the Mac mini M1, you can skip the new Mac mini M2 as it is still a very capable desktop. But, if you are looking for a powerful and compact desktop, the Apple Mac mini M2 is for you. Even in the entry level 8GB memory, 256GB storage with M2 chip will take on all the tasks you can throw at it.
We did an in-depth look at how the Mac mini M1 2020 is the machine to get for Education.
We also addressed some commonly asked questions like:
For the 2023 model, the Apple Mac mini is introduced with not one but two chips, the regular M2 which is shared with the new MacBook Air 13.6 2022 and MacBook Pro 13.3 2022. And, the M2 Pro chip which is shared with MacBook Pro 14 and 16 2023. To make it even more enticing, Apple slashed the price of the entry level model dispelling the rumours that new Mac mini with more power might be more expensive. We seen how Apple retained old MacBook Air 2020 with M1 and the old iPad 9th Gen 2021 when new MacBook Air 13.6 2022 and iPad 10.9 10th Gen 2022 were introduced.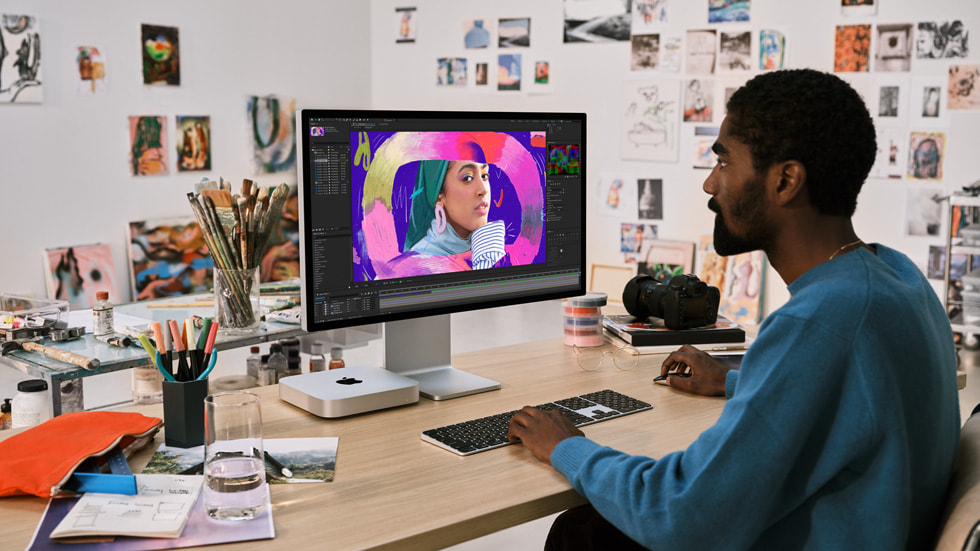 This makes the mini desktop the most affordable MacOS computer with M2 chip and the most powerful MacOS computer with M2 Pro. There is currently no desktop running M2 Pro. The iMac 24 still runs M1 chip while the Mac Studio runs M1 Max and M1 Ultra chips. The latter is a whole other level of performance.
On the outside, nothing has changed for the Mac mini M2. It still that minimalistic rectangular block (square from the top) with rounded corners. All ports and power button are hidden around the back. It is still the same size and shape and still back to only available in silver colour. We wish Apple bring s back the space grey version. It measures only 3.6 cm tall and is a square 19.7cm long on all sides.
New Chip Options: M2 or M2 Pro
As with all things Apple, the more upgrades you pick, the more expensive it becomes. The Mac mini with M2 chip is no different. It starts with 8GB memory and 256GB SSD storage. A second pre-configured model is available with the same chip, 8GB memory and 512. All models can be configured with upgrades to memory, storage and ethernet at extra cost(s).
CPU & GPU CORES: The regular M2 has 8 CPU cores and 10 GPU cores (2 more compared to M1) while the M2 Pro has 12 CPU cores and up 19 GPU cores. However, the M2 Pro found in the Mac mini starts at 10 CPU cores and 16 GPU cores upgradable to a chip with 19 GPU cores. The performance stacks up with more CPU and GPU cores in the chip. More on this later.
MEMORY & STORAGE: M2 based Mac mini gets 8GB upgradeable to 16GB or 24GB unified memory. On the other hand, M2 Pro based Mac mini gets a starts at 16GB and upgradeable to 32GB. When you look at the storage, the regular M2 models start with 256GB or 512GB. You can choose to upgrade this to 512GB, 1TB or 2TB. For the more expensive M2 Pro model, storage starts at 512GB and upgradeable to 1TB or 2TB.
Connectivity Ports
PORTS: The ports around the back are also different. You get two extra Thunderbolt 4 ports on the M2 Pro model with the port configurations below:
Mac mini M2: 2 x Thunderbolt 4 ports, 2 x USB-A, 1 x HDMI port, 1 Gigabit Ethernet, Headphone jack.
Mac mini M2 Pro: 4 x Thunderbolt 4 ports, 2 x USB-A, 1 x HDMI port, 1 Gigabit Ethernet, Headphone jack.


Maximum Supported Display
DISPLAY: With that and the maximum number of displays supported also differs. The regular M2 model supports a maximum of 2 displays, one over Thunderbolt port and one over HDMI port while the M2 Pro model supports up to 3 displays, two over Thunderbolt ports and one over HDMI port. You can read more about the maximum resolutions and frequency supported on those ports in our article.
Mac mini M2: up to 2 displays
Mac mini M2 Pro: up to 3 displays
Another not so obvious upgrade is the HDMI port on the Mac mini M2 Pro model. This now supports 4K resolution at 120Hz refresh rate natively. So you may want to consider a fast monitor to go with. In fact with clever Display Stream Compression (DSC) where compatible, it can even achieve 4K at 240Hz. On top of that, there is now 4K HDR on top of HDR10 enhancement. Also note that the maximum resolution on a display with the Mac mini M2 is 6K at 60Hz, while the maximum resolution on the Mac mini M2 Pro is 8K at 60Hz.
Performance & Benchmarks
What we really want to know is how does the M2 compares with the M2 Pro. As we have seen with the many iterations of the M1 chips (regular, Pro, Max, Ultra) the more CPU and GPU cores, the better the performance. When comparing the M2 and M2 Pro's single core performance for single threaded apps, there is no real difference between the two. The greatest advantage is when all cores are firing. Multicore performance of the M2 Pro with 10 CPU cores and 19 GPU cores is on average 70% faster than the M2. Overall, NanoReview puts the M2 Pro at 18% lead over the regular M2. See benchmark results from NanoReview below.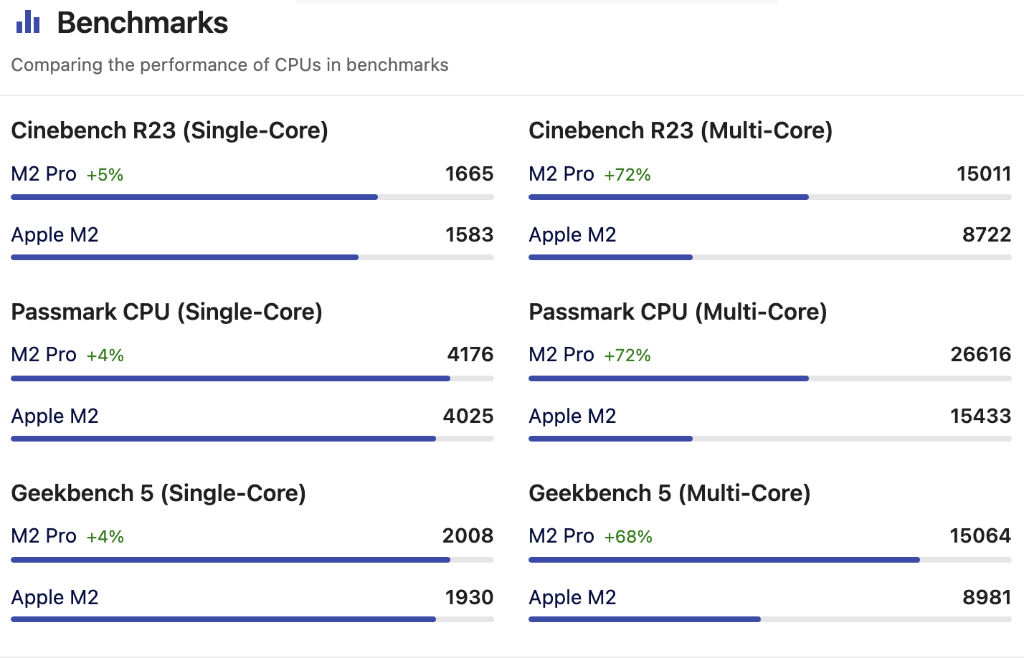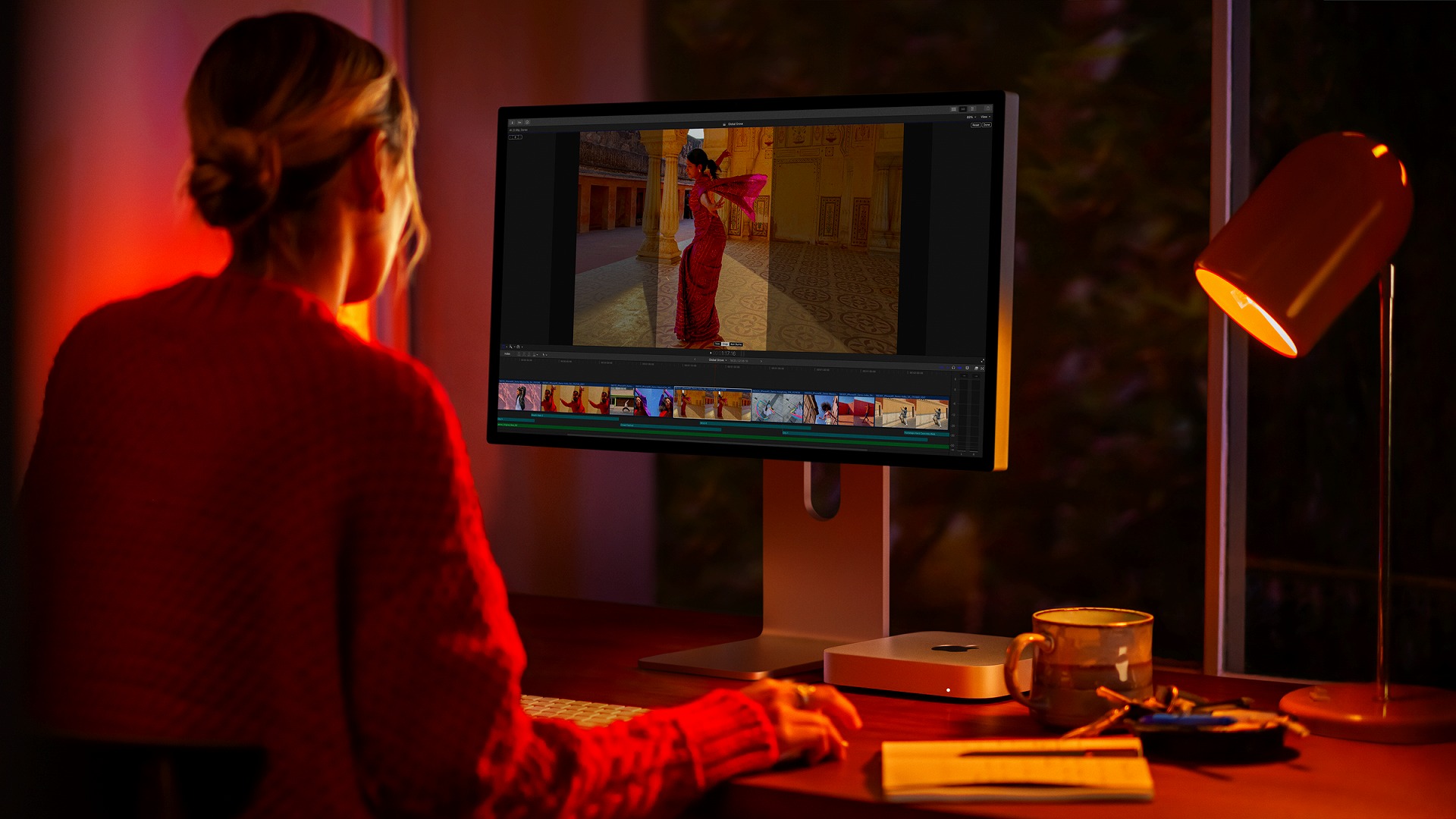 CPU Configuration
As you can see, M2 Pro chip is able to outperform the regular M2 by up to 72%. To understand how this is possible, take a look at the chip configuration, specifically the number of performance cores. We know that the M2 has an 8 core CPU while the M2 Pro has a 12 core CPU. The configuration of these cores however are different. Of the 8 cores in the M2 chip, 4 are efficient and 4 are performance cores. The M2 Pro doubles the performance cores, giving it 8 performance cores and 4 efficient cores, for a total of 12 cores. It also benefits from double L2 cache, a huge 32MB compared to 16MB on M2.
Performance Cores

| | | |
| --- | --- | --- |
| Chip | M2 Pro | M2 |
| P-Cores | 8 | 4 |
| P-Threads | 8 | 4 |
| Base Frequency (P) | 3.5 GHz | 3.5 GHz |
Efficient Cores

| | | |
| --- | --- | --- |
| Chip | M2 Pro | M2 |
| E-Cores | 4 | 4 |
| E-Threads | 4 | 4 |
| Base Frequency (E) | 2.4 GHz | 2.4 GHz |
Total

| | | |
| --- | --- | --- |
| Chip | M2 Pro | M2 |
| Total Cores | 12 | 8 |
| Total Threads | 12 | 8 |
| L1 Cache | 192K (per core) | 192K (per core) |
| L2 Cache | 32MB (shared) | 16MB (shared) |
It doesn't stop there, the M2 Pro also has up to nearly double the number of GPU cores at 19 compared to the 10-core GPU in the regular M2. Plus, it is also capable of double the memory bandwidth at 200GB/s vs regular M2's 100B/s. The starting memory of 16GB and configurable to 32GB is already a huge advantage to the M2's 8GB configurable to 16GB/24GB.
Integrated Graphics
Apple M2 Pro GPU (19-core)
Apple M2 GPU (10-core)
GPU Base Clock
450 MHz
500 MHz
GPU Boost Clock
1398 MHz
1398 MHz
Shading Units
2432
1024
TMUs
152
64
ROPs
76
32
Execution Units
–
128
TGP
35 W
15 W
Max. Resolution
7680×4320 – 60 Hz
6016×3384 – 60 Hz
Super Fast Unified Memory and Faster Storage
Faster CPU and GPU cores are matched with unified memory, soldered on memory that forms a single pool of high bandwidth, low latency memory to enable the chip to move data in and out at super fast speed. However, the Mac mini M2 2023 has another trick up its sleeve, faster SSD drives. Twice as fast as the storage found in Mac mini M1 from 2020, the SSDs can achieve fast read and write speeds of around 5000 and 6000MB/s respectively.
Which One is Right For You?
For school, college and even university use, the Mac mini powered by the regular M2 will be more than enough. It is powerful enough to take on graphic intensive tasks and video editing, thanks to the media engine that it shares across the M2 series. This includes hardware acceleration, video decode and encode engine and ProRes decode and encode engine. If you are on a budget, the entry level $599 model will be more than sufficient. Don't worry about the 256GB storage, you can add fast USB-C storage drives based on SSD (over at colourmytech.com) for a fraction of the cost to upgrade to 512GB or more.
If you do edit and cut multiple 4K videos as part of your workflow, upgrading to 16GB or 24GB will certainly help with handling more video files at the same time. When you factor the extra memory (16GB) and storage (512GB) into your Mac mini M2, the final price of $999 gets closer to the Mac mini M2 Pro's $1299. Here is where you decide if you want to pay the extra $300 for the M2 Pro chip for someone sitting on the fence.
With the M2 Pro chip, you are looking at a much faster video transcoding and video editing up to nearly twice the speed compared to M2. Code compiling is around 50% faster and photo editing is around 34% faster. There is no real performance gain with M2 Pro over M2 in everyday productivity tasks or even image upscaling. So the decision to go for the more expensive $1299 Mac mini with M2 Pro chip or the cheaper $599 Mac mini with M2 chip really depends on the type of work you will be doing on the system.
If you have the spare cash to spare, and while you may not need all that power right now, going for the Mac mini M2 Pro also buys you future proofing. For a compact desktop, the new Mac mini M2 Pro is straying into Apple's own professional series, the Mac Studio. It can almost go toe-to-toe with Mac Studio M1 Max on some benchmarks, exceeding it on others, but falls behind Mac Studio M1 Ultra.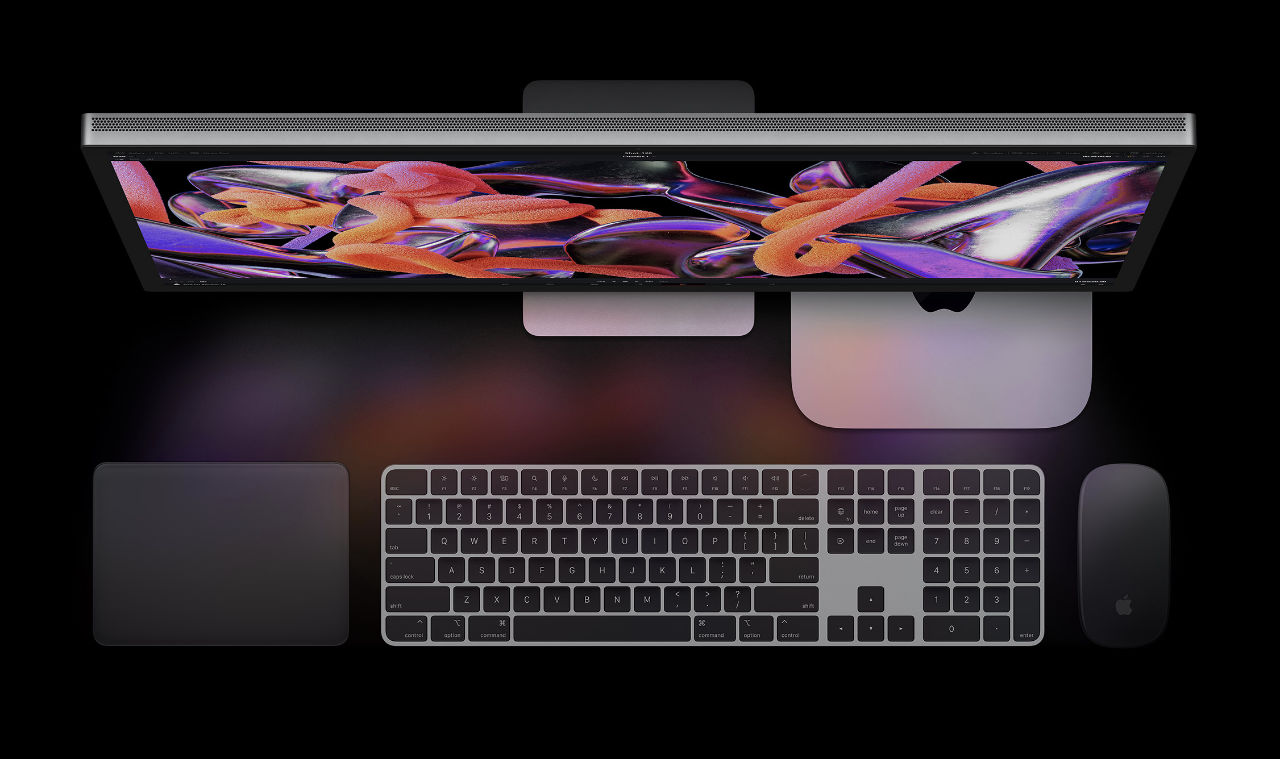 Apple Mac mini Accessories on Amazon
Do I Upgrade?
Even the previous Mac mini based on M1 chip with 8 core CPU is still very capable. That is why we stated in the beginning of the article that if you have the Mac mini with M1, stick with it. The M2 chip while it has the same 8 core CPU has two extra GPU cores, putting it at 10 core. Those two extra cores manage up to 25% higher graphic performance on the same power and can be pushed up to 35% on higher power.
In the real world, multi-core performance lead is around 14% while single-core is 6.6%. Apple claims 18% improvement in CPU performance on the same power. Most users won't be able to tell the difference so stick to your Mac mini M1 from 2020. However, if you are coming from a Mac mini powered by Intel processor and feel that it is getting on a bit, we certainly recommend upgrading to the Mac mini M2. You can even save yourself on energy bills in the long run as the Apple silicon is way more efficient than Intel's processors.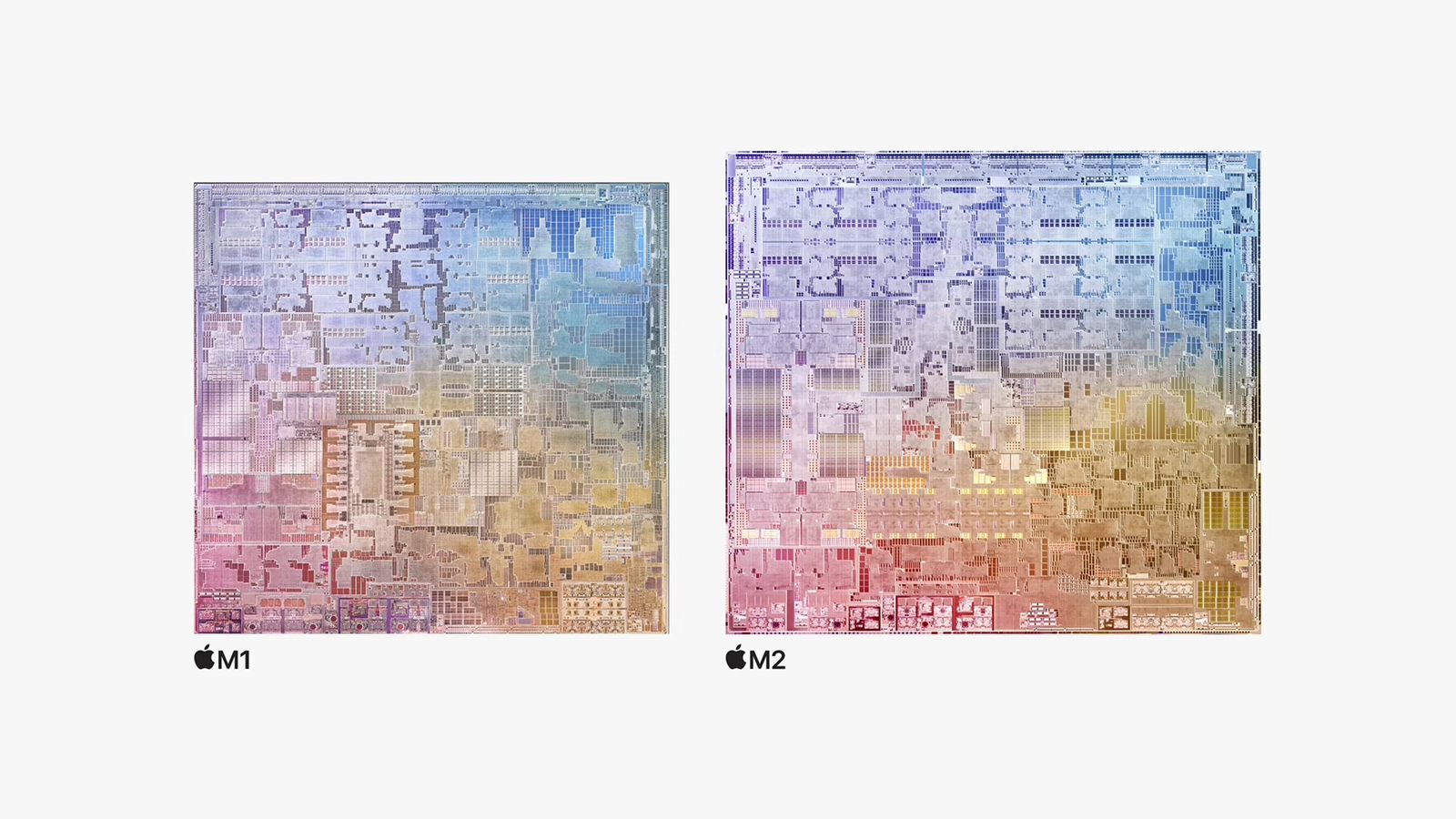 Mac mini Mounting Brackets
Schools may want to consider mac mini mounting brackets. These are available with VESA compatible mounts and/or under desk or wall mount. Not only will it secure the unit but frees up the space on the table. Mounting it on the back of a monitor turns it into an all-in-one desktop. With a wireless mouse and keyboard, you get a wire-free desk setup.
Apple Mac mini Mounting Bracket on Amazon
Final Thoughts
Apple's breakthrough silicon is not only powerful but energy efficient and for the Mac mini, near silent operation. For schools, this could mean a great deal. Lower energy bills, quiet working environment and no need to worry about systems overheating or dust clogging up the internals due to enthusiastic active cooling system. There is hardly any heat and noise coming from the unit. At a push you might hear a low hum from the fan kicking up a notch. Under normal operation or idle, the fan runs at a very low speed, almost silent. For the equivalent power on a PC, you are probably looking at a giant desktop top with giant GPU card and multiple cooling fans.
Now if you are going to get the Mac mini M2, check out the Maximum Displays Supported by Apple Mac mini M2 (2023) and Mac mini M2 Pro (2023).
If you are considering a MacBook with M2 instead, read MacBook Pro 13 M2 vs MacBook Air M2: Is the MBP 13 still worth the extra?
Specification Comparison
Mac mini (M2)
Mac mini (M2 Pro)
Processor
8-core CPU, 10-core GPU
10-core or 12-core CPU, 16-core or 19-core GPU
Memory
8GB/16GB/24GB
16GB/32GB
Storage
256GB/512GB/1TB/2TB
512GB/1TB/2TB/4TB/8TB
Display
Support for two displays
Support for three displays
Audio
Speaker, 3.5mm headphone jack with advanced support for hi-impedance headphones
Speaker, 3.5mm headphone jack with advanced support for hi-impedance headphones
Keyboard
Not included
Not included
Trackpad/Mouse
Not included
Not included
WiFi
Wi-Fi 6E
Wi-Fi 6E
Bluetooth
5.3
5.3
Ports
Two Thunderbolt 4 ports, two USB‑A ports, HDMI 2.0 port, Gigabit or 10Gb Ethernet
Four Thunderbolt 4 ports, two USB‑A ports, HDMI 2.0 port, Gigabit or 10Gb Ethernet
Dimensions
197mm x 197mm x 36mm
7.75 x 7.75 x 1.41 inches
197mm x 197mm x 36mm
7.75 x 7.75 x 1.41 inches
Weight
1.18kg, 2.6 pounds
1.28kg, 2.8 pounds