Here is the deal, most manufacturers will offer keyboard covers and styluses as separate purchases to go with their tablets but when Huawei include all these in the box with no more to pay, we had to take a second look.
Released in July 2021, the tablet is priced to compete with Apple's iPad 9th Gen, the cheapest Apple tablet at the time of writing. Put simply, Huawei MatePad 11 is an iPad beater. It is around a 100 cheaper than the new Apple iPad 10th Gen (minus the keyboard or Apple Pencil). In fact the 11-inch (10.95″) display puts it closer to the new iPad 10th Gen with a 10.9-inch display than the iPad 9th Gen with a 10.2-inch display.
This makes the Huawei MatePad 11-inch 2-in-1 hybrid tablet even more appealing to students on a budget. If you add Apple's Keyboard Folio and the Apple Pencil 1st Gen to the iPad 10th Gen, the cost of ownership would have ballooned to more than twice compared to Huawei MatePad 11 with all accessories included.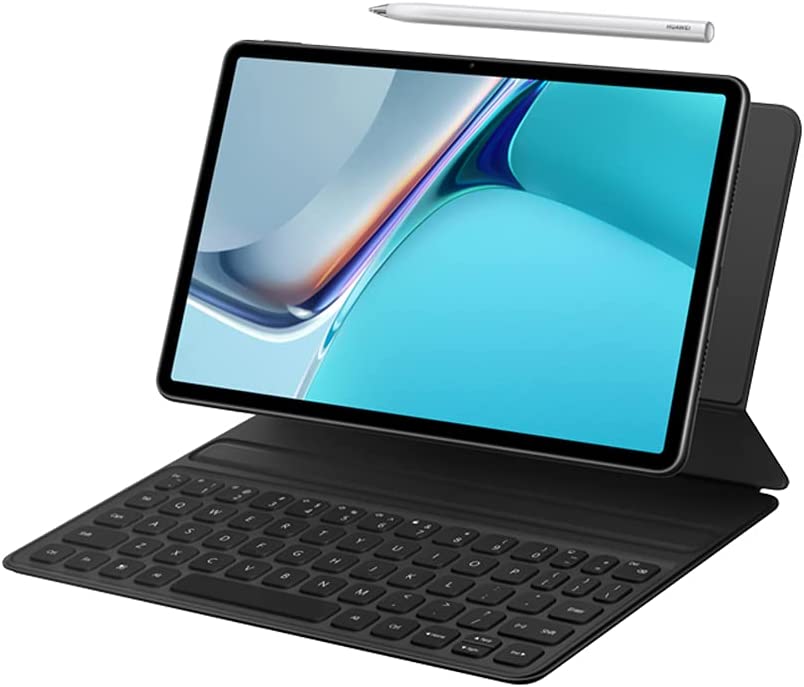 Keyboard and Stylus are Necessities for Students
To truly extend the use of your tablet, be it for class, home or out in the field, you need the keyboard and stylus to go with it. Students can use the keyboard to quickly bang out your assignments and stylus to sketch and take notes during lessons. Without these accessories, your interaction with the tablet is restricted to touch. And, while you can achieve a lot with the touchscreen and on-screen keyboard, it is hit and miss, and you will need more time to accomplish the same task.
The Tablet – Huawei MatePad 11
Let's take a look at the tablet itself.
Mobile Chip
The Huawei MatePad 11 is powered by Snapdragon 865. The chip is marginally slower due to lower memory bandwidth and lower clock speed to the newer Snapdragon 870 but it is still a high performance chip from Qualcomm's 800 series mobile platform. Here is the Snapdragon 865 chipset's benchmark on nanoreview and here is how it compares with Snapdragon 870.
What this means is you are getting high-end performance on a device that costs a fraction of its premium counterparts from Apple and Samsung. Qualcomm® Snapdragon™ 865 Mobile Platform combines 1 x Cortex-A77 Based 2.84 GHz + 3 x Cortex-A77 Based 2.4 GHz + 4  x Cortex-A55 Based 1.8 GHz. The 8-core CPU is coupled with Adreno 650, 587 MHz GPU.
On top of that, the Multi-Channel Intelligent Scheduling Engine help speed up system completion time especially when multitasking on the tablet. Multiple apps running simultaneously will get the right attention to ensure smooth performance from the chip.
Display
The eleven in Huawei MatePad 11 is more like 10.95-inch when the FullView display is measured diagonally, rounded corner to rounded corner. This is common with modern tablets. With its tiny and even all bezels, the device achieved 86% screen to body ratio. As for the panel, it is capable of 16.7million colours with a DCI-P3 colour gamut using TFT LCD with IPS technology for wider viewing angle.
Images on the display are sharp and pack plenty of details with a WQXGA resolution of 2560 x 1600 pixels. That's 275 ppi pixel density, higher than iPad 10th Gen's 2360 x 1640 pixel resolution with 264ppi.
It doesn't stop there, motion is fluid with support for up to 120Hz refresh rate. Action sequences and games with fast visual will flow smoothly without stutters. This brings us to the next feature, TUV Rheinland double certification. Reduced blue light and flicker free image means happy and healthy eye balls.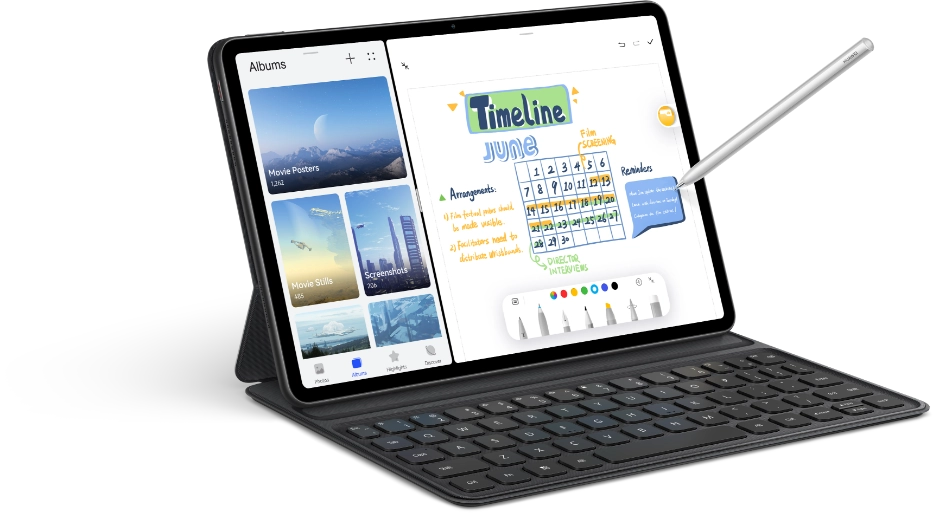 Memory and Storage
A generous 6GB memory is paired with the powerful 7nm processor. Storage starts at 64GB with a 128GB option also available. In some markets, there are options for 8GB RAM with 128GB storage or 8GB RAM with 256GB storage. However, 6GB RAM and 128GB storage is still the most common. The onboard MicroSD card reader lets you add up to 1TB of extra storage if you need more room.
Cameras
The table comes with a rear 13MP sensor (f/1.8 aperture Auto Focus) with LED flash. That rear camera is capable of capturing time-lapse, panorama, documents, timer and burst shooting with video resolution up to 3840 x 2160 pixels and photo resolution up to 4160 x 3120 pixels.
As for the front camera, it gets a respectable 8MP sensor with f/2.0 aperture Fixed Focus lens. This camera can capture Full HD 1920 x 1080 pixel video great for video calls. It supports beauty mode, time-lapse and selfie mirroring. For stills, it can capture photos up to 3264 x 2448 pixel resolution.
To capture audio, four onboard microphones work together to pick up your voice and with AI noise reduction technology, suppress ambient and typing noises for clearer communication.
Battery Life
On the subject of battery life, this will certainly differ depending on usage. For instance, you can easily get up to 12 hours of video playback. The average user will also enjoy a full day's worth of battery life, again with up to 12 hours on a full charge. This is in no small way attributed to Frame Rate Adaptation technology.
Quick charging: the tablet supports 10V/2.25A or 22.5W fast charging using the supplied 10V/2.25A MAX charger. It is also compatible with 9V/2A or 5V/2A charging.
Sound System
Just like premium tablets, the Huawei MatePad 11 is equipped with 4 drivers tuned by Harmon Kardon. The four-channel sound system produced some of the best bass and clear highs from a tablet. Use the Huawei Histen 7.0 Sound Effect app to pick your preferred sound settings.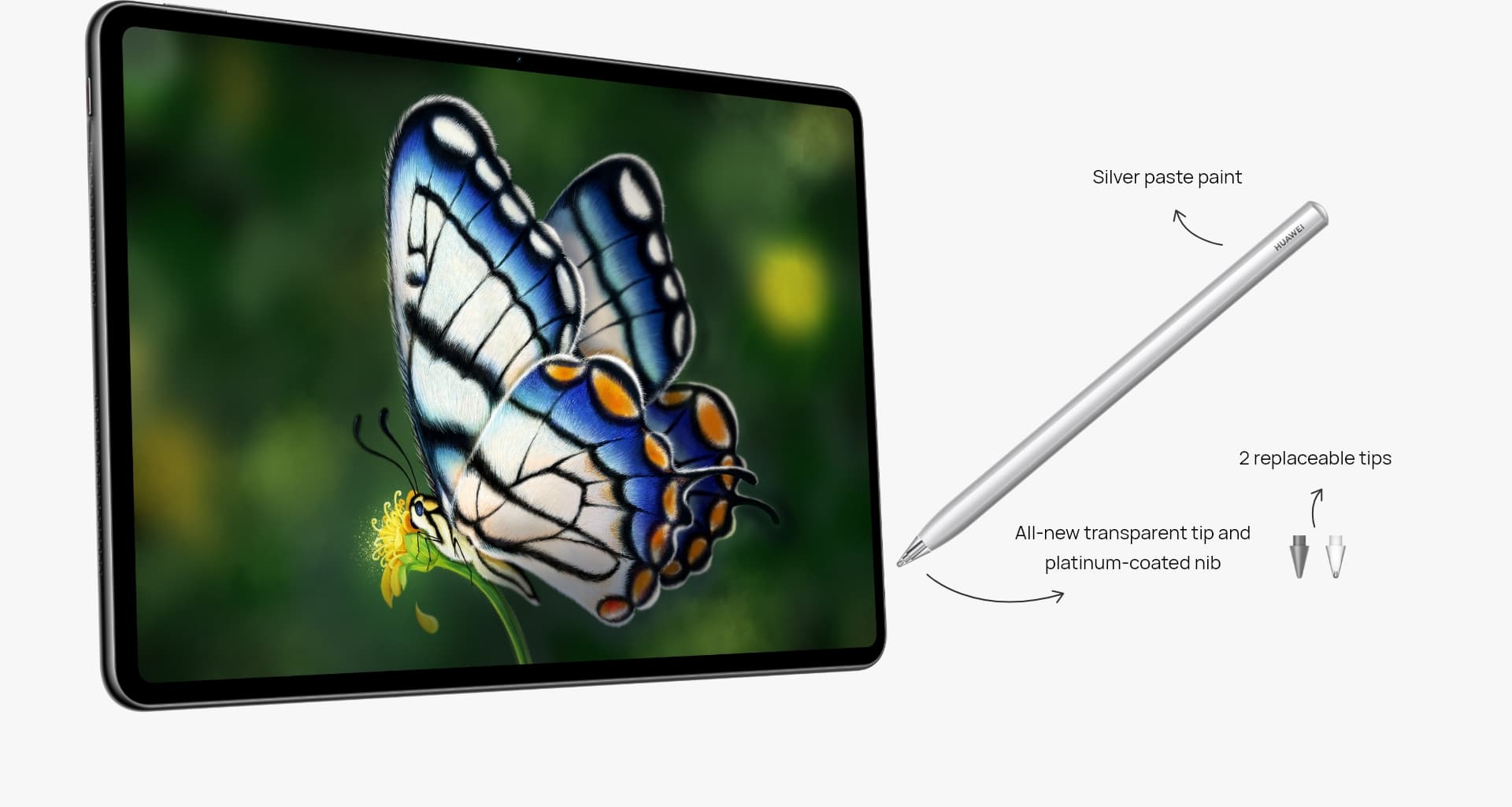 The Pencil
We are not going to go into the technical specifications of the M-Pencil. A stylus is a stylus at the end of the day. The pen input technology has reached an optimum level where responsiveness is a given and lag is a thing of the past. The 2n generation M-Pencil supports 4096 levels of pressure and tile sensitivity. Latency is unnoticeable at 2ms. So you can write, sketch and annotate normally with ease and precision.
All the features you'll love
Like the Apple Pencil 2nd Gen, the M-Pencil 2 supports double-tap to switch tools. Change from brush to eraser tool right on the style. And, like the Apple Pencil 2nd Gen, it can attach magnetically to pair and charge wirelessly. On a full charge, the Pencil will last for up to 10 hours and a quick 30 second charge will let you write for 10 minutes. But unlike Apple Pencil, the M-Pencil comes with 2 replaceable tips supplied using transparent tip design and platinum-coated nib.
Productivity and Inter Device Working (PC and Smartphone)
Hook the tablet up to a compatible laptop and use the M-Pencil and tablet's display as a digitiser by mirroring the laptop's screen or drag and drop files between the two screens to transfer your projects. You can also use the tablet to extend the workspace on your laptop, using it as a secondary screen.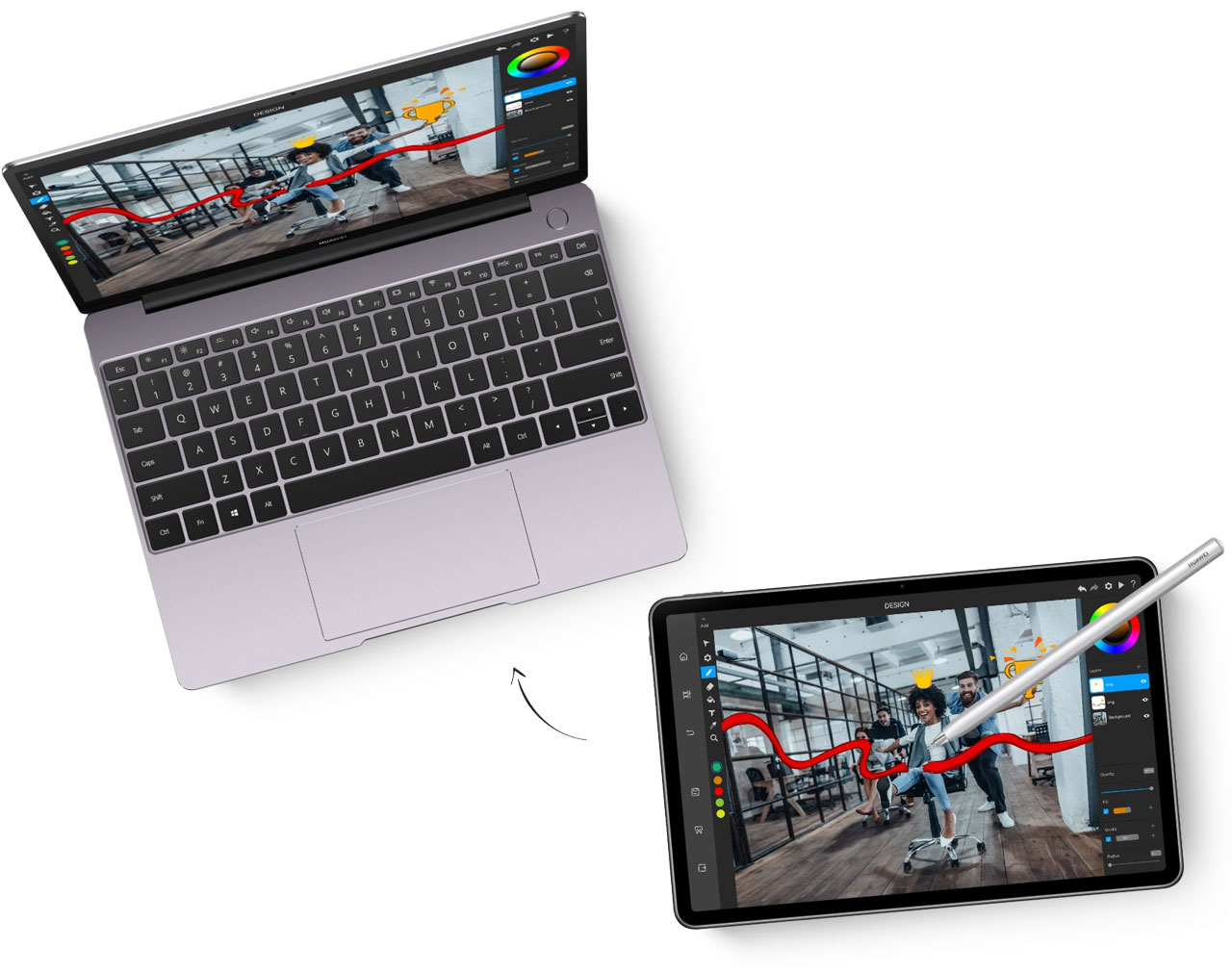 It is worth noting that the same 2nd Gen M-Pencil also works on MateBook E laptop and other MatePad running HarmonyOS 2.
The Keyboard
Huawei's keyboard may look like Apple's Magic Keyboard with its floating hinge in the photos but it is more like the Smart Keyboard Folio. The Huawei MatePad 11 attaches magnetically to the back cover and then anchors on the top of the keyboard. There are two grooves on the base where the long bottom edge of the tablet seats in two distinct working angles.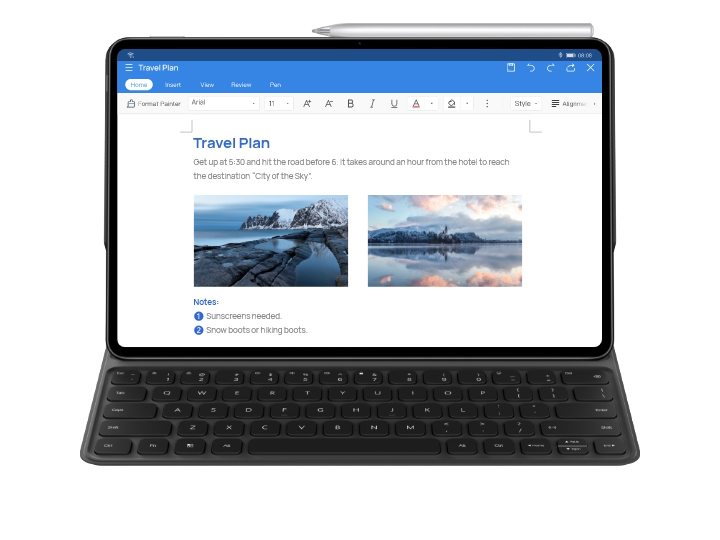 So here is what it looks like from the side, see image below. As you can see it looks very much like Apple's Smart Keyboard Folio. It is also made from durable PU material therefore lightweight and yet offers complete protection for the tablet. The magnetic backplate holds the tablet in place but also comes with magnetic induction technology to pair and charge the keyboard at the same time. It is also a "Smart Cover" to wake the tablet when open and put it to sleep when shut.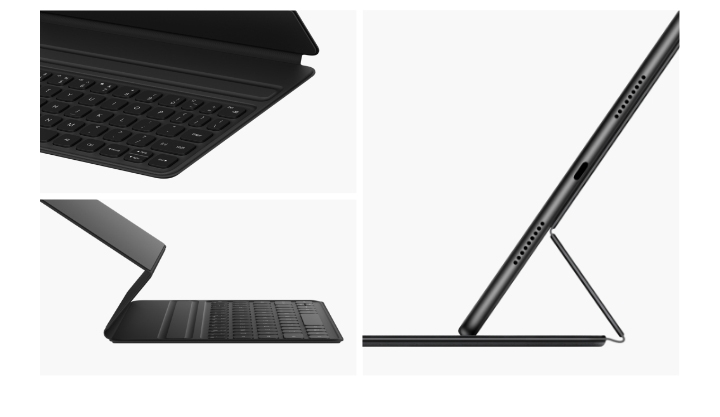 There are a few more things you need to know about the keyboard. The keyboard offers good tactile feedback with 1.3mm key travel and comes with quick response and accuracy. For a keyboard that fits an 11-inch tablet, it is pretty spacious and is comfortable to type on for a prolonged period of time. It also supports PC-like keyboard shortcuts and the user interface is desktop like. When in keyboard mode, you can continue to use the touchscreen with your fingers or use a Bluetooth mouse.
Productivity Focus
We won't talk about the limitations of the home-grown HarmanyOS. It is a work in progress no doubt. You have Petal Search and AppGallery to cover all bases. One is a mobile search app and the other, an app store, Huawei's answers to Google Search and Google Play. The two work together to allow users to search, download and install apps seamlessly.
Back on the subject of productivity. There are two features on the tablet, App Multiplier and Muti-Window. App Multiplier lets you access the same app twice, so you can work on two tasks at the same time, in the same app. Then there is Multi-Window that lets you access up to 4 different apps at the same time. You can be following a tutorial video, having a chat with your course mate, refer to your research material and scribble on the notepad all at the same time.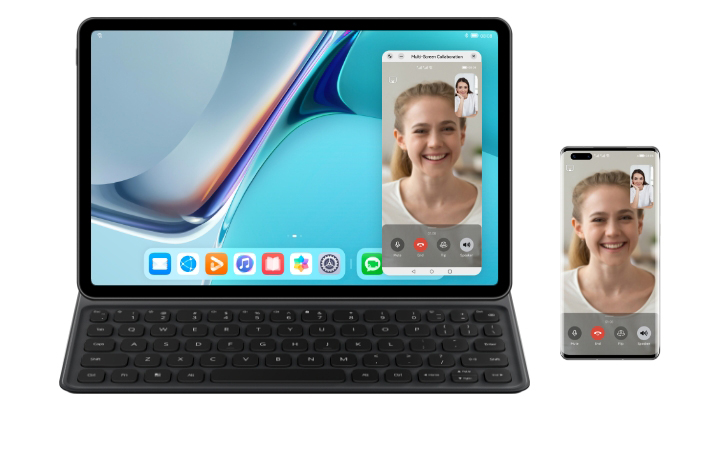 Lastly, not quite as elegant as Apple's work continuity between devices connected to the same Cloud Device, but you can access the screen of a compatible Huawei smartphone directly on the tablet. That way you can access the apps on your phone. Plus, you can also drag-and-drop documents and files between devices.