Honor's first tablet, the Honor Pad 8 should be known as Pad 12 given the 12-inch 2K display. Instead, launched in August 2022, the Honor Pad 8 was given the number "8" for other reasons. Read on to find out more.
One reason hinted on the site was the 8 large cavity speakers but we think the real reason is the meaning behind the number 8. You see, the number 8 is considered auspicious and lucky to the Chinese. And, lucky for us, there is a lot to like about this tablet. Here are 8 ways the Honor Pad 8 is off to a great start.

All the Hallmarks of a Successful Tablet
It is easy to see how the Honor Pad 8 will be an instant success and here are 8 amazing reasons:
1.  Affordable Luxury
It is one of the cheapest 12-inch tablet around. Other tablets with a display this size are Lenovo P12 Pro, Apple iPad Pro 12.9 and Samsung Galaxy Tab S8+ 12.4. However, these are premium and high-end tablets with high price tags to match. Even the cheapest of these, the Lenovo P12 Pro costs over 3 times more than the Honor Pad 8 while Samsung and Apples' tablets cost over 4 times.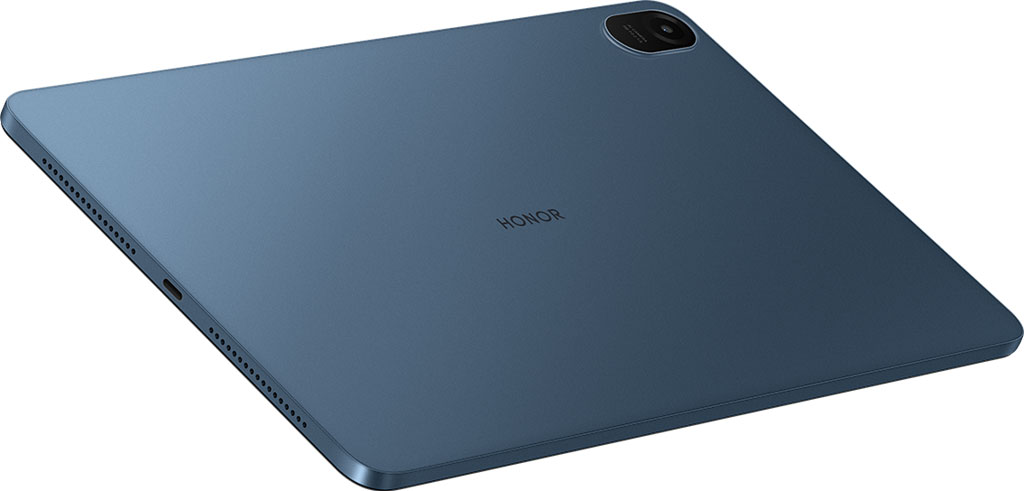 2. Great Design
If you are expecting less given its low price tag then the Honor Pad 8 will quickly prove you wrong. It has all the traits of a luxury and premium tablet. Starting with the 2K FullView display with modern rounded corners and tiny even bezels all round. Then there is the metal unibody chassis. The aluminium body is light and thin yet sturdy and strong with a great finish and matte texture. Measuring only 6.9 slim and weighing just 520 grams, it is easy on the hand too.
The Metal Unibody Body features anodized sandblasting technology to bring you a delicate touch 1.0R angle, with natural rounded corners that fit snugly in your hand.
3. Good Value
WIth affordable price and amazing design comes good value. There is no denying that a fully metal unibody 12-inch tablet costing well under 300 is an amazing value preposition. It may not be the fastest, choosing instead a mid-range processor to power the tablet, a bit more about this later but its 8-core 6nm chip is a perfect match for productivity apps.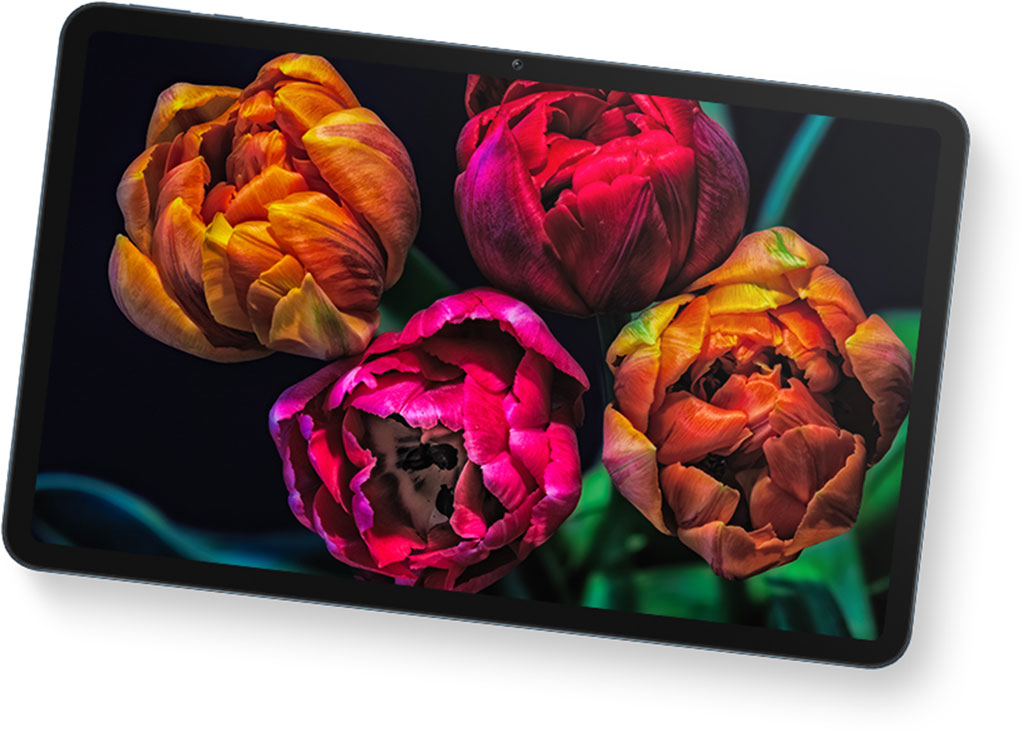 4. Display
Okay, so it doesn't come with mini LEDs backlight or a self lighting OLED panel, but the LCD packs enough pixels to put up images with incredible details. The 2K resolution display is 2000 by 1200 pixels which is more than your standard 16:9 Full HD (1920 x 1080 pixel) panels. These are not big by a huge margin but still more pixels for a 2:1.2 aspect ratio. The 12-inch display measures only 11.97-inch corner-to-corner given its rounded display.
5. Performance
The choice of processor to power the Honor Pad 8 is the Qualcomm Snapdragon 680, befitting a device of this price range. It has sufficient fire power to run PUBG mobile with its Qualcomm® Adreno™ 610 GPU and Qualcomm® Kryo™ 265 CPU. It will pull of apps and lets you switch between them quickly. And, there are no bloatware to hold it back. Apps that you don't need can be easily removed. It runs HONOR Magic UI 6.1 which is based on android 12.
The 6nm chip offers efficient and powerful performance, a good balance for a productivity first device offering lasting performance to keep it going all day. The Kryo CPU is made up of 8 cores, 4 x A73 2.4GHz and 4 x A53 1.9GHz. This is paired with a generous 4GB of RAM memory. With the onboard 7250mAh battery, there is enough juice for up to 14 hours of use.
And, at the end of the day, pick it right back up with a 22.5W fast charger.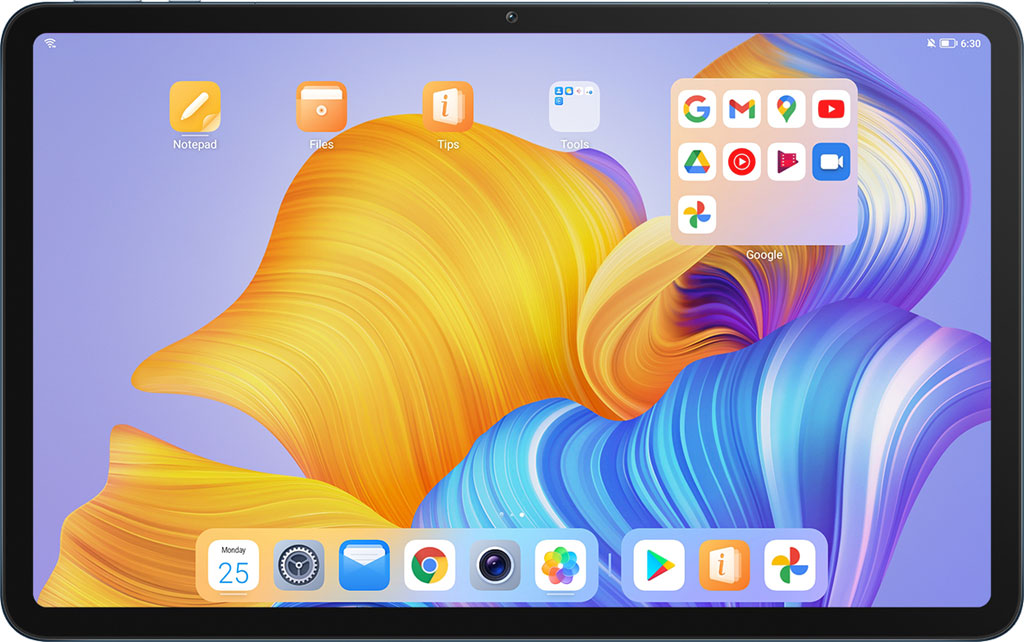 6. Productivity
If you have a compatible Honor smartphone, you can remotely access the screen on your phone right on the tablet. It will be like a picture-in-picture except it is the screen of your phone on your tablet. That takes multi-device multi-tasking to a whole new level especially when it lets you drag and drop videos and photos seamlessly to transfer between devices. How's that for improved productivity.
Of course, having all that screen real estate also means you can multiply your productivity by using multiple applications at the same time. Up to 4 in fact. The Smart Multi-Window feature even lets you choose from three different multi window layout that suits you.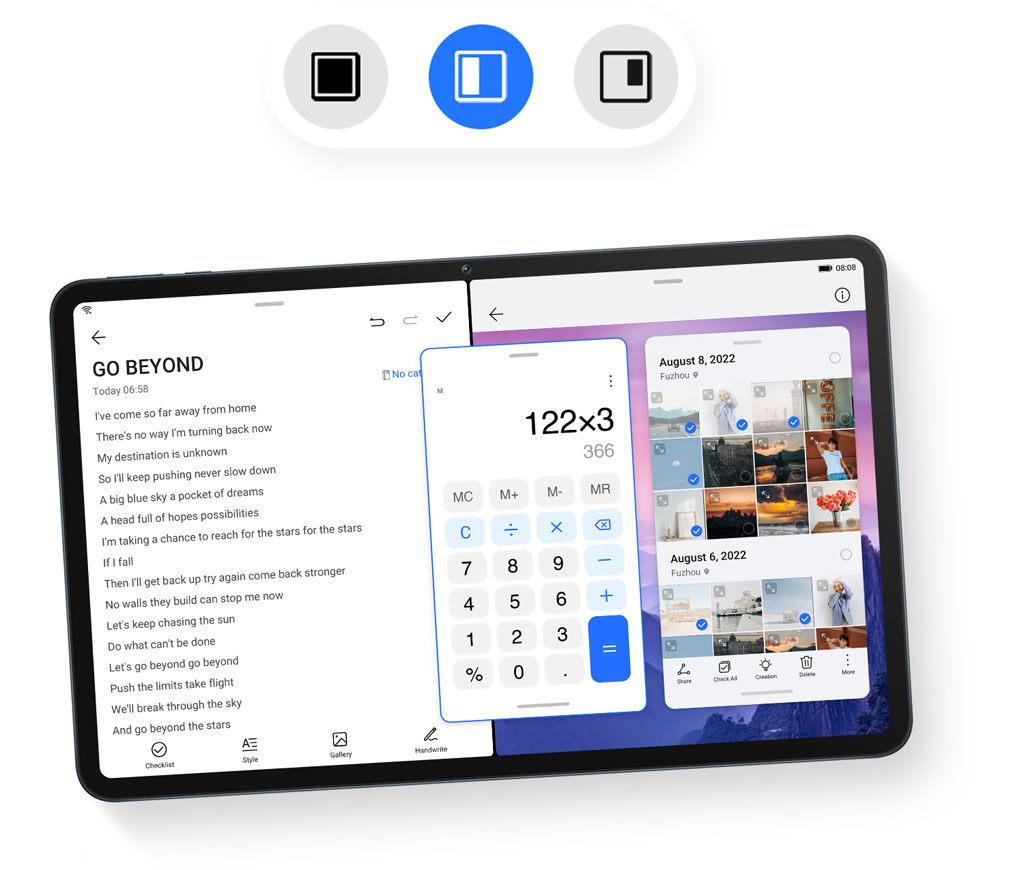 7. 5 + 5 front and rear cameras
This next must-have feature is essential for todays creators and home workers. It would be very remiss of any company to not include a good pair of cameras, front and back. Sure, it doesn't come with any panning and zooming features that allows an ultra wide camera to follow its subject during a video call, but basic functions like noise cancellation and vocal enhancement algorithm are there. That's enough group chats, online video classes and one to one video calls.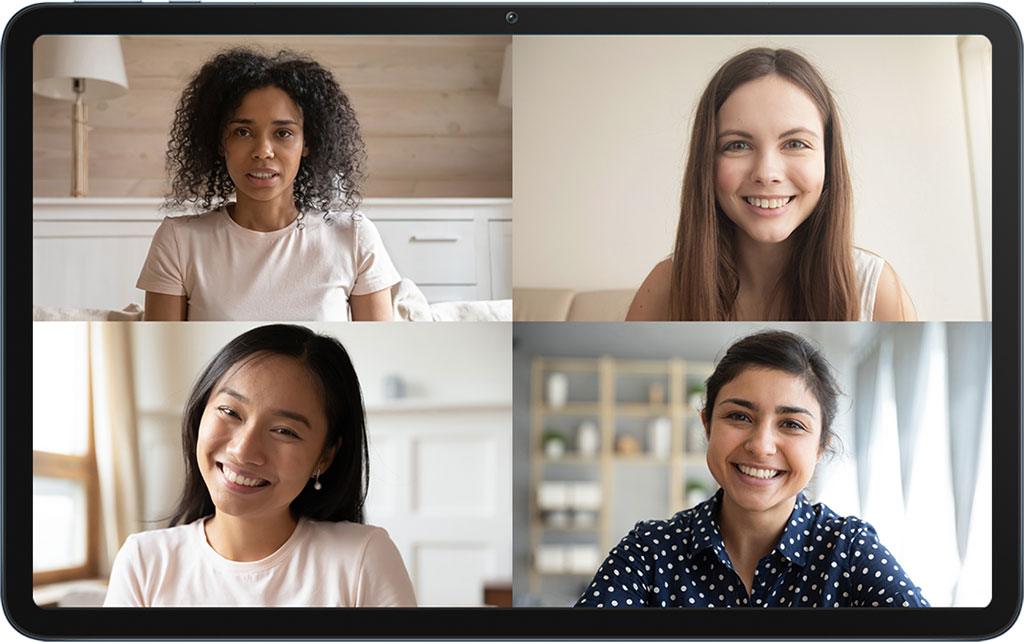 8. Those 8 Stereo Surround Speakers
Why have four when you can have eight. The tablet has four treble drivers and four bass drivers. These work together to offer professional level audio with immersive bass and treble. Now, instead of adopting Dolby Atmos surround sound, Honor has picked the competing DTS:X Ultra. This works with HONOR Histen for full audio adjustment. It detects the current audio scene and select the right sound modes for best listening experience.
Final Thoughts
To sum it up, here is a great value and BIG, 12-inch tablet with features to rival even those on premium offerings out there at a fraction of their prices. If you can over look the middling chip, it still has a generous 4GB memory and 128GB storage. What it doesn't have is a microSD card slot for those who like to travel with all their digital media and not have to worry about clogging up the onboard storage. Those are just about the only things holding the device back.
The tablet is without a doubt a great mobile device for streaming media. Its big and bright display, narrow 7.2mm bezel and incredibly loud 8-speaker system, separating treble and bass is definitely a head turner. Battery life is amazing too with support for fast charging to top it back up when low. For normal use, you will only be looking at charging this once a week. Heavy users might be looking at up to 2 days worth of battery life on a full charge.
Finally, don't just take it from us, the tablet is already an Internet favourite with awards and recognition from IFA 2022. Websites like Make Use Of, Android Police, Trusted Review for Best In Show Winner, Billboard and Android Authority.