I am not going to lie. I am a real fan of the Microsoft Surface Pro. The built-in kick stand, the large display and the versatility of a tablet and laptop in one. Although, you will need the optional Surface Keyboard and Pen to truly take advantage of it as a 2-in-1 detachable hybrid. So, it won't come as a surprise when Microsoft launched the Surface Pro 9, our interest in the device is renewed once again.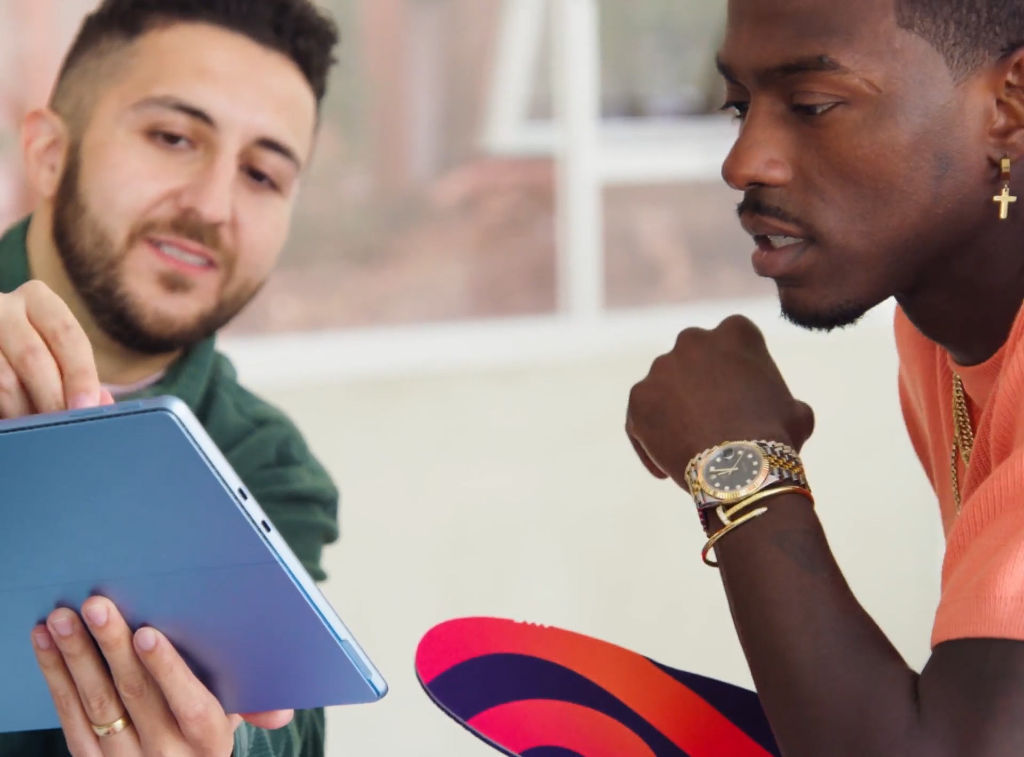 What's new in the flagship tablet, Microsoft Surface Pro 9
Microsoft seems to be sticking to the mantra "don't fix it if it ain't broken" with the Surface Pro tablet. Generations after generations the design looks pretty much the same with minor tweaks here and spec bumps there. But this 9th generation tablet has more under the hood going for it. Here is what's new.
1. The expected spec bumps
The last Surface Pro 8 was launched in 2021. A year later, you would expect the usual spec bumps, since the last iterations was quite a jump from the previous generation. The 2022 version gives us the same looking tablet, even similar in dimensions, kitted with newer 12th generation Intel Processor and newer Microsoft SQ3 chip for the 5G enabled version (a bit more on this later). Basically, what you get with this generation is entirely under the hood.
2. The Surface Pro X is now part of Surface Pro 9
Yes, it will still use Microsoft specified ARM chip but will just be known as Surface Pro 9 with 5G, dropping the Surface Pro X name. The standard Surface Pro (without 5G) will use Intel's 12 generation (Alder Lake) Core-i processors. Merging the two lines make it a little confusing when choosing the right tablet. You may think that they are the same tablet but they are based on wholly different architecture. The always connected ARM model is designed for connectivity first with the inclusion of Qualcomm's 5G chip. For more productivity and processor intensive work, choose the version powered by Intel. To muddy the waters even more, there are three different series sharing the same Surface Pro 9 name, they are as below:
Surface Pro 9 with 5G (ARM chip)
Surface Pro 9 for Consumers (Intel Processors)
Surface Pro 9 for Business (Intel Processors)
3. Bigger "Surface Pro X"
Dropping the X name and joining the Surface Pro 9 line also means the cellular model, Surface Pro 9 with 5G now gains both in dimensions and weight. Now thicker and heavier, it does feel significantly different to its predecessor. However, it's not something to worry about give that it also means you get plenty in return in the form of battery life with up to 19 hours per charge on typical use.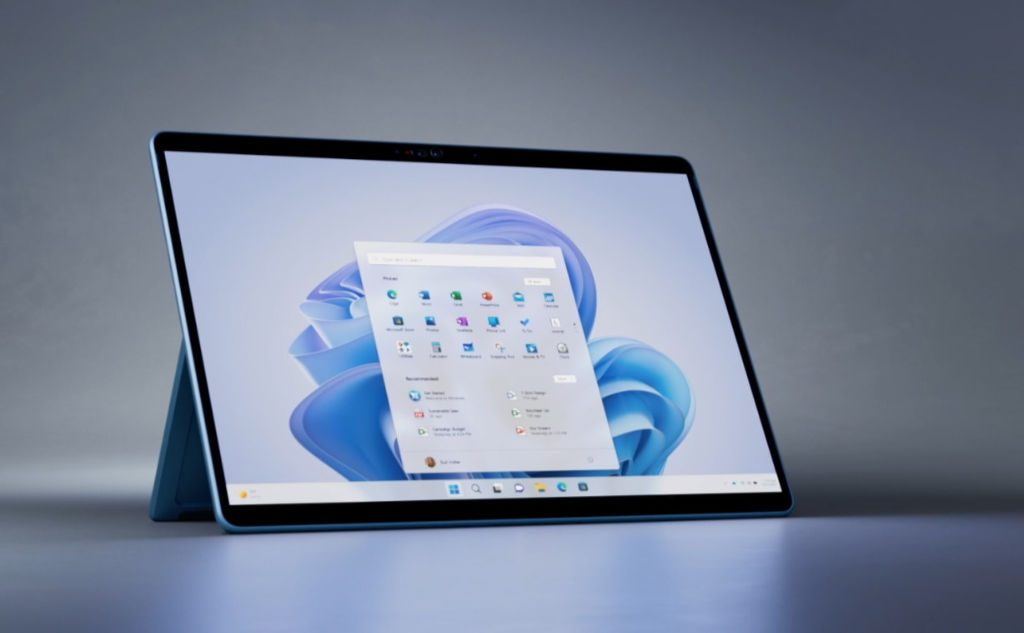 Search Surface Pro 9 on Amazon
4. Processors or chip
Names aside, The processors in use are in deed the latest. Microsoft goes all in with 12th generation Alder Lake Intel Core i5-1235U and Intel Core i7-1255U processors. The mid-range Intel Core i5-1235U processor comes with a total of 10 cores, 2 of which are performance cores with a maximum frequency of 4.40GHz while the other 8 are efficient cores with a maximum frequency of 3.30GHz. Together they offer a total of 12 processing threads with 12MB Intel Smart Cache memory.
The faster Intel Core i7-1255U also has the same number of cores, 2 performance cores with a higher maximum frequency of 4.70GHz and 8 efficient cores with a higher maximum frequency of 3.50GHz. Choosing the U-series to power the Surface Pro means the processors are kinder on the battery. Both processors has a base power consumption of only 15W maxing out at 55W. At the same power rating, the Intel Core i7 does give you more power per watt but not by a lot.
PassMark puts the Intel Core i7-1255U at 13459 in the Average CPU Mark score and 3350 in the Single Thread Rating (see CPU Benchmarks). On the other hand, the Intel Core i5-1235U manages 13432 in Average CPU Mark and 3336 in Single Thread Rating (see CPU Benchmark). This puts the two processor quite close to each other in terms of performance.  Scores are correct at the time of writing.
For the mobile chip, the custom Microsoft SQ3 is actually based on Qualcomm Snapdragon 8cx Gen 3 chip which puts it right up there with all the latest flagships. It achieves an Average CPU Mark of 11783 and a Single Thread Rating of 2540 (see CPU Benchmark).
5. Memory and storage options are the same
In true Surface Pro fashion, there is a whole range of memory and storage options aside from picking which Intel Core-i processor to go for. For memory, its 8GB, 16GB or 32GB. For storage, there is 128GB, 256GB, 512GB, 1TB for a total of  6 configurations as shown below:
Intel Core i5, 8GB RAM, 128GB SSD
Intel Core i5, 8GB RAM, 256GB SSD
Intel Core i7, 16GB RAM, 256GB SSD
Intel Core i7, 16GB RAM, 512GB SSD
Intel Core i7, 16GB RAM, 1TB SSD
Intel Core i7, 32GB RAM, 1TB SSD
For the Surface Pro 9 with 5G, you have two options, with memory at 8GB or 16GB and storage at 128GB or 256GB. Options are as below.
SQ3, 8GB RAM, 128GB SSD
SQ3, 16GB RAM 256GB SSD
It is worth noting that on the Intel models, you get faster LPDDR5X memory and for both Intel and ARM powered devices, the SSD storage is easily removable with the hatch hidden securely behind the kickstand.
6. Higher resolution web cam with 4-degree tilt
With group video calls and online meetings being the norm, the front facing camera gets an upgrade from using a 5MP sensor to a 10MP sensor although the rear facing camera stays the same with a 10MP sensor. It doesn't stop there as it is also tilted down by 4-degree for a model levelled view, at least for the user at the other end
In our mind, there is no real advantage in increasing the sensor unless you introduce ultra wide lenses and centre stage like feature. This is only available on Surface Pro 9 with 5G or what Microsoft likes to call Automatic Framing. It also takes advantage of Neural Processing Unit in the ARM chip to make Windows Studio effects possible on Windows 11. On top of Automatic Framing, features include Eye Contact, Voice Focus to filter out background noise and Portrait Background Blur.
The supported video recording resolution for the front facing camera is still Full HD at 1080p and is used for Windows Hello face authentication. For 4K recording, use the 10MP rear facing autofocus camera.
7. Still manages good battery life
The device may pile up on CPU cores, but it is still very energy efficient. The Intel Core-i models manages up to 15.5 hours on a full charge, 30 minutes less than the Surface Pro 8 model's 16 hours. It does this with slightly lower capacity battery, a nominal of 47.7Wh down from 51.5Wh. Even so, 15.5 hours is a long time. As for the 5G model, it can achieve up to 19 hours on typical use up from 16 hours with Surface Pro X.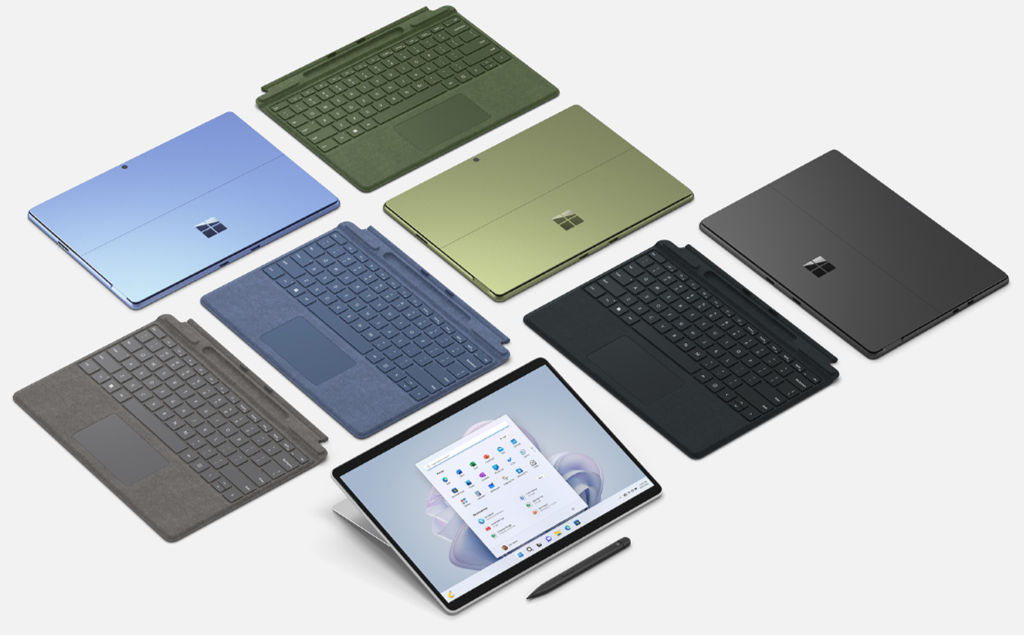 Search Surface Pro 9 on Amazon
8. More exciting colour options
If you think the dark shades of Graphite is a great addition to the standard Platinum (silver), wait till you see the Surface Pro 9 colour options. There are now four colours to choose from with the addition of Sapphire (Blue) and Forest (Green). Plus, accompanying optional keyboard covers are available in various designs with matching shades; grey, black, blue and green.
9. Blazing fast 5G
In case you haven't noticed, first on a Surface Pro is the blazing fast 5G connectivity but only with ARM model using Qualcomm's 5G chip.
10. Lost the audio
Being a super sleek tablet means there is no room for extra ports. Just like the Surface Pro 8, you only get two USB-C ports with Thunderbolt 4 support on Intel models. This is on top of the Surface Connect port and Surface Type Cover port. However, there is one thing missing this time. The 3.5mm headphone jack is finally gone from the Surface Pro 9.
Everything else stayed the same
The spacious 13-inch PixelSense Flow touchscreen display is still based on LCD. Based on 3:2 aspect ratio, it is more practical for productivity applications and web browsing. At 2880 x 1920 pixels resolution, images look sharp and motion is smooth with up to 120Hz dynamic refresh rate (DRR). Although, Microsoft has listed some features for the first time, such as Dolby Vision IQ support (HDR), contrast ratio of 1200:1, Gorilla Glass 5, Auto Colour Management support and sRGB coverage.
Final Thoughts
We don't cover them here but the Surface Pro 9 for Business uses different Intel Core i5-1245U and Intel Core i7-1265U. These are again only slightly faster/slower than those found in the Consumer units.
The Intel Core i5-1245U manages an Average CPU Mark of 13094 and Single Thread Rating of 3194 while the Intel Core i7-1265U scored 13491 and 3387 respectively (See CPU Benchmarks). As you can see, there are some discrepancies with the scores here.
Ultimately, our favourite would still be the Intel Core i5-1235U model. With the right memory and storage, it has the best balance for performance and cost. The embedded Intel Iris Xe graphics will even allow you to game locally on top of online gaming.
However, you might want to consider the 5G enabled ARM model if portability and connectivity is foremost on your mind. Most applications written for ARM are now more stable, and you get the bonus of longer battery life. Just be sure to check that the app you intend to use is supported.
Whatever you decision, whether to go with the ARM or Intel options, consider the optional Microsoft Type Cover and Slim Pen 2 stylus. These are essential accessories to make the most of the tablet. It does however push the price way up so budget for them accordingly.
Surface Pro 8 vs Surface Pro 9 (Intel Models) Comparison
| | | |
| --- | --- | --- |
| | Surface Pro 9 (2022) | Surface Pro 8 (2021) |
| Dimensions | 287 x 209 x 9.3mm | 11.3 in x 8.2 in x 0.37 in (287mm x 208mm x 9.3mm) |
| Display | Screen: 13" PixelSense™ Flow Display | Screen: 13" PixelSense™ Flow Display |
| Resolution | Resolution: 2880 x 1920 (267 PPI) | Resolution: 2880 x 1920 (267 PPI) |
| Refresh Rate | up to 120Hz (Dynamic refresh rate supported) | Up to 120Hz refresh rate (60Hz default) |
| | Aspect ratio: 3:2 | Aspect ratio: 3:2 |
| | Adaptive Color | Adaptive Color |
| | Touch: 10 point multi-touch | Touch: 10 point multi-touch |
| | Dolby Vision IQ™ support17 | Dolby Vision® support3 |
| | Contrast ratio: 1200:1 | GPU Ink Acceleration |
| | Gorilla® Glass 5 | |
| | Auto Colour Management supported | |
| | Colour profile: sRGB and Vivid Refresh rate | |
| Memory | 8GB, 16GB, 32GB (LPDDR5 RAM) | 8GB, 16GB, 32GB (LPDDR4x RAM) |
| Processor | 10-core 12th Gen Intel® Core™ i5-1235U processor | Quad-core 11th Gen Intel® Core™ i5-1135G7 Processor |
| | 10-core 12th Gen Intel® Core™ i7-1255U processor | Quad-core 11th Gen Intel® Core™ i7-1185G7 Processor |
| | Options with storage 256 GB and above built on the Intel® Evo™ platform | i5 and i7 options with storage 256GB and above built on the Intel® Evo™ platform |
| Security | Firmware TPM 2.0 is a security processor that is designed to give you peace of mind | Firmware TPM chip for enterprise-grade security and BitLocker support |
| | Windows Hello face sign-in | Enterprise-grade protection with Windows Hello face sign-in |
| Sensors | Accelerometer | Accelerometer |
| | Gyroscope | Gyroscope |
| | Magnetometer | Magnetometer |
| | Ambient Colour sensor | Ambient Color Sensor |
| Weight | 879 g | 891 g (1.96lb) |
| Pen Compatibility | Designed for Surface Slim Pen 2 | Designed for Surface Slim Pen 2 |
| | Integrated storage and wireless charging for Surface Slim Pen 2 with Surface Pro Signature Keyboard | Integrated storage and wireless charging for Surface Slim Pen 2 with Surface Pro Signature Keyboard |
| | Supports tactile signals9 with Surface Slim Pen 2 | Supports tactile signals with Surface Slim Pen 2 |
| | Supports Microsoft Pen Protocol (MPP) | Supports Microsoft Pen Protocol (MPP) |
| Keyboard Compatiblity | Surface Pro Keyboard | Surface Pro Signature Keyboard |
| | Surface Pro Signature Keyboard | Surface Pro X Keyboard |
| Storage | Removable drive (SSD) options: 128GB, 256GB, 512GB, 1TB | Removable solid-state drive (SSD) options: 128GB or 256GB |
| | | 512GB or 1TB |
| Battery Life | Up to 15.5 hours of typical device usage (up to 19 hours on 5G model) | Up to 16 hours of typical device usage |
| Graphics | Intel® Iris® Xe Graphics | Intel® Iris® Xe Graphics (i5, i7) |
| Ports | 2 x USB-C® with USB 4.0/ Thunderbolt™ 4 | 2 x USB-C® with USB 4.0/Thunderbolt™ 4 |
| | | 3.5mm headphone jack |
| | 1 x Surface Connect port | 1 x Surface Connect port |
| | 1 x Surface Type Cover port | Surface Type Cover port |
| | | Compatible with Surface Dial off-screen interaction* |
| Cameras, video, audio | Windows Hello face authentication camera (front-facing) | Windows Hello face authentication camera (front-facing) |
| | 5.0MP Front-facing camera with 1080p full HD video (10.0MP on 5G model) | 5.0MP front-facing camera with 1080p full HD video |
| | 10.0MP rear-facing autofocus camera with 1080p HD and 4k video | 10.0MP rear-facing autofocus camera with 1080p HD and 4k video |
| Speakers | Dual far field studio microphones | Dual far-field Studio Mics |
| Microphone | 2W stereo speakers with Dolby® Atmos®8 | 2W stereo speakers with Dolby Atmos® |
| Wireless | WiFi 6E: 802.11ax compatible | Wi-Fi 6: 802.11ax compatible |
| | Bluetooth® Wireless 5.1 technology | Bluetooth Wireless 5.1 technology |
| Exterior | Casing: Aluminium | Casing: Signature anodized aluminum |
| | Colours13: Sapphire, Forest, Platinum, Graphite | Colors: Graphite, Platinum4 |
| | Physical Buttons: volume, power | Physical buttons: Volume, Power |
| Battery Capacities | Battery Capacity Nominal (WH) 47.7 Wh | Battery Capacity Nominal (WH) 51.5Wh |
| | Battery Capacity Min (WH) 46.5 Wh | Battery Capacity Min (WH) 50.2Wh |