Given the low prices of entry level tablets right now, they are worth considering as a device to complement the desktop or the laptop. These are great for everyday computing; browse the web, check emails, create and edit documents and stream media. And, if that is all you require from your device, with the right accessory, these tablets can even replace your laptop. We look at two such devices, Lenovo IdeaPad Duet 3 Chrome vs Microsoft Surface Go 3.
Versatile Hybrid 2-in-1 Laptops with Plenty of Potentials
Both tablets, the Lenovo IdeaPad Duet 3 Chromebook and Microsoft Surface Go 3 are designed to take on everyday tasks, homework, research, streaming and even light online gaming. With the right accessory, they can be turned into hybrid 2-in-1 laptops. By accessory we mean the detachable keyboard. IdeaPad Duet 3 includes this while Surface Go 3 requires to Type Cover to achieve the same.
On top of that, they also support stylus, again included with the IdeaPad Duet 3 in some markets but as an optional purchase with the Surface Go 3. This makes it more than a tablet. In fact, a writing slate to jot or sketch your ideas and notes during lessons. Finally, the tablets also comes with its own stand with a built-in kickstand on the Surface Go 3 and deployable folio cover that partly unfolds on the IdeaPad Duet 3.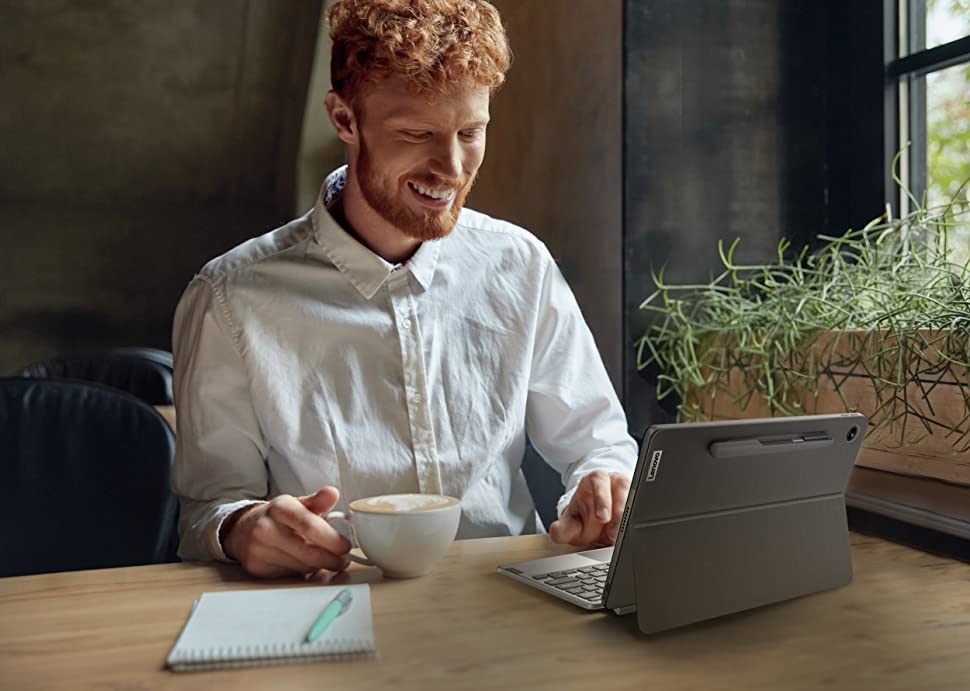 1. Display
The Lenovo IdeaPad Duet 3 win hands down with its 10.95-inch 2K LCD resolution display. It packs plenty of pixels to keep images sharp and has the modern full display design with rounded corners and narrow bezels. This makes it much more appealing with greater active area. However, while it supports both touch and stylus, the display uses an odd profile of 5:3 aspect ratio. This makes it wider and shorter which can be challenging for browsing the web but great for streaming media.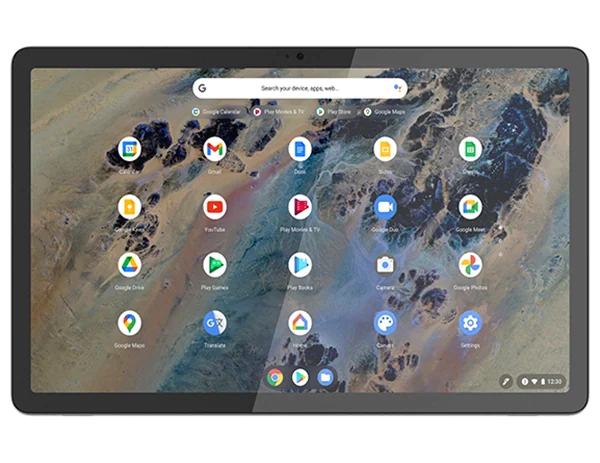 The display on the Microsoft Surface Go 3 is slightly smaller at 10.5-inch with Full HD+ resolution at 1920 x 1080 pixels. That puts the pixel density at 220 PPI. It still features the old squared corner but has a much better 3:2 aspect ratio, perfect for productivity applications and web browsing. For durability and toughness, it is fronted with Corning Gorilla Glass 3. Both display supports multi touch for scrolling, zooming and gestures as well as stylus. They are the Lenovo USI Pen 2 for IdeaPad Duet 3 and Surface Slim Pen for Surface Go 3.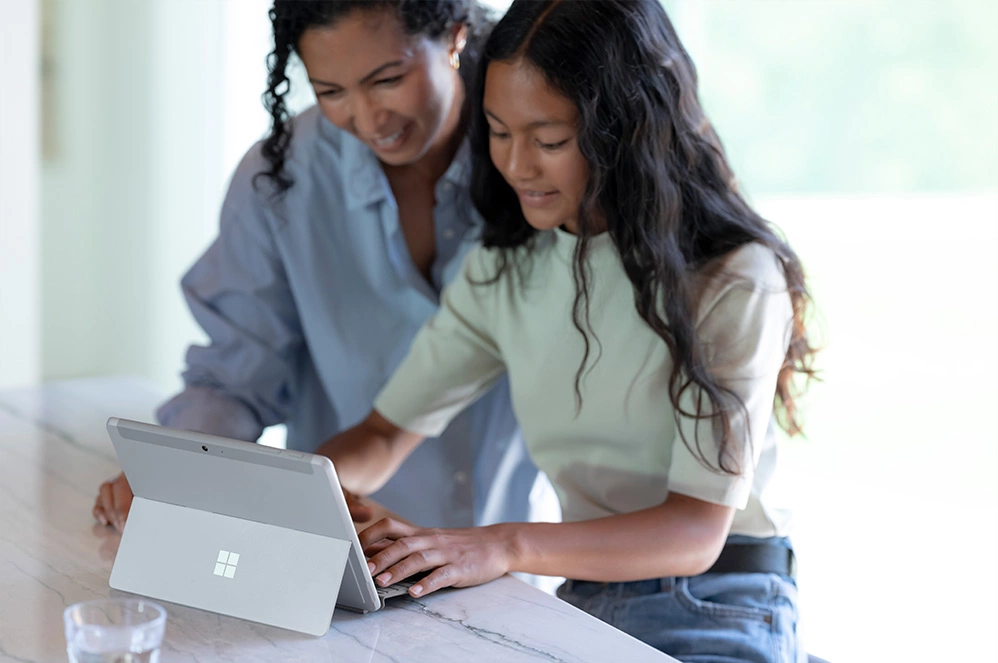 2. Performance
With the Surface Go 3, you get a choice of Dual core Intel Pentium Gold 6500Y processor or Dual core Intel Core i3-10100Y processor to power the tablet. From our earlier review, there isn't a lot of difference between the two processors. See table below comparing the Average CPU Mark and Single Thread performance as recorded by cpubenchmark.net at the time of writing. In fact, the Intel Pentium Gold 6500Y offers better single thread performance.
| | | |
| --- | --- | --- |
| Processor | Ave CPU Mark | Single Thread Rating |
| Dual-core 10th Gen Intel® Core™ i3-10100Y processor | 3070 | 1732 |
| Dual-core Intel® Pentium® Gold 6500Y processor | 3023 | 1782 |
The IdeaPad Duet 3 is powered by Qualcomm Snapdragon 7c Gen 2 processor. It is not as fast as the flagship Snapdragon 8 Gen 2 mobile processor but fast enough to stand up to Intel processors above. For reference, here is how they compare. Remember, you are comparing a mid-range chip to a top of the shelf option.
| | | |
| --- | --- | --- |
| Mobile Platform | Ave CPU Mark | Single Thread Rating |
| Snapdragon 7c Gen 2 @ 2.55 GHz | 3457 | 1509 |
| Snapdragon 8cx Gen 2 @ 3.15 GHz | 6171 | 2002 |
As you can see form the numbers, the Average CPU Mark score on the Snapdragon 7c Gen 2 is better but the Intel processors are faster in Single Thread processing. Whichever one you pick, you will be assured of fast performance on a light and fan less design that prioritises efficiency and battery life.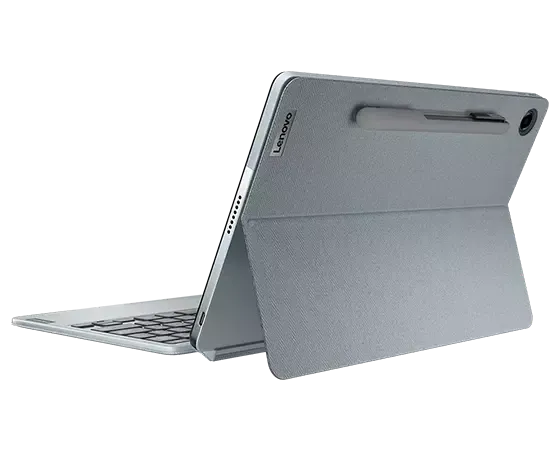 3. Memory and Storage
The IdeaPad Duet 3 Chromebook comes with 4GB RAM and 128GB of storage. Although, depending on where you are geographically you may be able to get the 8GB RAM and 256GB storage model. On the other hand the Surface Go 3 offers more memory and storage configurations based on your chosen processor. We already mentioned that there is no great benefit choosing one processor over the other but with the memory and storage option, bigger is better.
For the Surface Go 3, pick 8GB RAM over 4GB RAM and 128GB SSD over 64GB eMMC. With bigger memory and faster SSD storage, the overall performance of your tablet will improve. This does push the price of Surface Go 3 up making the IdeaPad Duet 3 Chromebook option more budget friendly.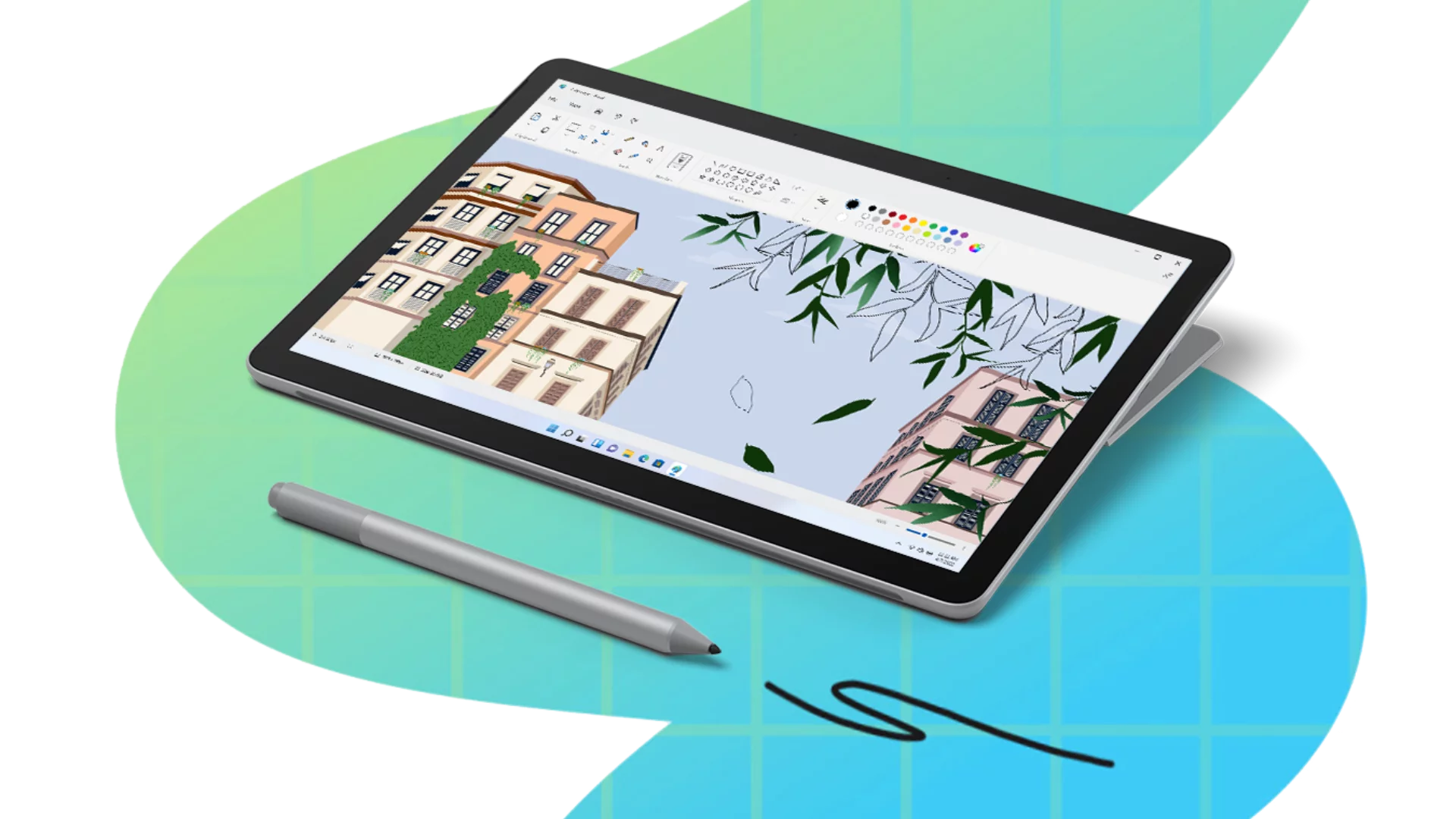 4. Cameras
The cameras are nothing to shout about. Both IdeaPad Duet 3 and Surface Go 3 feature the same resolution camera pairs. 5MP for the front facing camera and 8MP for the rear facing camera. It is worth noting that both front and rear facing cameras support 1080p HD video capture. That is more than sufficient for most applications including video calls and to record short video clips as part of your assignments.
The Surface Go 3 does go one step further with enhanced dual far field Studio Microphones and 2W stereo speakers with Dolby Audio support. The IdeaPad Duet 3 features two 1W stereo speakers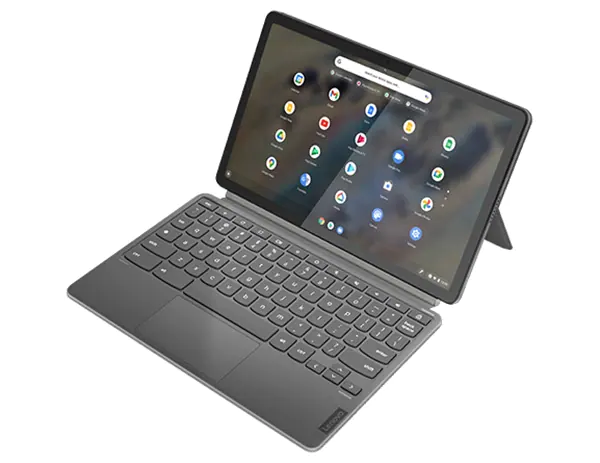 5. Connectivity
There are 2 USB-C 3.0 Gen 1 ports on the IdeaPad Duet 3. As for the Surface Go 3, it comes with a combination of ports; a USB-C port, a proprietary Surface Connect port for docking hub, a Surface Type Cover Port for keyboard cover and a MicroSDXC card reader. There is even a 3.5mm headphone jack, which is lacking in the IdeaPad Duet 3.
For wireless connectivity, the Surface Go 3 features WiFi 6 and Bluetooth 5.0 while the IdeaPad Duet 3 uses WiFi 5 and Bluetooth 5.1 technologies.
6. Battery Life
Both devices offer all-day computing with the IdeaPad Duet 3 taking the lead with up to 12 hours of typical use while the Surface Go 3 can muster up to 11 hours of typical use on a full charge. The IdeaPad Duet 3 also supports fast charging with up to 45W charging although only a 30W adapter is supplied.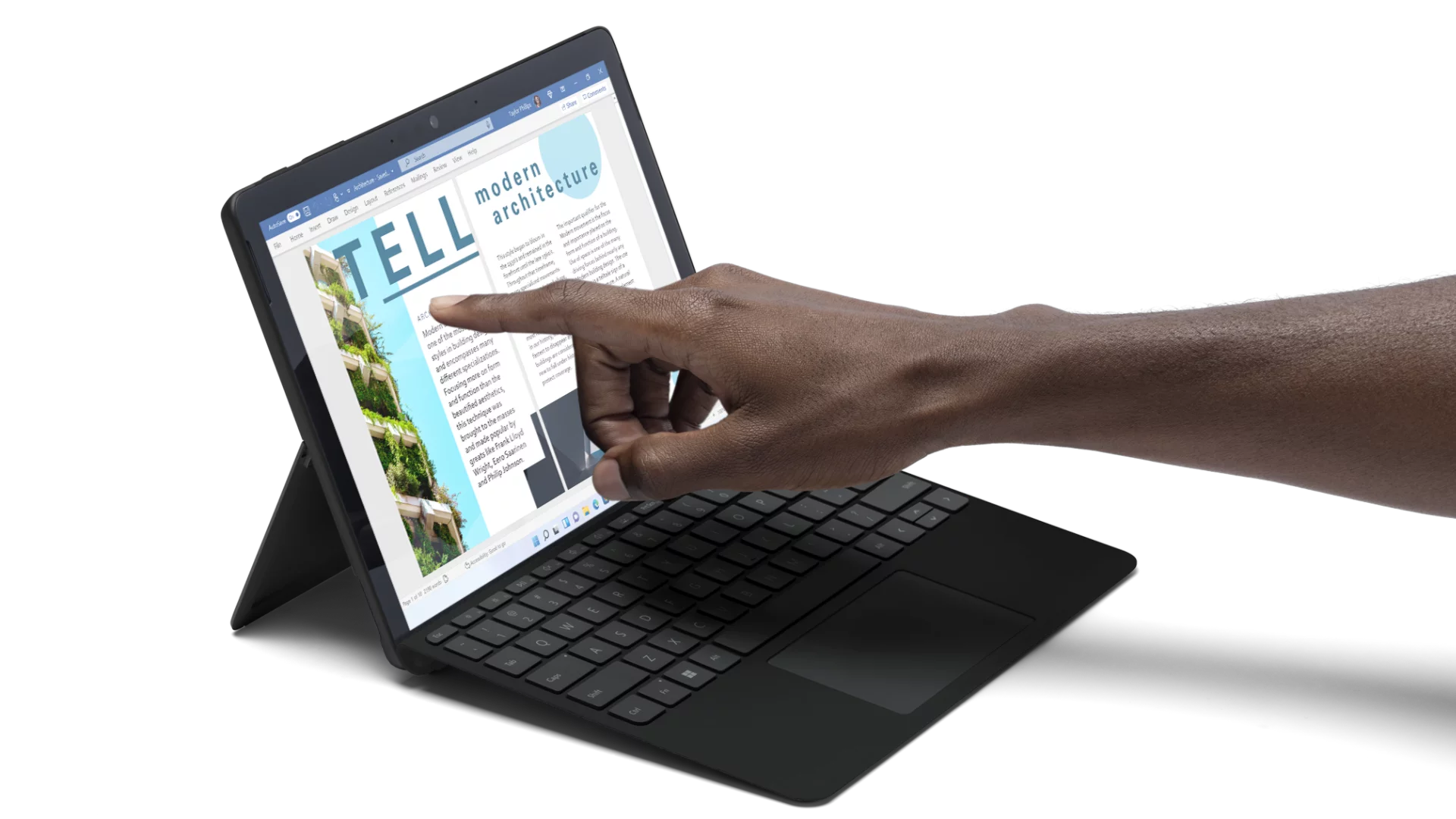 7. Dimensions and Weight
The tablets on their own are very compact and lightweight. The Lenovo IdeaPad Duet 3 weights only 516.5 grams and is super thin at 7.9mm. The Surface Go 3 is the most portable 2-in-1 PC from Microsoft. It is slightly thicker at 8.3mm and weighs more at 544 grams but you won't be able to tell the difference. One replies on the back plate cover for kick stand while the other already has it built-in so when kitted with keyboards, they are both very similar in dimensions and weight.
IdeaPad Duet 3 Chromebook: 258.04mm x 164.55mm x 7.90mm / 10.16″ x 6.48″ x 0.31″
Microsoft Surface Go 3: 245 mm x 175 mm x 8.3 mm (9.65" x 6.9" x 0.33")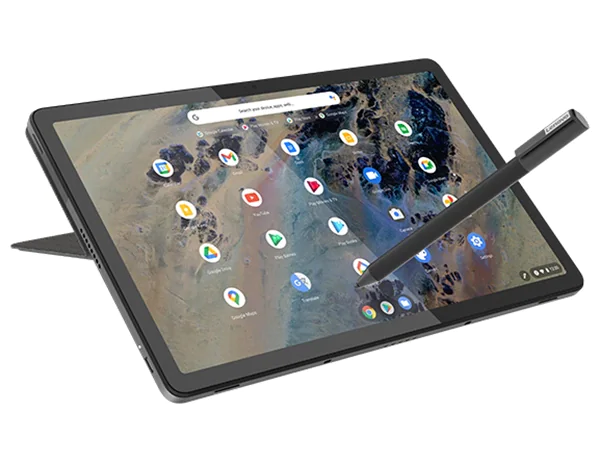 8. Operating System
Finally, the last factor for consideration is the operating system and ultimately the apps that you will have access to on these devices. The Lenovo IdeaPad Duet 3 runs on ChromeOS. It is being sold as an 11-inch Chromebook with the detachable keyboard and folio case thrown in. ChromeOS is simple to use, fast and secure. If you are living and breathing Google Workspace and all its' associated apps, ChromeOS is for you. If your school subscribes to Google Workspace for Education, it would make choosing the Chromebook a no brainer.
On the other hand, if your school uses Office 365 Education which in turn allows you to access Word, Excel, PowerPoint, OneNote and Microsoft Teams as well as classroom tools, then choose the Microsoft Surface Go 3. It comes preloaded with Windows 11 Home in S mode as well as a free trial of Microsoft 365 Family. The latter can be replaced by simply logging in with your school's ID which will unlock all the apps you have access to in school. This isn't to say that you can't use Google Apps on the Surface Go 3, one just needs the Chrome browser.