It's easy to see the appeal of OLED displays. Bright, capable of high-contrast and vivid colours, they are the makings of an amazing screen. OLEDs are becoming more common now on laptops as they do smartphones and big screen TVs. Here is a look at laptops with OLED panels.
Who doesn't like a brilliant and amazing display on their device? While Backlit LED with IPS technology is most common on laptops, self emitting OLED panels are finding their way into today's laptops, especially premium ones. They offer brighter images suitable for outdoor or bright rooms as well as better contrast for deeper blacks and richer, more vibrant colours. Once you had the experience of an OLED screen, you would accept nothing less. Yes, there are super bright panels that use mini LED back light and multiple dimming zones but these are still rare and if you can find them, like the MacBook Pro 14 and MacBook Pro 16s' Liquid Retina XDR display, they are super expensive.
Big Brands with OLED Laptops
The four leading companies with OLED based laptops in their arsenal are ASUS, DELL, HP and SAMSUNG. Here is a quick overview of their offerings and panel sizes.
1. ASUS ZenBook and VivoBook series
13.3-inch OLED: ASUS ZenBook Flip S13, ASUS ZenBook 13
14-inch OLED: ASUS ZenBook UX5400, ZenBook 14X
15.6-inch OLED: ASUS VivoBook 15, ASUS VivoBook Pro 15
16-inch OLED: ASUS VivoBook Pro 16X, ASUS ProArt Studiobook 16
2. DELL XPS series
13.4-inch OLED: Dell XPS 13 Plus 9320 Laptop
15.6-inch OLED: Dell XPS 15 9510 Laptop
3. HP ENVY series
13.3-inch OLED: HP ENVY x360 13.3 Convertible Laptop
15.6-inch OLED: HP ENVY 15 Laptop
4. SAMSUNG Galaxy Book2 Pro and Galaxy Book2 Pro 360
15.6-inch SuperAMOLED: Samsung Galaxy Book2 Pro 15, Samsung Galaxy Book2 Pro 360 15
13.3-inch SuperAMOLED: Samsung Galaxy Book2 Pro 13, Samsung Galaxy Book2 Pro 360 13
We limit our line-up to just conventional laptops. If you are looking for convertibles and 2-in-1 laptops or gaming laptops you can check out our articles below over at our sister site Colour My Tech:
Convertible 2-in-1 Laptops with OLED display [coming soon]
Gaming Laptops with OLED display [coming soon]
Some pointers for choosing the right OLED laptop
Some questions to ask yourself when choosing a laptop with OLED display are as follows:
How big do you need your screen to be?
Do you need a touchscreen?
Full HD resolution or higher?
Embedded Graphics or Discrete Graphics?
We will not go into the details of how much memory or storage or even the choice of processors. For most of these laptops with OLED display, you have a choice of Intel Core i5 or Intel Core i7 processors, 8GB, 16GB or up to 32GB memory and 256GB, 512GB or up to 2TB storage. Naturally, the higher the processor, memory and storage, the more expensive it gets. Choose one that fits your budget.
Laptops with OLED display
So here goes, our line-up of the best laptop with OLED panel.
1. ASUS ZenBook 13 Laptop
13.3-inch Full HD OLED touchscreen display 1920 x 1080, 400nits brightness, glossy display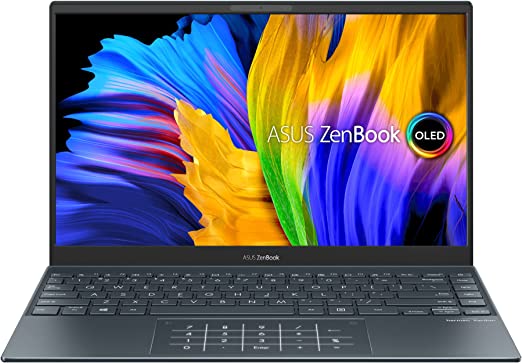 ASUS made it their mission to push OLED panels on their ZenBook and VivoBook laptops with the promise of the best colour reproduction and professional grade visuals. These panels are also colour calibrated for three things; to reduce harmful blue light, for better colour coverage to better serve professional and creative works and generally, for better image quality. With ASUS, you are assured of cinema-grade 100% DCI-P3 colour gamut or 133% sRGB colour coverage. For designers and producers, look for PANTONE validated OLED display on the Pro models.
To start you off, the ASUS ZenBook 13 is the best bet balancing price and performance. Powered by 11th generation, Intel Core i7 processor, it comes with a mix of 8GB RAM and 32GB Intel Optane memory and a generous 512GB SSD. Together, they make the laptop super responsive with faster app loading and start-up. We like the super long, up to 13 hours of battery life with quick charge support. Take it back to 60% battery level from flat in less than 50 minutes. Even with all that power, the laptop only weighs 1.3kg and measures 19.9mm slim.
Other nice touches include the ergo lift hinges that lift the base and keyboard at an angle suitable for typing, those nano edge bezels, the inclusion of a full size USB-A port on top of two Thunderbolt 4 USB-C and fast charging support. There is even a HDMI port and microSD card slot so no complains in the connectivity department. Then there is a huge trackpad that doubles as number pad and tough military grade chassis. It's everything you ever want from an ultraportable laptop.
Intel® Core™ i7-1165G7 Processor

Memory:

 

8 GB RAM / 32 GB Intel® Optane™

Storage:

 

512 GB SSD

Full HD OLED screen

Battery life:

 

Up to 13 hours
2. DELL XPS 13 Plus 9320 Laptop
13.4-inch 3.5K UHD OLED touchscreen display, 3456X2160 pixels, 400nits brightness, glossy display. 16:10 aspect ratio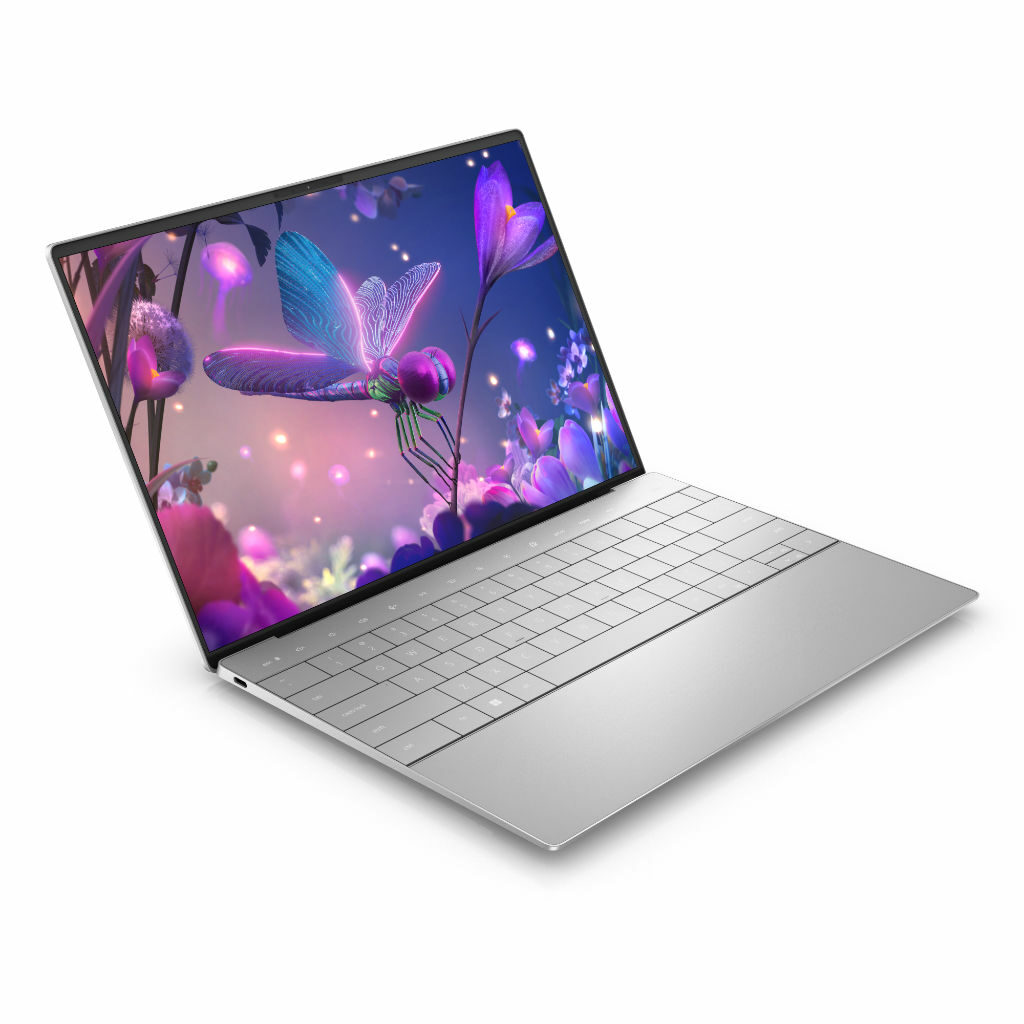 The XPS 13 Plus not only benefit from a display slightly bigger than the ZenBook 13, at 13.4-inch, it also packs a lot more pixels. At 3.5K, it is as good as 4K Ultra HD resolution given its size and close to four times the pixels of Full HD resolution. The panel is wrapped in InfinityEdge bezels so small that you hardly notice it. Even the top bezel is small housing a miniature web cam.
This is also a very minimalist and sophisticated laptop with up to the edge full-size keyboard that is nearly flush to the chassis with the top row keys embedded. The latter is a series of back lit touch sensitive area above the keyboard much like the touch bar but without the colour display. Even the track pad is built into the palm rest with no visible physical borders. With double the memory and generous storage, this laptop can take on any demanding software. And, like the ZenBook 13, it is ultra portable, weighing only 1.27kg and measures 19.9mm slim.
Clearly, a lot of thought has gone into the design of the XPS 13 Plus to make it stand out from the crowd. From the productivity focused 16:10 OLED display to the streamlined and well built body, everything spells premium. And, while physical ports are limited, like MacBook Pro 13, you get two Thunderbolt 4/USB-C ports. You can of course go crazy and get up to 32GB RAM and up to 2TB storage, picking the configuration of your choice.
Intel® Evo™ platform

Intel® Core™ i7-1260P Processor

RAM:

 

16 GB / Storage: 512 GB SSD

Intel Iris Xe-UMA Graphics

3.5K OLED touchscreen display
A bigger Dell XPS 15 with 15.6-inch OLED panel and a similar 3.5K resolution is also available.
3. ASUS VivoBook Pro 15 Laptop
15.6-inch Full HD OLED screen 1920 x 1080, 400nits brightness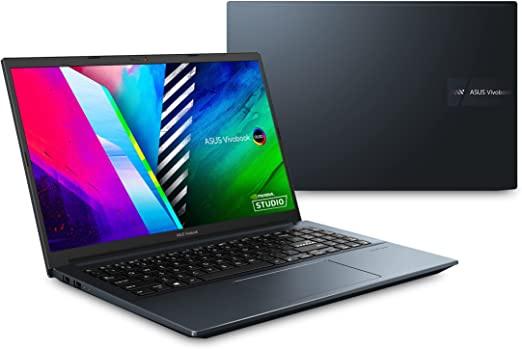 We would love to see more laptops with OLED display that is powered by AMD processor but for the moment, we will just have to make do with this for an ultraportable. The ASUS VivoBook Pro 15 is powered by AMD Ryzen 7 5800H processor. With 8 ultra fast cores, it can even take on gaming and heavy content creation tasks. Plus, keep it running cool under a heavy load, it comes with two cooling fans. With all that power, it does mean that the battery takes a hit, with up to 10 hour of use on a full charge. Still, you get a 15.6-inch Full HD panel with super narrow bezels and Harman Kardon certified sound system.
AMD Ryzen 7 5800H Processor

RAM:

 

16 GB / Storage: 512 GB SSD

Full HD OLED screen

Battery life:

 

Up to 10 hours
If you don't mind the size and heft, there is a more powerful and bigger ASUS VivoBook Pro 16X OLED based on AMD Ryzen 9 5900HX with NVIDIA GeForce RTX 3050 Ti graphics, 32GB RAM memory and 1TB SSD storage.
16-inch WQXGA+ (3840 x 2400) 16:10 OLED Screen 400 nits display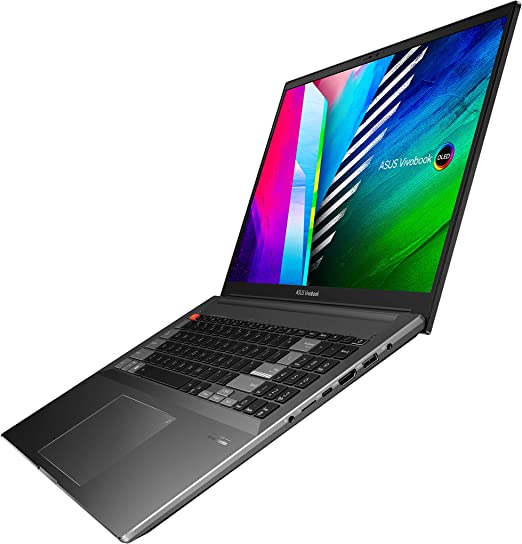 4. SAMSUNG Galaxy Book2 Pro Laptop
15.6-inch Full HD AMOLED screen 1920 x 1080, 400nits brightness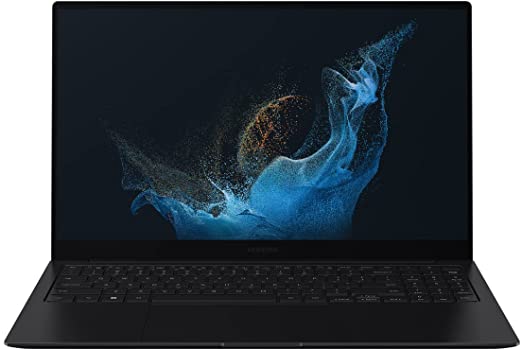 Samsung's renowned Super AMOLED display found its way into their Pro level laptops. Now in its second generation, this is the straight up laptop and not the convertible. The Galaxy Book2 Pro is available with 15.6-inch or 13.3-inch Super AMOLED Full HD displays. This 15.6-inch model is powered by the 12th generation Intel Core i7-1260P processor while a cheaper version with Intel Core i5-1240P processor, half the memory and half the storage is also available. And, if you fancy always on connectivity, a 5G enable option is also available.
the ultraportable is super light and compact. Even with those tiny bezels, it is able to house a Full HD webcam for those important group video chats. It even supports auto framing. For some downtime, enjoy your favourite tunes or tv shows with AKG tuned speakers with Dolby Atmos support. Like the Asus above, the chassis design is life proof with certification for military grade durability.
Intel® Evo™ platform

Intel® Core™ i7-1260P Processor

RAM:

 

16 GB / Storage: 512 GB SSD

Full HD screen
A smaller version with 13.3-inch display is available, so are convertible Galaxy Book2 Pro 360 with 13.3-inch and 15.6-inch Super AMOLED displays. As we focus mainly on conventional laptops, we leave these for another article.
5. HP ENVY 15 Laptop
15.6-inch 4K UltraHD OLED touchscreen display , 3840 x 2160 pixels, up to 75Hz refresh rate, 400nits brightness, gloss display
Pulling out all the stops in this HP Envy 15 laptop woth 15.6-inch 4K OLED display. It is powered by the chart topping Intel Core i9 processor with maxed out memory and storage. There is nowhere the laptop can't go as it will even let you take on casual gaming with its discrete graphics from NVIDIA, with the mid-range RTX 3060 GPU with 6GB graphics memory. If you prefer a convertible  HP ENVY x360 with 13-inch OLED panel is available but at FullHD resolution only. For a more affordable alternative, still with that 4K  OLED touchscreen and GPU, consider the Core i7 model with 16GB RAM and 1TB SSD.
We like the all metal angular chassis but wish that it comes in other shades than silver . The silver ENVY design is looking a little tied now. But, you know it is built to last. The multi touch, gesture supporting touchpad is bigger too and HP left the numpad out for a centered full size keyboard with 1.5mm pitch. This also allows upward firing speakers to be located by the sides of the keyboard, best place for them in our opinion.
Intel® Core™ i9-11900H Processor

RAM:

32

GB / Storage: 2 TB SSD

NVIDIA GeForce RTX 3060 6GB GDDR6 with Max Q design

4K OLED touchscreen display