Got the new MacBook Pro 14 or 16-inch and are looking for an equally handsome sleeve for it. We take a look at Harber's best offerings in this category. They include laptop cases, folios and sleeves. We will save bags and backpacks for another post. Here are your premium laptop folio and sleeve cases for your MBP.
We had a look at the company's Nomad Organiser for iPad Pro and MacBook Pro previously and was hooked. Since then, the company came up with many new innovative cases and bags for tech. During the same time, Apple also introduced the new MacBook Pro 14 and 16, new sizes for their powerful M1 Pro and M1 Max based laptops. Needless to says, these laptops are expensive and for that you will need a premium case that is durable, hard wearing and made from high quality material to not only protect your investment but to do it in style. Enter Harber London, a company that makes custom fit laptop cases. To make evaluating their product and how they meet your requirements easier, we have sub-divided this list into three, showcasing in our minds the best of each category.
Pick the right MacBook model and you will enjoy an excellent fit for your laptop, with an exceptional finish, hand made from quality materials with an understated minimalist design.
Folio Laptop Cases
The criteria for a case is it needs to have a zip, latch or magnetic closure to keep the laptop from falling out. Unlike sleeves, that are sometimes open, these are likely to be used independently and not just for protecting the laptop in a suitcase or backpack. It just means that you can sometimes travel with it alone and not worry about your laptop slipping out of its case. They typically cost a bit more than the basic sleeve and sometimes come with straps, pockets (internal and/or external) and straps.
In this category, our favourites are the Harber Laptop Folio and the Slim Leather Folio no.7. Given the long battery life, if battery charging is managed right, there is no real reason to carry the power adapter. A folio laptop case is all you need. However, if you must bring the power adapter then pick the Carry-All MacBook Folio
1. Laptop Folio (for MBP 14 and 16 available)
I have to admit that I am bias as to how a case should be. For me, a top loading slip case is one to go for. The folio has a minimal opening and a minimalist design that lets you slide the MacBook Pro in easily given its 'relaxed fit' with a zipper to secure it content. There is also an internal leather pocket for cables and accessories or even a full size iPad Pro if you picked one to fit your 16-inch MacBook Pro. Note that this is the only case featured here with extra room, other sleeves come with snug fit.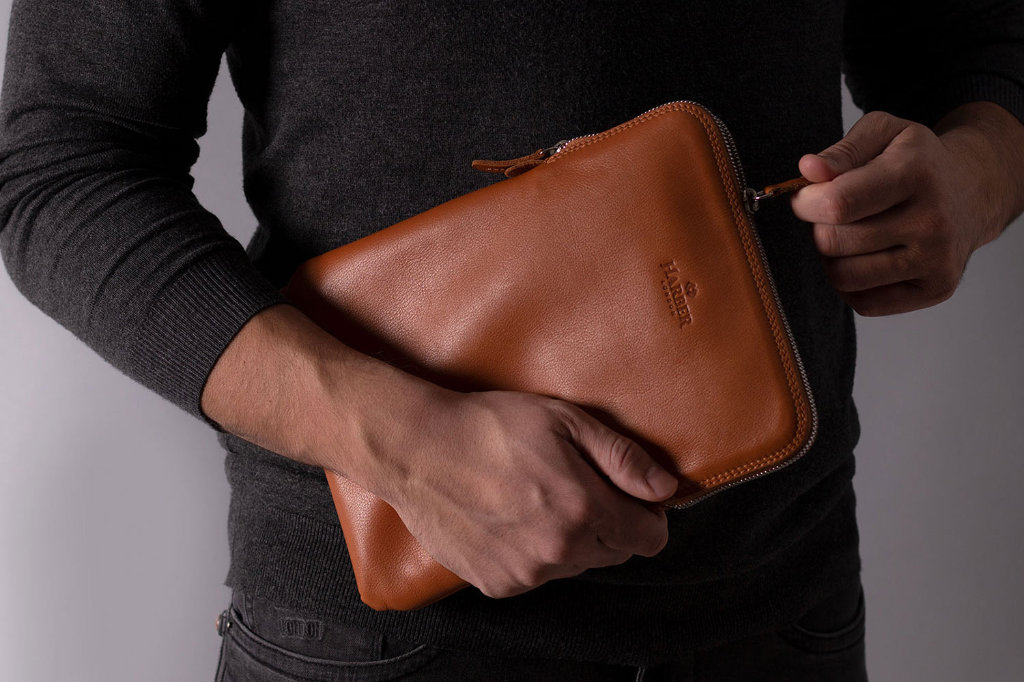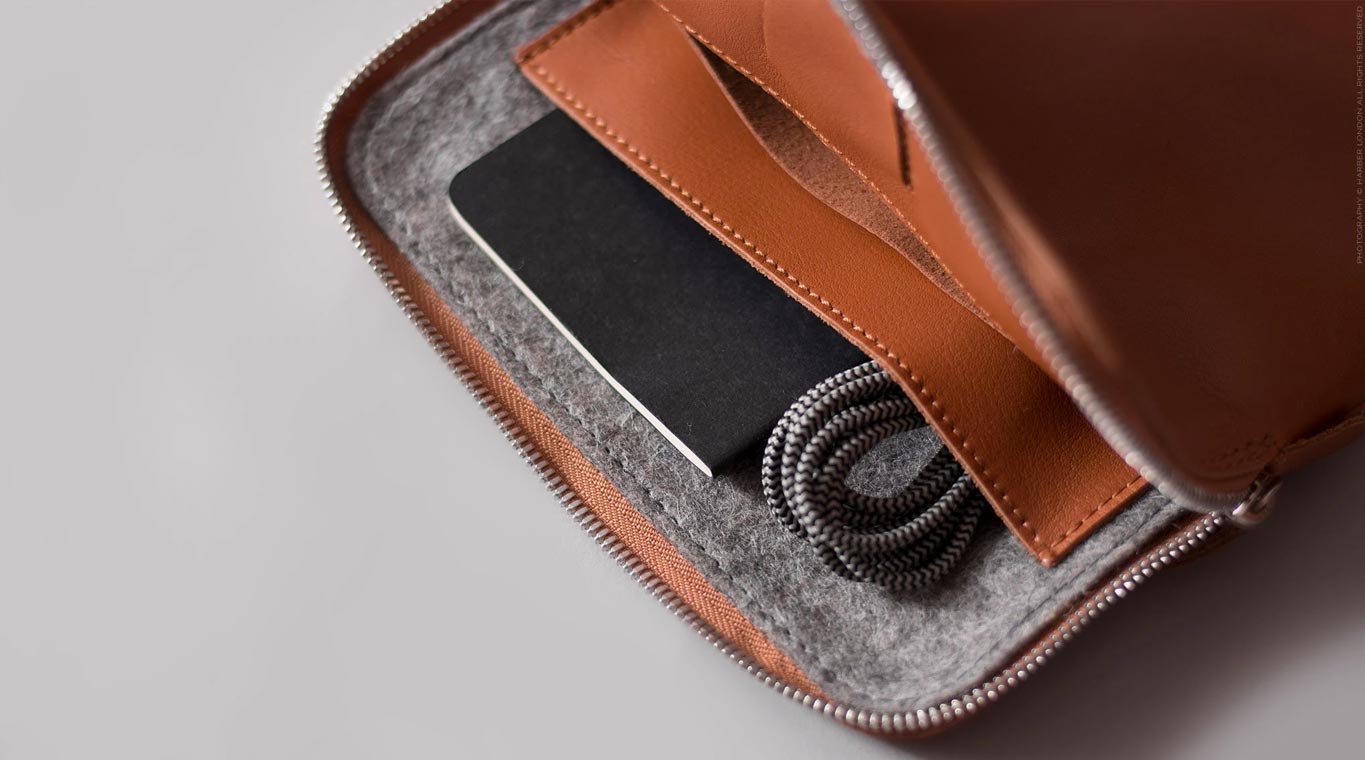 2. Slim Leather Folio no.7 (for MBP 14 and 16 available)
If you prefer a case with a long and wide opening with a slim profile, this is one for you. The Slim Leather Folio no.7 is very much like the Harber's Laptop Case but with one difference, it has an uneven opening. This allows for the MacBook Pro to be packed away or removed from the case easily. And, like the no 7 above, it has an all leather front and back with soft wool felt lining and anti-scratch zipper teeth.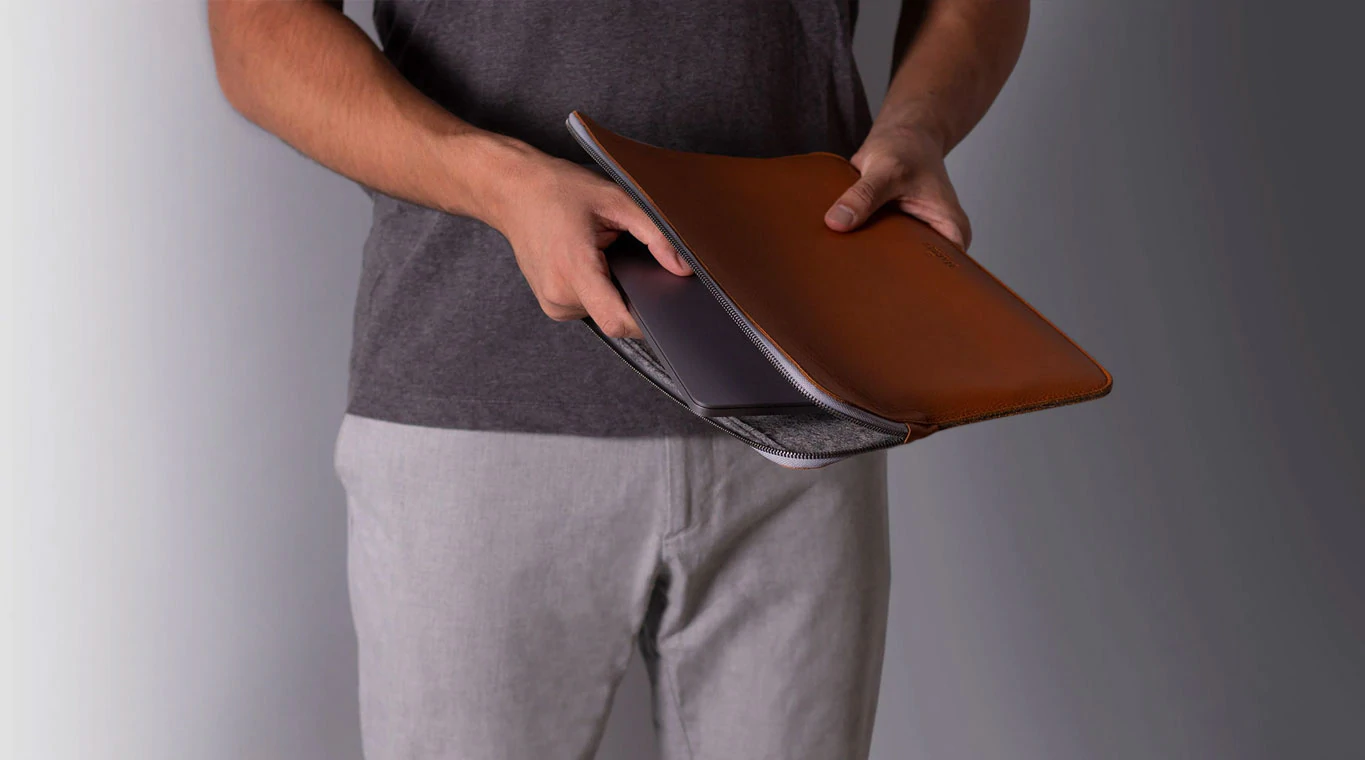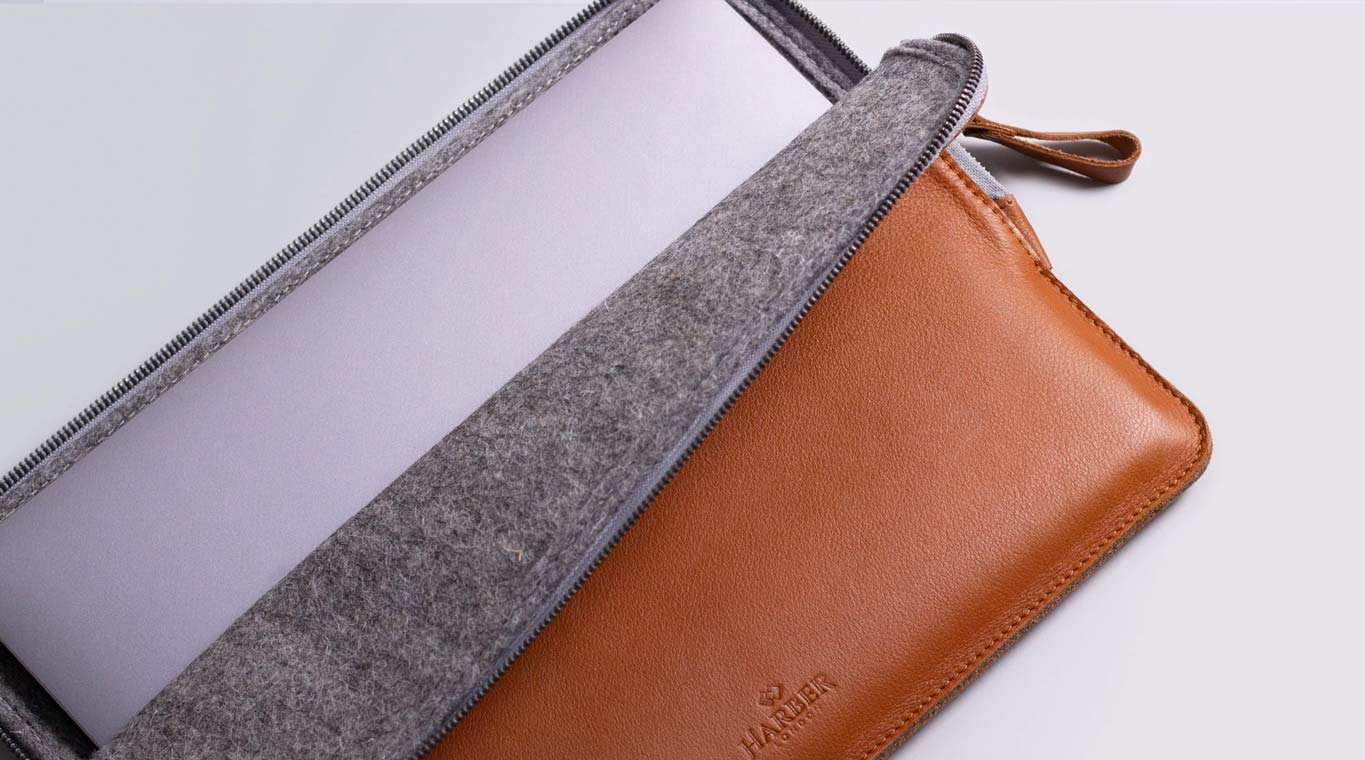 Open Laptop Sleeves
If you intent on giving your laptop that extra protection, even when there is a soft compartment in the backpack or a divider in your brief case, you can't fault an open laptop sleeve. These snug sleeves are designed to fit your device and lets you store and take out your laptop quickly and easily.
1. Slim Leather MacBook Sleeve
The slim leather MacBook sleeve is a hot item, given its reasonable price and slim yet rigid construction. Your MacBook Pro will feel right at home. Its minimalist design with all leather front and back and lined interior with wool makes this a perfect addition for your tech arsenal. Like the Slim Leather Folio no 7 above, the sleeve opens on the long edge for a wide opening minus the zip.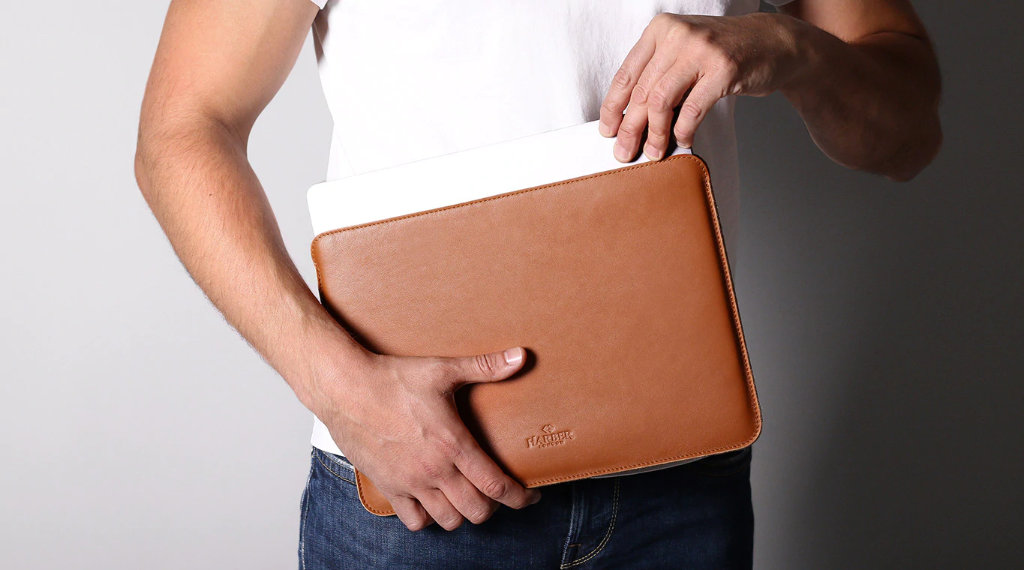 Envelope Laptop Sleeve
Remember the envelop with string closure that was used in the advert for MacBook Air. This was used by Steve Jobs on stage when the Air was first revealed. We like to think that the envelope sleeve is somewhat like the envelop except, instead of top loading, it is side making it easier to store and remove the laptop with a wider opening.
1. Magnetic Envelope Sleeve for MacBook
If you ask me, I would pick this over the open laptop sleeve above. This envelope laptop sleeve for MacBook Pro is equally slim and comes with a flap with magnetic closure. The stitch lines create a cross on the case, travelling from the bottom corners and end where the magnetic clasps are sited. The magnetic clasps are marked with circular stitchings but are not visible with the flap shut. The flap keeps the laptop in but leaves an opening on either sides big enough for the charging cable to reach the MagSafe 3 charging port. Harber calls this the Charge-through system.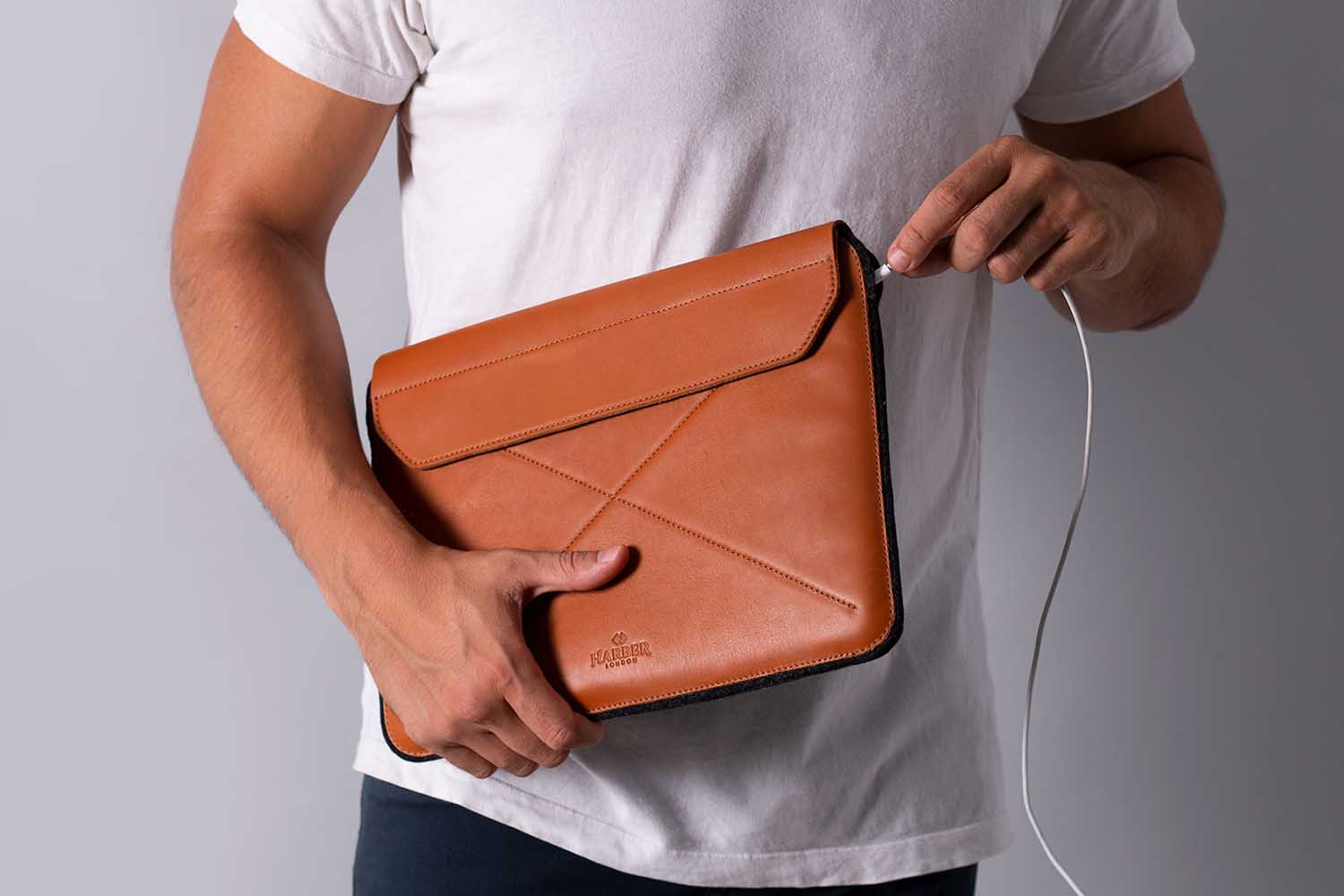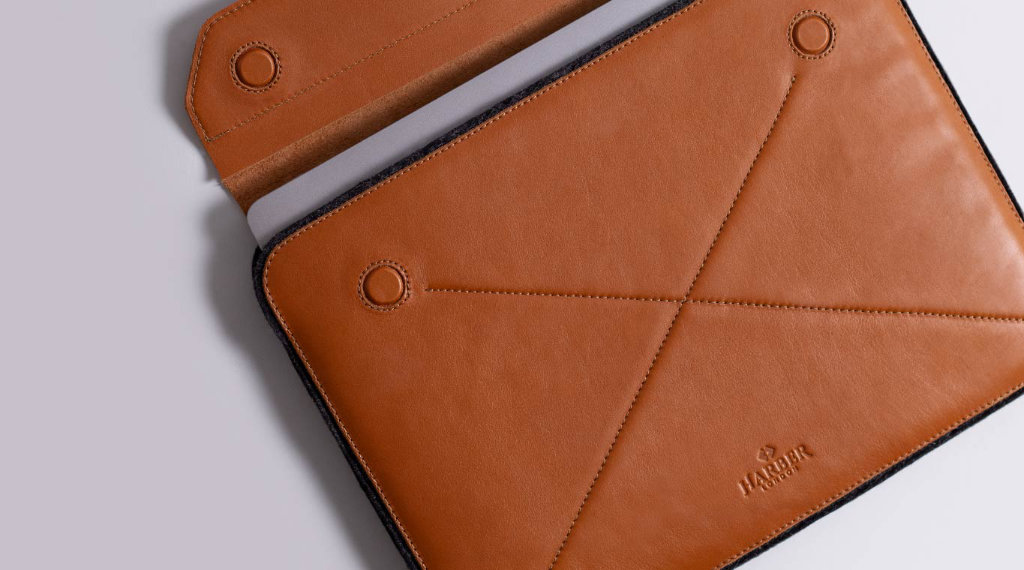 2. Leather Envelope Case Sleeve for MacBook
For the budget conscious looking for an envelope style sleeve, this next envelope case sleeve will do just the trick. Made primarily of dense wool felt, it comes with a choice of leather flaps with button closure. The leather flap is available in either Tan or Black. To keep cost down, the edges of the leather flap is left raw with no hem or trim.