Want a big tablet that can rival those 2-in-1 convertible laptops minus the heft and thickness, the new Galaxy Tab S8 Ultra is your answer. Beating Apple to the size race, the Samsung's pro tablet is available in not two but three sizes, the S8, S8+ and S8 Ultra with the Ultra being the biggest. The tablet is even bigger than the Surface Pro 8 13-inch.
Pro-tablets are real, they are in a whole new segment of their own costing 3 to 5 times or more the standard. tablet. With the premium comes best in class chip, plenty of memory and storage to offer users desktop like performance. But it doesn't stop there. It typically comes with super bright and sharp touchscreen capable of high refresh rate, incredible sound, studio level microphones and wide angle cameras. The Galaxy Tab S8 Ultra however takes that same formula and level it up again with a giant 14.6-inch display.
Everything You Need To Know About the Samsung Galaxy Tab S8 Ultra
The first two tablets, S8 and S8+ mirrors Apple's pro tablet offerings, with their 11-inch and 12.4-inch display. The S8 Ultra takes this right up to 14.6-inch, that's almost 15-inch, making it the largest Tab S tablet. Here's what you need to know.
RELATED: Best Android Tablets Bigger than 10-inch
1. That monster of a display
Let's cut to the chase, while the display is based on Super AMOLED panel, which is Samsung's go-to for their flagship tablets, its brightness is somewhat limited. Still, the big 14.6-inch screen packs 2960 x 1848 (WQXGA+) pixels. It takes on a 16:10 ratio which is wider than it is a regular rectangle. Think letter box ratio is 16:9, so the tablet would be perfect for movies and modern TV shows. It supports adaptive brightness and super fast 120Hz refresh rate, making scrolls silky smooth. Hidden under the display is an on-screen fingerprint sensor it shares with Tab S8+. The regular Tab S8 comes with the scanner on its power button. A 120Hz capable OLED display, what is not to like. And, without going down the mini LED route and with a massive footprint for tablet, Samsung is able to squeeze the body even further making it the thinnest tablet from the company measuring only 5.5mm thin, slimmer than the iPad Pro 12.9 that measures 5.9mm.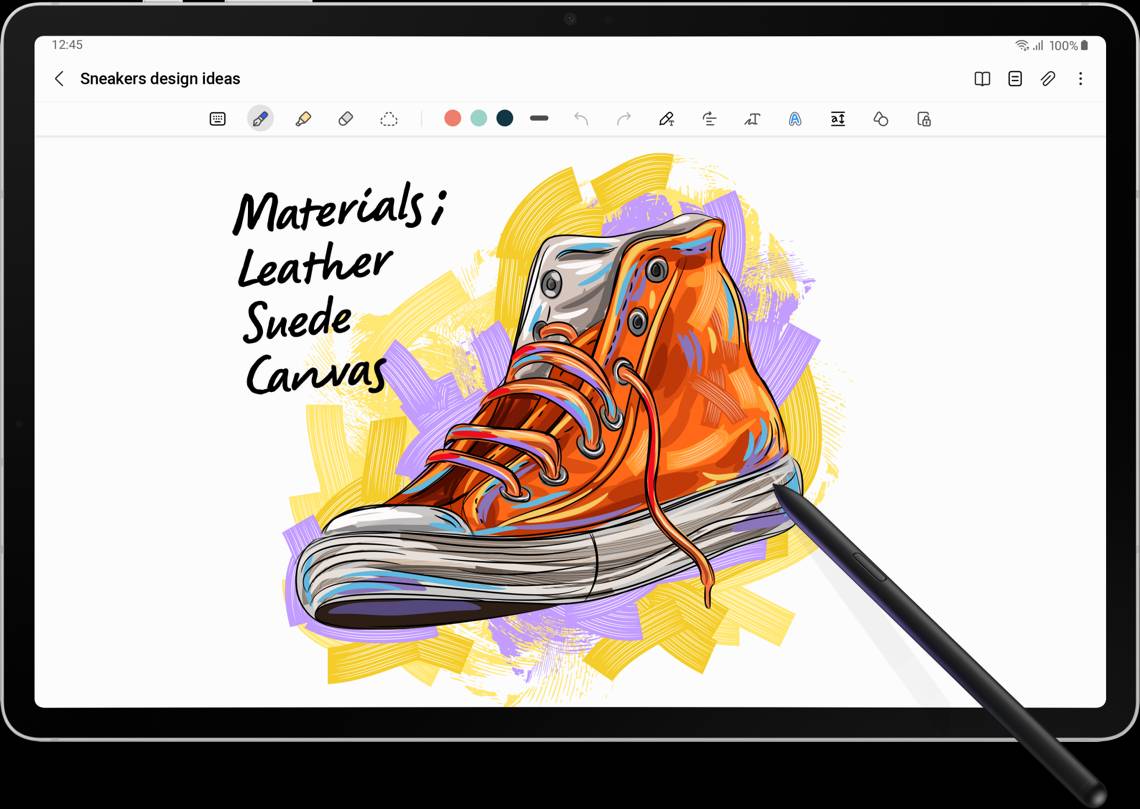 2. Design
Like the previous Galaxy Tab S7, it follows the iPad Pro design with flat edges with the Ultra only available in dark grey (graphite). The smaller Tab S8+ and S8 are available in three colours, Graphite, Silver or Pink Gold. Gorilla Glass 5 protects the display up front while the back is a single unibody Armour Aluminium. It's Samsung's enhanced chassis design keeping the case thin and light while being able to withstand bumps and drops.
Tiny four sided bezels with rounded corners and small notch grace the screen. In landscape mode facing the user, the top edge is where you will find the power button and volume rockers while the quad speakers grace the side edges, two on either sides. A USB-C port is also found on the right side. This pretty much mirrors the ports on the iPad Pro except for where the stylus magnetically attaches to the tablet and the keyboard dock contact points which are at the bottom edge between two catches.
Like we mentioned before, the tablet is super slim measuring only 5.5mm as a premium tablet should be. However, unlike the iPad Pro, the cameras are located on the long edge favouring landscape over portrait use with no chance of blocking the cameras with your hand when moving the tablet. iPad Pro's front facing cameras are on the left edge in landscape mode.
With the ratio, the device is much taller in portrait mode and wider in landscape mode. Consider the protective book cover case as you may not want to hold on to the device all the time. The book cover case comes with a two stage stand to prop up the tablet at 50 or 65 degrees in landscape mode. You can then use it with an external Bluetooth keyboard. Alternatively, consider the Advanced 2-in-1 Book Cover Keyboard with kickstand, full size keyboard and spacious touch pad. A bit more on these accessories later.
3. Apps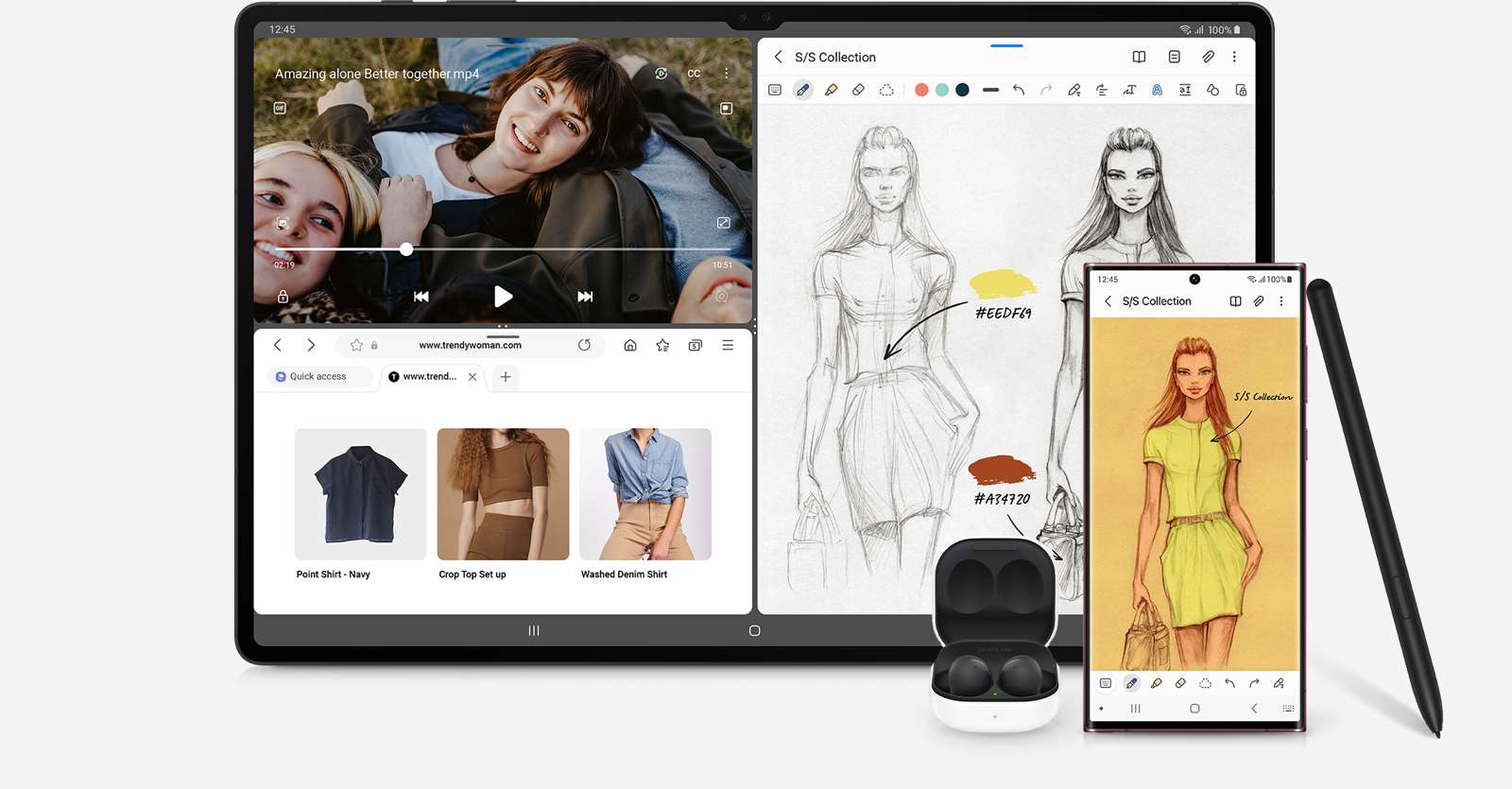 Useful apps developed by Samsung that are both simple and practical to make the most of the include S Pen (more on the S Pen in the next section). Quick Share lets you transfer large files wirelessly to the phone or PC. Split screen support lets you use up to three apps simultaneously which isn't going to be a problem with that huge display. On top of that, you can even have a single floating app. Samsung Notes has improved greatly and can really go beyond just taking notes and turning your handwriting to text, but lets you sketch and draw to illustrate your ideas.
And if that's not enough third party app, Clip Studio Paint EX takes drawing and digital design to the next level on the tablet offering you natural brush feel and is able to extend the screen to a Galaxy S22 series smartphone, turning it into a brush and palette pop-up window. The big display does help make accessing content and multi-tasking easier. If you think you love the big 12.9-inch display on the flagship iPad Pro 12.9,  you are going to enjoy the Tab S8 Ultra even more.
Having a keyboard or keyboard cover does extend the use of the tablet, turning it into a sort of tablet. It lets you access DeX mode, a PC-like desktop interface something the iPadOS is not able to offer.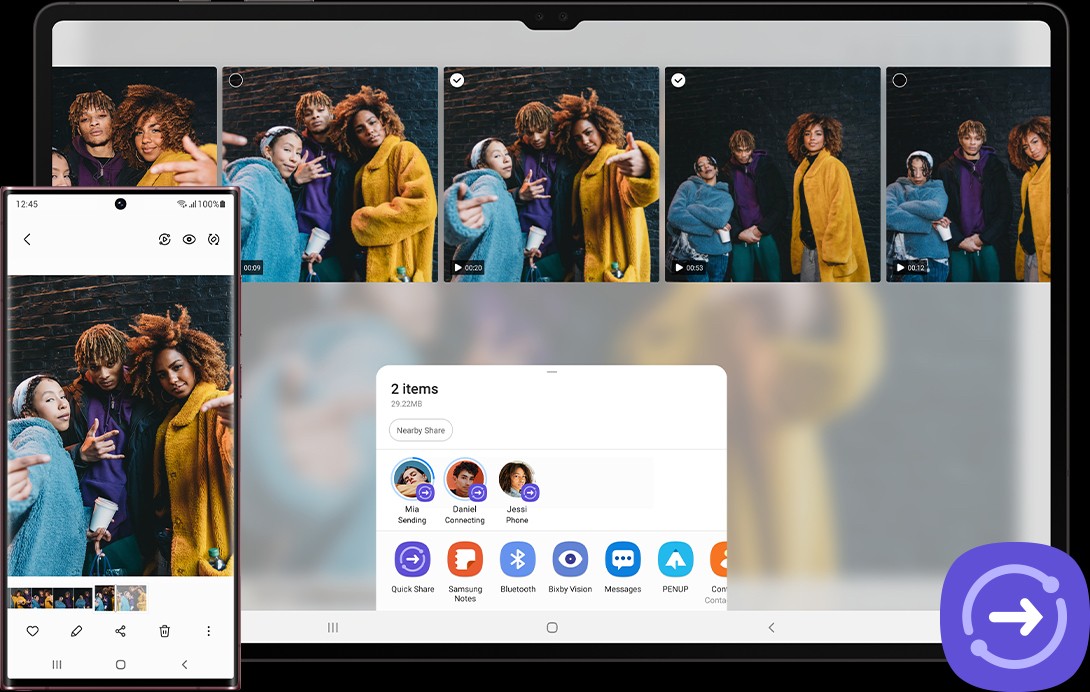 4. Cameras
Dual front facing camera and dual rear facing cameras complete the optic setup. Both setups are equally impressive. The rear pair is a 13MP and 6MP cameras while the front is a dual 12MP cameras (ultra wide and wide) housed in a notch. Both are capable of recording UHD 4K video but only the rear comes with flash.
The front camera gets a Center Stage like feature, but it is called Auto Framing here. It basically follows the subject, automatically zooming in and keeping focus as you move. This spotlight feature works for video calls and video recording. When more people joins a call, it zooms out to include everyone with help from the ultra wide camera. The front facing notch is like those that you find on the new MacBook Pro 14 and 16 so it will take getting used to, especially when rotating the tablet.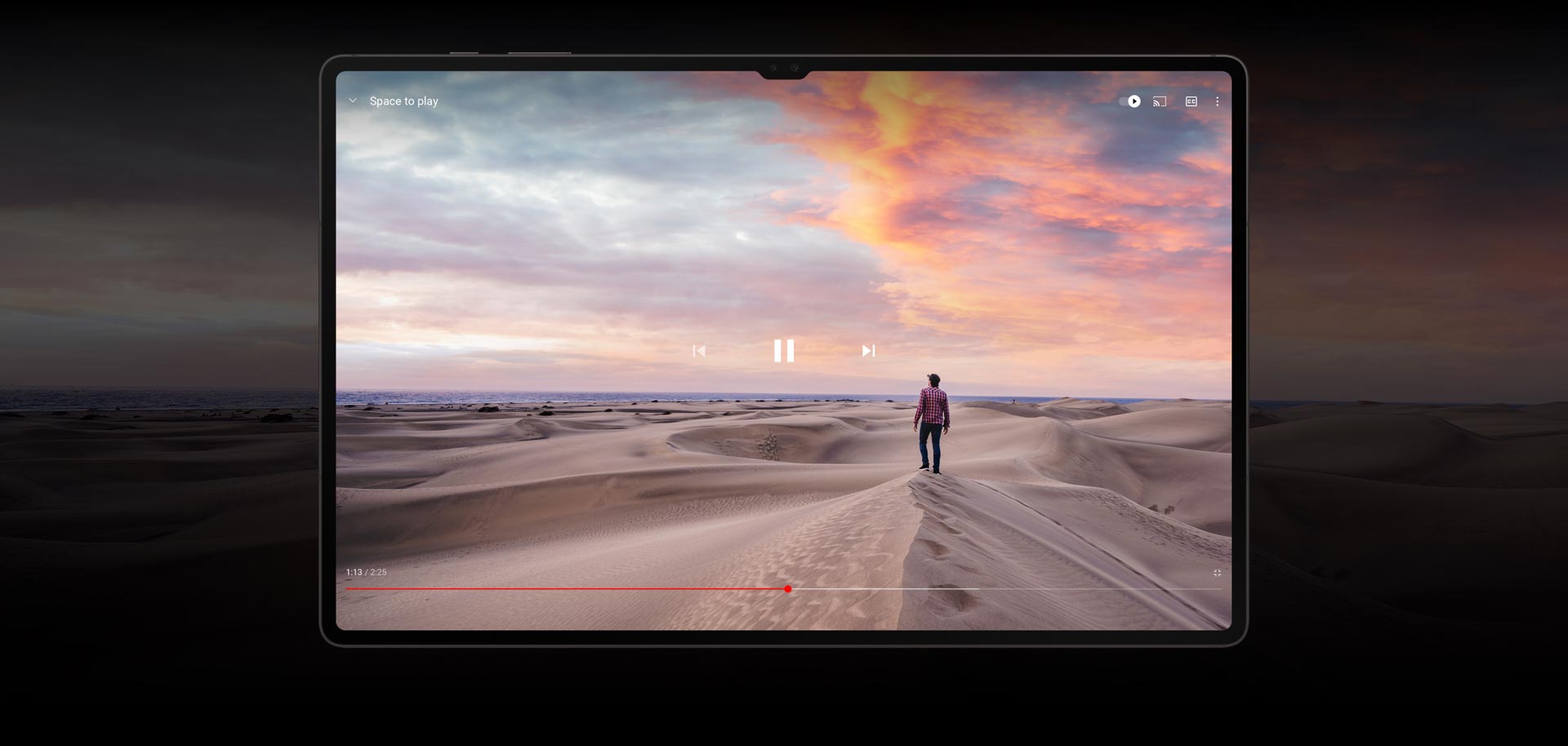 5. Stylus included but Advanced 2-in-1 Book Cover Keyboard is optional
The S Pen stylus is included with the purchase so definitely a plus here. You won't have to spend any more out of the box. This is the new ultra low latency S Pen with 2.8ms response time. It supports an amazing range of pressure sensitivity and control. When not in use, it lives and charges magnetically on the back of the tablet in line with the dual camera and flash module.
Unless you get the Book Cover (standard or advanced), there is no way you can keep the stylus from being knocked off. Also, when charging, it means the tablet cannot sit flat on the table. The iPad Pro edge based stylus charging and docking solution may have the same problem, with the risk of being knock off, but at least you can sit it flat on the table.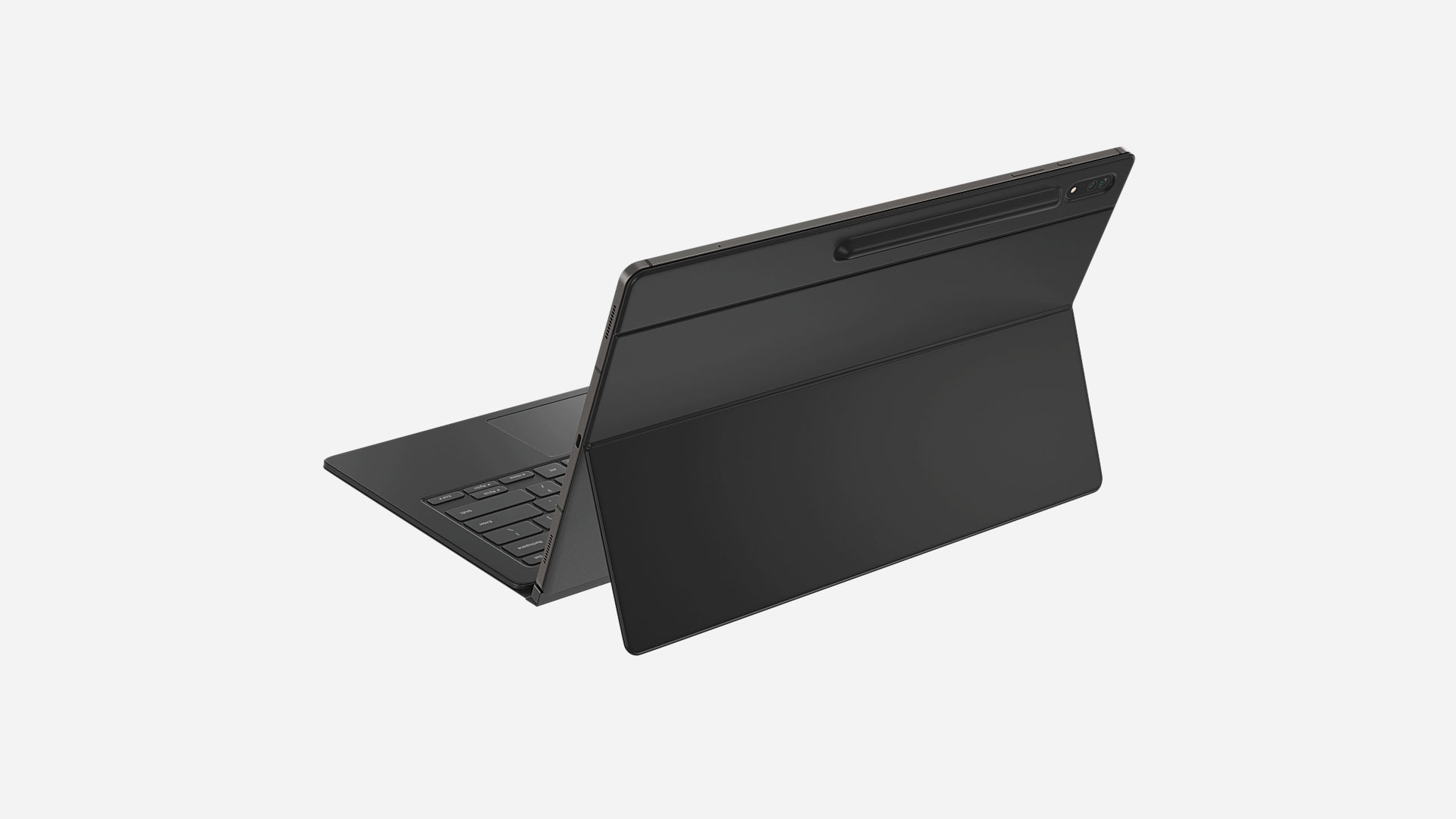 The Advanced 2-in-1 Book Cover Keyboard which is essentially two parts, cover with integrated kickstand and detachable keyboard for maximum versatility, it is available with the tablet at half the price at the point of purchase until July 2022. Consider getting the keyboard as it will increase the use case and maximise on your investment. However, it is plagued by the same issue the Microsoft Surface Pro 8 faces with its integrated kickstand and detachable Surface Pro keyboard, that it will not stand on the lap without the risk of topping over.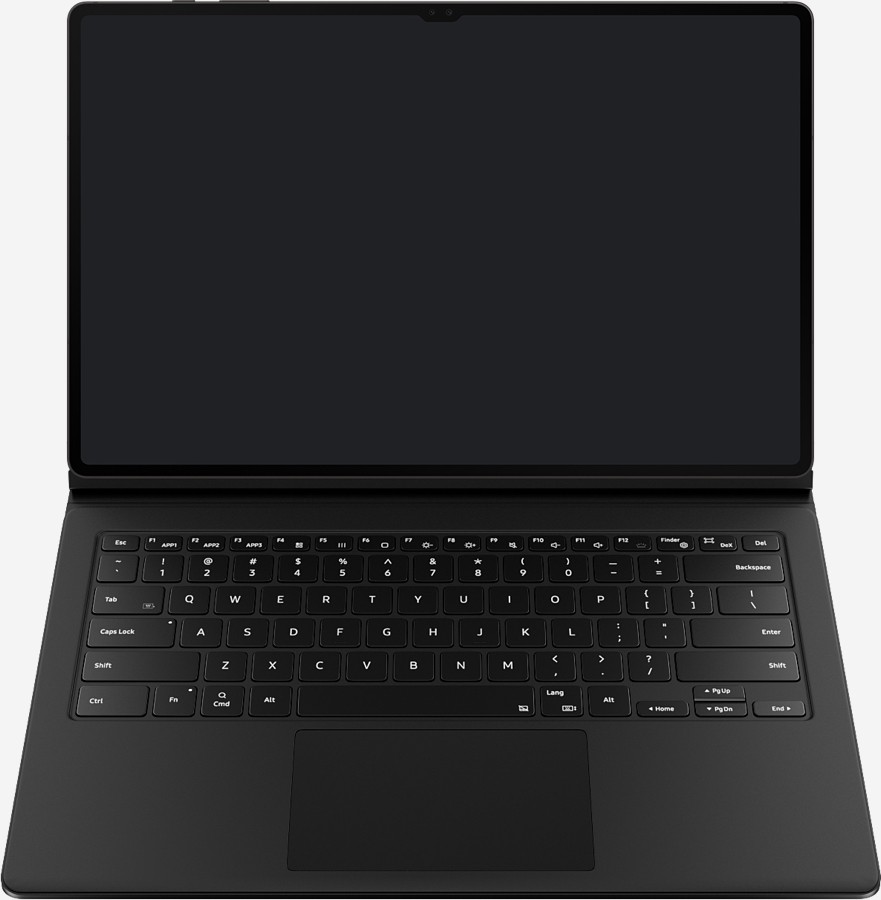 6. Powerful chip
In the heart of the tablet is Qualcomm's latest flagship chip. Those familiar with flagship smartphones will know that the Snapdragon 8 Gen 1 chip is the flavour of the moment. The 4nm mobile platform, successor to Snapdragon 888 is said to come with a CPU that is 24% faster and GPU that is 52% faster. This all
7. Memory and Storage Options
While the S8 and S8+ are available with 128GB and 256GB storage with 8GB memory and S8 Ultra goes one up with three memory and storage options. They are as below:
128GB storage with 8GB memory or
256GB storage with 12GB memory or
512GB storage with 16GB memory
8. Battery Life
With a big display comes room for big capacity battery, and the Tab S8 Ultra makes the most of this with a huge 11200mAh capacity battery. While it will need all the help it can to push a big display, it still manages up to 8 hours of battery life with Internet usage via LTE or WiFi. If you are just binging on your TV shows, it will last up to 14 hours and up to 148 hours streaming music. To top it back up, you will want the optional 45W Super Fast Charger. Yeap, the tablet may come with a stylus, but Samsung has left out the power adapter and in order to charge that huge 11200mAh battery quickly, only a fast charger will do.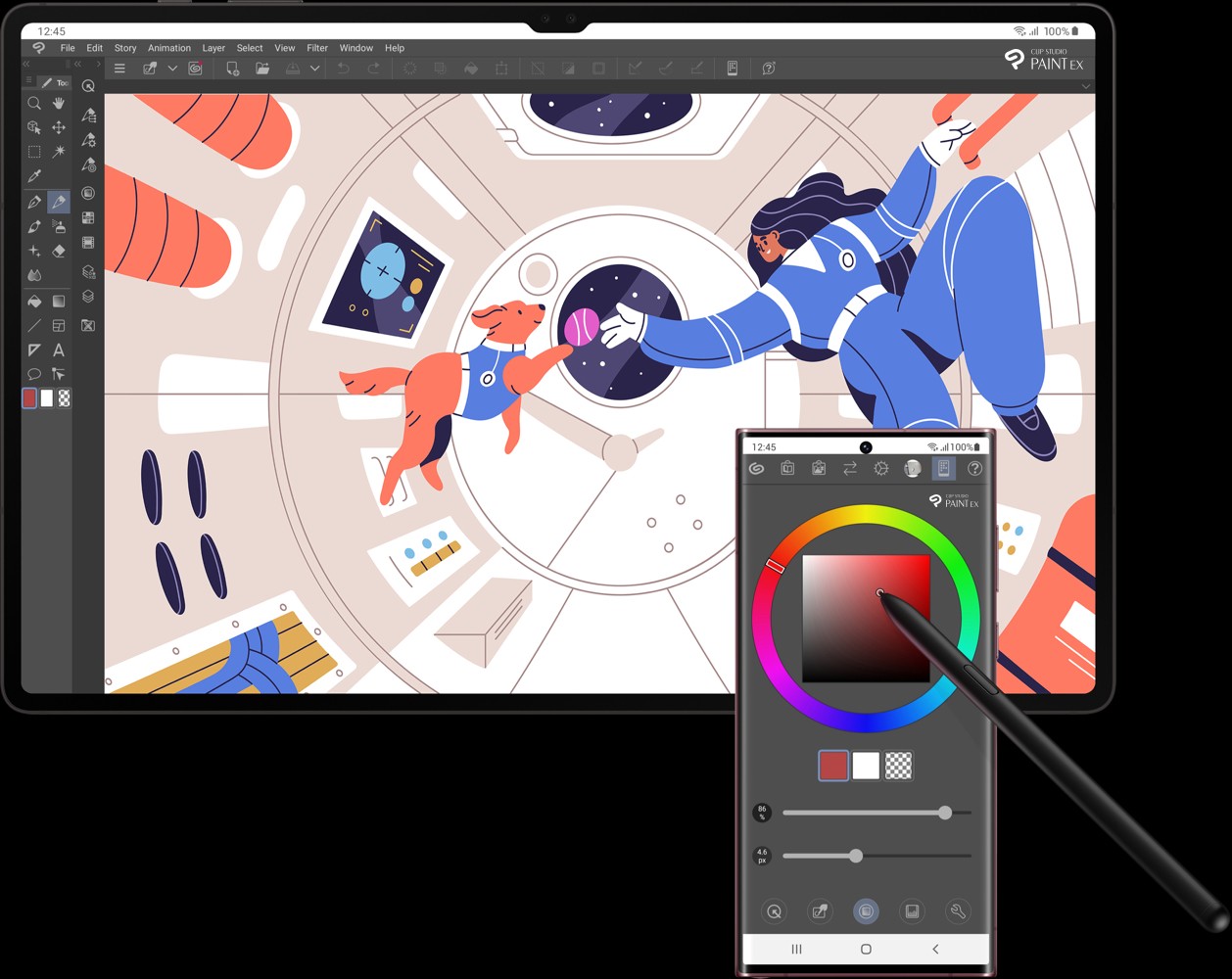 9. Connectivity Options
You have the option of just WiFi or WiFi and 5G cellular. The Tab S8 Ultra comes with WiFi 6E, currently the fastest WiFi connection out there. With the right router, it can push up to 2.4Gbps. Even if you don't have the right network support, it will achieve that speed with the latest Galaxy S-series smart phone.
Samsung struck a deal with Disney+ offering a whole year of streaming free with your purchase. That's a whole 12 months. So you may want to factor that in too. That is to say, if you are already a subscriber, you can stop that and save yourself some money.
10. Weight and Dimensions
Last but not least, tablet may be big but it measures a mere 5.5mm thin. This is way thinner than most smartphones. It measures 208.6mm tall and 326.4mm wide when viewed horizontally. Also, for a big tablet, it weights only 728 grams. For reference, the iPad Pro 12.9-inch 2021 is 5.9mm thin, weighs 684grams (WiFi and Cellular model) and measure 214.9mm tall and 280.6mm wide when held horizontally.