11-inch just doesn't cut it anymore as a Pro tablet. With Samsung going all out with the Samsung Galaxy Tab S8 Ultra that comes with a whooping 14.6-inch display, not that we are suggesting you carry around a giant slate, 12-inch tablets are fast becoming the norm. Here are five to choose from for education.
Quite simply, the lure of carrying a single device to school, college or university means less to lug around, and with the power that these pro-tablets now possesses, there is really nothing they can't do. You will need the optional keyboard cover and stylus if one is not included to extend its use, but there is savings to be had in not having to buy a separate laptop. You are also assured of a more streamline workflow. All your files and apps will be in one place when you are offline. You will never have to wait to synchronise your files or have a need for flash drives. On top of that, you can always enjoy the convenience of a desktop simply by connecting an external display. All the tablets including the iPad Pro and Galaxy Tab S8 support up to 4K external display.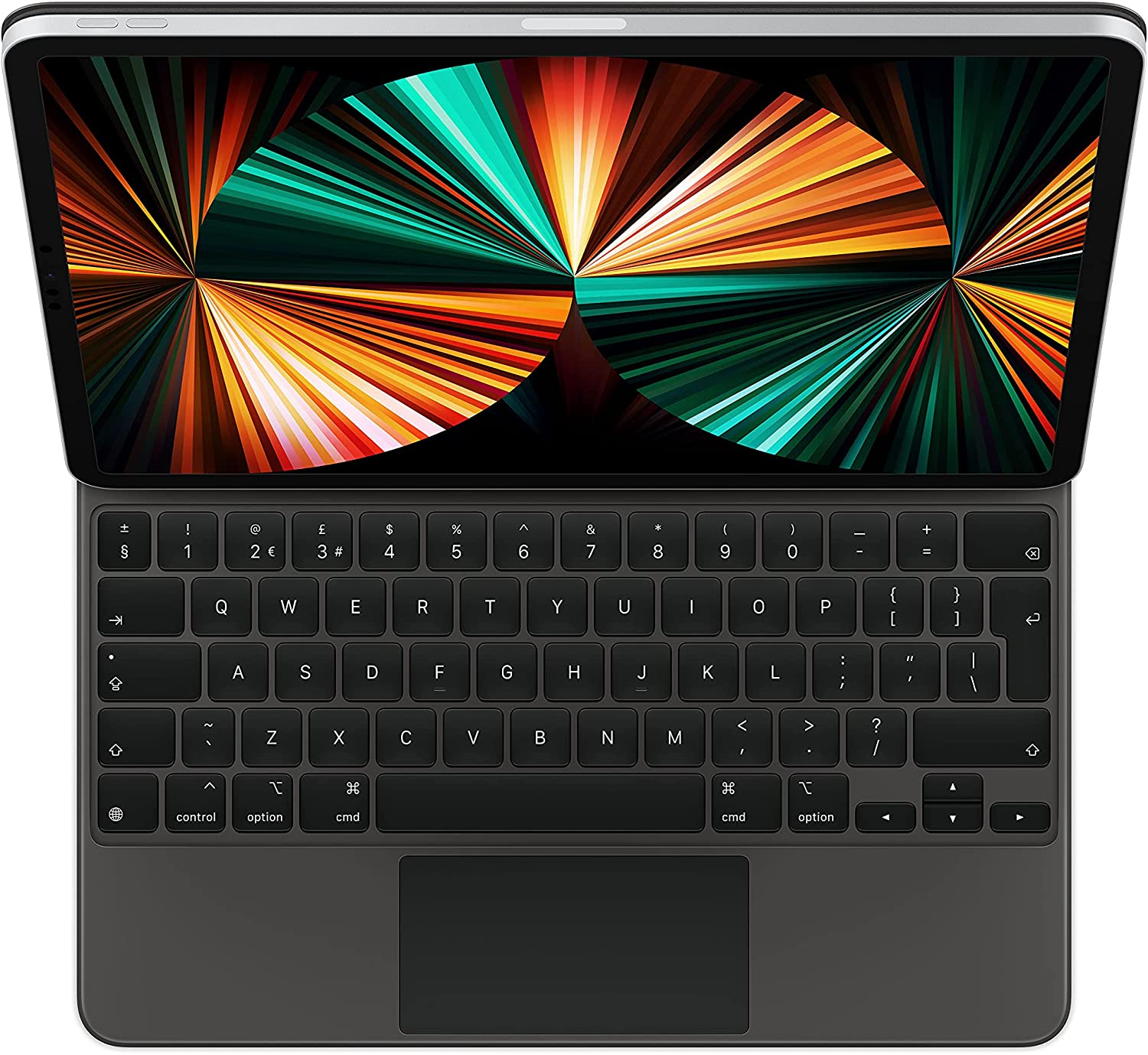 How to Choose the Right 12-inch Pro-Tablet
The aim here is to make it your only device that you will ever need. So it makes sense to pay particular attention to the applications, available accessories and usages to meet all your requirements. So here are factors to consider when choosing the right 12-inch Pro-Tablet for education.
1. List the education applications you will need to run on the tablet
This is the very first step in deciding which tablet to go for. List out all the applications that you need to complete your assignments and projects. Also include any potential applications you might need. Ask the different departments to get a good idea of what is required. You may find equivalent apps if the app in use is not available for your chosen tablet. Apps are typically developed for different operating systems such as iPadOS, Android OS and Windows so this should not be a difficult task. However, it is best to be prepared so you don't end up with a tablet that does not support a large part of your learning.
2. Accessories that you will need to complete the tablet
The absolute minimum would be a keyboard cover or a compatible Bluetooth keyboard. This will extend the use of the tablet beyond just being a touch driven device. Ideally you will want the stylus and a pointing device like a mouse too. The stylus for taking notes, sketch and annotate on existing documents and the pointing device if the keyboard cover doesn't come with a trackpad for ease of navigation. Last but not least is an external monitor for a full desktop experience. Most creator apps will benefit from a bigger display to access more menu options, toolbars and docks. Other accessories are more specific to your field of studies and for content creation such as being able to connect a MIDI keyboard, external microphone or high resolution camera. Again, make a list and make sure that these are compatible with your tablet.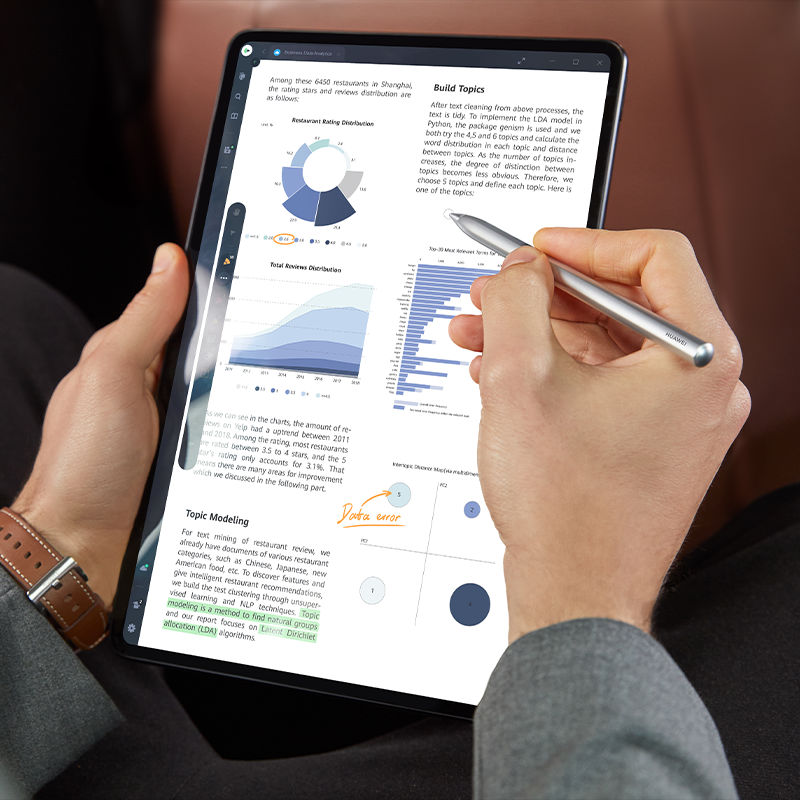 3. Make sure the file explorer works for you
Both Finder on MacOS and Windows Explorer on Windows let you browse and manage files on the respective systems quickly. What about managing the local files on your tablet? The iPadOS that powers the iPad now comes with the Files app. It lets you browse and manage files locally on your iPad and remotely in the iCloud Drive as well as other cloud storage. The only caveat is it doesn't store your photos but you can download and save photos to it. Photos and video taken by the cameras are automatically saved in the photo library accessible via the Photos app.
As for Android, proprietary file manager apps are offered by the device manufacturers. Samsung's file explorer can be found in the Samsung folder. The app is called the name My Files. Alternatively, you can download and install third party file explorer apps from different developers. The idea here is to familiarise yourself with the file explorer in order to be able to find your files. This is important especially when using different apps on the tablet to create and edit your documents, spreadsheet, presentation, forms, PDFs, images and more.
No doubt, it is going to be a steep learning curve for some as it involves a whole new way of working but this should not dissuade you from picking the pro-tablet of your choice. Take the time to research and even approach the brick and mortar stores to try out the tablets and speak to the consultants to get to know your way around the file storage. You will need it for when you hit save and close, to be able to locate your file and copy, print or share it from the file explorer.
4. Compatible print and scanner
Both are pretty obsolete these days but if you ever need to hand in paper copies of your final project or assignment or have the need to scan your artwork or documents, then an all-in-one printer copier that works with your tablet would be very helpful. You can always insist that your teacher or lecturer accepts soft copies of your work and with the right app your phone will work just as well as a document scanner. Just keep this in mind in case you ever need to print from your tablet. Choose a printer that supports printing from your pro-tablet. Wireless all-in-one printers are your best bet. Modern WiFi enabled printers let you print directly from the smartphone or tablet. However, you will need the mobile app for wireless scanning.
5. Works seamlessly with your smartphone
Make sure that your chosen tablet will work seamlessly with your smartphone. This is not an absolute necessity but when they work together, you will appreciate the seamless nature of your devices. Your lecture notes including sketches will synchronise across to your smartphone so you can refer to them during your commute. Continue your chat on the big screen with the pro-tablet and benefit from features like Centre Stage and studio level microphones. Access the same set of apps albeit on a smaller or bigger display depending on which way you go. These are just some of the being able to work across different devices.
Your Top 5 Pro-Tablet Choices for Education
Apple iPad Pro 12.9 M1
Microsoft Surface Pro 8 13-inch
Samsung Galaxy Tab S8+ 12.4-inch
Huawei MateBook E 12.6-inch
Samsung Galaxy Tab S7 FE 5G 12.4-inch
1. Apple iPad Pro 12.9 M1 (2021)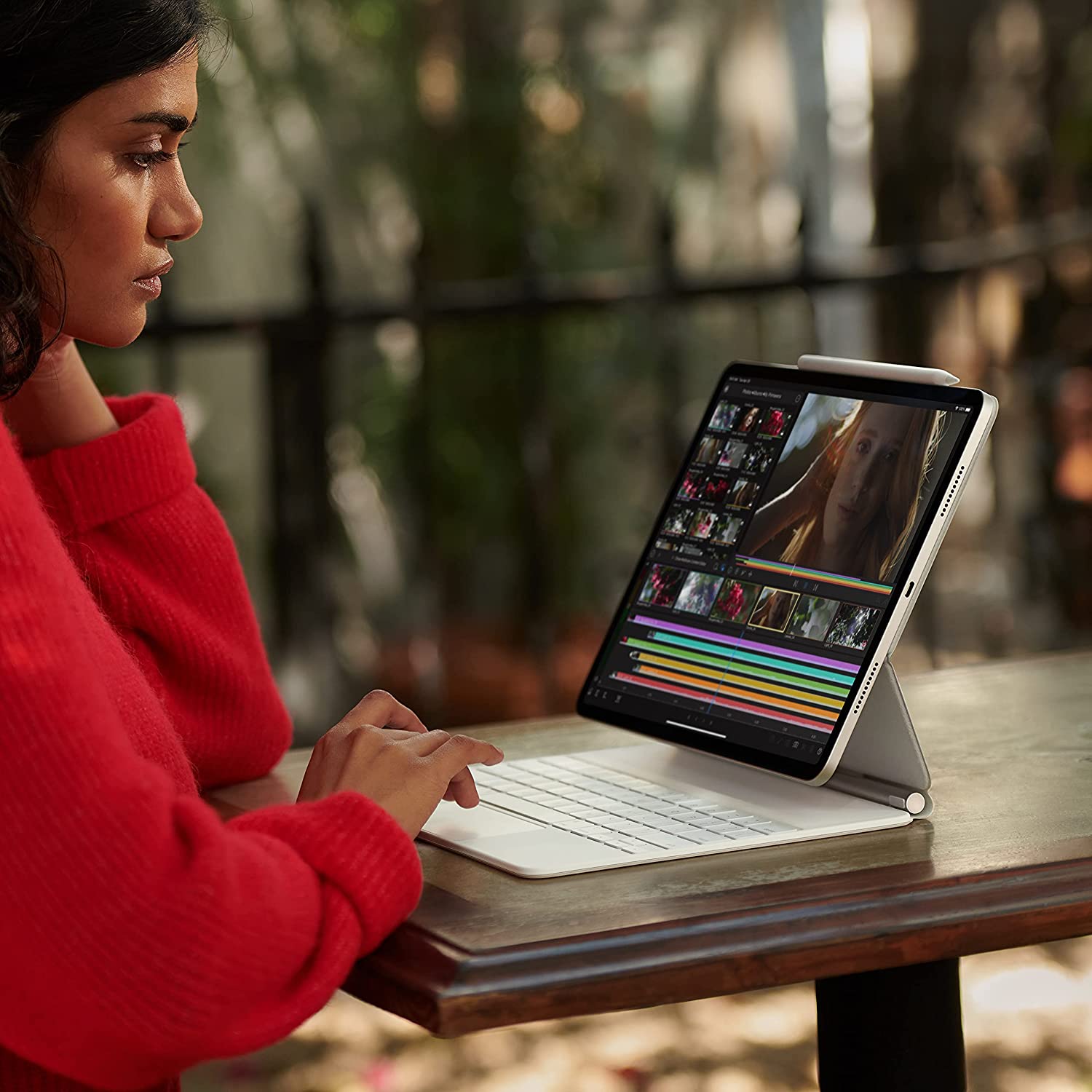 Search Apple iPad Pro 12.9 on Amazon
The flagship tablet from Apple now comes with the latest Apple Silicon meant for desktop and laptops. It is also the first tablet to come with mini LED display or Liquid Retina XDR display and Ultra Wide front facing camera that supports Centre Stage. Apple boasts that the iPad Pro does everything that a PC can but sceptics says differently. You will need the Apple Pencil and Magic Keyboard or Smart Keyboard Folio to complete solution although third party stylus and keyboards are also available to help keep the cost down. If it is going to be your only device, consider getting one with a bigger storage as the starting 128GB storage may be a little limited. Still, there is always the cloud and or USB-C external storage.
2. Microsoft Surface Pro 8
Search Microsoft Surface Pro 8 on Amazon
The easiest option for those coming from a Windows desktop or laptop would be to pick up a Microsoft Surface Pro 8 tablet. While the previous Surface Pro 7 comes with a 12.3-inch touchscreen, the new 8th generation device comes with a big 13-inch display, just a tad bigger than the iPad Pro 12.9 above. Powered by 11th generation Intel Core processors, you have a choice of processors, memory and storage sizes. There is also a new Surface Slim Pen 2 and Surface Pro Signature type cover to go with it but it will cost you so be sure to factor these in.
A feature unique to this tablet is the integrated kick stand that lets you adjust the working angle down to nearly 180 degrees. But perhaps the best that this generation device has to offer is the long 16 hours battery life, longer than even the 10 hours offered by the iPad Pro 12.9 above. Microsoft has relaunched previous generation device as Surface Pro 7+ with updated 11th generation Intel Core processors, smaller 12.3-inch display and of course, lower price tag.
3. Samsung Galaxy Tab S8+ 12.4-inch
Search Samsung Galaxy Tab S8 on Amazon
We looked at the Galaxy Tab S8 Ultra, a huge 14.6-inch super tablet in our previous article but this is a more portable 12.4-inch that doesn't not compromise on screen size and features. This being the middle child since the introduction of the Ultra, it is available in two configurations, with 8GB memory and 128GB storage or 8GB memory and 256GB storage. The Ultra comes with three configuration options. Like the iPad Pro 12.9, there is also a WiFi or WiFi and 5G options. The Surface Pro 8 is only limited to WiFi. The advantages of going with the Galaxy Tab S8 Plus is the inclusion of the S Pen with the purchase although the Book Cover Keyboard is still a separate purchase, the wide angle cameras that supports spotlight and auto framing and support for up to 3 apps side by side with Multi Window. Other notable features include on-screen fingerprint scanner, microSD card slot for memory expansion, Super AMOLED display and AKG tuned quad-firing Dolby Atmos speakers.
4. Huawei MateBook E 12.6-inch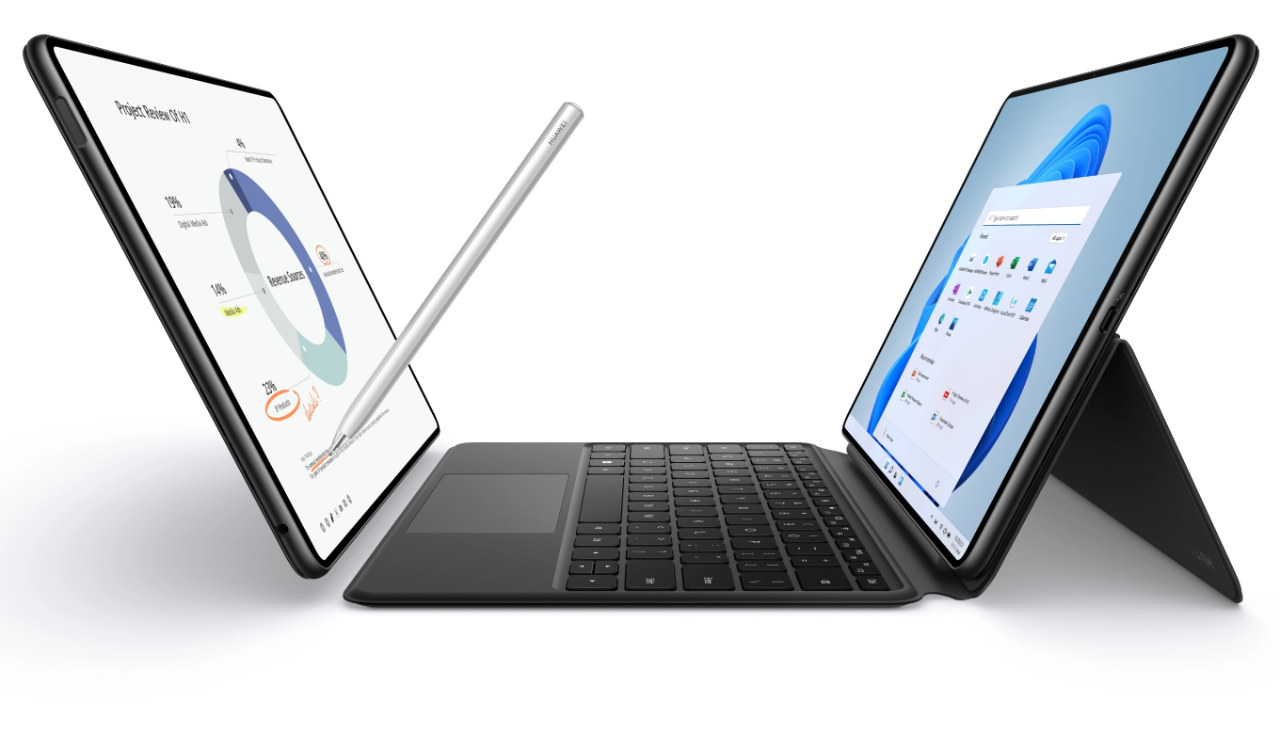 Search Huawei MateBook E on Amazon
The MateBook E is Huawei's answer to Surface Pro 8. Also powered by 11th generation Intel Core processor, the tablet comes with 12.6-inch OLED Full View Display with even bezels all around, support for M-Pencil 2nd generation (separate purchase) and two processor choices (Intel Core i3 and Core i5) with choice of 8/16GB memory and 128/512GB storage. The Huawei Smart Magnetic Keyboard is included with the Core i5/16GB/512GB option with free Huawei FreeBuds earphones and Huawei M-Pencil 2nd generation at the time of writing. Unlike the Android version of their tablets, the MatePad and MatePad Pro, there are no restrictions with the MateBook E as it runs Windows 11 Home. Useful features include the fingerprint sensor on the power button, front 8MP and rear 13MP cameras, quad firing speakers and four microphone setup.
5. Samsung Galaxy Tab S7 FE 5G 12.4-inch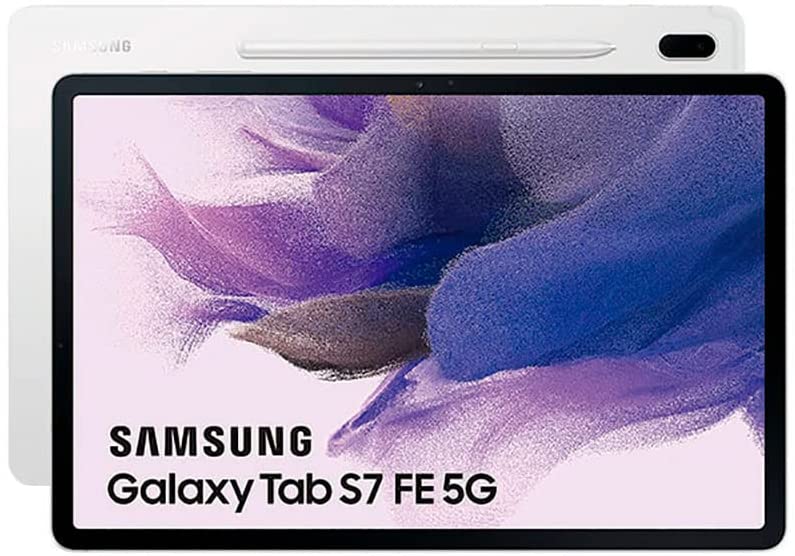 Search Samsung Galaxy Tab S7 FE 5G on Amazon
Last but not least is this affordable option from Samsung. The Galaxy Tab S7 FE with 5G connectivity (full review on our sister site) is powered by a mid-range Qualcomm Snapdragon 750G and uses a TFT panel at WQXGA (1600 x 2560) resolution instead of Super AMOLED but it is still powerful enough to get your through college and university. Also, like its predecessor it comes with the S Pen at no extra. The high capacity 10,090mAh battery will make sure you get through the day just fine with up to 13 hours of battery life, and the included 45W fast charger will top it right up in next to no time. But the real bonus has to be the 5G connectivity. When you have to pay a premium for that on the other pro-tablets above, it is refreshing to see this being available on a mid-range device especially on one this is super capable. It is worth noting that the 5G model comes with 128GB storage while the WiFi only model is available with 64GB or 128GB storage. You also get a choice of colour options as shown below.