The iPad Air 2022 now with M1 chip and plenty of colour options is even closer to the iPad Pro 11 2021 also with M1 chip. What does 200 dollars extra gets you with the iPad Pro 11 2021? Or if you are looking specifically for a mid-range tablet, should you consider with the iPad Air 2022. We look at its advantages over the Pro and what you would miss out on going with the Air.
Technology has a way of catching up. Staggered update launches for a vast portfolio of tablets from Apple means, even mid-range tablet like the iPad Air can enjoy the same processing power as their pro-level offerings. Case in point, iPhone SE 2022 now shares the same chip as iPhone 13 Pro 2021, the A15 Bionic chip.
Back to the iPads, it won't be until iPad Pros' turn for a refresh that the pro tablet will gain an edge over the iPad Air 2022. In the mean time, both tablets now share the same Apple Silicon, the Apple M1 chip. This means, when comparing raw CPU and GPU performance, there is no real advantage choosing the iPad Pro over the iPad Air. Although other factors and benchmarks may prove different.
Moving from A-series to the M-series chip
The last iPad Air 2020, relied on the A-series chip, particularly the A14 Bionic, the same chip used on iPhone 12 Pro, also launched in 2020. While the iPad mini 2021, a grown up 8.3-inch tablet with the new iPad Pro design language (square edges, rounded corners, all-screen and minimal bezels) shares the same A15 Bionic mobile chip as the iPhone 13, The iPad Air however is launched with the M-series.
In case you are wondering, how are these two chips different, the M1 chip was reserved for Mac mini, iMacs, MacBook Air and MacBook Pro until it made its appearance on the iPad Pro 2021. The Apple M1 chip focuses on performance with more transistor count and cores while the A series chip, including the latest A15 Bionic focuses on battery life with a smaller foot print and batter efficiency. These are very different chips. The only thing they share between them is the 5nm fabrication process.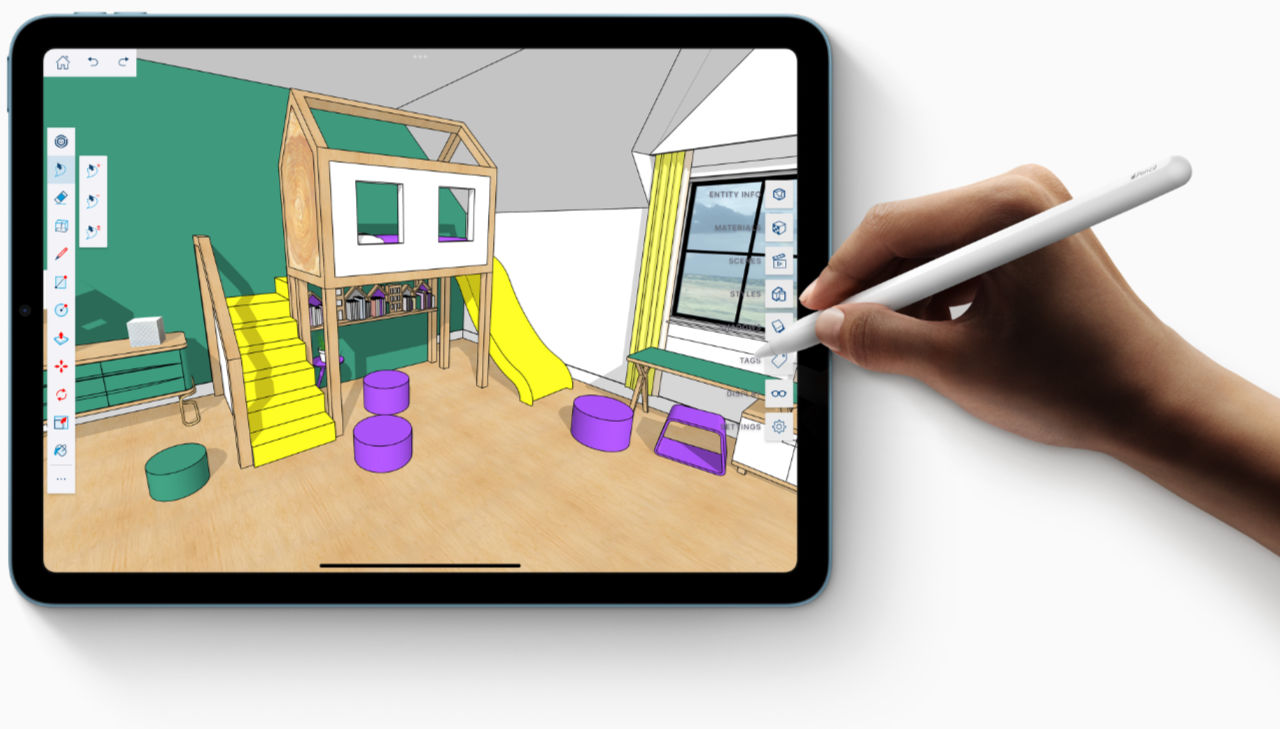 A15 Bionic vs M1 chip
Speaking of CPU cores, the M1 chip comes with 4 energy efficient cores and 4 high performance cores for a total of 8 cores. The Apple A15 Bionic on the other hand comes with 2 energy efficient cores and 4 high performance cores for a total of 6 cores. Battery may be an issue with compact devices like the iPhone and iPad mini but not so with bigger devices like the iPad Pro, MacBook Air, MacBook Pro and now the iPad Air. So, there is no real penalty on the battery life going with M1 chip on the iPad Air. It still returns a good 10 hours battery life  when used for browsing the web over WiFi or watching video. The WiFi and Cellular model takes a hit but still manages up to 9 hours browsing the web using cellular data.
Next we consider the GPU cores. Again, the M1 chip has a big advantage here with up to 8 cores. Some systems come with one of its GPU cores disabled for a total of 7 cores, to create a product tier i.e. entry level MacBook Air and iMac 24. The A15 Bionic on the other hand has up to 5 cores. One of these cores are disabled making it 4 cores for entry level devices like the standard iPhone 13 and iPhone 13 mini. The iPhone 13 Pro and iPad Mini have all its GPU cores firing.
But what we really want to know is their real world performance. Here we take a look at results from Geekbench 5 and iGPU -FP32 performances from cpu-monkey below.

No real gain here with single core performance. Both chip performs equally well.

The extra CPU cores come into play here with the M1 being over 60% faster than the A15 Bionic.

The same story here with M1 having an advantage being 74% faster than the A15 Bionic. Choosing iPads powered by the M1 series chip will certainly help prolong the useful life of the device with more processing headroom.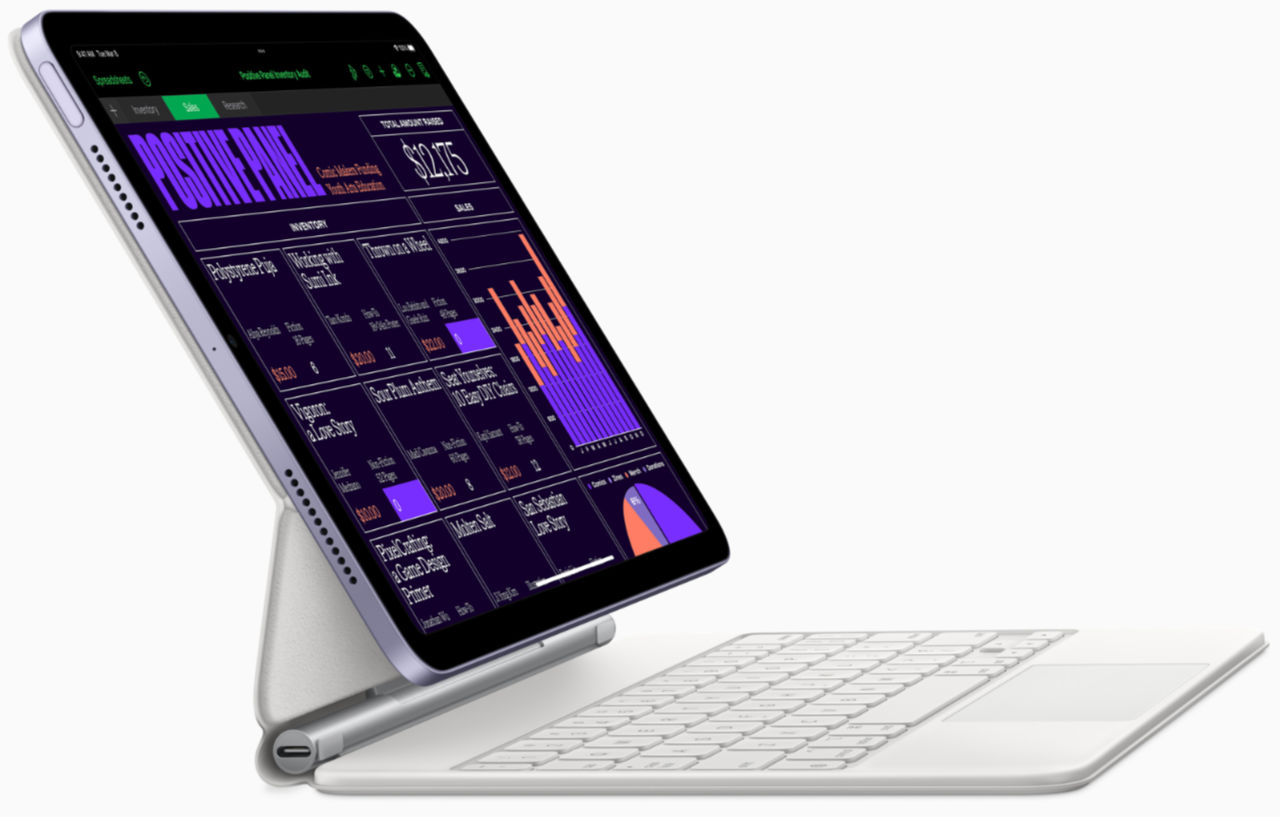 Apple iPad Air 2022 advantages/disadvantages over the iPad Pro 2021
As you would expect, there aren't many differences. We are still talking about a mid-range version over a pro version. The real advantage is the savings you will enjoy. Both devices have the same footprint 247.6mm x 178.5mm even though they differ slightly in display size, 10.9-inch vs 11-inch. However, the iPad Pro is a smidge slimmer at 5.9mm vs 6.1mm but the iPad Air is lighter at 461 grams (WiFi) and 462 grams (WiFi + Cellular). The iPad Pro 11 weighs 466 grams (WiFi) and 470 grams (WiFi + Cellular). Again, not something you will notice.
If you don't care for Face ID, the iPad Air has a touch ID sensor on its power button. No fingerprint sensor on the iPad Pro so it will rely on you not blocking the camera to unlock the device or use your pin on the touchscreen. Depending on how you hold the device, you can sometimes block the camera taking a little longer for you to unlock the iPad Pro.
The iPad Air 2022 now shares the same FaceTime HD camera with Center Stage support. This 12MP Ultra Wide front camera has 122° field of view and supports Smart HDR 3. It may not have the bells and whistles of a TrueDepth Camera that apart from Face ID, it supports Portrait mode and Depth Control as well as different Portrait Lighting and Animoji and Memoji. A small price to pay when you have the benefit of fast Touch ID. Those fancy features are reserve for iPad Pro. Still, the Air' front facing camera can capture extended dynamic range video with cinematic video stabilisation up to 1080p. Other features include auto image stabilisation, retina flash and lens correction.
The main camera shooter may just be a single Wide 12MP, ƒ/1.8 aperture camera instead of Wide and Ultra Wide on the Pro but the Air does everything the iPad Pro does with the one camera. It will record up to 4K video, slo-mo, time-lapse with stabilisation, extended dynamic range, cinematic video stabilisation and continuous autofocus video. The Pro's rear camera also benefits from a LiDAR scanner. Plus only thing the Air won't do is 2x optical zoom out. But honestly, how often are you going to take photos or capture videos with your iPad. You have your smartphone for that.
The biggest disadvantage with the iPad Air is its starting storage of 64GB. This may not be enough for some but there is the USB-C port for that. You can connect a flash drive or external hard drive to transfer big files off the device, but you won't be able to install apps there. The next storage up is 256GB but it will cost 150 dollars more. Those are the only two options storage wise, while the iPad Pro is available in 128GB to start, or choose 256GB, 512GB, 1TB or 2TB.
For wireless connectivity, both features 802.11ax WiFi 6 with simultaneous dual band support and Bluetooth 5.0 technology. If you choose a WiFi and Cellular model, the Air even enjoys a newer 5G cellular unit, the Model A2589. The iPad Pro 11 uses Model A2301 and A2379 instead. Not that it will be any different in terms of performance.
Finally, I wouldn't call this a disadvantage but just a small compromise with the iPad Air, the display. With a 10.9-inch panel, it is slightly smaller than the 11-inch on iPad Pro. And because they both have similar footprint, the bezel on the air is slightly bigger. Both panels share the same level of sharpness at 264 ppi with plenty of details on offer.
Beyond the size, both being Liquid Retina displays, there is no real advantage going with one over the other. The only differences with the Pro device are the support 120Hz ProMotion technology and SDR brightness at 600 nits maximum. The iPad Air still manages a close 500 nits brightness.
Other disadvantages are minor to negligible. The iPad Air has stereo speakers versus quad speakers, dual microphone setup versus five studio quality microphones and USB-C with charging, DisplayPort and USB 3.1 Gen 2 support versus Thunderbolt / USB4 port. The Thunderbolt / USB 4 port on the iPad Pro supports all the above plus USB 4 and Thunderbolt 3.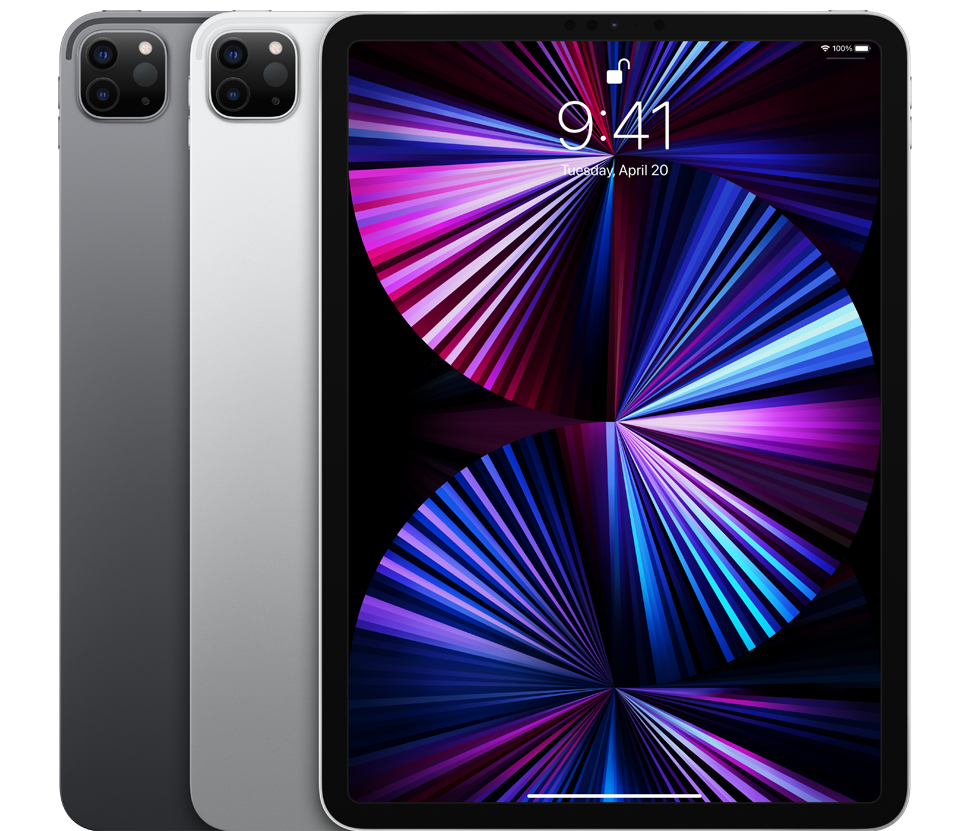 Why Get the iPad Air 2022
Finally, here are real reasons for going with the iPad Air especially if you are thinking of a solid tablet for college or university. A mid-range and dependable device that will last you through your college and even uni.
COST: Put simply, cost. It is 200 dollars cheaper. For a student, that could mean everything. You can even put it towards the accessories like Apple Pencil 2 and Magic Keyboard. And, while it doesn't have dual rear camera or LiDAR sensor, it does come with a very capable 12MP Ultra wide front facing camera with Center Stage and rear sensor that will capture up to 4K video. The 64GB version costs $599. For $150 more at $749 you get the 256GB edition. This does brings it close to the iPad Pro 11 128GB version priced at $799. 5G enable versions will cost even more.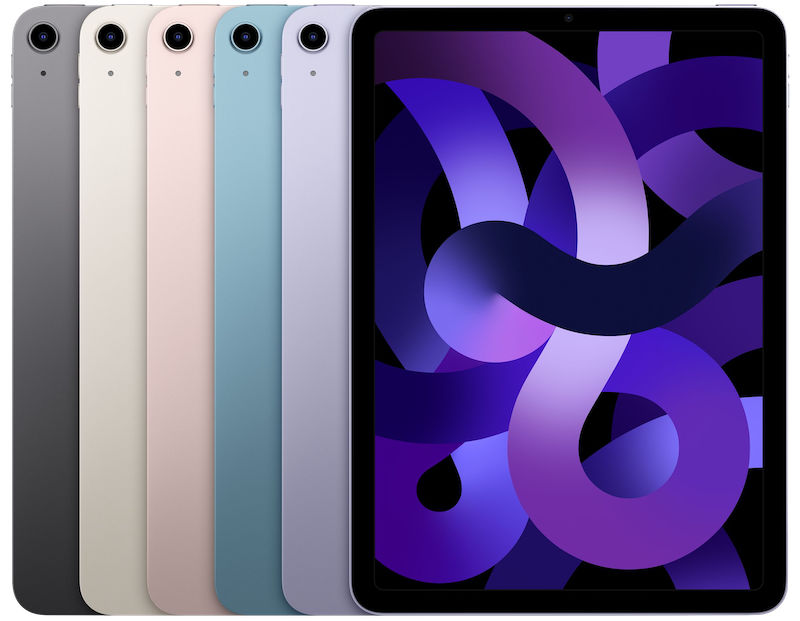 COLOURS: Five different colour options instead of just space grey or silver. And, if you want your mid-range iPad Air to look like the iPad Pro, pick the Space Gray option. Otherwise, choose between pink, purple, blue or starlight. 5 colour choices vs 2. These colours are different from the previous iPad Air 4. For your reference, see below for old colour choices.
CONNECTIVITY: The iPad Air now features 5G connectivity which the previous generation device doesn't. It comes with a $150 premium regardless of the storage option you choose. Remember, there are only two storage sizes available, the 64GB or 256GB.
ACCESSORIES: Now you must be thinking, why would the iPad Air have the same footprint (width and height). Even the same location for the magnetic charger and keyboard contact. The answer is simple, so it can share the same accessories as the Pro cousin. This means, you can pick up the Apple Pencil 2nd Gen and the Magic Keyboard and it will feel at home just like on the Pro. The former is a must have if you intend to use your tablet to take notes, sketch, annotate or shoot/screenshot and mark up. Lastly, the USB-C port supports direct flash storage or external hard drive. Use this to offload files from your tablet.
Upgrading to iPad Air 2022
If you are considering an upgrade from previous generation iPad Air 4, the M1 version is 60% faster with 2x better graphics with the 8 core CPU and 8 core GPU. If you are a heavy user and relies on your tablet not just for web browsing or streaming, then it is definitely worth it. Your creative workflow and design app will fly on the device. Online meetings, video calls and tutorial videos will also work better with Center Stage apart from higher 12MP sensor. And, if you decide to capture video with its rear camera, it now supports Smart HDR, cinematic video stabilisation and continuous autofocus. Your YouTube channel followers will thank you for it. When you run low on juice, the 20W power adapter will bring it back up quickly. However, if you do none of the above, we suggest hanging on to your iPad Air 4, there is still plenty of life in it. After all, apart from the colours, they are both identical in many ways.