In this, part two of a three-part series, we continue to look at the ways in which your child develops from their first year of life to age four so that as a parent you are aware of and able to monitor their progress. In part one we looked at how children's thinking and language abilities advance from infancy up to the time they're at a pre-school going age. In this article, we will look at how their fine and gross motor skills evolve.
Also read
Part 1: What Every Parent Needs to know about Cognitive and Linguistic Development in Early Childhood
Part 3: What Every Parent Needs to Know About Social and Emotional Development
Before looking at the differences between the two, let's first define what motor skills are. Motor skills in general refer to a child's ability to control muscle movement to achieve balance and coordination. It also refers to how aware they are of their body in space, where for example they know that, to be able to reach the kitchen counter, they'll need a step of some sort to stand on to achieve height.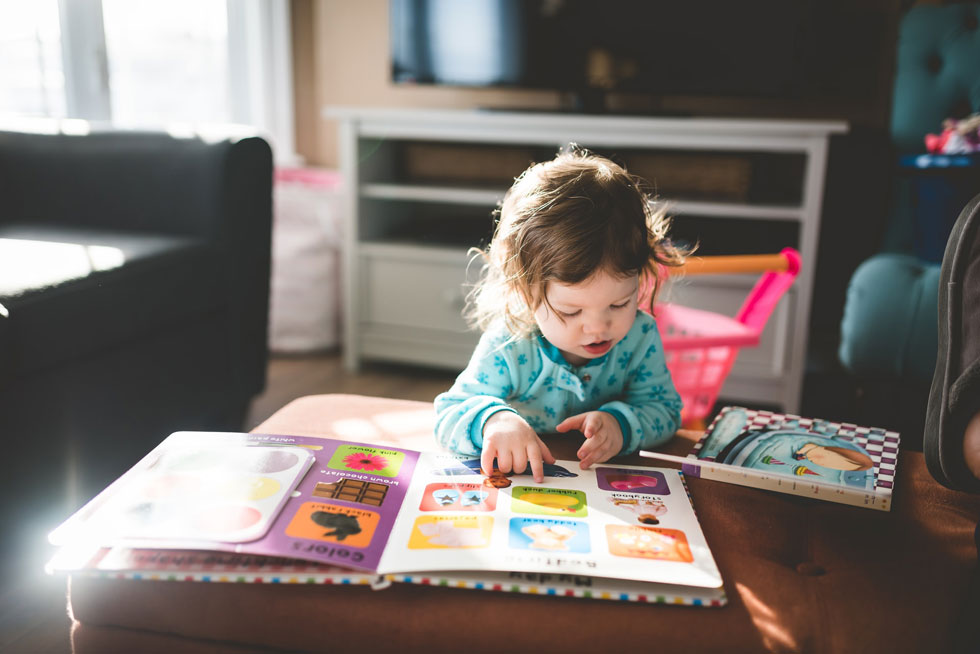 Fine motor skills refer to small physical movements where a child learns how to master their self-help ability to do things such as use utensils where they have to learn how to use their fingers and hands to eat. This skill even applies to mouth movements and a child's ability to shape their lips to be able to blow bubbles. These small-scale activities require a lot of focus at first and an ideal place to practice them is one where there is little distraction.
Gross motor skills on the other hand are larger movements where children make use of their arms, torso and legs to do physical activity such as hopping, jumping or skipping. For example, they need to build core strength in their torso so that they are able to walk, where they will need to learn to balance, a skill that is also required to push and swim.
Practice in these areas require space, for example, to be able to run and throw a ball.
Let's now have a look at the milestones in the area of fine and gross motor skills while still keeping in mind these are just guidelines and that each child develops at their own pace. It's also advisable to consider your child's mood at the time you provide a learning opportunity as well as their natural abilities to avoid frustration and encourage further learning through purposeful play.
First year of life
Fine motor skills
With the arrival of your baby, you are adjusting to the additional demands that this comes with and you're most likely trying to establish some sort of routine. At this point in their life, you are spending a lot of your time meeting their immediate physical needs and trying to discern whether or not they are achieving certain milestones can seem like a lot to deal with.
However, taking the little time required to consider these, will help you gauge how typical or atypical your child's physical development is. Although always bear in mind, that each child will develop at their own pace.
At two months old, your child should be able to open their hands and follow moving objects with their eyes.
What follows these little breakthroughs is your baby's ability to swipe, that is, when they see something, they will try to touch it.
The availability of books for children of this age also makes it possible to tell whether at six months they're able to turn pages with help as they should. They're also getting more skilled at gripping objects with their fingers and thumbs.
You can help them develop these skills by hanging objects, at a safe distance, over their cot to encourage eye movement and although they may not be able to grab yet, you can encourage this skill by spurring them to reach out to touch a toy before giving it over to them.
Gross motor skills
At three months old, your baby is able to turn their head in the direction of sounds and is able to raise their head and chest while lying on their stomach. At this phase in their development, they are also able to bring their hands to their mouth so make sure that they're never left unattended or within reach of small objects that they may swallow.
At four to five months, they can grab objects without looking at their hands first.
At six months, your baby will be able to sit with and then without support as their neck muscles become stronger and head becomes steadier. You will also delight in their ability to crawl too, although some babies also bum shuffle and a few progress straight to pulling themselves up and walking.
You can develop these skills by giving them 'tummy time' where you let them lie on their stomach for a short period. You can also get a rattle for them so that they learn how to distinguish their hands from the object they're holding (hand-eye coordination).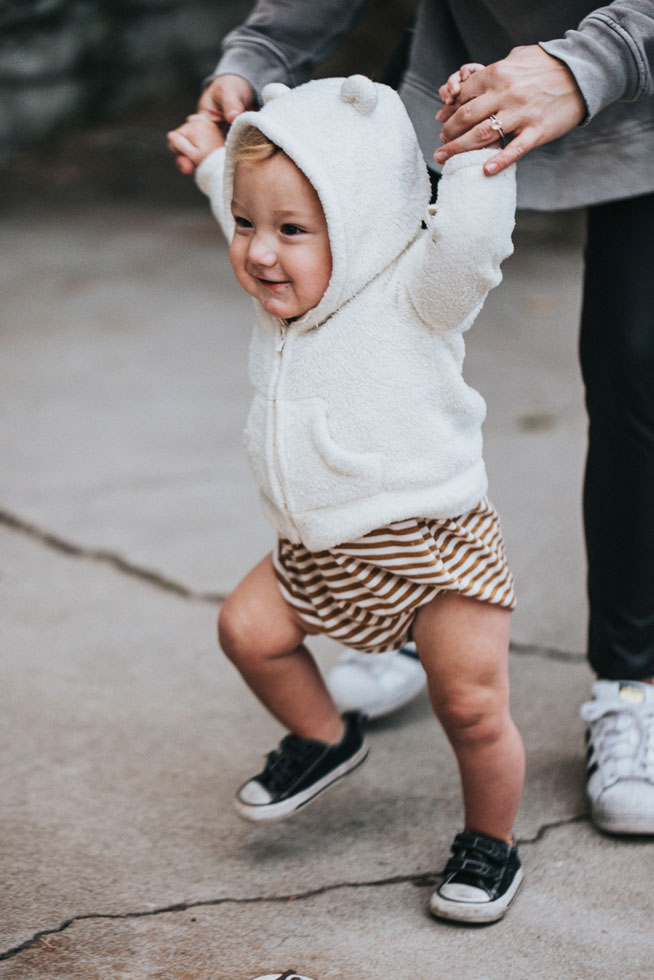 Age one to two
Fine motor skills
You've celebrated your child's first birthday and all the little achievements they've made to this point. They're now able to hold a book with help, for example. From 12 to 18 months, they will learn simple gestures such as how to wave and clap as well as master the skills of using both hands. Because of this, they will progress to moving objects where they're able to build blocks or put rings on a stacker.
Another milestone to work towards is their ability to isolate their index finger from the other fingers to be able to point, turn pages of a book one at a time and hold crayons with the fingertips and thumbs. You can develop these motor skills by giving them large crayons to explore their grip, chalks to be able to make large drawings on the ground and playdough to encourage more refined finger movement.
To prepare them for the next phase of their development, you can also encourage independent dressing where you also teach them how to button up and use a zip. Meal times also present further learning opportunities to familiarize your child with practising the pincer grip to pick up snacks such as cheerios or pieces of banana.
Gross motor skills
At this point your child is able to pull themselves up to stand, they will walk around holding furniture as they begin to master the use of their legs. Following this, your child will then be able to walk without help and then the ability to pull toys behind them while walking.
You can develop these skills by providing them with a walking ring at first, so that they begin to navigate the ground with their feet and progressing to a walker which they walk behind to help develop their balance.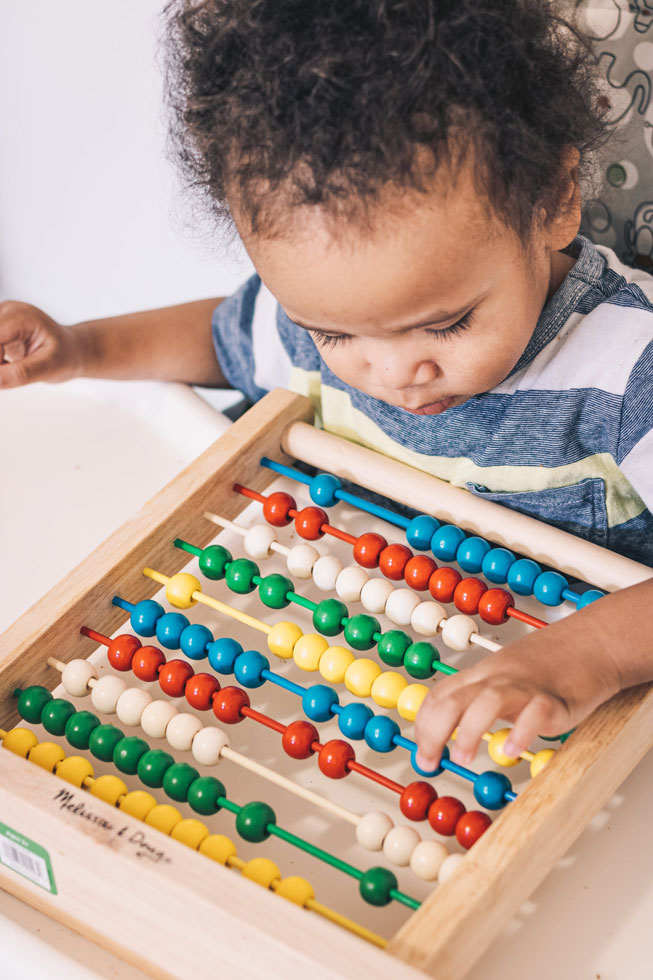 Age two to three
Fine motor skills
As your child approaches the active, playful age of the two year old toddler, they become more confident in and of themselves. They become more confident with mark making using the pincer grip although they may still hold thinner writing implements with a plamar supinate grip.
They can now use cutlery with easy and can often feed themselves well with more accuracy with fewer messy accidents, although eating with fingers and hands will still be the preferred option.
Playing and experiencing different forms and textures with their hands and fingers, such as sand, shaving foam, mud pies, also help them both understand and navigate the world around them. At this age, a lot of exploration is still based on mouth feel and taste so they will want to put most things in their mouth.
Gross motor skills
As their motor skills develop, their muscles as well as their hand-eye coordination also improve. In this respect, two year olds enjoy exploring the world around them by climbing and running often at speed in open spaces.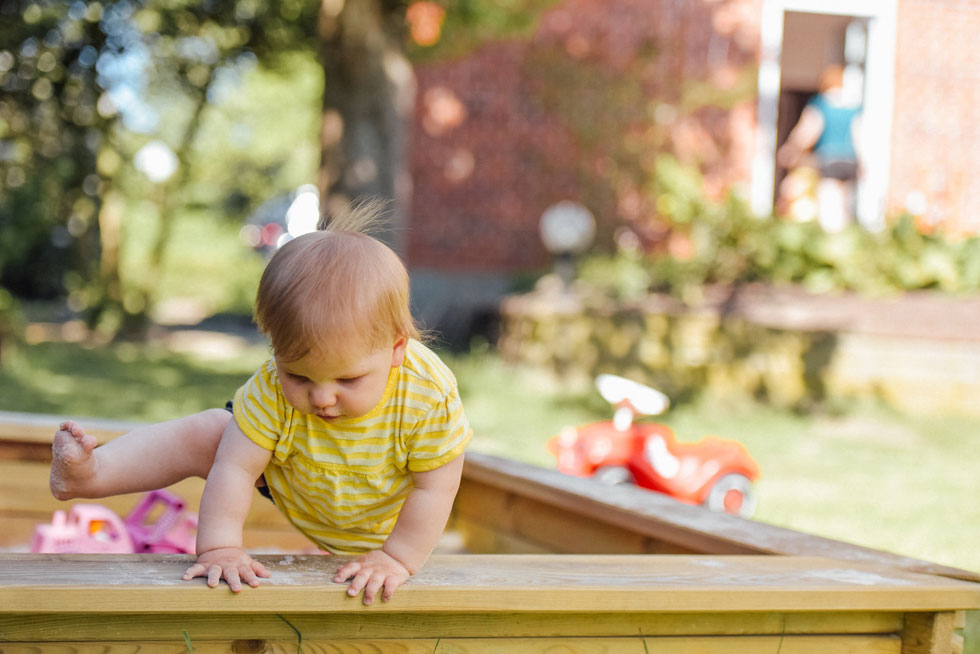 The are more confident at navigating stairs, although may still need help to hold on to balusters to help themselves up and down. Do ensure that someone is always observing them up and down the stairs and make good use of stair gates if they are very independent.
The ability to kick, throw and catch a ball is also one of the gross motor developments to expect at this age. This requires practise and it may take several attempts for your child to be able to do it well, but encourage them to persist.
Age three to four
Fine motor skills
Your toddler should now be able to brush their teeth on their own when given the opportunity. They can also dress themselves except, tying their shoelaces still presents a challenge.
You can further develop these skills by encouraging threading and weaving. Picking up small objects with tweezers will also help them master the use of their fingers as will cutting and pasting, skills required for their upcoming school years.
To encourage early writers:  5 Best Pens and Pencil Grips for Beginner Writers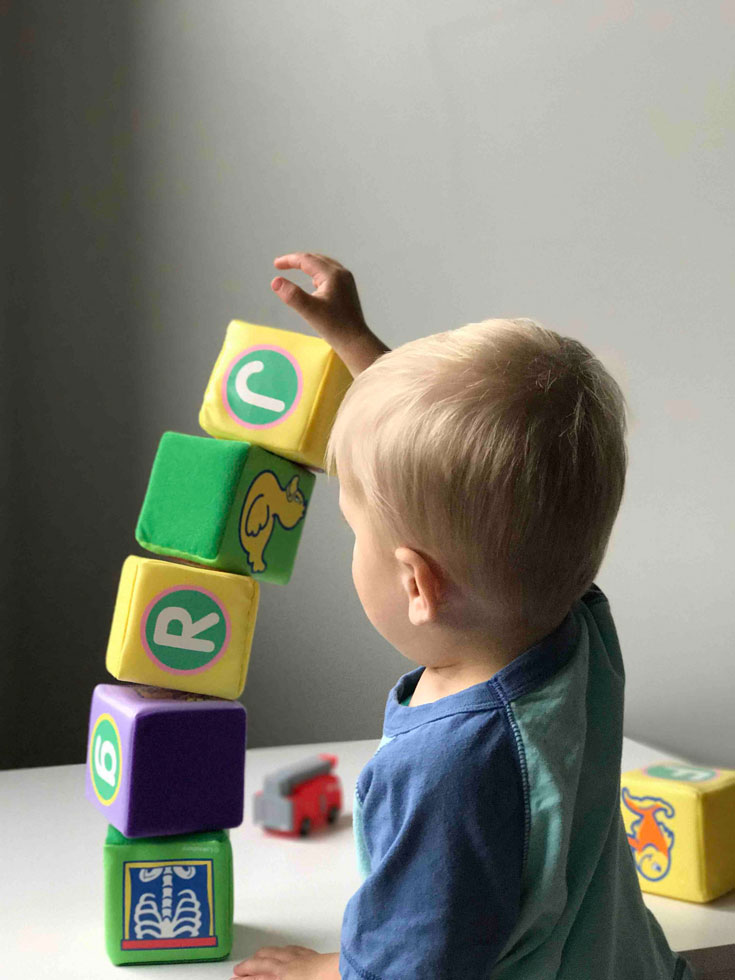 Gross motor skills
At this age your baby is able to walk up and down stairs confidently by alternating their feet. They're now able to run and pedal and can perform more complex tasks such as climb where they're required to coordinate the use of both their hands and feet. There'll be a lot more tripping and falling so be sure to have the antibacterial liquid, antiseptic cream, plasters as well as a little patience nearby!
You can develop these skills by giving them opportunities for digging and sweeping. Hula hoops and trampolines will further develop their coordination as well as develop their core strength.
The next phase of their development will involve being able to throw and catch so you can prepare them for this by playing ball games with your child.
Conclusion
In this article we examine the differences between fine and gross motor skills and looked at how your child's dexterity as well as their whole-body movements become more sophisticated within just a few months of each other. We also saw how to encourage your child's development in these areas which places into emphasis the immense learning opportunities that come from play.
Young ones often need little help developing their motor skills as they are naturally curious about their world. It is important though that they learn to navigate their environment and the world around them safely and securely.
Related Articles
Part 1: What Every Parent Needs to know about Cognitive and Linguistic Development in Early Childhood
Part 3: What Every Parent Needs to Know About Social and Emotional Development