Google's Pixelbook Go is available with a choice of 8th generation Intel processors, memory and storage options. Users can pick between Intel Core m3, i5 or i7 but the cost stacks up when one goes for a higher model. Here, we look at cheaper alternatives that does not compromise on performance.
The highly rated Google Pixelbook Go is a well-built, superbly designed laptop that only weighs around 1kg and merely 13mm thin. It promises a battery that will last for up to 12 hours and at the heart of it, a powerful 8th generation Intel processor. The model we would recommend is one powered by Intel Core i5 8200Y dual core processor with 8GB RAM memory and 128GB SSD storage. Naturally, the alternatives on our list would have to come up to or beyond our recommended Google Pixelbook Go specifications.
Google Pixelbook Go: What we are up against
Intel Core i5 8200Y processor. Dual core processor. 1.3GHz processor speed with a burst speed of 3.9GHz.
8GB RAM memory and 128GB SSD storage.
13.3 inch screen Full HD Display 1920 x 1080 pixels Touchscreen
Ports: 2 USB Type-C ports.
Connectivity: Bluetooth, Wi-Fi enabled
Built-in webcam, Built-in mic, Backlit keyboard.
Size H1.34, W20.63, D31.1cm, Weight 1.06kg.
Up to 12 hours battery life.
Google Chrome OS.
Now that we have established our baseline, let's take a look at what is out there that will match and exceed the Google Pixelbook Go above.
1. ACER Spin 514 14-inch 2 in 1 Chromebook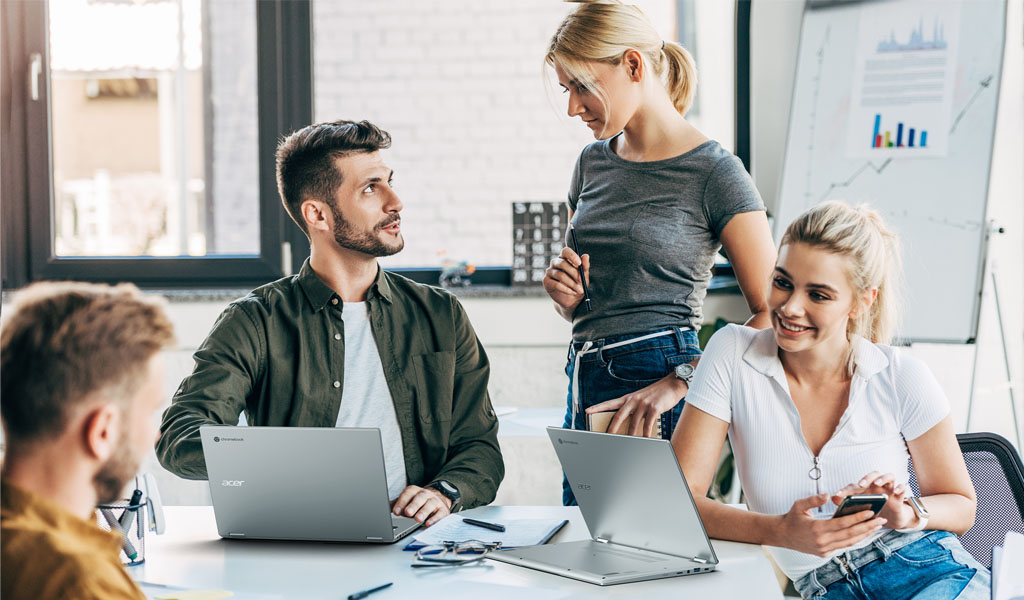 First up we have the cheapest Chromebook in our line-up but no less impressive. The convertible laptop with touchscreen from Acer is powered by AMD's processor, specifically the Ryzen 5 3500C, an efficient quad core, eight thread CPU. This is paired with the same 8GB RAM and 128GB storage combination but in the interest of keeping the cost down, Acer has opted for 128GB eMMC storage over SSD. Still, you get up to 10 hours of battery life on a full charge and a bright 14-inch Full DH display plus the flexibility offered by the 360 degree hinge. It even comes with plenty of ports including HDMI, Full Size USBs, USB Type Cs and microSD. The only downside is it weighs a bit more at 1.55kg but still very portable.
AMD Ryzen 5 3500C Processor

RAM:

8 GB / Storage: 128 GB eMMC

Full HD touchscreen

Battery life:

Up to 10 hours
2. LENOVO IdeaPad 5i 14-inch Chromebook
Next, we have a Chromebook with laptop profile from Lenovo. For those who prefer a straight up laptop without those fancy hinges, the IdeaPad 5i is one to go for. Three main reasons for picking this laptop over the other laptop on our list. Firstly, the cost. It is the cheapest Chromebook with Intel Core i5 processor around. Second, it uses the new 11th generation Intel Core i5-1135G7 processor, an energy efficient yet powerful mobile processor with Intel Iris XE graphics, more powerful than the 8th gen Core i5 in the Pixelbook Go. And, finally, the processor is matched with 8GB memory and a huge 256GB SSD storage. The latter is double the storage compared to Pixelbook Go. It does weigh slightly heavier at 1.49kg but being the cheaper option, one can't really complain. It also does not come with as many ports as the Acer Spin 514, only equipped with one full size USB, one USB C and microSD card slot.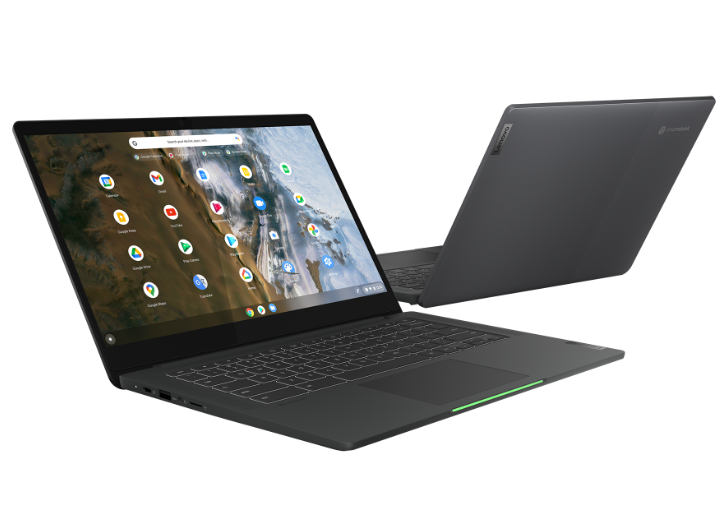 Intel® Core™ i5-1135G7 Processor

RAM:

8 GB / Storage: 256 GB SSD

14-inch Full HD touchscreen

Battery life:

Up to 10 hours
3. LENOVO IdeaPad Flex 5i 2 in 1 Chromebook.
For a bit more money, you get the exact same spec as the laptop variant but with a 2 in 1 convertible profile thanks to its 360 degree hinge. While the display is slightly smaller at 13.3-inch, it is not any smaller than the Pixelbook Go. An added bonus apart from flexibility in the way you use the device is that it comes complete with the Lenovo Digital Pen and charger and it weighs only 1.35kg and measures 16.94mm thin. One slight disappointment is the dim display at 250 nits brightness when the 14-inch on the IdeaPad 5i above can push 300 nits brightness, we expect the same for the IdeaPad Flex 5i.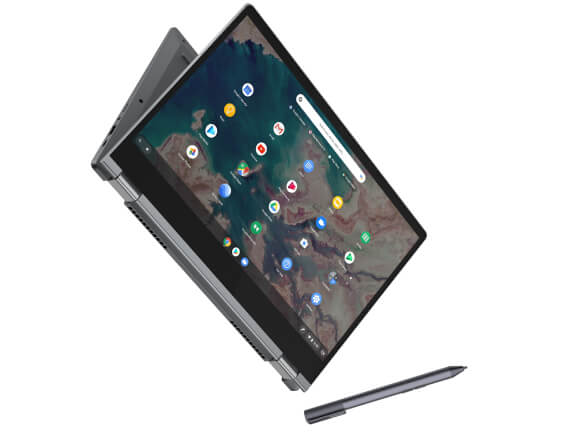 Intel® Core™ i5-1135G7 Processor

RAM:

8 GB / Storage: 256 GB SSD

13.3-inch Full HD touchscreen

Battery life:

Up to 10 hours
4. HP x360 14c 2 in 1 Chromebook
Moving up in terms of price and size of display but no so much in other areas is this next convertible Chromebook from HP. The HP x360 is a modern looking device with a beautiful display complete with high display to body ratio. Those micro bezels are on their own worth the extra you are paying for. For the premium, you also get 10 hours and 45 minutes of battery life and expert tuned sound system from Bang & Olufsen. For connectivity, there are two USB Type-C ports that supports PowerDelivery and DisplayPort 1.4 and one full size USB Type A. However, like the IdeaPad Flex 5i the display can only muster 250 nits brightness so not quite ready for the outdoors and it weighs a hefty 1.66kg and measures 17.9mm thin. You do wish it comes with a stylus.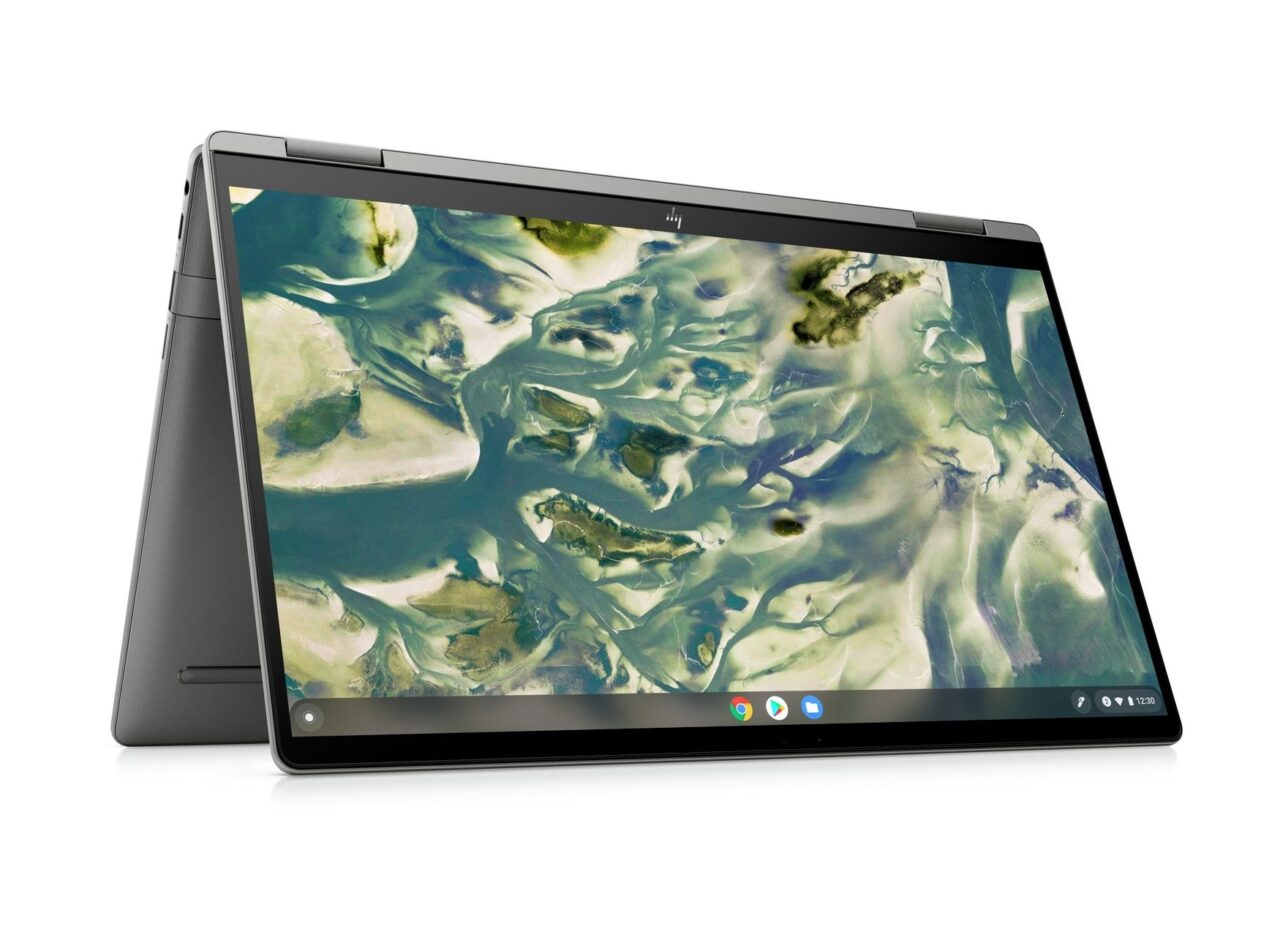 Intel® Core™ i5-1135G7 Processor

RAM:

8 GB / Storage: 256 GB SSD

14-inch Full HD touchscreen

Battery life:

Up to 10.5 hours
5. Acer Spin 713 2 in 1 Chromebook
Finally, we have a premium offering from Acer, one that exceeds even the specifications on the Pixelbook Go and by that we mean the Display. It may come with the same 11th generation Intel Core i5 processor that powers majority of the devices here, with 8GB memory and 256GB SSD storage but the ultra sharp Quad HD 2256 x 1504pixel 13.5-inch touchscreen display is what you are paying top dollar for. Plus, the display uses a 3:2 aspect ratio rather than 16:9 which makes it better for work. Even with the big display, it still only weighs 1.37kg and 16.9mm thin. With its all day battery life, up to 10 hours on a full charge, dual USB-C, one full size USB port and SD card reader, it has everything one needs. And, if you want to switch it up, get the Intel Core i7 version.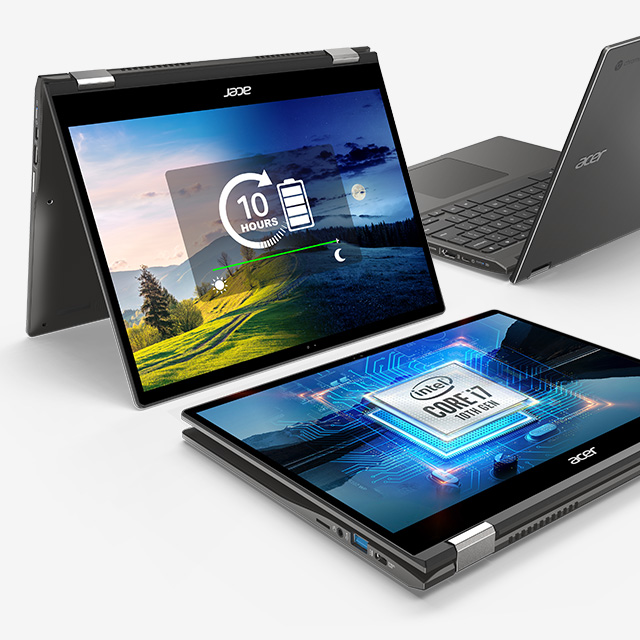 Intel® Core™ i5-1135G7 Processor

RAM:

8 GB / Storage: 256 GB SSD

13.5-inch Quad HD touchscreen

Battery life:

Up to 10 hours