Need to design a flyer, business card, presentation slide or brochure? Or if you are a digital native, a long Pinterest post, Instagram story, YouTube Art for your channel or even animations and videos, use one of these design maker tools. Not only are they free, they are quick and easy to use too, allowing you to finish your project in next to no time.
These free online graphic design tools does not require you to install anything. Use it right off the browser or mobile. Some even come with mobile apps that you can download and use on your phone or tablet. All it takes is to sign-up for an account and you are ready to start work on your assignment or project.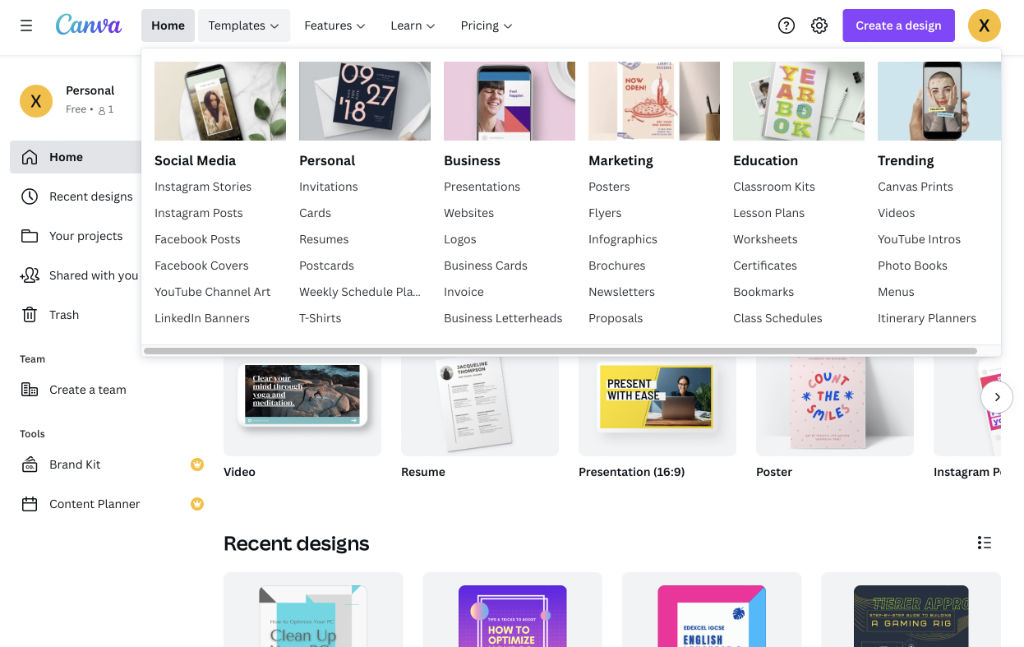 The first on our list is Canva. Possibly the one that started it all, Canva has a huge following. It is totally free to start designing online. However, it is supported not ads but a bigger premium offering to facilitate the creation of various projects be it for online use or prints such as instagram post, business cards, flyers or infographics.
While there are free images and templates in the free plan, the power is in its premium plan where you can access tonnes of content, templates or designs to include in your project. Power users won't hesitate to pay to have unlimited access. Failing that, you can always upload your own images to use as part of your project. Premium plan also include brand kit, background remover, magic resize and content planner to schedule your post on social media.
What's included
Free plans lets you access free templates and there are over a quarter of million of those, over 100 design types and hundreds of thousand of free photos and graphics. So what gives, a limited cloud storage of only 5GB, which for most of us is more than enough. You can invite other members to form your virtual team with useful tools that let you collaborate and chat in real time.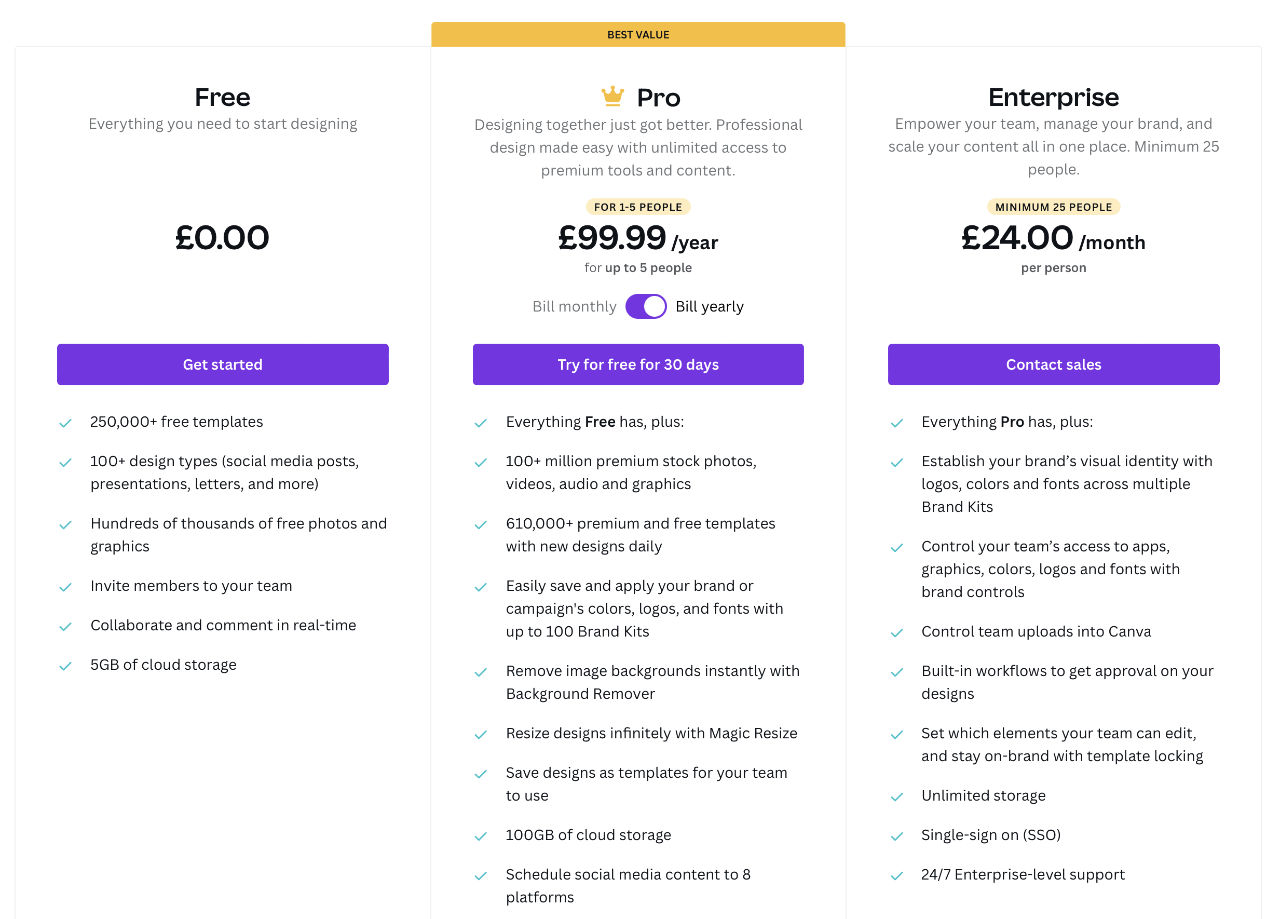 Paid users get access to premium photos and templates added daily on top of over one hundred million stock images, videos, audio and graphics. You also get up to 100 brand kits and a huge 100GB cloud storage. The former include colours, logos and fonts to create your own brand or campaign. There is also an element of social media marketing with integration of scheduling tool for 8 of the most popular platforms.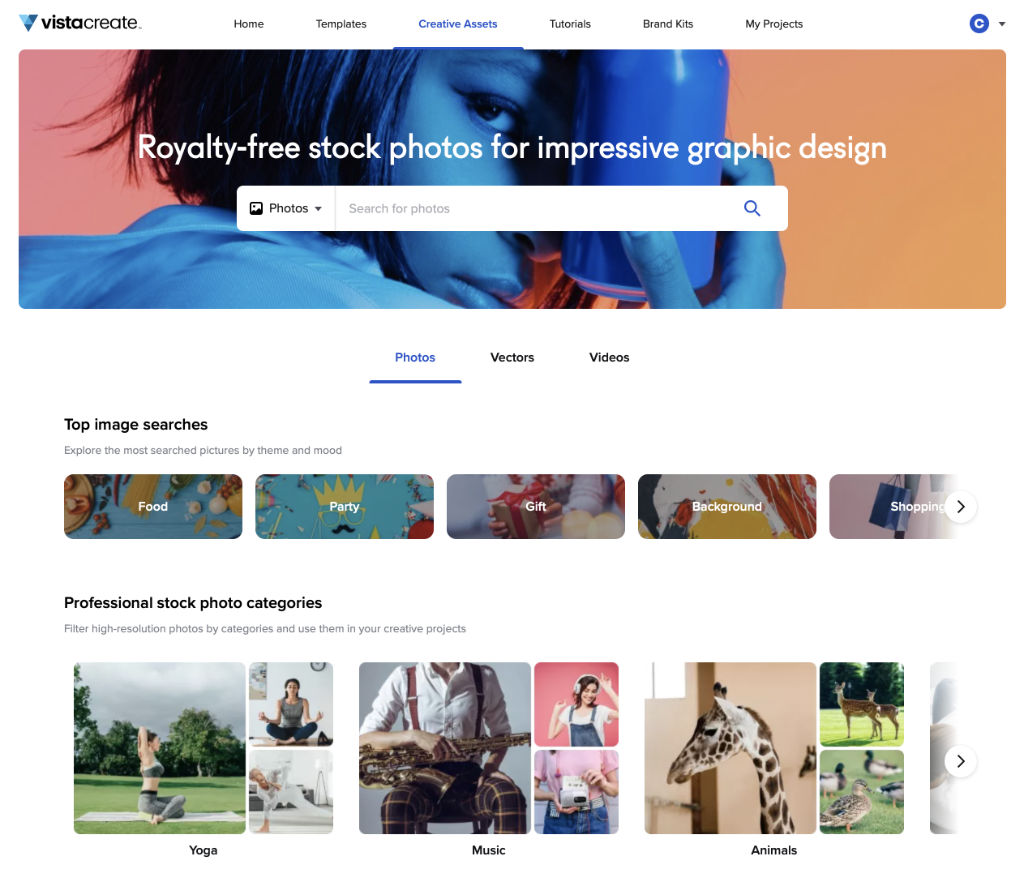 From VistaPrint, the popular printing company where you get your business cards and stationery comes vistacreate. Formerly crello, the platform get a big boost with a huge choice of templates and digital assets. The aim, to help you create your best design (with option to show print bleed) and send it to VistaPrint to have your very own hard copy.
You start with a 10GB cloud storage for your own files with no limit on the design templates and there are over 50 thousand of these. The only limit is on the assets but still, you get over a million of those as oppose to over 50 millions if you go Pro. If you level up, you have unlimited storage as well as team accounts and brand kits. If you are after an alternative to Canva, this is definitely one to consider.
What's Included
The simplest pricing plan in our list, you either use it for free or pay a monthly fee. The free plan is pretty amazing on its own. You get access to over fifty thousand design templates and over one million creative assets. Instead of keeping brand kits premium, you also get access to these albeit in limited numbers. Everything you need to create amazing graphics, videos and prints are available with a generous free starter storage of 10GB for your own files and projects.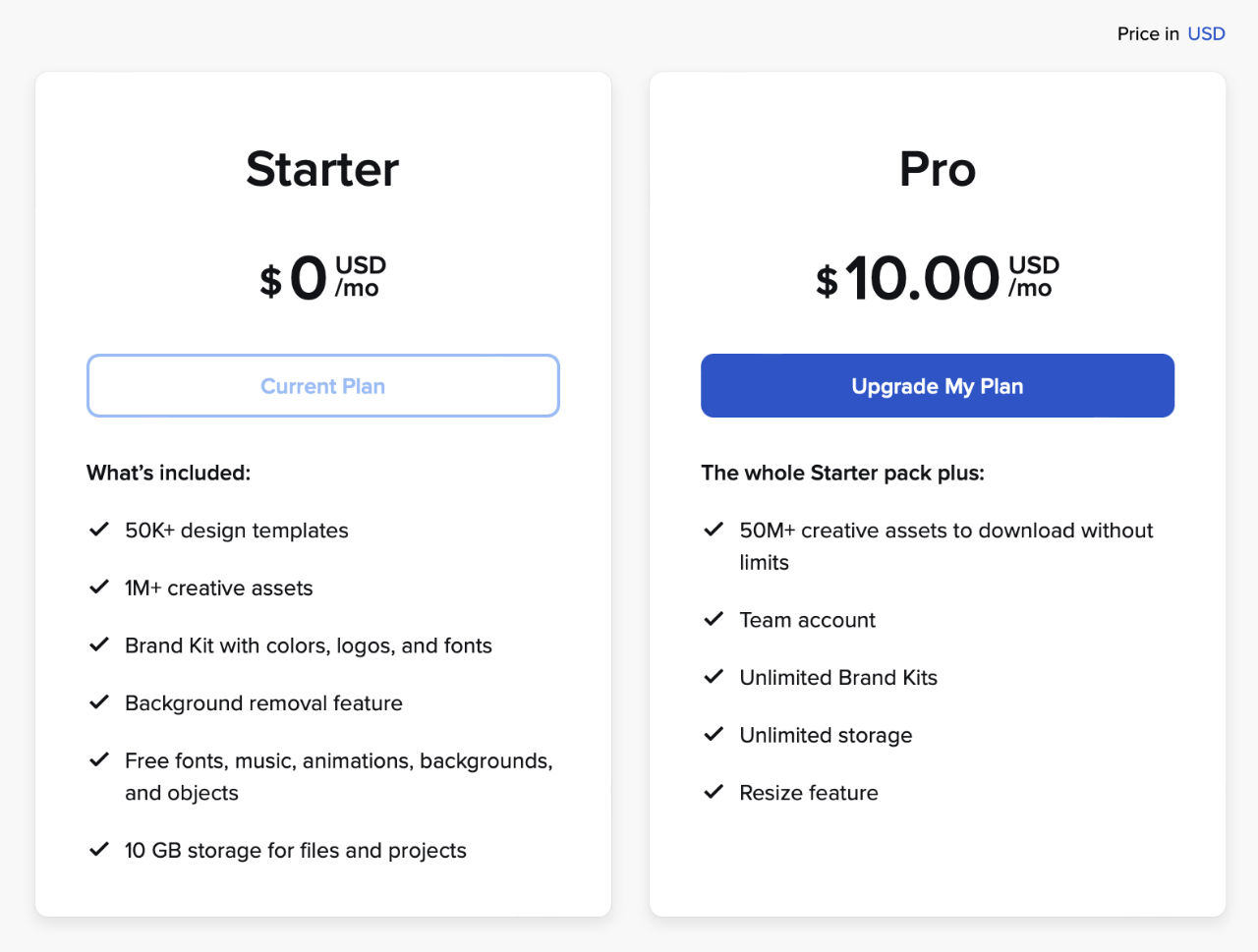 Pro plan is pretty good value too when compared to others here, for $10 per month if you pay annually or $13 for monthly contract, you get everything unlimited including team account and resize feature. Yes, there is no limit on cloud storage, so you can create as many projects as you want.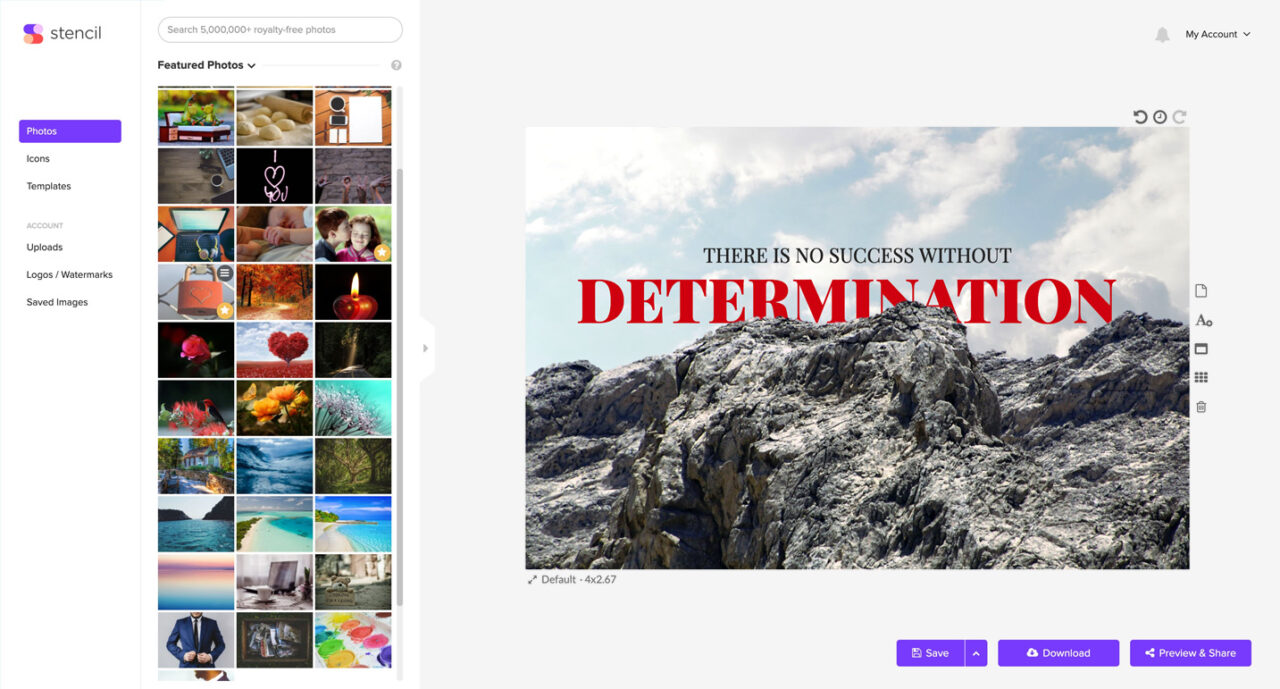 Stencil is a graphic design tool that focuses on simplicity and speed. It even boasts that it is a lighter version of Canva. The online graphic designer is rather limited unless you start paying. For the free level you can only create and save up to 10 images per month. Access to content is also limited. And, if you think you can get around that by uploading your own images, you are only allowed up to 50 of your own. What it does have is access to famous quotes that can be applied to your creation with a simply click. Stencil is part of namecheap, a domain and hosting company).
What's Included
With the free plan, the limit here is in the amount of images (10) you can create in a month. This is still better than snappa (below) where you can only download up to 3 projects per month on their starter plan. And, if you think you can get around the limited digital assets by uploading your own, that too is limited to only 50 images. This leaves power users with little choice but to pay for their premium plans, a strategy that is quite common here.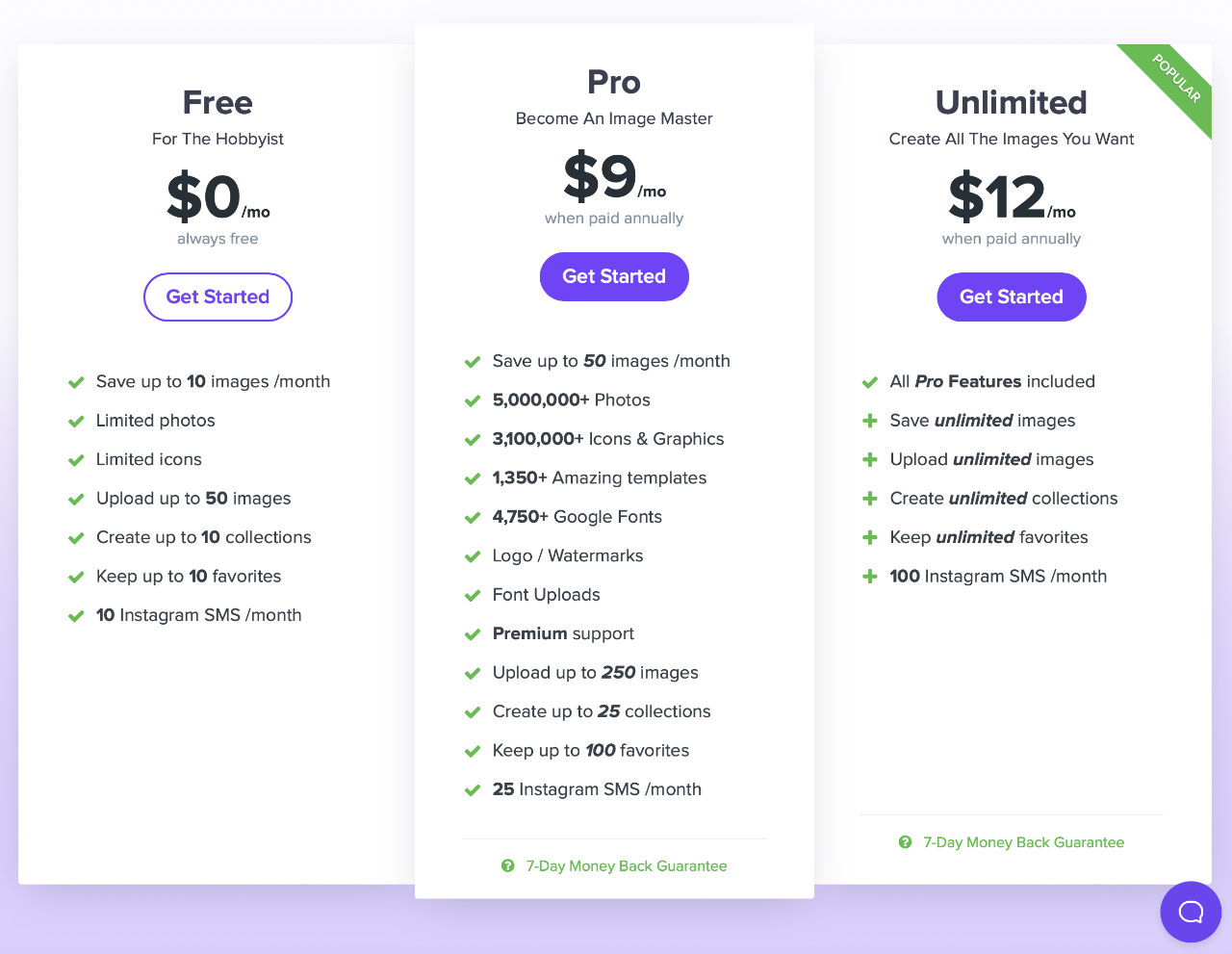 On the other hand the paid plan lets you access up to 50 images a month and if that is still enough go for the unlimited plan for all the projects you need. The Pro plan includes 5 million stock photos, 3.1 million icons and graphics, and some 1370 templates. Fonts are provided by Google and you can upload up to 250 images of your own to use for your project. Again, switching up to the highest Unlimited plan gives you unlimited everything.
4. Adobe Spark (Adobe Creative Cloud Express)
Part of Adobe Creative Cloud Express, a small collection of tools for editing videos, photos and more, the Adobe Spark is available as Adobe Spark Video and Above Spark Page. The former is for creating video slideshows while the latter is a tool for graphic designers. It lets you create graphics and video over the web browser or on mobile devices.
Access templates, stock photos, icons, graphics, backgrounds and fonts from Adobe to for your project. You also get royalty-free images from Adobe Stock photos and useful editing tools normally found on Photoshop and Premiere. The interface looks very similar to other online graphic tools found here. Just like Canva, premium templates, texts, photos, backgrounds and design elements are differentiated with a little crown icon.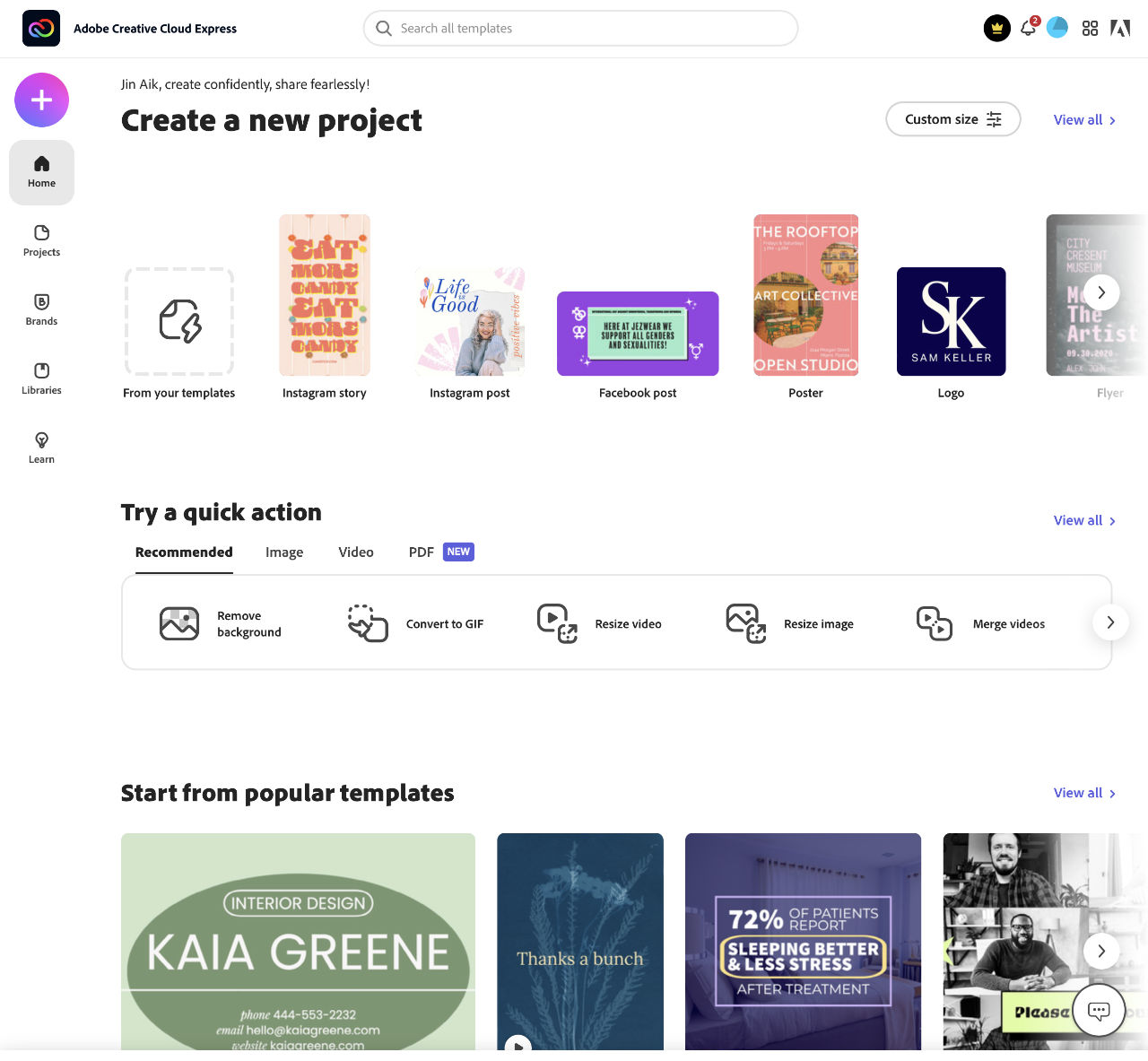 What's Included
With the free plan, Adobe lets you access thousands of templates, design elements and world renowned Adobe fonts. You can also perform basic editing of images and photos including removing background and quickly create animated graphics. There is however the matter of limited online storage for your project. At a measly 2GB, you will quickly find that you will run out of storage pretty soon. The other apps that you may find useful with Adobe Creative Cloud Express are Premiere Rush, Photoshop Express, Lightroom for mobile and Fresco for drawing using Apple Pencil.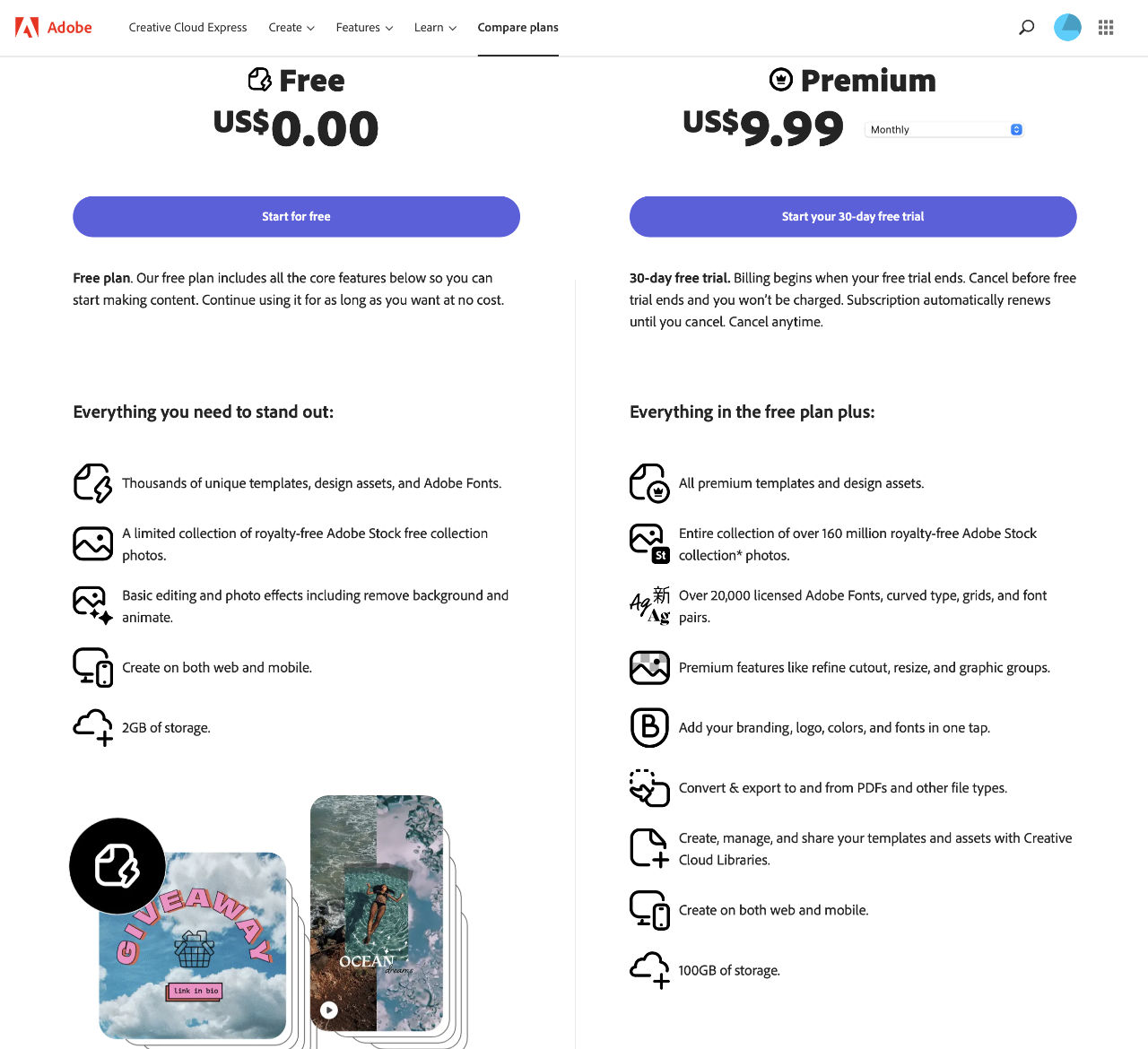 If you jump on the premium wagon, you get even more templates and designs as well as the entire Adobe Stock photo collection, over 160 million of them. Then there is the highly priced Adobe Fonts, this time some 20,000 of those as well as the ability include your own brand and logo. All that and a huge 100GB cloud storage.
Before we dive right into this next graphic designer tool, it is worth noting that the focus for Snappa is squarely on social media. That is to say, to create graphics for the different social media platforms with particular focus on Facebook, Twitter, YouTube, Twitch, LinkedIn and Instagram. Beyond that, there is little else. Some useful tools for bloggers include featured image and ad designers. For the latter, options to whip up medium, rectangle, leaderboard, wide skyscraper, filmstrip pushdown and billboard ads for the website and Facebook. Choose one of the preset sizes, pick your template, change background image and the text and you are done.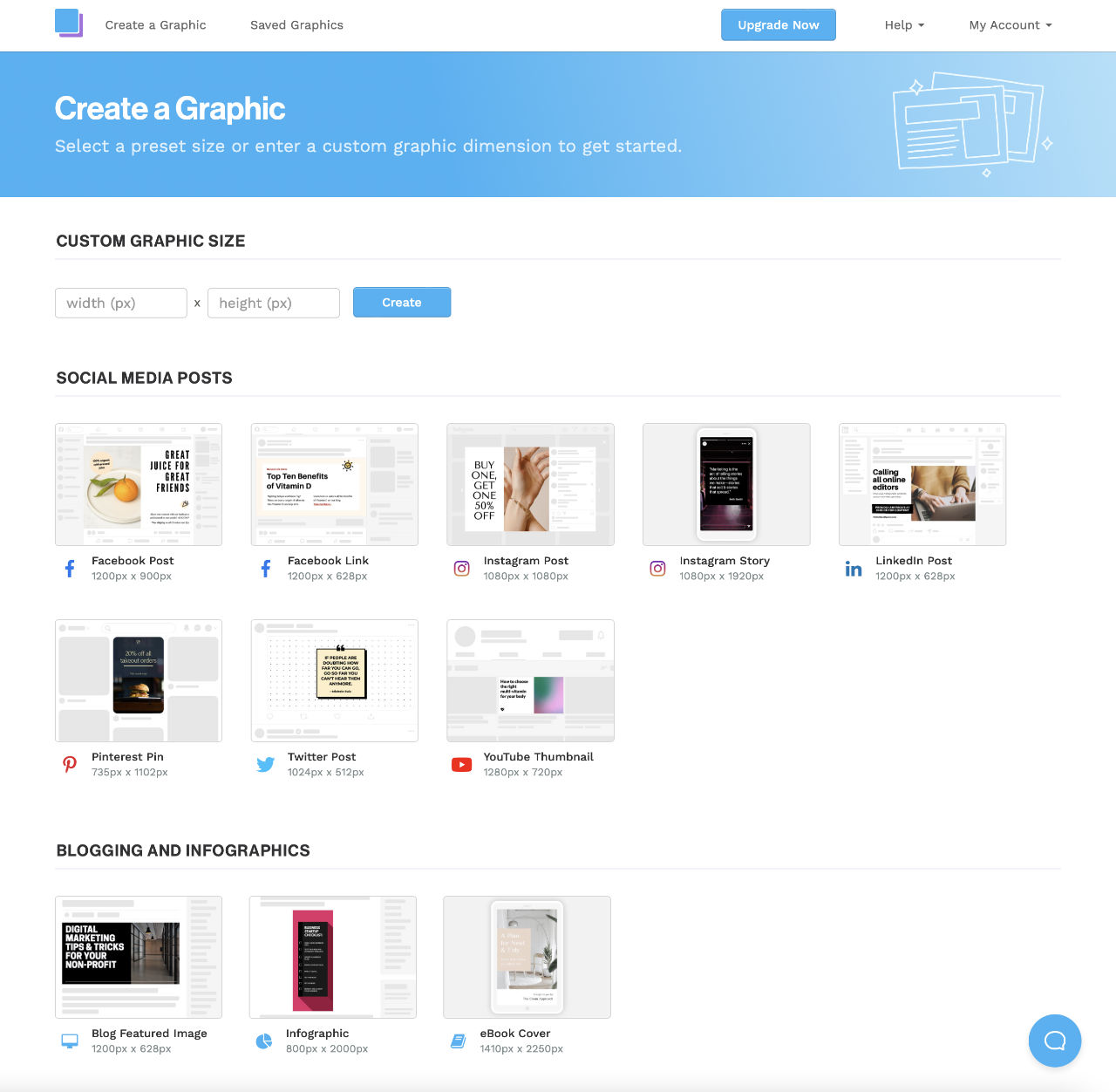 For our test, the lack of restrictions, where the app shows you templates, graphics and images that you can't use because you haven't signed up to the premium account is a breath of fresh air. But the download limit is a real bummer. Once you have reached three downloads, you with the free starter account, you are going to have to wait for days (up to 1 month) before you can work again.
What's Included
The free account lets you access some six thousand templates and over 5 million HD photos and graphics. However, you will only get three downloads per month. To remove the download limited, you will need to go for either the Pro plan for individual or team.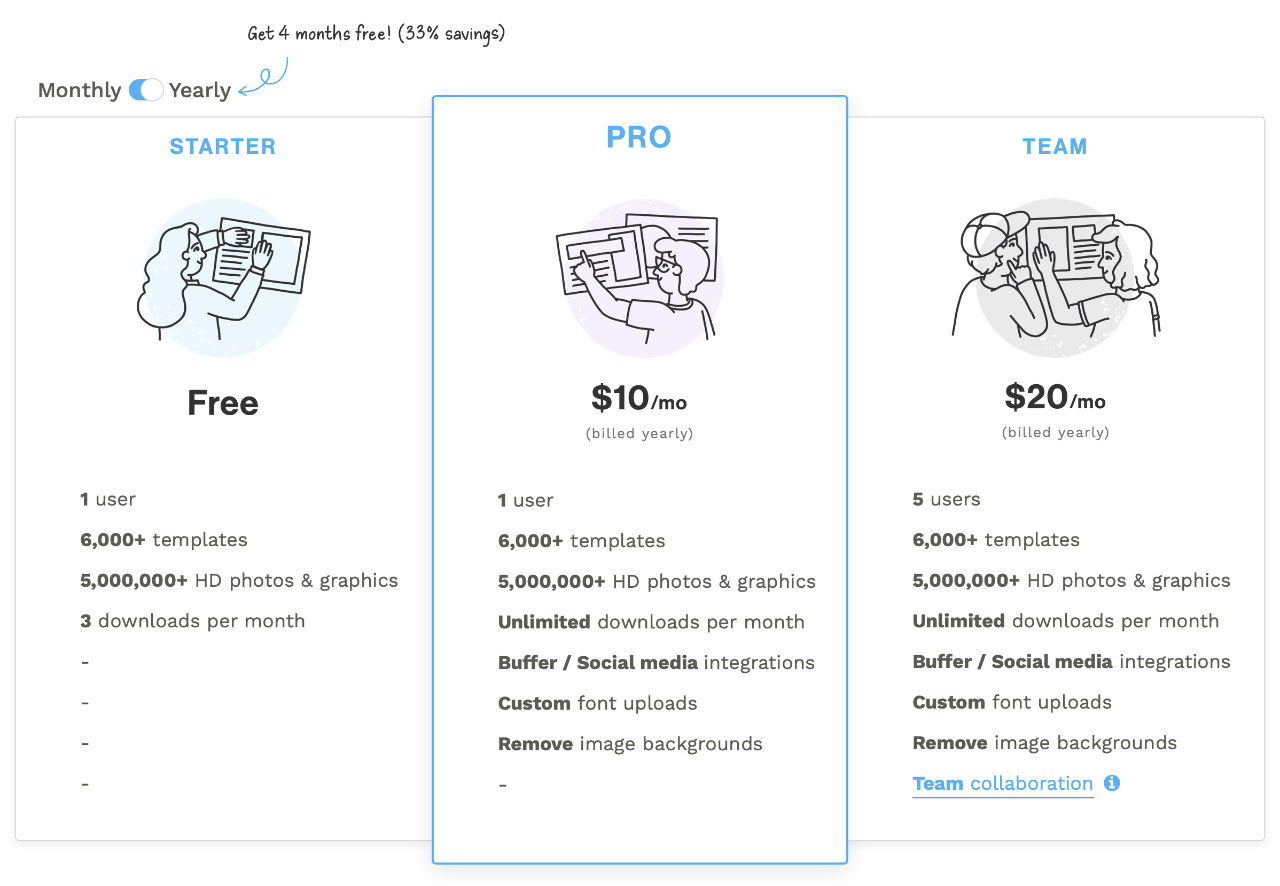 Apart from the download limited, the differences between the free starter plan and the paid plans are the ability to schedule your publication to social media platforms, upload custom fonts and to remove image backgrounds.
BONUS:
Pixlr started off as an online photo editor platform. That product is still available, now known as Pixlr E, the free online photo editor with advanced features while the Pixlr X is the graphic design tool. The company calls it a modern photo editing tool to create  for beginners but it is far from that. Create exciting images and graphics for social media platforms as well as flyers and business cards with just a few clicks. Watch out for premium icon, those little yellow crowns. It just means you have to unlock it with a small fee or fork out for one of the premium plans. The free plan is also ad supported so a narrow column to the right of your editor displays rotating ads.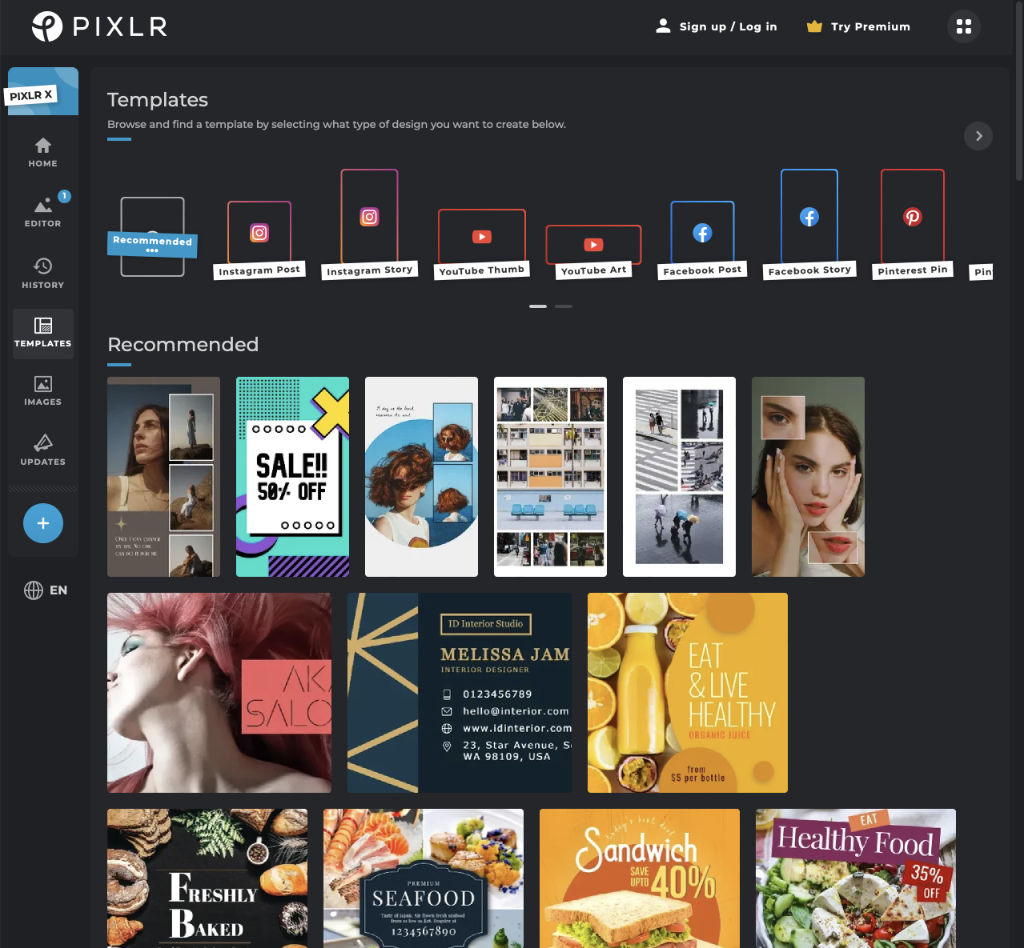 What's Included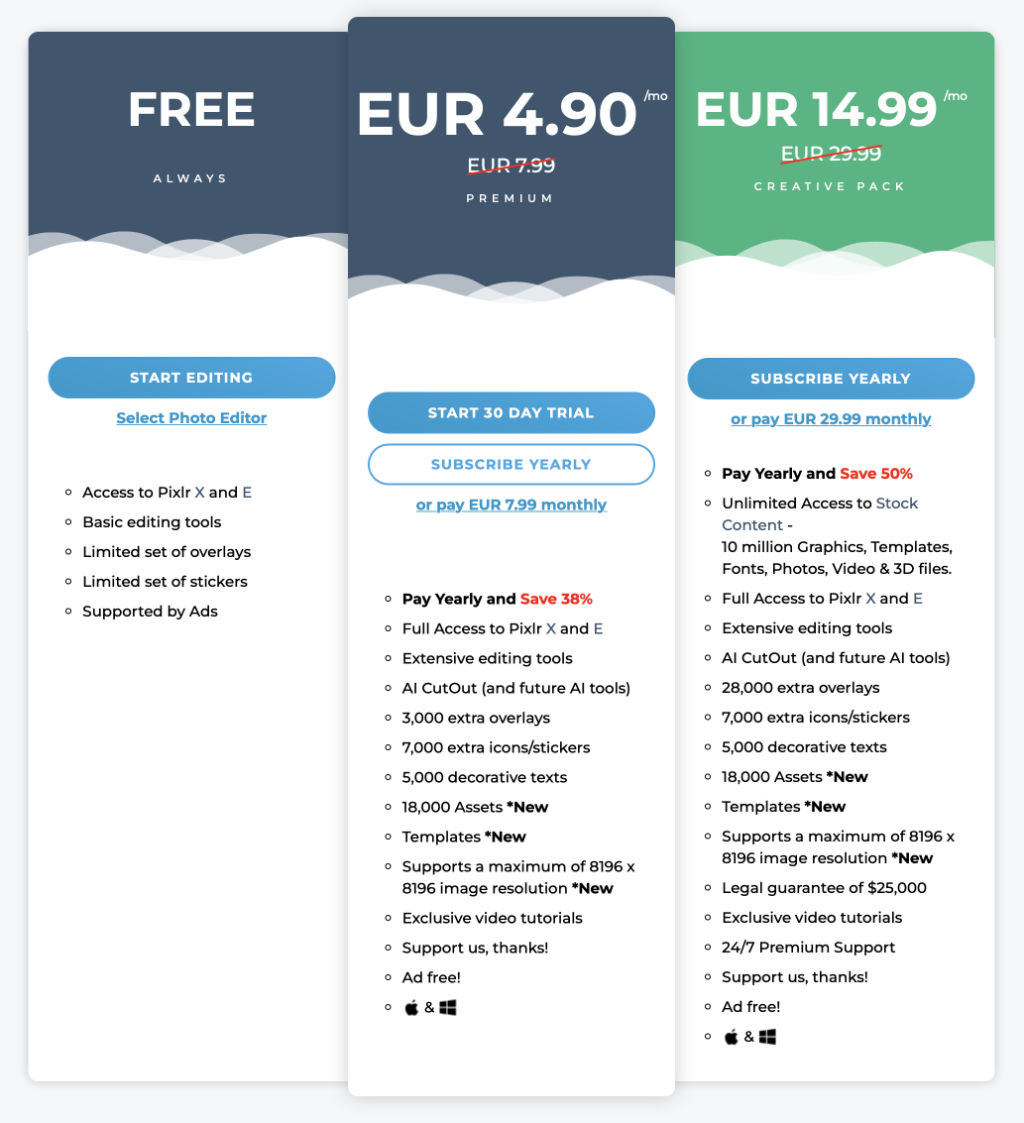 Tired of looking at the same photos on your desktop. Check out Unsplash Wallpaper. It is not so much a photo editor or graphic design tool but a free app to access a huge collection of inspiring photos that you can download and use as your wallpaper. Set it to change your wallpaper daily or weekly and keep your desktop fresh. You never know, it might give you some ideas on what you can do with your own photos and designs. You don't have to install it straight away. Find out what is in store over at unsplash.com before you decide. Unsplash is also a great site for royalty free images that you can download and use of your projects.
OTHERS
visme, Design Wizard, PicMonkey and easil
A graphic design tool that lets you import PPTX, yes, PowerPoint file. You can see where this is going. Here is a more business and marketing focus graphic design tool. Online slide creating tool is all the rage at the moment and visme is one of such tools. You can of course create your presentation from scratch. But beyond creating fancy slides with videos and animation, it also lets you produce infographics, document, charts and graphs as well as other printable. Digital projects are also possible for web, social media, video channel and more. You will love the drag and drop interface, templates and design assets to choose from.
A Mac App is available to download and install locally.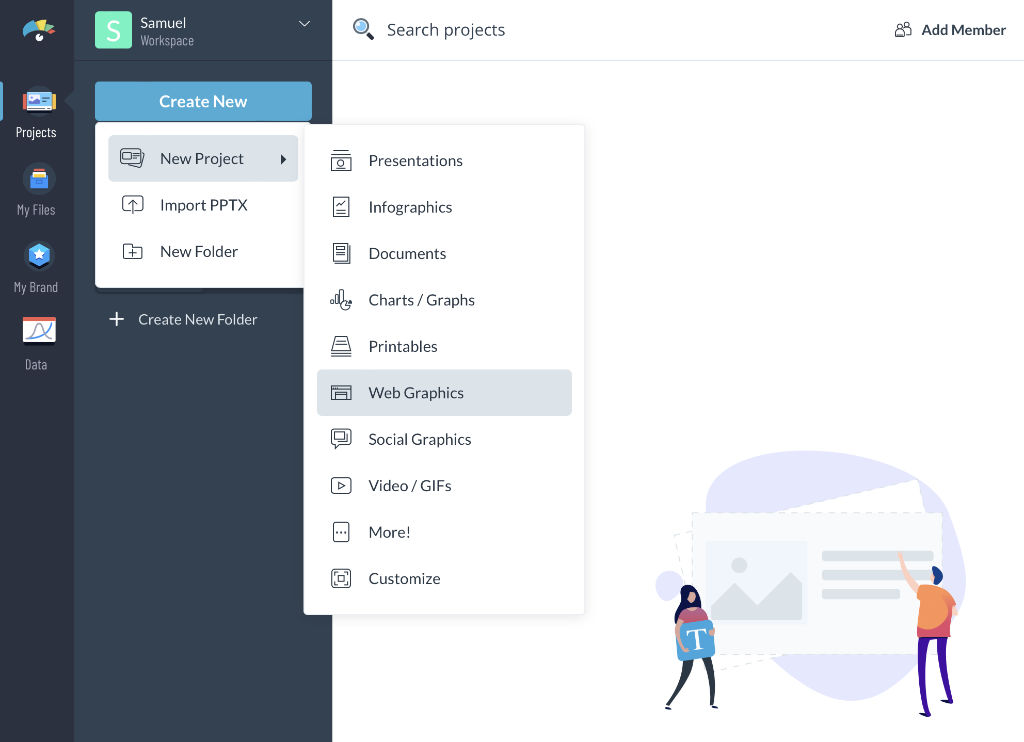 Design Wizard is another free graphic design tool if you stay with its Basic plan. However, you will constantly have to sieve through paid images, videos and templates in order to find the free design that you can actually use.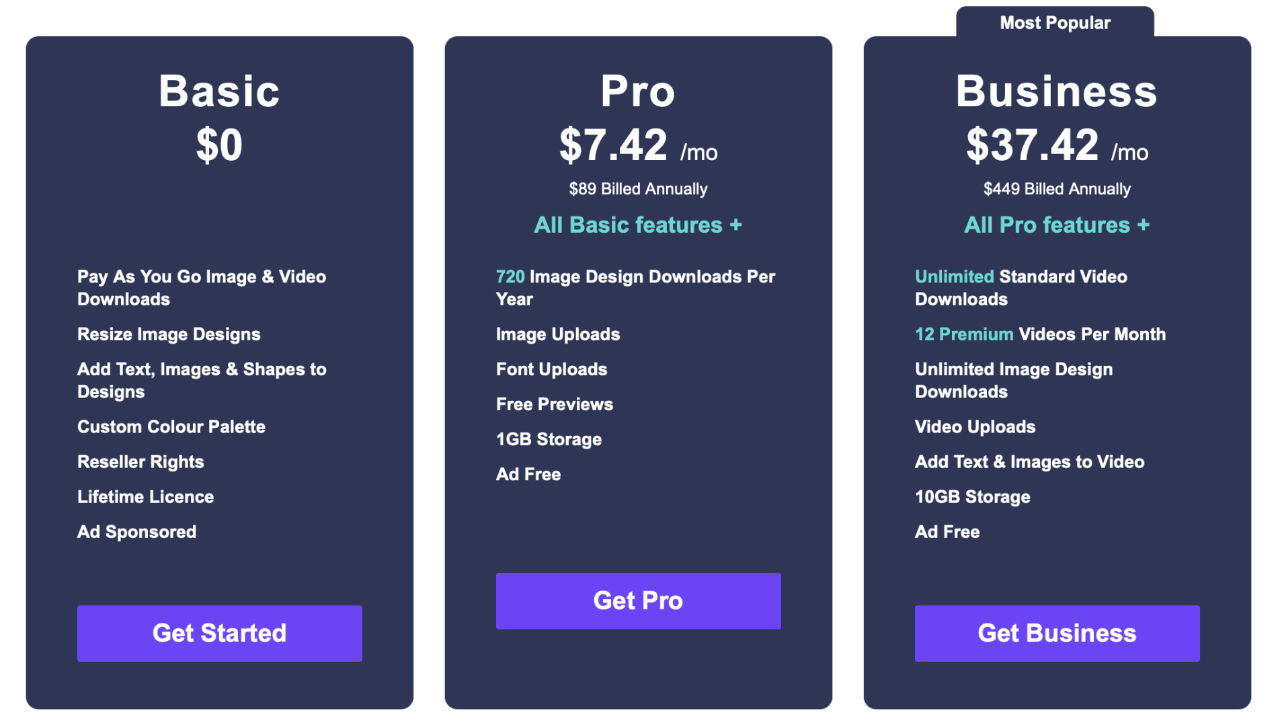 The tool is also ad sponsor for part of the page will be filled with ads. Other online graphic design tools include PicMonkey and easil. However, these tools do not offer a free plan so we won't go into detail here.