Apple is moving into the monitor space in a big way with the launch of Studio Display joining the flagship Apple Pro Display XDR. While the Studio Display is only your premium LCD monitor, it is the Pro Display XDR that leads the way in terms of technology with mini LED backlight. Here, we see options for Apple's Pro-level 32-inch monitor from other leading manufacturers.
What are we dealing with: Apple Pro Display XDR – 576 LEDs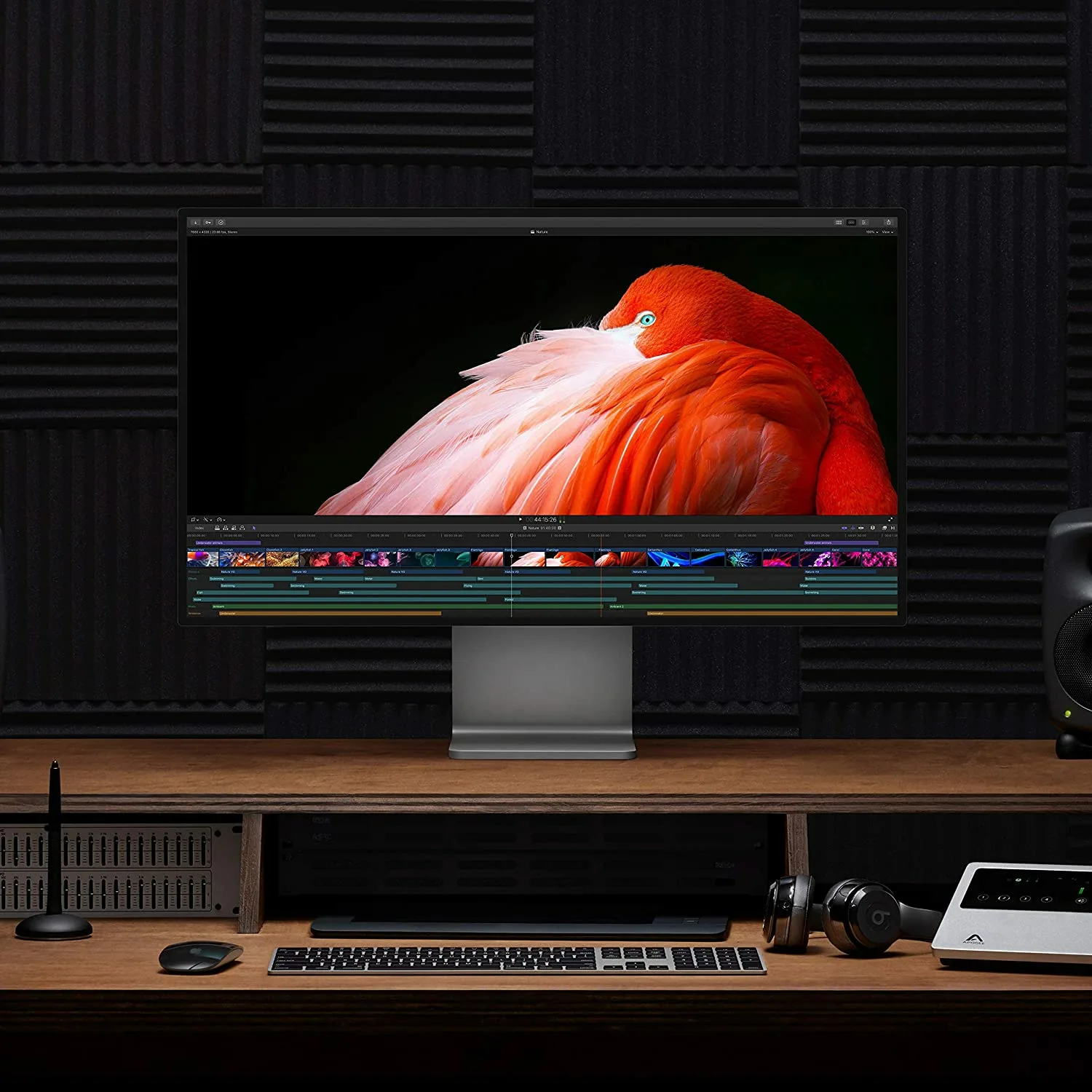 Undoubtedly the best option for Apple users if money is no object is Apple's own Pro Display XDR. The 32-inch display packs 6K resolution, a first for mini-LED displays. No other manufacturers come even close with their offerings. It is truly a pro-level display with over a billion colour, peak brightness of 1600 nits, extreme dynamic range and P3 wide colour gamut. Thanks to the mini LED backlight, it can achieve 1,000,000:1 contrast ratio and super wide viewing angles. There is one limitation in that, the display's refresh rate is only up to 60Hz. Also, if you are thinking of getting it, just remember to factor in the cost of the Pro Stand or VESA Mount Adapter as these are sold separately. This takes the already expensive price tag of $4999 with standard glass or $5999 with nano-texture glass to an eye watering $6998 with Pro Stand. Yes, the stand alone comes with a hefty Apple tax of $999. So what are your more affordable mini LED alternatives out there. Let's take a look.
1. ASUS ROG Swift PG32UQX 32-inch Mini-LED Gaming Monitor – 1152 local dimming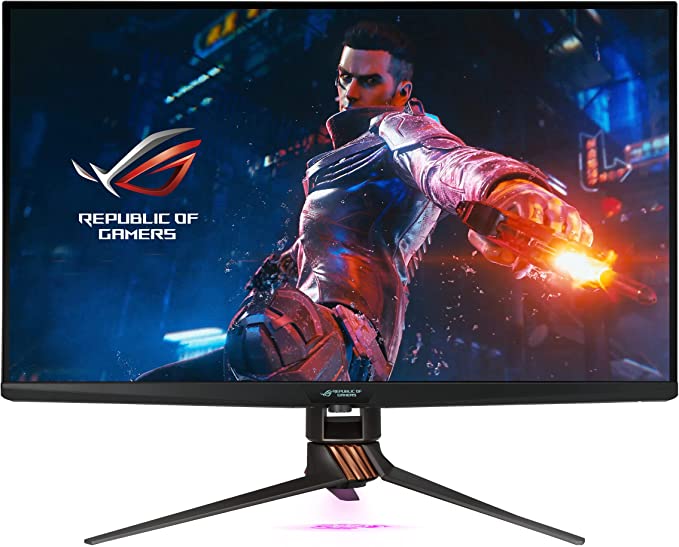 Search ASUS ROG Swift PG32UQX on Amazon
Breaking the refresh rate ceiling is this ASUS gaming monitor. The ROG Swift has a high refresh rate of up to 144Hz. It also has more dimming zones, a total 1152 local dimming zones to be exact. That's just what big 32-inch monitor needs. Apple's Pro Display XDR only comes with 576 dimming zones. Naturally, with a bigger display, you will need more dimming zones for a smoother brightness graduation. It is also a brighter display with up to 1400 nits peak brightness giving it a DisplayHDR 1400 certification.
Another feature that gamers will look forward to from this 4K mini-LED panel is the support for G-SYNC Ultimate. This means it comes with the latest NVIDIA G-SYNC processors for the best HDR gaming experience. As for creators, the quantum-dot technology pushes up to 98% DCI-P3 colour gamut for more realistic and smoother colours.
This last feature is more of a gimmick but gamers may think differently. There is a small OLED display that ASUS calls the LIVE DASH. It is located under the monitor right where manufacturers typically put their logo. The 256 x 64 pixel display can be used to show an image, animation or real time hardware stats such as temperature, voltage, fan speed and system frequency.
The only disadvantage of the ROG Swift is the lack of USB-C connection. In its place are three HDMI v2.0 ports and USB 3.0 hub (1 upstream and 2 downstream).
2. ASUS ProArt PA32UCG-K 4K IPS Mini-LED Monitor – 1152 dimming zones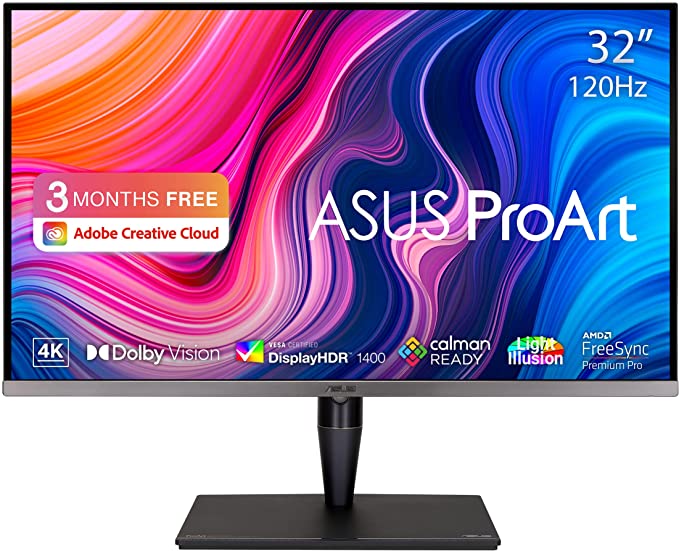 Search ASUS ProArt PA32UCG-K 4K on Amazon
For the serious creators and professionals, ASUS's answer is the ProArt PA32UCG-K. Priced to compete with Pro Display XDR, the hardware calibrated 32-inch mini LED 4K panel is even brighter than its gaming option above with a peak brightness of 1600 nits and 1152 dimming zones. But before we continue any further, lets just say that the ProArt comes with not only HDMI 2.1, two HDMI 2.0 and a built-in USB hub but the all important Thunderbolt 3 ports. Yes, there are two of those as well as a DisplayPort 1.4.
Back to the pro-goodness. The panel has a high 1 million to 1 contrast ratio, supports multiple HDR formats including Dolby Vision, HDR10, and Hybrid Log-Gamma (HLG) as well as FreeSync Premium Pro for game developers. The last feature lets you dynamically change the refresh rate from 48 to 120Hz with Variable Refresh Rate (VRR). As for designers and creators, the true 10-bit colour depth pushes 98% DCI-P3, 100% Rec. 2020, 99.5% Adobe RGB and 100% sRGB colour space as well as Delta E < 1 factory calibration for colour accuracy. Also included in the box is a monitor hood to block off all glares, now you can't get more professional than that.
3. Acer Predator X32 FP Mini-LED gaming monitor – 576 dimming zones
Search on Acer-Predator-X32-FP Amazon
With comparable dimming zones to the Pro Display XDR but at a price that is more acceptable, the next entry is also a gamin monitor. The Acer Predator X32-FP supports a high refresh rate of up to 165Hz (overclocked). The 32-inch 4K Ultra HD monitor uses AMD FreeSync Premium Pro technology so gamers with GPUs from AMD and sit up and listen. It has an amazingly quick response time of 1 ms, peak brightness of 1200nits, VESA Display HDR 1000 certification and a whole host of connectivity options that allows you to permanently hook up all your consoles, PCs and laptops. For the latter, a USB Type-C port with 90W PD support will even keep your laptop topped up while connected. Finally, there is an onboard USB3.0 hub for all your wired peripherals.
4. ViewSonic ELITE XG321UG 32-inch Mini LED 4K monitor -1153 dimming zones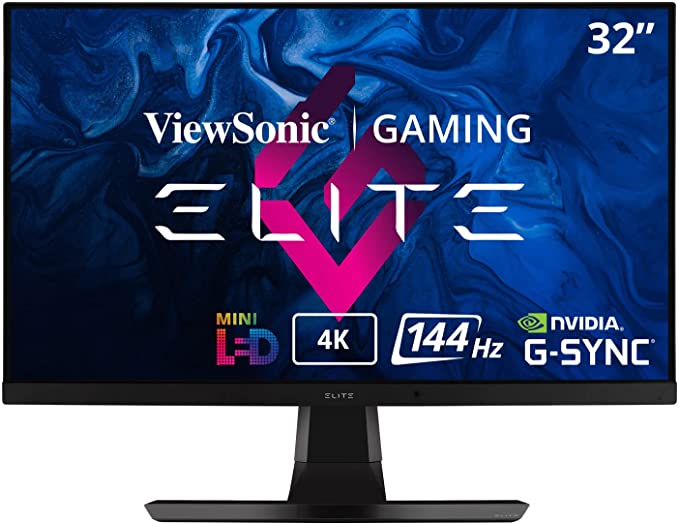 Search ViewSonic ELITE XG321UG on Amazon
The 32-inch mini LED gaming monitor from ViewSonic was announced alongside 27-inch and curved 34-inch models. It supports NVIDIA G-SYNC Ultimate but comes with a refresh rate of up to 144Hz which is high for a 4K resolution panel. This ensures that your in game motion is smoother and lag free. The 4K panel is very bright using quantum dot technology and is VESA DisplayHDR 1400 certified. For colours, it can cover 99% Adobe RGB color gamut and true 10-bit color depth, gamers will enjoy rich cinema-grade colours. For precision, the monitor is even factory calibrated to Delta E<2.
Ultra-wide 32-inch 4K UHD IPS panel
Mini-LED technology with 1,152 zones
VESA DisplayHDR™ 1400
99% Adobe RGB color gamut and factory pre-calibrated to Delta E< 2
144Hz refresh rate and 3ms (OD) response time
NVIDIA G-SYNC ULITMATE Certification and NVIDIA Reflex Analyzer
5. Samsung Odyssey Neo G9 S49AG95NC Mini LED – 2048 dimming zones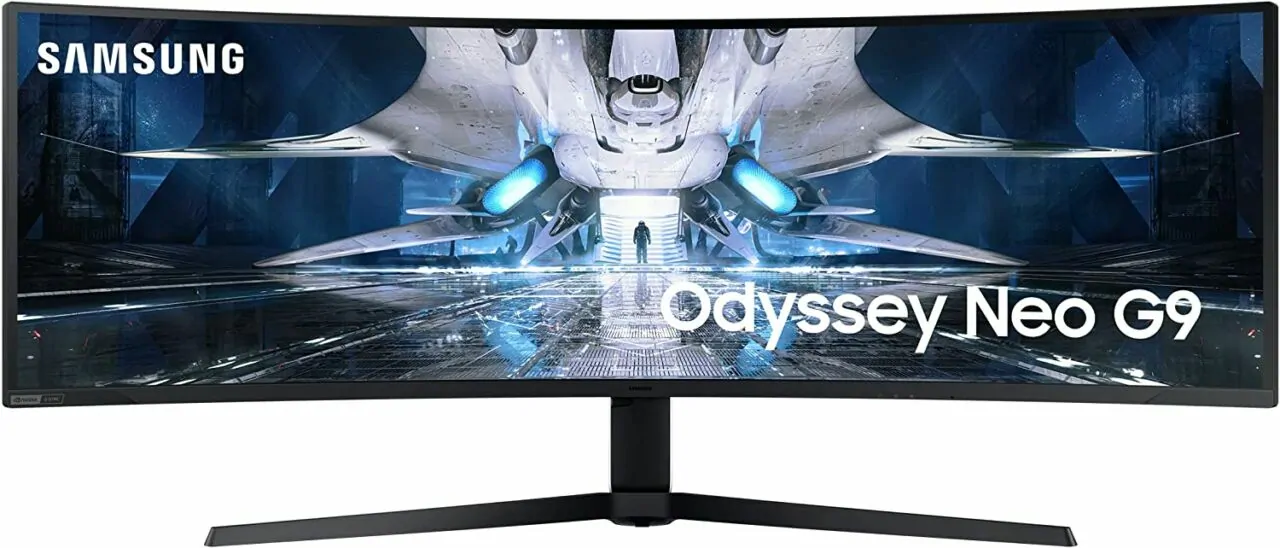 Search Samsung Odyssey Neo G9 on Amazon
Our last entry may not be a 32-inch monitor but at a whooping 49-inch and with mini LED, we couldn't resist not adding it here. The Samsung Odyssey Neo G9 mini LED monitor takes gaming to a whole new level. This huge wraparound 49-inch curved display has a whooping 2048 local dimming zones, almost twice that of the highest on our list. Samsung calls it the Quantum Mini-LED display and even at a high 5120 x 1440 resolution it is capable of a stutter free and smooth 240Hz refresh rate with a quick 1ms response time supporting both NVIDIA G-SYNC and AMD FreeSync Premium Pro so gamers are covered either way.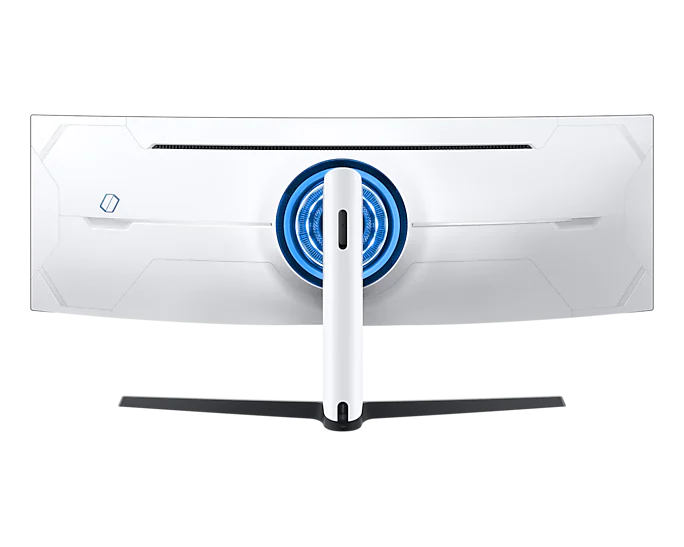 At 49-inch wide and a curvature of 1000R, the monitor has a screen aspect ratio of 32:9 and with Quantum mini-LED, it goes beyond even Pro Display XDR's peak brightness of 1600 nits to achieve 2000 nits, giving it a leading Quantum HDR 2000 and a high contrast ratio of a million to one. In case you are wondering, the smaller the curvature R rating, the curvier the display. For example 1000R is curvier than 1500R and 1500R is curvier than 1800R.
Also, the 5120 x 1440 resolution is like putting two QHD (2K) screens side by side. Samsung calls this Dual QHD (or DQHD for short) and guess what, it also supports Picture by Picture to display two video sources side by side both at QHD. You can also have Picture in Picture with the second video source up to 25% of the screen area.
And, if that is not enough, there is a cluster of colour changing LED lights embedded into the rear of the monitor, programmed to automatically match the on screen content for a soft ambient light around the back of the monitor, just what your gaming setup is crying out for. Last but not least, the sleek stand and two pronged base is not only sturdy enough to carry the entire display but is flexible enough to offer height, swivel and tilt adjustments too.
This article was originally published on Colour My Tech and is adapted for our audience here.