The new 11th Generation Amazon Kindle Paperwhite not only comes with a bigger and brighter display but has modern conveniences such as fast charging, USB-C port and warm lighting. If you pick the Signature Edition, it even supports wireless charging, automatic brightness with built-in light sensor and four times more storage.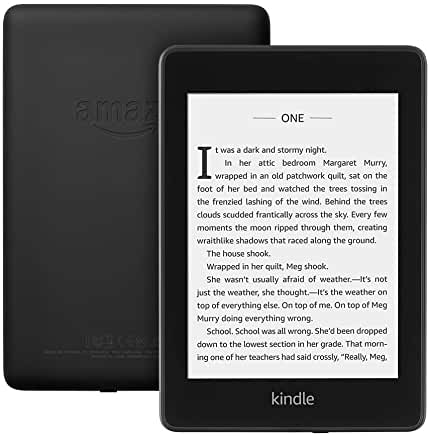 Comparing the Models
The last Kindle Paperwhite was launched way back in 2018, so it is about time in that the best selling Paperwhite gets a refresh. Enters the 11th generation Kindle Paperwhite. When compared to the its predecessor, it comes with:
overall faster experience with quicker loading and zippier page turns
bigger 6.8-inch from 6-inch display, closer to the 7-inch on Kindle Oasis
smaller bezel top and sides, but still a big chin bezel with kindle logo
adjustable warm light so not just white bluish light
convenient and reversible USB-C charging port
completely redesigned interface.
waterproof chassis (IPX8)
flushed front design as before with touch only interface, no physical buttons
supports quick charging with a 9W USB adapter, fully charge in less than 2.5 hours
And as we mentioned earlier, if you choose the more expensive Kindle Paperwhite Signature Edition, you will gain the following:
four times more storage at 32GB over 8GB on the standard version
adaptive back panel lighting with on board light sensors like those found on the flagship Kindle Oasis
support for wireless charging. Use a compatible 10W Qi wireless charger to fully charge the device in 3.5 hours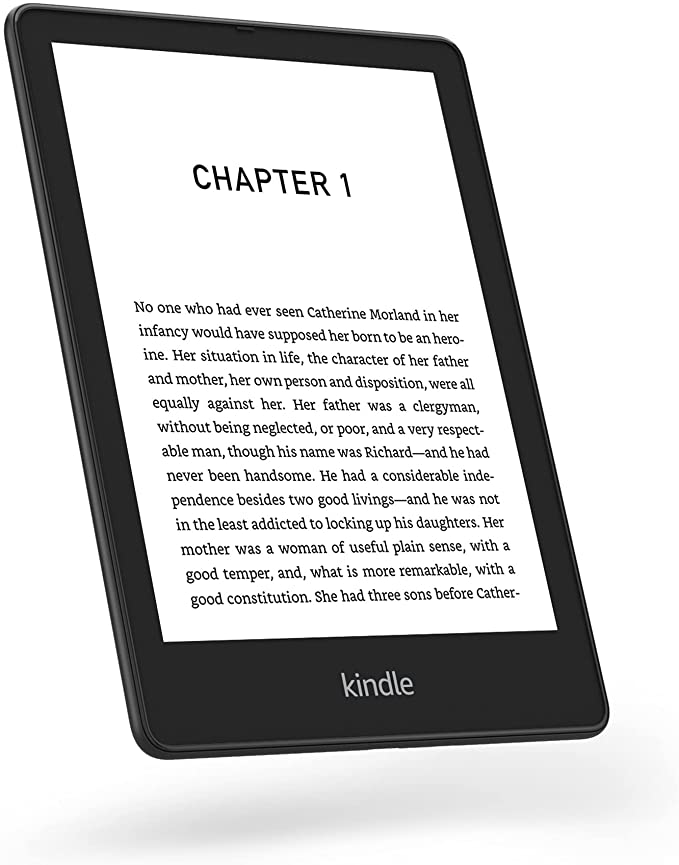 A Closer Look at the Kindle Paperwhite
The biggest advantage of the new Kindle Paperwhite is that the backlighting is no longer restricted to just white. The new LED backlighting in use are similar to those found on Kindle Oasis allowing you to set the light temperature for a warmer feel, better for the eyes especially when you are about to go to sleep. Although not quite as bright with its 17 LEDs compared to 25 LEDs on the Kindle Oasis, it is bright enough for use in daylight even outdoor.
The big 6.8-inch glare-free display performs quite close to the 7-inch on Kindle Oasis. Apart from its slightly smaller screen dimensions, it actually packs the same number of pixels per inch. At 300ppi pixel density, it is just as sharp as the Kindle Oasis. So not only is the Paperwhite better value, it serves up the same display sharpness, what everyone wants from their reader.
Another feature that brings it that bit closer to the flagship Kindle Oasis, if you opt of the Signature Edition is the adapting backlight. With on-board sensors, it will automatically adjust the display brightness to ensure that you have the best reading experience no matter then lighting condition.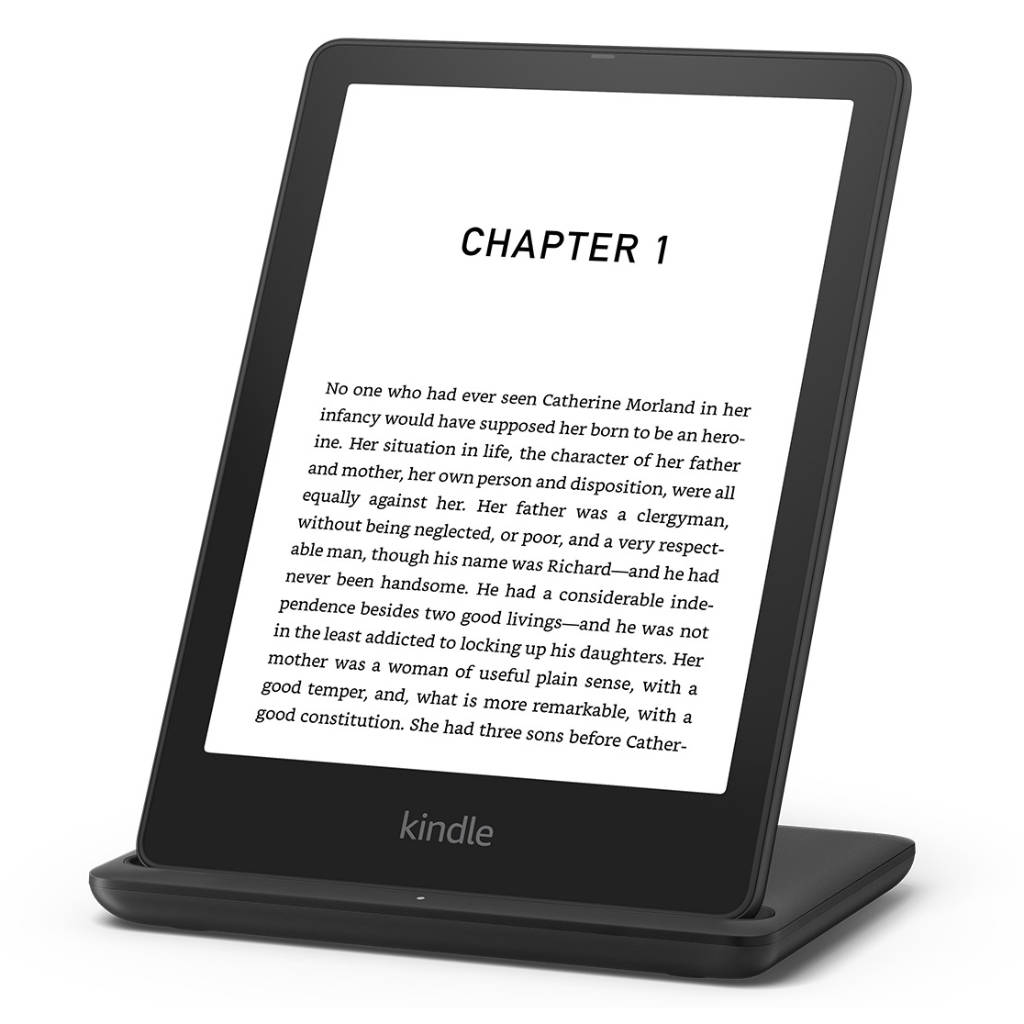 Then there is the waterproof chassis. With IPX8 rating, it will take dunking in fresh water as far as 2 meters deep for up to 60 minutes and not suffer any water damage. You are unlikely to want to do that but it means if it does fall into the swimming pool during your holiday, or drop it in your bath tub, you can fish it out in time, dry it properly and it will still work. A third scenario mentioned is dropping the device in sea water, if that were to happen, your time is much shorter, up to 3 minutes and to a depth of 0.25 meters. Remember, the 2018 edition is not waterproof so this is a real bonus.
You will still get weeks of use, Amazon claims up to 10 weeks on a full charge but now you can charge it faster and via the convenient USB-C port. One of biggest deal breaker with the previous generation Paperwhite is the length of time it takes to charge up fully. Over time, even with a 10W adapter it still takes hours to charge up. New gen Paperwhite supports quick charging that fully charges in 2.5 hours.
Finally, the Paperwhite now comes with Bluetooth audio capability on top of direct WiFi connectivity. However, this is reserved fro Audible subscription only and not for music streaming. This means, you can pair the Paperwhite with a pair of headphones or bluetooth speaker and listen to an Audible book.
Which one would you get? Kindle Paperwhite 2021 'standard' or Signature Edition
Existing Kindle users will tell you that 8GB or 32GB is not going to matter much, especially when books do not take up much space. It is only when you decide to download audible files that you want to consider bigger storage. You will get by with 8GB storage fine even for avid readers.
USB-C port will make it easier to connect your device in the dark, as the port is reversible and with the right power adapter, will help charge your device quickly, faster than Qi wireless charging by a whole hour so there is no real benefit there. Even if you prefer not to have to go near the charging port, you will still need the optional Wireless charging dock which makes the whole affair costs more.
Lastly, while the benefit of adaptive brightness is great, you have to ask yourself if it warrants the price difference. Playing down the two main benefits above; storage and wireless charging, there is only the light sensor driven automatic brightness left as a reason to fork out the extra. Sure, you can manually set the brightness and change the colour temperature to suit but if the brightness is set for you automatically depending on your current ambient lighting condition, that's one thing less to do. In our mind, this is the best reason to get the Signature Edition. If you are not fussed, give it a miss and go for the standard version.
Specifications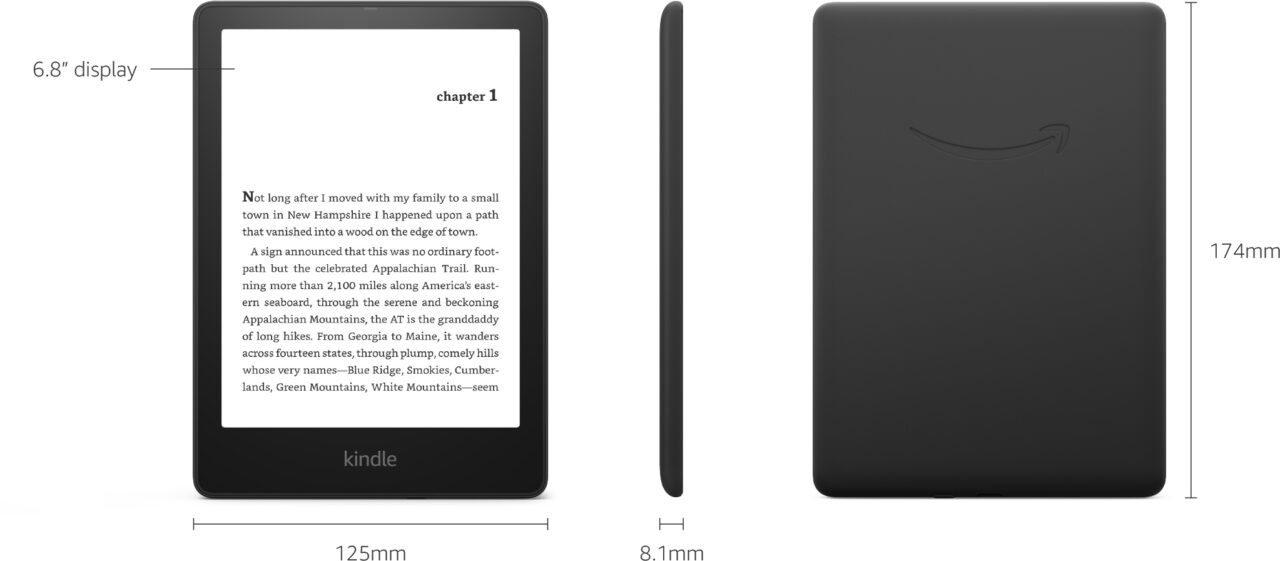 Display
Amazon's 6.8" Paperwhite display technology with built-in light, 300 ppi, optimised front technology, 16-level grey scale.
Size
174 x 125 x 8.1 mm
Weight
207 g
Actual size and weight may vary by configuration and manufacturing process.
System Requirements
None: fully wireless and doesn't require a computer to download content.
On-Device Storage
32 GB: holds thousands of books.