Raising a little human as a parent may be your most challenging role yet but, if equipped with the right knowledge and care, will prove to be a tremendously fulfilling experience. In the first of this this series of articles we'll look at the different areas of Early Childhood Development and how you as a parent can support and encourage in their growth and nurture them well during these critical, formative years.
What Every Parent Needs to Know About Cognitive and Linguistic Development in Early Childhood
As parents, we are a child's first teachers and primary role models. If we are armed with, at least some basic knowledge about how children grow and develop, especially in their earliest years, it will allow us to provide the best head-start possible for our kids.
The five general spheres of childhood learning are cognitive and linguistic, physical, social and emotional, self-help and adaptive development. These areas are interdependent on each other so it is essential to consider all of them holistically in a child's development where changes in one often impacts another. For example, if a child has linguistic difficulty this will typically also affect their social development.
In this article, we will be focusing on cognitive and linguistic development. Cognitive development looks  at a child's mental progress in terms of their intellectual ability to think, problem solve and reason.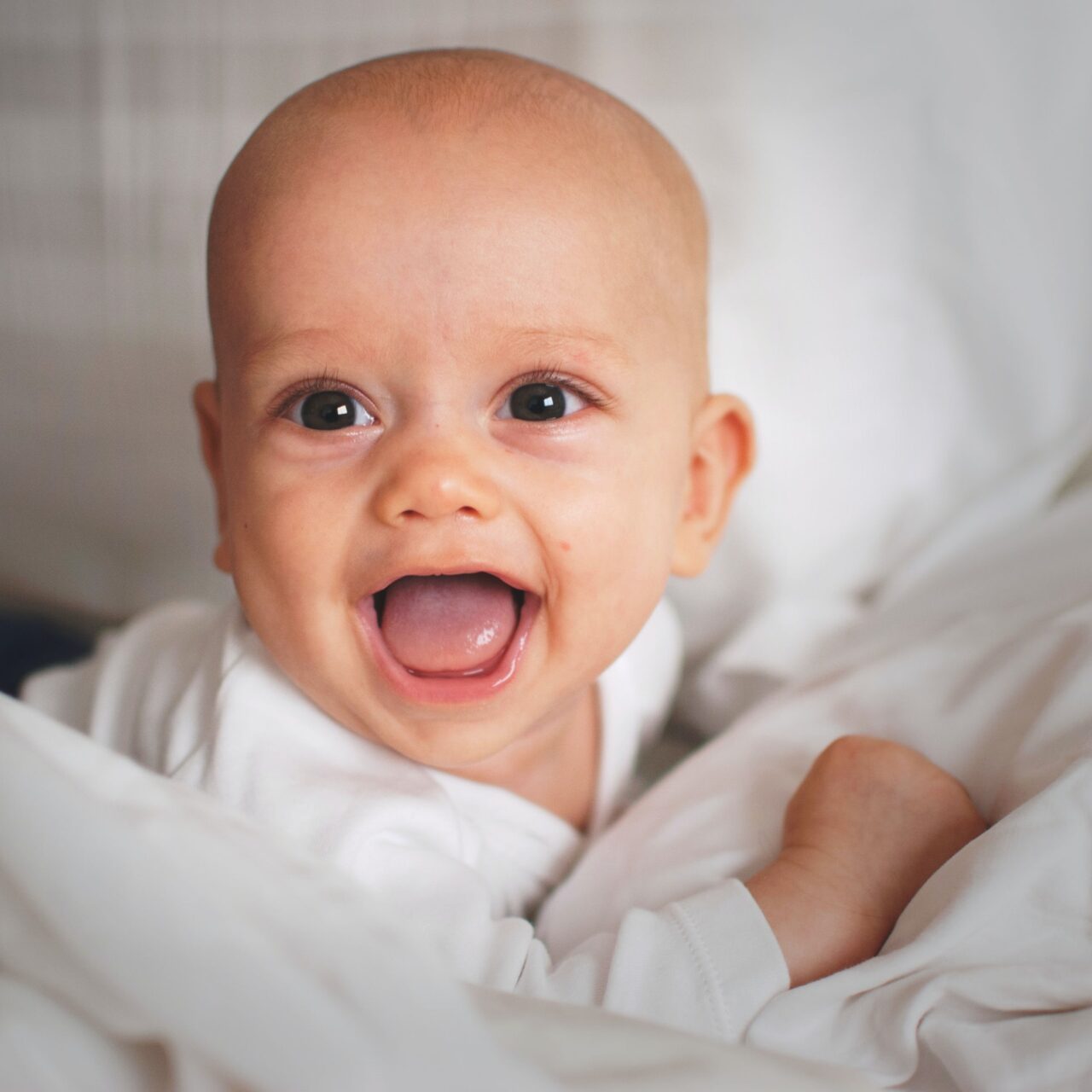 Linguistic development instead considers the advances in their ability to create sounds (phonology), their verbal and non-verbal communication capabilities (pragmatics), world rules and meaning (semantics) and grammar and sentence structure (syntax).
Before we proceed, please keep in mind that each child develops at a different pace, this is what makes all individuals unique. Do remember that comparing your child's progress to that of others may set unnecessary expectations and lead to frustration. Successful learning instead, happens when you challenge your child to achieve skills beyond what they have previously acquired.
Now, let's see what the different milestones you should look out for are and what you can do to encourage development in the above areas.
Also read
Part 2: What Every Parent Needs to Know Fine and Gross Motor Skills in Early Childhood
Part 3: What Every Parent Needs to Know About Social and Emotional Development
First year of life (0-12 months)
Cognitive development
In infancy, children learn about their world by using their reflexes such as sucking, reaching and grasping. Their mental processes become more calculated around their third month, where they're able to interact with objects in their environment.
Around their eighth month, they're capable of planning and coordinating their movement to achieve goals, for example crawl to an object that catches their attention. They also have a more sophisticated understanding of cause and effect which is a result of repeated actions such as purposefully dropping something off of their high chair where someone nearby will pick it up and return it to them.
You can help develop a child's skills in this area by interacting with them through clapping games or playing 'hi-five'. Providing them with large blocks, shape matching and stacking toys and wooden puzzles to play with will also help. Early cloth picture books with bright contrasting colours are also visually appealing and will help visual stimulation and development.
Linguistic development
From one to four months infants start to make cooing sounds and by the time they are six months old, they start to babble. They already react to sounds at three months and can utter open vowels such as m, p, b.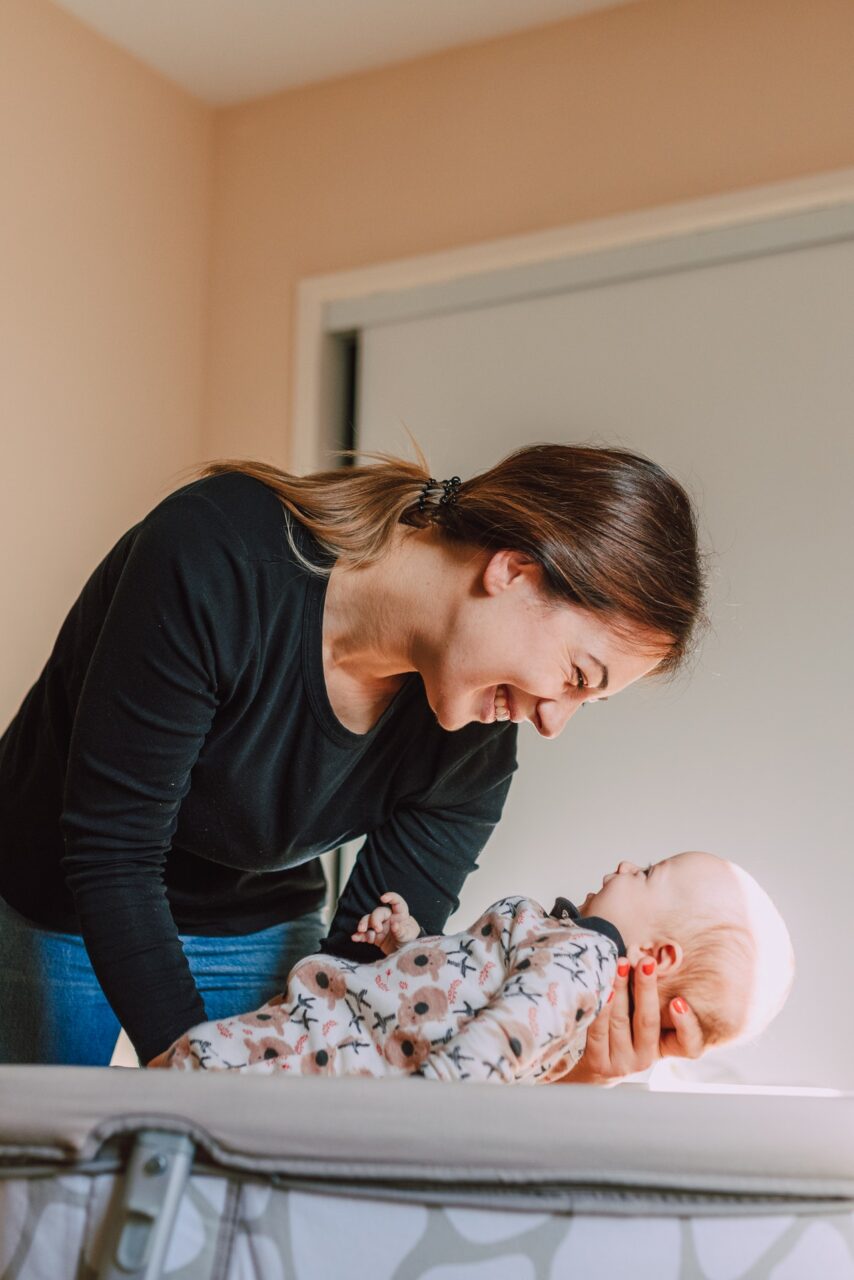 From six to ten months, infants may start to string the same syllables together like 'baba' or even combine them like 'bana'. At this stage they are also able to recognise your voice.
As a parent, you can help your child develop this area of learning by reading to them and responding to your child's prompt. During storytelling you can also ask them to point to something specific on the page of a picture book. Talking to young children as if they completely understand what you are saying will help to enhance their understanding and linguistic ability.
While the jury is out on whether it is wise to 'babble' or baby-talk back to children, constant and continuous verbal interaction will always help. Simple things such as counting the number of steps as you walk up the stairs or 'naming' animals as you encounter them – dog, cat etc. all contribute significantly to linguistic development.
Age one to two (12-24 months)
Cognitive development
From 12 to 18 months children begin to learn through trial and error and now understand that they can use objects as symbols. For example, during playtime they may pretend that a stick is a man, an indication of the development of their representational thought.
At this point of their learning, they also know that something still exists even if they can't see, hear, smell or touch it. For example, if you hold up a piece of cardboard, with a doll behind it, if you raise the doll and show the child (puppet style) and lower it down again, they will know that it's still behind the board.
Their memory is also developing where they're able to name familiar pictures and fill in words of familiar stories. Their visual discrimination is also at a point where they're able to match, compare and sort objects. For example, they can match a picture of a baby animal with its mom or arrange stacking rings around a base pole from biggest at the bottom to smallest at the top.
You can encourage growth in this area of the child's learning by pausing and waiting for them to complete a sentence during story time. Matching games and puzzles are also perfect for encouraging recognition and problem solving.
Linguistic development
At this point in a child's development, they are able to communicate by imitating sound and forming short two- or three- word sentences. They also being to understand simple commands. For example, you could ask them to bring you one of their toys or ask them to help tidy up their own toys after play time.
You can help a child develop their linguistic skills at this age by asking them open-ended questions and waiting for an answer so that they learn how conversation works. Word games such as a junior version of I-spy (describe the object rather than providing it's initial letter) or give them options when it comes to choices, for example, "Would you prefer to wear the red or yellow t-shirt today?" also helps develop decision making and linguistic ability.
Age two to three (24-36 months)
Cognitive development
At about 24 months, your child begins to realise and assert his/her independence. There is a growing awareness of the world around them and how they both contribute and interact with their surroundings. At this age, much of the world still revolves around them so their desires and wishes often take centre stage.
They are able to play alongside their peers but will be at the beginning stages of learning to interact with each other, whether it is by sharing their toys, their food or anything else they are interested in at that particular moment in time.
At this age, encourage your child to be independent and explore his or her surroundings, keeping a watchful eye from a distance, over time your child will continue to grow in confidence.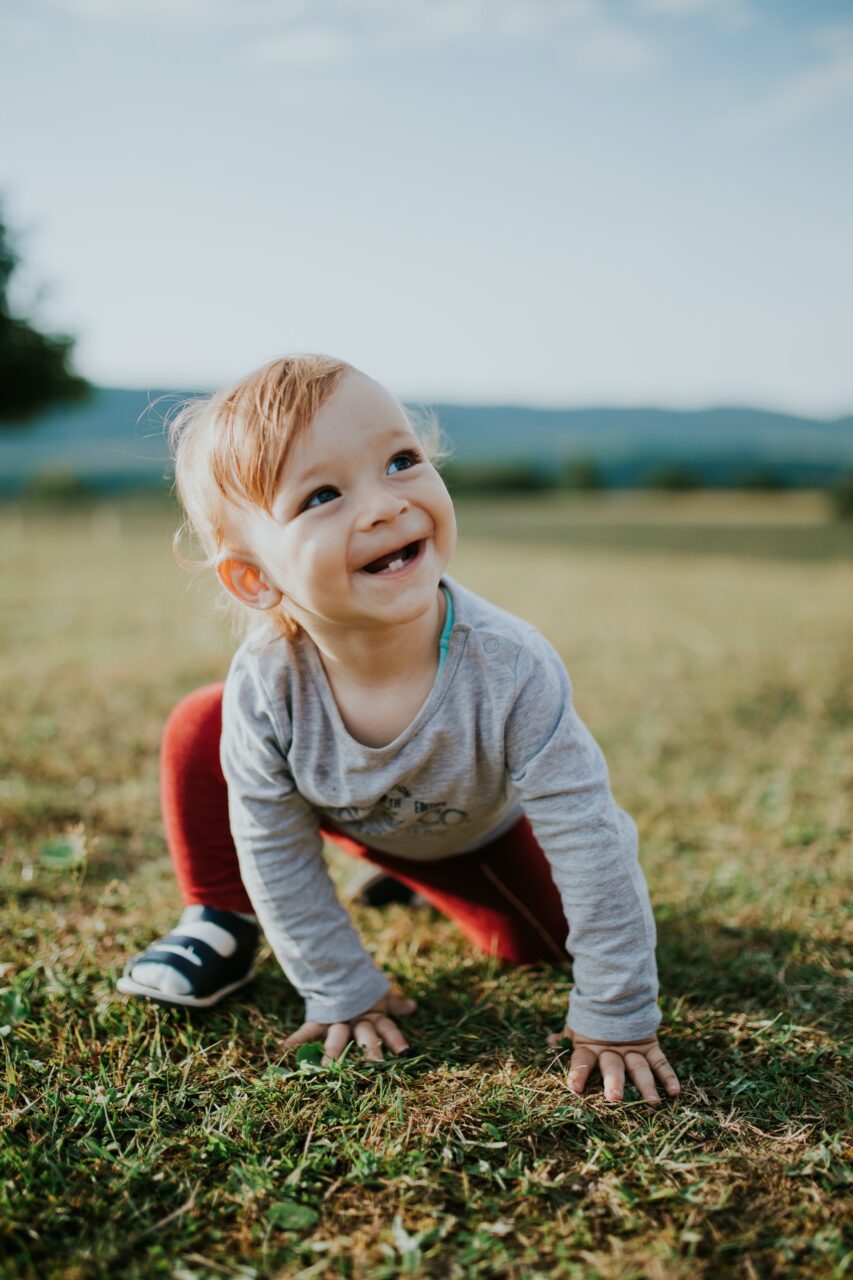 Linguistic development
At this age, your child is learning more and more about the power of her voice and how to use language. She will learn to ask or demand things from you and perhaps even show displeasure when her desires are not met. Frustration is well known at this age is and is often most commonly attributed to a child's inability to express themselves.
Continue to talk and interact with your child and whenever possible provide (limited) choices and options to enable him to engage in decision making. This is also great age to slowly begin to teach the general concepts of time and speed using phrases such as '..in a little while', '…in 5 minutes', 'slowly' 'quickly'.
Age three to four (35-48 months)
Cognitive development
Your child has come a long way and their brain is developing more than it will at any other time in their life. At 36 months they have evolved to understand that pictures represent real objects and when shown a picture in a photo album, for example, they'll be able to identify who and what they see.
At this age, they are also now able to engage in learning activities and spend a lot of time on pretend play which promotes creativity. They are in the process of learning how to spell or write their name as they learn to recognize letters. Their memory has developed sufficiently to be able to retell familiar stories too.
They are also learning early math skills where, they're now able to recognise numbers and are able to count up to a certain point. They will soon progress to being able to do simple addition and subtraction calculations.
You can further encourage them in this area of development by presenting them with writing and drawing opportunities. Crayons, marker pens, felt tips pens and pencils, cartridge or art paper all become perfect material for exploring mark making. Draw and draw again Aqua-doodle boards and Magna-doodle boards are perfect gifts at this age.
Aquadoodle: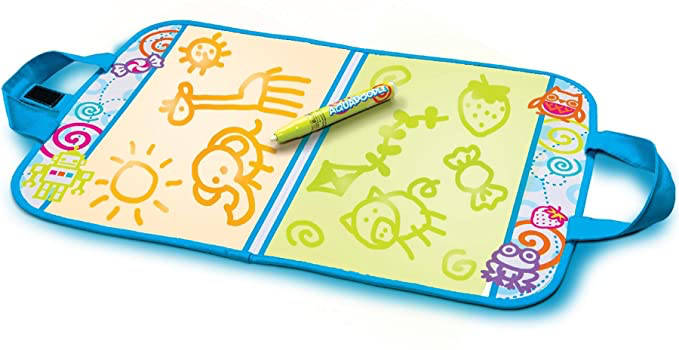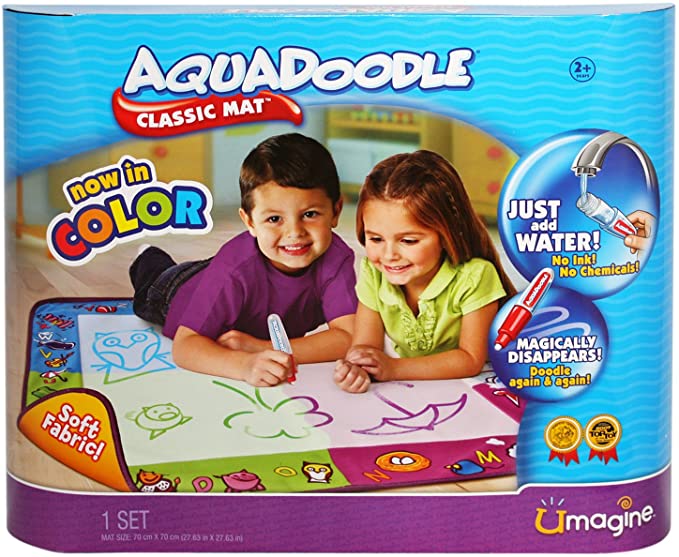 Magna doodle: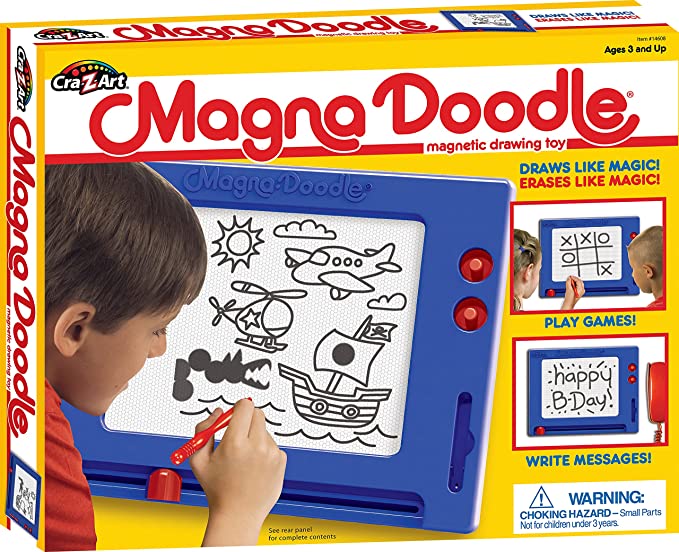 At this age, they are also becoming more and more aware of their own individuality and the independent desires that arise within them.
Linguistic development
At this stage, your child typically has a vocabulary of about 50 words or more and is learning new words all the time.
Parents can help further develop children's language skills by engaging them in conversation often and even asking them for their opinion and including them in decision making processes. You should also, always be on the lookout for opportunities to expand their vocabulary, although through daily interaction and sharing thoughts, ideas and opinions they will naturally pick up more and more language skills.
If done responsibly and intentionally, the use of technology and interactive media also adds value to a child's development.
At this stage your child is most probably at preschool where there are numerous learning opportunities enhanced by their natural tendency to take risks and try new things. Children learn in an integrated way, that is, not according to subjects, and this should guide a parent or teacher to toddlers on how to structure learning to incorporate all domains. For example, in family activities where your child has to use their mental, physical as well as social skills in baking muffins or letting them work independently on art and craft activities.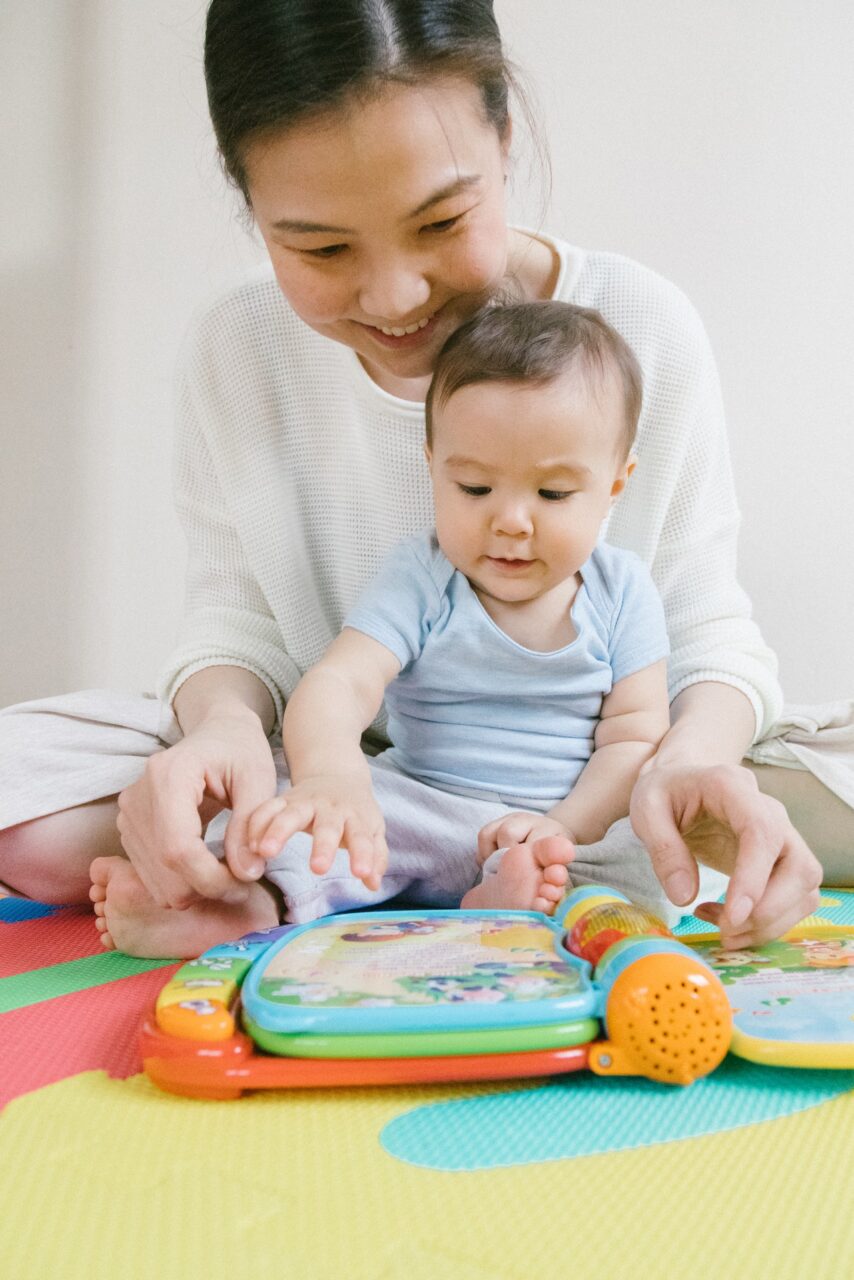 Conclusion
In this article we've looked at the ways in which a child develops cognitively and linguistically from infancy to toddler. We've briefly examined the milestones to look out for and how a child's mental processes typically evolve from simple recognition to more complex thoughts such as being able to make associations and their growing independence of self.
We hope, armed with this information, you can now also appreciate the input needed from parents to stimulate and develop a child's cognitive and linguistic development by offering opportunities for them to learn new words, ideas and encouraging conversation and a greater curiosity of the world around them. These techniques give your child the best chance at being well equipped for 'big' school and being able express their needs and desires.
Further Reading
Related Articles
Part 2: What Every Parent Needs to Know Fine and Gross Motor Skills in Early Childhood
Part 3: What Every Parent Needs to Know About Social and Emotional Development