The Surface Pro tablet has been our favourite for education given its versatility and solid use case. Now in its 8th iteration, the Surface Pro 8 has not only grown to 13-inch but is the first tablet PC based on Intel Evo platform. It still spots a slim chassis with integrated kickstand, access to full size keyboard with optional Surface Pro Signature Keyboard and a new Surface Slim Pen 2. Looking for a device for school, college or uni, look no further.
The personal computing market is saturated with devices of all sizes and profile and it doesn't look like it is going to stop. Even Microsoft is introducing Surface Duo 2, a foldable, book-like dual screen tablet that is also a 5G capable phone. The typical user is likely to have a desktop, laptop, smartphone and even a tablet but do we really need all that? Here is why Microsoft Surface Pro 8 is our clear favourite.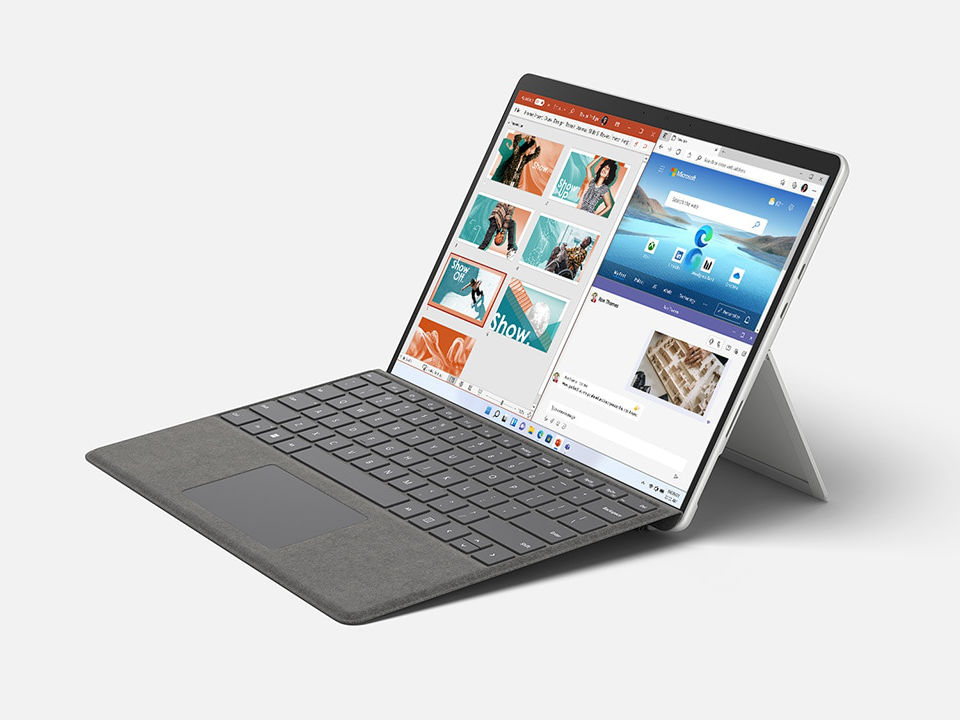 Search Surface Pro 8 on Amazon
Why We Choose Surface Pro 8 Anyday for Education
While smartphone is a given, practically a must-have as personal devices go, a computer be it on the desk or portable is another essential for education. But before you go out and get an all-singing all-dancing desktop, laptop, tablet or all three, consider this – How do you see yourself using the device?
In the classroom, the lab, the library, the dorm, at the cafe or canteen or even at a friend's. If so, you need the device to be fairly portable and versatile. Here is where the Surface Pro 8 shines as it combines the versatility of a desktop, laptop and tablet in one. Devices that the Surface Pro 8 replaces are:
Tablet with Stylus input using Surface Slim Pen 2
Laptop with kickstand out and Surface Pro Signature Keyboard (with trackpad)
Desktop with optional full size monitor or even multiple 4K monitors the two Thunderbolt 4 ports, full size Bluetooth keyboard and mouse
Here, not only is the Surface Pro 8 a good value portable device, but it will save you money buying 3 separate devices (tablet, laptop, desktop), and just go with one. But don't just listen to us, here are the reasons why Surface Pro 8 is such a great buy.
1. Powered by 11th Generation Core i5 or Core i7 processors
The Surface Pro 8 is powered by 11th generation Intel Core-i processors and with Intel EVO platform badge, it is both powerful and efficient with up to 20% faster and more battery life than a mobile device that doesn't carry the bad. We will see how this translate to more battery life later. What, no 12th generation processor? We wondered the same too but the 11th gen options offers a real balance of power and efficiency.
Quad-core 11th Gen Intel® Core™ i5-1135G7 Processor, designed on the Intel® Evo™ platform
Quad-core 11th Gen Intel® Core™ i7-1185G7 Processor, designed on the Intel® Evo™ platform
Remember the dual core Intel Core i3 in Surface Pro 7, this is no longer offered. Microsoft is serious about making this the Pro device that it is. That processor is now reserved for the entry level Surface Go 3 with the following processor options:
Dual-core Intel® Pentium® Gold 6500Y processor
Dual-core 10th Gen Intel® Core™ i3-10100Y processor
2. Bigger and Better Display
Two things, size and refresh rate. The Surface Pro 8 now comes with 13-inch PixelSense Flow display with high 120Hz refresh rate. That same display also supports Dolby Vision for more visit colour and scene by scene Dynamic HDR. Even as a bigger display it packs the same pixel density (267PPI) as the 12.3-inch on Surface Pro 7 with a high 2880 x 1920 pixel resolution and the same user friendly 3:2 aspect ratio. This also brings the device up to date with  edge-to-edge full screen design.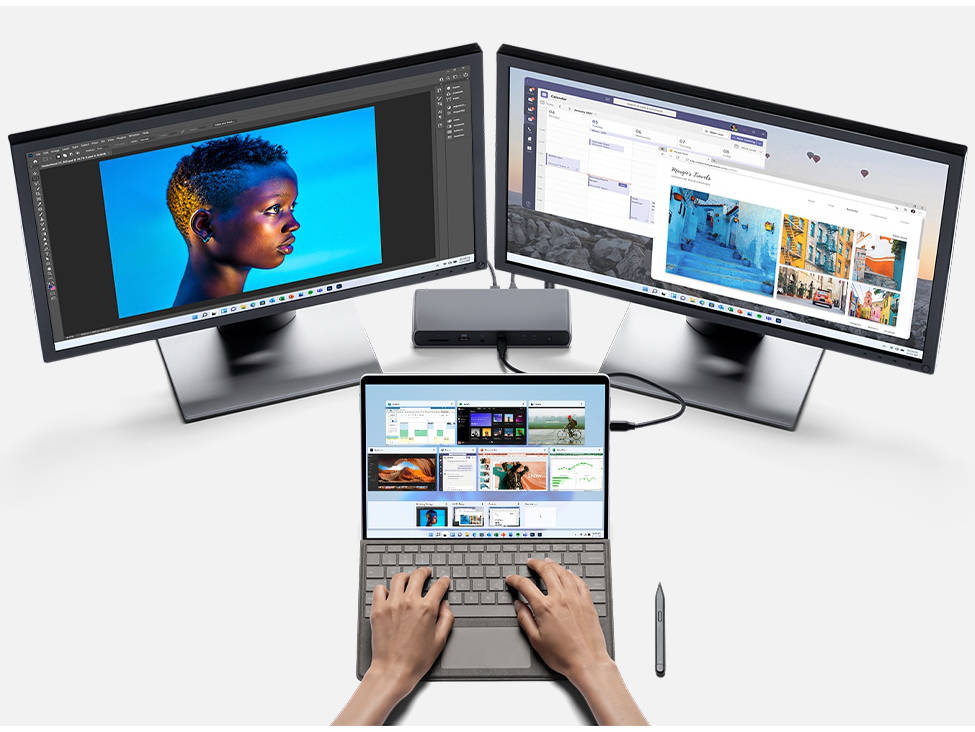 Search Surface Pro 8 on Amazon
3. Powerful Connections
This is quite simply the highest most desirable feature on our list. On the Surface Pro 7, you had to make do with 1 USB-C and 1 USB-A port to connect to multiple devices and accessories.The Surface Pro 8 gets a nice boost in the connectivity department with two Thunderbolt 4 ports, bringing it up to date. You can transfer files quickly or connect multiple 4K external monitors with no problem at all. And, as we will mention again later, you can even hook up an external GPU to game properly on a big screen.
4. Safe place to park and charge the stylus
Never a fan of magnetically attaching your stylus to the edge of your tablet to connect and charge, neither am I. Even in a nice elastic stylus holder, the pen is still fiddly and prone to be knocked off. The Surface Pro 8 solves this by introducing a totally new Surface Slim Pen 2 that you can store and charge in th optional Surface Pro Signature Keyboard. Yes the new Surface Pro keyboard now comes with a place to park and charge your stylus.
5. Even better battery life
Portability is one thing, but battery life is another. What good is a slate if it dies in the middle of the day because you ran out of charge. Surface Pro 7 may offer a respectable battery life of up to 10.5 hours but the Surface Pro 8 goes even further with up to 16 hours. For comparison the iPad Pro 12.9 M1 lasts up to 10 hours on a full charge, the MacBook Air M1 lasts up to 15 hours (browsing) and the MacBook Pro M1 lasts up to 17 hours on a full charge.
What it Lacks
You know what you can do with the device, it is only fair that you also know what its limitations are:
No 5G Cellular option – We were disappointed that the Surface Pro X doesn't come with 5G connectivity but instead relies on Gigabit 4G (optional). Granted that a model with cellular connectivity was never an option even for Surface Pro 7, we were hoping that this would change with Surface Pro 8. That Microsoft would offer a 5G cellular option. After all, Microsoft is pitching Surface Pro 8 13-inch against the Apple iPad Pro 12.9-inch.
No microSD card slot – The previous generation Surface Pro 7 comes with a MicroSDXC card reader. You can easily drop your memory card from your action camera or smartphone into the tablet to transfer photos and videos. You can also add a dedicated micro SD memory card for extra storage or to act as backup. No such luck with Surface Pro 8. You may want to pick a device with 256GB storage or bigger for that extra room.
No dedicated graphics option – For the occasional gamer, the embedded Intel Iris X Graphics may just be about enough, but for the avid gamers, the Surface Pro 8 is not going to cut it. That is because it does not have the option to have dedicated GPU. That said, with the ultra fast Thunderbolt 4 ports, it is easy to connect an external GPU (eGPU) or build your own with an eGPU enclosure and your favourite graphics card. Remember to match your powerful graphics with an equally powerful GPU like the Core i7 in order for there not to be a bottle neck.
Final Thoughts
It remains to be seen with Windows 11 just launched on the 4 October 2021, and the Surface Pro 8 is not available until 28 October 2021 but this and other Surface Pro devices like the new Surface Pro X, Surface Go 3, Surface Duo 2 phone and upcoming Surface Laptop Studio will be push the new operating system the hardest. Available initially as free upgrades well into 2022, these productivity centric 2-in-1 PC devices will enjoy free Windows 11 upgrades, just what students need to get the job done in school, college or university without worrying about extra cost to upgrade its OS.
The slim profile and tight foot print also allows them to have the device with them wherever they may be and the extra long battery life ensures that it is usable when they need it. Roll up your sleeves and get cracking on those assignments and reports now. Be warned that while the tablet itself is good value, consider the extras. Fortunately, the Surface Pro Signature Keyboard and Slim Pen 2 is available as a bundle with some savings. Consider this instead of getting them separately.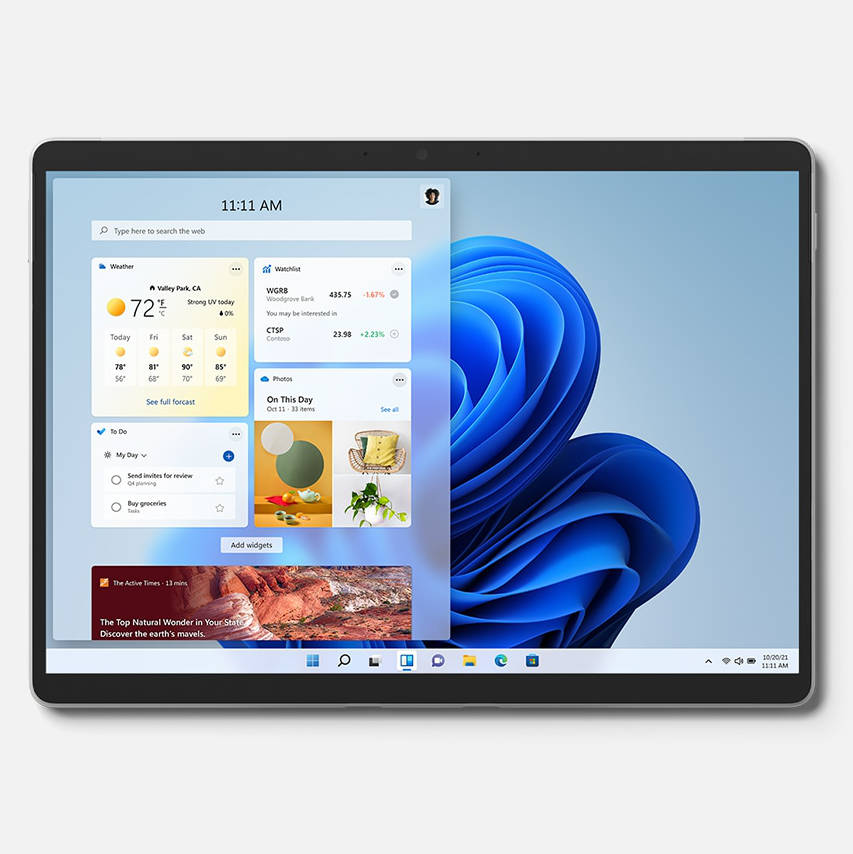 Search Surface Pro 8 on Amazon
Microsoft Surface Pro 8 Specifications
Dimensions
287mm x 208mm x 9.3mm (11.3 in x 8.2 in x 0.37 in)
Display

Screen: 13" PixelSense™ Flow Display
Resolution: 2880 x 1920 (267 PPI)
Up to 120Hz refresh rate (60Hz default)
Aspect ratio: 3:2
Touch: 10 point multi-touch
GPU Ink Acceleration
Dolby Vision® support3

Memory
8GB, 16GB, 32GB (LPDDR4x RAM)
Processor

Quad-core 11th Gen Intel® Core™ i5-1135G7 Processor, designed on the Intel® Evo™ platform
Quad-core 11th Gen Intel® Core™ i7-1185G7 Processor, designed on the Intel® Evo™ platform

Security

Firmware TPM chip for enterprise-grade security and BitLocker support
Enterprise-grade protection with Windows Hello face sign-in

Software

Windows 11 Home
Preloaded Microsoft 365 Apps8
Microsoft 365 Family 30-day trial9
Preloaded Xbox app
Xbox Game Pass Ultimate one month trial9

Sensors

Accelerometer
Gyroscope
Magnetometer
Ambient Colour Sensor (brightness and colour)

What's in the box

Surface Pro 8
Power Supply
Quick Start Guide
Safety and warranty documents

Weight6
891 g (1.96lb)
Pen Compatibility

Surface Pro 8 supports Microsoft Pen Protocol (MPP)
Surface Pro 8 supports Tactile signals with Surface Slim Pen 2*7

Keyboard Compatibility

Surface Pro Signature Keyboard
Surface Pro X Keyboard

Storage1

Removable solid-state drive (SSD) options: 128GB or 256GB
512GB or 1TB

Battery life2
Up to 16 hours of typical device usage
Graphics
Intel® Iris® Xe Graphics (i5, i7)
Connections

2 x USB-C® with USB 4.0/Thunderbolt™ 4
3.5mm headphone jack
1 × Surface Connect port
Surface Type Cover port
Compatible with Surface Dial off-screen interaction*

Cameras, video and audio

Windows Hello face authentication camera (front-facing)
5.0MP front-facing camera with 1080p full HD video
10.0MP rear-facing autofocus camera with 1080p HD and 4k video
Dual far-field Studio Mics
2W stereo speakers with Dolby Atmos®

Wireless

WiFi 6: 802.11ax compatible
Bluetooth Wireless 5.1 technology

Exterior

Casing: Signature anodised aluminium
Colours: Graphite, Platinum4
Physical buttons: Volume, Power

Warranty5
1-year limited hardware warranty
Battery capacities

Battery Capacity Nominal (WH) 51.5Wh
Battery Capacity Min (WH) 50.2Wh