Going back to school, college or university? It is time to thing seriously about getting a Mac. For those who just want fast, stable, secure, reliable, no-nonsense computing from their laptop or desktop, a Mac is an obvious choice. Not only does it give you all the above, it also comes with a huge suite of apps to boot.
It's all in the Apps
Superior hardware is one thing, but apps are what you really need. The entire suite of creative and productivity software included from Apple is worth the investment on its own. It will get you up and going without spending any more than you already have. This includes video and photo editing, programming and music composing and editing. Granted that you will be paying a premium for your Mac, but there are deals to be had with online retailers, seasonal sales and education discounts.
For education in particular, you can also enjoy licenses and subscriptions at education or student rate. Your school, college or university may already have such a licence that lets you access MS Office 365 for Education or Google Workspace for Education and its' suite of apps for free. Mac versions of these applications are available for download and install.
There are also tonnes of free apps as well as professional apps for just about any assignment, project, creative work and online learning. Search in the App Store or online to find one that is right for you.
Which Mac is Best for Students
Back to the question of which Mac is best for students. It all depends on the budget, portability needs and the type of applications you will be running. Here is a quick overview of the best Mac for students.
MacBook Air
MacBook Pro
Mac mini
iMac 24
1. MacBook Air –

Cheapest Mac Laptop
The cheapest and most affordable way to own a Mac Laptop is by getting the entry level MacBook Air. Don't worry, you will still get to enjoy the performance of the M1 chip. Not the cheapest way to own a Mac. That title belongs to Mac mini M1 desktop below.
This is an ultra portable laptop with a decent 13.3-inch display powered an M1 chip with 8-core GPU and 7-core GPU with 256GB SSD storage and 8GB super fast unified memory. Apart from the 1 less than perfect GPU core, it also lacks active cooling. The result, no noisy fan for a totally silent operation and super long battery life per charge. The next model up comes with double the storage at 512GB and that extra GPU core. But remember, it is still held back by the lack of active cooling.
However, we have to say that even with the less than perfect 7 core GPU and no active cooling, it is still a very fast and capable system for a big range apps not to mention games. The average student will have all their needs met with the MacBook Air.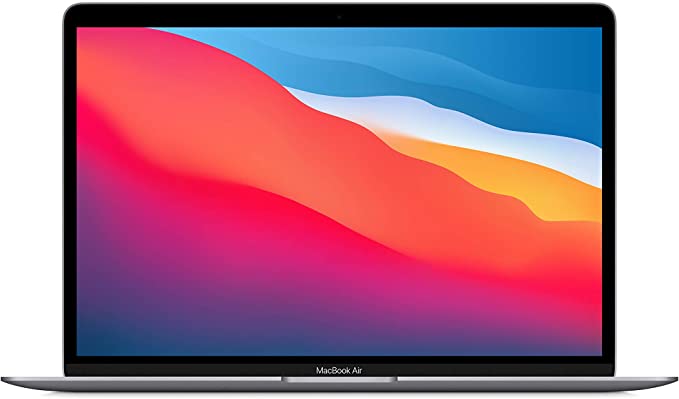 Who is it for?
Those on a tight budget and looking for a compact and portable device with plenty of battery life (up to 15 hours) for all day computing will do well to go with the MacBook Air. It has the same compact body that allowed it to be slipped into an envelope, super portable & super light at 1.29kg, although for practical reason, your bag pack or rucksack may be a better option.
Why choose it?
If your main activities on a laptop is for research on the web, finishing up your final report and assignments and entertainment like streaming music and TV shows including the occasional gaming, this do it all laptop is for you. It will meet all school and college students' needs. It will even put up with some heavy lifting tasks, but pushing it too far may cause the chip to be throttled to keep it operating within safe temperatures due to the lack of cooling.
2. MacBook Pro –

Best High Performance Mac Laptop
The full size but still 13.3-inch MacBook Pro starts off with a fully featured M1 chip with all 8-core CPU and 8-core GPU firing, 8GB unified memory and 256GB SSD storage. It also comes with active cooling and not merely relying on heatsinks to keep everything running cool. With the benchmark scores we are seeing, this is a high performance machine, there is no doubt about that.
We won't mention the Touch Bar as depending on who you ask, that could both be a life saver or mere distraction, too small to be useful. Needless to say, most people won't miss it. While it comes with a full fledge cooling system, because of how efficient the chip is, it is hardly used. You will have to push it real hard to have it come on. Rest assured, this is a high performance laptop that will devour and spit out any workload you give it.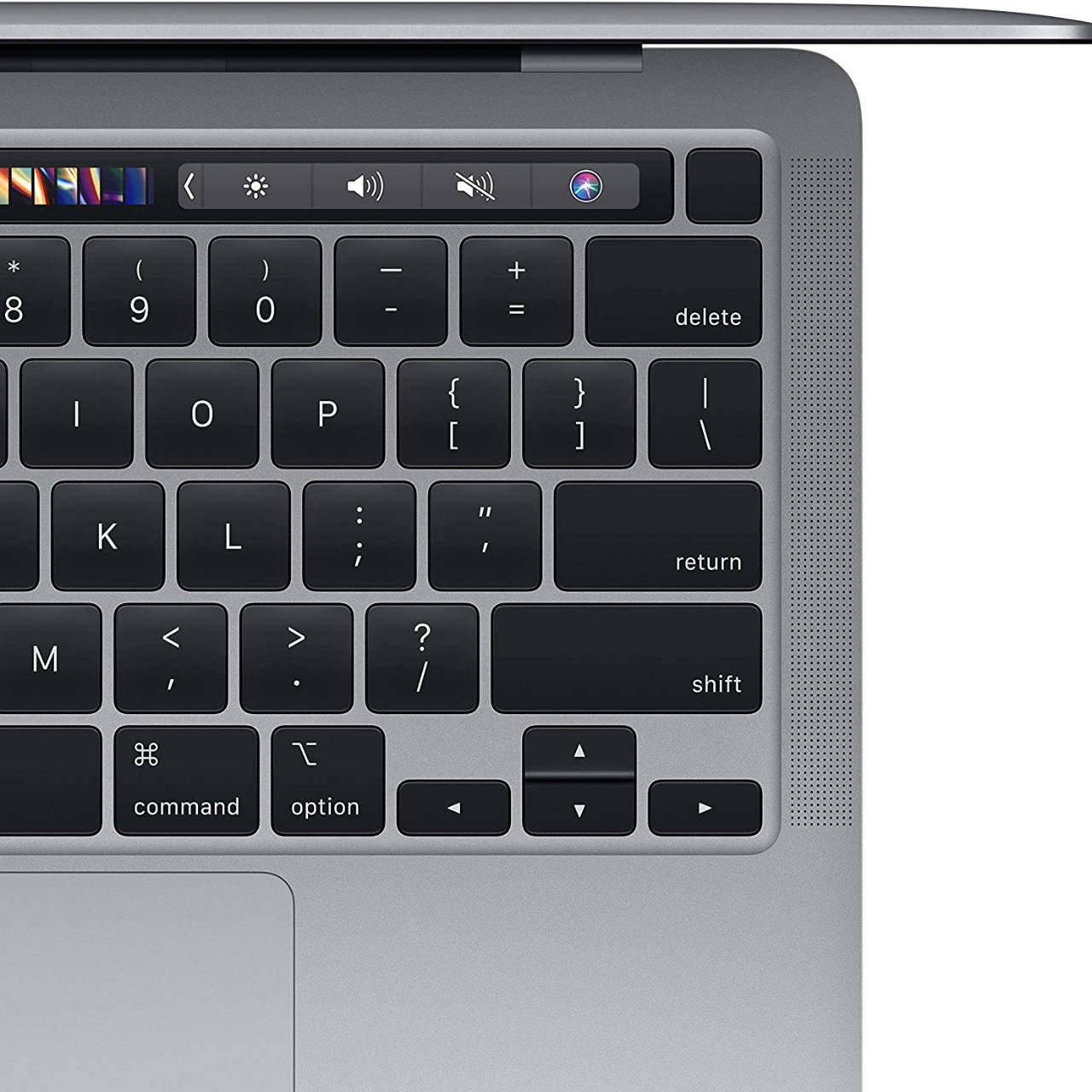 Who is it for?
Those with a bit more cash to burn and prefers that extra processing power (CPU and GPU), not held back by heat throttling with active cooling and requires their machine to go beyond productivity and entertainment applications. That extra overhead and power will let it to take on heavy and demanding workload without breaking a sweat. Power and portability goes hand in hand with the MacBook Pro.
Why choose it?
It comes with even longer battery life, with up to 20 hours of streaming using Apple TV app or up to 17 hours of web browsing. However, that comes at the cost of size and weight. It is a bit heavier at 1.4kg so it can plant it sturdily on the desk and a little thicker. Performance without compromises is why you choose the MacBook Pro performance laptop.
3. Mac mini M1 –

Cheapest Mac Full Stop
If you think the entry level MacBook Air is cheap, the entry level Mac mini with M1 chip is even cheaper and it doesn't have the issue of one less GPU core or lack of active cooling. The starting model comes with M1 with 8-core CPU and 8-core GPU, 8GB unified memory and 256GB storage. It even comes with more ports that any MacBook Air or MacBook Pro currently available. And, it still comes in a portable, pack and go profile albeit no battery to boot it up on the go. It is a desktop after all, but a super powerful one at that. No problem finalising full length feature video, mixing on garage band and editing multi-layer images on Photoshop. The things you will need to complete your setup are the display, keyboard and monitor.

Who is it for?
Bargain hunters. Those who prefer to work on a full size screen that only a desktop can provide instead of relying on the small display on their portable will do well to pick the Mac mini M1. It will cater to those who use demanding applications too like 3D rendering and finalising video thanks to its unrestricted chip and onboard active cooling. The Mac mini also works great as a second computer, on top of your laptop if your budget allows.
Why choose it?
Cheap and powerful with option to use your favourite keyboard, mouse and monitor plus plenty of connectivity options to rig it up with specialist hardware such as professional microphone, 4K web cam, mixer and more. Get a big 4K UHD monitor that supports multiple input and USB hub and you have yourself an all-in-one work and gaming centre. You will need a gaming console and a couple of controllers, perfect down time gadget for any student dorm.
RELATED: Best Webcam Solutions for Mac mini M1
4. iMac 24-inch 2021 M1 –

Best All-in-One Desktop
The entry level iMac 24-inch, also based on M1 chip is again crippled with a disabled GPU core but comes with fast 8GB unified memory and 256GB storage. Go with the next model up and you get to have that GPU core plus Gigabit Ethernet port, 2 extra USB3 ports on top of the two Thunderbolt/USB4 ports and a Magic Keyboard with TouchID.
It is super slim and comes with surprisingly loud speakers. Small enough to put in the luggage, it is a desktop alternative to the Mac mini above but at a much higher cost. You won't have to worry about separate display, keyboard or mouse as it comes pre-packaged.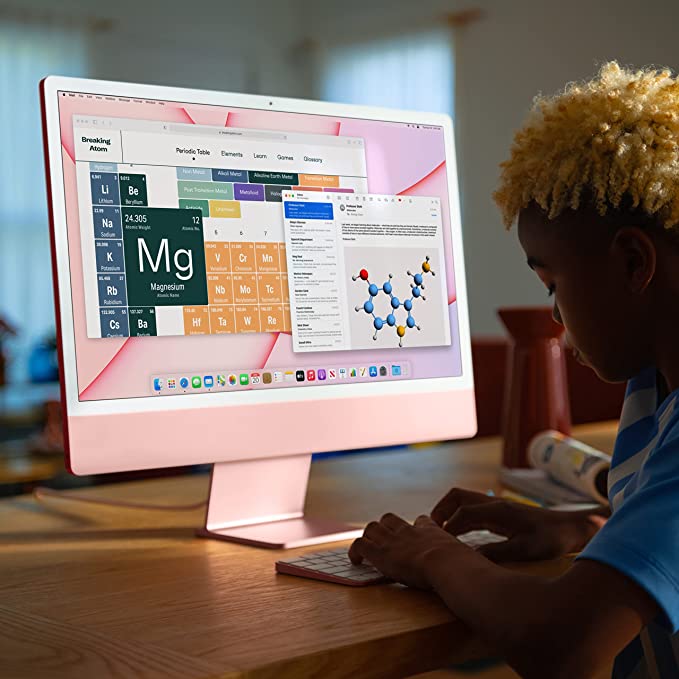 Who is it for?
Those who want a full size desktop experience to work on and the simplicity of hooking up a single power cable to power the device. That 24-inch 4.5K Retina display is already miles bigger than 13.3-inch on the MacBook Air or Pro. It is great for students of all level although if you intend to put it through its paces, pick up the next model up.
Why choose it?
Practicality and simplicity only an All-in-One desktop can offer. It is also strikingly thin at 11.5mm, think iPad Pro, only bigger, not that it comes with batteries. It also comes with 6 speakers for superb quality sound and studio quality three microphone array for calls and voice recording. Again, if you are looking to hook up accessories and peripherals, look to the one tier up for extra ports or consider a USB C hub.
Final Thoughts
For future proofing, we only considered Mac systems based on the M1 chip. The transition time table is now over, all future Macs will be based on Apple's own silicone. It is time to move beyond Mac based on Intel processor. On that logic, we also skipped the outgoing 21.5-inch iMac based on 7th generation Intel Core i5 2.3GHz with dual core and Intel Iris Plus Graphics 640.
To summarise the following are your Mac options for schools based on your requirements:
MacBook Air M1: affordability and portability
MacBook Pro M1: portability and performance to cope with demanding applications
Mac mini M1: affordability, performance and connectivity
iMac 24 M1: simplicity and practicality with amazing display and sound