New generation, ultra efficient MediaTek processor is here and what better device to pair it with than the Chromebook. Not only are these new Chromebooks lightweight, slim and compact, they are powerful, affordable and come with super long battery life to boot. We look at 5 of the best ultra budget MediaTek Chromebooks in the market right now.
MediaTek MT8183 (MediaTek Kompanio 500)
Part of MediaTek's new family of chips, the Mediatek MT8183 or Kompanio 500 is the entry level chip with Octa-Core CPU and Arm Mali G72 graphics. It also comes with a dual core AI processing unit. Together it delivers up to Full HD+ resolution, streaming capabilities, support for external display, multitasking and plenty of connectivity options.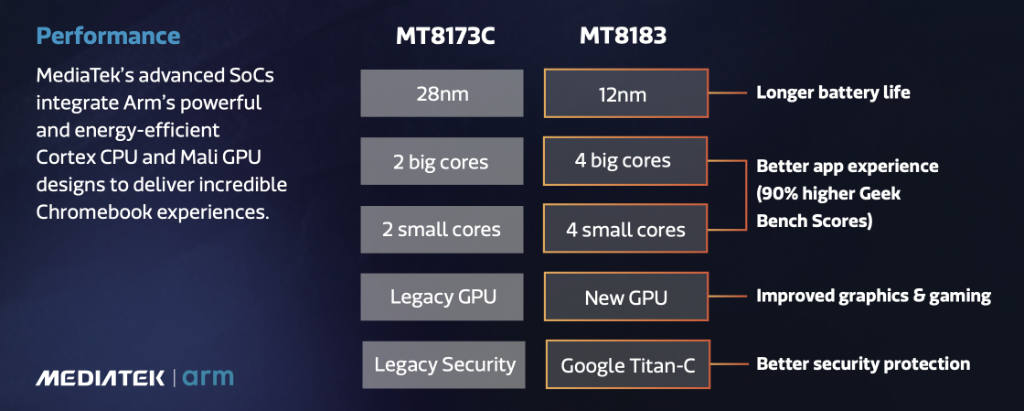 The chip is based on the more efficient 12nm process, compared to its predecessor, the MT8173C which is designed on 28nm. With double the cores to its predecessor, it is also up to 90% faster in Geek Bench score with support for Google Titan-C security and even support for some light gaming.
MediaTek 8183 vs MediaTek 8173C: Technical and Performance Comparison
In order to understand the current crop of Chromebooks based on the new chip from MediaTek, see table below for the technical specifications and performance comparison :
Processor
MediaTek MT8173C
MediaTek MT8183
Market (main)
2-in-1 chromebook
Tablet
ISA
ARMv8 (64-bit)
ARMv8 (64-bit)
Microarchitecture
Cortex-A72, Cortex-A53
Cortex-A73, Cortex-A53
Family
Quad-core
Octa-core
Part number(s), S-Spec
MT8173C
MT8183
Release date
Q3 2018
Q4 2019
Lithography
28 nm HPM
12 nm
Cores
4
8
Threads
4
8
Base frequency
1.6 GHz
1.6 GHz
Turbo frequency
2.0 GHz
2.0 GHz
Energy cores
2x ARM Cortex-A53 @ 1.5 GHz
4x ARM Cortex-A53 @ 1.6 GHz
High performance cores
2x ARM Cortex-A72 @ 2.1 GHz
4x ARM Cortex-A73 @ 2.0 GHz
Cache memory
1 MB
1 MB
Max memory capacity
4 GB
4 GB
Memory types
LPDDR3
LPDDR3
Max # of memory channels
1
2
TDP
10 W
10 W
GPU integrated graphics
Imagination PowerVR GX6250
ARM Mali G72 MP3
GPU execution units
2
3
GPU shading units
64
48
GPU clock
700 MHz
800 MHz
GPU FP32 floating point
57.6 GFLOPS
86.4 GFLOPS
Socket
SoC
SoC
(Android 64-bit)
1,436
1,397
Geekbench 4 single core
(Android 64-bit)
2,860
4,863
Geekbench 4 multi-core
(SGEMM)
9.16 GFLOPS
14.2 GFLOPS
GFLOPS performance
(Multi-core / watt performance)
286 pts / W
486 pts / W
Performance / watt ratio
Source: GadgetVersus

The biggest gains with MT8183 are evident in the multi-core Geekbench 4 scores, GPU FP32 floating point and GFLOPS performance. In Geekbench 4, the MT8183 is 1.7 times faster, while GFLOPS score is 1.55 times higher. As for GPU FP32 floating point benchmarks, the MT8183 is 1.5 times faster than MT8173C. As both chips run at 10W TDP, it goes to without saying that the performance per watt ratio is higher on the new chip. Again, the MT8183 offers nearly 1.7 times better performance to watt ratio.
Best Ultra Budget MediaTek Chromebooks with Super Long Battery Life
All except one of the devices in our line-up with Chromebook OS are based on the MT8183 chip. The odd one out is based on MediaTek Helio P60T, a 12nm chip designed for smartphone but adapted here for a tablet with detachable keyboard. You can find out more about the performance of the MediaTek Helio P60T on NotebookCheck. Let's start with the device base on this chip followed by ones based on MT8183.
1. LENOVO IdeaPad Duet 10.1-inch 2 in 1 Chromebook –

BEST FOR TABLET PROFILE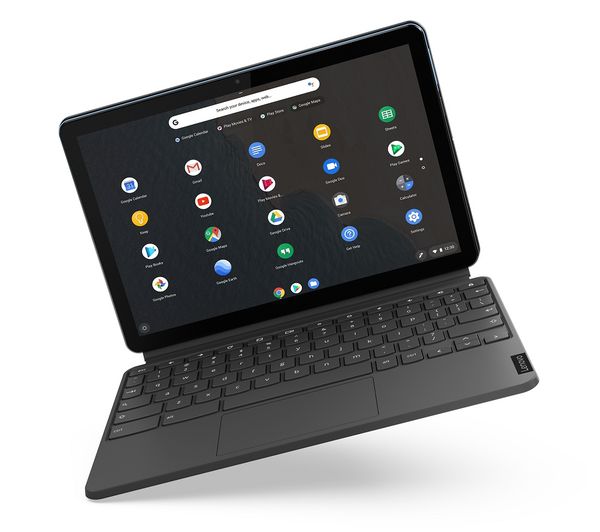 Search Lenovo IdeaPad Duet on Amazon
MediaTek P60T, 4GB RAM, 64GB/128GB eMCP, 10.1-inch FHD, 10 hours, Tablet
First on our list is a tablet with detachable keyboard. The IdeaPad Duet may be a small slate, and the smallest Chromebook in our list, with its 10.1-inch display, but that tiny screen packs Full HD resolution making everything super sharp. And to back those pixels up, the panel is capable of 400nits brightness. With under 1kg (450grams tablet, 250grams keyboard, 220grams stand) in weight and up to 10 hours of battery life, the 2-in-1 device can go anywhere with you and you can depend on it to last all day for work and play. As tablets go, there is only one USB-C port for data and changing.
2. LENOVO IdeaPad 3 14-inch Chromebook –

BEST FOR LARGE DISPLAY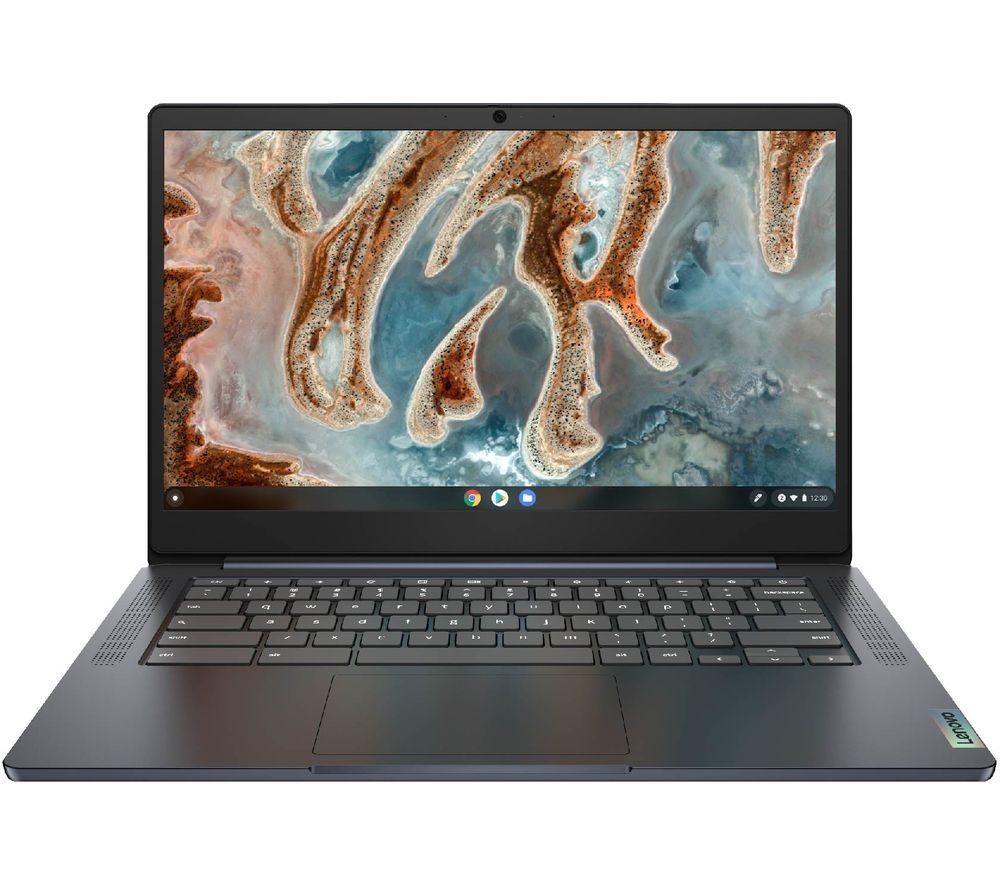 Search Lenovo IdeaPad 3 14 on Amazon
MediaTek MT8183, 4GB RAM, 64GB eMMC, 14-inch FHD,  16 hours, 1.3kg, 18.6mm
Next on our list is the IdeaPad 3 from Lenovo. We like it mainly because of its 14-inch display. This may not be for everyone but the panel packs Full HD resolution and while it is not as bright at the IdeaPad Duet above, only capable of 220nits brightness, it is still a full size display. This makes it great for browsing, streaming and productivity. Even with the big 14-inch display albeit a little dim for our liking it is still capable of up to 16 hours of run time thanks to the energy efficient MT8183 chip. Although we kinda suspect the TN LCD display has something to do with this too.
3. HP Chromebook 11A 11.6-inch –

BEST FOR COMPACT DESIGN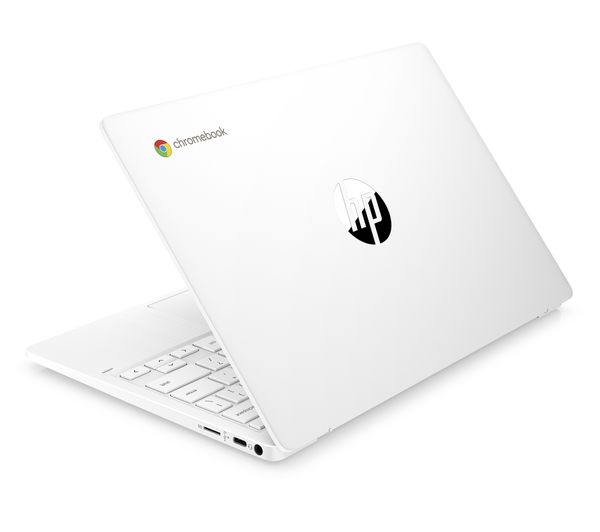 Search HP Chromebook 11 on Amazon
MediaTek MT8183, 4GB RAM, 32GB eMMC, 11.6-inch 1366 x 768p, 15.5 hours, 1.07kg, 16.9mm
Remember the netbooks of days past? Small and compact laptops with equally small displays. Well with Mediatek MT8183 chip, this is once again possible, but with better battery life. The HP Chromebook 11A kicks things off in the small Chromebook category. Now only Is it super affordable but looks good too. Plus, it will keep you running all day with its 15.5 hours battery life. Because of its size, you are going to have to live with a small trackpad but it does mean that the device weighs barely over 1kg in a slim 16.8mm chassis.
4. ACER Spin 311 11.6-inch 2 in 1 Chromebook –

BEST FOR CONVERTIBLE PROFILE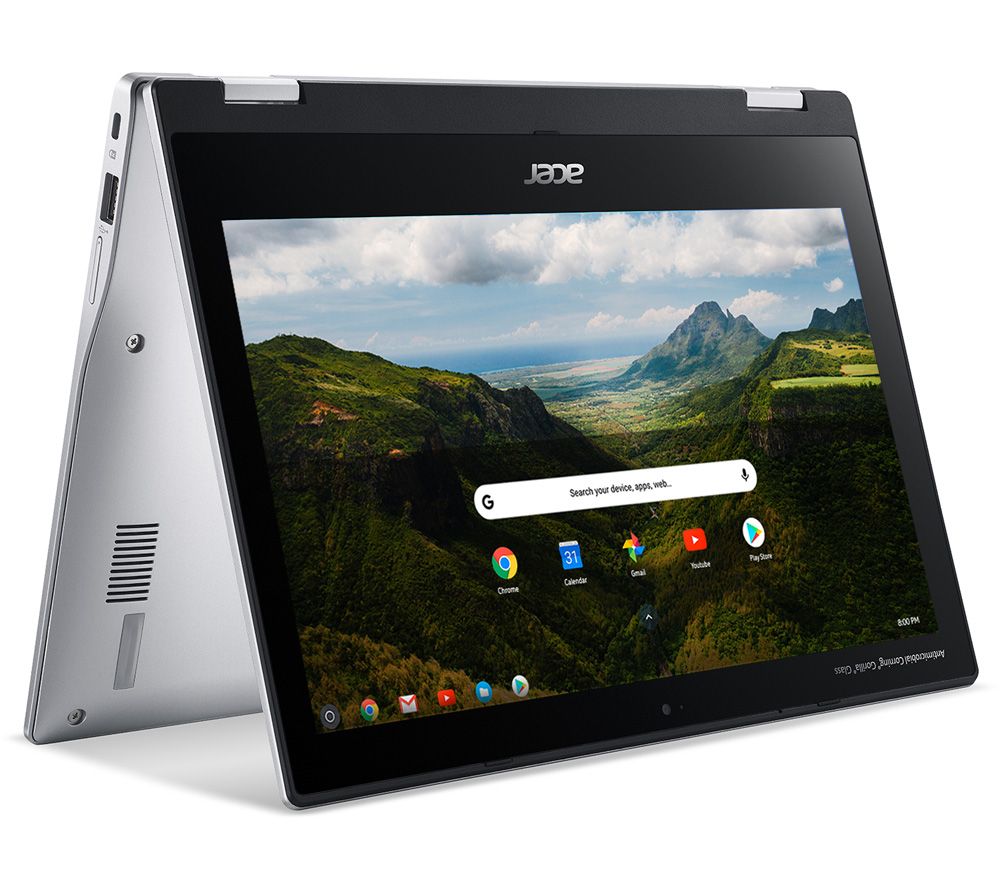 Search Acer Spin 311 on Amazon
MediaTek MT8183, 4GB RAM, 32GB eMMC, 11.6-inch 1366 x 768p, 16 hours, 1.05kg, 18.8mm
Starting to see a pattern here? Yes, the MT8183 chip works best in a small profile laptop with 11.6-inch display. But, the Acer Spin 311 goes one up from the rest, in that it comes with a 360 degree hinge. This means it costs a bit more but it also means that it comes with the versatility of turning into a laptop. The keyboard is also one of the best around for a small laptop with 1.6mm pitch. That, and the fact that it can push up to 16 hours of use makes it a good portable to have. Our one complain is those ugly bezels, a little too big for our liking. Oh, and because it is a convertible, the 11.6-inch display supports touch interface, perfect for when using it as a tablet.
5. LENOVO IdeaPad Flex 3 11.6-inch 2 in 1 Chromebook –

BEST FOR CONVERTIBLE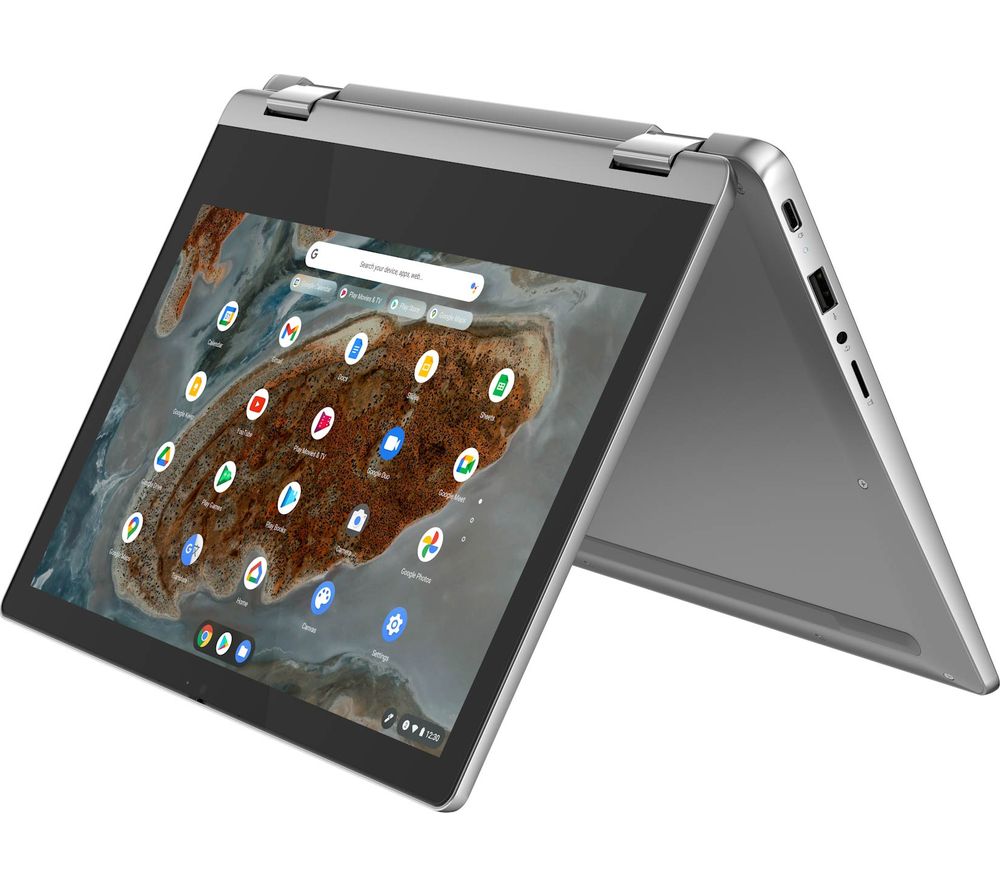 Search LENOVO IdeaPad Flex 3 on Amazon
MediaTek MT8183, 4GB RAM, 32GB/64GB eMMC, 11.6-inch 1366 x 768p, 16 hours, 1.2kg, 18.5mm,
We are certainly not seeing the last of convertible Chromebooks here. Next up is the Lenovo IdeaPad Flex 3. Also with an 11.6-inch display and 360 degree hinge, the Chromebook from Lenovo is priced to compete with the Spin 311 and comes with double the memory at 64GB. It is however, slightly on the heavy side compared to other Chromebooks here, weighing in at 1.2kg, heavier than even the 12-inch ASUS Chromebook Flip CM3 below. That is a small price to pay given the extra storage, touchscreen display and convertible profile.
BONUS: ASUS Chromebook Flip CM3 and Detachable CM3 –

BEST FOR CONVERTIBLE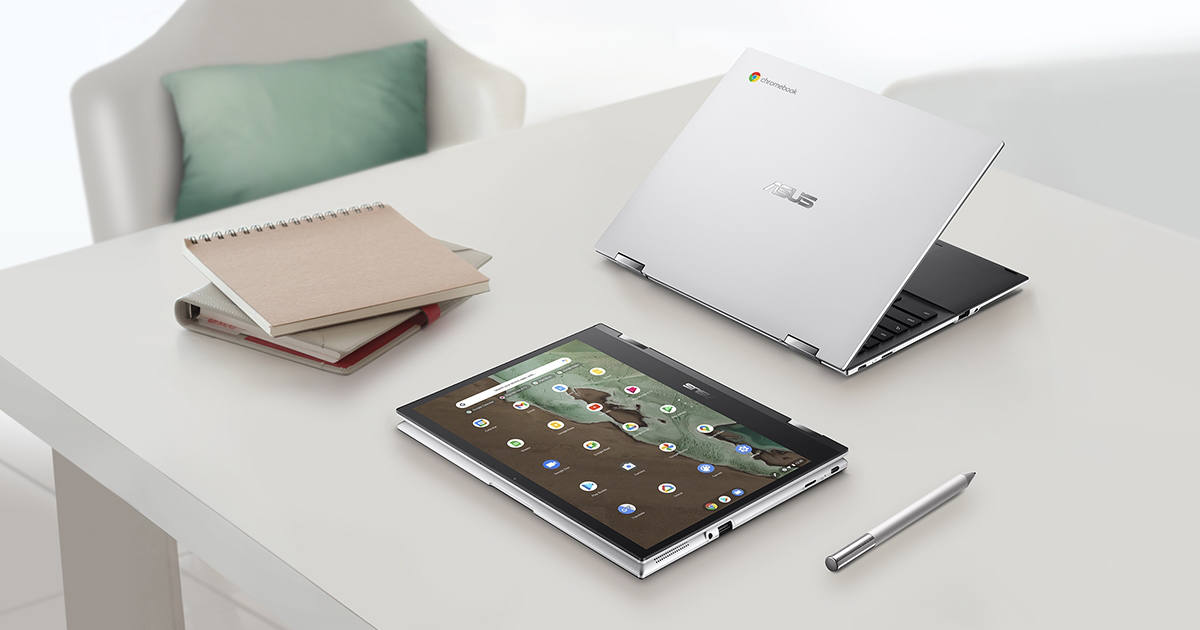 Search ASUS Chromebook Flip CM3 on Amazon
So this is now quite on the ultra budget end of Chromebooks. The ASUS Chromebook Flip CM3 is a premium device but it is still available with the MediaTek Kompanio 500 (8183) although we are rather looking forward to the MediaTek Kompanio 820 (8192) based device. It comes with a 12-inch (3:2 ratio) touchscreen with 1366 x 912 pixel resolution, 4GB or 8GB memory, up to 128GB eMMC store and a whole host of connectivity ports including two USB 3.2 Gen 1 Type-C ports. As a convertible, you can use the device as a laptop or tablet with the latter supporting pen input. Given that it only weighs 1.1kg and comes with an easy grip design, it not only lasts long (up to 16 hours) but you can take it with you anywhere. And, if you like the laptop above but prefers a smaller and slimmer profile with 10.5-inch screen, ASUS's answer to Lenovo IdeaPad Duet is the ASUS Chromebook Detachable CM3. However, it is based on the same MediaTek 8183, it is every but as fast as the laptop counterpart with detachable keyboard and stylus garaged in its own silo on the device throw-in.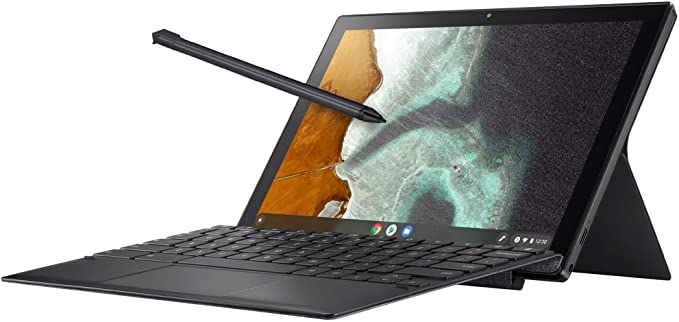 Search ASUS Chromebook Detachable CM3 on Amazon
Other MediaTek Chromebooks
Since you are here, you might consider the other MediaTek Chromebooks based on the previous generation MT8173C. These are still knocking about and are being offered at lower prices. With up to 10 hours battery life on a full charge, it is no where near 15 or 16 hours battery life offered by Chromebooks above but is enough to go about your day without looking for a power socket.
LENOVO S330 14-inch Chromebook
Mediatek MT8173C, 4 GB RAM, 64GB eMMC Storage, 14-inch FHD, 20.8mm, 1.5kg
LENOVO C330 11.6-inch Chromebook
MediaTek MT8173C, 4GB RAM, 32GB eMMC, 11.6-inch 1366 x 768p, 10 hours,
ASUS C202 11.6-inch Chromebook
MediaTek MT8173C, 4GB RAM, 32GB eMMC, 11.6-inch 1366 x 768p, 10 hours