It wasn't that long ago that Microsoft launched a the Surface Laptop 4 with Zen-2 powered AMD Ryzen chip. Designed with AMD, it offered up to twice the performance compared to previous Surface Laptop 3. Now that Tiger Lake 11th generation is in the mix, offered alongside AMD Ryzen 4000-series mobile chip, is it still the faster option?
Microsoft is offering the Surface Laptop 4 with processors from both Intel and AMD. We know that the 11th generation Tiger Lake Core chip puts Intel back in the race for processor supremacy. But, is it fast enough? Here, we consider the choice of top tier processors from Intel and AMD, to see which is the better option.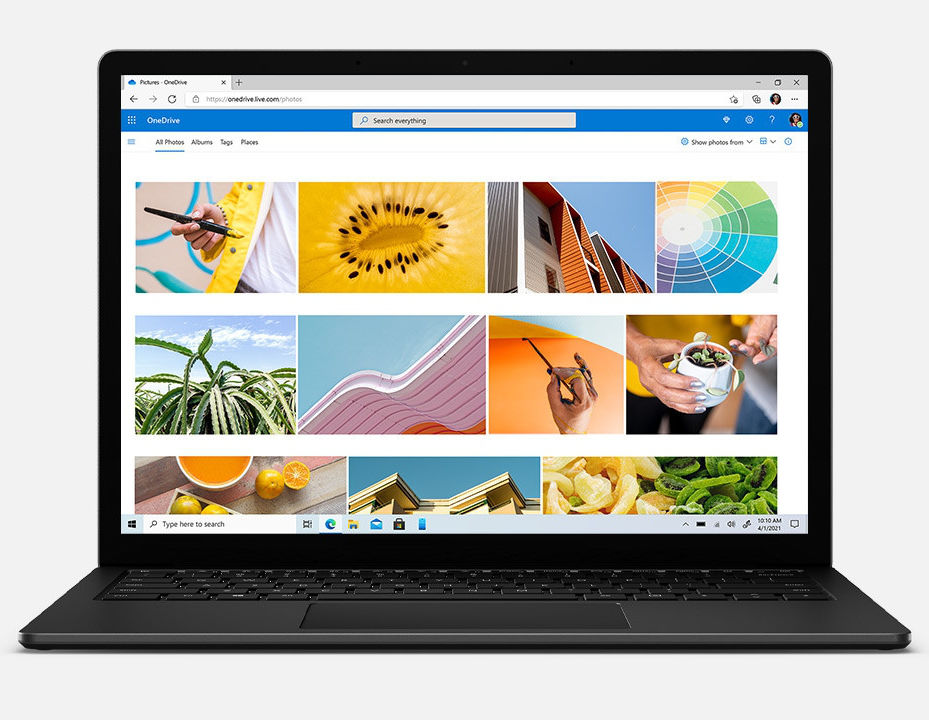 Surface Edition Processors: Custom AMD Ryzen 4000 mobile CPUs for Surface Laptop 4
The difference here is that while the AMD Ryzen 4000 mobile CPUs may be custom designed for Surface Laptop 4, the Intel Tiger Lake Core chips are just your standard mobile CPUs. What Microsoft calls Surface Edition processors based on AMD Ryzen 4000 are tweaked specifically for the laptop. The Ryzen 7 2980U Surface Edition processor has a base frequency of 2.0Ghz and boost speed of around 4GHz. This gives the Surface Laptop 4 up to twice the performance gain over Surface Laptop 3 as shown by PCWorld in this Cinebench R15 benchmark below.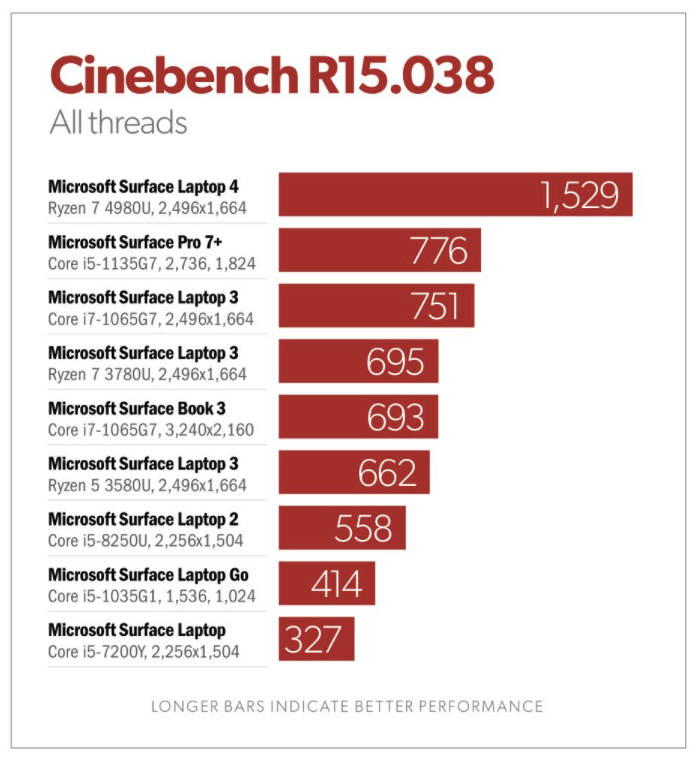 Note that the benchmark above does not include the 11th generation Processor. Continue reading the comparisons between the two chips.
Surface Laptop 4
The new Surface Laptop 4 is available with 13.5-inch or 15-inch displays and in various iterations with different processors, memory and storage and colour options. Here are the different variations as available from Microsoft's online store.

Surface Laptop 4 13.5-inch
AMD Ryzen 5 4680U, 8GB RAM, 256GB SSD $999.99
AMD Ryzen 5 4680U, 16GB RAM, 256GB SSD $1199.99
Intel Core i5-1135G7, 8GB RAM, 512GB SSD $1299.99
Intel Core i5-1135G7, 16GB RAM, 512GB SSD $1499.99
Intel Core i7-1185G7, 16GB RAM, 512GB SSD $1699.99
Intel Core i7-1185G7, 32GB RAM, 1TB SSD $2299.99
Surface Laptop 4 15-inch
AMD Ryzen 7 4980U, 8GB RAM, 256GB SSD $1299.99
AMD Ryzen 7 4980U, 8GB RAM, 512GB SSD $1499.99
AMD Ryzen 7 4980U, 16GB RAM, 512GB SSD $1699.99
Intel Core i7-1185G7, 16GB RAM, 512GB SSD $1799.99
Intel Core i7-1185G7, 32GB RAM, 1TB SSD $2399.99
We will be looking at the top tier processors, the AMD Ryzen 7 4980U and Intel Core i7-1185G7 to better understand the performance gains. From Microsoft's pricing strategy above, it is still a premium to go with the Intel model given both laptops have the same memory and storage. The difference is $100 for the 15-inch model. As for the 13.5-inch model, you do not get the AMD Ryzen 7 offering but only Intel Core i7 options.
There is however a price overlap, again dealing with the choice between AMD Ryzen 7 or Intel Core i7. Across the 13.5-inch and 15-inch models the following options share the same price,  at $1699.99.
13.5-inch: Intel Core i7-1185G7, 16GB RAM, 512GB SSD $1699.99
15-inch: AMD Ryzen 7 4980U, 16GB RAM, 512GB SSD $1699.99
This again begs the question, given the same amount of money you would spend, would you go for the smaller 13.5-inch Intel Core i7 or the bigger 15-inch AMD Ryzen 7. OR would you pay a hundred dollar more and go for the bigger 15-inch Intel Core i7. Let's compare the only thing that is different between them, the processor.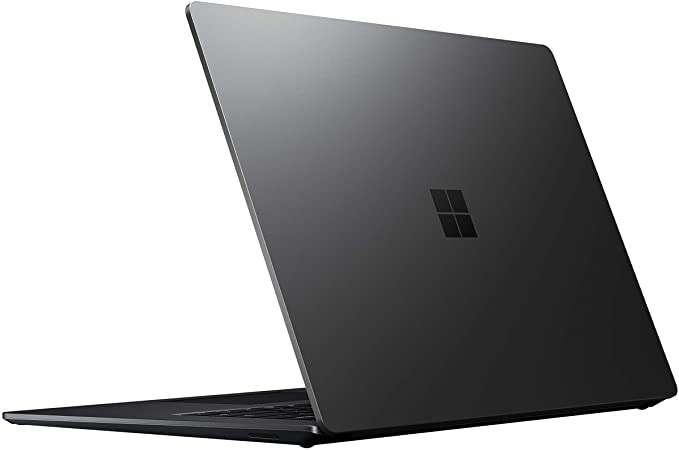 AMD Ryzen 7 4980U vs Intel Core i7-1185G7 processor Architecture
To better understand the performance difference between the two processor, we first start with their architecture. The Intel Core i7-11856G7 is an energy efficient 10nm SuperFin quad-core processor based on Tiger Lake-U architecture. It has a base frequency of 1.2GHz and a turbo boost of up to 4.3GHz. The chip is paired with Integrated Iris Xe graphics with significant graphics performance gain especially when it uses 96 EUs with a clock speed between 400-1350MH. Together, both the processor and graphics shares up to 12MB of L3 cache. Operating power is from 12 to 28 Watt.

The AMD Ryzen 7 4980U is used on the Renoir architecture using advance 7nm processor. It also means that AMD is able to squeeze more cores into the chip. The AMD Ryzen 7 4980U is an 8-core processor based on Zen 2 microarchitecture. These have a base clock of 2GHz with a turbo speed of 4.4GHz. The system also supports SMT/Hyperthreading with 16 threads. While newer Ryzen 7 5800U would be able to take advantage of the faster Zen 3 microarchitecture, the Zen 2 is still pretty fast. On top of that it comes integrated with Radeon RX Vega 8 graphics again with 8 compute units with speed up to 1750MHz. Then there is that all important 8MB L3 cache and a low operating power of 10 to 25 watt.
AMD Ryzen 7 4980U vs Intel Core i7-1185G7 processor Performance
Now we put the processors through its paces and see which one comes up tops.
General Benchmarks
Based on a handful of tests, on average, the AMD Ryzen 7 4980U is still the faster option than the Intel Core i7-1185G7 processor but by a small 4% margin, see below. Here we can quickly summarise that there is no real advantage choosing between the two given how small the difference is performance is.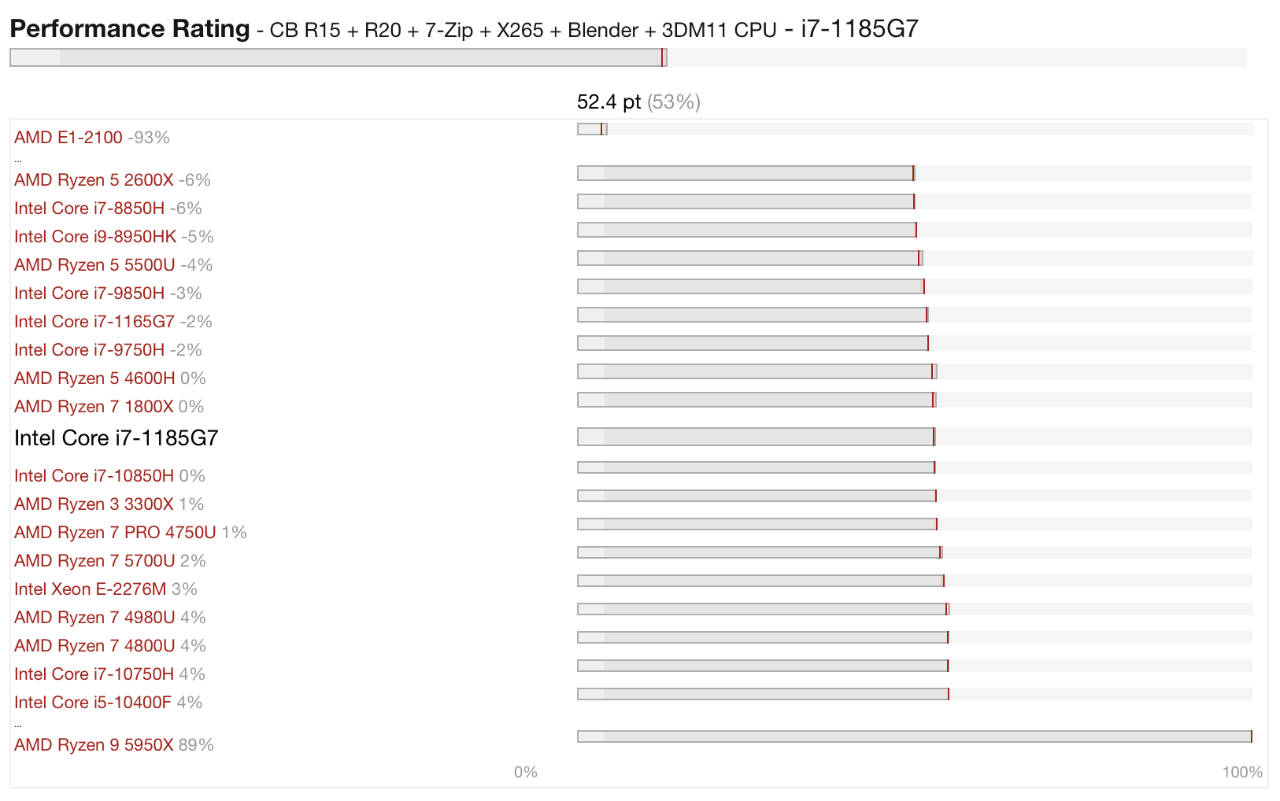 Graphics Benchmark
In terms of graphics performance, specifically results from various 3DMark tests, the Ryzen 4980U is the faster choice, with up to 33% gain on some tests, see results below.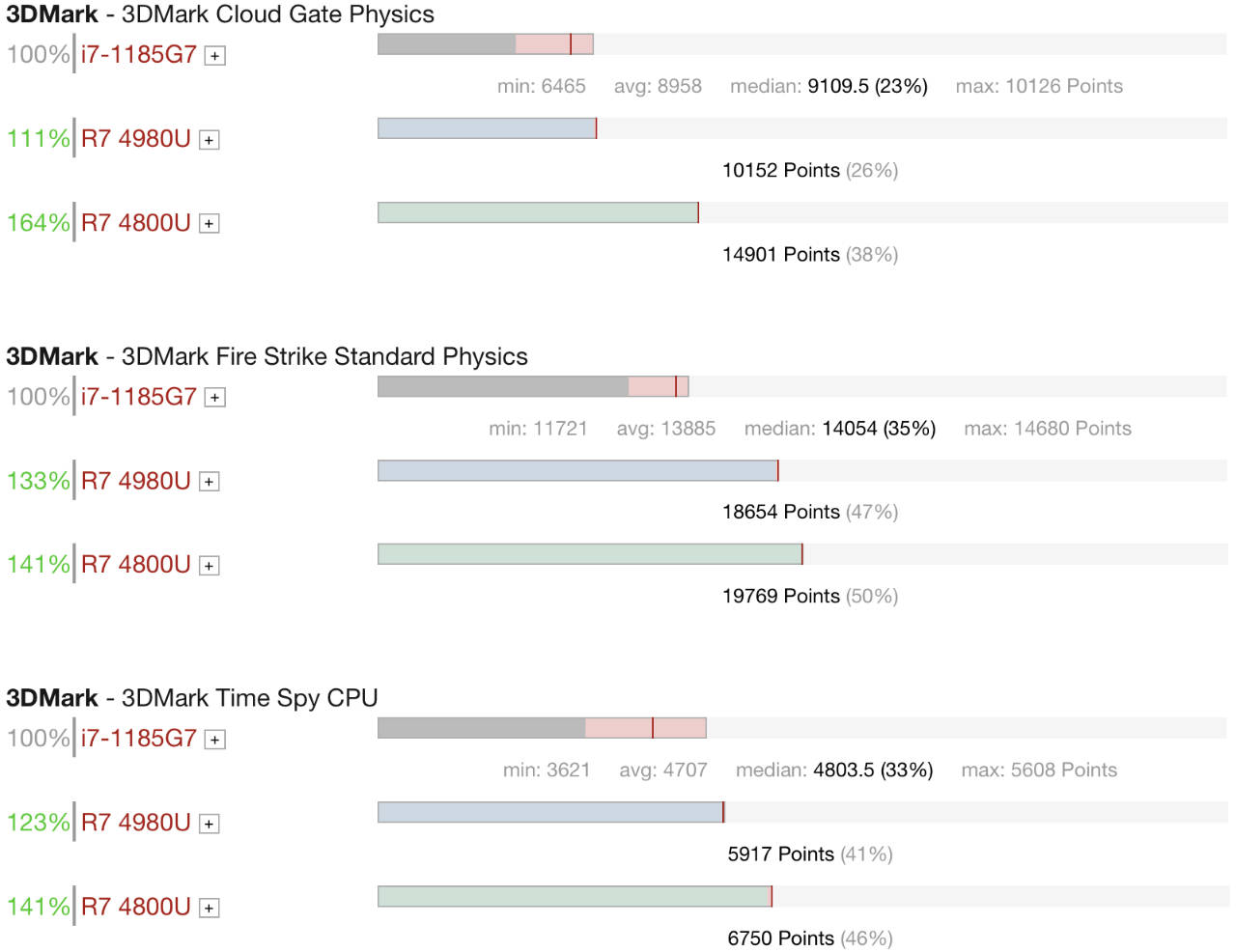 Single vs Multi-Core Benchmarks
We see a reverse in fortune for AMD when it comes to comparing single vs multi-core performance. Here, we consistently see that AMD loses out to Intel when it comes to single core performance but switches up in multi-core tests with much better results. Case in point, the simple 7-zip file compression applications. We see a 69% performance gain with AMD Ryzen 7 when running multi threads but in single thread, this drops by as much as 16% when compared to Intel Core i7.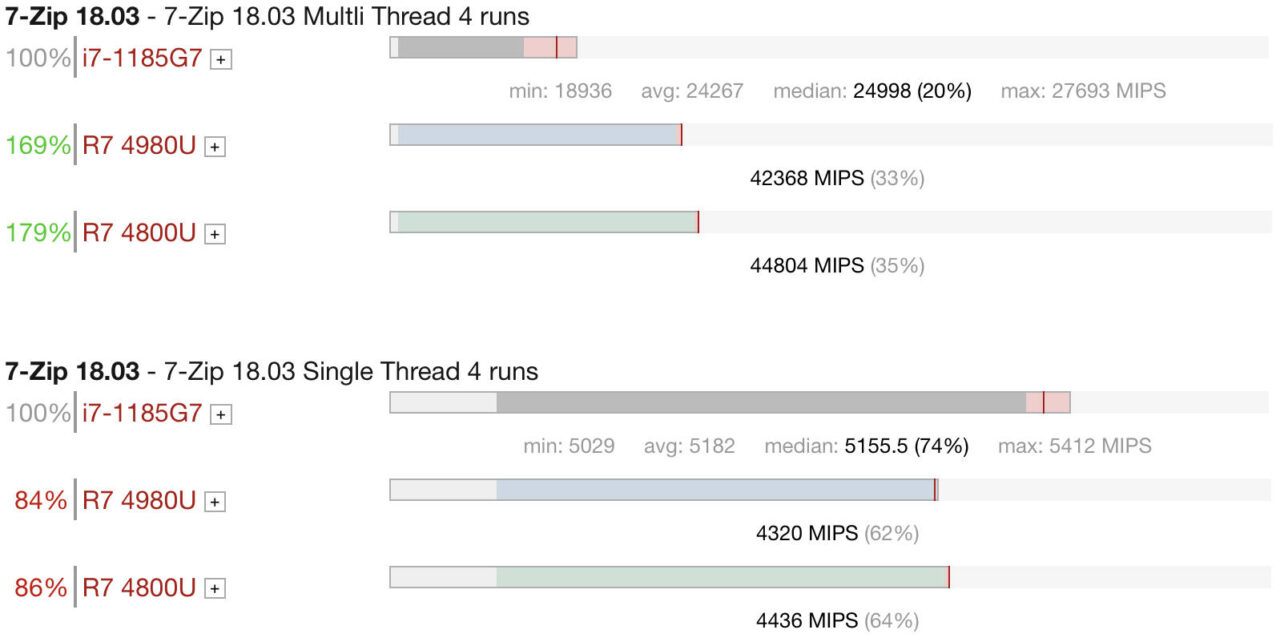 Another test that shows the difference in performance when comparing between multi and single thread operations is Cinebench, an image rendering application that uses Cinema 4D's 3D engine. Whether it be Cinebench R10, R11.5 or R15, the result is consistent, Intel Core i7-1185G7 performs better in single thread, while AMD Ryzen 7 4980U performs better in multi-thread operations, thanks to those extra cores.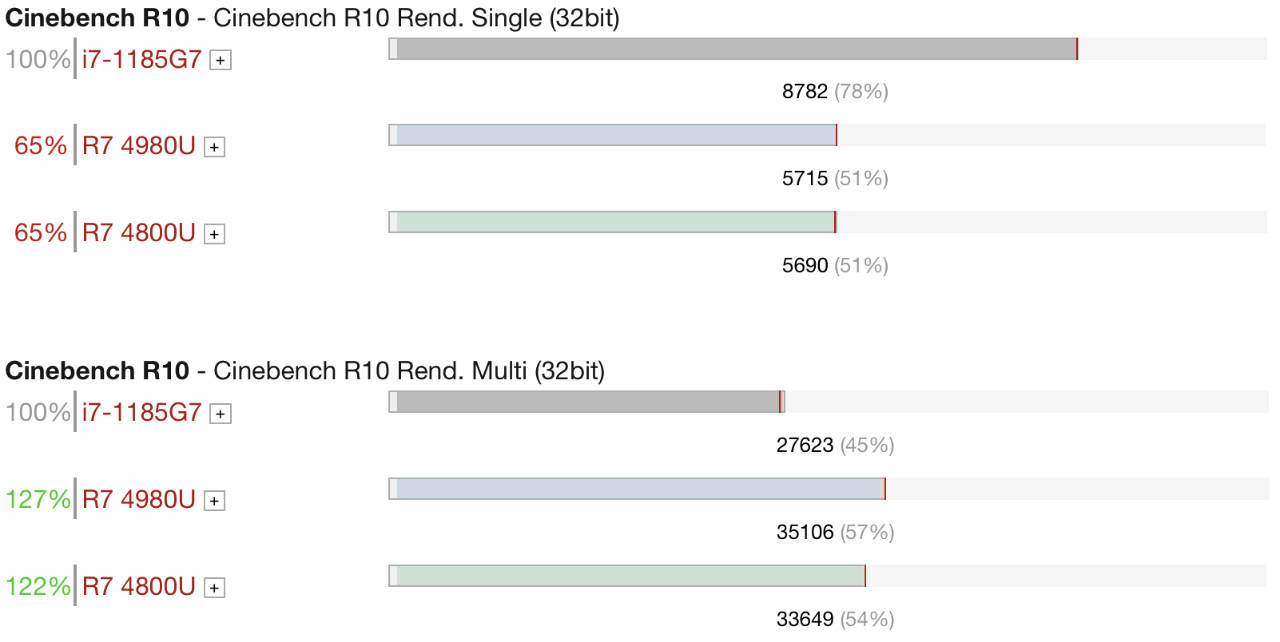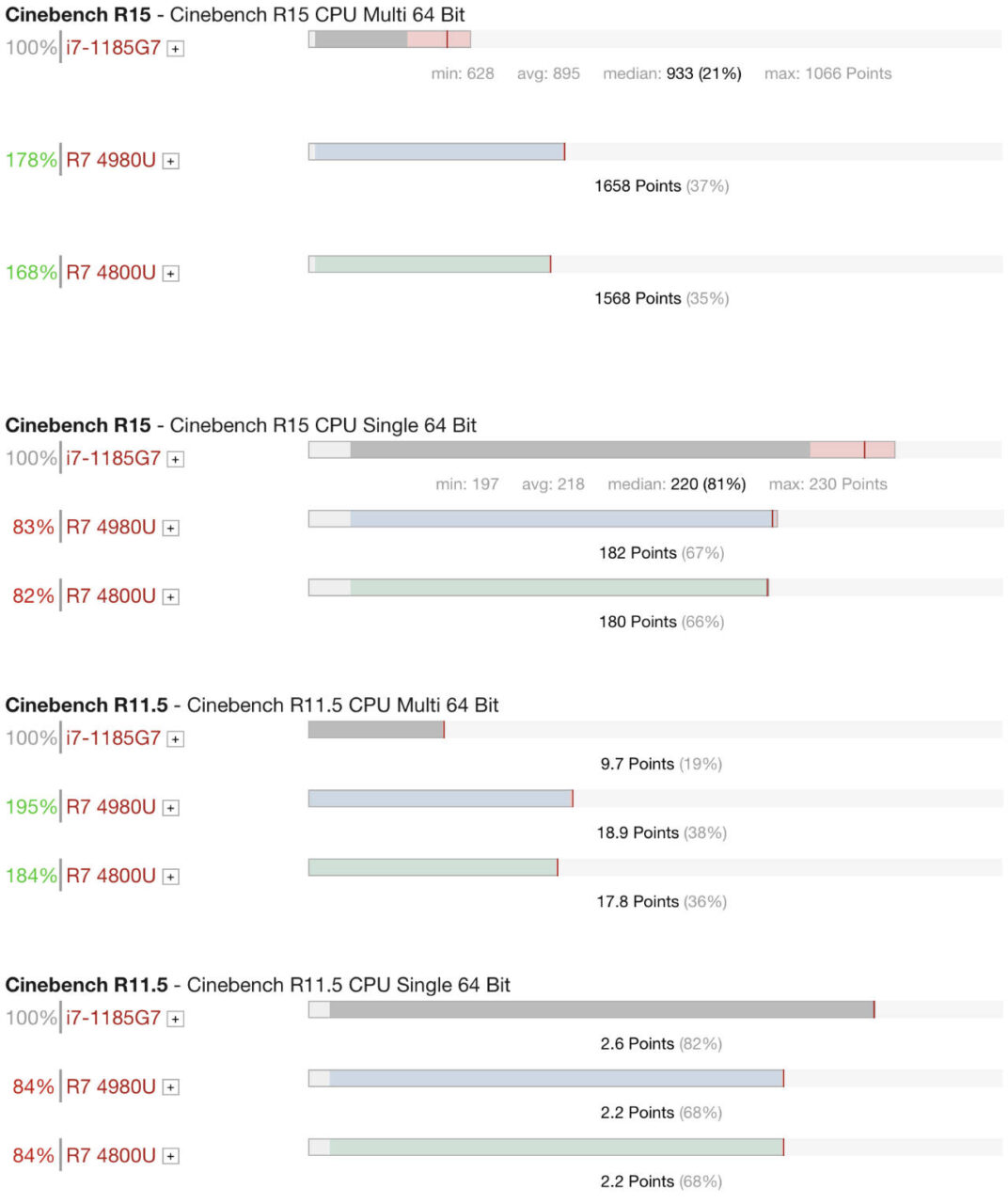 It's all well and good that we test for file compression and 3D rendering for but real world tasks, we look to Geekbench. The processor benchmark program looks at real world tasks and applications and would be a closer reflection of the processors performance in the hands of typical users.
The results are to be expected with Ryzen 7 4980U performing slower in single core tests losing to Intel Core i7-1185G7 by as much as 25% but quickly redeems itself with multi core performance with up to 29% gain.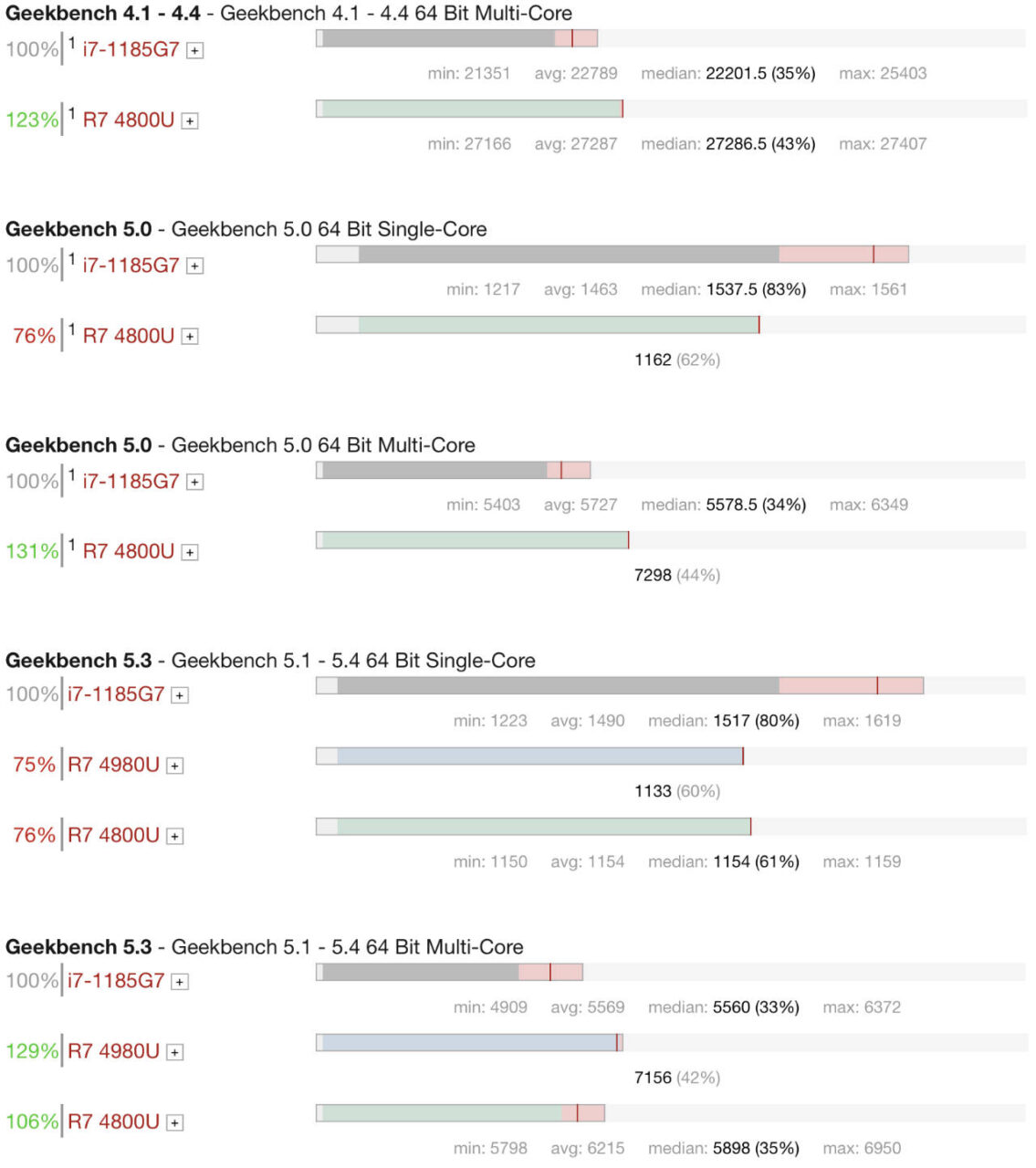 Conclusion
With everything else being the same ie. memory and storage, judging from the CPUs alone, we can safely say that the Intel Core i7-1185G7 based laptop is a master of single thread operations while the AMD Ryzen 7 4980U takes the lead on multi thread operations. Both are on par in terms of overall performance with a handful of applications. So the question then comes down to the type of workload and applications you carry out on your laptop.
Both games and desktop publish applications will use up to 4 cores and whatever threads available when you start to apply batch workload or run scripts. These may just be designed for up to 4 cores or 2 cores depending on the developer so won't really take advantage of the 8 cores on the AMD chip. But those extra cores and threads are they for newer applications when needed.
Browsers such as Chrome will again use whatever thread it can get its hands on with more tabs that you open. Processor intensive tasks in applications like Lightroom and Photoshop will also scale up to use more threads and cores depending on your actual workload. If you are a multi-tasker, likes opening multiple tabs and multiple applications running side-by-side, you are likely to want to get a system with more cores and threads with AMD. Otherwise, for mainly single thread workload, you see faster performance with Intel.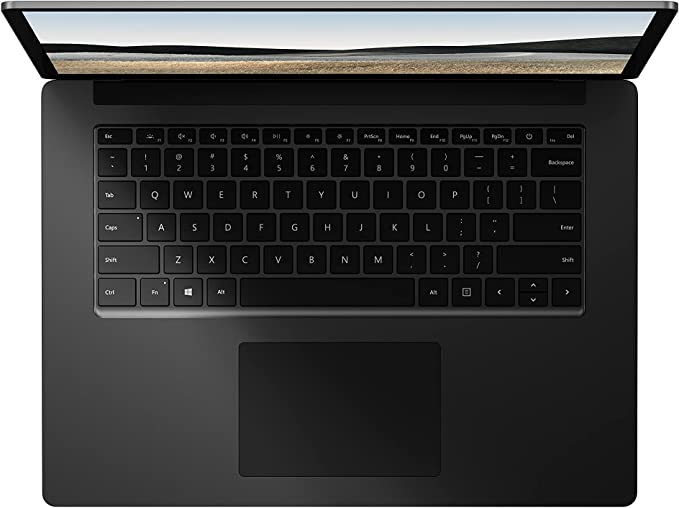 Search Microsoft Surface Laptop 4 on Amazon
Custom AMD Ryzen™ Microsoft Surface®Edition processor
11th Gen Intel® Core™ processor
A perfect balance of portability, speed and performance

Up to 8 CPU cores, delivering uniquely powerful performance in an ultra-thin and light design

Up to 70% faster than Surface Laptop 3 and in some instances twice.

Great for CPU intensive tasks

Outstanding speed with high-endurance, all-day battery life1

Great gaming on the go, powered by Radeon Graphics

Exceptional performance, connectivity and entertainment

New 11th Gen Intel® Core™ processors and Intel® Iris® Xe graphics work together to help you edit photos and videos up to 70% faster than Surface Laptop 3

Intelligent performance that adapts to you for faster responsiveness across apps

Immersive 4K entertainment for streaming and gaming