At the same time that the new generation iMac 24-inch powered by M1 chip was announced, Apple also announced the 5th generation iPad Pro 12.9 and 11-inch also powered by M1 chip. There is no place that the M1 can not go. Now, if you look at the two devices, the iMac 24 is nothing more than an oversized iPad Pro with more ports, a stand and bigger display.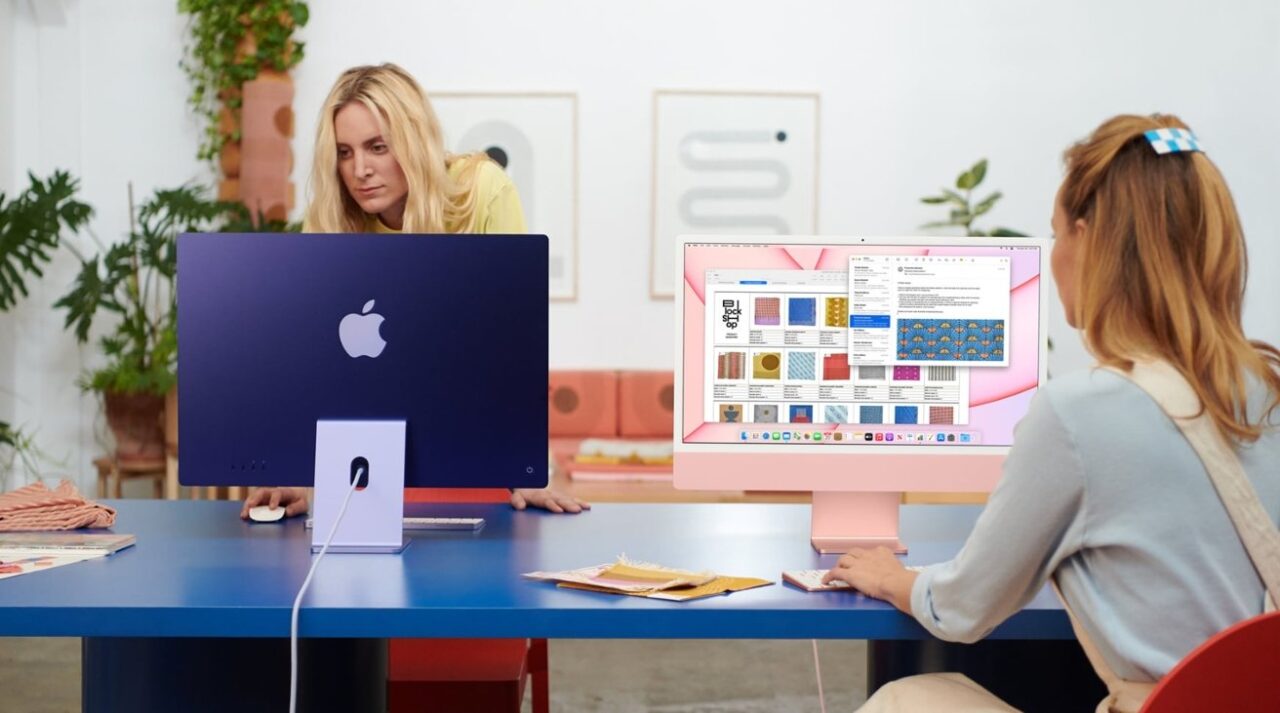 Search Apple iMac 24 on Amazon
The new iMac 24 2021 with M1 Chip: 5 reasons why we love it
We have seen the AIO computer in all its glory at the launch event in April 2021. The iMac 24 marks a new generation of iMacs from Apple. The current iMac design in its aluminium body has been round since 2007. Over the years, it was improved upon and become slimmer and lighter but nothing will prepare you for the latest M1 version. This and other improvements are what we like about the 10th generation iMac based on Apple's silicon.
1. Apple M1 Chip Everywhere
Apple is repackaging the same hardware and selling it under different names. Back when the MacBook Air and MacBook Pro still relied on Intel for its processors, they used different class processors. Energy efficient processors for MacBook Air vs performance parts for MacBook Pro. It's different with the M1 chip as it seems to find its way into every device irrespective of class (Air, Pro or mini). The latest devices receiving the M1 are the 5th Generation iPad Pros and the new iMac 24-inch.
As it stands, we now have the following devices powered by Apple's first generation silicon chip:
MacBook Air M1 – efficient ultraportable
MacBook Pro M1 – performance laptop
Mac mini M1 – most affordable MacOS desktop
iPad Pro 12.9 and 11 M1 – pro-level tablet
iMac 24 – performance desktop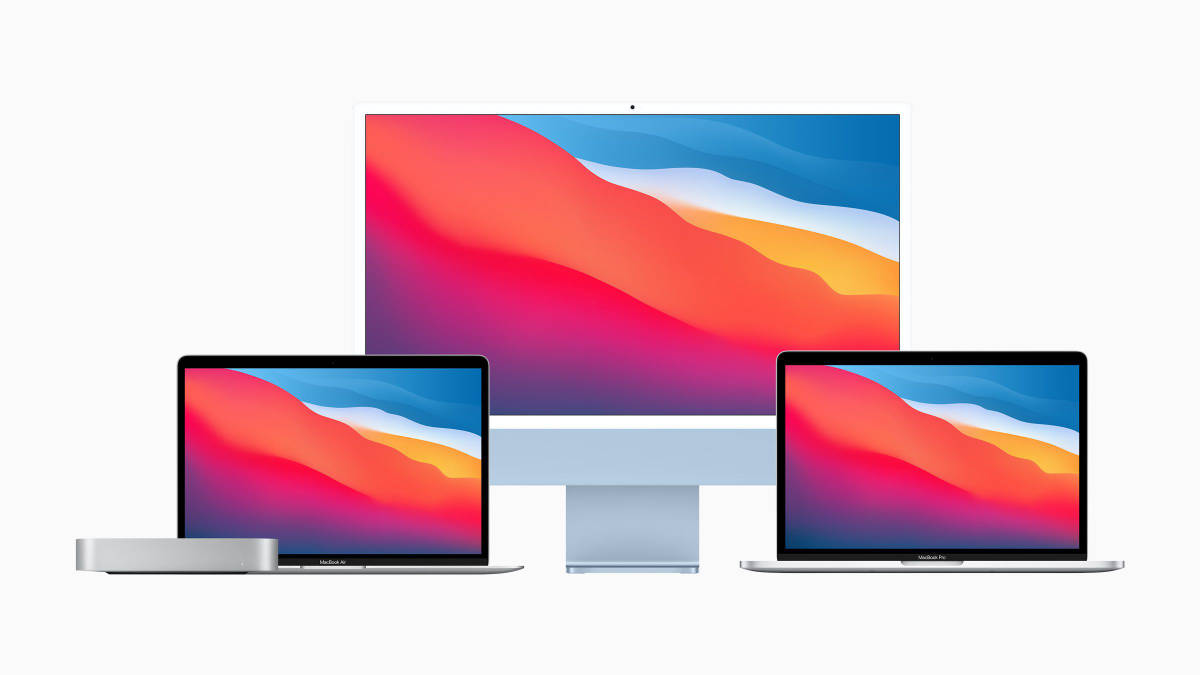 This is not a bad thing though given how much more powerful and efficient the 5nm SoC is compared to Intel processors currently in use on MacOS devices. Apple Insiders have the following results using Geekbench running tests on the systems to ascertain its single-core and multi-core performances. In both tests, M1 based MacBook Pro tops the chart outperforming all bar one, the Mac Pro 2019 in multi-core performance. See charts below:


2. Completely New iMac Design
With the new energy efficient and powerful M1 chip, Apple was able to completely revamp the design of the iMac. It also allowed the company to go super slim using their experiences designing the iPhones and iPads. So much so that the desktop looks like nothing more than a giant slate on a stand, measuring only 11.5mm thin. Easily the thinnest All-in-One desktop out there.
To make it more interesting, the iMac is available in 7 different colours and two variants, one with 7 GPU cores and the other with 8 GPU cores like the MacBook Air offerings. But Apple did not stop there. The lower 7 GPU core model also lacks two USB 3 ports and Gigabit Ethernet port and only comes with a standard Magic Keyboard without Touch ID sensor.
That base iMac with 7-core GPU is available in four colours (Blue, Green, Pink and Silver) while the higher iMac with 8-core GPU is available with three additional colour options (Yellow, Orange, Purple). This bring the total colour options to 7 reminiscent of the candy colours used on the iMac G3.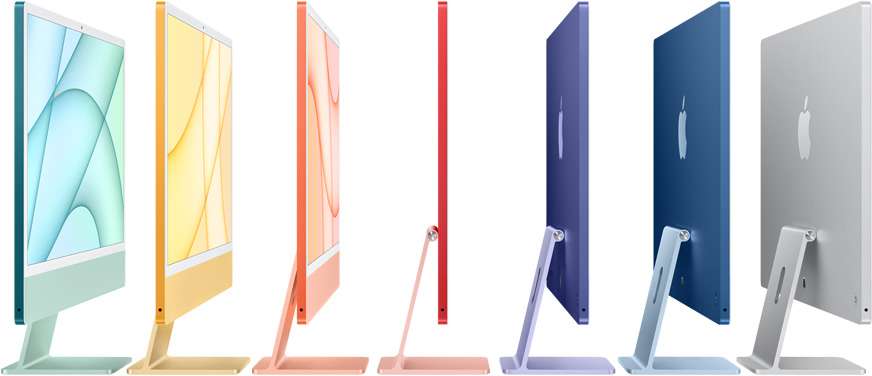 Search Apple iMac 24 on Amazon
And, like the iMac G3, these new generation iMacs are dual tone, with an accompanying lighter accent used on the logo, stand and below the display. Another feature that is shared across the range is how the display is framed by a white border irrespective of the colour you choose. This makes it almost iPad like, when you pick up a silver iPad with white surround.
3. Display
Now that we know what powers the iMac and what it looks like outside, we take a look at the next most important thing on the iMac, the display. Here you are treated to a 24-inch 4.5K Retina display. For its size, it is mighty sharp. The 27-inch iMac comes with a 5K Retina panel. At 4.5K it is not far off in terms of pixel density (218ppi) compared to the bigger iMac. The 24-inch panel with its 2280 x 2520 pixel resolution supports 1 billion colours, 500 nits brightness, Wide colour P3 and True Tone. Now before you reach for your measuring tape, it is in fact a 23.5-inch display when measured diagonally.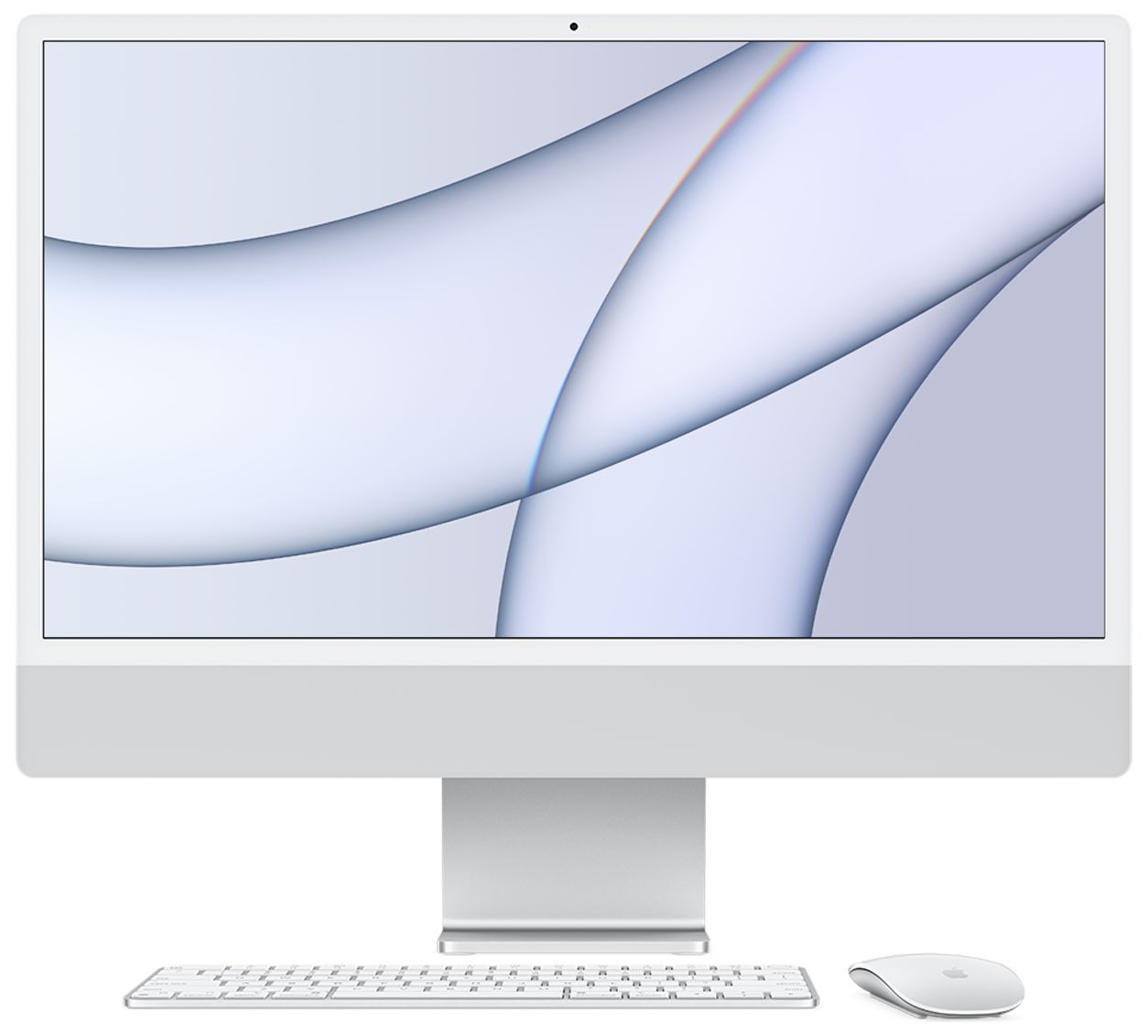 4. FaceTime Camera
The display is surrounded by a pretty small bezel, like those found on the MacBook Pro laptops. In the middle of the top bezel is a Full HD 1080p FaceTime HD camera with M1 image signal processor. This is a welcome upgrade from the 720p cameras still found on the MacBook Pro M1 and MacBook Air M1.
Accompanying the FaceTime camera are three studio quality microphone. These are noise cancelling and captures the best possible sound for when you are recording your podcast to video calls. You do not however get the advanced ultra wide camera that can perform camera tricks by zooming and panning automatically to follow the subject or zoom out if there are more than one person in the frame. That feature, Centre Stage is reserved for the iPad Pro although we wish it come with.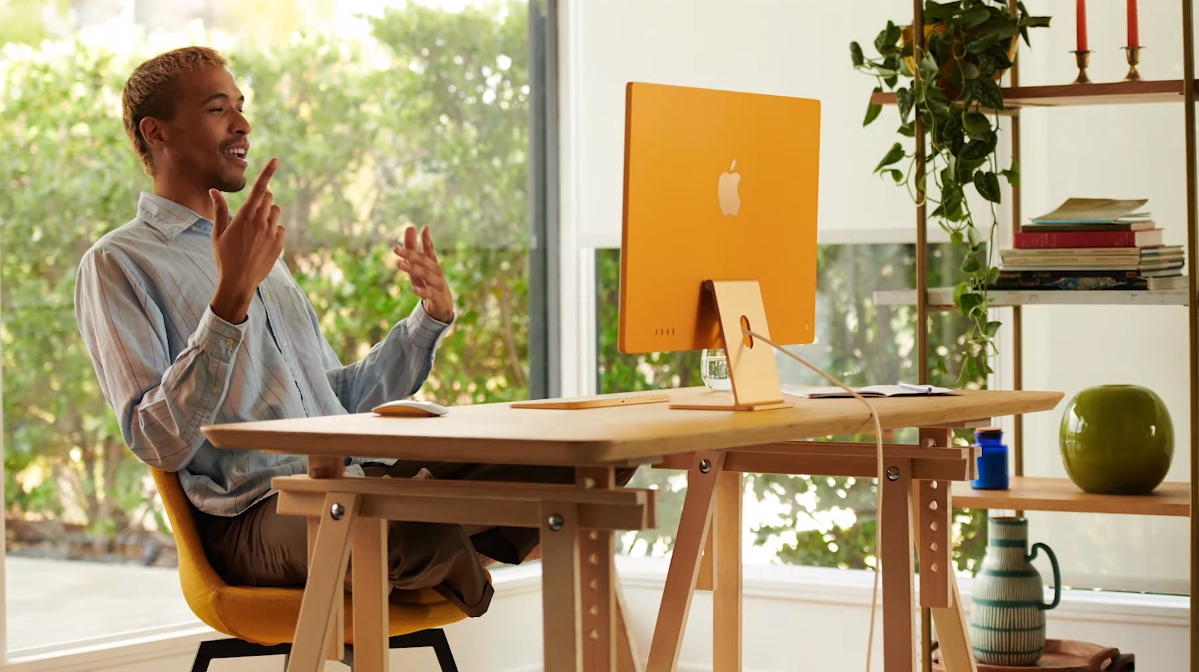 5. Fast Thunderbolt Port
Having reduced the number of ports to those you get on a MacBook Air or MacBook Pro, especially on the base model, the iMac 24 needed to redeem itself. Apple consolidated all the expansion ports down to two thunderbolt ports to start. The higher model gets an extra pair of USB 3 Type-C ports making a total of 4 expansion ports.
The two Thunderbolt 3 / USB 4 ports support the following:
DisplayPort
Thunderbolt 3 (up to 40Gb/s)
USB 4 (up to 40Gb/s)
USB 3.1 Gen 2 (up to 10Gb/s)
Thunderbolt 2, HDMI, DVI and VGA supported using adapters
This means, on top of the native built-in display, you can hook up an external monitor with up to 6K resolution at 60Hz, certain XDR display comes to mind. Use the Thunderbolt 3 port with native DisplayPort over USB-C for digital video output. If your display does not support USB-C, use a separate VGA, HDMI, DVI or Thunderbolt 2 adapter.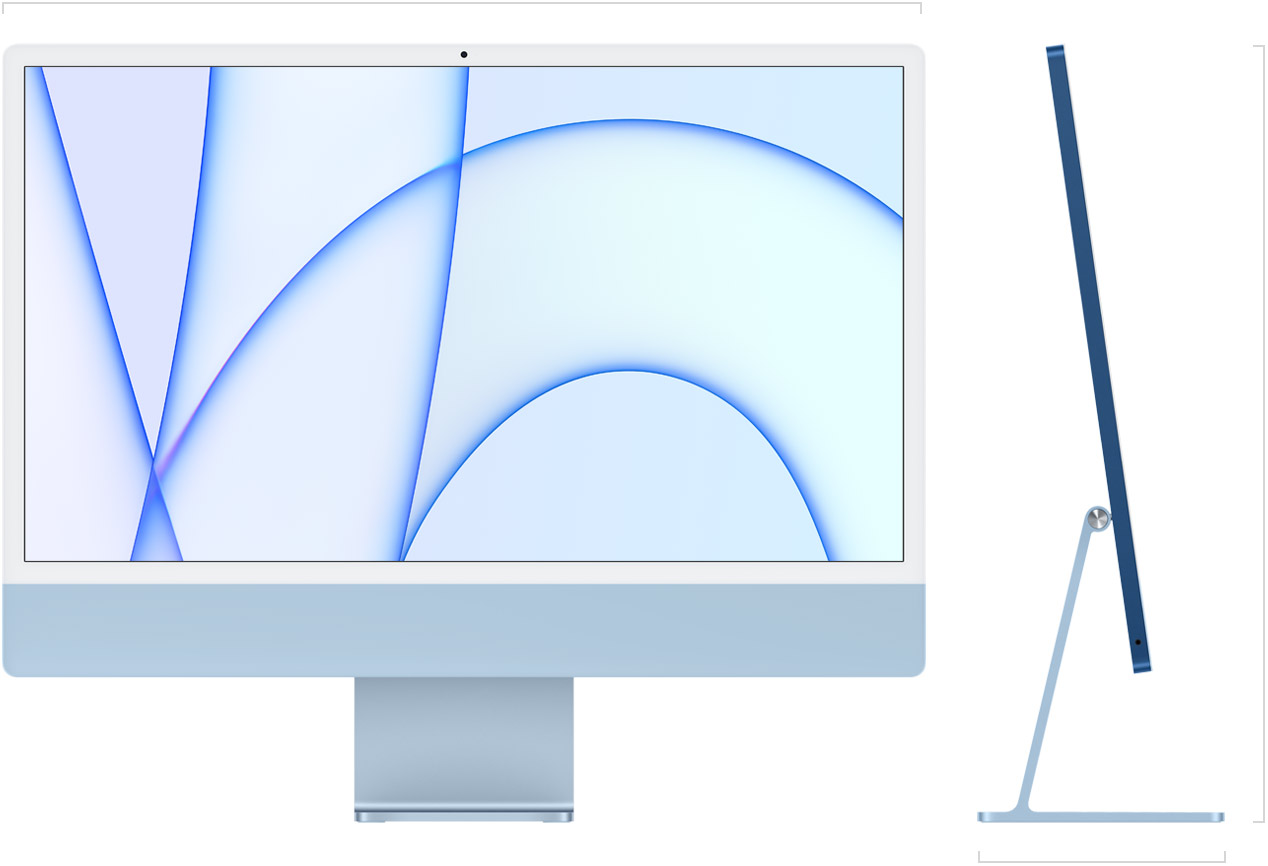 OTHERS: Easy Magnetic Power Connector, Gigabit Ethernet, Sound and For the First Time Magic Keyboard with Touch ID
Attention to detail is what Apple is good at. Even the power connector and cable are not spared. Not only does the connector attach magnetically to the back of the iMac 24 but it is colour matched. Both connector and woven cable are unique and colour co-ordinated to your chosen iMac.
The Gigabit Ethernet while not available on the base model is configurable, meaning you can specify it at the point of ordering. This is built into the power brick to keep things tidy with only one cable to the machine.
As for sound, Apple spent some time explaining the design of it during the Apple Event, giving us a glimpse into how the managed to squeeze 6 high fidelity speakers with force cancelling woofers into tiny spaces. Remember, that the chassis measures only 11.5mm thin. And, to be able to support wide stereo sound and spatial audio with Dolby Atmos is no small feat.
Then there is the new keyboard. While not part of the iMac, Apple now has a new Magic Keyboard with Touch ID. It's one of those things that current iMac users are waiting for. Moving between MacBook Pro and iMac, I can see how this would be useful. Our only question is will it work with older iMacs based on Intel processor. It has been suggested that the Touch ID Magic Keyboard will only work with M1 Macs.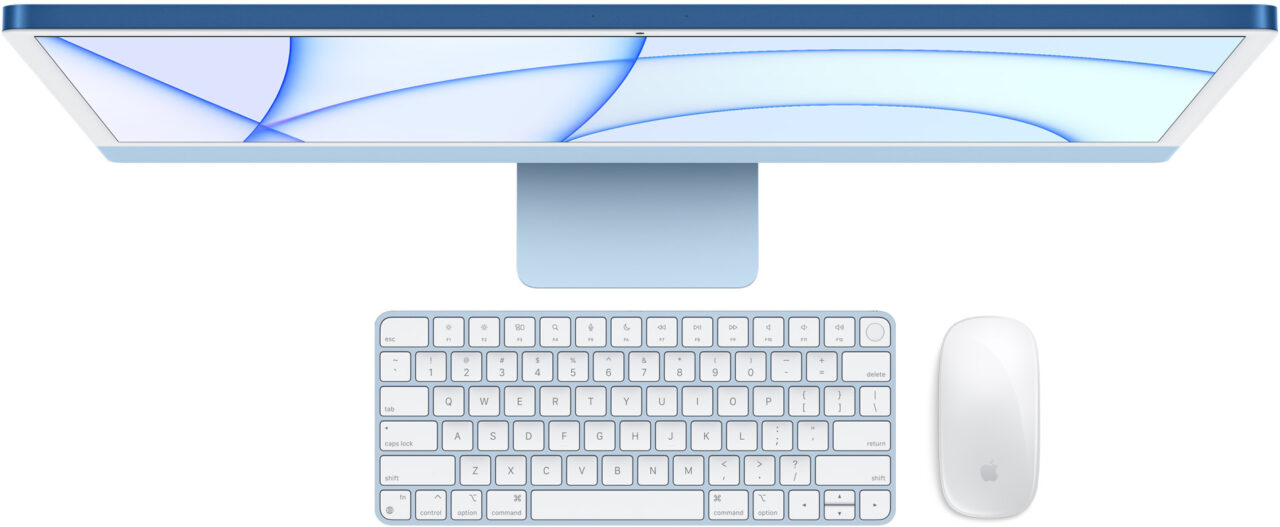 Final Thoughts
As much as we like love the new iMac 24, there are still some limitations with the system. For instance, the much loved SD card slow has been removed and why limit the number of ports on the base model. A micro SD card would sit nicely on the side edges, near the audio combo socket or on the opposite edge. Also, a couple of USB 3 Type-A ports will go a long way with users and their existing cables and peripherals. Using adapter cables and hubs would just reduce the elegance of the entire setup.
As for the Gigabit Ethernet port, I have to admit that none of the iMacs that I have used so far were even wired up, leaving the network port to collect dust. I suspect the same for most users. In the age of wireless, there is no real need for the Ethernet port and most people won't miss it. The iMac 24 supports dual band WiFi (IEEE 802.11a/b/g/n/ac) and WiFi 6 (IEEE 802.11ax) for cable like speed.
Nope, you can't run iPadOS on iMac
We were quick to suggest that the iMac 24-inch is a giant tablet with a stand but the reality it is still an iMac desktop. No touchscreen or Apple Pencil support. It won't operate like an iPad, not even if someone decides to hack it and load iPadOS to replace the MacOS it is designed for.
While you can run iOS apps on the new iMac powered by M1, you cannot officially replace the MacOS operating system on the iMac 24-inch with iPadOS even though both shares the same hardware M1 chip (8-core CPU, 7 or 8-core GPU) with unified 8GB or 16GB RAM memory.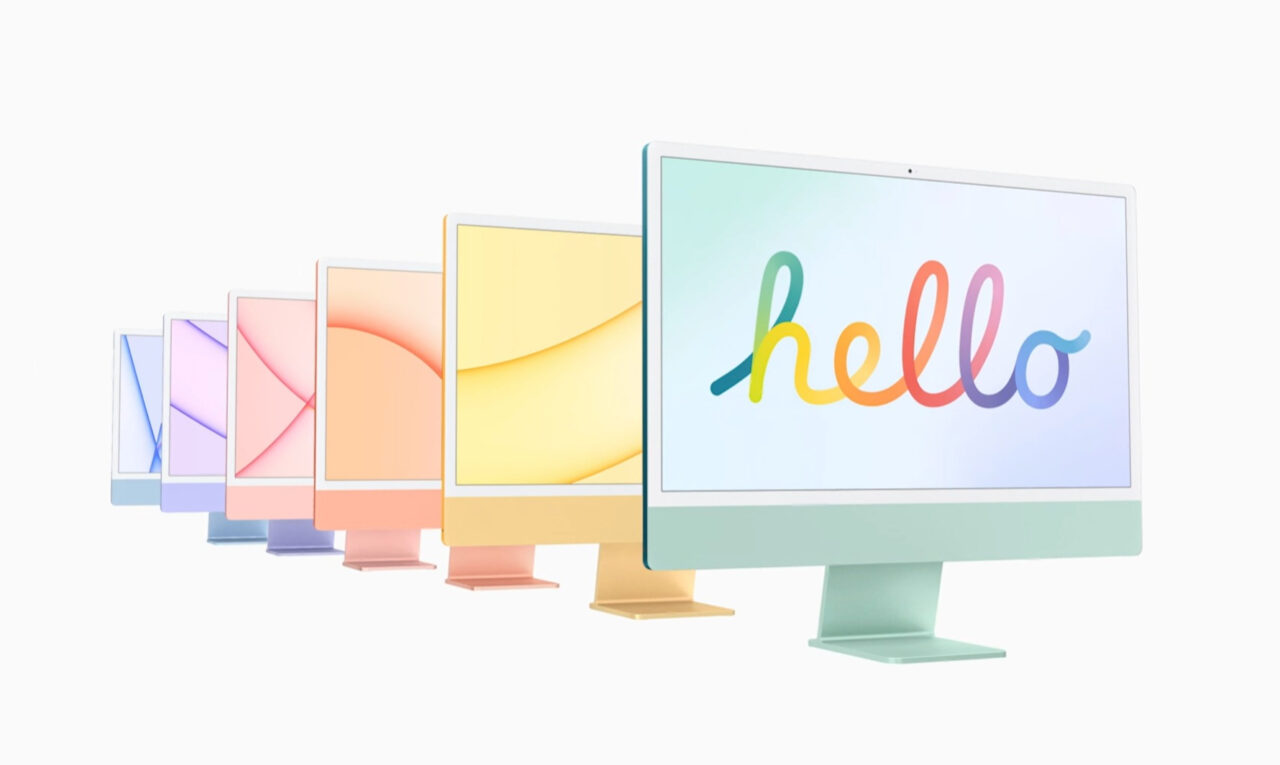 Search Apple iMac 24 on Amazon
What's Next: M2 Chip
With all the devices announced so far being placed at the bottom of the product range, case in point, MacBook Pro 13 M1 models are being sold alongside the higher Intel Core i5 models while MacBook Pro 16 models are still powered by Intel Core i7 and Core i9, it is likely that when the M2 chip is announced it will start to replace these higher Intel Core models instead of replacing M1 outright. This is to say that systems with M1 chip will be around for a while given the leap in performance and efficiency.
The new iMac 24-inch based on M1 may have replaced the old iMac 25-inch completely but the iMac 27-inch models powered by Core i5 and Core i7 are still around. Again, it is likely that any new iMac powered by M2 chip will either sit between or replace these Intel based models moving Apple to complete its two years transition to Apple's own silicone.