When the going gets tough, the tough get going. The famous expression has probably never seen tougher times than the current situation where the world is staring at global mayhem. The pandemic ushered in by coronavirus has turned world economies on their heads. Millions have lost their jobs and are forced to stay indoors. Only a fraction of the world businesses has been able to continue business as usual. Likewise, only a few professions have been able to continue their work with an enforced change of work from home.
The Noble Profession: From Home?
Teaching is one such profession that has been badly affected by this ongoing pandemic. Many are still trying to smoothly transition from classroom-based teaching to online education. There have been reports of students skipping classes and not being as attentive in online classes. Teachers have expressed doubts as to whether the students are grasping the knowledge being imparted to them online. Both teachers and students are not wholly prepared for this new form of teaching and learning.
There is a need for online teaching strategies through which its effectiveness can be ensured. For teachers to be teaching over the Internet and students to be learning as effectively as possible, new approach has to be taken. Here, we will break down what you need to ensure that the lessons you are delivering to the students are being taught effectively.
Prepare yourself for the new normal. Online teaching is as essential as ever.
Click To Tweet
1. The new normal
Online teaching is the order of the day. Here is how to prepare yourself for the tasks ahead.
A. Self Help
For any initiative to be fruitful, the persons participating in it especially the teachers, need to be the prepared to deal with the complications arising from its implementation. Teaching online goes beyond a normal video call where you simply just speak to the person or a group of people on the other side. Here, you must be ready to create an atmosphere conducive for learning and where you yourself is comfortable and confident in delivering the lessons.
So, Learn as much as you can about the technology and chosen platform you are using to deliver your lessons. Trial it with other teachers as practice. Get accustomed to the settings and controls available to control your online lessons be it to set breakout rooms or to turn off the microphones of your participants. There are online tutorials to get your started so spend some time reviewing this.
B. Plan Your Classes
You need to understand that when students are at their homes, they would face distractions. They would have other devices such as their smartphones, tablets and sometimes the TVs in front of them. Then there is also the issue of the parents, given that they too have to work from home and other siblings at home. Parents and siblings may not be aware of the lesson times and would to expect the students' their attention in the middle of their online lessons. Being called away or asked to play are common.
Hence, plan your classes at hours you know the students would be free from distractions. Convey the times to their parents so they are prepared for it too. Speak to them verbally if needed or on a call beforehand. Ensure you convey your expectations to them in terms of their behaviour before you start. The aim should be to ease the students into your class and create a healthy learning atmosphere while maintaining a certain degree of discipline, not to be easily distracted.
With proper planning and preparations, effective online lesson delivery is within everyones grasp.
Click To Tweet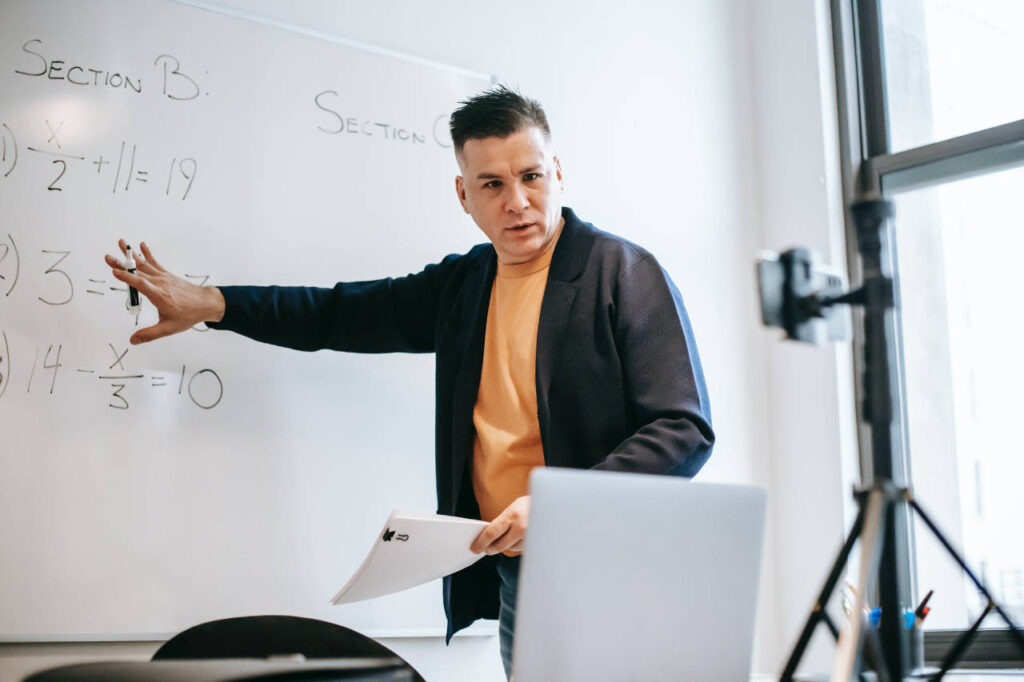 2. What you need to deliver the lessons
With proper planning and preparation. effective lesson delivery is now at your fingertips. Next consider the following to ensure that your lesson goes smoothly according to plan.
A. Working Environment
Yes, you will be working remotely. You won't have that ideal teaching and learning environment as when you are physically in school or college, where students would come with a set mentality that it is an educational institution. So, set up your own workplace. It would be your job to make sure that your work environment gives the student the feeling of knowledge being imparted.
There should be adequate light in the room so that you are visible to the students. Arrange a whiteboard and some markers if needed. Move things around if you have to. Create a theme where the students would feel like they are in to get educated. Get household help if needed during the duration when you are conduct classes so that you can concentrate on delivering lessons.
Television, loud music, household chores should be a strict no-no and other family members must learn to respect your time and make sure that they don't bother you unless it is an emergency arises.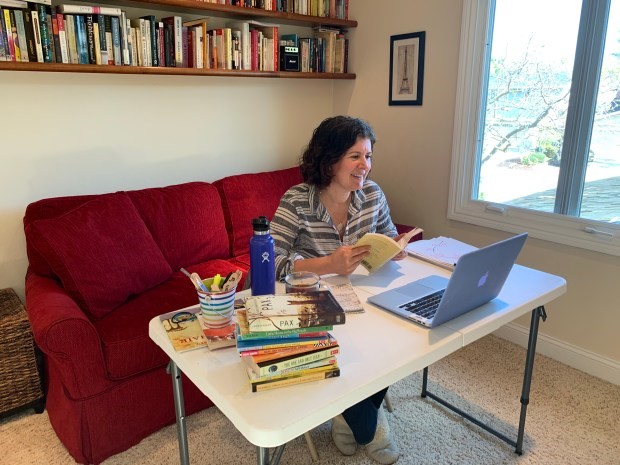 B. An IT Guru
You won't have an IT guy standing by for the entire 6-8 hours you conduct the classes. The camera could tilt, the microphone could stop working or maybe the speaker would go off in between your classes. Hence make sure you develop some technical finesse. You need a dedicated laptop or desktop with a camera, a microphone and speakers. You should have a basic knowledge of how they work and they are connected.
Next, you would need the software or platform through which the students would connect with you. Your school may already subscribe to software packages or services from Microsoft, Google, Webex, Zoom or others. Conferencing applications like Google Meet, Microsoft Teams and Skype are commonly used to deliver lessons. Install and familiarise yourself with the way the tools work.
Students can raise their hand virtually, talk back, as a question and share their responses verbally as well as through chat. You need to know where to find these. Its cross-platform integration will enable students to join the classes over their Android or iOS devices even if you are on a Windows device. There may be subtle differences across these different platforms so be patience.
While on the subject of software, another application best suited for online teaching is Big Blue Button. It enables a large number of people to connect and have discussions. It also supports a 'breakaway groups' feature which you can use to have one-on-one discussions with students who need further explaining on relevant matters.
In essence, know the application you intent to use to deliver your lessons inside out.
With a host of tools and platforms within your reach, delivering lessons over the Internet is has never been easier.
Click To Tweet
3. Successful delivering of the lessons
With a host of tools and platforms within reach, delivering lessons over the Internet, it is now time to take to implement it.
A. Delivering Lessons
Now that you have your set up. Let's start delivering the lessons. What should be your approach? How would you ensure student engagement? Do you want them to take notes as you deliver the lessons? These are some of the questions you ask yourself before starting. Set your aims and rules up front and follow through on them when delivering the lessons. For effective lesson delivery, use the following steps.
B. Keep It Simple
Experts who have been a part of online and distance educational institutes for decades have always said that simplicity is the key. You need to deliver your lectures in the easiest to understand, lucid language. Add to it the fact that the students are not in the same room where they could promptly ask about their doubts and seek clarification. So be sure to project your voice, get to the point and deliver your message in the clearest possible way including the use of hand and body movement for emphasis and to draw their attention. You can then have a question and answer session at the end to mop up.
Learning management systems are here to assist you beyond live online lessons. A way to keep students engaged on and off the virtual classrooms.
Click To Tweet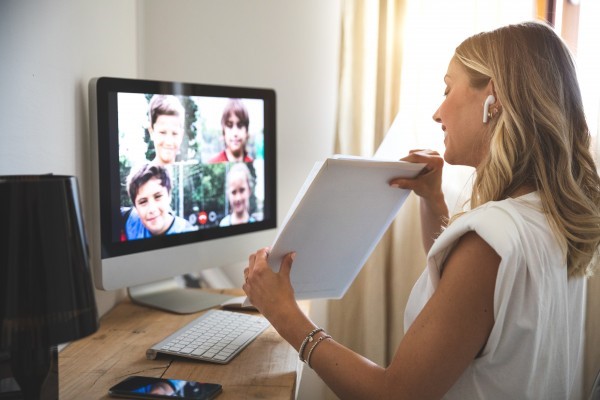 4. Helping Students Understand
Beyond the live online lesson, there is further work to be done.
A. Online Learning Environment
Teaching does not stop when you sign-off or leave the online class room. It continues through the learning environment where a large part of student-teacher engagement takes place. Learning Management System (LMS) or Virtual Learning Environment (VLE) are here to assist you to deliver lessons over the Internet right from your home.
Use this to your advantage to ensure the successful delivery of the lesson. Your school or college may already have an online learning environment. If not start one yourself. There are many free options out there like Google Classroom, Kiddom, Edmodo and Otus LMS. You can also use tools like DropBox, GoogleDoc or Collabora for document sharing and work submission. Example of commercial and open source online learning environment includes Blackboard, Moodle, Canvas and Edmodo.
B. Interesting course structure
The idea of physical classrooms comes with a compulsion that students must be physically present. The students would have no issues dealing with 500-page textbooks. However, in the online learning environment, the course materials are largely digital in the form of ebooks and presentations. Hence, the course structure should be such that, when delivered, it needs to pique the interest amongst the students to go through them. Let's not discount the fact that some students can still get their hands on textbooks for reference should they wish.
C. Mixed delivery methods
Beyond ebooks and presentation slides, there are other formats where information can be disseminated and easily accessible. Usually, short videos of 15-20 minutes to convey the lesson works best. A big chapter can be broken down into multiple short videos and delivered over the Internet. Proof in point, Khan Academy. You can also choose to show third party copyright-free content or news to augment your lesson.
At times, slideshows are the best approach for teaching and learning. These can be used to present key ideas and facts in bullet points, which would make it easier for the students to understand. They can also be used to outline a lesson or as revision cards.
Some students would find the audio mediums more interesting and useful than conventional lectures. You can separate the audio tracks from your lesson recording and offer these to them on top of the video lessons. With the right tool, this can be achieved quickly and easily. Remember that all this information can be organised and shared via the online learning environment.
Armed with today's technology, there is no excuse for not being able to engage and teach students over the web in an effective manner.
Click To Tweet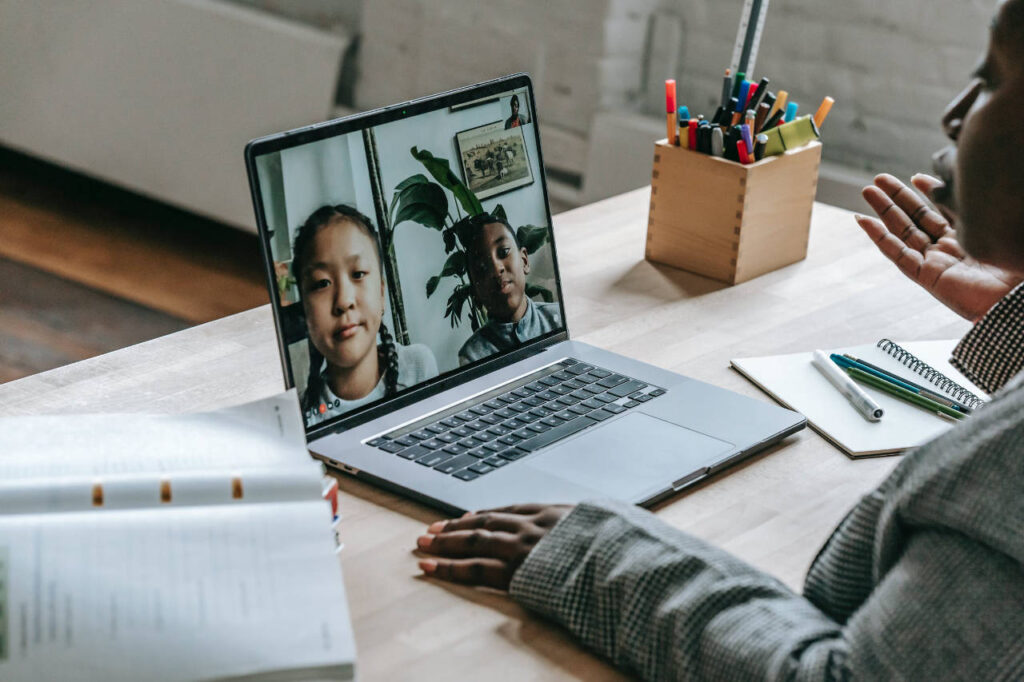 5. Initiate and Encourage Discussions
A large part of effective lesson delivery essentially depends on teacher-initiated discussions where students are encouraged to participate.
A. Open communication
Without discussions, online classrooms would be a 'one way' street. There has to be steady communication between you and the students. You must ask questions on the lessons taught, which would lead to further discussions. There would always be some students who would prefer to remain silent. Hence it is imperative for you to constantly look out for the participation of every student in the virtual classroom.
B. Quizzes and feedback
You can assign reading materials or share links and ask the students to go through them before the lesson to prepare for short quizzes during the lesson. You can also assign further reading and/or more quizzes after the lesson for them to attempt, to gain feedback. Google Forms is a handy tool through which a short quiz can be easily created within a very short time and distributed amongst a large number of people. The responses can be collected within minutes and checked which will enable you to gauge the progress and understanding of the students.
Delivering online lessons effectively can be a challenge. Start here to kick-start your journey and master the art of online teaching.
Click To Tweet
Final Thoughts
Online teaching, distance learning has been around for a long time but it has never been as mainstreamed as it has been now. You need all the knowledge and help you can get to prepare and deliver lessons online. A big issue in online education is student engagement. Your approach should be to keep things simple yet engaging. Set your own teaching targets, pick the online teaching tools that suit your style, plan engaging activities to vary the lessons and curate a handful of interesting and exciting resources in various formats to augment your lessons.