Not something you need to worry about when you get the MacBook Air M1 or MacBook Pro M1 since both laptops come with integrated FaceTime webcam albeit 720p HD. The Mac Mini M1 however needs an external webcam solution. At the time of writing, there is only one webcam offered by Apple on their website, the Logitech 4K Pro Magnetic Webcam for Pro Display XDR. Will this work, are there other webcams for the M1 and what alternate solutions are there?
UPDATED: Apr 2023
Webcam Support on Mac mini
Developers and hardware manufacturers are playing catch up with both MacOS Big Sur and Apple's new platform for MacOS, the Apple's M1 SoC. We struggled to find the best webcam that offers native support on the Mac Mini M1. One that works in PhotoBooth, FaceTime and Safari. While there are many webcams out there and many forums discussing the compatibilities of these, there is yet to be a one size fits all solution to date. Some will work with certain apps like Zoom and Skype while other won't. Logitech is aware of a compatibility issue with Chrome browser, so Google Hangouts and Meet is out of the question.
What about the Logitech 4K Pro Magnetic Webcam on Apple's Online Store
We were desperate for a webcam that is compatible with the Mac Mini M1 and after thralling all the forums online; we settled for the Logitech 4K Pro from Apple's own online store. First, because it is a variation of the Logitech Brio 4K Pro and we have found a few users in the forums confirming that this will work. Secondly, because it is being sold by Apple. To us it is like an indirect endorsement and we feel it will have a higher chance of it working even though it was sold as a solution for Pro Display XDR.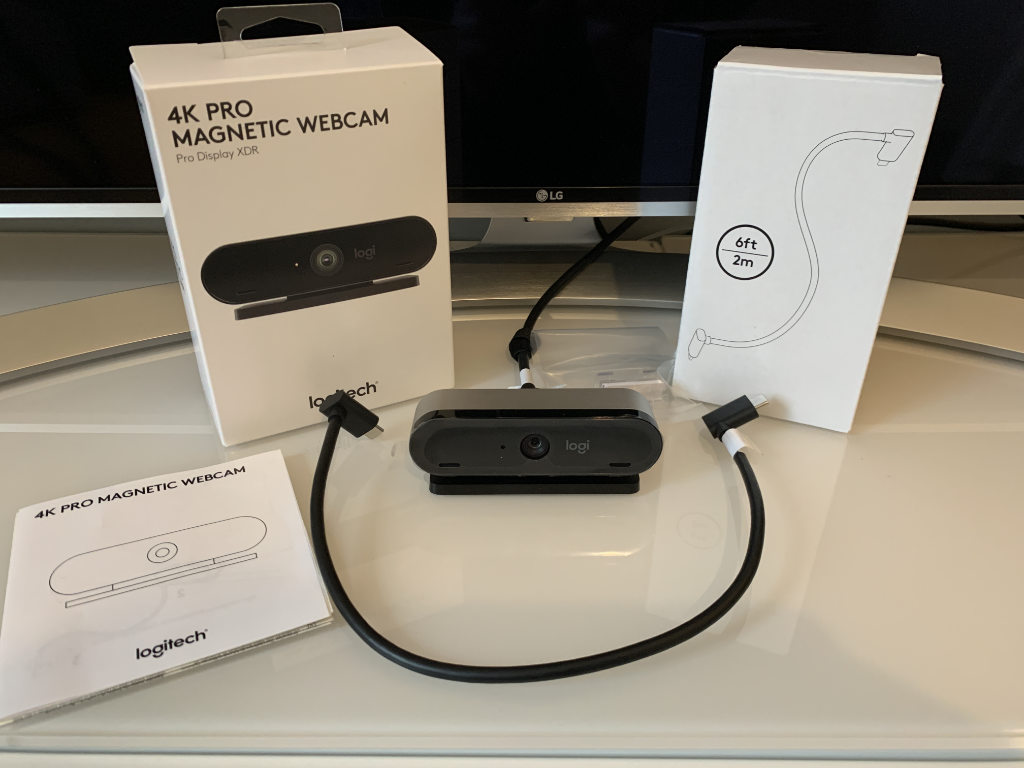 Does it work? Yes, we can confirm that the Logitech 4K Pro Magnetic Webcam for Pro Display XDR works on the Mac mini M1 with Big Sur and Logitech's driver called Camera Settings. You can download the latest version here (with support for MacOS 11.0 Big Sur). Included with the camera is a short USB-C to USB-C cable to connect the webcam to the Pro Display XDR and a 6-foot long cable to connect the camera directly to the Mac, a bit more on this later.
More about the camera
Even though it is designed specifically for Apple's Pro Display XDR with its magnetic mount, the webcam unit is identical to Logitech Brio Ultra HD 4K webcam with RightLight 3 and HDR, both carrying the same Manufacturer's number M/N: V-U0040 (see screenshots below). The 4K Pro Magnetic Webcam has the same features; 4K Ultra HD video capture, advanced HDR for crisp and vivid colour and RightLight 3 to automatically adjust the video settings to compensate for direct sunlight or poor lighting.
Technical Specifications
Multiple resolutions
4K/30fps (up to 4096 x 2160 pixels)
1080p/30 or 60 fps (up to 1920 x 1080 pixels)
720p/30, 60, or 90 fps (up to 1280 x 720 pixels)
Built-in mic: stereo, dual omni-directional
Diagonal field of view (dFoV): 90°/78°/65°
USB connectivity: Single USB-C port plug-and-play
Attachment: Detachable magnetic mount with adjustable angle clip
Imaging: Rightlight™ 3 with HDR for clear image in various lighting environments ranging from low light to direct sunlight. Image controls with optional Camera Settings application for control of pan, tilt, and zoom.
So how do we make it work for Mac mini (physically)
The webcam is supplied with two cables, a short cable (approx 36cm) and an extra long cable (6ft or 2m). Both cables have a straight connector on one end labelled computer and an 90 degree angled connector (L-shaped) at the other end. This would work with the Pro Display XDR but for our purpose, as we couldn't mount it to our big screen TV magnetically. Unlike the Brio, it does not come with a universal mounting clip that fits over laptops, LCD or monitors. We wanted our camera flat on the top of the media cabinet in front of the TV. So, the best connector to go into the back of the camera when it sits on a flat surface would be the straight connector.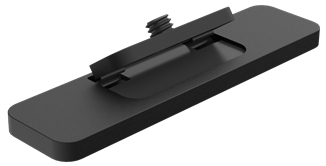 Using an optional tripod stand
If you would rather the camera be mounted on a stand or tripod, you can remove the magnetic mount using a flathead screwdriver. Adjust the camera using the adjustable hinge on the magnetic base and unscrew the camera. You can then attach the camera to your tripod with the right screw mount.
Mounting the camera and setting the camera angle to point up or down
If you would rather mount this to the top of your big screen TV or monitor, you will need to fashion a seat for it. A small metal bracket with enough surface contact for the magnetic mount should do nicely. We are thinking a U shaped aluminium channel that will go over the top bezel of your TV or monitor. Make sure that the U shaped aluminium channel is secured to the TV or monitor and offers sufficient magnetic contact for the mount.
It is not immediately obvious, but the webcam can be tilted up or down. By default, you can adjust the angle to point up, between 0-90° up. To point downward, twist the camera unit on the screw mount 180° then adjust it to the preferred downward angle. You may have to reposition the mount at this point for this to work or it will point in the opposite direction.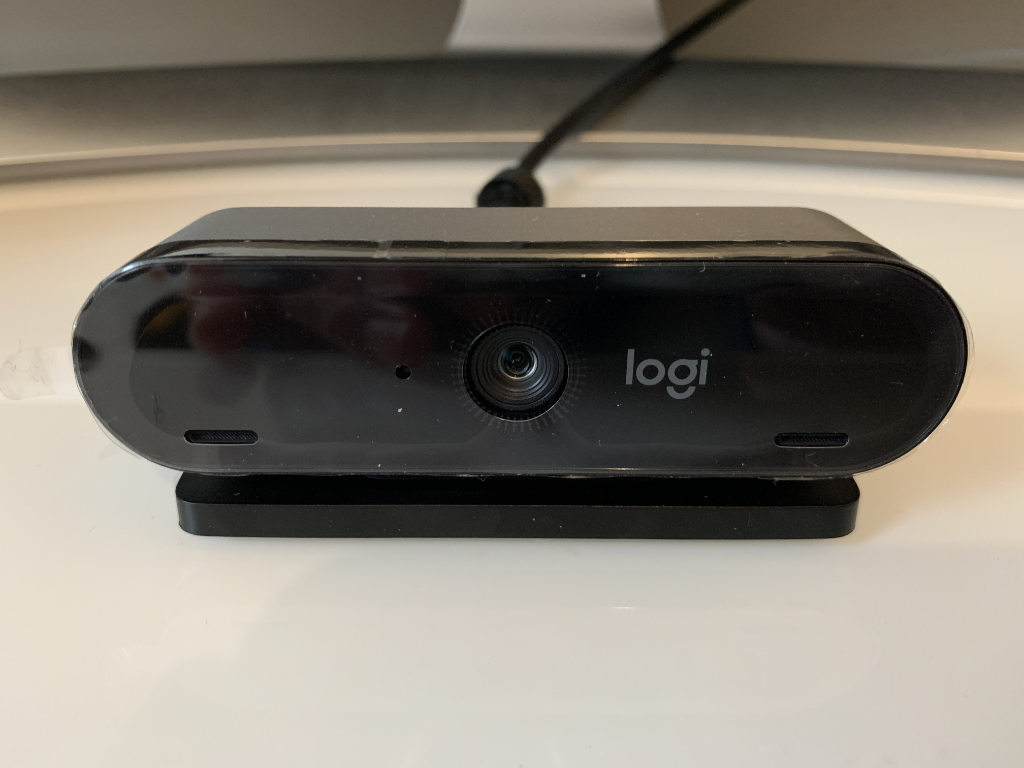 Issues you may encounter
We had some trouble connecting the cable to the back of the Mac mini. It appears inserted with plenty of resistance when you try to push the connector in. And, because it wasn't seated right, the Mac mini and Camera Settings software would not pick-up the camera. You have to be quite firm when inserting the USB-C connector into the USB-C port on the Mac mini. Only when you hear a click that the cable is connected properly. So make sure you give the connector a right push.
The camera is pretty much plug-and-play. Once connected, fire up FaceTime and you are up and running. You can also try PhotoBooth and apps running on Safari that require a camera feed. This will work like a webcam that comes onboard the MacBook Air or MacBook Pro. Remember to head over the Logitech to download the latest copy of the Camera Settings software for more configurable options. We have tested the camera and can confirm that it also works for Skype and Zoom too.
The other issue we faced was nothing to do with the camera. With our Mac mini M1 connected to the big screen TV via HDMI, we were not able to pick up the sound from our FaceTime calls. Even though music and video work playback and streaming works just fine, just not FaceTime. Only when we change the sound output settings to use the Mac mini's onboard speaker that we can hear the person at the other end. Some posters in the online forums are experiencing the same issue. We put this down to the way Apple configured FaceTime.
The funny thing is, this does to affect the way Skype or Zoom works. During our calls and group chats, we can hear the sound from on our big screen. No hassle of switching over and suffering the sound from the tinny speaker in the Mac mini.
Online meeting and video chat apps that works with the camera on Mac Mini M1
Below is a summary of the apps that we tested on Mac mini M1. Our Mac mini M1 is connected to the big screen TV via HDMI. Sound output is set to the TV by default. In cases where the sound is not sent to the TV, we switch over to the Mac mini speaker and this worked. We tested FaceTime, Microsoft Teams, Google Meet, Skype, WeChat and Zoom using the downloaded app, via Safari or via Chrome.
| | | |
| --- | --- | --- |
| Application | Video | Audio |
| FaceTime | Yes | Mac mini Speaker |
| Google Meet on Safari | Yes | Mac mini Speaker |
| Google Meet on Chrome | Yes | Yes |
| Microsoft Teams on Chrome | Yes | Yes |
| Skype App | Yes | Yes |
| WeChat App | Yes | Mac mini Speaker |
| Zoom App | Yes | Yes |
| Zoom on Safari | Yes | Yes |
| Zoom on Chrome | Yes | Mac mini Speaker |
Dealing with Mac mini Speaker only Sound
The conclusion we can draw from this is, if you would rather not have to switch between sound output to the TV or Mac mini speaker, get a headphone 3.5mm to RCA adapter cable and pipe your output to the AV receiver or powered speakers. This will ensure that you get consistent sound output from the Mac mini regardless of the application. The only thing you will miss is 5.1 point surround sound when streaming. For that, switch over to HDMI or TV sound again to get all the channels.
Webcams that Work with Mac mini M1
So far, we tested the Logitech 4K Pro Magnetic Webcam and indirectly Brio Ultra HD Pro (Business) Webcam and can safely say that these works with Mac mini M1. Logitech's Logi Capture webcam software was mentioned by many in the forums as to how it is still incompatible and does not work with Apple Silicon M1 and Big Sur. Not something we have tested, and certainly not one that is required for the webcam above to work. From reddit's discussion board and macrumours' forum, we have posters that confirmed the following webcams will work too, including the top two.
Logitech 4K Pro Magnetic Webcam
Logitech Brio Ultra HD Pro Webcam
Logitech C930 Webcam
Logitech C930e Business Webcam
Logitech C922 Webcam
Logitech C920x Webcam
Logitech C920 HD Pro Webcam
Logitech C920S Pro HD Webcam
Logitech 1080p Pro Stream
Logitech StreamCam with audio issues on certain apps
Logitech C615 Webcam
Logitech C270 HD Webcam
Razer Kiyo
If you have direct experience with webcam that works with the Mac mini M1, please share with us below.
Search Webcams for Mac mini M1 on Amazon
Other issues we discovered online
Some users of Mac mini based on the Apple Silicon M1 are experiencing dropped frames, freezing and slowdown while streaming video with an external webcam. The webcams mentioned were Logitech C920 HD, Logitech StreamCam, Logitech C925 and other streaming hardware such as the Blackmagic ATEM Mini and Elgato HD60 S+ Capture Card. Restarting the system works for them. The last post on Apple's discussion board is dated 16 Apr 2021. Hopefully, this will be resolved soon.