Those looking for a secure and stable floor mount for the iPad, look no futher. These tablet floor stands will instantly turn your tablet into a self service point or information kiosk. With built-in anti-theft and tamper-proof features, it is more secure than ever, keeping your investment safe.
Remember those survey stands or feedback kiosks that you see standing around the showrooms or shopping centers, here are the stands you need to make one.
Click To Tweet
Perfect for public spaces, trade shows, receptions and lobby areas, these tablet floor stands look smart and sturdy. They work well as walk-up self-service points or as information kiosks catering for a variety of industries including education, hospitals, public sector, businesses, hotels, showrooms and more.
Some features that help keep your iPad safe include:
Metal surround to protect the corners and edges of the iPad
Fully enclosed metal case to stop thief from removing the iPad
Option to allow to stop access to the home button
Option to rotate the device between landscape or portrait modes
Lockable mount with key to keep iPad securely in place
Stands that mount to the floor to stop both the stand and iPad from being removed
Tamper-Proof features that protect the power cable, and socket
Top 8 Best Tablet Floor Stands to Turn Your iPad into a Kiosk
Anti-Theft Tablet Floor Standing Mount | Trade Show Tablet Kiosk Floor Stand for iPad 9.7

For starters, the Mount-it! MI-3770 comes complete with a document or brochure holder. But before we go any further, it is designed to fit older generation iPads (1-4) and Air (1-2) with 9.7-inch display. If you have one of those sat around and wishes to use it as a dedicated kiosk device then perfect. Here are the feature highlights:
75 degree adjustable tablet viewing angle
solid steel alloy material
90 degrees rotation between portrait to landscape
Total height of 48-inch, tablet mount is 39.5-inch
Metal housing completely encloses the tablet with access to cameras and home button
Home button can be covered
Locking key mechanism to secure the housing
Charging cable management to feed cable through the stand
Document holder tray
Vented enclosure
Base can be bolted
Height Adjustable iPad Floor Stand | Fully Adjustable Check-in Stand for iPad | Anti-Theft Tablet Floor Stand for iPad 9.7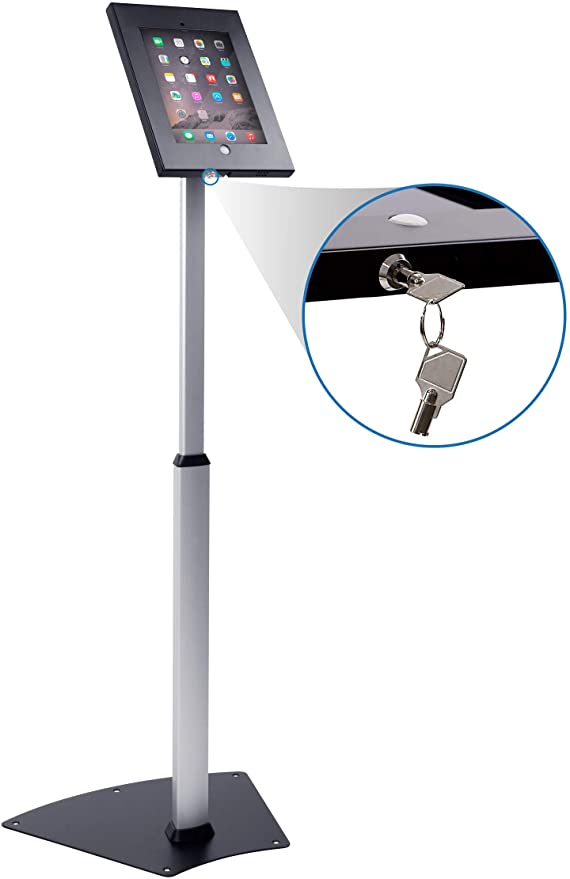 It is again important to note that this, Mount-It MI-3783 is only suitable for iPads with 9.7-inch display. For schools, this will probably not be a problem as there are plenty of old iPads, generation 1 to 4 or iPad Air generation 1 and 2 lying around. Here's is what you can do with them, turn them into dedicated kiosk machines. The MI-8783 has the following features:
a key and lock mechanism to secure the enclosure
90 degree rotatable enclosure to put the tablet on landscape or portrait
full reverse tilt mount
option to block the home button or use a white pressable home button
metal enclosure with speaker and camera openings, as well as cushion lining and vents
adjustable height aluminium cast pole with cable management. Stand height: 25" – 43" Range
wide stand with screw holes to bolt to the floor
available in black or silver
Safe Security Public Floor Stand, Holder, Public Display Case with Adjustable Height & Cable Management for iPads 2/3/4/Air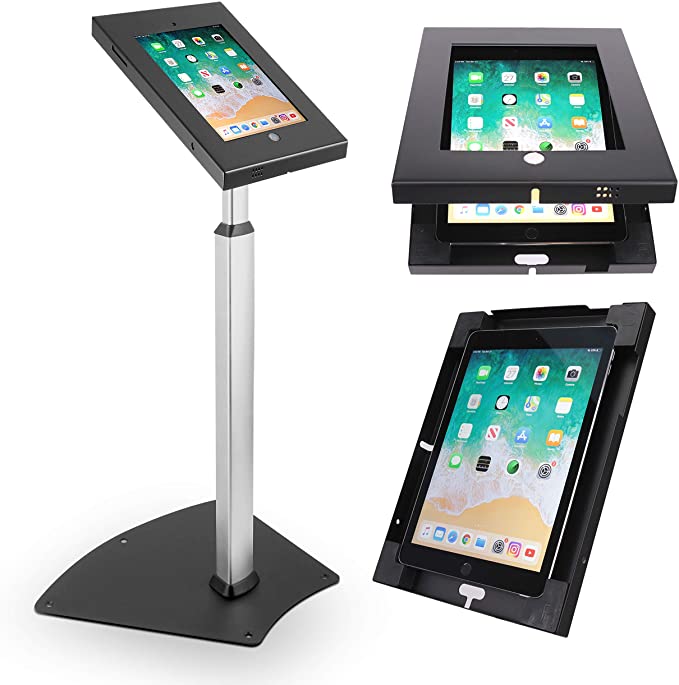 Yes, the Pyle PSPADLK55 above shares the features of the Mount-It! MI-3783 as these are physically the same. Therefore, it is only suitable for iPad 1-4 and iPad Air 1 and 2. The pole height is adjustable from 27.56" – 43.31"and the cables are routed internally through the pole as to avoid tempering. There are minor differences, like the use of locking screw to secure the enclosure instead of key and lock.
Floor Standing Mount Tablet Case Holder w/ Lock, Adjustable Clamp Arm, Internal Cable Routing, For iPad 2, 3, 4, Samsung, Android Tablets – Pyle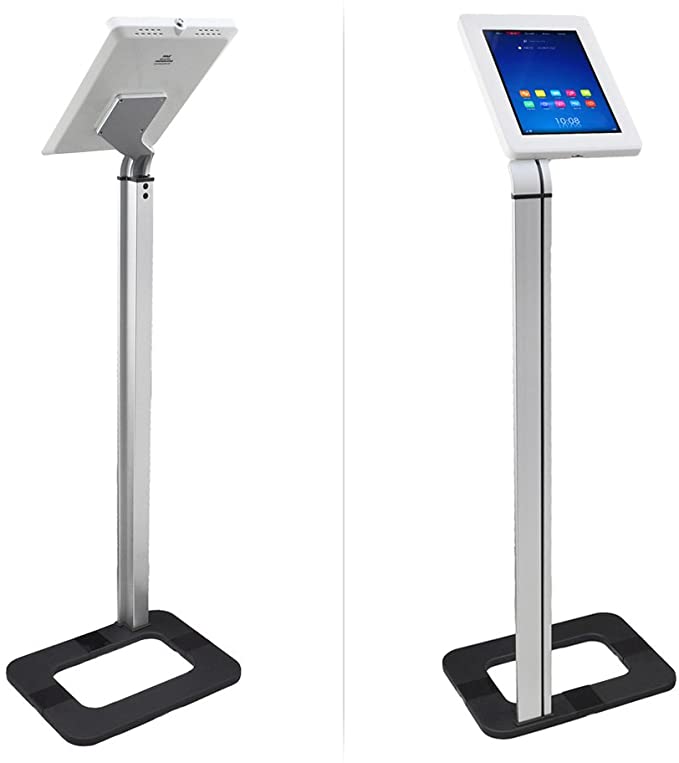 Next, we have another Pyle tablet kiosk stand, this time the stylish and sleek PSPADLK38. It has a fixed height, which means not quite as accessibility. The support stem is actually offset both at the tablet enclosure end and the base which makes it rather unique. It will again only take iPad 1 to 4 or iPad Air 1 and 2. If you intend to use this with other tablets, say and android, make sure that the width is no more than 7.4-inch and the height is no more than 10.2-inch. 
White anti-theft housing with locking mechanism and key
durable aluminium alloy
sturdy metal base that can be screw to the floor
adjustable clamp style holder for tablet
cable managment with internal cable routing, concealing the cable in the frame
Heavy Duty Aluminum Metal Floor Standing Mount Tablet Case Holder Display w/ 37.80 Inch Pole Height, Designed for iPad 2 3 4 Air Tablets – Pyle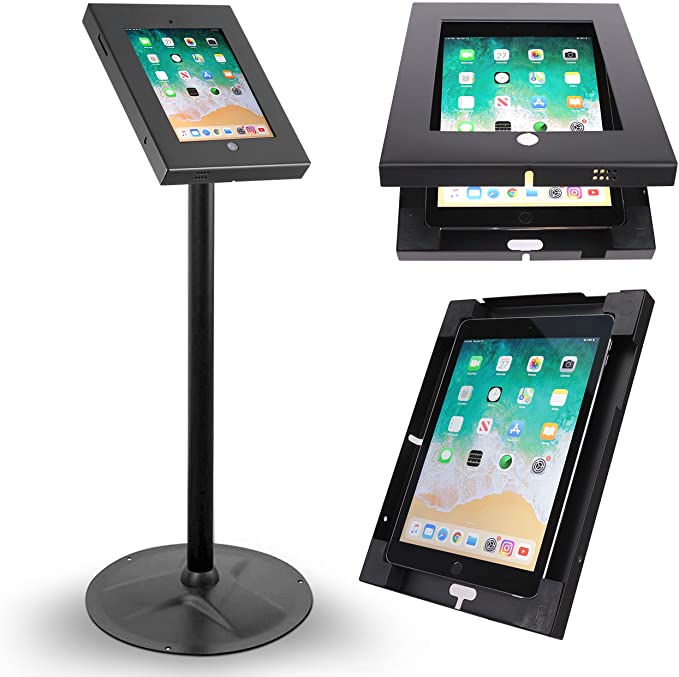 Floor Stand Tablet Mount with Secure iPad Enclosure | Locking iPad Kiosk Floor Stand for iPad 9.7, iPad Air 9.7, Galaxy Tab 10.1

This tablet floor stand from Mount-It is the same as the Pyle PSPADLK38. It is in fact the same stand, just sold under a different name. As such it shares all the features as the above.
Heavy Duty Aluminum Metal Floor Standing Mount Tablet Case Holder Display w/Height Adjustable Pole, Fits iPad Mini 2 3 4 Air Samsung Tablets – Pyle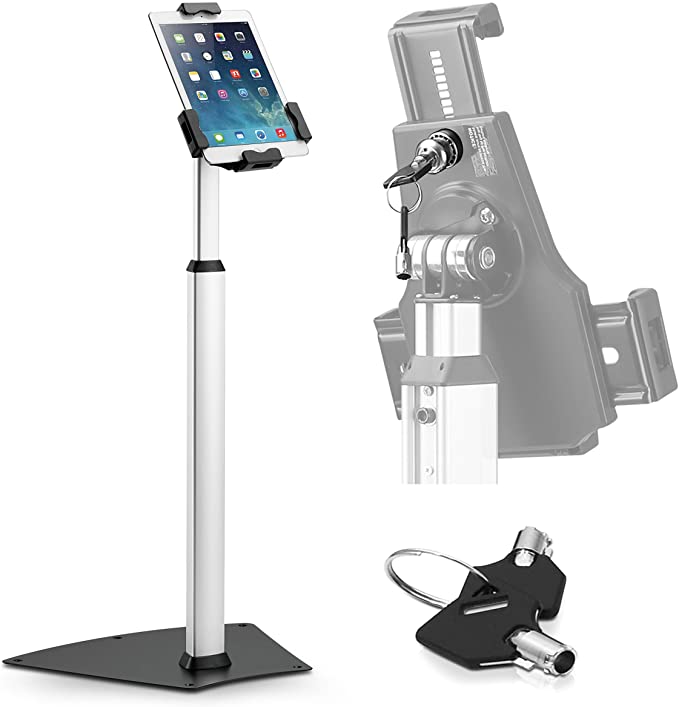 Next, we have the Pyle PSPADLK60 tablet stand. It is based on Pyle PSPADLK55 minus the tablet enclosure. It uses instead a lockable tablet clamp that supports iPad 2, 3 and 4, iPad mini and iPad Air with 9.7-inch display. This leaves the bezels and corners of the tablet exposed. If the application is near a manned counter or in a fairly safe environment, it does not really present a problem security wise. Otherwise, consider one with a full enclosure.

Finally, we have a kiosk stand for bigger tablets. The CTA Digital for iPad is suitable for new iPad with 10.2-Inch display. This includes the 7th & 8th Generation iPad. It also works with 11-Inch iPad Pro and the iPad Air 3. Older iPad Gen. 5-6 as well as older iPad Pro 10.5 will also fit in the enclosure. Alternatives to iPad include Android tablets such as the Galaxy Tab A 9.7″, Galaxy Tab S2 9.7″, Galaxy Tab S3 10.1″ and Galaxy Tab S4 10.1″, are all listed to be suitable for use with thist tablet floor stand. If nothing, it certainly looks the part with its wide and flat stem. Features include:
fixed height stand standing 50-inch tall
tablet enclosure can be rotated for landscape or portrait mode
enclosure offers access to home button, camera and charging port internally
key and lock for enclosure with internal padding to cushion the tablet
durable steel body with weighted base
Other designs from CTA are available including see-through stand, swan neck pole and universal floating stand. The latter two options do not come with tablet enclosure and only use lockable two point mounts. This allows it to be used for a variety of tablets from 7 to 14-inch big. See images below.