Need a floor standing mount for your tablet to create online learning videos or deliver live online classes? Here are 5 of the best tablet floor stands. These stands will securely hold your tablet in place while you demonstrate or teach your class remotely or record your next video lesson.
Tablet Stands for Online Classes
Conducting online classes and creating digital learning content are going to be skills that teachers and lecturers have to pick up and learn in order to adapt to new forms of lesson delivery. A simple thing like a tablet floor stand or tripod to mount the tablet is a godsend to make delivering and recording your lessons that much easier.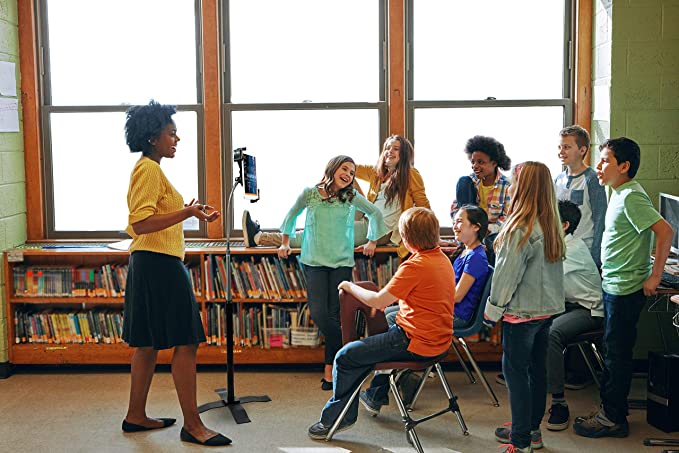 Looking to create your own video course or need to deliver live online classes, make life easy with one of these tablet floor stand to mount your tablet or smartphone.
Click To Tweet
What To Look For
What you need is a sturdy and weighted stand with adjustable height pole and tablet mount with adjustable angle. These stands must be able to support small to large tablets and not give way in the middle of your lesson. Adjustable gooseneck stands are a favourite for its flexibility but be sure to pick one with a stable base and stiff yet bendable neck.
Gooseneck or swivel arm allows for flexibility
Height of the stand to hold the device at arm's height or head height
Tablet mount or clamp is rotatable to move from landscape to portrait mode
Tablet holder allows the device to face down or up for better viewing or recording angle
Tablet mount is the right size for your device and clamps on to the device with sufficient strength to avoid slipping
The complete stand is sturdy and does not wobble or topple over
Heavy duty base, weighted and wide for maximum contact and to plant the stand
Compact, collapsible or portable if you need to pack away or travel with the stand
Easy assembly and once completed all joints are tight and secure
As for devices, you will not have any trouble finding one that will mount your tablet. Most stands come with mounts that will take small 7-inch tablets to big 13-inch tablets. From the entry level iPad to iPad Pro 12.9, Surface Pro 7, Samsung Galaxy Tab S7 and Android tablets, it will work whatever the size. We note the size of devices support for each of the stands in our line-up.
As the stands here come with bigger clamps designed for tablets only, if you are after floor stands that support smartphones you may find them online too.
Make video recording using your tablet or smartphone that bit easier with a tablet floor stand.
Click To Tweet
10.6lb Stable Base, Compatible with iPad Mini Air Pro 12.9, Galaxy Tab, Kindle, Cell Phones (4.7"-13") black or silver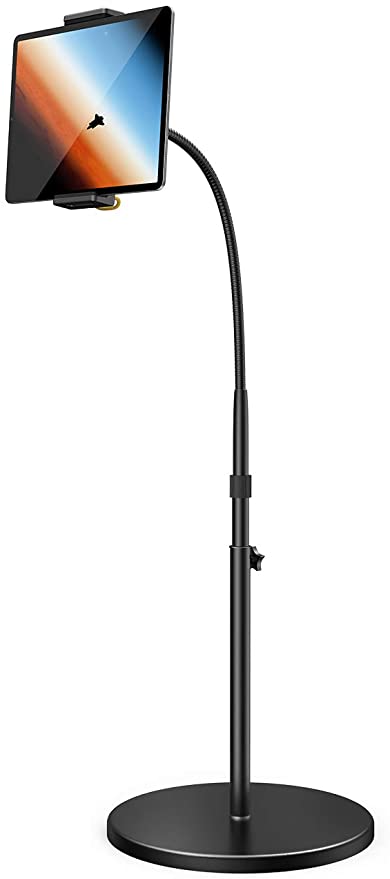 This Lamicall Tablet Floor Stand comes with a flexible gooseneck and clamp big enough for tablets with up to 13-inch display. That same rubber padded clamp will work with iPad mini all the way up to Kindle Fire, Galaxy Tab and iPad Pro 12.9-inch. It will even work for smartphones from 4.7-inch. As for the gooseneck, it is made from durable metal enclosed in a bendable tube with one end on the stand and the other end supporting a ball joint that connects to the tablet clamp. This gives the tablet a full 360 degree rotation free to point to anything you want. The stand is also height adjustable from 130cm to 160cm and is fixed on a sturdy and heavy duty base.
Not risking your tablet from being knocked over when mounted on the tablet floor stand, be sure to pick one with weighted heavy duty base
Click To Tweet
Metal Base for 7-13'' Tablets/iPad 10.2-Inch (7th & 8th Gen.)/12.9-Inch iPad Pro/11-Inch iPad Pro/iPad 6/Mini 5/Air 3/Surface Pro 4 & More 443313

This CTA Digital Gooseneck Stand is available with castors (shown below), lockable clamp, storage basket, brochure holder or accessory tray. Shown above is the striped down version, making it the cheapest. The main pole is height adjustable, offering a height of 46-inch to 60-inch for your device. The mount is a bit unconventional in that it uses a diagonal clamp versus a vertical one. As the mount is universal, it will take any tablets from 7-inch to 14-inch. That includes iPad mini to iPad Pro 12.9, iPad Air and more. It is worth noting that while you can rotate the device for landscape or portrait viewing, it has a more rigid joint to the gooseneck and therefore, relies on the gooseneck completely for the rotating action.
Reinforced Mount Foldable Floor, Height Adjustable 360 Rotating for More 7 to 12 Inch Tablets, Carrying Case, Phone Holder, Bluetooth Remote Control 40888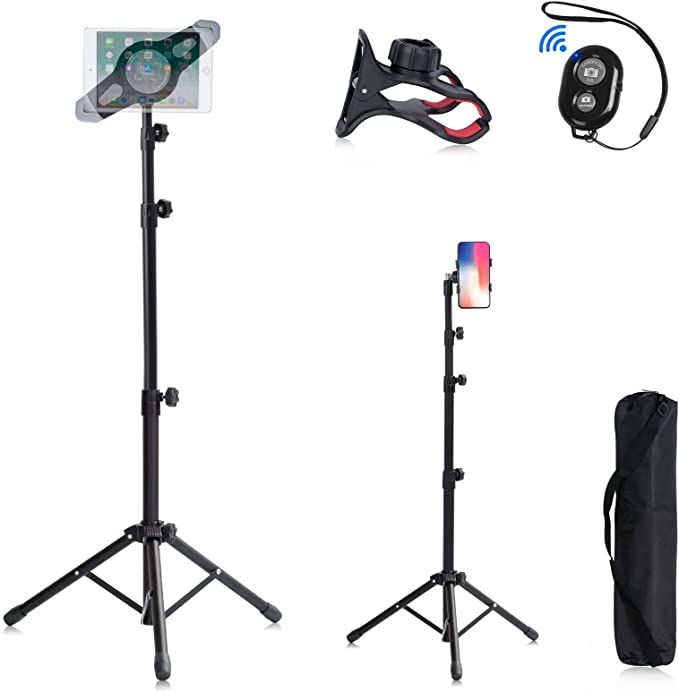 If you prefer a more rigid stand, then the T-SIGN tripod tablet stand is for you. Gone is the bendy gooseneck. This is replaced with a clamp affixed to a ball joint. It means that the tablet when seated will not be able to face down as it will hit the pole itself. The 4 segment telescopic pole is height adjustable. For each segment you go from 20.5-inch to 33.4-inch to 60-inch tall. Obviously you can stop anywhere in between to suit you. As for the clamp, it holds the device diagonally and will take tablets with display from 7-inch to 12-inch.
As a tripod stand, it is collapsible, making it suitable for travel with the carry case. T-SIGN includes a Bluetooth remote to control the video or camera shutter and smartphone holder. The latter can be swapped out with the tablet clamp to hold smartphones instead. The same tripod tablet floor stand is available from AkTop, Weiyudang and Elitehood, VSTYLE and Studio 21 each with different mounting accessories to hold different devices including tablet, smartphone, action camera and compact digital camera.
ALSO: AkTop iPad Tripod Stand Holder Indoor Outdoor Foldable Bluetooth Control Floor Mount Tablet Stand, 360 Rotating Height Adjustable for More 7 to 12 Inch Tablets, Carrying Case & Phone Holder as Gifts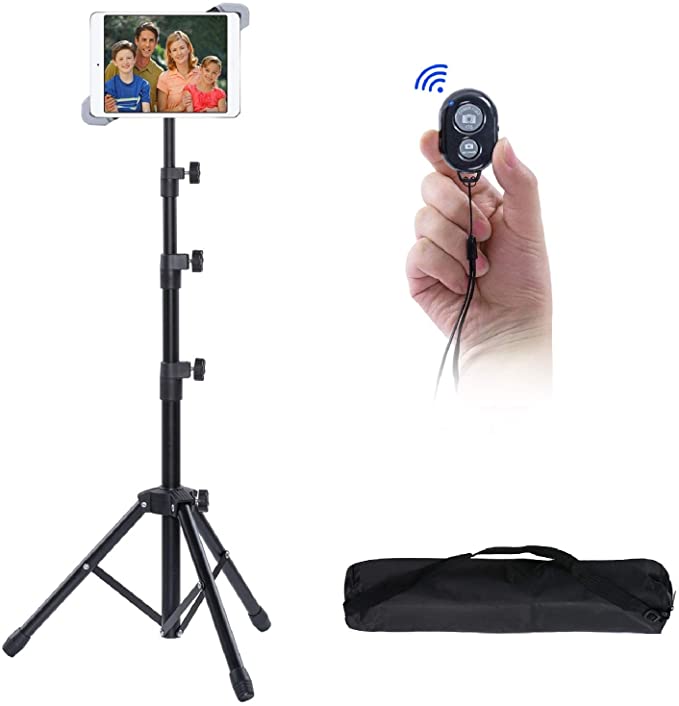 ALSO: Weiyudang iPad Tripod Mount Floor Stand, Height Adjustable 20 to 60 Inch Tablet Tripod Stand Mount for iPad, iPad Pro 11 and Others Within 7-10 Inch, Carrying Case and Mini Stand included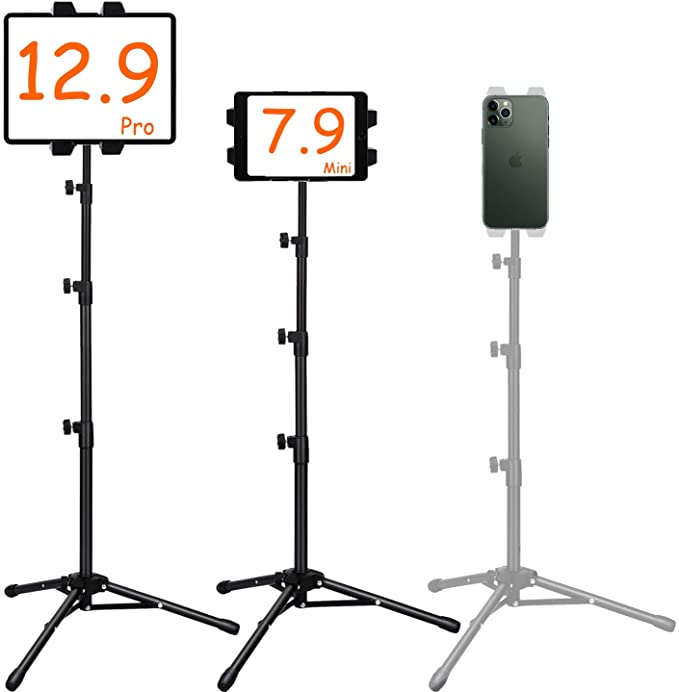 Gooseneck Long Arm Cell Phone Holder Mount for 7-13inch Tablet iPad, Including ipad Pro/Mini/Air, Samsung Galaxy Tab,Kindle Black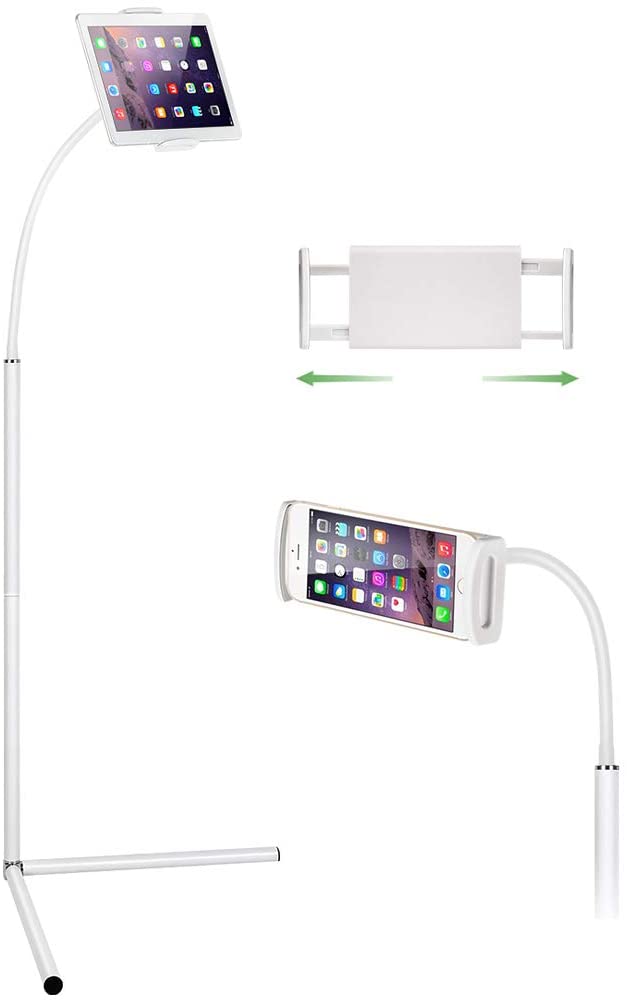 Here is another compact and portable stand, this time with a flexible gooseneck. The stand can be disassembled and packed away quickly and is available in black or white. The solid rodes make up 34.2-inch of the height while the gooseneck measures 20-inch long for a total of 54-inch. We won't recommend this for places with high traffic for fear of being knocked over. This is because it relies on two floor base support rods. There are instructions on how to make the floor base more stable, inserting sand into the rod being one of them. The tablet clamp will take 8-12.9-inch devices but more suited for tablets up to 10-inch. Only get this if you have a need for an ultra compact stand that you can take a part and put away.
360 Degree Rotating Floor Stand for Tablet Including ipad Pro/Mini/Air, Surface Pro, Samsung Galaxy Tab, e-Books & More, ICFTS01W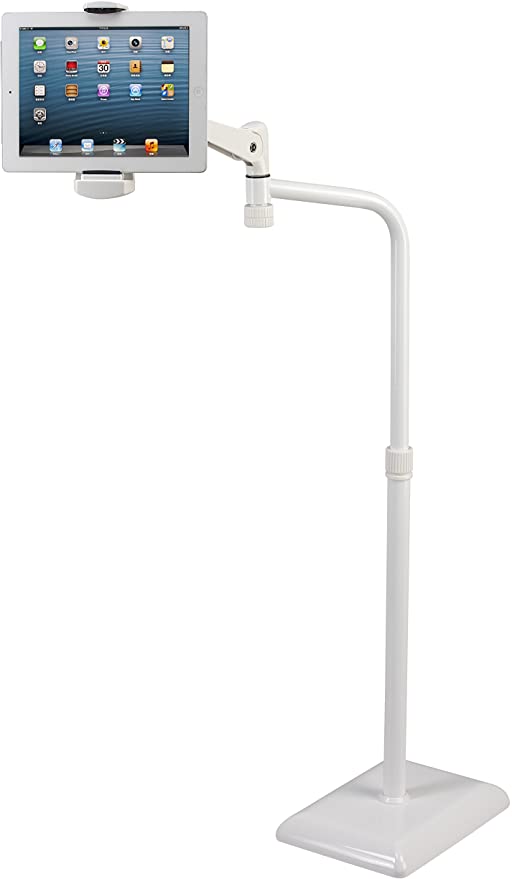 The maximum height of this next tablet stand may be limited to 44.75-inch but it is still adjustable moving from 22.1-inch to 44.75-inch. It comes with a 9.6lbs weighted base for maximum stability. There are two pivot points thanks to the three part arm. At the end of the arm is a tablet clamp with a joint that lets you face the device up or down. Suitable for devices with 7-inch to 13-inch display, if you have a need for a strong stand with swivel arm, the idee is one for you. Note that you are getting an arms height stand and not a full head height stand like those that goes up to 60-inch tall.
WHAT ELSE IS OUT THERE
The relatively new Smatree cellphone and tablet floor stand looks way cool with its multi-segment swivel arm. It not only swivels, but the middle joint folds up and down two for a range fo 155-degrees. Together with the three segment pole, it is height adjustable  from 15.7-inch to 55-inch tall. The device clamp can hold 4.7-inch to 12.9-inch devices with a 360 degree rotating action. As for the base, it uses a big 15.7-inch wide round base for better stability.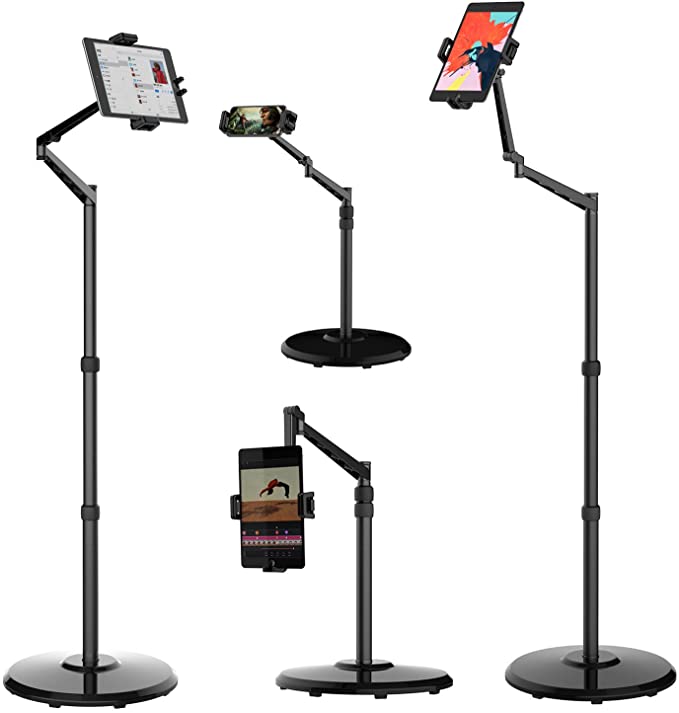 Another arms height tablet floor stand, this Viozon tablet floor stand comes with a forked support. The two-segment swivel arm can be moved up or down the support pole for a maximum height of 39.8-inch. The supplied clamps make it suitable for small smartphones from 3.5-inch to big tablets up to 13-inch. The stand is available in silver or black.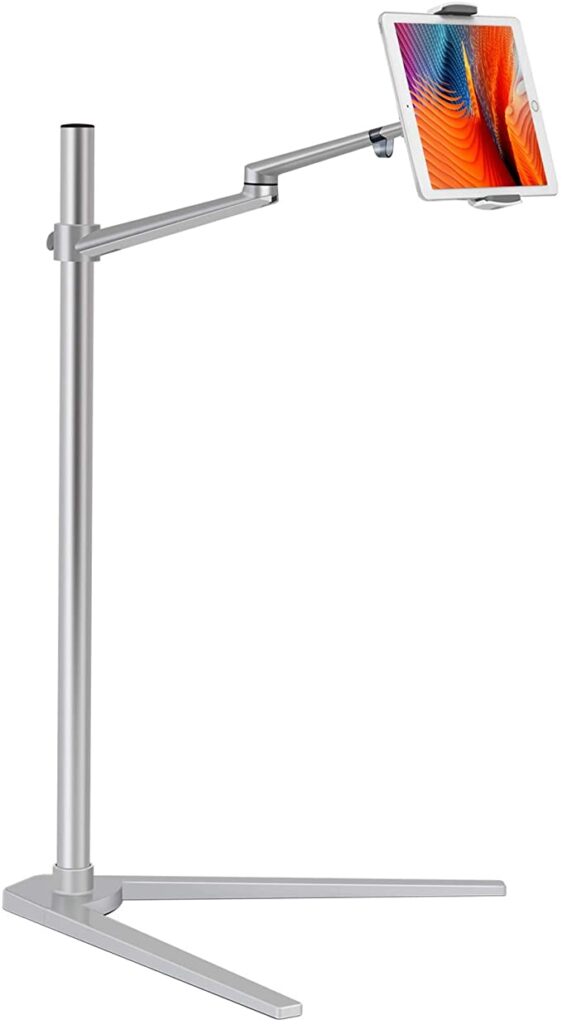 Another tablet floor stand with flexible gooseneck, the Creatop tablet floor stand comes with a stable rectangular and flat steel base. The clamp will support devices ranging from 3.5-inch to 10.6-inch and is rotatable while the gooseneck offers maximum flexibility with 360-degree swivel. The fixed pole is made from sturdy aluminium alloy and is not height adjustable. But, it is available in two heights, 13.3 inch or 26.9 inch (not including the length of the gooseneck which is 27.6-inch). Together it can raise the device up to 54.5-inch tall. The same stand is also available from ZKZK.
The LEVO Deluxe iPad Floor Stand is suitable for tablets measuring 5.25-inch to 13.5-inch. That's everything from iPad mini to iPad Pro 12.9. It comes with a two segment swivel arm for a total of give axis articulation. The main pole is also height adjustable with a 3 part telescopic extension move from 30-inch to 56-inch tall. Overall, the stand is sturdy, made from strong and lightweight aluminium with anodized finihsh. The a square based is stable and weighted with four casters so you can move the stand around the room easily.