We look at tablet and smartphone holders with strong clamps or bracket and adjustable stand to mount and hold the device at different angles and height, be it for viewing or recording. These table top stands are great for both students and teachers. One to follow online lessons while the other to deliver or record live online classes.
How To Pick The Best Table Top Tablet Stand
Our selection criteria is simple, the tablet stand needs to be strong and sturdy and allow the tablet to be held either in portrait or landscape mode at different heights above the desk for ease of viewing.
It also needs to tilt back or forward for better viewing angle. But beyond viewing is the ability to hold the device to get the best angle for recording or delivering a lesson online. This includes tilting back the device so the rear facing camera can aim at the table if you intend to shoot a video demonstration.
For it to serve as a good table top tablet stand, it also needs a heavy duty base, big enough for maximum surface contact and heavy enough that the stand does not topple over, especially when you mount a full size 12.9-inch iPad Pro.
Ultimately, a strong clamp or bracket on a height and tilt adjustable stable tablet stand offers the best ergonomics when using your tablet for teaching and learning. For this purpose, avoid choosing a cradle with no clamp to hold the tablet in place and a fixed height stand as you would be limited to how far you can raise and tilt the device forward without the tablet falling over.
Why Table Top Tablet Stands
There are many reasons and applications for a table top tablet stand, here are some of them:
To securely mount the tablet on a holder so it does not get knocked over accidentally
To raise the tablet for better viewing height with height adjustable arm
To tilt and rotate the device to get the best viewing angle
To free up table space by raising the tablet leaving room at the bottom
Single user operation should you need to record your own video lesson, no need for someone to hold the tablet at the right height or angle.
You may have other reasons to use a table top table stand, do share this with us by leaving your comment below.
Wherever possible, users should look at tablet stand with a fixed mounting bracket or clamp. This allows the tablet or smartphone to be held securely no matter the viewing angle and to avoid slipping.
Click To Tweet
Top 5 Best Table Top Tablet Stands for Education
BONUS: B-Land Adjustable Tablet Stand
Lets take a closer look
Here is an iPad stand with a long arm, 360° swivel iPhone or iPad clamping bracket and  360° rotating stand. The long arm is made of two parts with a center joint that folds 180 degrees in a single plane. The first part is longer measuring 9.6-inch while the second part measures 5.8-inch. The longer of the two-part arm is stuck to the flat base that can rotate 360° on its axis and moves 180 degrees in a single plane. The shorter part of the arm is connected to the bracket holder with a ball joint. The holder itself can hold 4-11-inch devices. That's any tablet up to 11-inch display and most smartphones. For bigger tablets such as the the iPad 12.9 look for one with a bigger bracket. The same AboveTek long Arm Tablet Stand is also available with a desk mount for counter tops or tables up to 1.5-inch thick.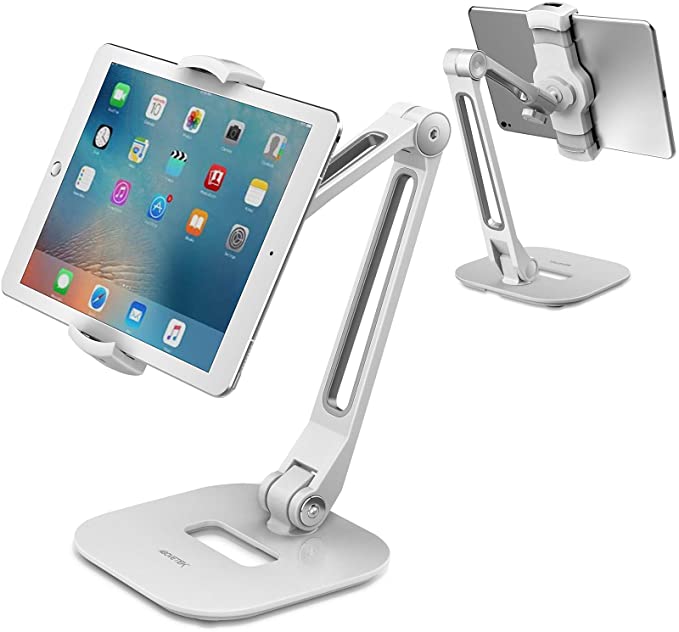 There are many gooseneck tablet stands around. This one from Magicpea comes with a table top clamp to secure it to the table and a longer than usual gooseneck that measures a total of 30-inch. Shielded in a plastic tube, it is recommended that you bend and twist the aluminium magnesium alloy stem in the shape of the letter S or Z for a more stable holder. The tablet holder is big enough to hold a smartphone or tablet from 4.0-inch up to 9.7-inch. With its long and flexible arm, you can direct the device anyway you want. The table mount can hold on to desk or counter up to 3-inch thick.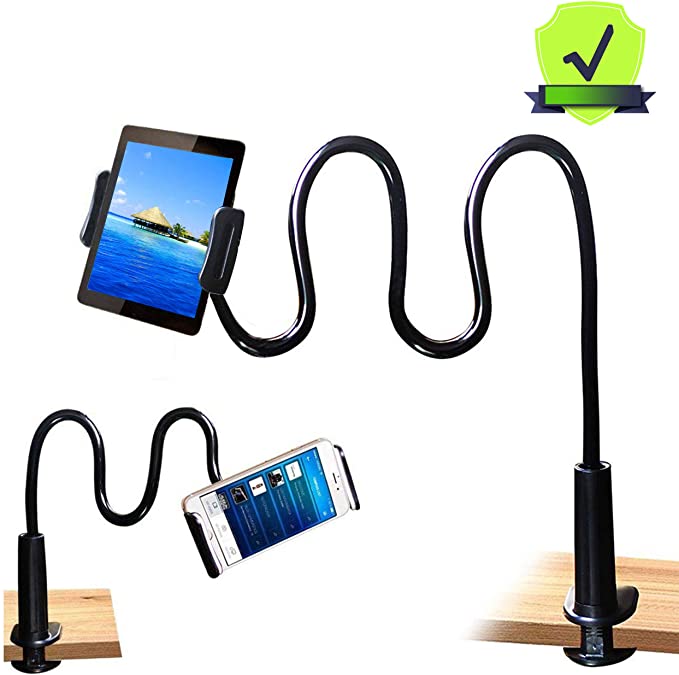 Another entry from AboveTek, this is a versatile tablet stand that can function on its own or docked into a cradle. The cradle can be mounted on a wall or under a cabinet. This allows the HIGHFlex 360 tablet stand to be deployed not just as a desk unit but overhead or hanging on the wall. The clamping bracket can take 4.7 to 13.5 Inch devices again giving it the widest possible device options it can support. As for the arm, it is again made from two parts connected to a base with 360 degree pivot and four point adjustable feet. Use the supplied Allen keys to tighten the joints for a more stable stand. The unit we considered comes with a DSLR camera adapter to turn the tablet stand into a camera stand and four wall mounting cradles with adhesive stickers and screw fixes.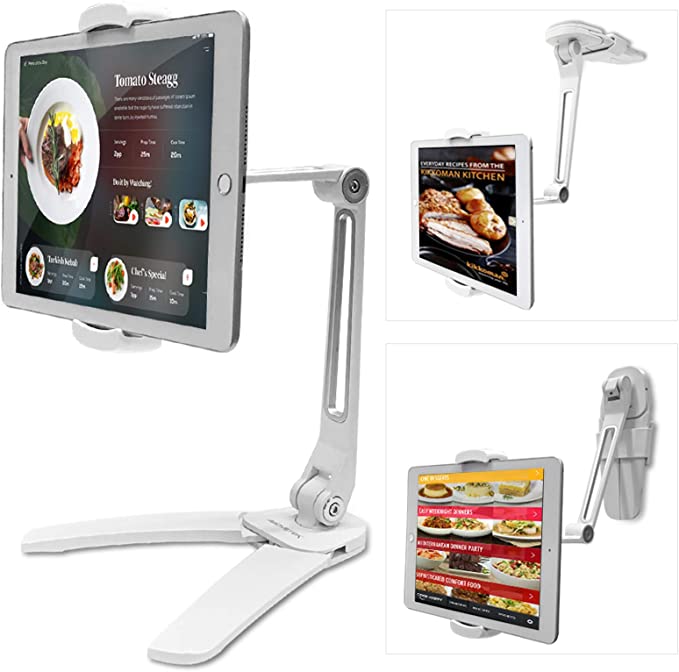 Using a mix of rigid telescopic pole and flexible gooseneck made from bendable metal rod, this LISEN tablet stand offers the ability to adjust its height up to 44cm tall and change the angle of the tablet clamping bracket. It is suitable for both smartphones and tablets measuring 4.7-inch to 12.9-inch. The stand and supporting arm is mounted on a super stable round base with EVA pad underneath for anti-slip and stability. Use the stand for custom viewing angles, ergonomic eye-level height, conferences or zoom sessions, virtual lessons and more. If you just want a simple stand, that does not offer any reach, rotation or multiple joints that you have to adjust, this is one for you.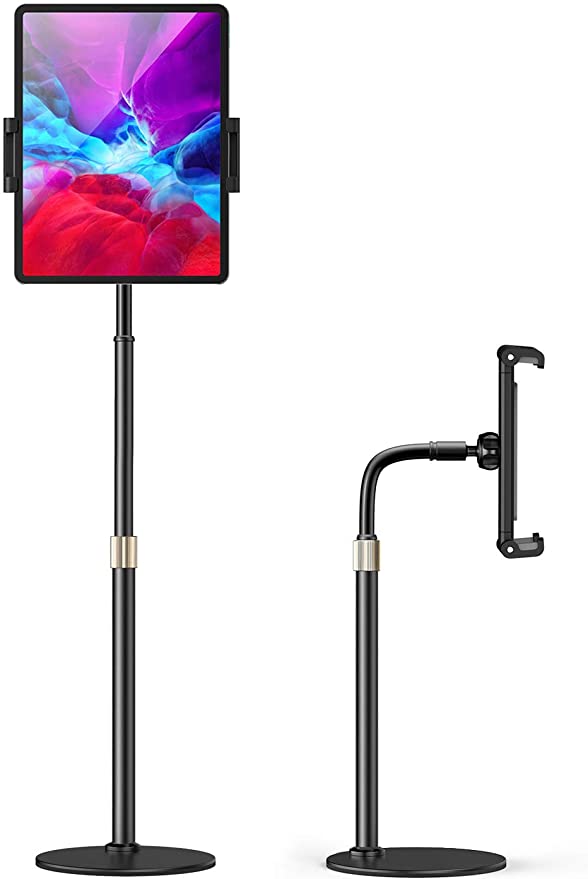 A slight variation to the AboveTek Long Arm Tablet Stand on the top of our list is this, Nulaxy adjustable tablet stand with two-stage arm. this is again a heavy duty desktop tablet holder mount that is compatible with devices with display measuring 4-inch to 11-inch. It base weighs a hefty 1.34kg to make sure that the stand and the device it holds is planted on the desk. Again, the stand is rotatable on its axis on the base. The first arm nearest the base supports 150-degree folding motion, while the middle joint supports 220-degree folding motion. The third is a ball joint to the extendable clamp holder and that can rotate 360-degrees in one plane to change the view from portrait to landscape and anything in between. That ball joint is connected to the smaller arm with another joint that supports 360-degree folding motion.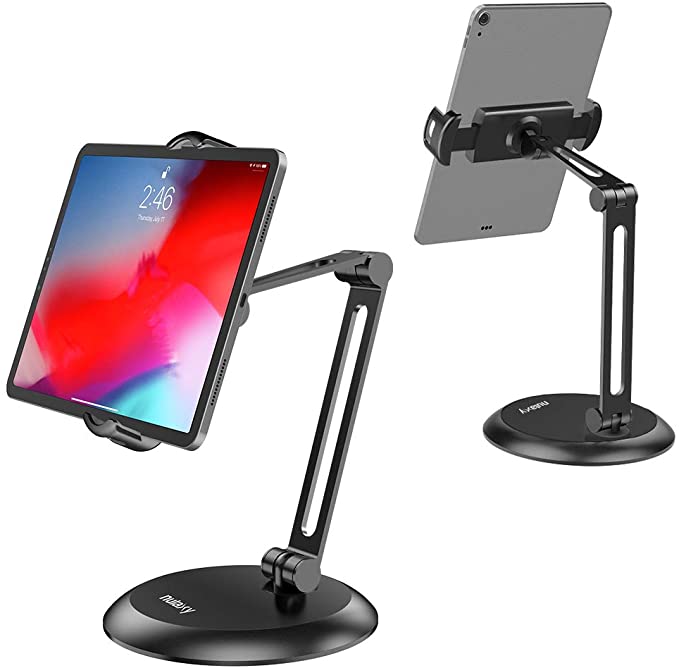 An alternative to the AboveTek and Nulaxy above is this desktop tablet holder from B-Land. Finished in black with generous chrome bits near the joints, it looks great on any desk. The clamping bracket will support any devices with 4-inch to 13-inch display and supports 360° swivel. For the two-stage arm, the first part that is mounted to the base measures 7.4-inch while the second part that mounts to the tablet clamping bracket measures 4.3-inch. Finally, that heavy duty base weighs 2.5lbs to ensure that it does not tip over while you change the direction and viewing angle.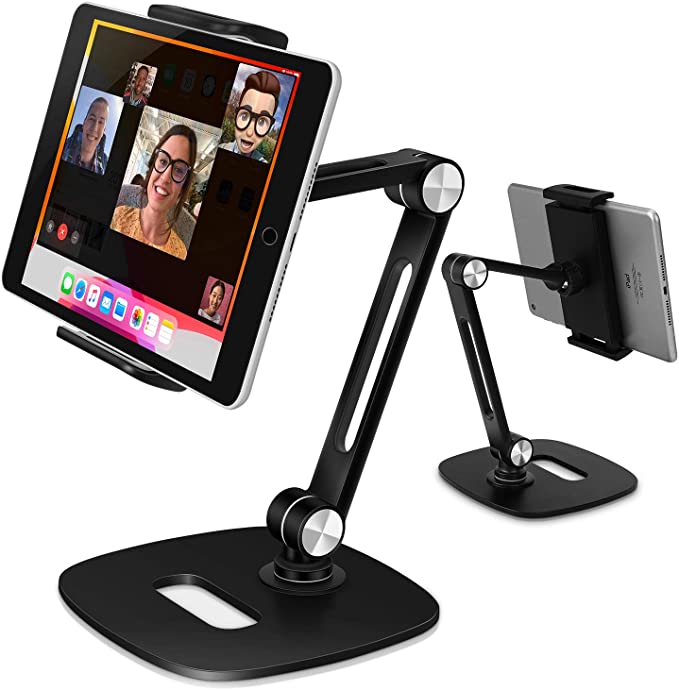 Others
FIXED HEIGHT
The following are fixed height stands with a strong clamp to mount the tablet and hold it in place. They will raise the tablet off the desk but will not by much. The height is also not adjustable with a fix swing or swivel. While these will tile the device back comfortably, it will also tilt the device forward but not by very much due to the body of the table or phone hitting the stand itself. They are more suited as kiosk stands as Point-Of-Payment, Reception or Showroom terminals.
Cell Phone Stand, Folding 360° Swivel iPad iPhone Desk Mount Holder fits 4-11" Tablets/Smartphones for Kitchen Bedside Office Table POS Kiosk Reception Showroom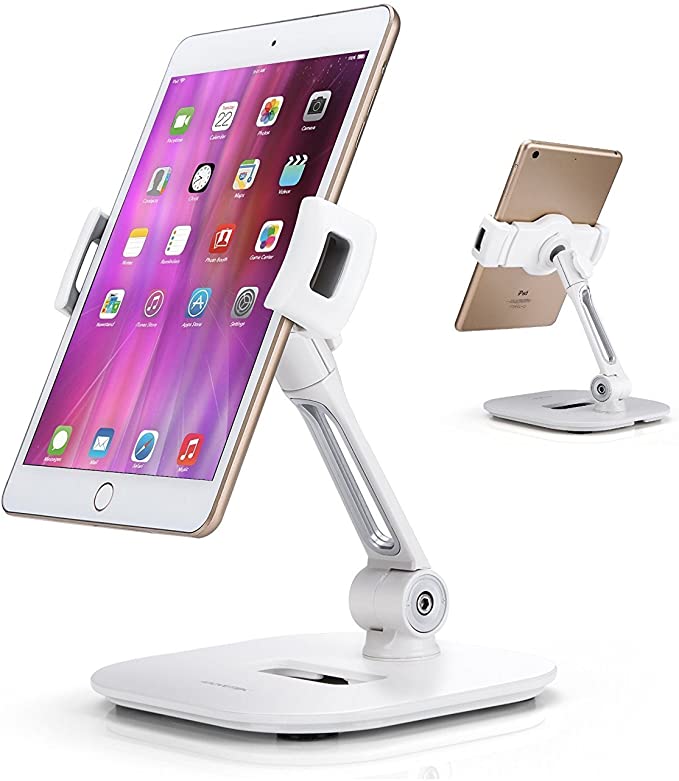 360° Rotating Commercial Tablet Stand, 6-13.5″ iPad Mini Pro Business Tablet Holder, Swivel Design for Store POS Office Showcase Reception Kitchen Desktop (Black)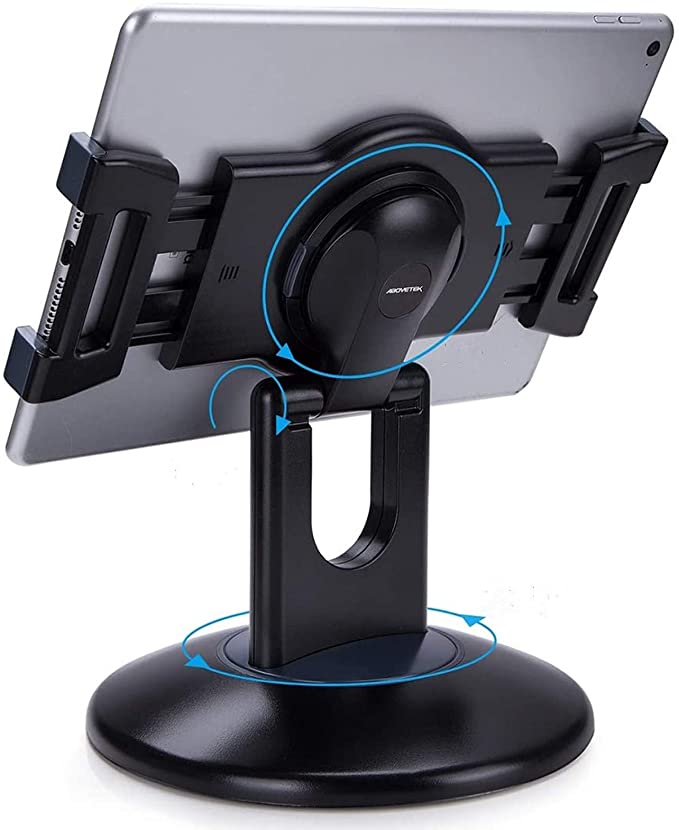 Aluminum iPad Stand Holder, Desktop Kiosk POS Stand for 7-13 inch iPad Pro Air Mini Galaxy Tab Nexus, Tablet Mount for Store Showcase Office Reception Kitchen Countertop