Mark making and learning to write is a natural rite of passage for every child, regardless of whether they are formally taught. A child progresses through a series of hand grips as they learn to write, from the plamar supinate and distal pronate to the more advanced static tripod and finally learning to write with the pincer grip of the advanced tripod.
The correct writing grip is essential to ensure that one can write for long periods of time. No better way to teach kids than with these helpful pens and add-on grips.
Click To Tweet
The advanced tripod grip to hold a pen or pencil is not a natural nor easy position for our hands though and any help that can be provided for a child to learn to grip a pen or pencil this way is always a benefit.
There are a few pens available on the market that are particularly aimed towards beginner writers in their shapes and design. Similarly there are several pencil grip add-ons that can be used to help young children learn to write with the correct hand and finger positions.
Here in this post we look at what and how these writing implements can help set your young child up for the correct method to hold and grip pens and pencils.
1. Stabilo EASYorignal
The Stabilo Easystart hand writing pen is a great beginner rollerball pen that is available for both left or right-handed writers. The pen itself has a moulded grip with indentations for accurate placements of finger pads and its tapered end ensures that it sits snugly in to the curve of the hand. It comes in a range of colours that will undoubtedly make it an exciting addition to any pencil case.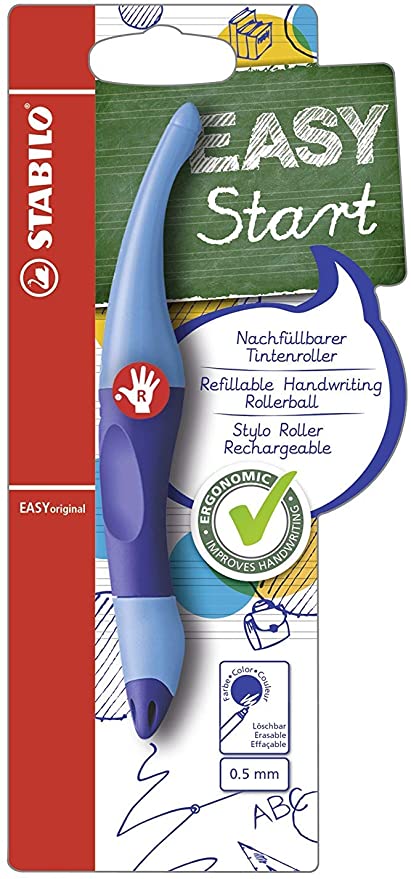 2. PenAgain Pens (and Pencils) / Rockyt Writers
At first glance the PenAgain pen is somewhat misleading. Its 2-dimensional rocket shape does not seem naturally useful to learning to perfect the tripod grip. Yet when you see how it is actually meant to be used, it begins to make sense. With the forefinger guided through the 'rocket's' ends, the tripod grip comes naturally. There are optional grip or no-grip versions of the same style and of course a range of different colours.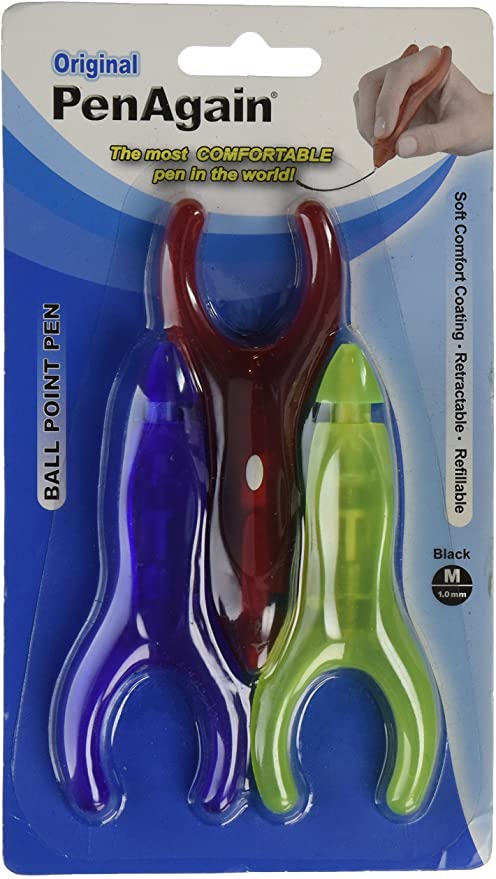 3. Berol Handwriting Pens
Unlike the other two examples, the Berol handwriting pen does not have a special shape or helpful grips. Instead it has a slightly thicker barrel compared to regular pens which help with learning to grip the pen in the correct way. The light weight of the pen allows for a longer hold without getting tired easily and the hard-wearing plastic tip ensures that letters can be formed easily.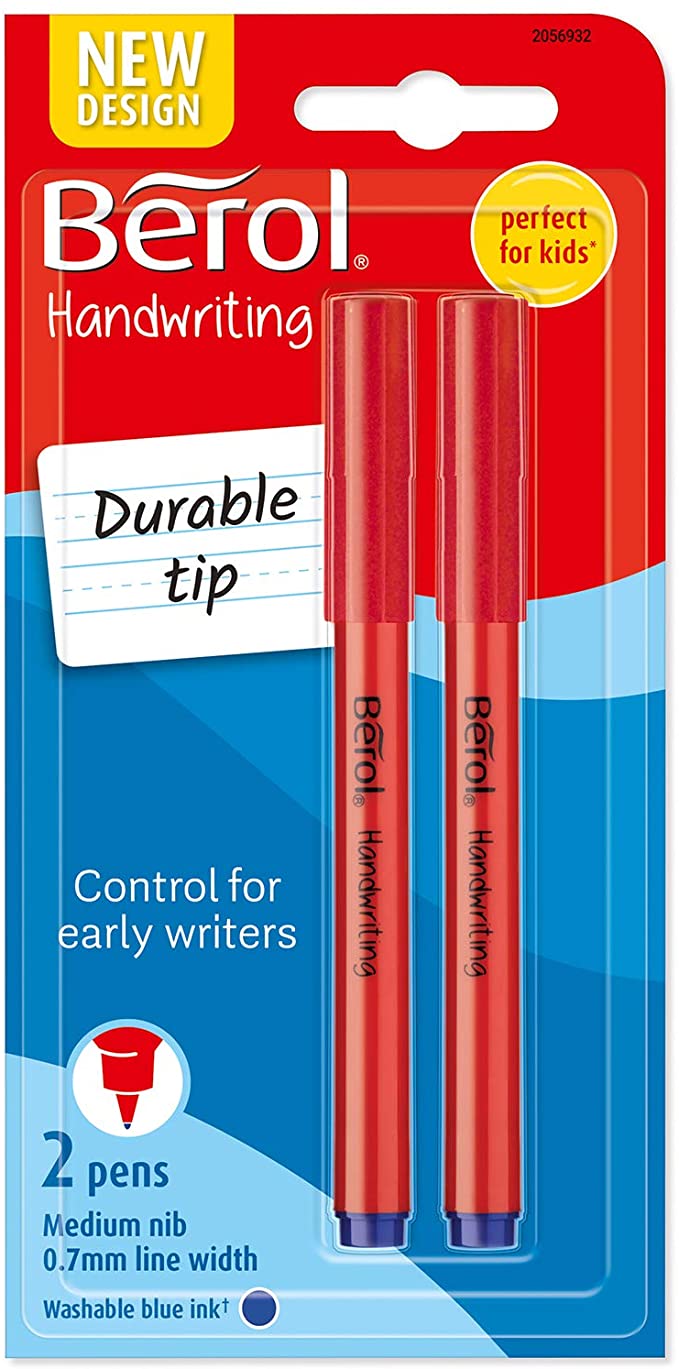 4. Firesara Pencil Grips
Firesara offer a range of exciting, attractive pencil grips that can be fitted to any regular pen or pencil to help children learn to grip the instrument correctly. From butterflies to elephants and dolphins in a range of different shapes and colours and universally designed with grips and indentations to help achieve the perfect tripod grip. Each grip is made of silicone and is non-toxic and odourless.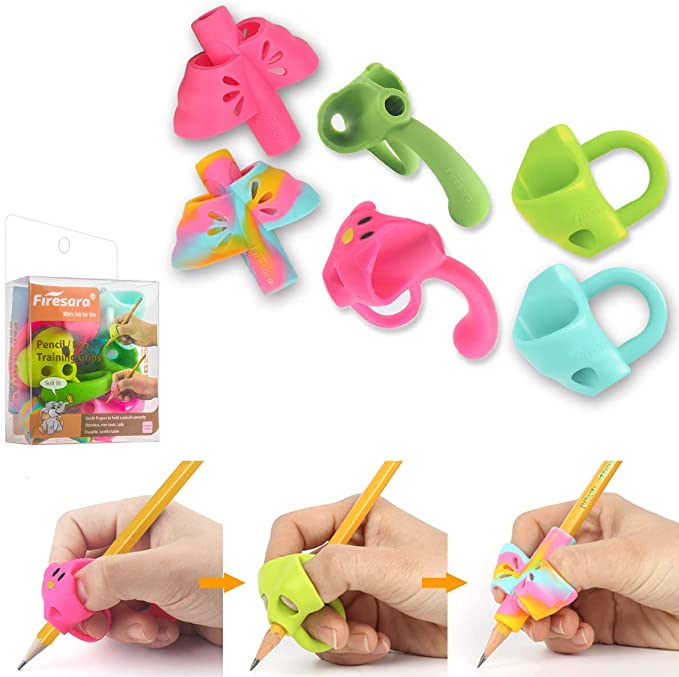 5. Universal Ergonomic Writing Grips
The ergonomic writing grip is generally familiar to everyone who grew up in the 80s and 90s. The main difference being that where they used to be foam based, these days they are made of high grade silicone. The general premise remains the same, to increase the girth of the pen or pencil to help with writing grip.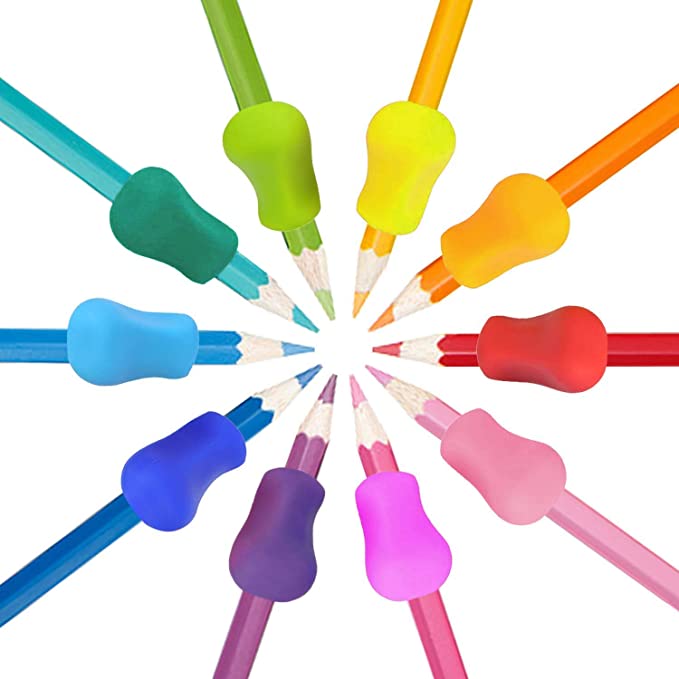 It does not matter if you are a righty or lefty, these ergonomic grips and pens are designed to give your children the best possible writing experience in school.
Click To Tweet
Learning to write means learning how to hold pens and pencils in the most optimal way. This ensures that handwriting is neat and tidy, while ensuring that the hand does not get tired when writing for an extended period. Learning to do this as a young child, ensures that the life-long habit is carried on well. The correct pens, pencils and tools such as pencil grips definitely help with developing this good habit.