Harber London's Nomad Organiser is truly one of a kind in its class. With consideration especially for the digital nomad who is likely to own all things tech, perhaps more specifically all things Mac-tech. The Nomad Organiser is a purposefully designed carrying case for the 13-inch MacBook Pro and the 12.9-inch iPad Pro.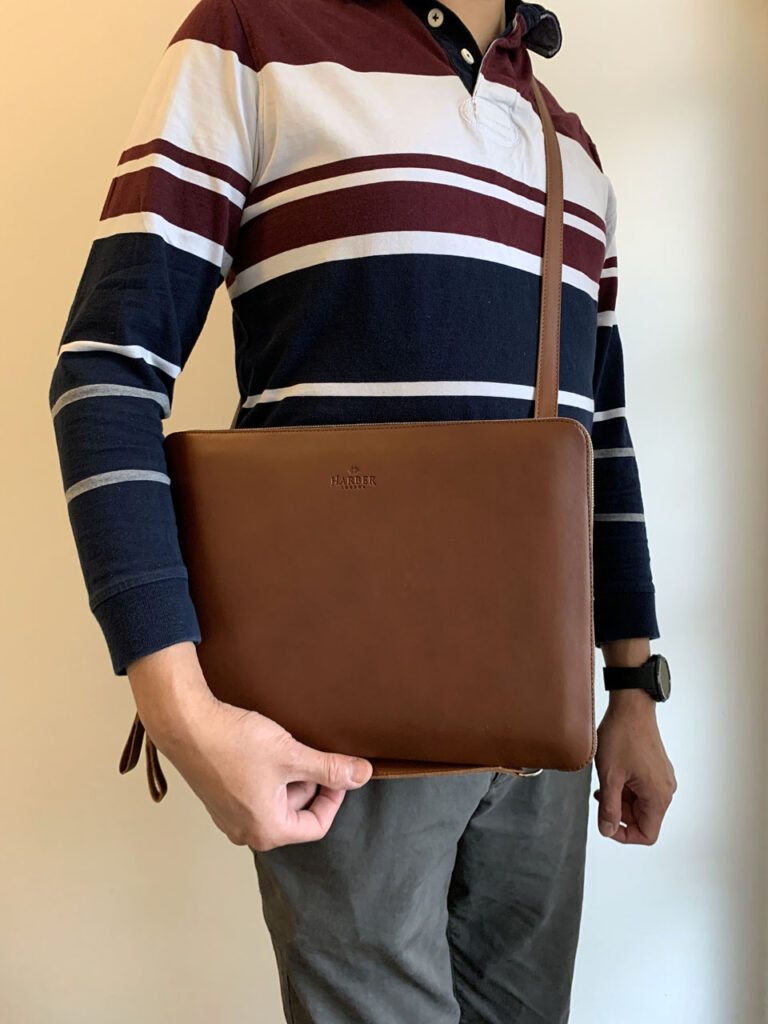 See Harber's Leather Nomad Organiser Range on Harber London Website
Nomad Organiser for iPad Pro 12.9-inch and MacBook Pro 13-inch Storage Pockets
Made from beautifully supple and soft cowhide (sorry not for the vegan), the Nomad Organiser consists of two deep pockets, on the right and left of a folder-style case. On the right, there is a slip-in pocket for the MacBook Pro. With a leather strip held with a snap-on button that thankfully is covered by the wool felt lining on the inside of the pocket (ensuring no scratches on the MacBook). On the left, is another slip in pocket for an iPad Pro and a perfectly located pencil holder just above the iPad Pro.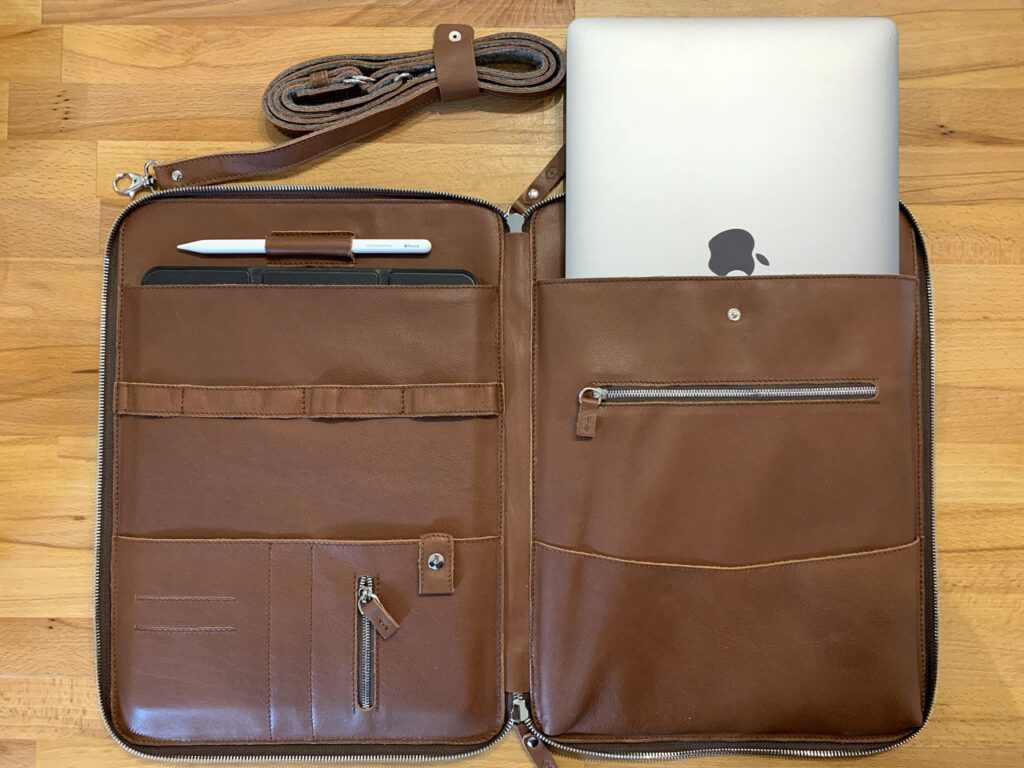 Here is a closer look at the MacBook Pro seated in its slip-in pocket and buttoned in with room to spare. With the extra room, it will even fit a MacBook Pro 13 with ultra-thin protective hard shells.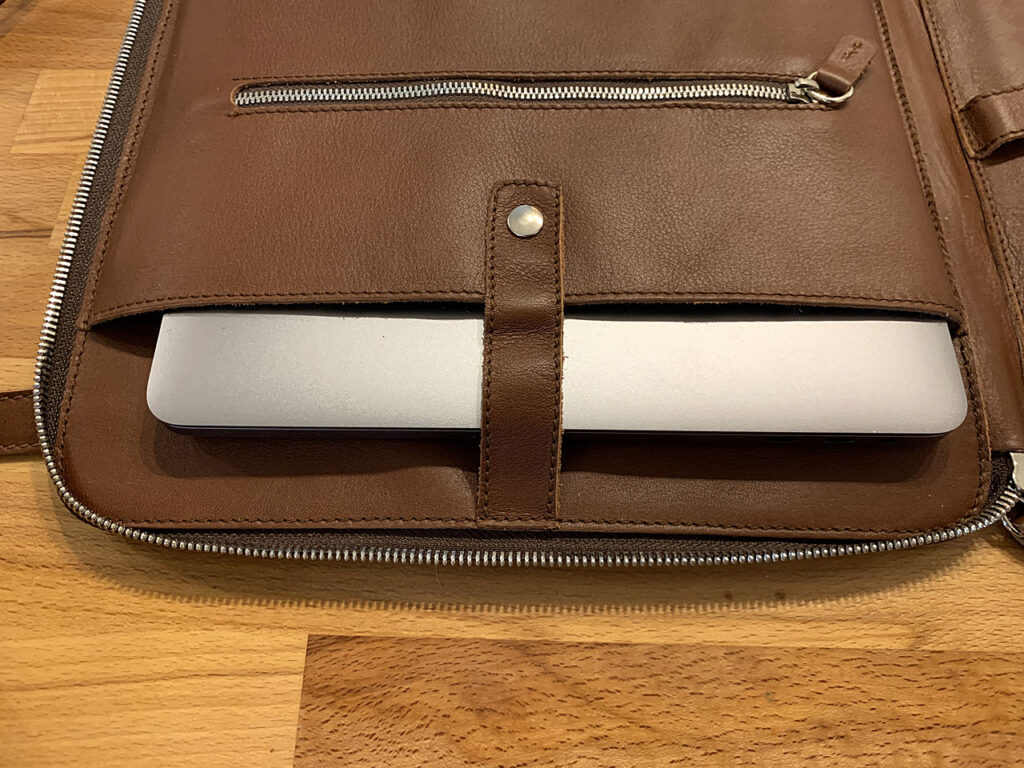 The iPad Pro pocket supports the iPad Pro 12.9-inch with Magic Keyboard or Smart Keyboard Folio. I have mine with a third party smart cover and transparent slim hard plastic case to protect the screen and back of the iPad, particularly these protruding cameras. It sits well in the pocket with enough wiggle room. The iPad pocket does not come with a button down strap but just above it is an Apple Pencil holder. In a way, it helps keep the tablet from slipping out during transit.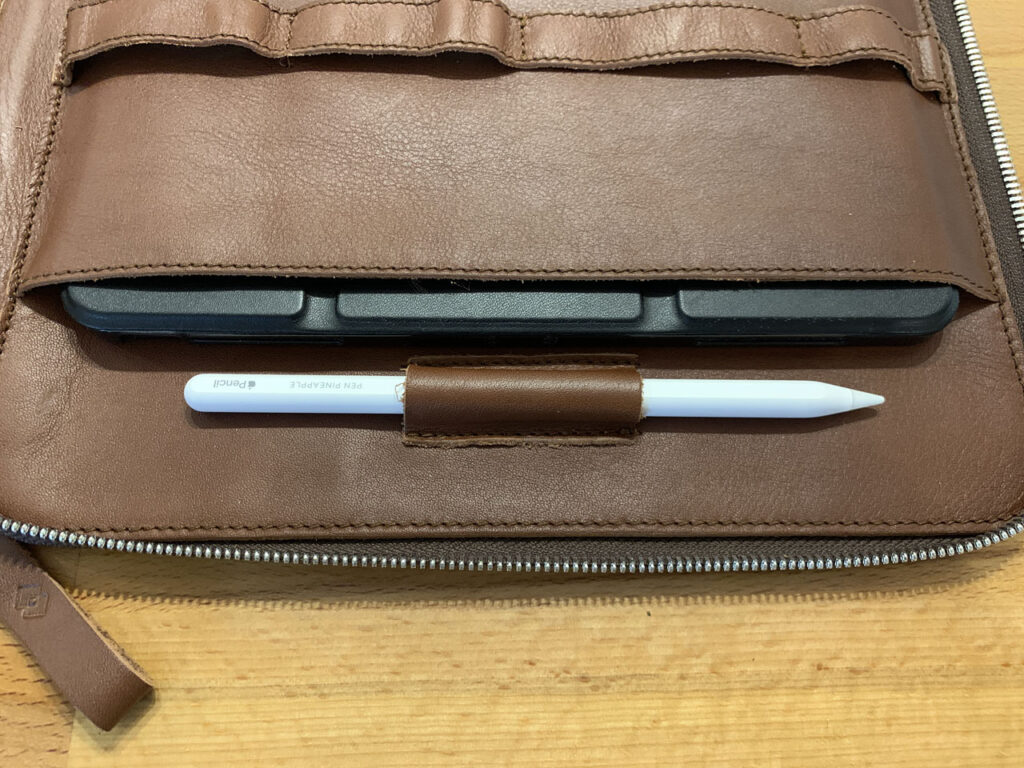 The surfaces on either side of the deep, felt-lined pockets are filled with a range of useful organisers, holders and pockets. Useful for a range of different accessories from cord holders (cable tidies) to iPhone pockets. On top of the iPad Pro slip-in pocket on the left is a small zipped pocket for coins, a couple of bank card holders, button down key holder and, a penholder and two medium size pockets. On top of the slip-in deep pocket for the MacBook Pro 13-inch on the right is a deep zipped pocket and a wide open pocket. See image below.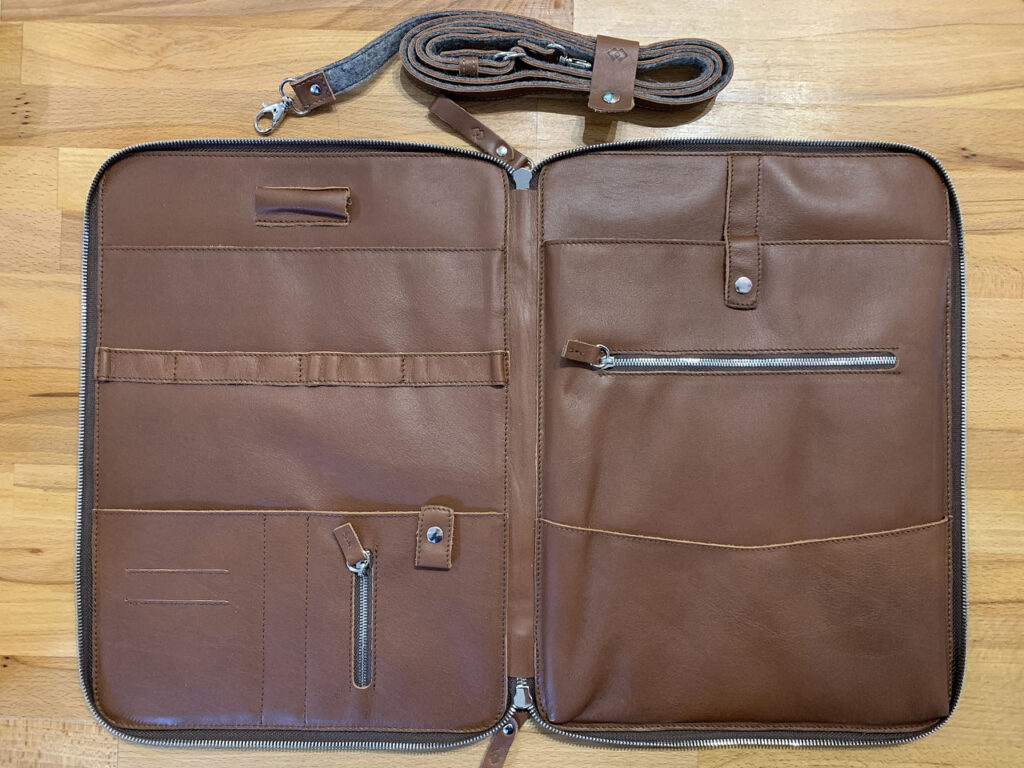 Here is what it can potentially look like filled to the brim. Although, we think it will be a struggle to zip it shut if you jam every possible bit of gadget, keys, coins, cards, cables and stationary. A bit more on this later.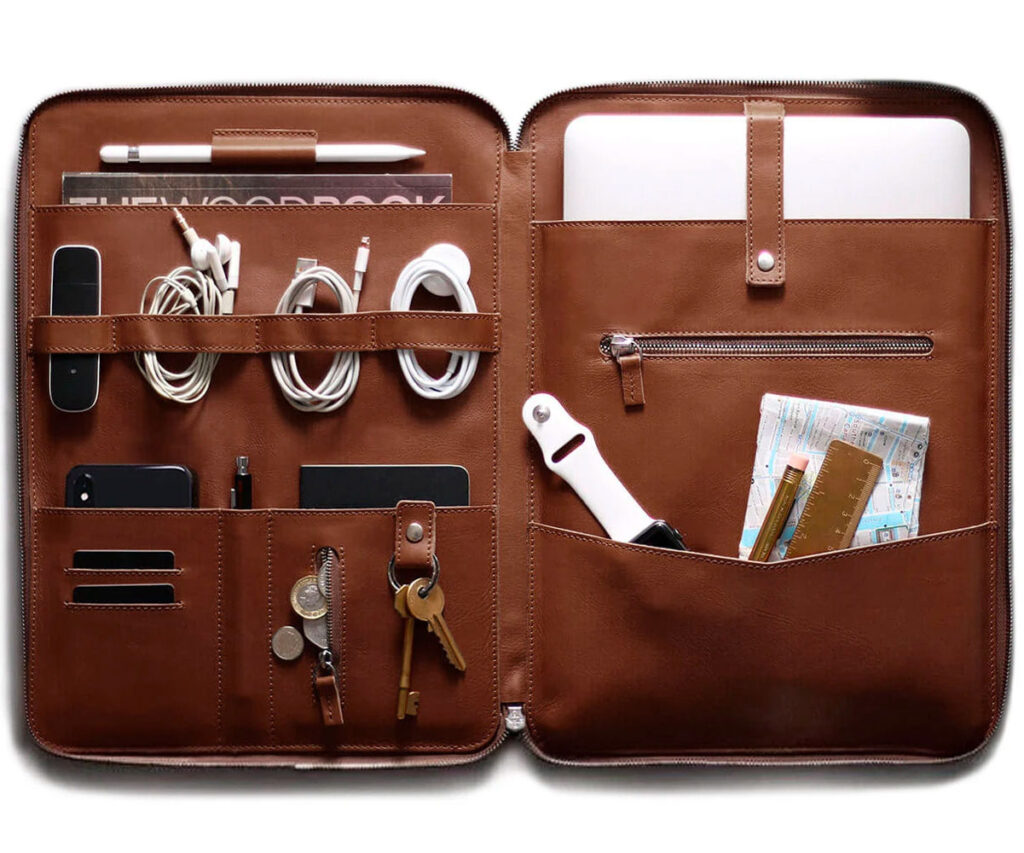 Quality, Colours and Finish
The Nomad organiser is a beautiful piece of artisan craftsmanship. The leather is beautifully coloured, although the deep brown comes across a bit more like deep tan and not the vandyke brown typical of dark brown leather. Other colours available include Tan, Black and Navy Blue, check out the image gallery for a closer look at the different colours.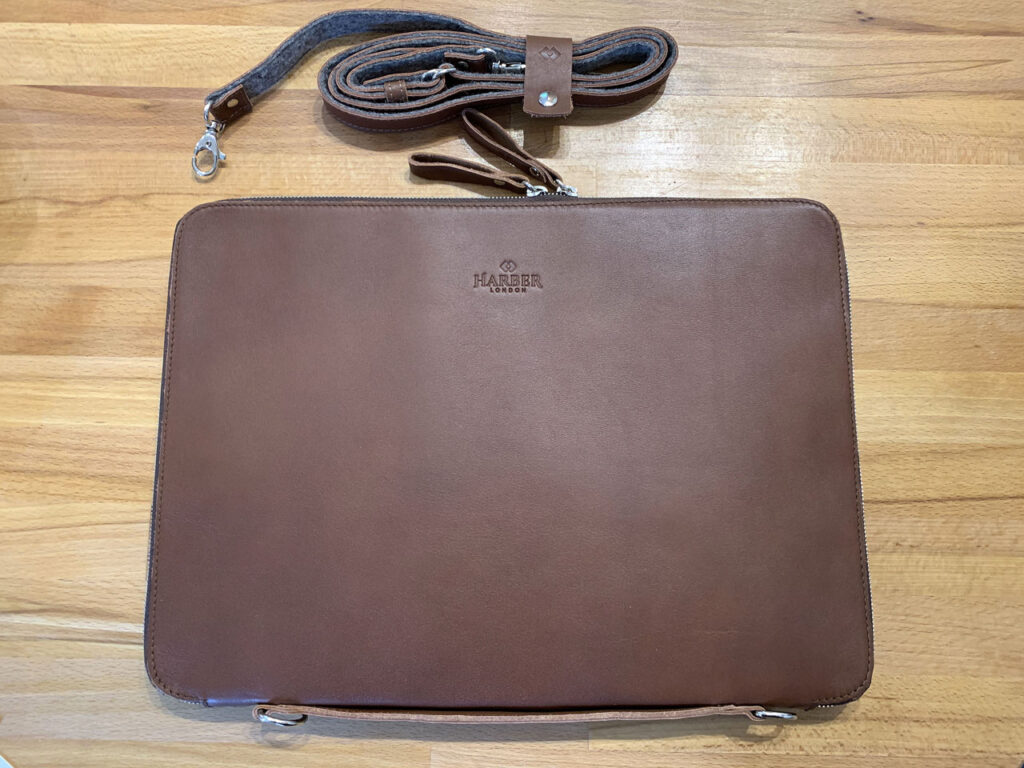 Nomad Organiser Colour Gallery
The inside of the Nomad is well constructed and each section perfectly lined. The metal zips are rather chunky and add an air of ruggedness to an otherwise refined design. The strap, although slim is the right size for carrying over the shoulder, but not quite as comfortable on the back. There are two additional loop through hooks making a total of four anchor points allowing you to carry the case on your back. The hooks and links do feel secure which add a level of confidence when you are carrying some pretty expensive equipment.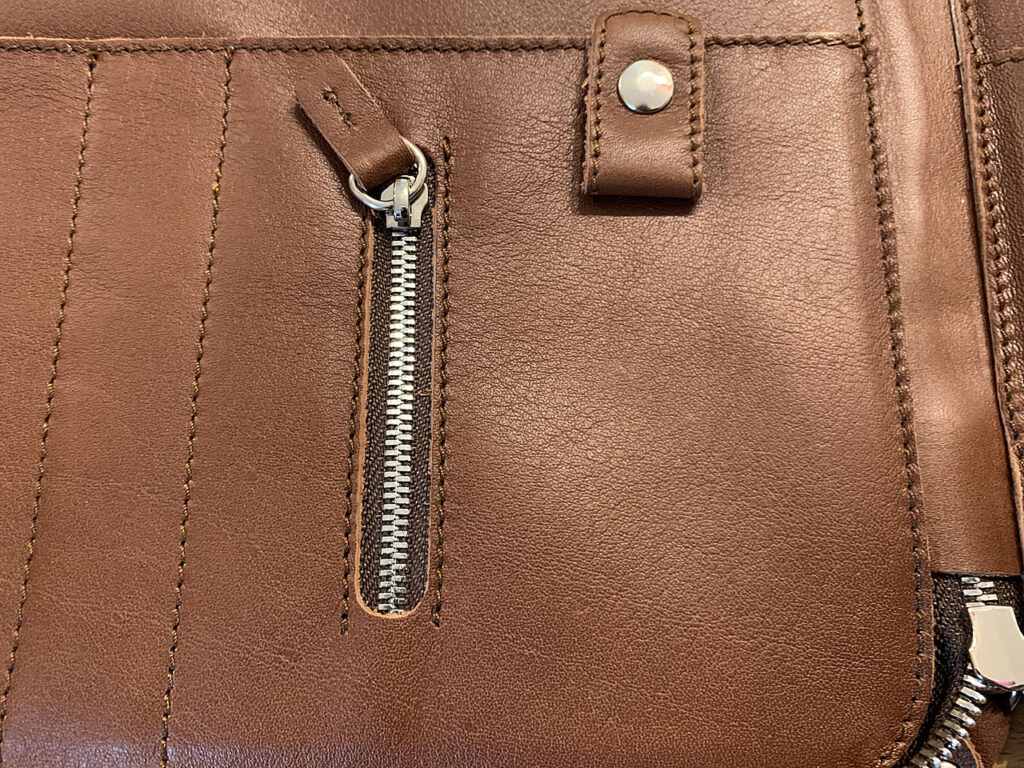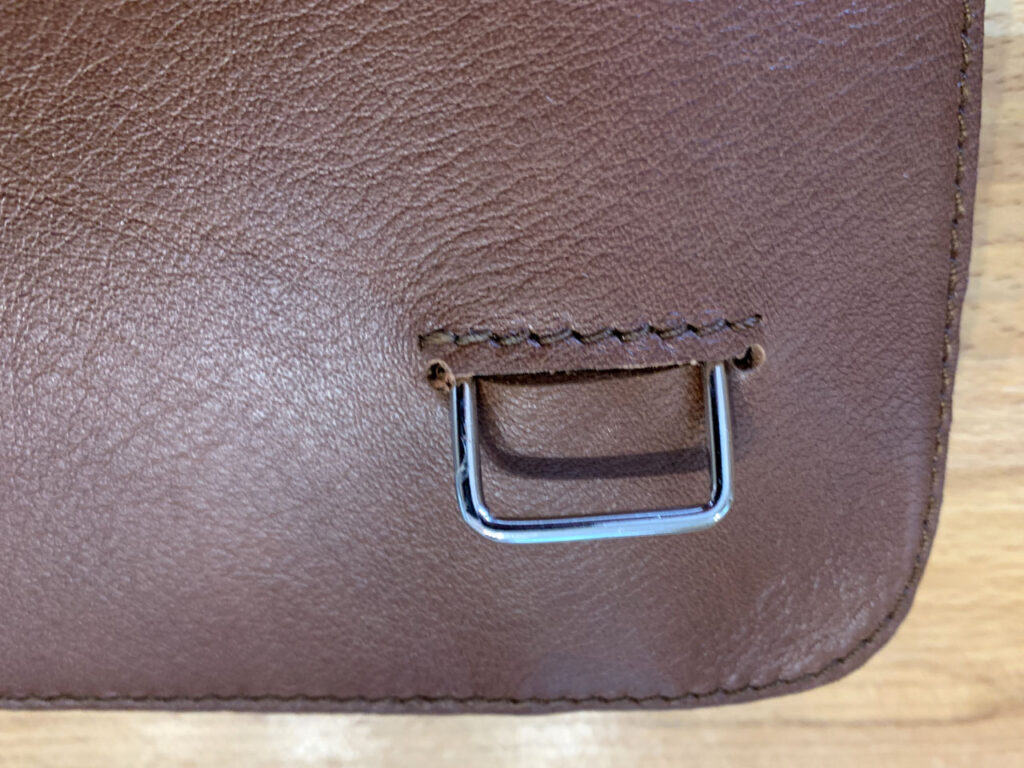 Ways to Carry the Nomad Organiser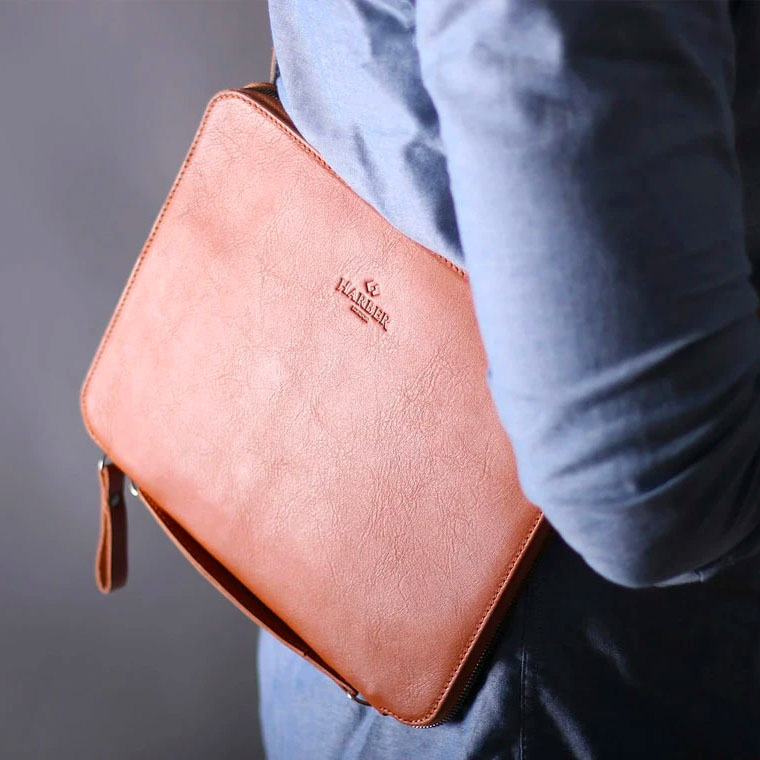 Perfect Fit or Too Tight
The slimness of this design is both an advantage and a drawback. In trying to cater to the sophisticated minimalist look, it unfortunately needs to forgo space for the charging block for either device. Where both devices are concerned though, the typical battery life from fully charged are an approximate 10 hours which means that if you're working from a coffee shop somewhere for the day, it should last for the duration of your workday. So, feel free to leave your chargers at home, just as long as you have fully charged your devices.
With both devices in the case, it is a tight fit, which leaves little room, while new, for further items such as the phone or keys. Given that it's leather though, it may over time stretch to accommodate, but it's difficult to tell from the get-go. The photo above shows the Nomad Organiser with both devices and Apple Pencil inside.
In Conclusion
All in all, the Nomad organiser is a brilliant addition to the techie's arsenal of cases. Its soft supple leather and its ability to 'multi-task' from a briefcase to a messenger to a backpack and ultimately to an organiser, makes it a dream to use while on the go. It is pricey, but then again, it is leather and completely hand-made. It comes with an embossed Harber logo on the cover of the organiser. A nice touch.
Plus, it is also compact enough to slip into a bigger carry case, backpack, briefcase or rucksack. It fits into my smallish black leather laptop bag that I used originally to carry the MacBook Pro 13-inch. Now, both devices, iPad Pro 12.9-inch and MacBook Pro 13-inch have added protection. No need for separate sleeves. You can also view this as a 2-in-1 laptop and tablet sleeve.
Would we recommend it? Yes whole heartedly for the stylish techie.
What we wish: The Nomad arrived in very eco-friendly packaging of paper and a cardboard folio. That said, we wish that it did come, as many lucrative leather handbags do, in a fabric drawstring bag. This would allow for more secure and considered storage when not in use.
Learn more about Harber London and the materials that they use.
Nomad Organiser on Harber London Nomad Organiser on Amazon
Unboxing Gallery
Included in the box are, the nomad organiser, the strap, a thank you card and a postcard with instructions on how to get a personal discount on your next purchase.
Other Exciting Products from Harber London
What's next? We would love to get our hands on the Slim Laptop Backpack from Harber London in matching Deep Brown leather. In keeping with the lightweight and minimalist urban nomadic lifestyle, the slim laptop backpack is designed again to carry both 13-inch laptop and iPad Pro 12.9-inch plus a exterior pocket for AC chargers.
For Travellers
The Slim Laptop Backpack won't be suitable as a travelling backpack, but slimline and sleek is what it is designed for. For a travelling backpack, you will need the City Backpack or the Leather Roll Top Backpack. Apart from the gadgets, both come with a water bottle pocket inside, sternum chest magnetic strap, built-in luggage strap and aviation grade buckles. See images below.