Paper origami Japanese dolls represent the epitome of Japanese finesse and culture. The detail, ranging from the multi-step processes in which each doll is created and loving folded, to the wonderfully decorated special origami paper used for it's kimono and the deep black crepe paper used for it's hair, is a celebration of the fine handiwork and imagination of origami artists.

Despite how complex and detailed these dolls look, folding them is not difficult at all. Step-by-step coloured photo tutorials and Youtube video tutorials take you through the whole process. All that is required is a range of beautifully coloured origami paper (you could also use sheet wrapping paper), plain white card or cartridge paper and some black crepe paper. These origami dolls make beautiful decorations or lovely small gifts that can be sent in the mail.
The beautifully intricate Japanese origami doll is actually really easy to make. Find out how to make your own in our selection of tutorials.
Click To Tweet
Whether you're helping your grade-schooler get to grips with origami paper folds or simply in it for the joy of creating a beautiful piece of craft, these five tutorials are a great introduction to origami Japanese Dolls.
Search Japanese Origami Paper on Amazon
Spanish craft site Por Cuatro Cuartos has a beautifully detailed small sized japanese dolls made of traditional Chiyogami paper. The site is written in Spanish but if you are browsing using Google Chrome, you can right click anywhere on the page and select 'Translate to English' for English instructions.
Need a simple, light-weight beautiful gift to send? Try making one or perhaps many of these Japanese origami dolls.
Click To Tweet
This Japanese doll is made with three different contrasting coloured papers and has detailed valley folds to created a somewhat pleated look for the lower kimono. The dolls hair is also very finely crafted to include pins and clips, perhaps even chopsticks which were used to hold buns in place.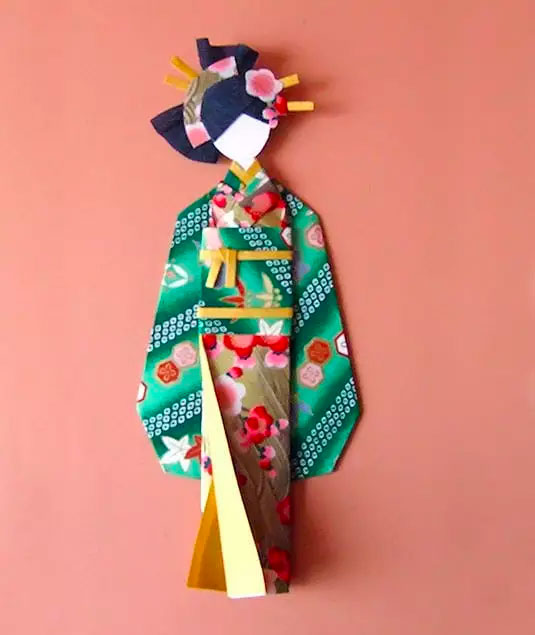 Click here to learn to make this doll
These long-haired Japanese dolls are gorgeously simple yet so elegant. Made with a simple rectangle of 'kimono' paper (Yuzen or Chiyogami is recommended), it starts off with very simple folds to obtain a clear neckline. Central to this design is the availability of really beautiful origami kimono paper.
Made with Chiyogami or yuzen paper, these origami Japanese dolls, represent the epitome of the delicate, intricate craft of paper folding. It really is quite simple though, and definitely worth having a go.
Click To Tweet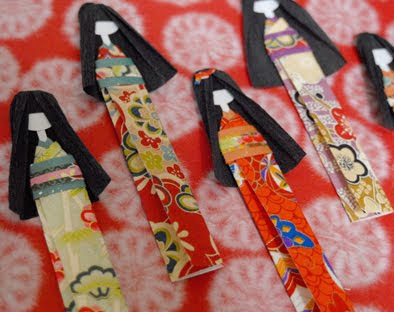 Click here to learn to make this doll
3. LaCrafteria – DIY Geisha Origami
While LaCrafteria calls this Geisha Origami, in reality this style of kimono both in terms of fabric pattern and folds are actually more consistent with the typical young ladies kimono. Compared with the earlier two designs of dolls, LaCrafteria's doll is more square in shape but comes with beautifully flowing sleeves which is a hallmark of Japanese kimonos in real life.
This version requires a bit of woolly string that is used to tie around the obi creating more detail in the doll. The hair variations also provide an interesting addition of colour.
Konnichiwa! Here are 5 easy to follow tutorials to make your very own origami Japanese dolls.
Click To Tweet
4. Origami Manias 97: Japanese Dolls
These Japanese Dolls by Origami Manias 97 are created with puffy sleeves that are held in place with a sweet little floral sticker. A bow made with colour string decorates the doll. Although the hair designs for these dolls are fairly plain they contrast well with the colourful paper that makes up the kimono design.
5. Heyy Origami! – Origami Kimono Doll
Heyy Origami!'s Japanese doll is a sweet, easy to make version with folds that make the kimono sleeves look as if they are held together. Using two contrasting sheets of paper, the dolls are made simply with a triangle that is easily folded together. The hair designs offer a few variations, with buns and some with longer hair. Of course, it is easy enough to adapt and change these hairstyles with different versions.
This is the only origami doll that has facial features drawn in.
These origami Japanese dolls are a beautiful, simple craft activity that produces a result that is always inspired. These sweet dolls make a beautiful decorative bookmark and can also easily be sent in the mail as little gifts whether for a teacher or friends and family.
Japanese Origami Paper
When shopping for Japanese Origami Paper, look on Amazon for chiyogami or yuzen or washi origami paper. These we find offer a unique print and texture truer to a Japanese Kimono designs. They represent Japanese traditional dress patterns in miniature form. They are also thin and easier to fold and crease, but strong enough to withstand the folding force and not tear easily. The word Chiyogami means "gaily-colored paper" and the word Washi means "Japanese paper" in Japanese.