We scoured the web for free online courses that you can sign up and start right away. These are mainly short courses with some including completion certificate at the end. Here are the 28 free online course sites that we will be looking at.
12+16 (28) Best Free Online Course Sites
We said 12 in our head line but we found so many more. The list as it stands is now 28. That's 16 more sites that offer free online courses.
A handful of free courses in different categories. Search the free courses in the catalogue.
Udemy offers an enormous range of free courses on their website. These can be courses for a new skill required to advance your career or to pursue a new career, for interest or to realise your lifelong passion. They have a range of courses in personal growth and wellness, productivity and professional skills, essential tech skills and more. Use the link to free courses and filter by topic, subcategory, level and language to find the right course for you. At the time of writing, we found 181 courses under the free catalogue.
---
Free if you are currently enrolled in participating universities that have their courses hosted on Coursera. Verification is done using qualifying email address, one with university domain, during sign-up.
Coursera hosts free courses from Yale University, Stanford University, Johns Hopkins University, University of Michigan, The Museum of Modern Art, University of London, London Business School and other well established educational institutions. These courses are available to students that are enrolled with the university. Use the university's or community college's verified email address to sign-up and start accessing those free courses. Courses are available for at various levels from undergraduate, graduate or recently graduated students. Use the search facility and look for "free courses". Just note that some courses have a start date requiring you to enrol before the set start date.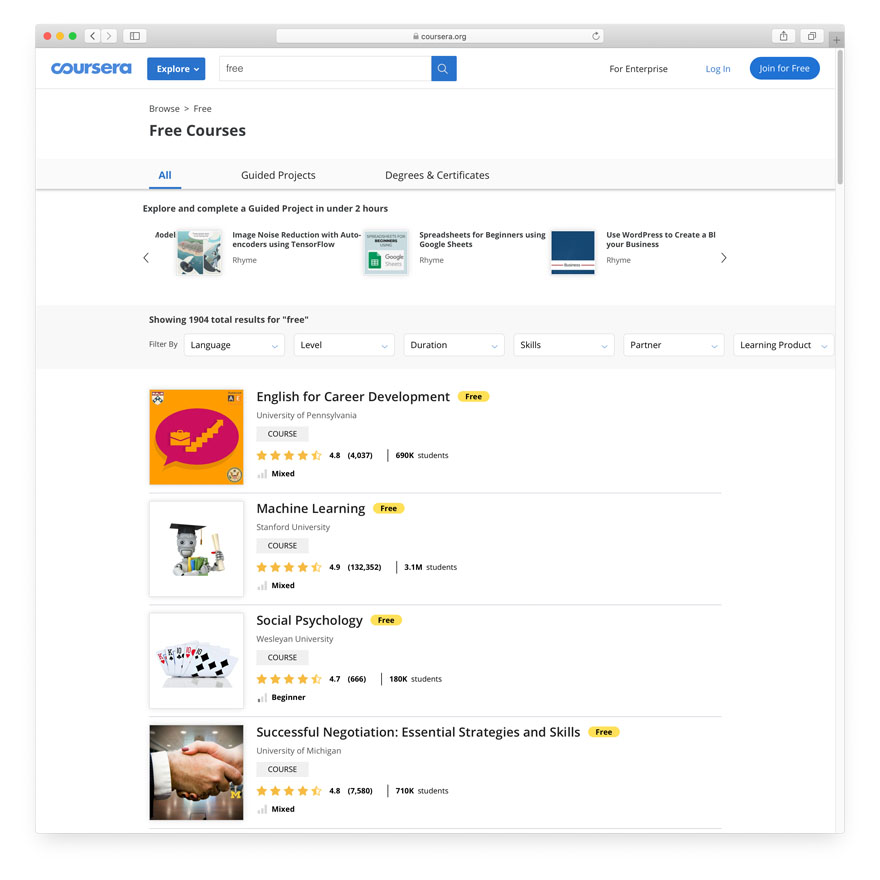 ---
Free with the option to pay and receive a Verified Certificate upon completion.
Free online courses are available from MIT, Harvard University, Berkeley University of California, The University of Texas System, Boston University, The Hong Kong Polytecnic University, Curtis University and more. There are tonnes of free courses on the platform with the option to pay for a verified certificate. Look for the "verified" banner if you would like the option to pay for a verified certificate. As with all online learning platform, it gives users the ability to pace their own learning.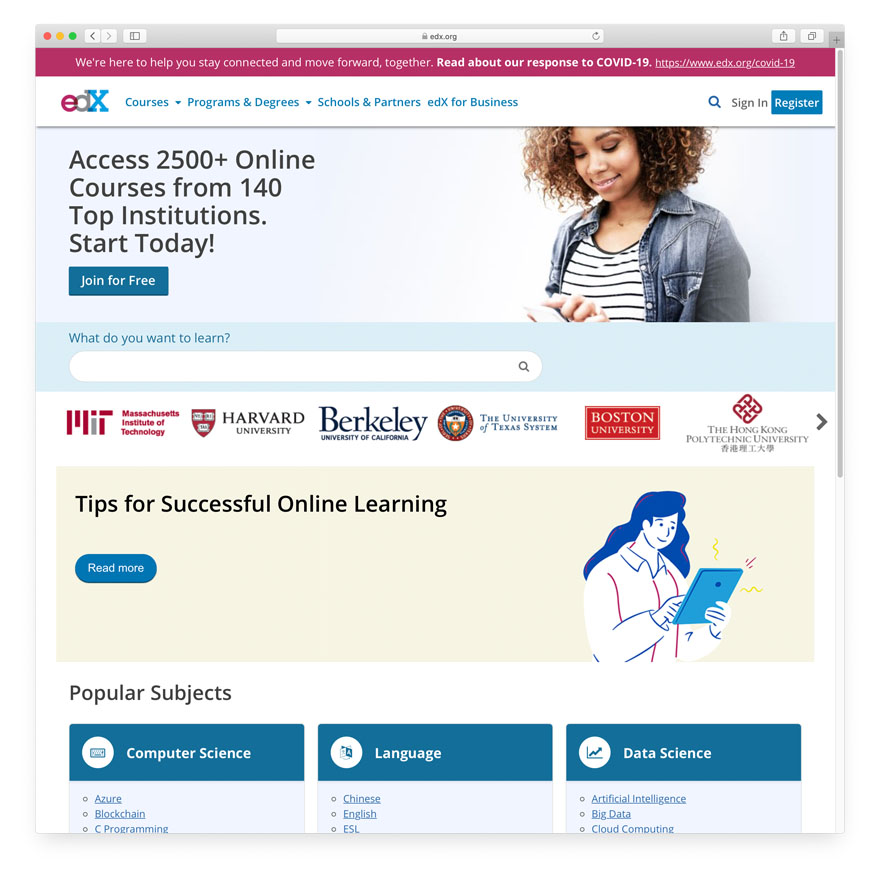 ---
4. OpenLearn (Open University)
Free with the ability to print Statement of Participation on completion but does not count towards formal credits if you are working towards a qualification. You may access the courses without an account or login. However, creating an account and signing in to enrol and complete the courses gets you a free statement of participation or digital badge.
There is a dedicated free courses section on their website open.edu offering you the ability to search by course category. These courses are available immediate with no start date, you choose when to start. Some of the courses are based on Open University course materials while others are written for OpenLearn. On successful completion, you will receive a downloadable and free statement of participation Together with a digital badge if offered. Just so you understand, these courses do not carry any formal credit towards a qualification but you can build up on your skills and knowledge. Courses are organised in levels 1 to 3. Ultimately they serve as a taster or pre-cursor to further learning with The Open University.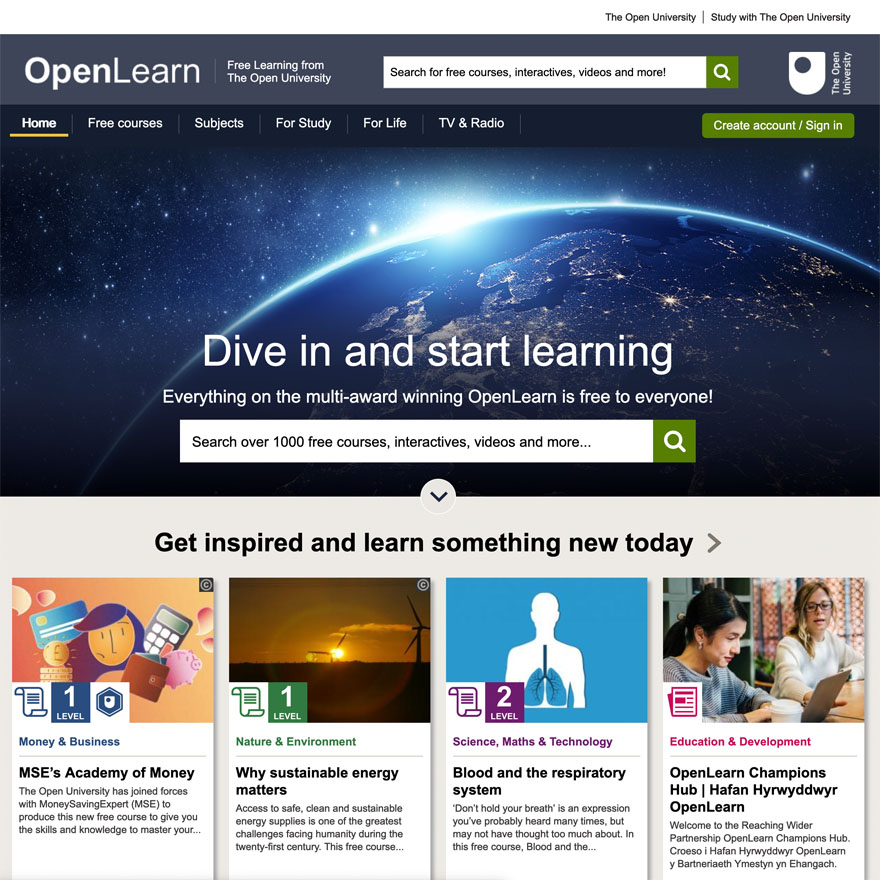 ---
Free for a limited time with an option to pay per course for unlimited access and ability to print Certificate of Achievement. Unlimited fee based annual plan offer access to hundreds of short courses.
Another online learning course hub for world class universities such as King's College London, John Hopkins University, Monash University and University of Michigan as well as other industry experts. While the courses are free, for a small fee, you can keep access to the course for as long as they are on FutureLearn and access and print a digital certificate of achievement once you have completed the course. There is also an unlimited plan for one year that lets you access hundreds of short courses.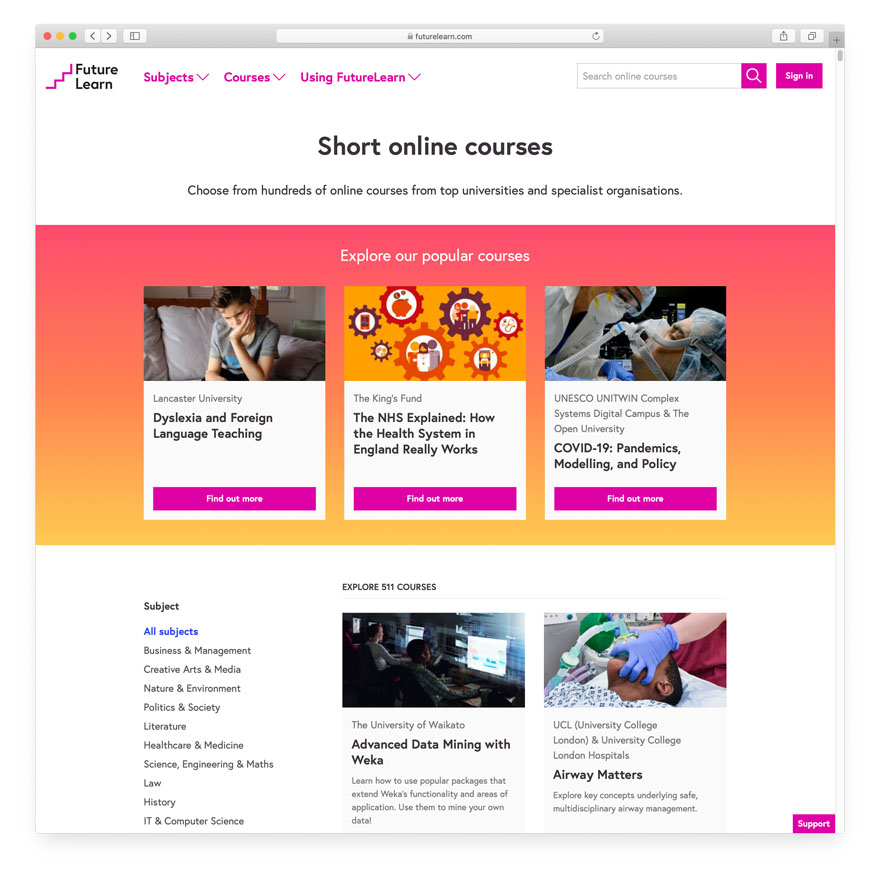 6. Udacity (filter by Free Courses type)
Free courses are mostly technical courses. Start date may restrict availability of courses. You may need to enrol before the start date to join.
The next learning platform focuses on tech skills. The course catalog is divided into five key program areas; programming and development, artificial intelligence, cloud computing, data science and autonomous systems. The only non-technical program is business. Even that is very mech tech industry related. Some of these courses have a start date so you must enrol before the start date to access the classroom. To find free courses, go to the "Program Catalog" page then from the left sidebar, click the Filter by drop-down menu and tick the Free Courses checkbox under Type. At the time of writing, there are 137 free courses in the catalogue.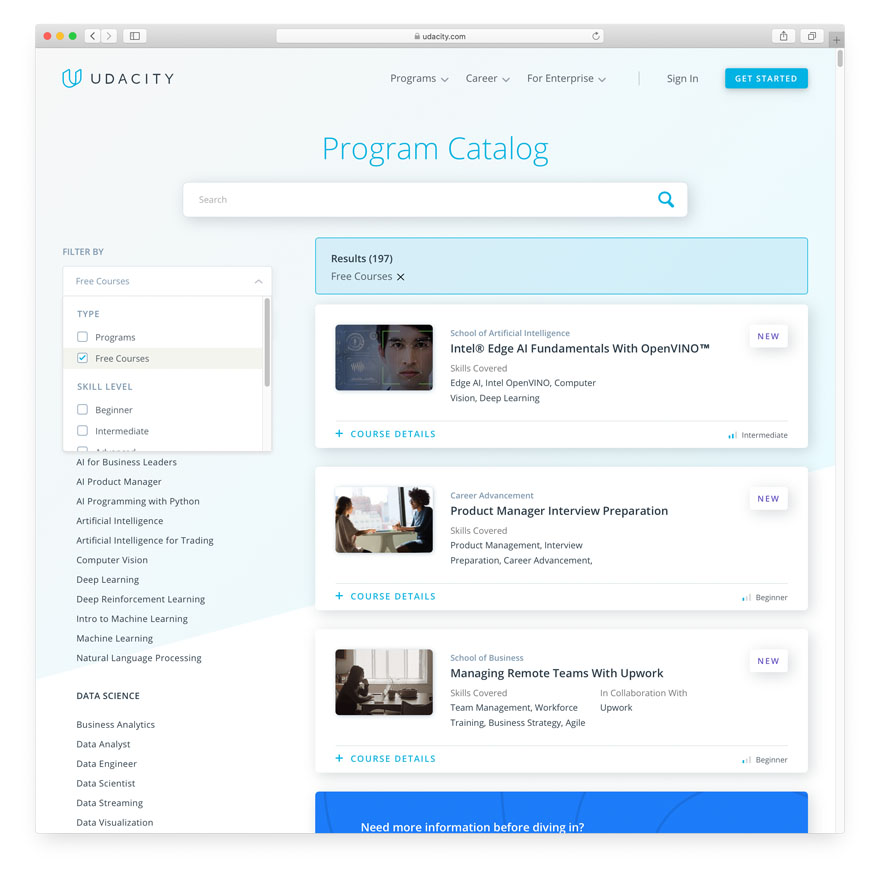 7. CodeCademy (free basic account)
Learn Coding for free. New paid plan offers additional learning tools and live support. For free online coding classes, you can't go wrong with CodeCademy.
Another online interactive platform for learning that offers free coding classes. The site boasts that it covers 12 different programming languages. You can learn anything from Python, Java, JavaSript, Ruby, SQL, C++, Swift and Sass as well as markup languages like HTML and CSS.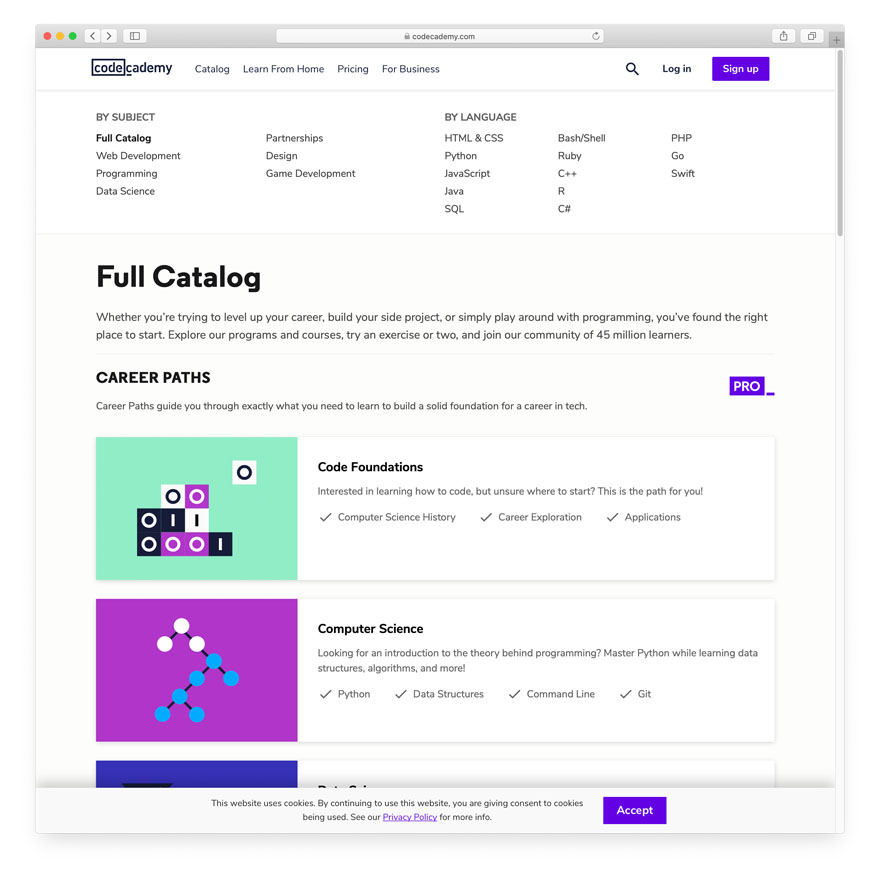 8. Pluralsight (free for one month)
Free trial, paid access to the full course library with a monthly fee. Choose to pay annually and complete the skills assessments for individual or pay for the premium plan to access exams, projects and interactive courses.
With over 7000 online courses, Pluralsight offers both online and offline access to courses in software development, IT operations, data professional, information and cyber security while expanding their portfolio to include cloud computing, machine learning, creative professional and non-IT related learning. The latter includes architecture and construction, business professional and manufacturing and design. While the initial trial is free, there are monthly, annual and premium plans to choose from for individuals or as a team.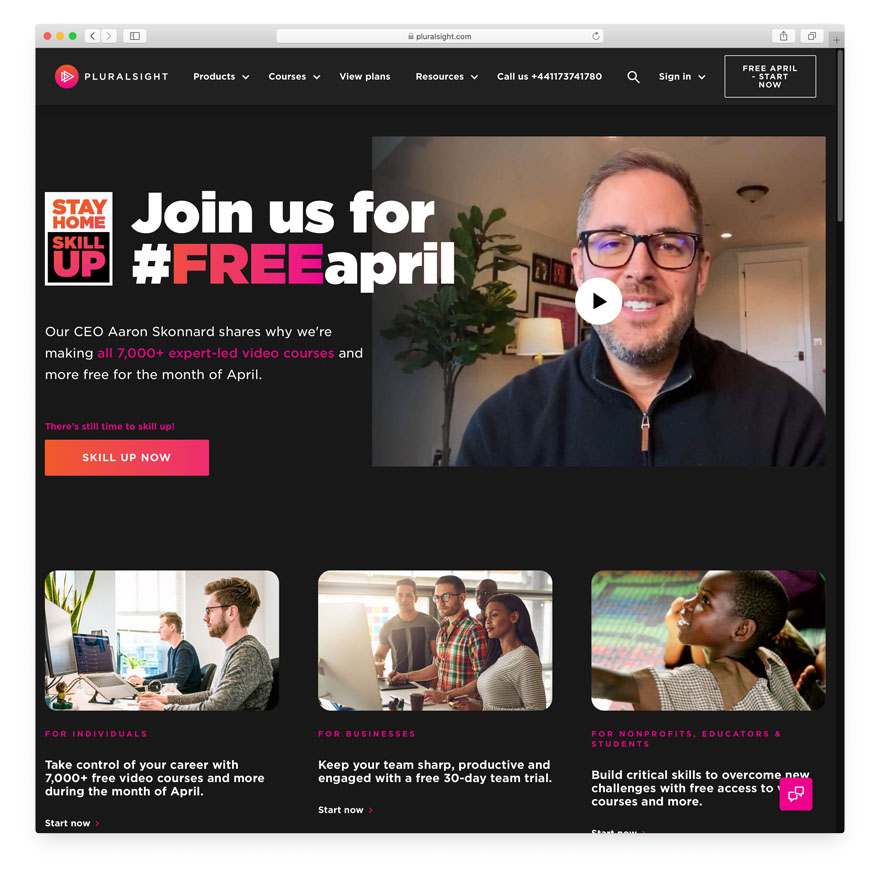 9. Highbrow (free for one month)
Sign up to access the Highbrow courses for free for 30 days. As a member, you gain access to their catalogue of over 300 courses. Membership starts from $10 every month, payable annually.
Highbrow's unique selling point is offering short and quick courses in various subjects, mainly serving the life long learning clients. These short 10 day courses are delivered in easy-to-digest emails and/or 5-minute online lessons for those strapped for time. Choose to learn a language, marketing, lifestyle, history, finance, photography, psychology, relationship, travel, writing and more. It is fast and easy. The company aims to help busy people fill gaps in their knowledge with life long learning short courses. Highbrow claims that 50% of what it makes goes back to the teachers.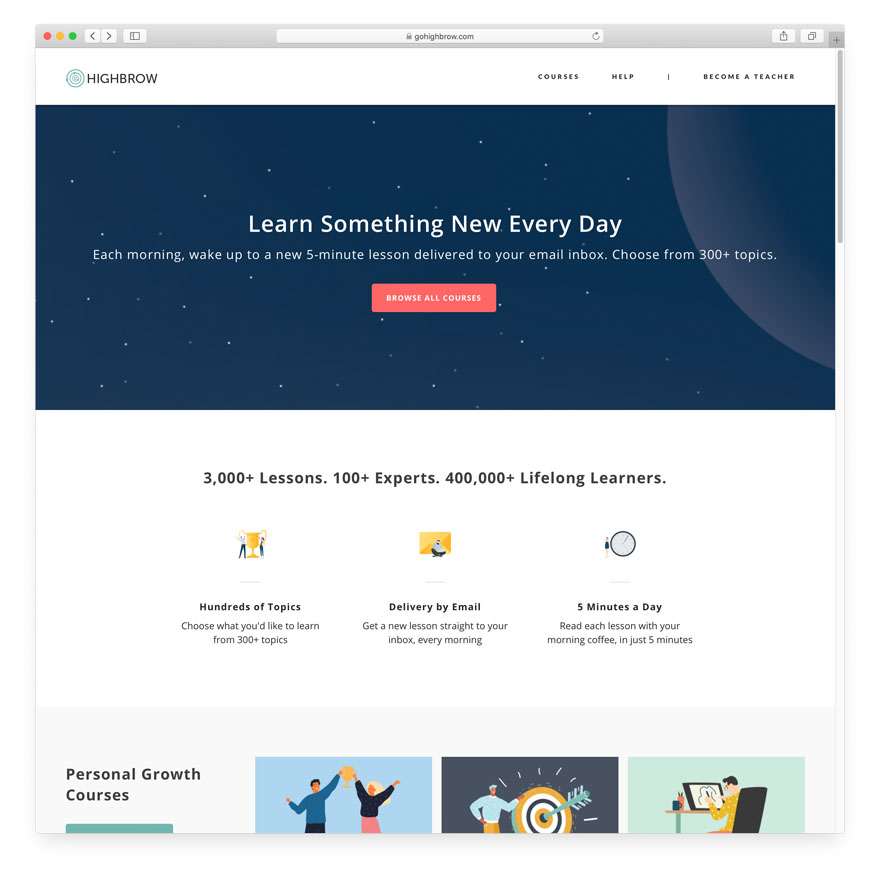 Completely free online learning environment focusing on schools and college level courses. Users can sign up as students, parents or teachers.
Started by Salman Khan in 2008, the site has grown from offering video lessons in maths to covering various school based subjects such as art, computer programming, economics, physics, chemistry, biology, medicine, finance, history and more. All courses are free. As the site is run as a non-profit. You may decide to help out with a monthly monetary gift of your choosing. Users can sign-up and to access as a learner, teacher or parents. Tools are available to teachers and parents to customise the courses and create a totally personalised learning for the students.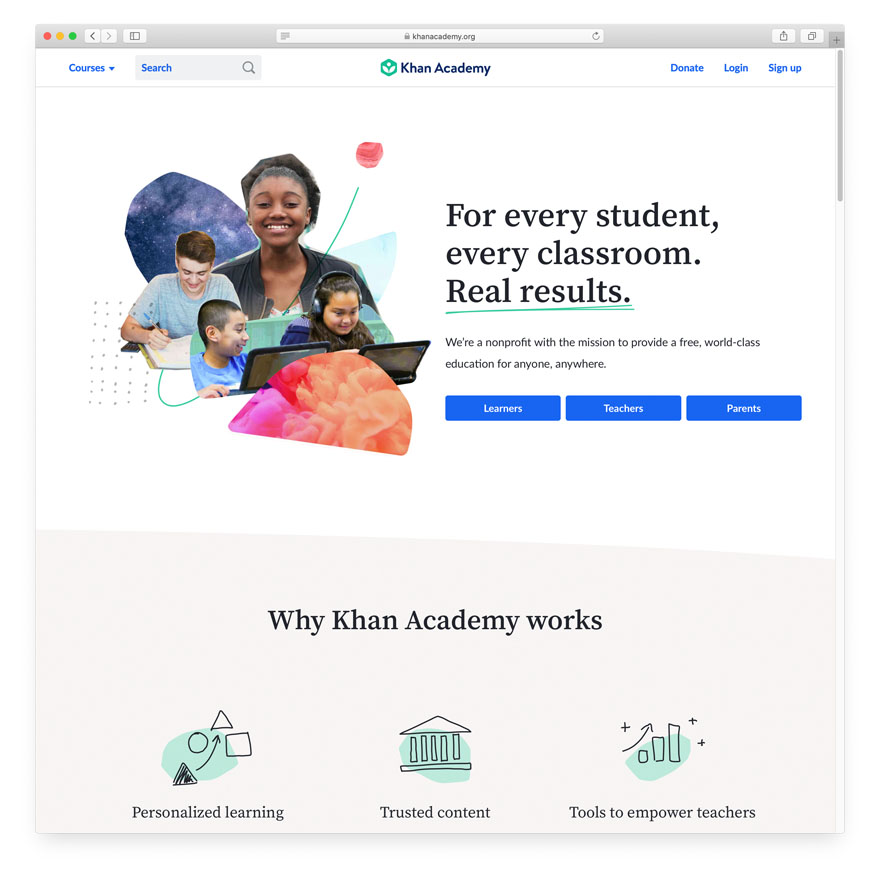 11. Alison (1569 free courses)
There are over 1500 courses on Alison offering certificate and diploma level courses for school graduates. The main course categories are technology, language, science, health, humanities, business, maths, marketing and lifestyle.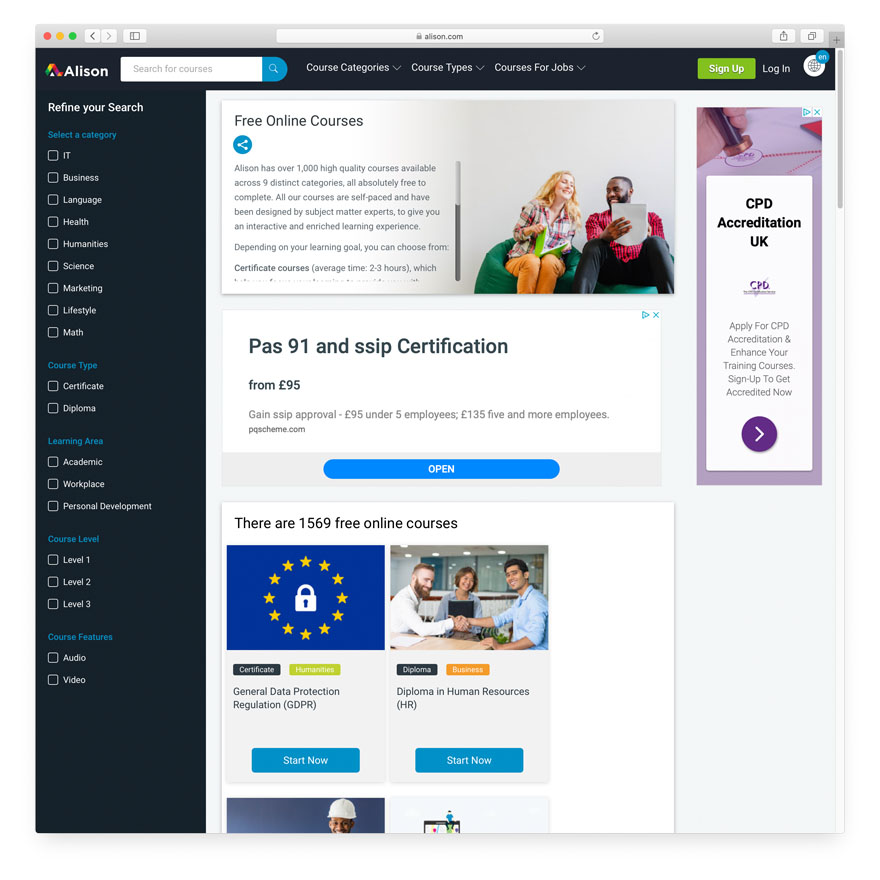 12. iTunesU free courses (app)
If you have an iDevice from Apple, chances are you have seen or downloaded the iTunes U app. The app is available on iPhone, iPad or iPod Touch and is a gateway to a large collection of free education content. You can use the app as an instructor to build lessons with your own materials, collect and grade assignments, start class discussion or talk to students to answer questions and provide feedback. Teachers can also publish courses to the iTunes U catalogue but need to be affiliated with qualified institutions. The large collection of free education content are continually being developed by schools, universities, museum and cultural institutions. Students can view and update assignmnets, submit work, open audio and video files, ask instructor questions and get 1:1 feedback, start or join group discussions and view grades and feedback.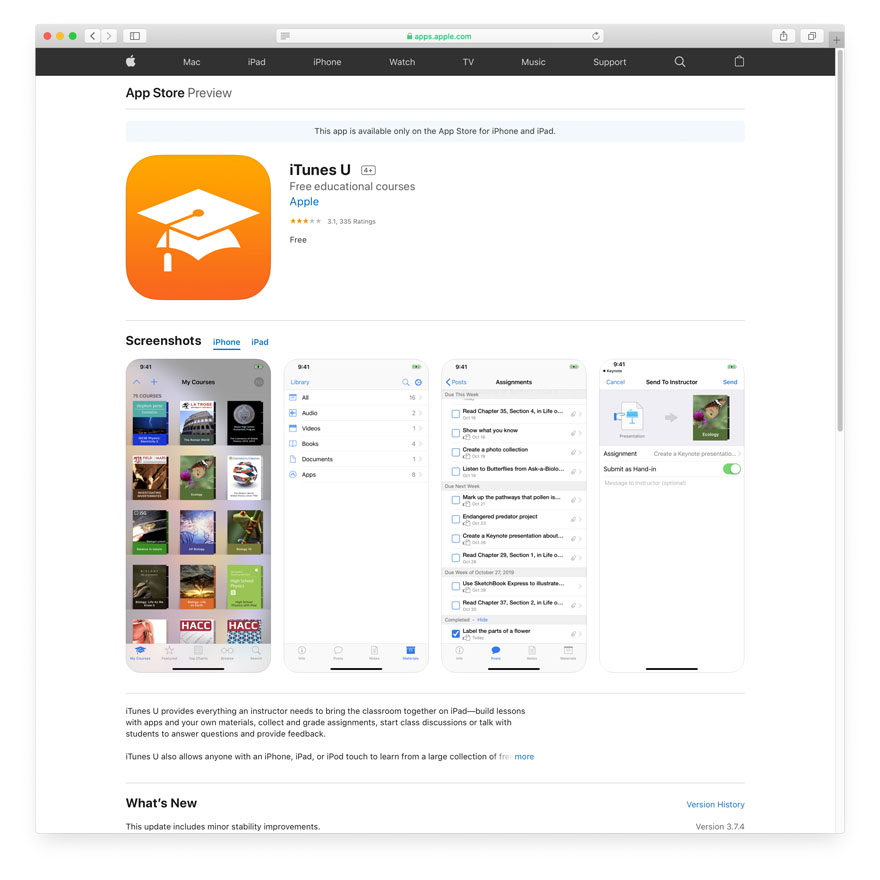 A collection of free online academic lecture videos from leading universities and later online courses. However, these free video courses are considered pre-cursors for students to sign-up to the respective institutions if they wish to complete the course formally. Still, it does not stop learners from learning for free.
Working towards college and university level online degrees, then visit Academic Earth. The site offers free online video classes and academic lectures from schools like Yale, MIT, UCLA, Harvard, Princeton and Stanford. The collection of free online college courses and where they are from can be see on this list with links to university's page. Together they cover around 50 primary disciplines which includes Arts and Design, Astronomy, Biology, Chemistry, Computer Science, Economics, Engineering, English, Entrepreneurship, History, Humanities, Law, Mathematics, Medicine, Philosophy, Physics, Political Science, Psychology, Religion and Statistics.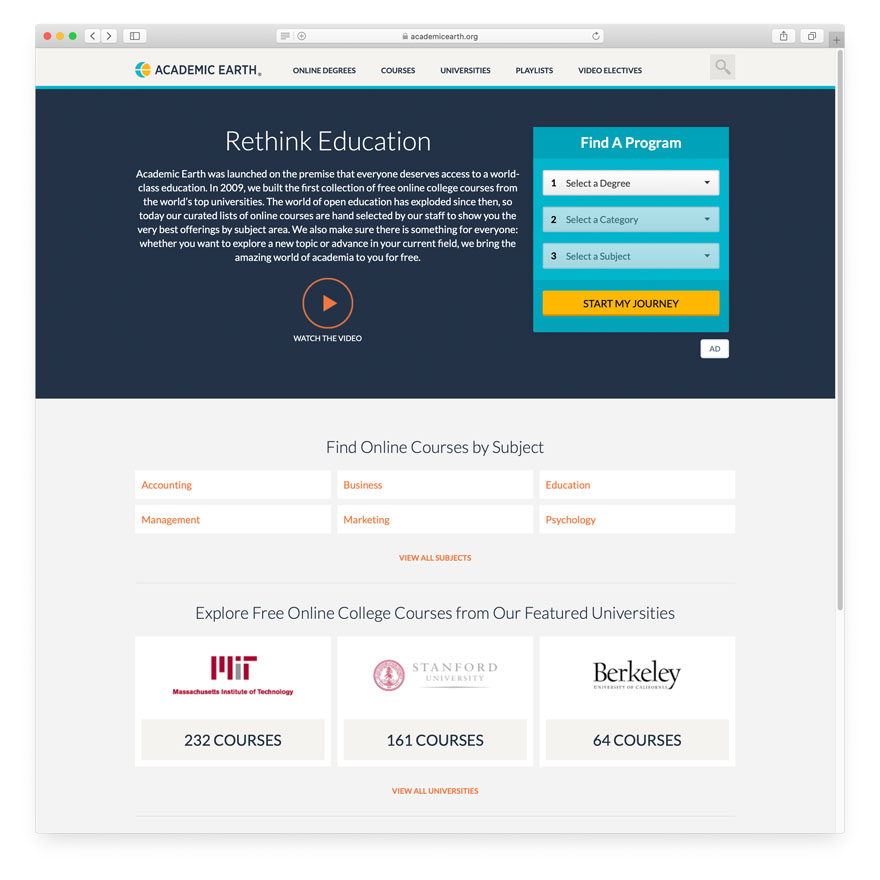 14. Open Culture (1500 free courses from top universities)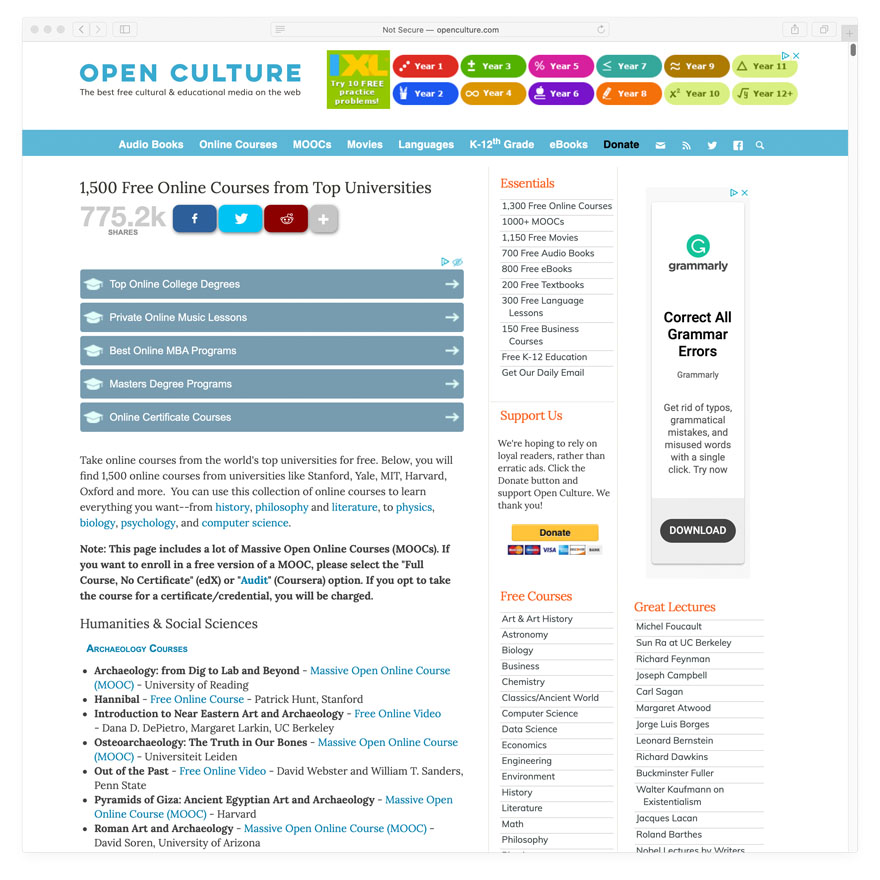 15. vision2learn funded by Education & Skills Funding Agency
Fully funded courses to support professional development for UK and EU only. Applicants must meet eligibility criteria set on the site. Pick the course you wish to do and access the application form to see if you are eligible. Some course have associated fees for paper materials and examinations.
OTHERS
University courses on FutureLearn, Coursera