These Mini PCs are bucking the trend. Small and tiny does not mean they are less powerful than their full size desktop or tower counterparts. Far from that, these powerful ultra small form factor PCs are packed with so much power, yet use very little energy to run.
Save energy, reduce your electric bills and be green. Choose Mini PCs for your next desktop without compromising on performance. These ultra compact computer delivers the same level of performance as full-sized desktops, capable of taking on demanding workloads. Using the latest 10th generation Intel Core processors with up to 8 cores, plenty of memory and a generous amount of fast storage, they are changing the desktop landscape in a small way, figuratively speaking.
Does It Have Everything & What Is It Good For
Small also does not mean sacrificing on storage, memory, connectivity ports and features. Far from it, these mini PCs are jammed with features right up to the brim. From WiFi 6, dual display ports, dual storage options, up to 32GB of RAM memory, Bluetooth and microSD card reader, it's truly everything one needs. Let's take a look at some of the standard features.
1. Expansion, Ports and Connectivity Options
They are not short of features either. Enjoy a host of storage expansion options, microSD or SD card reader, internal PCIe M.2 SSD storage and 2.5-inch SATA bay for SSD/HDD drive. There are also tonnes of expansion ports with a mix of USB2.0, USB3.0 and Type-C USB port. The latter supports PowerDelivery (PD) and DisplayPort functionality for charging and multi-display setup. Other outputs include HDMI, DisplayPort and/or VGA. For wireless connectivity, dual-band WiFi is quite common while new models come with WiFi 6 (802.11ax) for high-speed data transfer. Then there is Bluetooth.
2. Zero Footprint and Custom All-in-One PC
Most of these Mini PCs either come with mounting bracket or offer them as options to mount its tiny cases to the back of the monitors. Others offer optional mounting bracket for the desk so it can be hidden out of sight. As a result, they take no space whatsoever on the desk. This can also be a way to build your own all-in-one PC. Choose your favourite monitor and mount your mini PC to the back of the display. Grab a wireless keyboard and mouse and you have yourself your own custom all-in-one PC.
3. More Ways to Use It: Entertainment Center, Server or DIY Digital Signage
First as a workstation, these mini PCs also work well as a dedicated media center for the living room, media server, home network attached storage, router, file and print server and more. They also work well as a dedicated computer for digital signage or home information center. Think active and smart display that shows headlines, weather, notifications, media and upcoming appointment with access to Alexa or Cortana. Download and install Chrome browser, then get the Revolver Tabs Chrome extension. The plugin automatically rotates between open tabs on the browser. You can also reload specific tab or site and enable automatic rotation when inactive.
Apple Mac Mini (MacOS)
There is no denying that Apple's mini computer is one of the most desirable mini computer out there. If you prefer the MacOS over Windows operating system and wants an ultra small form factor, then the Mac Mini is your answer. The Mac Mini is beautifully designed, offers plenty in terms of expansion ports and comes with a healthy choice of processors.
Configurable with up to 3.2GHz Intel Core i7 with Turbo Boost frequency with up to 4.6GHz 6-core and 12MB shared L3 cache, it punches way over its weight. The two starting configurations on offer are your above average machines with either a 3.0GHz 6-core 8th generation Intel Core i5 (Tubo boost up to 4.1GHz) or 3.6GHz 4-core 8th generation Intel Core i3 processor with 8GB memory and 512GB or 256GB PCIe based SSD storage, respectively. See comparison table below.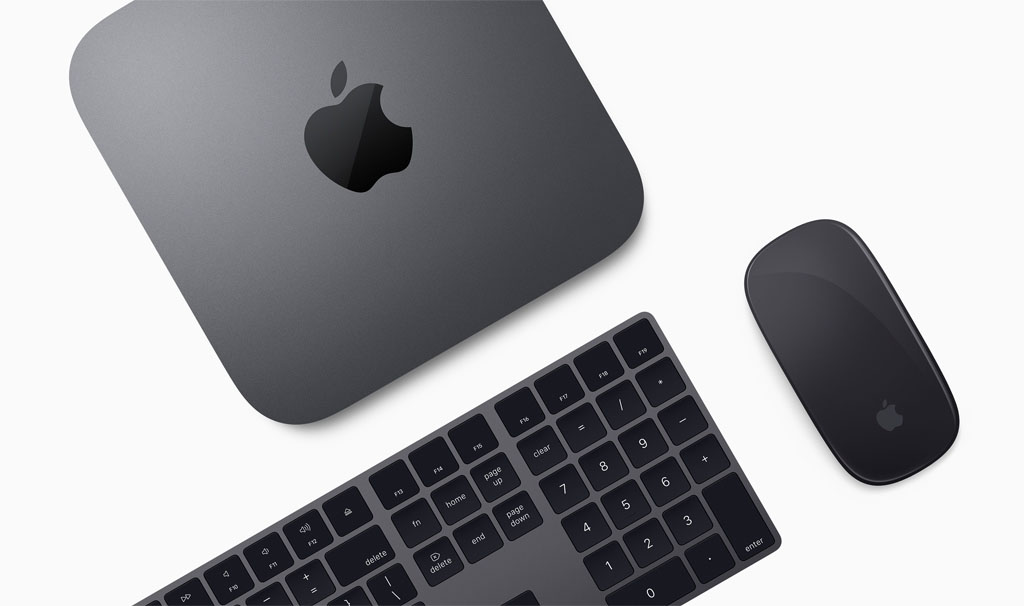 Mac Mini 3.6GHz Intel Core i3 Quad-Core Processor
3.6GHz quad-core 8th-generation Intel Core i3 processor
8GB 2666MHz DDR4 memory
Intel UHD Graphics 630
256GB PCIe-based SSD storage
Mac Mini 3.0GHz Intel Core i5 6-Core Processor
3.0GHz 6-core 8th-generation Intel Core i5 TB up to 4.1GHz
8GB 2666MHz DDR4 memory
Intel UHD Graphics 630
512GB PCIe-based SSD storage
Top 5 Powerful Mini PCs to Replace Your Desktop
Here is the deal, these Mini PCs do not cost as much as Apple's Mac Mini. Some even come with newer 9th and 10th generation processors. They offers the same flexibility in terms of expansion and ports. Be sure to check them out if you are in the market for a mini PC.
1. ASUS Mini PC PN62
ASUS has been making not only Mini PCs but motherboards, graphics, barebone systems, gaming rigs, laptops and desktops. The ASUS Mini PC PN62 is the latest in their line of mini PCs. Other models include the VivoMini and ProArt PA90. Back to the ASUS Mini PC PN62, the system is powered by 10th generation Intel Core processors and come with dual storage design with support for M.2 SSD and 2.5-inch SSD/HDD. There is also the high speed WiFi 6 networking, USB 3.1 Gen 1 Type-C port and configurable Thunderbolt 3 port.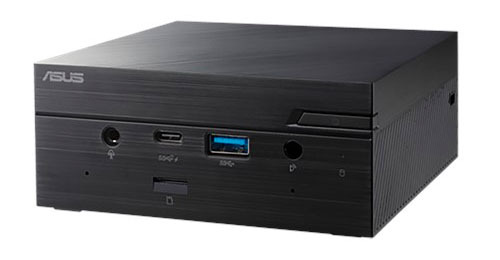 The USB-C port supports Power Delivery, data transfer and DisplayPort for extra display. Plus, the dual-array front microphones adds support for Microsoft Cortana and the unit has infrared sensor allowing you to control certain apps with a remote controller. All that is a box measuring 11.5cm x 11.5 cm x 4.9cm high, weighing just under 700 grams and is VESA mountable to the back of the screen (VESA Mount Kit supplied). For display, it supports up to 2 x 4K monitors via HDMI and DisplayPort over that USB 3.1 Gen 1 Type-C port. (see images below).
Specifications
Intel® Core™ i7-10710U Processor or
Intel® Core™ i7-10510U Processor or
Intel® Core™ i5-10210U Processor or
Intel® Core™ i3-10110U Processor
Up to 64GB DDR4 memory
2.5″ 500GB Up to 1TB SATA Hard Drive
128GB Up to 256GB M.2 (NGFF) SSD
WiFi 6 802.11ax, Bluetooth 5.0
Intel Gigabit Ethernet
Front IO Ports: 1 x 4 -in-1 Card Reader, 2 x Microphone, 2 x USB 3.1Gen 1, 1 x USB 3.1Gen 2 Type-C*, 1 x Audio jack, 1 x Consumer IR sensor
Back IO Ports 1 x USB 3.1 Gen 1 Type-C *, 2 x USB 3.1 Gen 1, 1 x HDMI, 1 x RJ45 LAN, 1 x DC-in
1 x Configurable port(options:COM, VGA, DisplayPort, LAN, Thunderbolt 3)
---
2. LENOVO ThinkCentre M920q Tiny
ThinkCentre M920q is available with a choice of three different 9th generation Intel processors. They are as listed below:
Intel Core i5-9500T Processor (2.20GHz 9MB)
Intel Core i7-9700T Processor (2.00GHz 12MB)
Intel Core i9-9900T Processor (2.10GHz 16MB)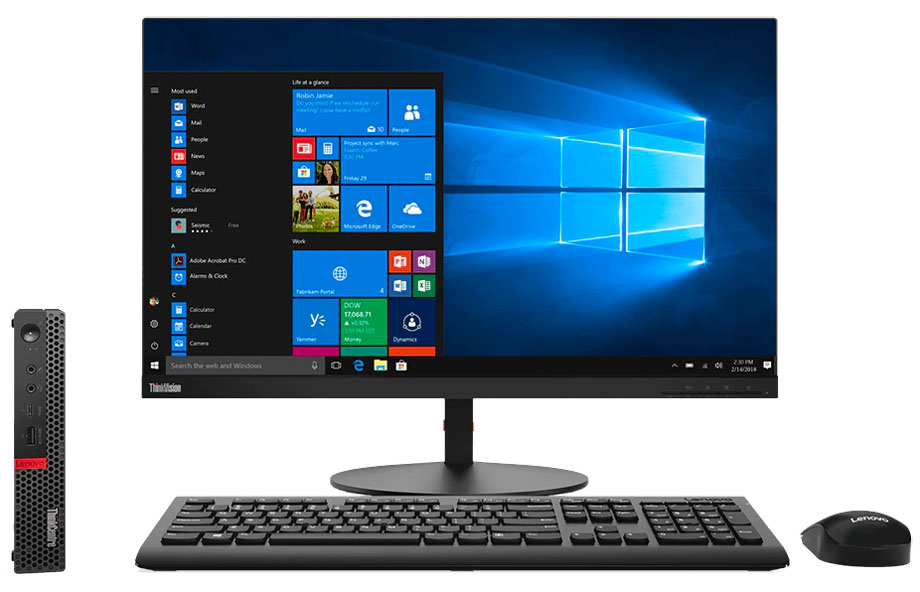 Running Windows 10 Pro 64-bit, these workstations come with 8GB RAM memory and 256GB SSD PCIe storage. The Intel Core i9 model comes with double the memory at 16GB RAM and double the storage at 512GB PCIe. While these ThinkCentre M series PCs are designed primarily for business, what is to stop one from using it at home.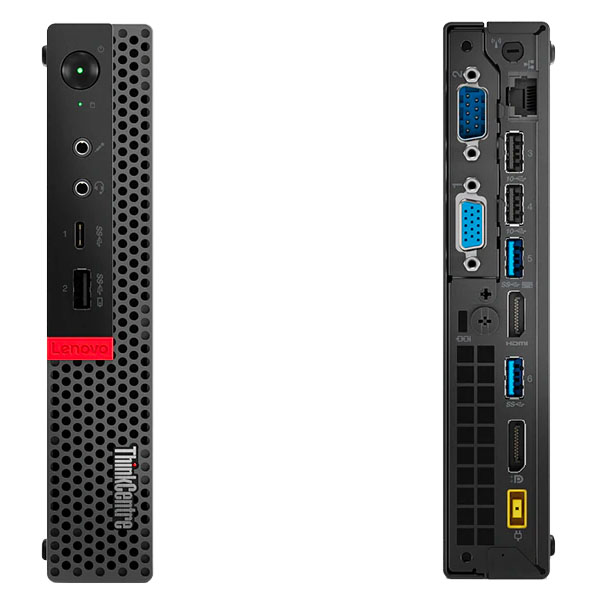 Even with all that power, the AC adapter has a maximum rating of 90W which means they are cheap to run. Optional VESA mount for behind the monitor and under desk brackets are available for zero footprint setup. Plus the system is rigorously tested to MIL-SPEC standards and you can connect up to two monitors via Display Port and HDMI outputs.
---
3. HP EliteDesk 800 G5 Mini
The EliteDesk 800 G5 mini desktop PC is available with 9th generation Intel Core i5 or Core i7 processors. The replacement to HP EliteDesk 800 G4 Mini, the G5 not only comes with the new generation Intel Core i5 with hexa-cores and Intel Core i7 with octa-core  processors but the i7 model comes with 1TB PCIe SSD storage with Raid 0 configuration offering even more storage performance. Here is how the two Core i5 and Core i7 powered G5 models compare.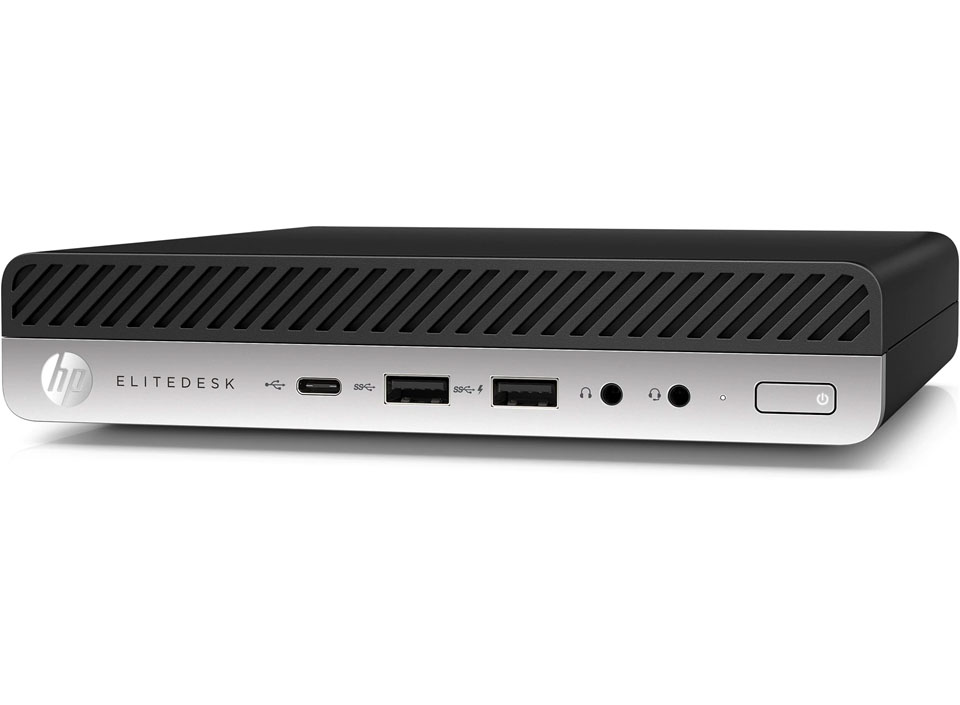 HP EliteDesk 800 G5 Mini with i5
Intel Core i5-9500 up to 4.4GHz 9MB cache 6 cores
8GB Memory, 256GB PCIe NVMe SSD storage
HP EliteDesk 800 G5 Mini with i7
Intel Core i7-9700K up to 4.9GHz 12MB cache 8 cores
16GB Memory, 1TB PCIe NVMe TLC M.2 SSD storage with Raid 0 configured
Weighing under 1kg, the EliteDesk 800 G5 Mini is both smaller and lighter than the ThinkCentre M920q. Still, it manages to pack a huge number of ports both front and back with 2 DisplayPort 1.2,  6 x USB ports and 1 x USB Type-C port that supports DisplayPort and PowerDelivery. You might also be wondering, why are there two 3.5mm sockets in front, one of them is for a headphone and the other is a headset connector. Both Mini PCs run Windows 10 Pro 64 operating system.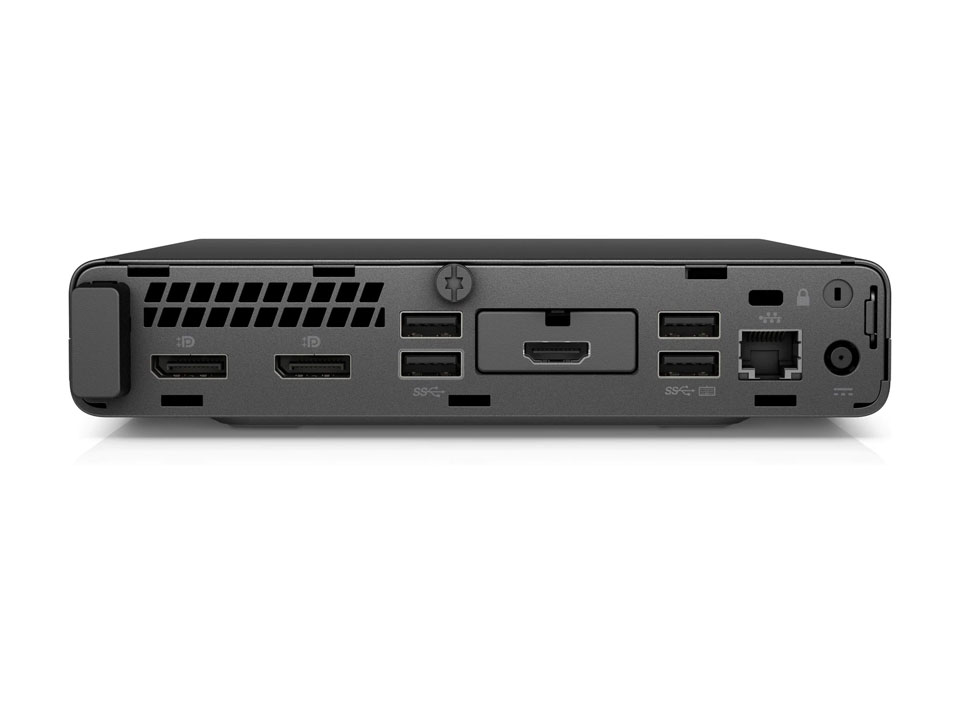 Dimensions and Weight: 17.7 x 17.5 x 3.4 cm, 0.96kg
---
4. HP ProDesk 400 G5 Mini
The HP ProDesk 400 G5 Mini is the affordable option to the EliteDesk. Built with the same compact chassis, you get the reliability of the EliteDesk 800 G5. The choice of processors might look the same, especially the model numbers but the suffixes tell a different story. These are in fact slightly slower CPUs, a bit more about this later.

Also, unlike the G5 with storage up to 1TB SSD, the ProDesk 400 G5 tops out at 512GB SSD. Here are how the models available compare with one another. All mini PCs from the HP ProDesk 400 G5 Mini range comes preloaded with Windows 10 Pro 64.
HP ProDesk 400 G5 Mini with i5
Intel Core i5-9500T up to 3.7GHz 9MB cache, 6 cores
8GB / 16B memory, 512GB PCIe NVMe SSD storage
HP ProDesk 400 G5 Mini with i7
Intel Core i7-9700T up to 4.3GHz 12MB cache, 8 cores
16GB memory, 512GB PCIe NVMe SSD storage
You will notice that, what is missing is the USB-C port. A small price to pay with savings to be had. The processors while they are hexa-core and octa-core, they have a lower Turbo Boost speed. Take for instance, the Intel Core i5-9500 runs faster up to 4.4GHz while the Intel Core i5-9500T tops out at 3.7GHz. On the flip side, the Core i5-9500T is 46% more efficient with thermal design power at 35W vs 65W.
When comparing Intel Core i7-9700K vs Core i7-9700T, the latter is again the energy efficient CPU, 46% more energy efficient compared to the former. This means the Core i7-9700T has a lower Turbo Boost frequency, 4.3GHz compared to 4.7GHz. Again, the thermal design power is 35W vs 65W. In summary, the suffix T is used for more energy efficient run cooler processors.
---
5. LENOVO ThinkCentre M630e Tiny
Going up against the entry level Apple Mac Mini is the ThinkCentre M630e Tiny. This small but powerful machine means business. Powered by Intel Core i3-8145U processor, they are available with either Windows 10 Pro 64 or Home 64. Both are specified with 4GB RAM memory (supports up to 16GB, Intel Optane Ready) and 128GB SSD storage. Those who care about the environment will sleep soundly knowing that it just needs up to 65W of power.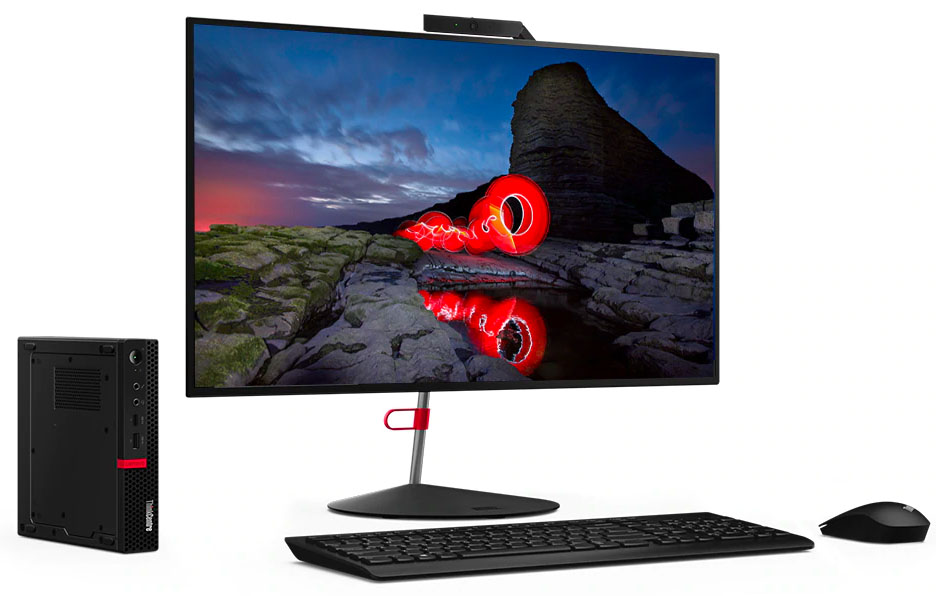 As with the higher model M920 Tiny, the M630E Tiny can also be mounted on the back of the monitor with VESA Mount II. Both models are the same size and similar weight.
Dimensions and Weight: 7″ x 1.4″ x 7.2″ / 179mm x 36.5mm x 182.9mm, starting at 1.3kg
Also available are the LENOVO ThinkCentre M630e Tiny PCs with Core i5-8265U and Core i5-8400T processors.
BONUS: MSI Cubi 5 10M
Using the 10th generation (Comet Lake) Intel processors, the MSI Cubi 5 10M small form factor PC is available with up to Intel Core i7 U-processor. This is a barebone system with processor pre-installed. Just add you own memory and storage. Everything else is available on the unit especially expansion ports, accessible from front or rear side of the unit and WiFi 6 (Intel Wireless AC 9462 or Intel Wireless AX201) support. The compact mini PC can also be mounted to the back of a monitor as it supports standard VESA-mount to totally free up the space on the desk.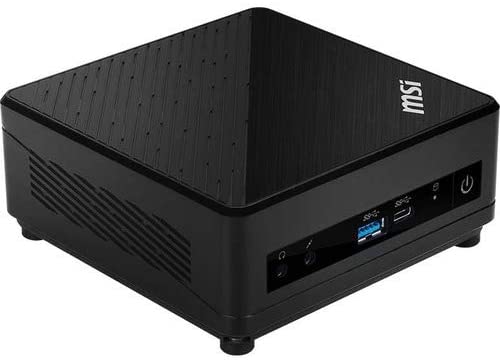 For memory and storage, there are two DDR4 2666MHz SO-DIMM slots that support up to 64GB memory and two storage drive options. You can add a M.2 SSD card or a 2.5-inch SSD or HDD storage drive or both to maximise the onboard storage. For connectivity, there is a single USB 3.2 Gen 1 Type C port up front next to a USB 3.2 Gen 1 Type A port, a Microphone In and a Headphone Out. On the rear of the unit, you get 2 x USB 2.0 ports, 2 x USB 3.2 Gen 1 Type A ports and 1 x RJ45 for wired networking. Finally, the system supports dual display via HDMI out (1.4) and DisplayPort out (1.2). See image below for connectivity port layout.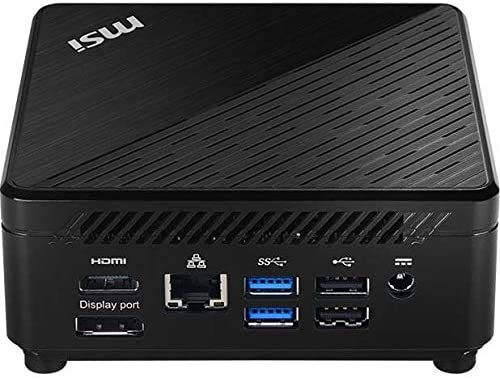 Dimensions and Weight: 124 X 124 X 53.7 mm, 0.55 kg / 1.4 kg
This article was first published on Colour My Tech and is adapted for our audience here at Colour My Learning.