With schools rushing to use Google Classroom and signing students up to G Suite for Education, what every teacher, student and home schooler needs is a distraction-free Chromebook. We discover five of the best 2-in-1 laptops, convertible devices that offer the best of a tablet and a laptop in one.
A Real 2-in-1 Device (ChromeOS & Android Apps)
Based on the ChromeOS with a familiar Chrome browser interface, there is nothing that the laptop cannot do. Throw in the convertible form factor and you got yourself a tablet too. Plus, ChromeOS now supports Android apps. This means you can now access Android apps like you do on an Android tablet on the laptop (in tablet mode) using the touch interface.
Full Size vs Portability
Pick between a full size convertible Chromebook laptop with a 15.6-inch touchscreen or a more portable 14-inch or smaller device. At 15.6-inch in tablet mode, you get an expansive display, great for presentation and working collaboratively. With a powerful processor, it also works well as a desktop replacement with the ability to hook up to an external display.
Convertible Chromebook with 14-inch or smaller touchscreen works best as a personal device but is still big enough for sharing. In tent and stand mode, you can share your presentation, research, photos, videos or TV shows with a small group of friends. When done, you can quickly pack it away or continue working wherever you wish given its compact size.
The Power Factor
For more firepower, choose convertible Chromebook laptops powered by Intel Core i5 or Core i3 processors. These can offer up to 5 times more performance gain compared to those powered by entry level Intel Celeron processors. They are still miles better, with up to 3 times performance gain when compared to Intel Pentium class processors. With that in mind, let's look at the processors typically found in today's Chromebooks and how they compare.
Chromebook Processor Performance
To understand what you are getting for your money, we look at the core of these convertible Chromebooks, their processors. It helps to understand the potential performance output and to compare this to all the options on offer. Naturally, the fastest processors are from the Core i-series. This is followed by the Pentium and then the Celeron series.
| | Ave CPU Mark | Single Thread | Cross Platform Rating |
| --- | --- | --- | --- |
| Intel Core i5-8250U @ 1.60GHz | 6202 | 1982 | 10863 |
| Intel Core i3-8130U @ 2.20GHz | 3794 | 1892 | 6775 |
| Intel Core m3-8100Y @ 1.10GHz | 2898 | 1858 | 5468 |
| Intel Pentium 4417U @ 2.30GHz | 2302 | 1323 | 4315 |
| Intel Pentium 4415U @ 2.30GHz | 2027 | 1143 | 4050 |
Source: cpubenchmark.net
Taking the Intel Pentium 4415U as the baseline, the fastest processor found on Chromebooks in our line-up is the Intel Core i5-8250U. This processor is 3 times more powerful than the Intel Pentium 4415U. Next is the Intel Core i3-8130U which is nearly 1.9 times more powerful. This is followed by an energy efficient Intel Core m3-8100Y. The processor has a 53% performance gain over the Intel Pentium 4415U.
The Intel Pentium processors in the performance table above are included for illustrative purposes. Even though the Pentium processors are the slowest in the list, they still compare favourably over the Intel Celeron class processors. Our research has shown that the Intel Pentium 4415U is still 33% faster than the commonly available Intel Celeron N4000 processor.
Take a look at the chart below to further understand the difference in performance choosing one over the other.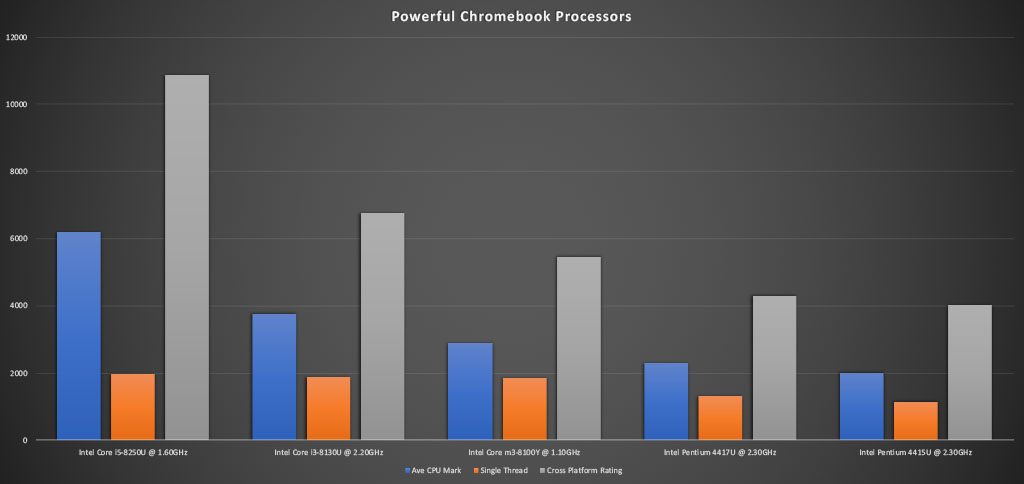 Top 5 Most Powerful 2-in-1 Chromebook Laptops
We look at offerings from Lenovo, HP, ASUS and Acer for the best in class 2-in-1 Chromebook convertible laptops.
Make no mistake, the 15.6-inch convertible laptop is huge. It weighs 1.9kg which is on the light side considering the size, but it is still big. The 2-in-1 device is powered by an 8th generation Intel Core i5 processor with a generous amount of memory 8GB RAM and storage 128GB eMMC. This is double the average found on some of the Chromebooks below. Typically, a mid-range or budget unit would only come with 4GB RAM and 64GB eMMC storage or less.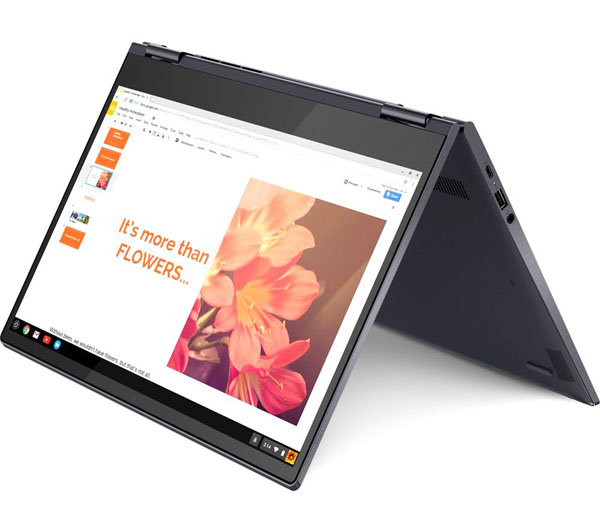 Build quality is great. It is super fast and works like a dream. We have no issue tackling day-to-day computing work including online research, assignments, projects and even the odd photo editing with the right app. It could even pass for a desktop replacement with that much firepower.
The 2-in-1 device combines the best of both laptop and tablet with its ultra slim profile. To switch between the two mode, simply flip over the screen held by the rotating 360 degree hinges. Use the Chromebook with pre-installed Google applications such as Docs, Maps, Gmail, Drive and more or add new apps from Google Play store.
This is a big laptop, not one to carry around every day but works well if you need to move quickly. Everything is so well made, sufficient back-lit for the keyboard, perfect screen and overall good looking laptop with battery life that won't disappoint. To top that off, the touchscreen and 2-in-1 profile makes this a super versatile machine.
For connectivity, there are two USB-C ports and one USB3.1 port, 3.5mm audio combo jack and microSD card reader.
Specifications
Intel® Core™ i5-8250U Processor
RAM: 8 GB / Storage: 128 GB SSD
15.6-inch Full HD touchscreen 1920 x 1080p
Battery life: Up to 10 hours
Dimension & Weight: 17.8 x 361.5 x 248.85 mm (H x W x D), 1.9kg
ALSO: Lenovo Yoga C630 15.6-inch with Intel Core i3, 8GB RAM and 64GB eMMC.
Intel® Core™ i3-8130U Processor
RAM: 8 GB / Storage: 64 GB eMMC
Full HD touchscreen
Battery life: Up to 10 hours
---
The HP x360 14 is more portable and with the use of Intel Core i3, 8GB RAM and 64GB eMMC storage, it is able to keep its cost down significantly from a Chromebook that uses the Intel Core i5 processor. It may not be the slimmest and lightest 14-inch convertible laptop in our list, that title goes to ASUS Flip C433TA but it is close. Measuring only 16mm thin and weight at 1.6kg, it is just the right size as a portable computer.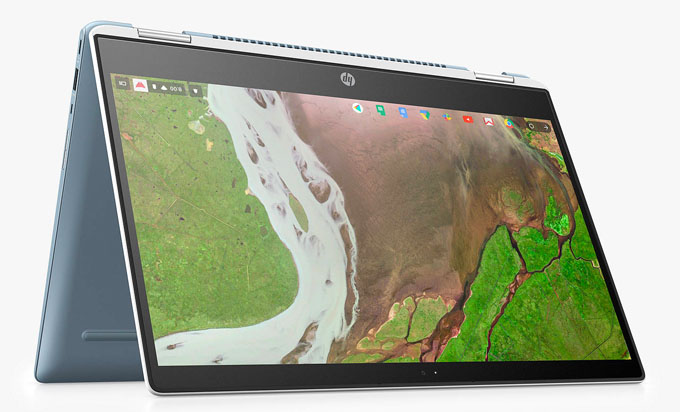 Being HP, the same design and chassis is used with different configurations and operating system (Windows 10). You can get the HP x360 2-in-1 Chromebook with Intel Pentium Gold 4415U or Intel Celeron N4000 at cheaper prices. Our pick, the HP x360 14 2-in-1 with Intel Core i3 processor fast and snappy.
The Full HD IPS touchscreen has an ultra wide 178 degree viewing angle. With its narrow side bezels, it helps keep the footprint of the device small. The one advantage this system has over other Core i3 units in the list is the big 8GB memory. Other Core i3 convertible laptops come with a smaller 4GB memory.
The keyboard and trackpad has a premium feel to it. Overall, the system looks great, sleek and slim with hinges that offer a solid feel. With a battery that lasts all day and a compact frame, you can take it with you wherever you go. The only downside is the display brightness, is not as bright as we would like it to be but is still sharp.
For expansion the HP x360 14 comes with two USB Type-C and three USB3.1 ports, 2-in-1 memory card reader and 3.5mm audio jack. Dual band AC WiFi and Bluetooh 4.2 is supported for wireless connectivity.
Specifications
Intel® Core™ i3-8130U Processor
RAM: 8 GB / Storage: 64 GB eMMC
14-inch Full HD touchscreen 1920 x 1080p
Battery life: Up to 14 hours
Dimensions and Weigth: 16 x 226.8 x 325.4 mm (H x W x D), 1.6kg
---
The energy efficient processor, the Intel Core i5-8200Y dual-core is difficult to come by. It has a clock speed of 1.3GHz that increases to 3.9GHz when needed. With an average TDP of 5W, it will help prolong the battery life but as the expense of performance. Another benefit is there is no active cooling. No audible fan noise makes for pleasant and silent operation.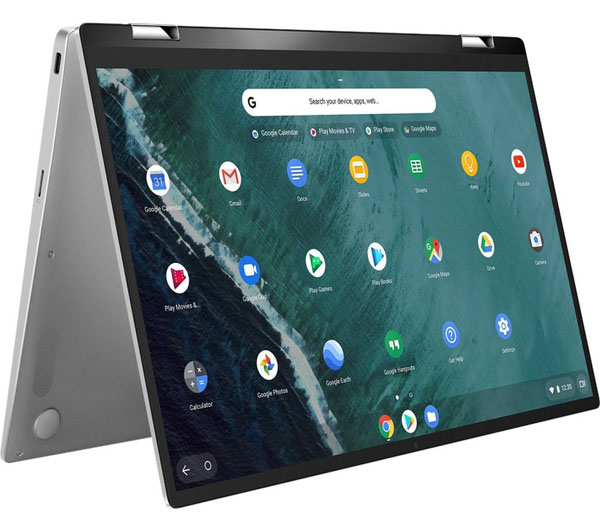 Great design and amazing build quality as you would expect from ASUS. With its super small bezels, the touchscreen looks like the iPad Pro in tablet mode, only bigger at 14-inch. It literary feels like a big piece of glass.
According to cpubenchmark.net, the Average CPU Mark score for this processor is 3070. This puts it just above the Intel Core m3-8100Y but below the Intel Core i3-8130U. To avoid confusion and due to the rarity of the CPU, we have left it out of the performance table and chart in the previous section.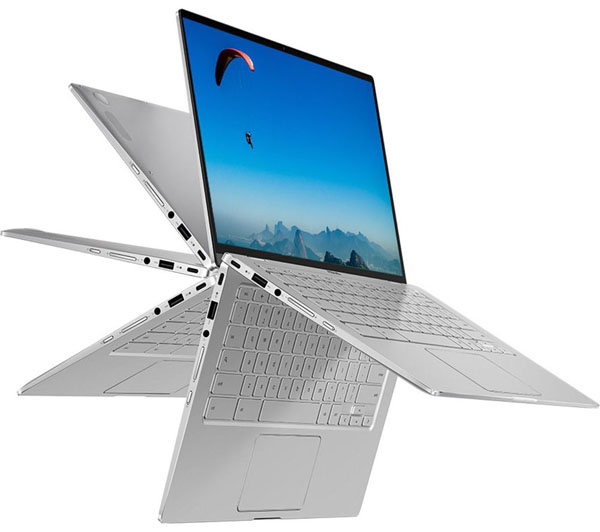 The device itself is really nice. It has a great design with Ergo Hinge that lifts the keyboard up at an angle for better typing experience. The high quality metal chassis with slim lines, rapid start and good battery life makes this great as a go to tablet or laptop. The backlight may be a little dim.
The Asus Flip C434TA is still a promising convertible laptop with a 14-inch Full HD touchscreen. Switch from laptop to tablet in seconds with its 360 degree hinge even while the device is on. You can also hide the keyboard in tent or presentation mode for distraction free modes. The laptop features USB Type-C x 2 and USB3.1 x 1 expansion as well as DisplayPort 1.2 for multi-display support.
Intel® Core™ i5-8200Y Processor Dual Core 1.3GHz / 3.9GHz 4MB Cache
RAM: 8 GB / Storage: 128 GB eMMC
Full HD touchscreen
Battery life: Up to 10 hours
Dimensions & Weight: 15.7 x 321 x 202 mm (H x W x D), 1.5kg
ALSO: ASUS Flip C434TA 14-inch 2-in-1 Chromebook
Intel® Core™ m3-8100Y Processor
RAM: 4 GB / Storage: 128 GB SSD
Full HD screen
Battery life: Up to 10 hours
Dimensions & Weight: 15.7 x 321 x 202 mm (H x W x D), 1.5kg
---
The second Core i3 class Chromebook in our list is marginally slower than the Intel Core i3, see table of comparison above. This is due to the Intel Core M3 being an energy efficient processor with a low typical thermal design power of only 5W, a third that of the Intel Core i3 processor used in the previous Chromebook. Cost wise, as the ASUS Flip C433TA is a premium class device, it is also more expensive than an Intel Core i3 based device but with good reasons.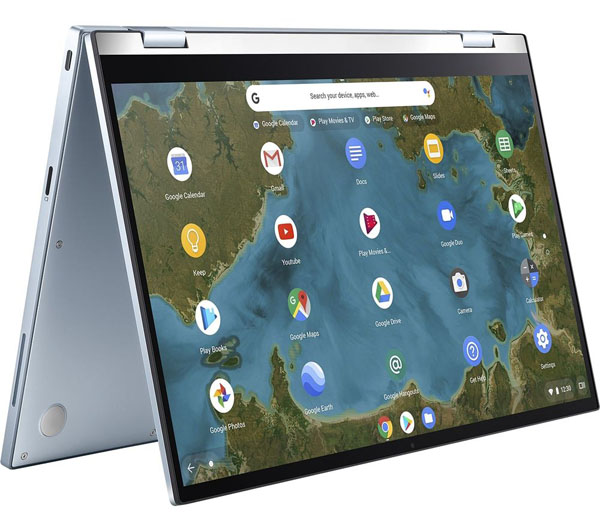 A crowd pleaser, the ASUS Flip comes with a strong hinge and feels study and can hold the screen at any position. It performs very well for web browsing, emails, streaming videos and editing documents. The battery lasts very well and when it runs low, charge it up again via the USB-C port. Some complaints around the visibility of the letters especially when printed on silver keyboards but personally, I touch type so there is no issue there.
The lightweight body is made from aluminium alloy and features elegant diamond cut edges. The chassis measures a mere 16.5mm when closed or in tablet mode and weighs only 1.5kg. It has a 14-inch display, but thanks to its super narrow bezels (85% screen to body ratio), it comes in a body equivalent to a conventional 13-inch device.
This device has a reasonably powerful CPU wrapped in a robust and super compact chassis. Like previous ASUS Flip, the bezels around the display is so small, it feels like a slate in tablet mode. You can charge up the devide quickly in under and hour for a full days use.
Other clever features include ergo lift hinge that improves the typing position by lifting the keyboard at an angle in laptop mode and USB Type-C port that supports multiple screens setup. Again, there are two USB Type-C ports and one USB3.1 port for expansion. It goes further to offer a DisplayPort 1.2. It supports Dual-band AC WiFi and Bluetooth 4.0 for wireless connectivity.
Specifications
Intel® Core™ m3-8100Y Processor Dual-core 1.3/3.9GHz 4MB cache
RAM: 4 GB / Storage: 64 GB eMMC
14-inch Full HD screen 1920 x 1080p
Battery life: Up to 10 hours
Dimensions & Weight: 15.7 x 321 x 202 mm (H x W x D), 1.5kg
---
This is yet another full-size convertible laptop. The Lenovo C340 (15) has a 15.6-inch Full HD touchcreen. Powered by 8th generation Intel Core i3 with Turbo Boost, the processor is enough to push a lightweight operating system like ChromeOS to a level of performance that will satisfy even the most demanding users. It is only limited by the amount of memory, but you can easily upgrade this to 8GB. The mid-range Intel Pentium processor is not as fast as Core i5 but is much faster than budget Celeron machines out there.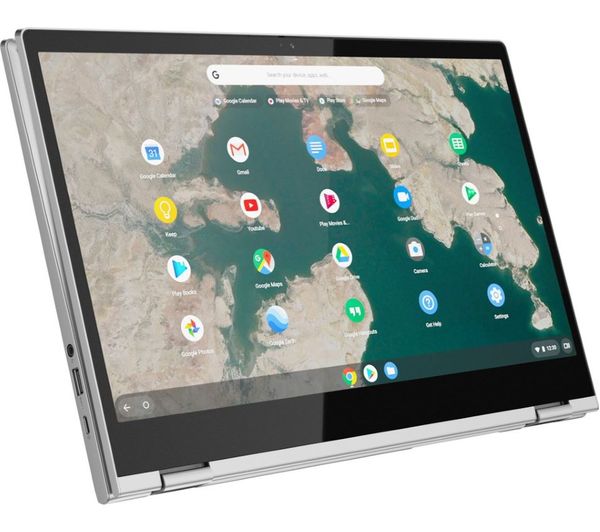 While the ultra-narrow top and side bezels near the display keep the footprint of the device small, make no mistake, this 15.6-inch device is big, hence not so great for portability. Elsewhere the Lenovo C340 supports the digital pen on selected models, up to 10 hours of battery life and TrueBlock Privacy Shutter to physically close the webcam.
Lastly, you get 2 x USB Type-C port, 1 x USB 3.1, 3.5mm combo jack, microSD card reader and Bluetooth 4.2 for expansion and connectivity.
Specifications
Intel® Core™ i3-8130U Processor Dual Core 2.2/3.4GHz 4MB cache
RAM: 4 GB / Storage: 64 GB eMMC
15.6-inch Full HD screen 1920 x 1080p
Battery life: Up to 10 hours
Dimensions & Weight: 18.9 x 361.5 x 248.8 mm (H x W x D), 1.98kg
---
With the level of performance offered by the chart topping Intel Core i5, the Acer Chromebook Spin 13 is the compact alternative to the full size Lenovo Yoga C630 15.6-inch. It comes with a more portable 13.5-inch display. Powered by the Intel Core i5-8250U processor with 8GB of memory and 128GB eMMC storage, it's everything you want from a Chromebook. However, at the point of writing, we could not really recommend this because of several unpleasant experiences recorded by consumers.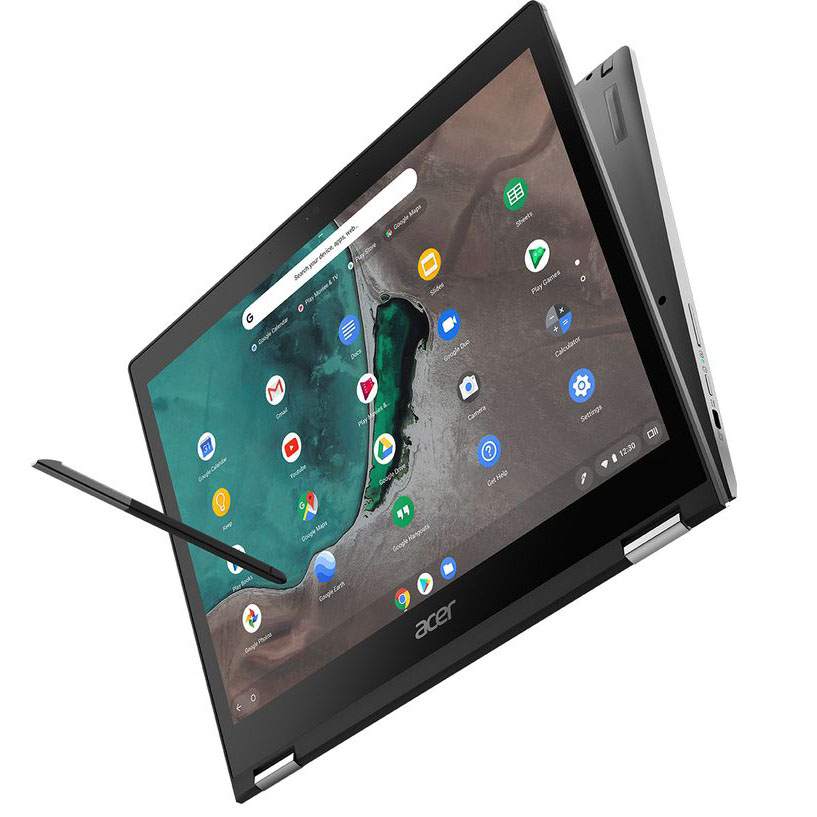 Specifications
Intel® Core™ i5-8250U Processor
RAM: 8 GB / Storage: 128 GB eMMC
Quad HD screen
Battery life: Up to 10 hours
ALSO: Acer Chromebook Spin 13 with Intel Core i3
Intel® Core™ i3-8130U Processor
RAM: 4 GB / Storage: 64 GB eMMC
Quad HD screen
Battery life: Up to 10 hours