To many, the Apple's iPad Pro is a small investment. It is also a super powerful computer, so powerful in fact that many are using it as their main machine. It also raised the possibility of Apple using their ARM chip in their MacBooks removing their reliance on X86 based Intel processors. But what we want to know are the many ways to use the Apple iPad Pro. So, continue reading to make the most of your investment now.
Moving Beyond a Tablet
To make the most of Apple's iPad Pro, you would need, as a minimum, the iPad Pencil. From one mode of use to the next, we list the accessories you will need to complete the setup. It does mean that you will need to spend a bit more to realise its potential beyond just being a piece of glass or a tablet that it is.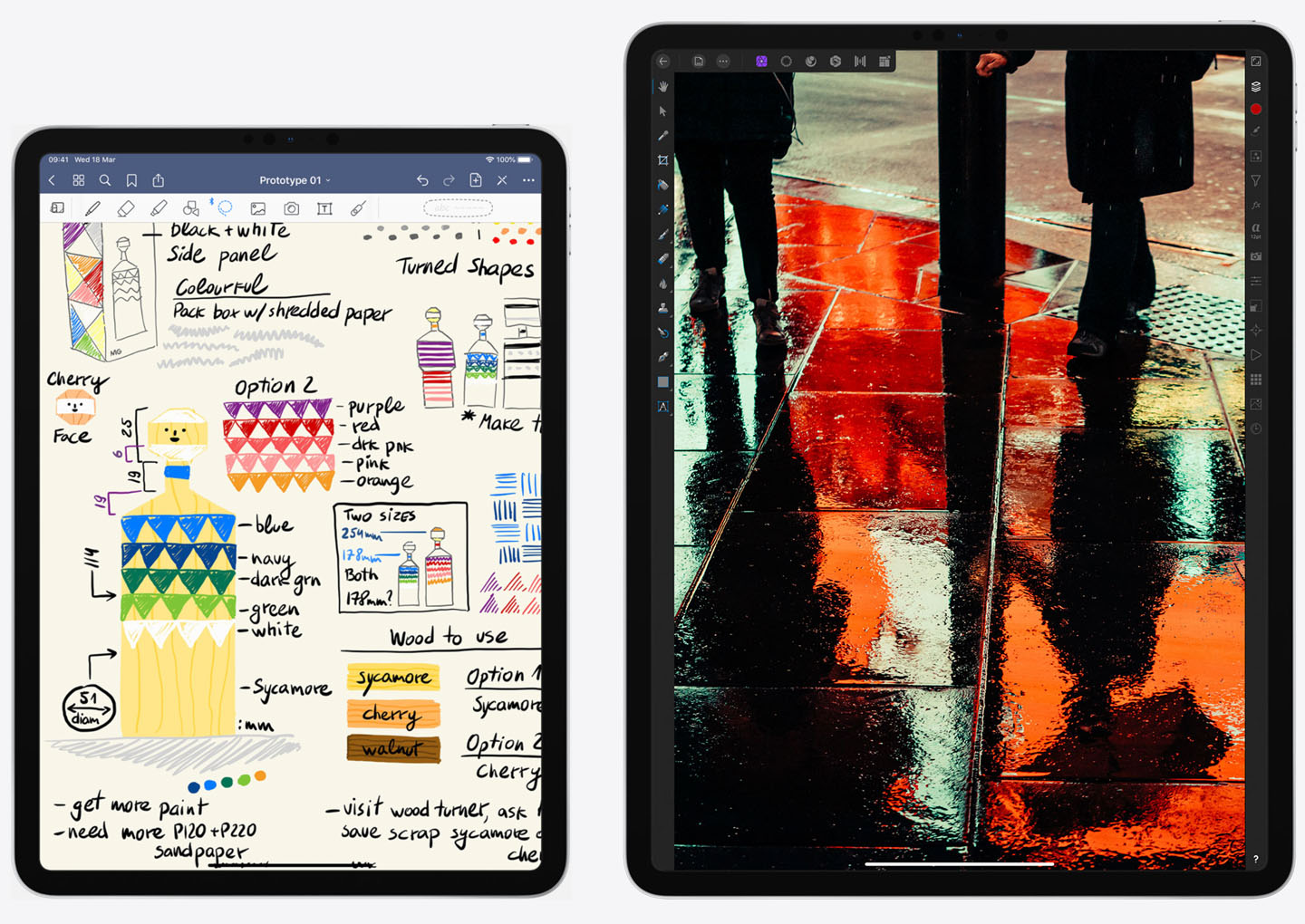 10 Ways to Use the Apple iPad Pro
The iPad Pro can be so much more than a tablet. Use it to write emails, create and edit documents (word processing, spreadsheets, presentation), compose music and edit video out of the box. Given its big display, you can open the full-size on-screen keyboard and still have plenty of real estate left for the app. Let's jump right into our list.
1. Tablet
As a straight up tablet, this pro-level device is blazing fast. In fact, it is faster than most computers out there. The big display makes it perfect as a device to read on, browser the web, catch up on news, binge on TV shows and watch movies.
2. Writing Slate or Note Pad
Get the 2nd generation Apple Pencil and instantly turn the tablet into a writing slate. The included Apple Notes app makes full use of the Apple Pencil, and it is totally free. Ink, sketch and write away naturally like you do on paper. Notes app lets you organise and catalogue your notes, share and even push them into presentations.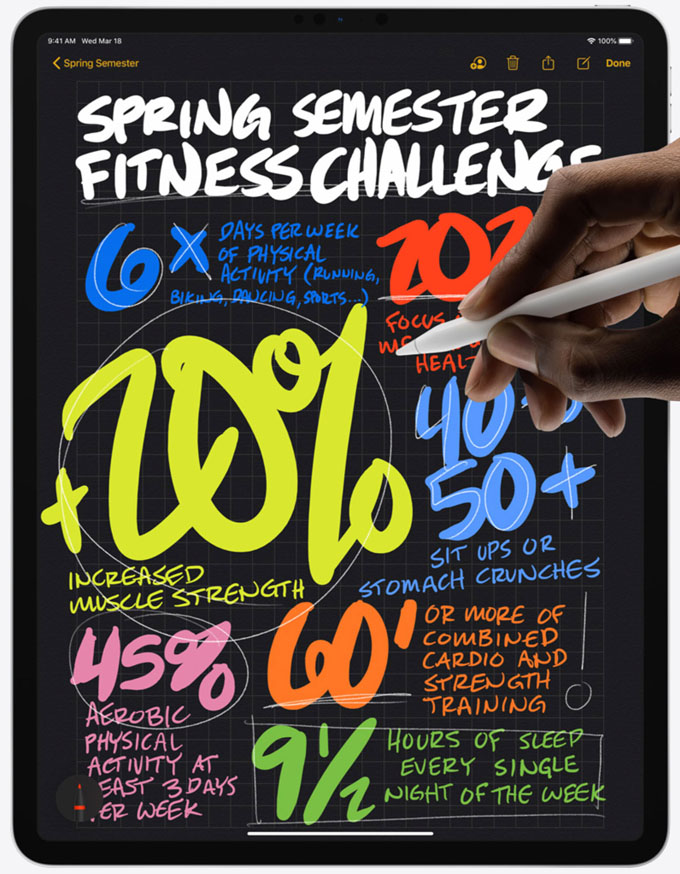 Some of the best note taking apps out there for Apple's iPad Pro include Notability, Evernote, GoodNotes4, Notepad+, Whink and Nebo. These apps let you clip and compile notes from different sources such as documents, images, web and photos. They also include the ability to annotate on the images and documents. More advanced version such as GoodNotes converts handwriting to text and index them so you can search for what you have written.
Apart from taking notes, you can annotate on the screen. All you need to do is take a screenshot then add your doodles and notes onto the image. When ready, save or share this with online. You can also scan, sign and send documents including PDF right from the device. Apple calls this mark up.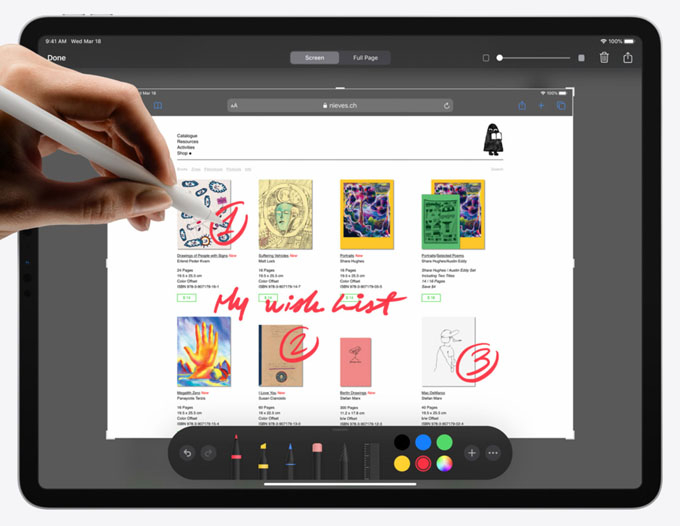 3. Laptop
It has taken a while, but the iPad Pro is finally a viable laptop replacement. The iPadOS now supports track pad and mouse input on top of stylus and keyboard support. To convert your laptop into a tablet, you need a keyboard cover or keyboard case. There are tonnes of amazing keyboard case for the 12.9-inch device to make it work like a laptop.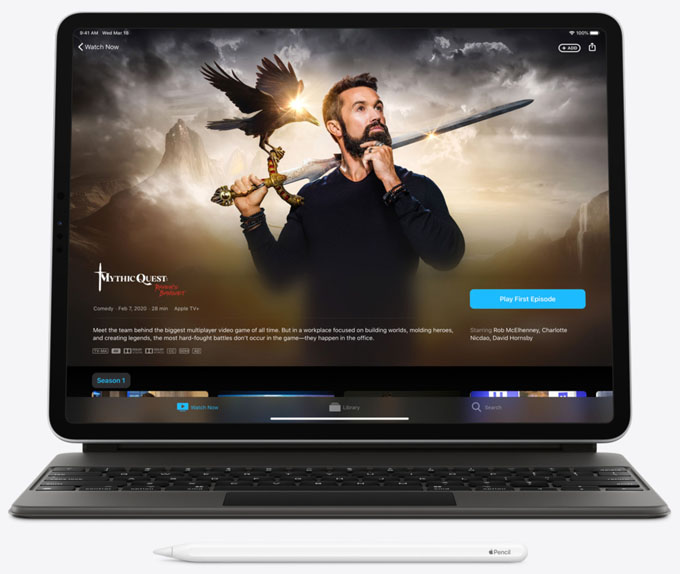 Apart from Apple's own Smart Keyboard Folio and Magic Keyboard with a floating hinge and track pad, there is Logitech's Slim Combo Folio Backlit Keyboard, Brydge Wireless Bluetooth Keyboard, Brydge Pro+ with trackpad and the Zagg Slim Book Go. We covered some of the best keyboard cases for the iPad Pro in our previous post. For those on a tight budget, value keyboard covers are also available from lesser-known brands, costing a fraction of the expensive options listed above.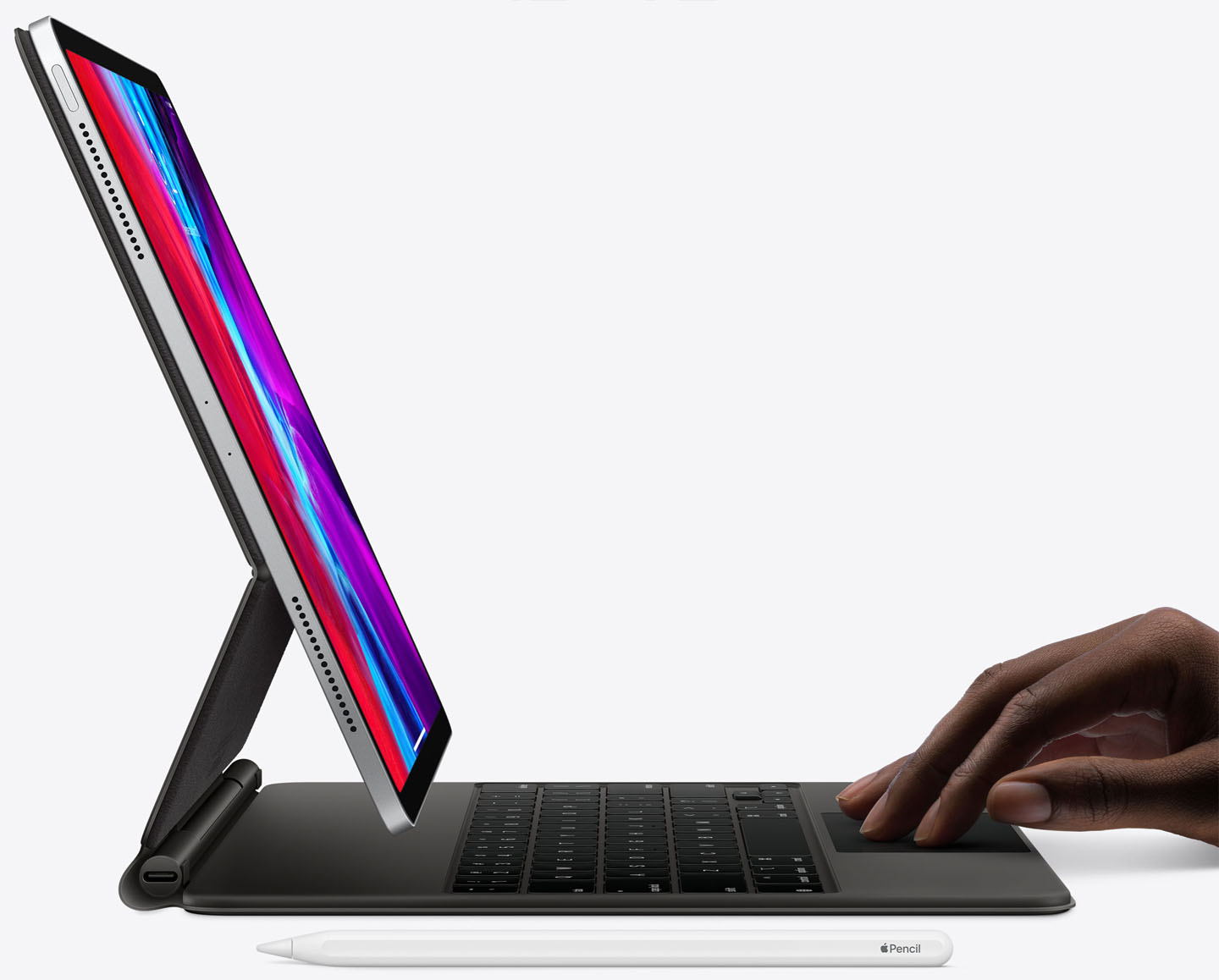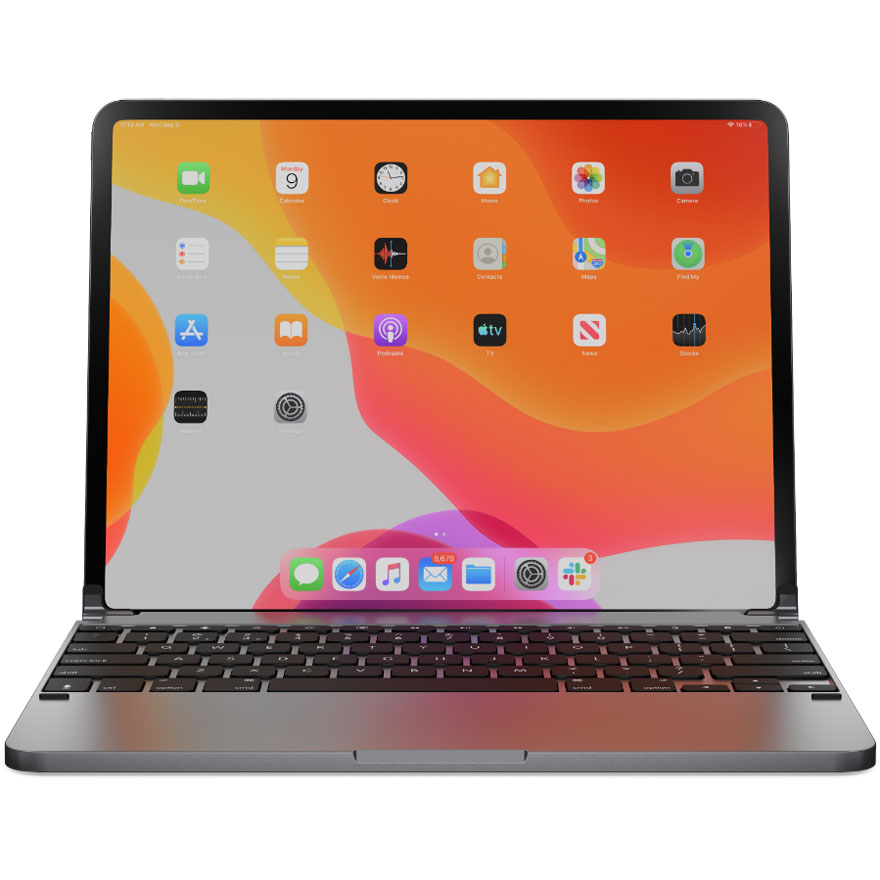 RELATED: Best Apple iPad Pro 11 and 12.9 Keyboards: Cases to turn your tablet into a 2-in-1 laptop
4. Desktop
The iPad Pro with its single USB-C expansion can be turned into a desktop replacement with the right accessories. At the very least, a desktop setup will need a Keyboard, External Video Display or iPad Stand and Mouse or Trackpad. Both keyboard and pointing device can be Bluetooth leaving the single USB-C port for video output.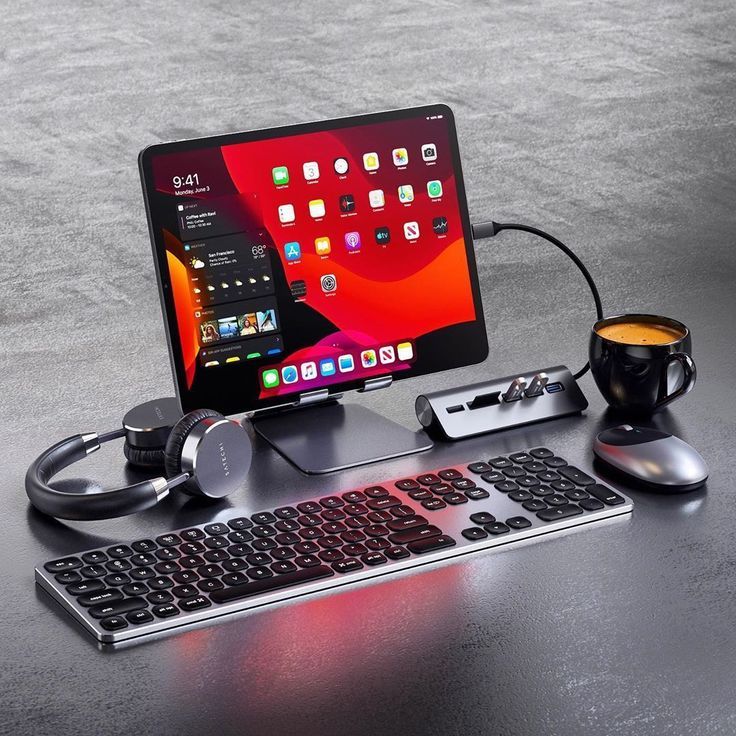 To connect other peripherals to the iPad's single USB-C port, you will need the USB-C Digital AV Multiport Adapter from Apple. The adapter lets you connect the iPad Pro to a HDMI display, a standard USB device such as an external storage and a USB-C charging cable. The HDMI video output supports up to 4K resolution. Here is a list of accessories you want to consider for such a desktop setup:
Bluetooth Mouse or Trackpad
Bluetooth Keyboard
USB-C Expansion Hub or USB-C Digital AV Multiport Adapter
External Powered Speakers
External 4K or 5K display
VESA Mount Height Adjustable Arm
iPad Pro Stand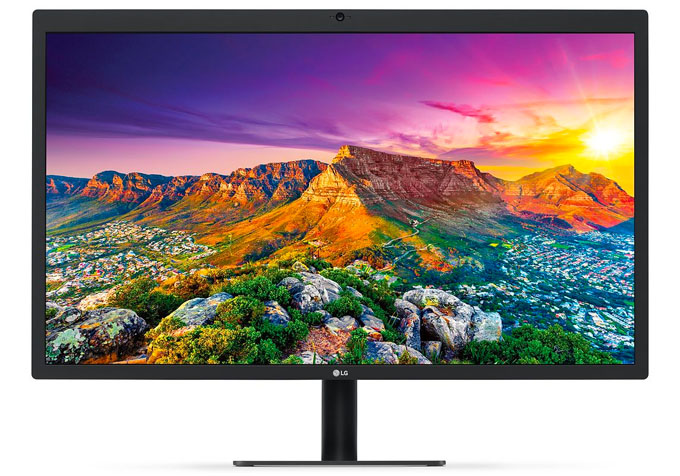 Third party USB-C expansion hub options can include SD card or microSD card reader or both, more than one USB port, USB-C charge pass through or power delivery and Ethernet network port. Alternatively, look for a compatible USB-C display to connect with a single cable to the iPad Pro without an adapter or hub. The LG UltraFine 4K and UltraFine 5K are such monitors that requires only a single connection to the iPad Pro. There is a USB hub onboard and it supports power delivery to charge the iPad at the same time. This will help keep the clutter on the desk to a minimum. Whichever option you choose, be sure to check that the accessories are supported on iOS and particularly iPad Pro. Here are a couple of desktops based on the iPad Pro we found on the web.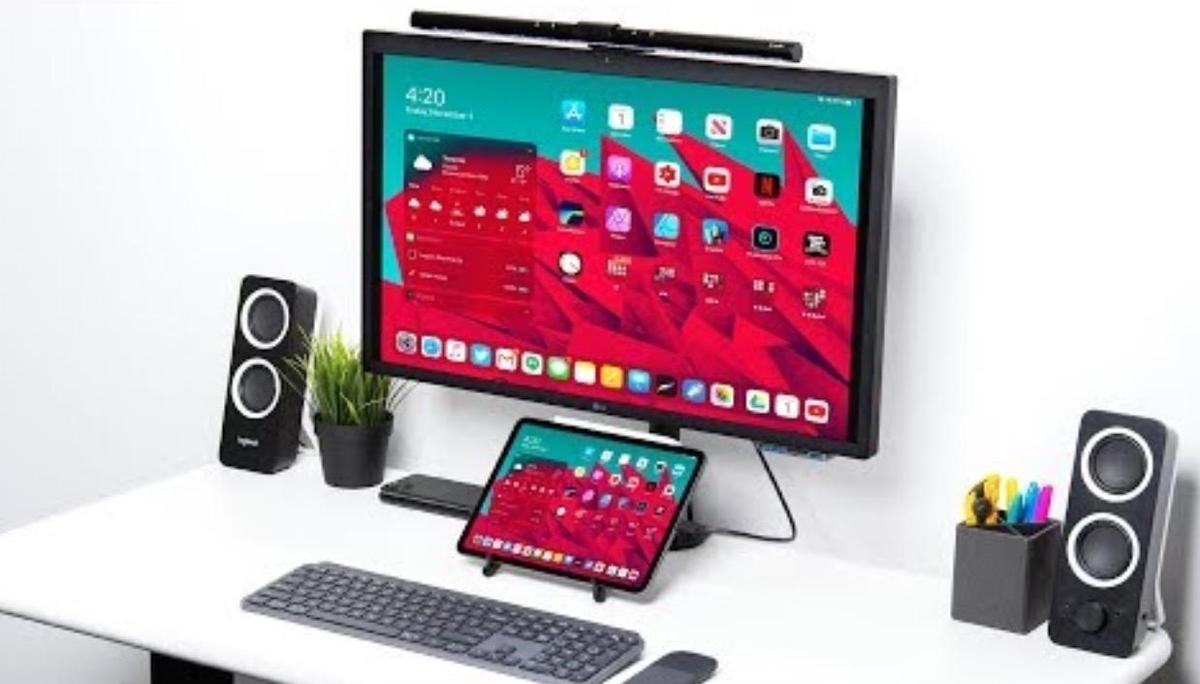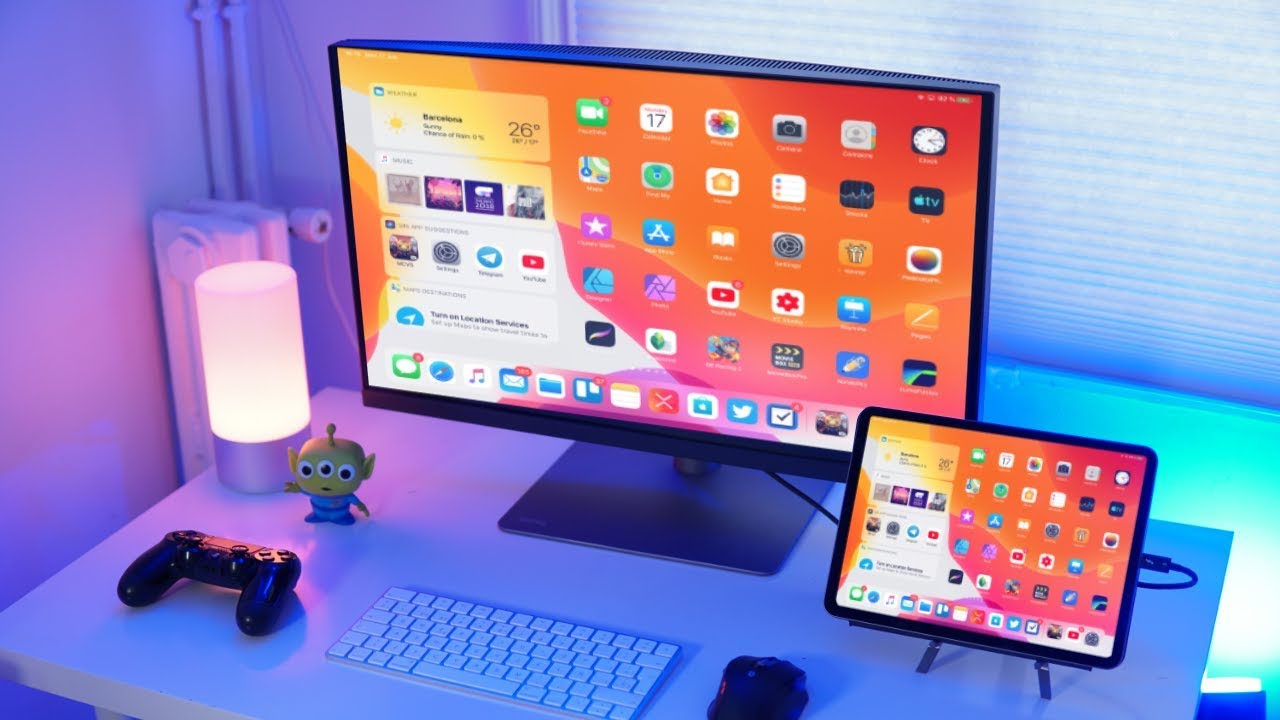 RELATED:
5. Digitizer / Graphics Tablet with Display
With Apple Pencil Gen 2, the iPad Pro works as a digitizer, much like Wacom Cintiq with display built-in. The difference here is the app is also loaded on the device. Rather than relying on a host computer, what a typical graphics tablet would need to work, the iPad Pro solution is sleeker. Professional designer apps like Adobe Photoshop or Illustrator, Morpholio Trace, ProCreate, AutoCAD Sketch Book, Adobe Sketch and Adobe Draw are available for the iPad and offers complete support for Apple Pencil.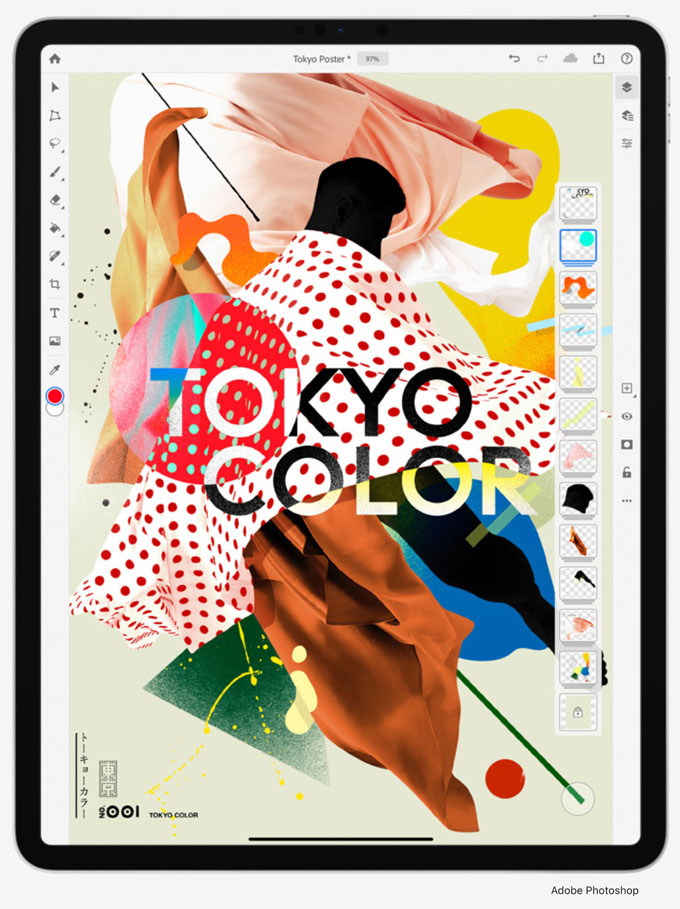 If you still prefer to use the software on your iMac, connect the iPad Pro using Sidecar and extend your display to the iPad Pro. Move your software window to the iPad and draw directing using the Apple Pencil like you do with a digitizer. Depending on the app, you may experience a lag. Our advice would still be to do it on the device directly.
6. Extra Display
With Sidecar when used with MacOS or 3rd party plugin when used with Windows PC, you can turn the iPad Pro into an extra display for your desktop or laptop. It is quick and easy to use Sidecar. Simply cast your display to the iPad Pro from your MacBook or iMac via AirPlay.

By default it will extend your display to the tablet, giving you extra work space, but you can choose to mirror your display too. Find out how to use your iPad as a second display for your Mac with Sidecar. You also get useful shortcut keys on the sidebar such as command, shift, control, option, undo and on-screen keyboard.
7. Studio & Outdoor Video Camera + Mobile Video Editing
With its advanced array of microphones that capture studio quality sound and dual main camera, the tablet is a perfect studio video camera. Combine this with studio lighting and a 'green' or 'blue' screen and you are on your way to creating your own blockbuster home video.
On top of that, you can also capture outdoor footage at full 4K video resolution and take photos with the onboard cameras if you do not mind flashing the giant tablet in front of your subject. If you use a drone or professional camera to capture your footage, download captured video directly onto the iPad Pro using a suitable cable or via SD card reader.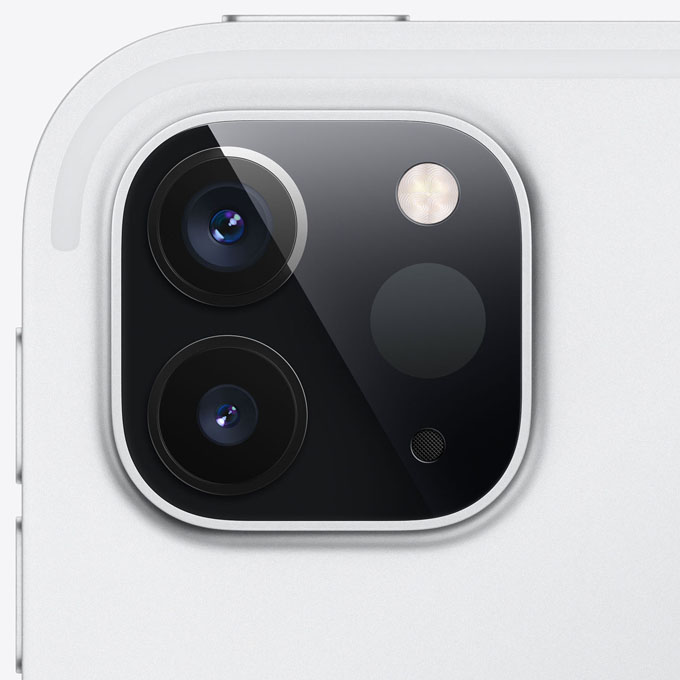 Once you have your videos on the device, you can proceed to edit it with the free iMovie, Adobe Premiere Rush or Lumafusion. It may not have the full video editing tools of Apple's Final Cut Pro or Adobe's Premiere Pro but it gets the job done. Other light video editing tools include Inshot, Kinemaster and Filmmaker Pro.
8. Portable Gaming
Using a game controller, you can turn the iPad Pro into a portable gaming console with a generous display. iPad Pro supports Xbox Wireless Controllers via Bluetooth, PlayStation DualShock 4 controllers and MFi game controllers. Throw in a subscription to Apple Arcade and you'll get unlimited access to over 100 games that you can play on the iPad as well as the Apple TV, iPhone, MacBook and iMac.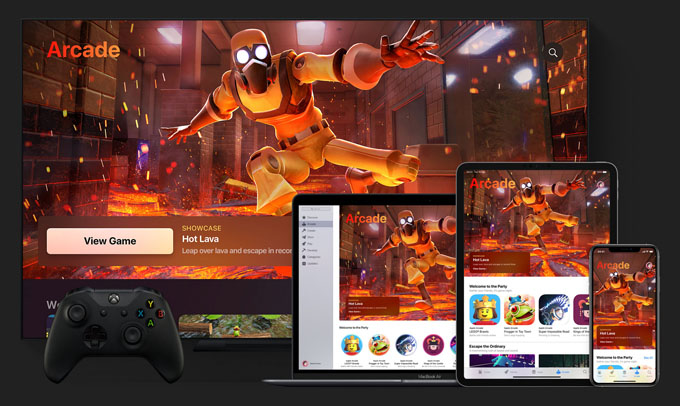 Plus, the onboard LiDAR scanner (Light Detection and Ranging) offers developers the ability to create immersive gaming experiences using Augmented Reality (AR). You can interact with virtual objects that mixes with your surroundings. It's a portable gaming device with a good choice of games for your down time.
Search MFi Game Controller on Amazon
9. Podcasting Station
Anyone can start a podcast these days. All you need is an external USB-C microphone connected directly to the iPad Pro. You will also need to use a suitable podcast recording and editing software such as Anchor or GarageBand. You can even add an intro, background and out-tro tracks using GarageBand for a professional touch, keeping your recording as lead vocal. When ready, publish your Podcast episode directly from the device and listen to your podcast using the Apple Podcasts app. Click on the image before for a Podcast and Video blogging setup by Christopher Lawley.
Recommended Microphones and Apps
RODE NT-USB Mini Microphone
Blue Yeti X Professional USB Microphone
HyperX QuadCast Microphone
Shure SM7B Dynamic Studio Microphone
GarageBand and Anchor
Search USB Microphone on Amazon
10. Composing & Mixing Music
One more thing. Just like other iPads, you can use the iPad Pro as a recording studio to mix and record your own music. Download GarageBand and start creating your first sound track. Use the GarageBand User Guide for iPad on Apple's website to get you started. The four major components of GarageBand are Touch instruments, compose and mix your song, Live Loops mixing and the Sound Library. That's everything you need to build your own masterpiece, no additional hardware required.
Final Thoughts
To summarise, here are the many ways to use the iPad Pro.
As a Tablet
As a Writing Slate or Note Pad Folio
As a L

aptop

As a Desktop
As a Digitizer or Graphics Tablet with Display
As an Extra Display
As a Studio & Outdoor Video Camera + Mobile Video Editor
As a Portable Gaming Console
As a Podcasting Station
As a Music Composer & Mixer
If you are as excited as we are and know of more ways to use the device, please leave us your ideas in the comment.
This article was originally published on our sister site, Colour My Tech and is adapted for our audience here.