My Apple watch reminds me to stand up after working at the desk for too long. Working from home means we are likely to just stay working at the desk instead of getting up for meetings with colleagues or working in different areas of the building. With one of these height adjustable standing desk riser, you can go from sitting to standing in seconds.
Changing your position of work with these easy lift, height-adjustable risers keeps you healthy. And it is easy to do. Simply get one of these standing desk converters and convert your normal office desk to a stand up desk without throwing out your existing furniture. Some of these are big enough to even support a multiple monitor setup.
Before we just right in to picking up one that works for you, grab and pen and paper and make a note of the following:
Size of your existing work top, the available work space on your desk or table. Measure the width and depth.
Size of your monitor or All-in-One computer. Measure the width of your monitor or monitors if you have a dual monitor setup. This will help ensure that the monitor swill fit.
Size of your laptop, particularly the foot print. This is if you intend to use your laptop on the riser.
Size of keyboard and mouse. Although, this may be optional if you work on your laptop's keyboard and track pad but most risers are double storey with dedicated keyboard tray.
Last but not least, make sure you have enough room above your desk and computer. That there are no shelves, hanging cabinets or other obstacles that will get in the way when you raise the monitor or computer.
Why Use A Height Adjustable Standing Desk Riser
Being healthy begins with being comfortable. A 'hunched' or bent-over posture and long-term, high-intensity typing sessions can lead to fatigue in the wrists and hands as well as possible pain. A standing desk mitigates these by rising to support your natural standing position. Beyond that, here are some more benefits of standing:
Standing burns more calories than sitting
Enables users to stay active and productive
Can improve comfort in users with back pain
Top 8 Best Height Adjustable Standing Desk Riser For All Table Sizes
Think you can't afford a height adjustable table, think again. There are ways around it by converting your existing standard desk to a stand up workstation. It won't take up any more floor space or even desk space. These standing desk risers go on your existing table. When not deployed, it allows you to use your table or desk like normal. In fact, it even raises the monitor to the right height without the need for a monitor stand. Here are 8 of the best height adjustable stand up desk converter and monitor risers so you can think on your feet.
1. VIVO Height Adjustable 36-inch Stand Up Desk Converter
Available in black or white, this stand up desk converter has a dedicated full size accessory tray for a full size keyboard and mouse. The top shelf measures 36-inch wide and 22-inch deep while the keyboard tray measures 25-inch wide and 10.5-inch deep. This top shelf sits 6.5-inch above the desk and can be raised to 17-inch high. To do this, simply squeeze the pneumatic lift lever and up it goes. It is available in black or white (shown below). It must be said that when deployed to full height, both top and lower decks extends outward towards the user by 6-inch for better reach courtesy of the Z hinges and hydraulics. The assembled riser and lift can take up to 33 lbs. Additionally, there is a slot for phones or tablets on the top deck.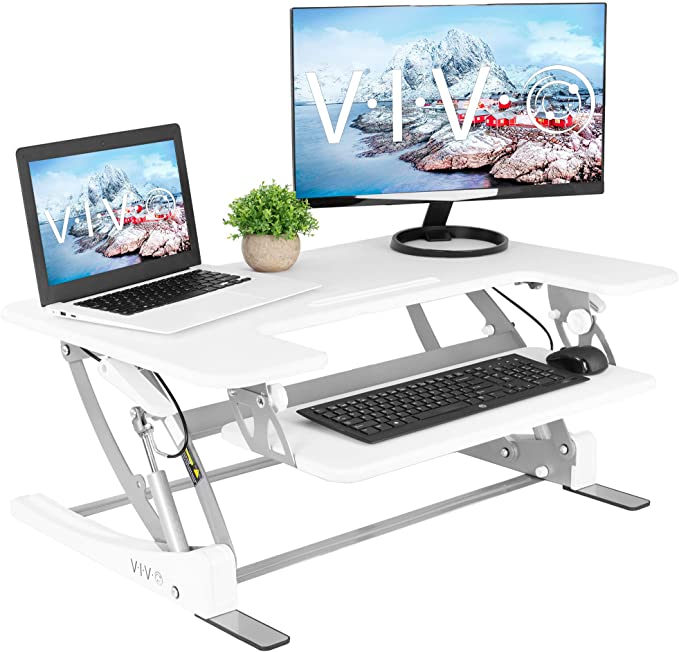 Height: 6.5 to 17-inch
Main desk: 36 x 22-inch
Full size keyboard tray
Surface Footprint: 31 x 26-inch
---
2. VIVO Height Adjustable 32-inch Stand Up Desk Converter
The smaller offering from VIVO, this one available in black or brown and uses a scissor frame much like those deployable ironing boards but supported with pneumatic spring lift for smooth transitions. It raises the top deck from 4.2-inch to as much as 19.7-inch. The main worktop measures 31.5-inch wide by 15.7-inch wide. Like the bigger variety, there is an accessory slot near the front of the top deck. They full size keyboard shelf measure 31.3-inch wide by 11.8-inch deep. While the bigger VIVO 36-inch reaches outward when raised, this 32-inch model goes straight upward. Still, the pneumatic lift assist is capable of lifting up to 33 lbs of weight.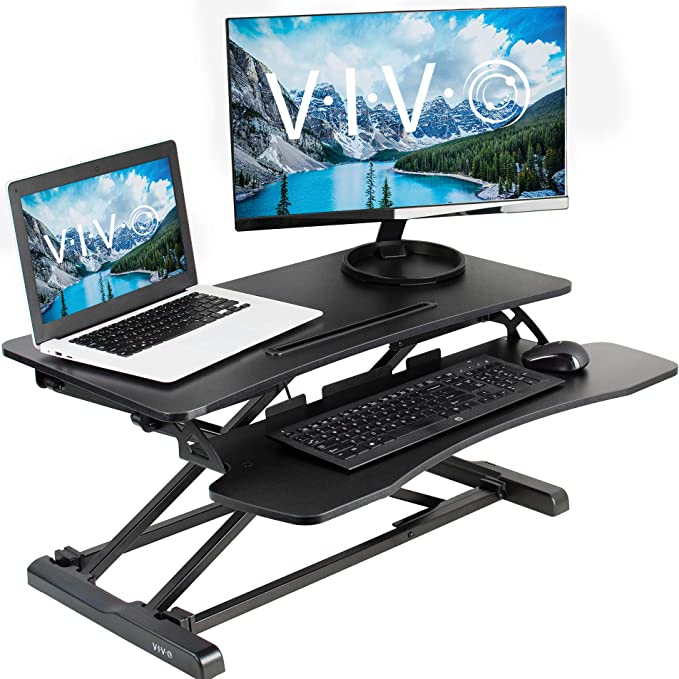 Height: 4.2 to 19.7-inch
Main desk: 31.1 x 11.8-inch
Full size keyboard tray: 31.3 x 11.8-inch
Surface Footprint: 30 x 16-inch
---
3. Seville Classics airLIFT Height Adjustable Stand Up Desk Converter 36-inch
This Seville Classics airLIFT riser has a generous work top surface with the main deck measuring 32-inch wide and 23.2-inch deep. The keyboard tray is equally generous measuring 35.4-inch wide and 7.5-inch deep. Both decks are made from touch MDF with vinyl finish in option of black, walnut or white. The Z type hinge with pneumatic lifts raises the worktop from 6.2-inch to 19.1-inch tall working seamlessly to lift your workspace inside its own footprint and is capable of carrying up to 33 lbs weight. To lift simply squeeze both airLIFT levers and raise the riser evenly and slowly. Seville offers 30-inch compact, 43-inch corner and 47-inch extra wide models in various colours.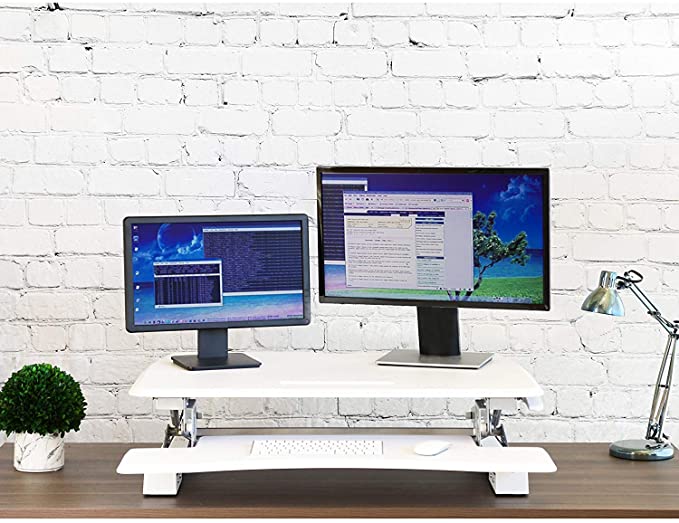 Height: 6.2 to 19.1-inch
Main deck: 36 x 23.2-inch
Full size keyboard tray: 35.4 x 7.5-inch
Surface Footprint: 21.9 x 32-inch
---
4.
EleTab Standing Desk Converter Sit Stand Desk Riser 32-inch
Another 32-inch stand desk riser with scissor frame, this time from EleTab. This unit is big enough for a laptop and medium size monitor with its main deck measuring 31.5-inch x 15.7-inch. It is a little tight compared to the bigger 36-inch wide risers so it is great for compact desk setups. Go from sitting to standing in one smooth motion raising from 4.2-inch to a height of 19.7-inch moving straight up within its own footprint. The lower deck is suitable for a full size keyboard and mouse measuring 31.3-inch wide and 11.8-inch deep and like other risers here takes up to 33 lbs weight. This EleTab model is similar mechanically and in design to the VIVO Height Adjustable 32-inch above.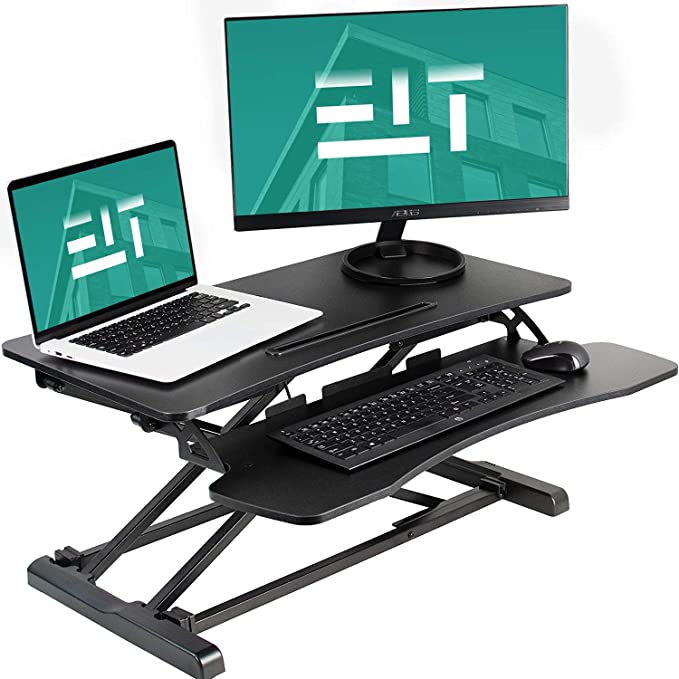 Height: 4.2 to 19.7-inch
Main desk: 31.1 x 11.8-inch
Full size keyboard tray: 31.3 x 11.8-inch
Surface Footprint: 30 x 16-inch
---
5. FITUEYES Height Adjustable Standing Desk 30-inch – SINGLE DECK
If you are looking for an even more compact setup, this FITUEYES is for you. Measuring only 30-inch wide by 20-inch deep, with enough room for a laptop and a medium size display as well as a compact keyboard and mouse. There is a slight disadvantage in that it only comes with a single deck, no keyboard tray to speak of. But that is what makes is so appealing. It is truly compact and raises your worktop to a maximum of 16.1-inch from the table. Given its size and the single gas spring, it is still capable carrying up to 22 lbs load.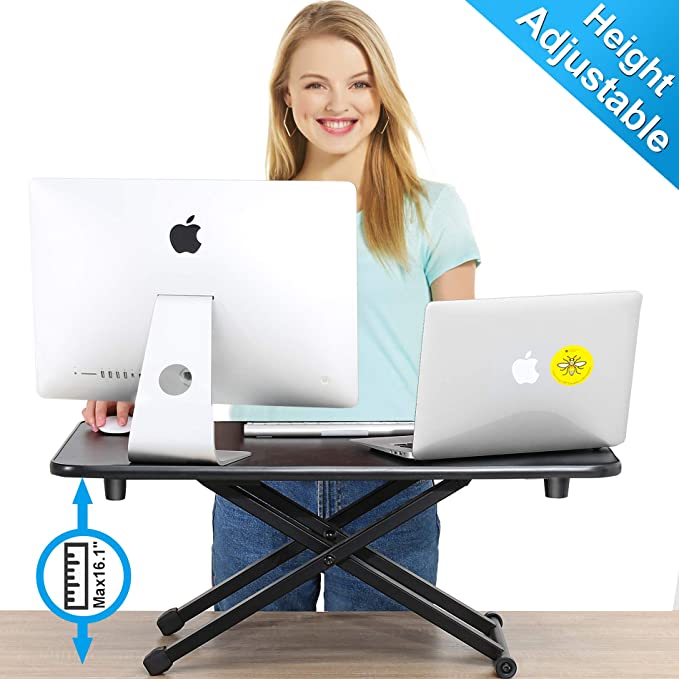 Height: 2.2 to 16.1-inch
Main desk: 30 x 20-inch
Full size keyboard tray: NONE
Surface Footprint: variable
---
6. FLEXISPOT Stand Up Desk Converter 28-inch, 35-inch
Flexispot Stand Up Desk Converter is another compact 28-inch wide riser but with two stage deck, one for monitor and the other for keyboard. A bigger 35-inch model, suitable for dual display setup is also available. Both are available in Black or Mahogany and uses the ironing board style frame with a scissor joint. The top deck measures 28.3-inch wide and 16.3-inch deep while the keyboard tray measures 28-inch wide x 12.1-inch deep. It can raise the height of your worktop from 4.7-inch to 19.9 and is able to carry a total load of 33lbs. What we like most about the Flexispot is the fixed base with a small footprint. The adjustable legs do not glide on the table but guided within the frame that sits permanently on the table.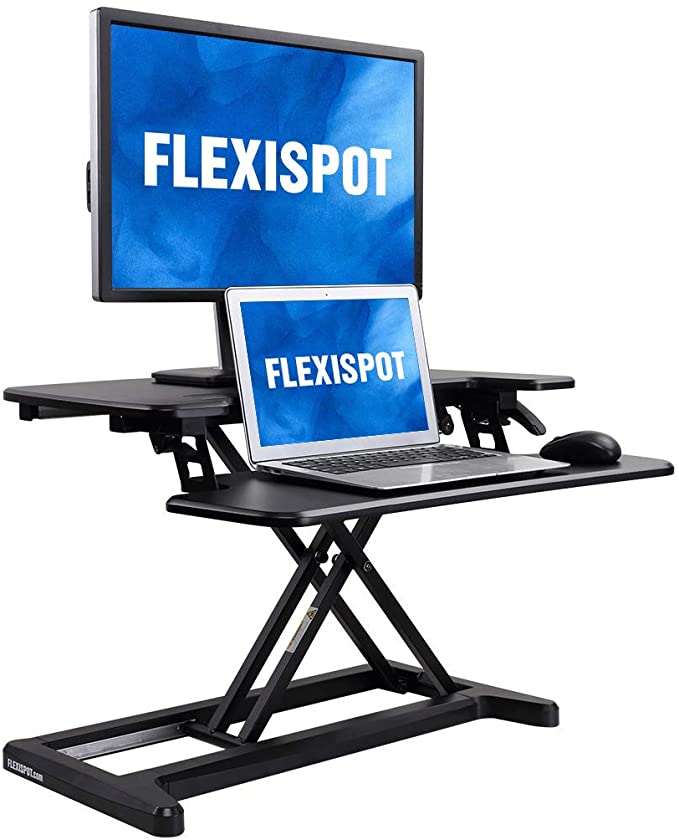 Height: 4.7 to 19.9-inch
Main desk: 28.3″(W) x 23.8″(D)
Full size keyboard tray: 28″(W) x 12.1″(D)
Surface Footprint: fixed
---
7. FEZIBO Standing Desk with Height Adjustable 32-inch
With a big loading capacity of 33 lbs, this FEXIBO 32-inch riser comes with a spacious top deck that measures 31.5-inch by 15.7-inch and a generous keyboard deck that measures 25.6-inch wide by 11.7-inch deep. It raises from 5.3-inch high above the table to 20.5-inch tall. To adjust the height, just squeeze the lift handle and the gas spring hovering system will do the rest. Like most risers here, the FEXIBO uses cross or scissor like frame like those store away foldable ironing boards except it comes with a fixed base so no gliding on the table. Lastly, there is a slot for a full size tablet or tablet and smartphone.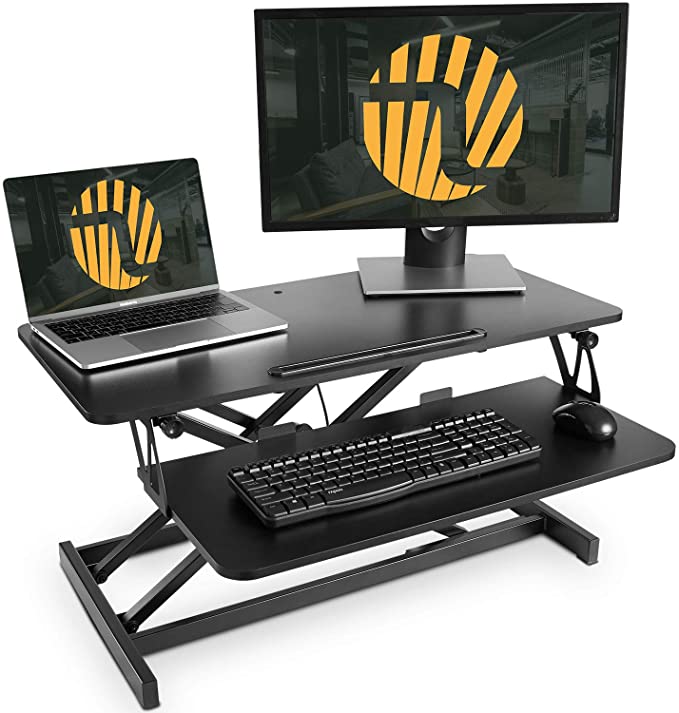 Height: 5.3 to 20.5-inch
Main desk: 31.5 to 15.7-inch
Full size keyboard tray: 25.6 x 11.7-inch
Surface Footprint: 29.3 x 17.7-inch
---
8. Flexpro Hero Standing Desk Converter 37-inch, 37-inch (corner or electric)
Need a bigger slider for two full size monitors, check out the Flexipro Hero but be warned, you will need a big table for this riser. The top deck measures 37.5-inch wide and 16-inch deep. The secondary deck has a slightly odd shape, measuring 25.25-inch wide at the back but 37-inch wide in front with catches to stop your keyboard from sliding too far back and off the tray. What is really impressive is the height this riser is able to achieve. For the top deck, this goes from 4.25-inch to 20.5-inch tall. The lower keyboard tray goes from 1-inch above the table to 17-inch high. But what is important to note is the foot print to ensure that it can go on your table. The lower frame that sits on the table measure 30-inch wide and 16-inch deep. What makes this different from the other risers is the easy grip side handles. Cut-out slots on either sides allow you to access the levers and to easily lift or lower the riser. A corner unit and one with electric powered hydraulic are also available.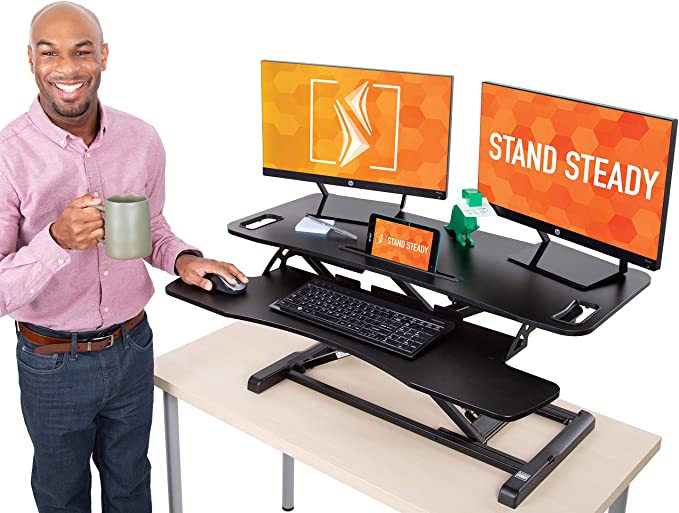 Height: 4.25-inch to 20.5-inch
Main desk: 37.5″ x 16″
Full size keyboard tray: 25.25-inch wide at the back but 37-inch wide in front
Surface Footprint: 30 x 16-inch
---
BONUS: FlexiSpot M2B Standing Desk 35-inch, 41-inch (corner) or 47-inch
Finally, staying away from ironing board styled legs, here is FlexiSpot with dual cross legs for support and 35-inch wide by 23.2-inch deep main deck and a removable keyboard tray. This is enough for two medium monitors or a small laptop and a larger monitors. It has a loading capacity of up to 35 lbs. At a push it can support two large monitors if you do not mind the overhang and provided the monitors have relatively small stands. While most risers move in one continuous smooth motion for variable height, this riser has fixed 12 height settings going from 5.9-inch to 19.7-inch tall.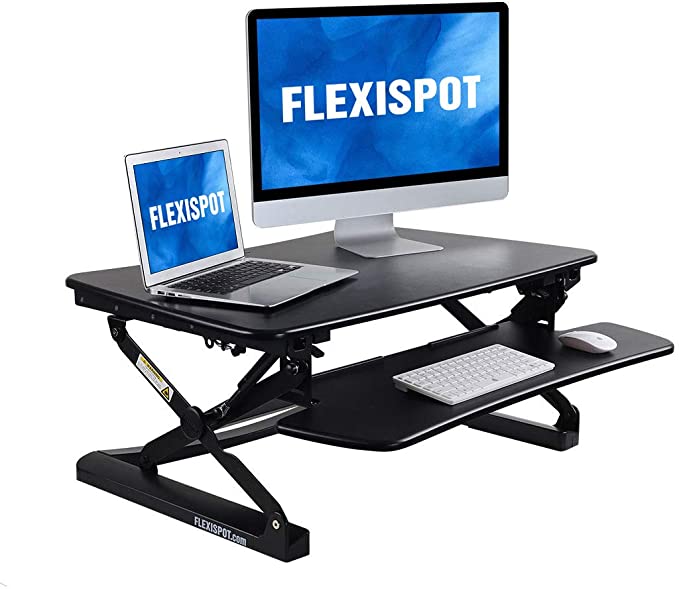 Height: 5.9 to 19.7-inch (12 height settings)
Main desk: 35″ x 23.2″
Full size keyboard tray: removable
Surface Footprint: 35 x 23-inch
---