One of these portable graphic drawing tablets will let you go anywhere and sketch, draw and paint digitally straight onto your laptop. They are small enough to slip into your backpack with bus powered option so no additional power source is required for it to work. These are some of the best and most affordable computer graphics tablets with screen.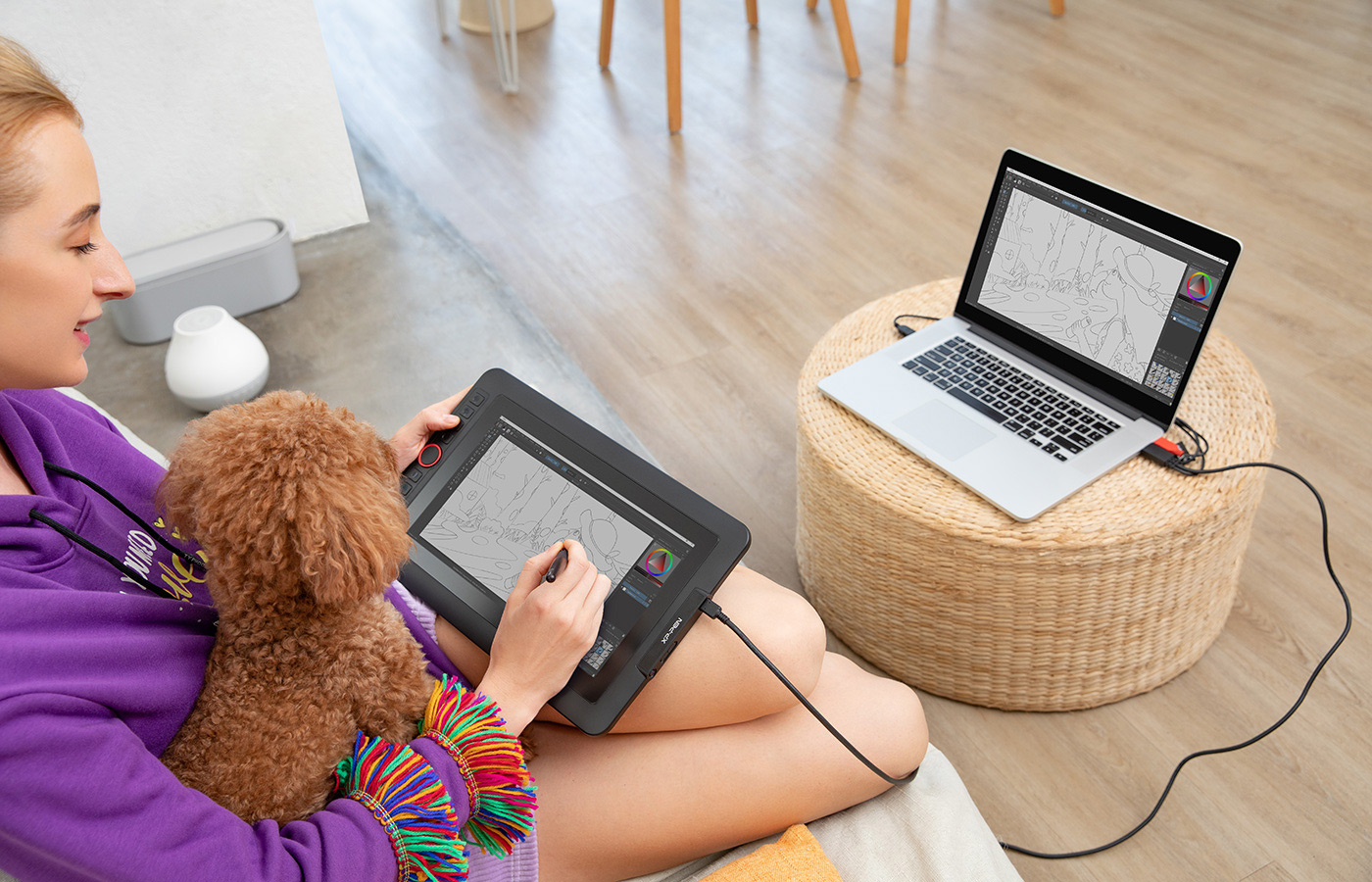 Portable, Slim, Lightweight and Bus-powered
We deem a portable graphics drawing tablet as those being slim and lightweight with a display no bigger than 13.3-inch. On top of that, they need to be bus-powered so that there is no need for a separate power bricks. While bigger tablets with screen size from 15.6 to 21.5-inch and beyond are also available but not covered here. Check out our post on some of the best budget graphics drawing tablets.
A note for our readers, these are not standalone tablets. They are simply input devices like your mouse, touchpad or basic drawing tablet with one difference. Besides, it comes with a screen built-in so you can see what you draw. To operate it, it needs to be connected to a computer. There are no wireless graphic tablets, these need to be physically cabled in to your laptop or desktop.
As for power, some laptops cannot supply enough power to run the graphic tablet and its display. In such cases, use the supplied power adapter to power the drawing tablet from a wall socket. Check with the manufacturer to see if your laptop can supply enough power to run the drawing tablet. Optionally, you can also check with the graphic tablet manufacturer to see if the tablet can be powered by your laptop.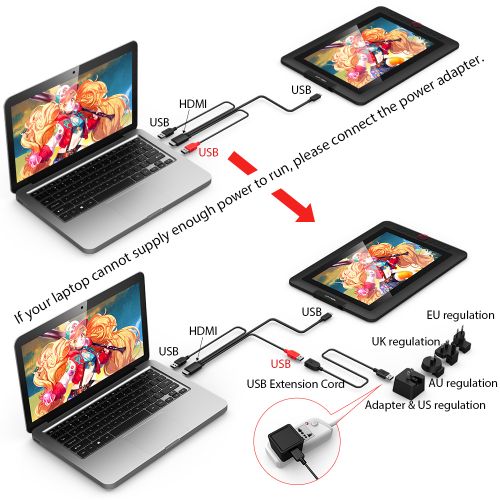 ---
It is easy to differentiate the standard and Pro line pen displays from XP-PEN. The Pro has a RED ring around the control dial on the left bezel. Also, it has more customisable buttons, 8 compared to 6 on the Artist 12, four on either side of the dial wheel. This super portable device measures 12.9 mm thin and has an 11.6-inch Full HD display (1920 x 1080 pixels with IPS technology for 178-degree viewing angle and 72% NTSC).
The display is fully laminated for a more paper-like feel with virtually no parallax when used with the pen. The latter means the cursor appears under the pen, exactly where it is meant to be. As for the battery free pen, it supports up to 8192 pressure and natural tilt support up to 60 degrees perfect for shading. Like the standard version, it connects to your laptop or desktop using a 3-in-1 USB cable provided. A foldable stand is included.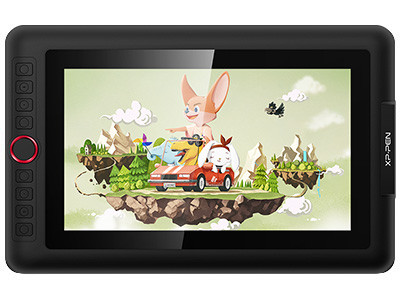 Dimensions: 351.52mm x 225.38mm x 12.9mm
---
Up for a bigger display? This Pro series graphic drawing tablet from XP-PEN has a 13.3-inch Full HD display. The fully laminated display has a higher colour accuracy of 88% NTSC colour. Even with a bigger display, it is not thicker than the Artis 12 Pro measuring only 12.9mm thin. Design wise, it spots a very similar layout to the former with a dial wheel in the middle of the 8 shortcut keys on the side bezel.
What makes the Pro stand out, apart from the red ring, is the tilt support of up to 60 degrees to accommodate natural pen position when held in the hand. The PA2 Pen is again electromagnetic with no need for charging, supports 8192 levels of sensitivity and the aforementioned tilt support. 13.3-inch is a much better size for drawing and sketching. The customisable 8 shortcut keys, four on either side of the wheel dial even lets you switch between software quickly.
A clear advantage that the XP-PEN Artist13.3 Pro has over smaller graphics tablet apart from being bigger, is the colour accuracy achieving 88% NTSC, Adobe® RGB≧91% and sRGB≧123%.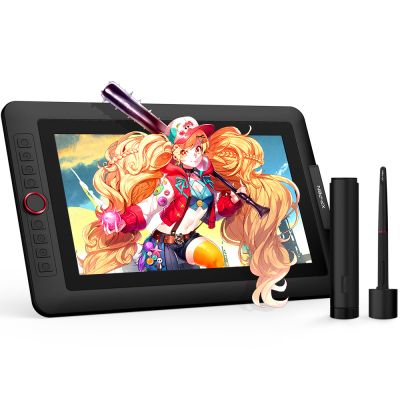 Dimensions: 390.4mm x 249.98mm x 12.9mm
---
We established that a bigger tablet is definitely better for drawing. The other 13.3-inch drawing tablet with screen in the market is from Huion. The Huion Kamvas Pro 13 GT-133 has a 13.3-inch Full HD display. Like the XP-PEN Artist13.3 Pro, the panel is capable of 88% NTSC. That's nearly 92% Adobe RGB and 120% sRGB Color Gamut for more diverse pallette and colours. Moreover, the screen supports IPS technology for 178 degree wide angle viewing and is fully laminated. You will be glad to know that the nib and cursor are super close with little parallax effect when drawing for more precision and accuracy.
Moving on to the Pen, the PW507 digital stylus is battery free. Like most pens featured here it supports 8192 pressure levels and ±60° tilt function for smoother lines and natural drawing position. The included PH05 pen holder is a doughnut stand to keep the nib on your pen safe when not in use as well as storage for spare nibs. What is a little disappointing is the number of customisable buttons. Here, we can find only 4 shortcut keys and one touch bar. On top of that, the cable offer do not support USB but powered route and must be used with the wall plug. The KAMVAS PRO 13 has A full size adjust tilt stand is also included.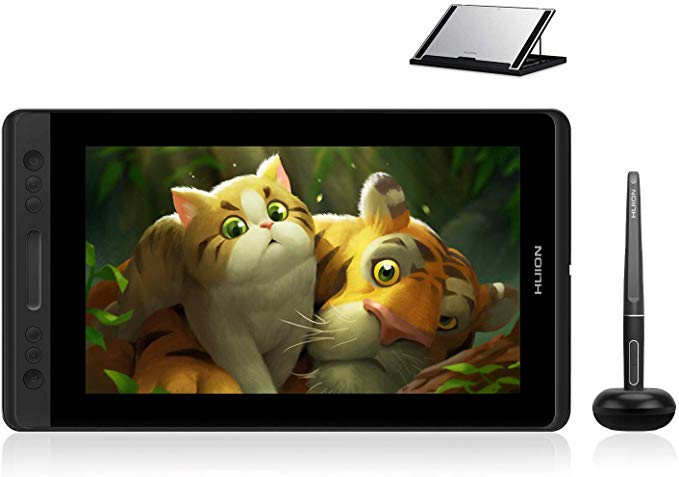 Dimensions: 15.28 x 8.62 x 0.43 inches
---
With a Full Laminated Screen 11.6-inch Full HD 1920 x 1080 display, this is another compact pen display monitor that will suit those who wishes to travel light. Measuring only 11 thin and weighing only 910 grams, you can take it anywhere with you. The graphics tablet uses a Battery-Free PW507 Pen that supports 8192 Pressure Sensitivity and Tilt Function. Like its bigger sibling, the HUION Kamvas Pro 12 also has a Touch Bar and 4 customisable shortcut keys.
The 11.6-inch display is capable of 120% sRGB color gamut, supports 178 degree wide angle viewing and brightness of 220cd / m2. In case you are wonder, our favourite dounut shape PH05 pen holder makes its appearance here. It will carry 10 extra nibs and pen lifter inside and double as a stand for the stylus. A portable adjustable stand is included with 6 different angles to suit your drawing needs.
Those hope to ditch the power adapter in favour of bus powered operation will be disappointed. The graphics tablet comes with a three-in-one cable that only supports DC connection from the supplied power adapter.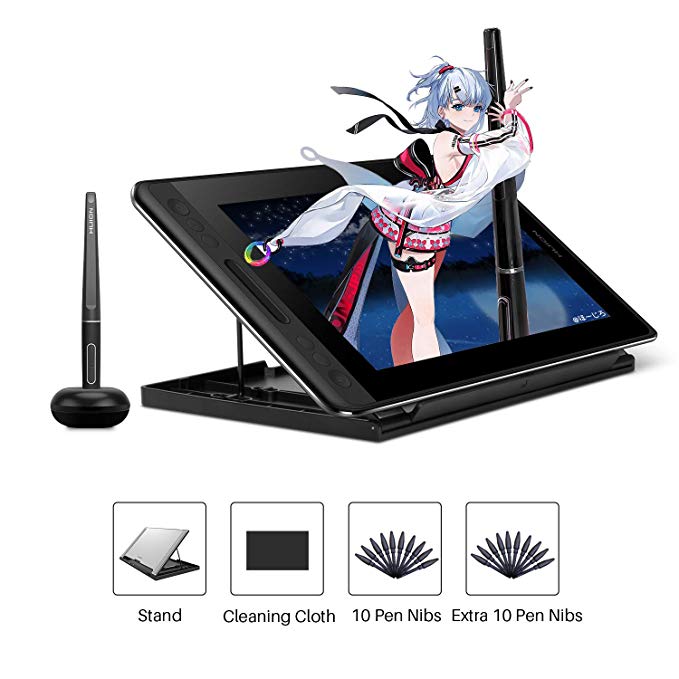 Dimensions: 350 x 198 x 11 mm
---
Wacom One is the company's entry level digital tablet. A basic pen and tablet input device with screen, it lacks shortcut keys, touch controls or dial but comes with integrated fold out legs to prop your drawing tablet up at an angle of 18 degrees. The battery-free pen supports natural tilt and can be slipped into a fabric holder when not in use.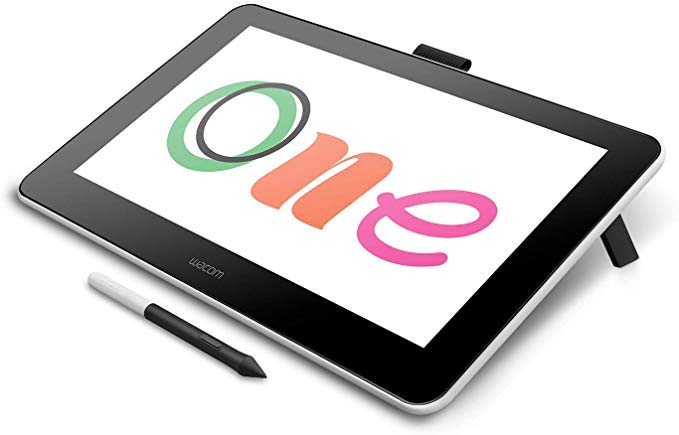 Be advised that the unit is not bus powered. It comes with a regular AC adapter to power the tablet. This means it is not as portable as some tablets that rely on the laptop for power. Still, with the right 3rd party adapter, it can be used with an Android smartphone, something that other tablets could not do.
It requires a HDMI output port as well as USB-A on your host machine. As for the display, the 13.3-inch panel is capable of Full HD 1920 x 1080 pixels, has a 170 degree viewing angle and supports NTSC 72% colour gamut. A more expensive Pro version from Wacom, the Wacom Cinti Pro 13 is also available with touch screen shortcut buttons and Wacome Pro Pen 2.
Dimensions: 225 x 357 x 14.6 mm
---
This entry level drawing tablet with screen is the smallest and cheapest from XP-PEN. It has an 11.6-inch Full HD display (1920 x 1080 pixels with 72% NTSC Colour Gamut and 178° viewing angle) with a layer of anti-reflective coating. There is an array of buttons on the left bezel with a touch bar flanked by three shortcut keys on either side. You can program these buttons and the touch bar to zoom in and out, scroll up and down and more.
As for the pen, it uses the battery-free P06 passive pen with a hexagonal grip and partially transparent tip with an eraser at the opposite end. Plus, there is a button on the pen that behaves as the right click on the mouse. If you must know the pen can reach 8192-level of pressure sensitivity for precision and accuracy. When not in use, it can live in a multifunction pen holder with storage for pen nibs and doubles as a stand.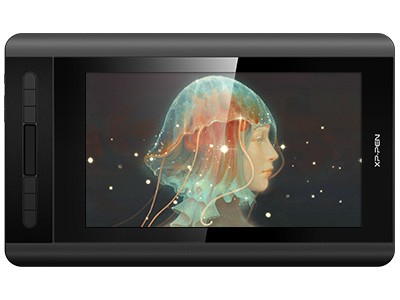 Dimensions: 364.11 x 218.87mm
---
The Gaomon PD1161 has an 11.6-inch FullHD display with 1920 x 1080 pixel resolution with a wide 178-degree viewing anble. The tablet comes with 8 Shortcut Keys that are fully customisable. What it lacks is a touch pad like interface such as those found on XP-PEN and Huion. It uses an 8192 Level Battery-Free AP50 Stylus supplied with pen holder and 8 replacement nibs. Note that this is another drawing tablet that requires power from the included adapter.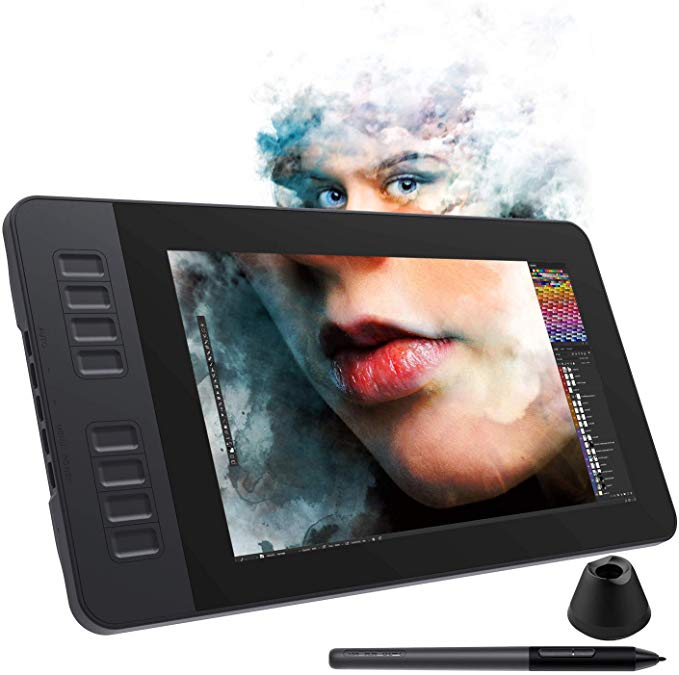 Dimensions: 361.6 x 200 x 13 mm
---
Gallery
For more graphic tablets with screen, see Best Budget Graphics Drawing Tablets with Built-in Display for the Creative or use the button below.