The recently launched MacBook Air 2020 closes the performance gap between MacBook Air and MacBook Pro with quad-core processor, roomy storage and the new Magic Keyboard.
Base model aside, the MacBook Air with 1.1GHz Quad-Core Intel Core i5 processor configurable to 1.2GHz Quad-Core Intel Core i7 processor are fully capable multimedia machines with plenty of room for files and videos given that it now comes with 512GB SSD storage. The base model comes with 256GB SSD storage.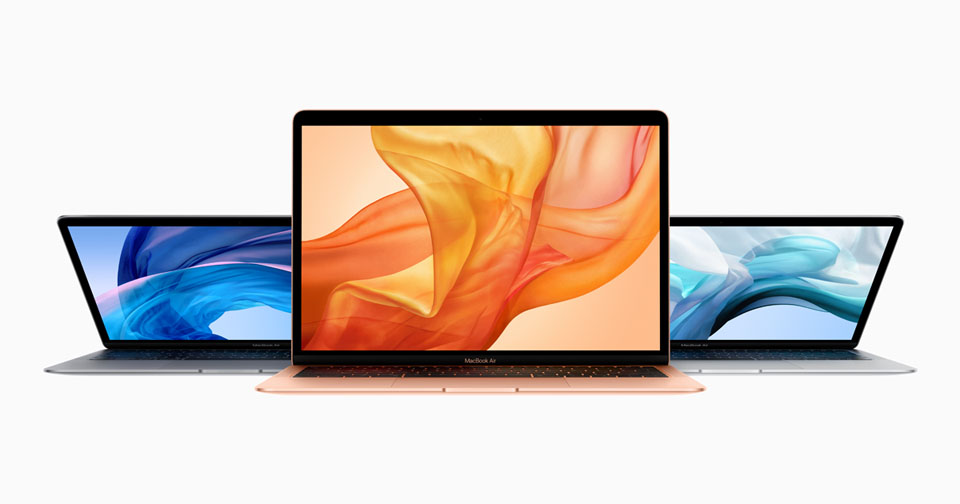 Generations Ahead
Previous 2019 MacBook Air uses dual core 8th generation Core i5 and Core i7 processors. The new MacBook Air 2020 uses the 10th generation Intel Core i3, i5 and i7 processors. The Intel Core i3 is still dual-core so does not offer much improvement in way of performance. However, the Intel Core i5 and Core i7 with its quad-core parts offer double or more performance compared to its predecessor.
This also puts it closer if not on par with the base model of MacBook Pro in terms of performance. See processor specifications below.
| | MacBook Pro 2019 | MacBook Air 2020 |
| --- | --- | --- |
| Processor | Intel Core i5-8257U @ 1.40GHz | Intel Core i5-1035G4 @ 1.10GHz |
| Chipset | Intel Iris Plus Graphics 645 | Intel Iris Plus Graphics |
| Socket | FCBGA1528 | FCBGA1526 |
| Clockspeed | 1.4 GHz | 1.1 GHz |
| Turbo Speed | 3.9 GHz | 3.5 GHz (3.7GHz unlimited) |
| Cores | 4 (2 logical cores per physical) | 4 (2 logical cores per physical) |
| Power | Typical TDP: 15 W | Typical TDP: 15, 12 W down, 25 W up |
| Other Names | Intel(R) Core(TM) i5-8257U CPU @ 1.40GHz | Intel(R) Core(TM) i5-1035G4 CPU @ 1.10GHz |
| First available | Q4 2019 | Q4 2019 |
Table: CPU specifications 2020
Here is a quick look at the performance comparison between the two laptops based on average CPU mark submitted by users, correct at the time of writing. You can find this and other processor benchmarks at www.cpubenchmark.net
| | | |
| --- | --- | --- |
| Processor | Intel Core i5-8257U @ 1.40GHz | Intel Core i5-1035G4 @ 1.10GHz |
| Average CPU Mark | 10767 | 9792 |
| Single Thread | 2259 | 2540 |
The base model MacBook Pro 2019 is only 9.95% faster compared to the MacBook Air 2020 with Core i5 processor. Comparing single thread scores, the 10th generation Core i5 even outperforms the Core i5 used in the MacBook Pro 2019 by 12.4%.
Bigger Storage – Quadruple Storage
The MacBook Air 2020's storage starts at 256GB. The model we looked at comes with 512GB. Compare this to its predecessor of the same level, the storage has doubled from 256GB. At 512GB SSD, you get ample storage for videos, photos and files. When compared to the base MacBook Pro's 128GB, that's 4 times the storage.
Better Keyboard – Magic Keyboard
Out with the butterfly mechanism and back with the scissors mechanism keyboard. The new keyboard first appeared on the MacBook Pro 16-inch back in December 2019 and it worked beautifully. There is ample key travel and responsive feel. It is both quiet and comfortable to type on. This is a big improvement over the butterfly switch keys. Remember, some MacBooks ended up going back to Apple for their Keyboard Service Program. MacBook Air 2020 adopts the same scissors switch, what Apple dubs the Magic Keyboard. The same Keyboard now appears on the Smart Type Cover for the new generation iPad Pro.

Design – Slimmer and Lighter Body
The MacBook Air with its tapered profile was revolutionary when it was first launched. It has more design appeal compared to MacBook Pro in that it is both slimmer and lighter when comparing both devices with 13-inch display. It is incredibly thin and light.
The Air 2020 gained a little weight but is still around 80 grams lighter than the Pro. It is a whopping 1.08cm slimmer at its slimmest point compared to MacBook Pro 13. With a tapered profile, the average thickness of the Air is around 0.985cm. This makes the Air 0.505cm slimmer than the Pro.
While we are talking about design, the MacBook Air is the only MacBook to be available in three different colours, Gold, Space Gray and Silver. The last time we saw this colour was on the now discontinued MacBook 12-inch. Even the latest MacBook Pro 16-inch does not have this colour option. Another reason to get it.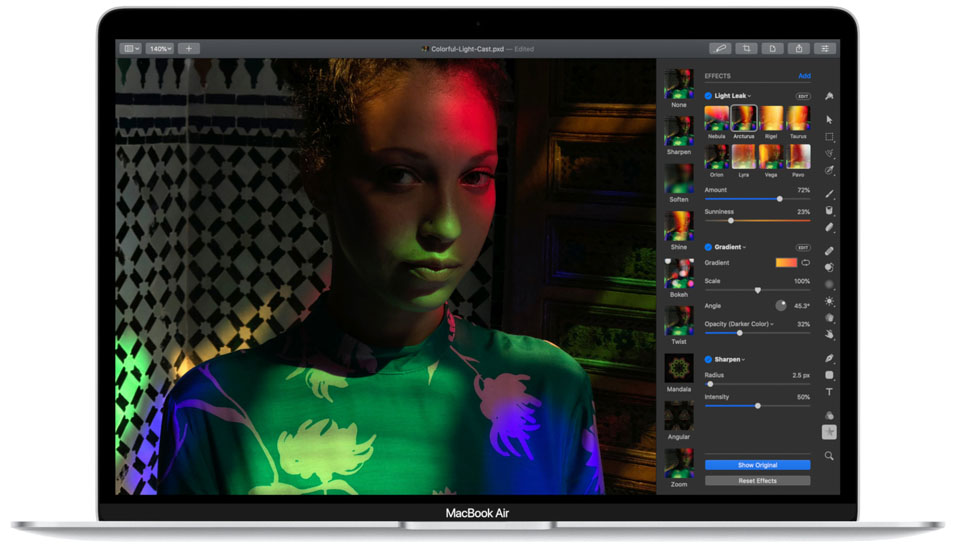 Battery Life – Up To 2 Hours More Usage Time
You may get up to twice the amount of processing power with the quad-core CPU but the battery life of the MacBook Air is still a respectable 11-12 hours. This is astonishing given that the laptop is slimmer and has a smaller capacity battery compared to the MacBook Pro. The MBP only manages up to 10 hours.
Touch Bar vs Bigger Force Touch Trackpad
Something that is not available on the MacBook Air, not even the latest 2020 edition but is available on the MacBook Pro's base model. Personally, while it is great to have an all intuitive touch interface that changes depending on the app, it is not the most innovative thing to come out of Apple. If you haven't got it, you are unlikely to miss much.
To make up for the absence of the Touch Bar, the Force Touch trackpad on the MacBook 2020 has grown to 20 pc larger. This allows for easier multi-touch gestures like pinch and zoom. The trackpad is easily one of the best and reacts to subtle differences in pressure.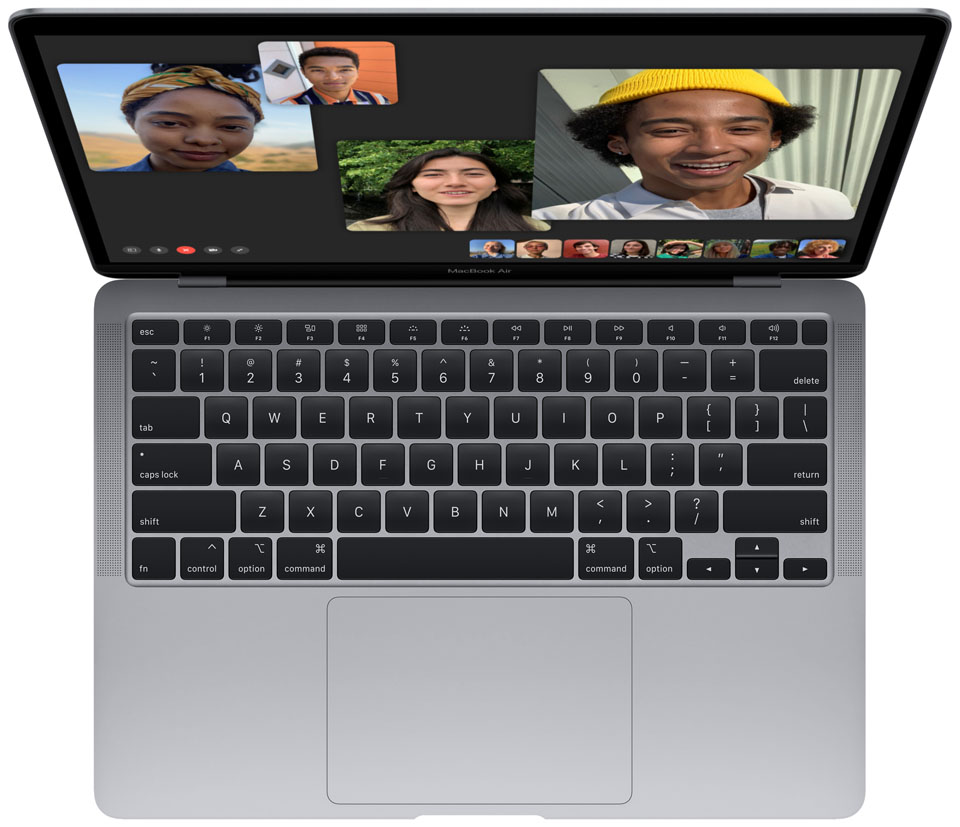 Everything Else Being Equal
Both MacBook Air and MacBook Pro 13 use Retina Display. At 13.3-inch. the panel is LED-backlit display with IPS technology; 2560-by-1600 native resolution at 227 pixels per inch with support for millions of colours. What is most important is that the panels support TrueTone Technology. True Tone automatically monitors the ambient light and adjusts the colour and intensity of the screen for optimal viewing.
In the graphics department, both laptop uses Intel's integrated graphics. The Intel Iris Plus Graphics 645 for MacBook Pro and the Intel Iris Plus Graphic on the MacBook Air. Both are fully capable graphics with support for 5K external display when connected via the USB-C port. The native DisplayPort output over USB-C supports one external display up to 5K or two external displays up to 4K.
Finally, both laptops support Touch ID, the biometric fingerprint sensor to quickly unlock your Mac, although you will still need to log-in with your password when booting up or restarting. It is also used to securely authorise software updates, authenticate password protected documents or pay for stuff online with Apple Pay.
Final Thoughts
It won't be long before Apple releases the successor to the current MacBook Pro but in the meantime, the Macbook Air 2020 totally blows the MacBook Pro 2019* not just in terms of performance but in many other aspects such as those discussed above.
Bottom line is, we like that it now comes with a quad-core processor option for twice the performance compared to previous model, has the updated Magic Keyboard and comes with a huge storage starting at 256GB (Core i3 model) or 512GB (Core i5 model).
* the following MacBook Pro 2019 were considered for the purposes of this post.
1.4GHz quad‑core Intel Core i5, Turbo Boost up to 3.9GHz, with 128MB of eDRAM
1.7GHz quad‑core Intel Core i7, Turbo Boost up to 4.5GHz, with 128MB of eDRAM (configurable)
Please note that there are more powerful MacBook Pro 2019 with the following configurations
2.4GHz quad‑core Intel Core i5, Turbo Boost up to 4.1GHz, with 128MB of eDRAM
2.8GHz quad‑core Intel Core i7, Turbo Boost up to 4.7GHz, with 128MB of eDRAM (configurable)
These are much faster compared to the Core i5 and Core i7 on the MacBook Air 2020. It is also likely that the next generation MacBook Pro will feature hexa-core and octa-core processors as see on the MacBook Pro 16-inch launched in 2019.