If you have to be stuck at home, use these apps to start voice and video group calls with your friends and family. Each participant will have their live video feed allowing you to see everyone in the group at the same time. Multiple people in different location can chat with each other. A perfect solution to staying at home.
Video conferences and video group calls can replace socialising and is a solution to social distancing or self-isolation. You can create a Group FaceTime call on your iPhone or iPad and invite up to 32 participants. You can also progress from a group Messages conversation to a real time video chat via FaceTime by starting a Group FaceTime there, so you do not need to invite and add individual users.
It's not something new. WhatsApp and WeChat let you start video calls from group chats too. These are apps that typically run on the smartphone. And since they are popular, your participants won't be scrambling to install them. It is highly likely that they already have it.
For desktop and laptops, your options are FaceTime on OS X, Skype, Google Hangouts via App or Chrome extension, and Google Duo for web. While WhatsApp and WeChat are mobile apps first, you can transfer your access to the browser or install the app on your laptop or desktop then scan a QR code on the screen using the app on your phone. It may not support video calling but lets you access and manage all your groups and chat history. You can then make group calls on the app itself.
Free Voice and Video Group Calls for Video Conferencing and Online Meetings
With no fees to pay, the other group video call options are as below. These apps are capable of host simultaneous video or audio group calls for up to 50 people and host a chat or conversation with up to 150 people.
FaceTime group call lets you video chat with up to 32 people.
Facebook Messenger lets you video chat with up to 6 people or one to up to 50 people.
Google Hangouts lets you video chat with up to 10 (Gmail, G Suite Basic) and 25 people (Business, Education). Conversations with up to 150 people.
Google Duo lets you video chat with up to 8 people.
Skype lets you video chat with up to 50 people.
Instagram lets you video chat with up to 6 people in a single call.
WeChat lets you video chat up to 9 people in the same session.
WhatsApp lets you video chat up to 4 people.
1. FaceTime (up to 32 people)
Reserved only for iOS and Mac, FaceTime group video calling is as easy clicking the + icon on the top right of the app screen, add the people in your contact and tap the video icon for video call or phone icon for audio chat. You can invite up to 32 participants to the Group FaceTime but this is not available in all regions.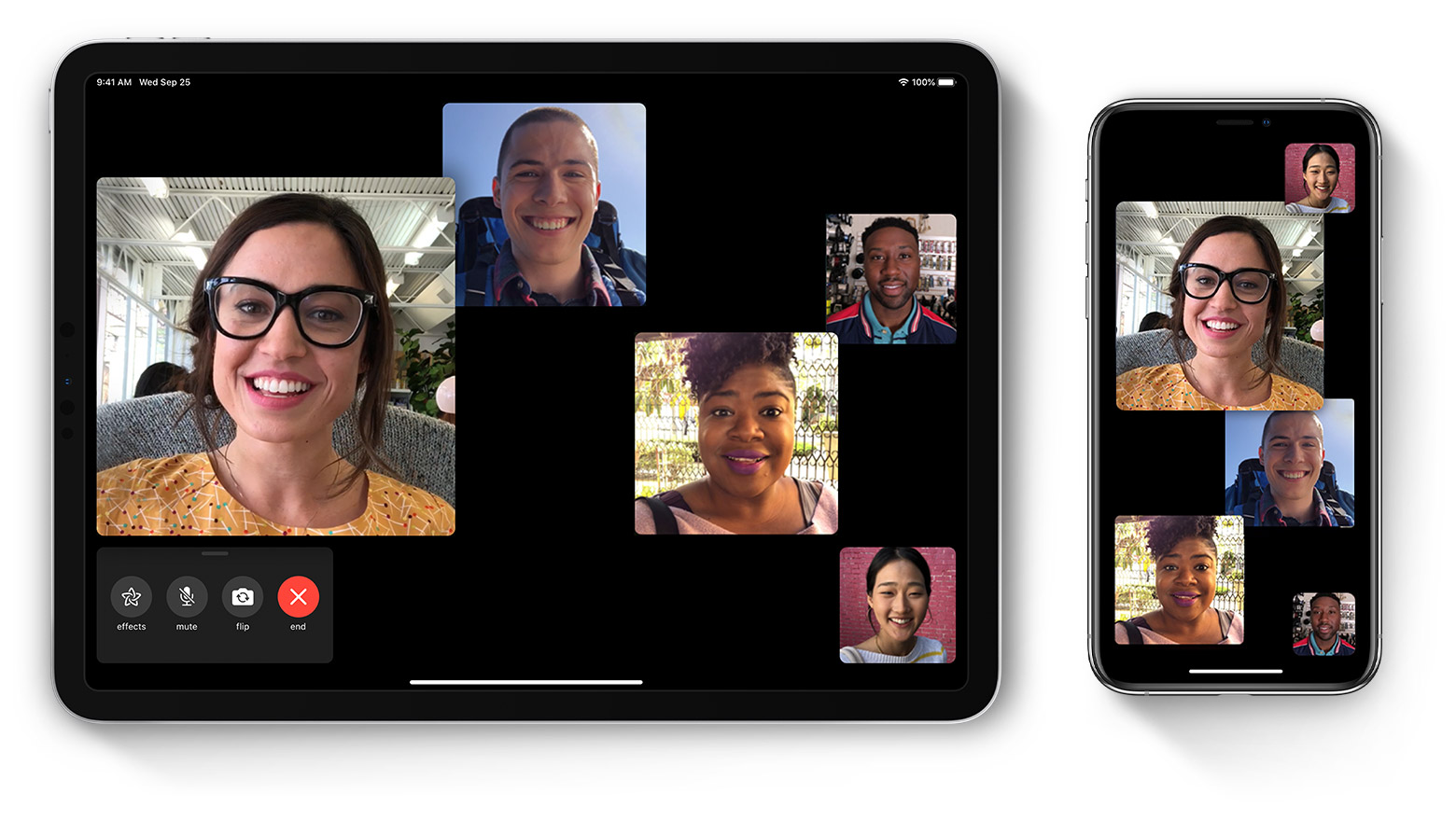 The neat thing is, each participant will appear as a tile on the screen and move to the front when you tap on them or when he or she speaks. Like other apps listed here, you can also start a Group FaceTime from a group Messages conversation. This starts a video call with all the people already in the Messages conversation.
Platform Supported: iOS and iPadOS (on iPhone, iPod, iPad) and OS X on Mac
Price: Free
---
2. Facebook Messenger (up to 6 people)
Group calling is available on Facebook Messenger. To start a group video chat, you must already be in a group conversation with them or create a new group. Then under Chats, open the conversation with the person or people you want to video call, then click on the video camera icon on the top right corner. This is located on the right of the phone icon for audio chat. Click add (+) person icon and select up to 6 people to video chat with. Alternatively, start a video chat from an existing group. This automatically calls the participants in the group.
Use live video filters for your in-call group video chat to spice things up. This is similar to the live video effects you can add on Snapchat.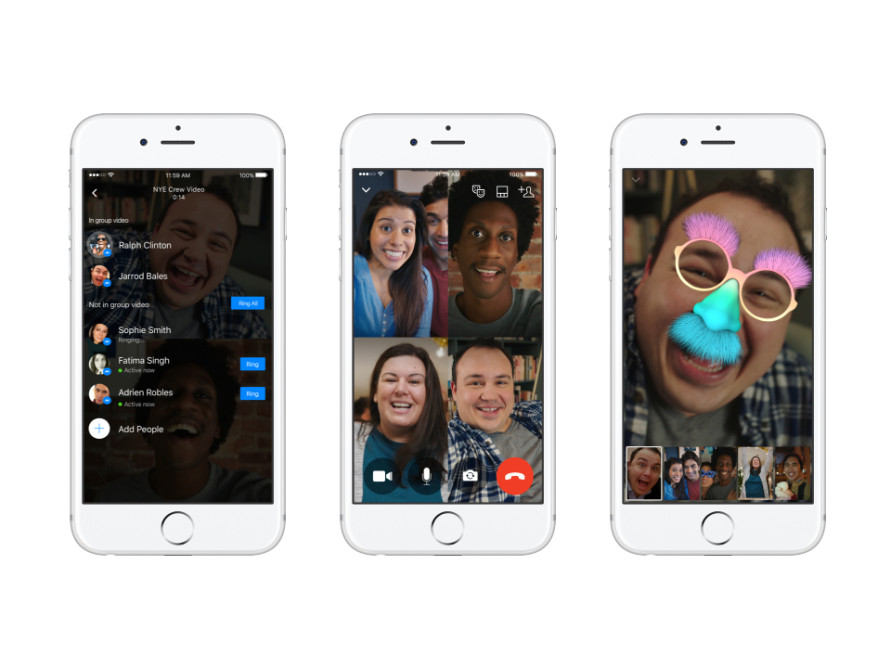 Platform Supported: Web, iOS and Android
Price: Free
---
3. Google Hangouts
Use Hangouts to talk to more than one person at the same time. You can make video group calls with up to 10 (Gmail, G Suite Basic) and 25 people (Business, Education) depending on your subscription, free or paid. You can also have a conversation with text only that includes up to 150 people based on support page. There is a mixed signal from Google as the quick introduction slides state support for group chats for up to 100 people. Let us know if you ever hit one of these ceilings. To access Google Hangouts on the desktop, either visit the website or get a Chrome extension. Google Hangouts take voice calls one step further with Hangout Dialer, an app that lets you call any phone number in the world from Hangouts app without using the cell plan minutes. Plus, calls to US and Canada are free.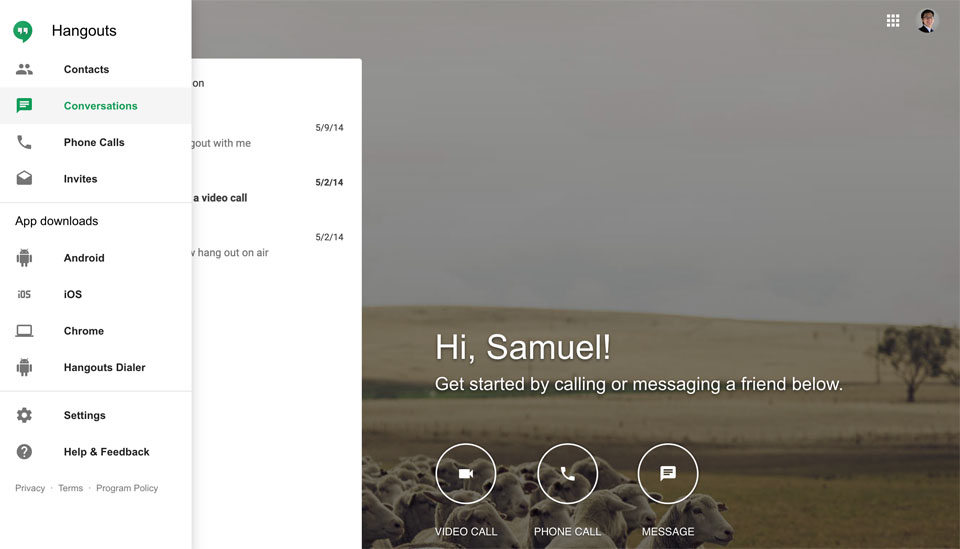 Platform Supported: Desktop or Laptop via Web, Android, iPhone and iPad
Price: Free, calls to landline or mobile may incur charge. Paid as part of G Suite Basic or Google for Business)
---
4. Google Duo (up to 8 people)
Another video and audio chat software from Google but targeting mobile devices running Android or iOS at launch. Duo is dubbed as Google's answer to FaceTime, WhatApp or Skype for one to one voice and video calls. It has since been upgraded to support group video calls with up to 8 people, supports high quality video calling and also works on Google's smart display, the Google Nest. it is now available to use via Google Chrome browser on desktop or laptop.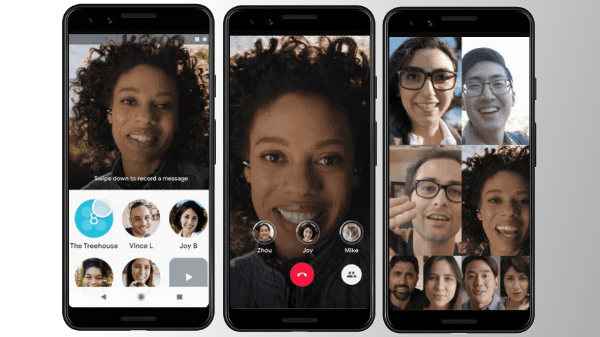 Platform Supported: Chrome on PC or Mac, iOS, Android
Price: Free
---
5. Skype (up to 50 people)
Skype rammed up the number of participants supported in their group video calling to 50 in response to Facebook Messenger moving theirs up to 32. It used to only support up to 25 simultaneous video feed. 50 is a big and ambitious number but if you can pull it off, everyone in your group having the right hardware and good Internet connection, you are looking at a classroom full of student or meeting room full of coworkers assembling virtually.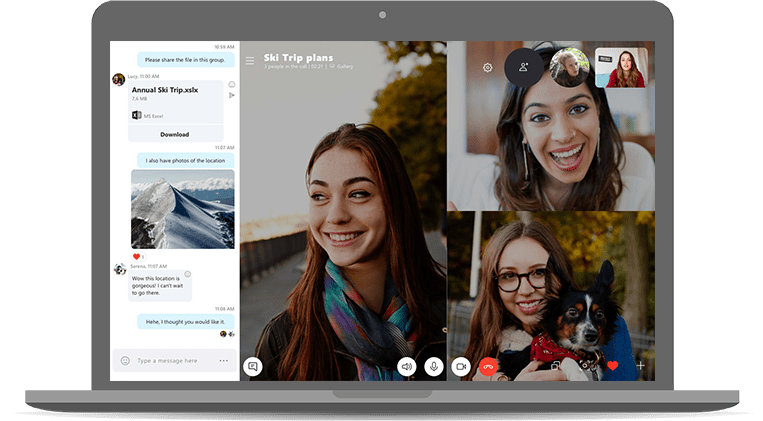 Some of the features include super clear HD quality video subject to device, clear audio using SILK Super Wide Band audio codec and fullscreen mode with the person talking displayed front and center. All this is available for free on any mobile devices, tablet and computer running the app.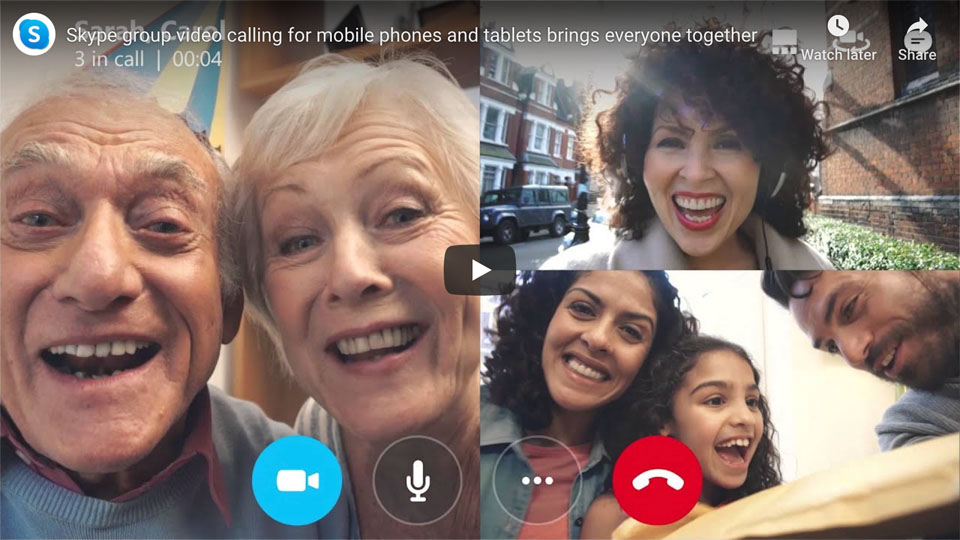 While FaceTime is limited to Apple's own platform only, Skype is available across all major platforms making it the most supported application. You can even use it with booting up a computer, using smart displays like the Echo Show and Echo Spot or via the XBOX gaming console.
Supported Platform: Windows, Mac OS X, Linux, iOS and Android. Also available via the web, on Alexa and XBOX. For Alexa, video chat works wonderfully on the smart display, the Echo Show.
Price: Free
---
6. Instagram (up to 6 people)
To begin a video chat on Instagram, tap on the cursor icon on the top right of the feed then tap on the video camera icon. You then select the participants to add to your chat or use the search function. This can be anyone you have accepted a direct message from. Now, if you would rather not have online acquaintances video call you, you can choose to block or mute them. You can also activate this for a group chat. Even during a call, you can still add someone but the hard limit is still 6 people. In our experience, the video quality is not as polished but it may be due to poor connection.
Instagram is another app that lets you use filters with their video chat. Afterall, it is owned by Facebook so features from Facebook Messenger will naturally trickle through to other apps. You can enable video chat filter during a call with an individual or a group.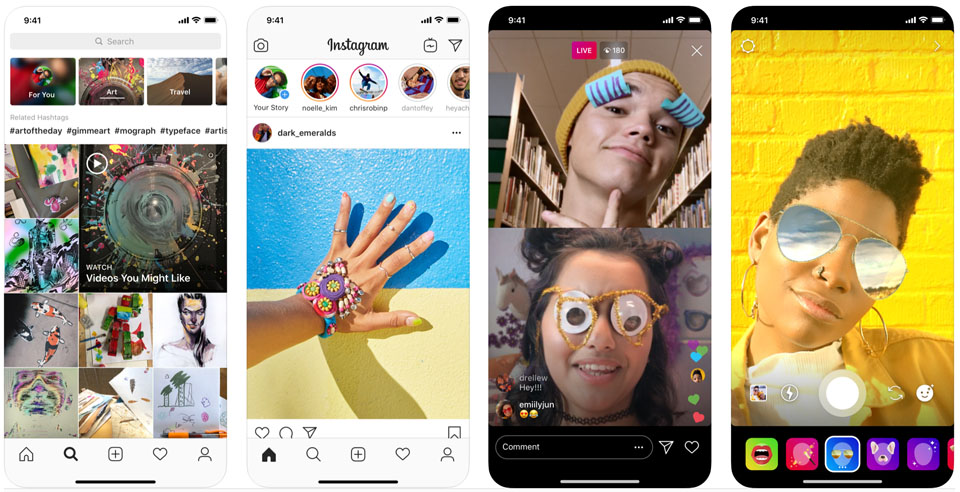 Supported Platform: Web, iOS, Android
Price: Free
---
7. WeChat (up to 9 people)
WeChat lets you create a video and voice group call but you must first create the group. To start a group call, click on the + icon on the lower right corner and tap Group Call. Then, select group members for this call and tap Start. Once the call is initiated, you will have control over the camera feed and microphone.
You can choose to toggle between video and voice, front or rear camera as well as mute the microphone or enable speaker mode. You can use WeChat from various devices including via a web browser but an existing account is required. In order to create a WeChat account, a mobile phone number is needed.
Typically, one would register for an account on their smartphone. And, proceed to link this to the PC, Mac app or Web via QR code.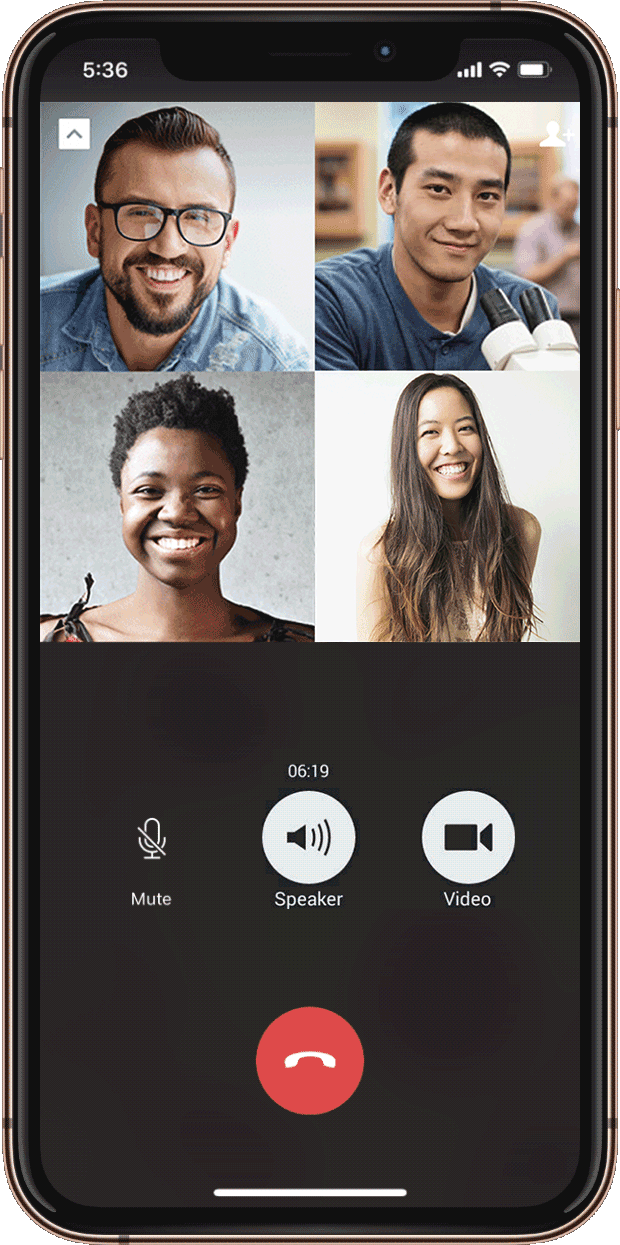 Platform Supported: Web, PC, MacOS, iOS and Android
Price: Free
---
8. WhatsApp (up to 4 people)
WhatsApp is another mobile app for text, voice and now video chat. Like WeChat, you can also use WhatsApp over the web using a browser on a Mac or PC. However, you must first install the app on a smartphone and register with a valid number. WhatsApp will need to verify your account using the active phone number. There are of course ways to go about circumventing this, to get WhatsApp installed without a phone line but that's a subject for another post.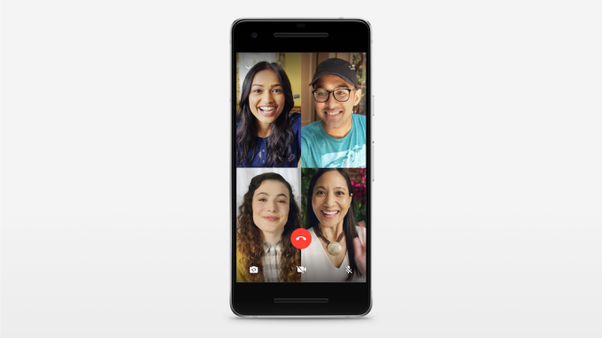 Once your account is ready, add your contacts and find callers to add to your video group chat. Start by going to the Calls tab then tap New Calls then New group call. While on the video call, you can choose to turn off video or on again by tapping on the video icon. While in a one-to-one call, you can still tap on Add Participants and search or select contacts to add. Unfortunately, while Facebook may own it, it is not as versatile as Facebook Messenger. It only supports up to a maximum of 4 participants in a Group Call.
Supported Platform: iOS, Android, Mac OSX, Windows PC
Price: Free
---
A version of this article was originally posted on our sister blog Colour My Living.