Which of these tablets are better for learning? As a parent or a student, would you buy the cheaper regular iPad now with 10.2 inch display or the more powerful and slimmer iPad Air with a slightly bigger 10.5-inch display. Make the right buying decision after reading our post below.
Now in its seventh generation (2019), the entry level and most affordable iPad just had an upgrade. While the specs stayed largely the same, it received a much needed display size boost. It now comes with a bigger 10.2-inch display from the 9.7-inch (2018) it used to have.

1. Screen Size –

iPad Air 10.5
It may not be a lot but at 10.5-inch compared to 10.2 it is certainly bigger diagonally. If you are after a tablet for drawing and sketching, every little screen real estate counts. Before, a 9.7-inch iPad would hamper one's ability to draw naturally on the tablet. Now at 10.2-inch, the iPad will just about work.
Throw in 0.3-inch more with the iPad Air 10.5, it makes for even better writing, drawing or sketching. For a true drawing experience, choose the biggest iPad Pro. With an expansive 12.9-inch, it's like drawing on an A4 size paper. Both displays support the first generation Apple Pencil.
Having said that, the displays do not offer any more details. Apart from the bigger size, both panels packs the same 264 ppi pixel density. The iPad Air 10.5 does support wider colour gamut and the new True Tone technology to go easy on the eyes when using the tablet as an eReader. It is also fully laminated like the iPad Pro which makes it better for writing. However, for closer to paper, scratchy feel, we recommend a paper like screen protector.
Search Apple iPad 10.2 on Amazon
iPad Air 10.5 Retina display
10.5-inch (diagonal) LED-backlit Multi-Touch display
2224-by-1668 resolution at 264 pixels per inch (ppi)
Wide color display (P3) and True Tone display
Fingerprint-resistant oleophobic coating
Fully laminated display, Antireflective coating, 1.8% reflectivity
500 nits brightness
Supports Apple Pencil
iPad 10.2 Retina display
10.2-inch (diagonal) LED-backlit Multi-Touch display with IPS technology
2160-by-1620-pixel resolution at 264 pixels per inch (ppi)
500 nits brightness
Fingerprint-resistant oleophobic coating
Supports Apple Pencil (1st generation)
2. Processing Power –

iPad Air 10.5
When Apple reintroduced the iPad 10.2 replacing the original iPad 9.7 they left the A10 Fusion processor in. This is the same chip that first appeared on the iPhone 7 and 7 Plus back in 2016. Their reasons, to keep the cost and to make the device affordable.
On the other hand, the iPad Air 10.5 uses the same chip as that found in the iPhone XS, XS Max and XR first introduced in 2019, the Apple A12 Bionic. Most benchmark tools will put the Apple A12 Bionic chip at a twice as fast if not more when compared to the A10 Fusion part.
You can't ignore the performance jump with the iPad Air 10.5. It makes application loads faster, smoother transition between apps and overall smoother experience with no lag. This is definite the tablet to choose if you consume a lot of educational apps and wants your tablet to be future proof. Plus, the Air comes with quad core graphics for some serious down time.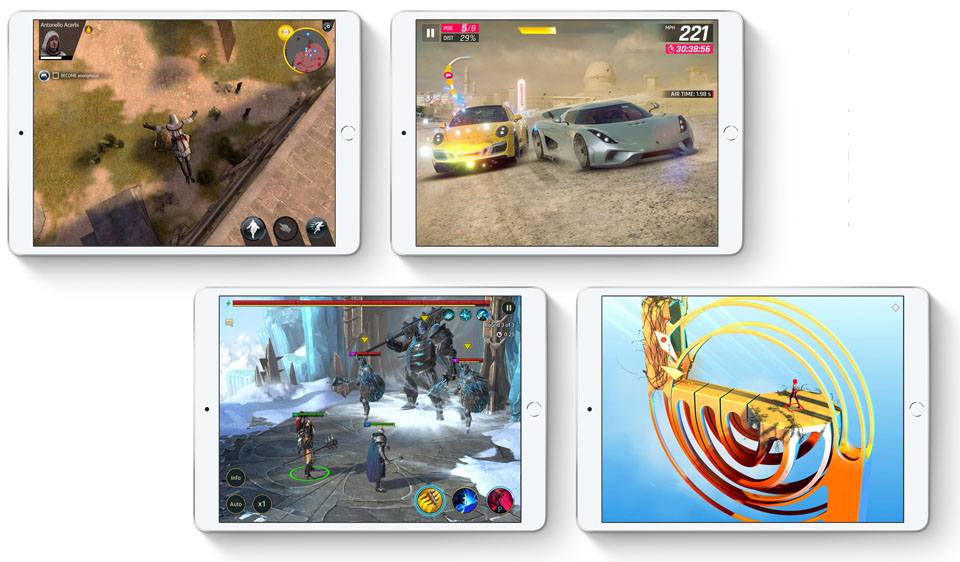 Search Apple iPad Air 10.5 on Amazon
3. Storage –

iPad Air 10.5
The iPad Air 10.5 starts from 64GB while the iPad 10.1 starts at only 32GB. That's only half the memory you would get going with the standard iPad. Given how Apple charges a premium for choosing a model with bigger storage in the same line, the price difference between the two can easily be attributed to just the memory alone. That and the difference in screen size, processing power and FaceTime camera.
The iPad Air has a bigger starting storage at 64GB. This means more room for files, photos, videos and even apps for learning.
The choice of storage sizes also differs. You can have the iPad 10.2 in either 32GB or 128GB, while the iPad Air 10.5 is available with 64GB or 256GB. Choosing a bigger 128GB iPad 10.2 will set you back another hundred, a total of $429 from the entry level iPad 10.2. On the other hand choosing the bigger 256GB iPad Air 10.5 will set you back $150 dollar, putting the final price tag at $649.
For size of storage, iPad Air 10.5 wins hands down but at what cost.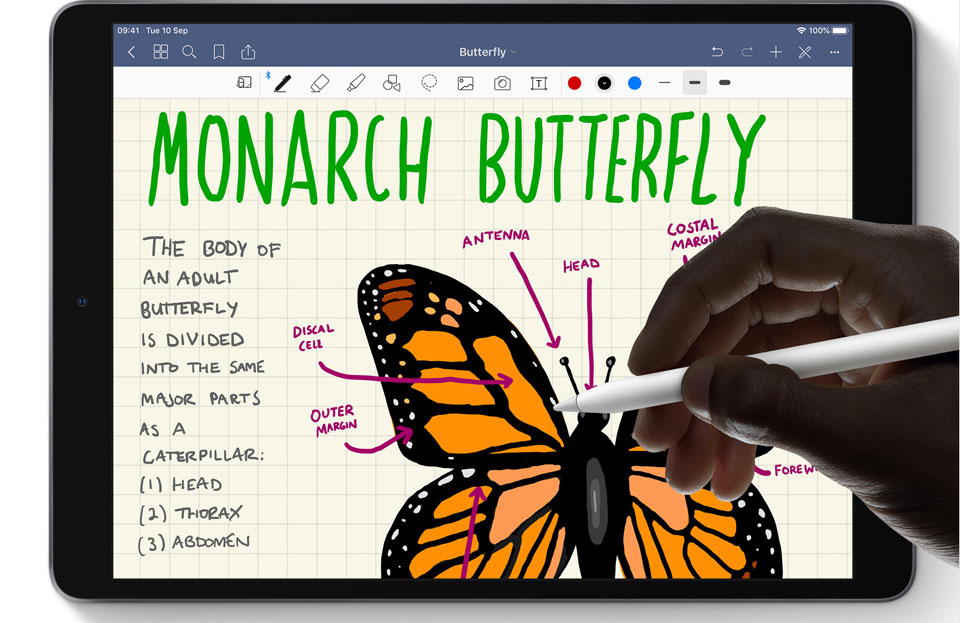 4. Battery Life –

Draw
Based on Apple's claim, both devices will last up to 10 hours on a full charge. The iPad 10.2 does have a bigger capacity battery at 32.4 watt-hour compared to 30.2 watt-hour on the iPad Air 10.5. However, the Air does have a newer and therefore more efficient processor. Give or take the Air will last up to 30 minutes more compared to the standard iPad. If you are picking up a WiFi and Cellular model, take an hour off the battery life.
Apple claims that both devices have the same battery life of up to 10 hours on a full charge WiFi Only model and 9 hours for the WiFi and Cellular model.
5. Main Camera –

Draw
All devices have the same 8 megapixel rear camera Suitable for recording videos up to 1080p and taking stills. Those expecting 4K Ultra HD video capture will need to consider the iPad Pros. Still, the 8MP camera is suitable for most applications.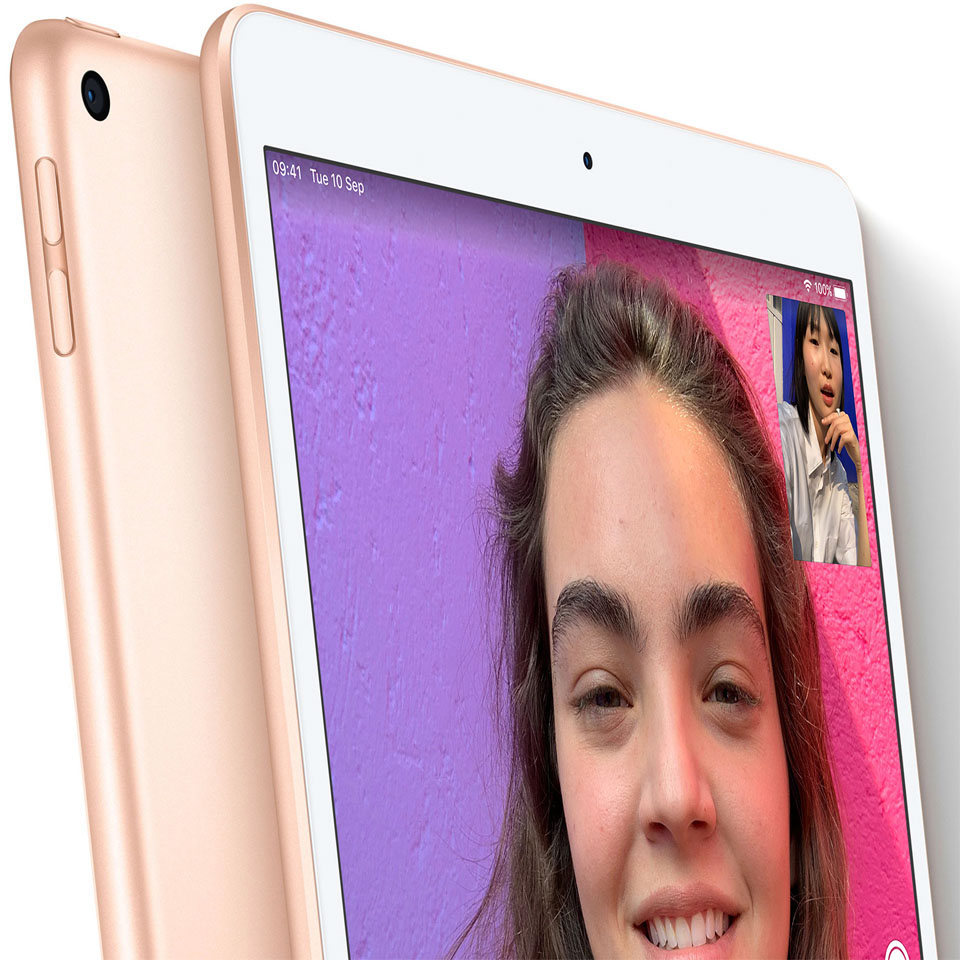 6. Web Cam –

iPad Air 10.5
The iPad Air has a much better FaceTime camera. With its' 7 MP sensor, It beats the 1.2 megapixel camera on the iPad any time. While it is unlikely that you will need a high resolution camera for web chats, for those using their iPad as a video capture tool; to shoot talking heads, tutorials or even performances, I am looking at the YouTubers out there, the front facing camera is every bit as important. It won't capture 4K video but at least it will shoot at Full HD which is more than the 720p on the standard iPad.
iPad Air 10.5 FaceTime HD Camera
7-megapixel photos
ƒ/2.2 aperture
1080p HD video recording at 30 fps
Retina Flash
Wide color capture for photos and Live Photos
Auto HDR for photos and videos
Backside illumination
Burst mode
Exposure control
Timer mode
iPad 10.2 FaceTime HD Camera
1.2-megapixel photos
ƒ/2.2 aperture
Retina Flash
Backside illumination
Live Photos
720p HD video recording
HDR for photos and videos
Body and face detection
Burst mode
Exposure control
Timer mode
7. Size & Weight –

iPad Air 10.5
Surprisingly, the iPad Air 10.5 with its bigger display weighs less than the iPad 10.2. Comparing WiFi only models, it is weighs 456 grams, 27 grams less. That's not a huge amount of difference but every gram counts when you have to handle it all day. Even with WiFi and Cellular model, the iPad Air is 29 grams less at 464 grams vs 493 grams on the iPad 10.2.
Those who think that with a bigger display means wider and taller device, you are wrong again. Both devices have the same foot print at 250.6 mm x 174.1 mm. The only difference is the thickness with the Air measuring only 6.1mm thin while the standard iPad is 7.5mm thin. For an idea of the thickness, iPhone 11 Pro and iPhone 11 Pro Max is 8.1mm while the iPhone 11 is 8.3mm.
I would like to say that it is a draw for this round since both are about the same size but decided to give it to the iPad Air for its slim and lighter body even when its display is bigger.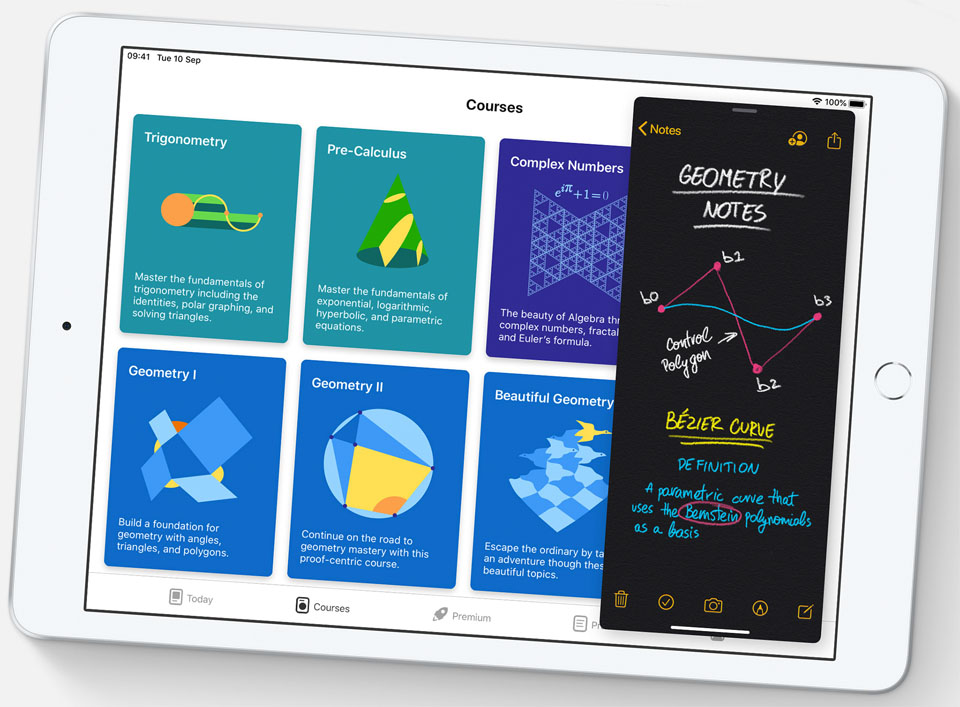 Search Apple iPad 10.2 on Amazon
8. Pen Input –

Draw
Both tablets supports first generation Apple Pencil. The design of which is pretty dumb given that you need to stick it into the lightning port on the tablet to charge. Every time I do this, I feel that someone might come around and accidentally knock the pen or lift up the tablet at an angle. There are risks of breaking the port, the Pencil or both if the pen.
Luckily for us, you don't have to charge the Pencil too often and if you want that extra peace of mind, get a charging adapter for your standard lightning cable. It changes the cable from male to female, so you can plug your Apple Pencil in to charge.
9. Colour Options –

Draw
Unlike the MacBook Air and MacBook Pro where it comes with three and two colour options respectively, both tablets have the same choice of colours. You can get the iPad 10.2 and iPad Air 10.5 in cool space gray, bright silver or flashy gold.
10. Price –

iPad 10.2
Comparing the base models, the iPad 10.2 is about a hundred dollar ($120) cheaper than the iPad Air 10.5. If cost is a major concern and you are working on a limited budget, the iPad 10.2 is your tablet. However, if you can spare the extra hundred dollar or so, pick up the iPad Air 10.5. In our mind, it is worth the extra. See below for our final thoughts.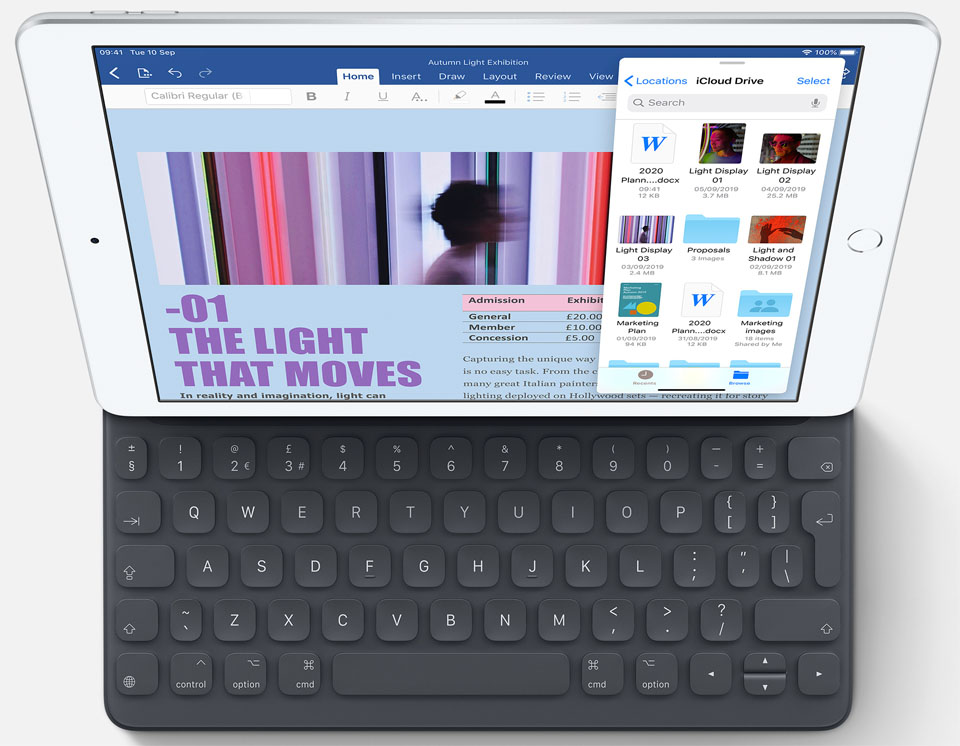 Final Thoughts
When comparing only between the base models, iPad 10.2 32GB and iPad Air 10.5 64GB, for the sake of a hundred or so dollars, we would go for the iPad Air 10.5. This lets you access the following:
newer and faster A12 processor vs A10 on iPad 10.2
better multitasking, faster loading time and smoother experience on the iPad Air 10.5
bigger 10.5-inch display vs 10.2-inch on iPad 10.2
way better FaceTime (front facing) camera at 7.0MP vs 1.2MP o iPad 10.2
Full HD 1080p video capture with front camera vs 720p on iPad 10.2
much slimmer and lighter body on the iPad Air vs iPad 10.2*
slightly better battery life on the iPad Air vs iPad 10.2
Again, for those strapped for cash and just want a basic iPad, the standard iPad 10.2 is still a strong entry. Given that not that long ago, you had to settle for a puny 9.7-inch display, it's just as well. Add the Smart Keyboard and Apple Pencil, plus your favourite learning and creative apps, you have the same access and interface as on the iPad Air, only slower.
*although it has to be said that both devices have the same footprint (width and length).