Glass ornaments are easily broken, plastic ones are bad for the environment when they end up in the landfills, so we resorted to making our own Christmas origami decorations at home and in the process have some fun.
Here are 10 easy to follow origami projects to light up your Christmas while keeping the it safe for the little ones and the environment.
RELATED: The 10 Best Origami Christmas Ornaments to Make with Your Kids
1. 3D Paper Christmas Tree –  How to make a 3D paper xmas tree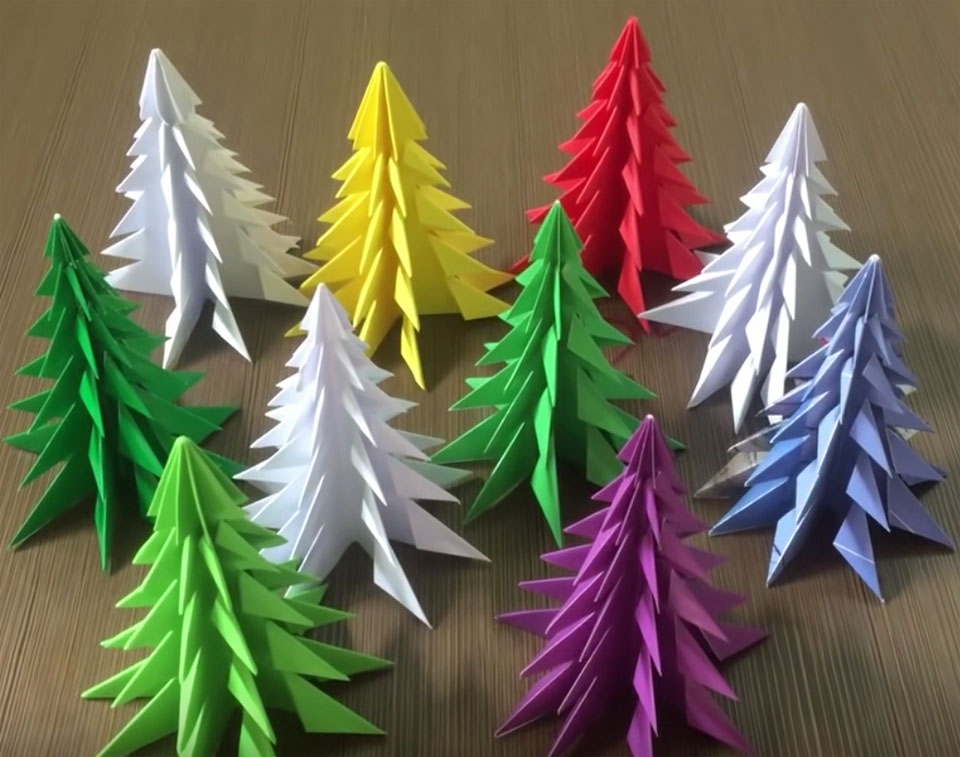 Follow this very popular video tutorial on how to make your very own 3D paper Christmas tree. While you are at it, you might want to get the little ones to join in so you can make a small forest of trees. Note that this origami project requires the use of scissors so only use child friendly scissors with the little ones or better, cut it for them. There is nothing like a good team effort. Thank you to the good people at Crafty Daily for sharing. Watch the video tutorial below:
ALSO: A Three Dimensional Version of the Origami Christmas Tree by Jo Nakashima
Jo Nakashima has a more detailed version. It requires more work and time but the result is amazing. It is easily the most impressive three dimensional Christmas Tree that we have come across. But be warn that it is going to take twice as long if not longer to finish each tree. Somebody folded over 80 of them and had to stay up until 4 am. Thank you to Jo for taking the time and effort to prepare the origami tutorial video below.
2. Make Star Lantern Kandil for Diwali and Christmas Decoration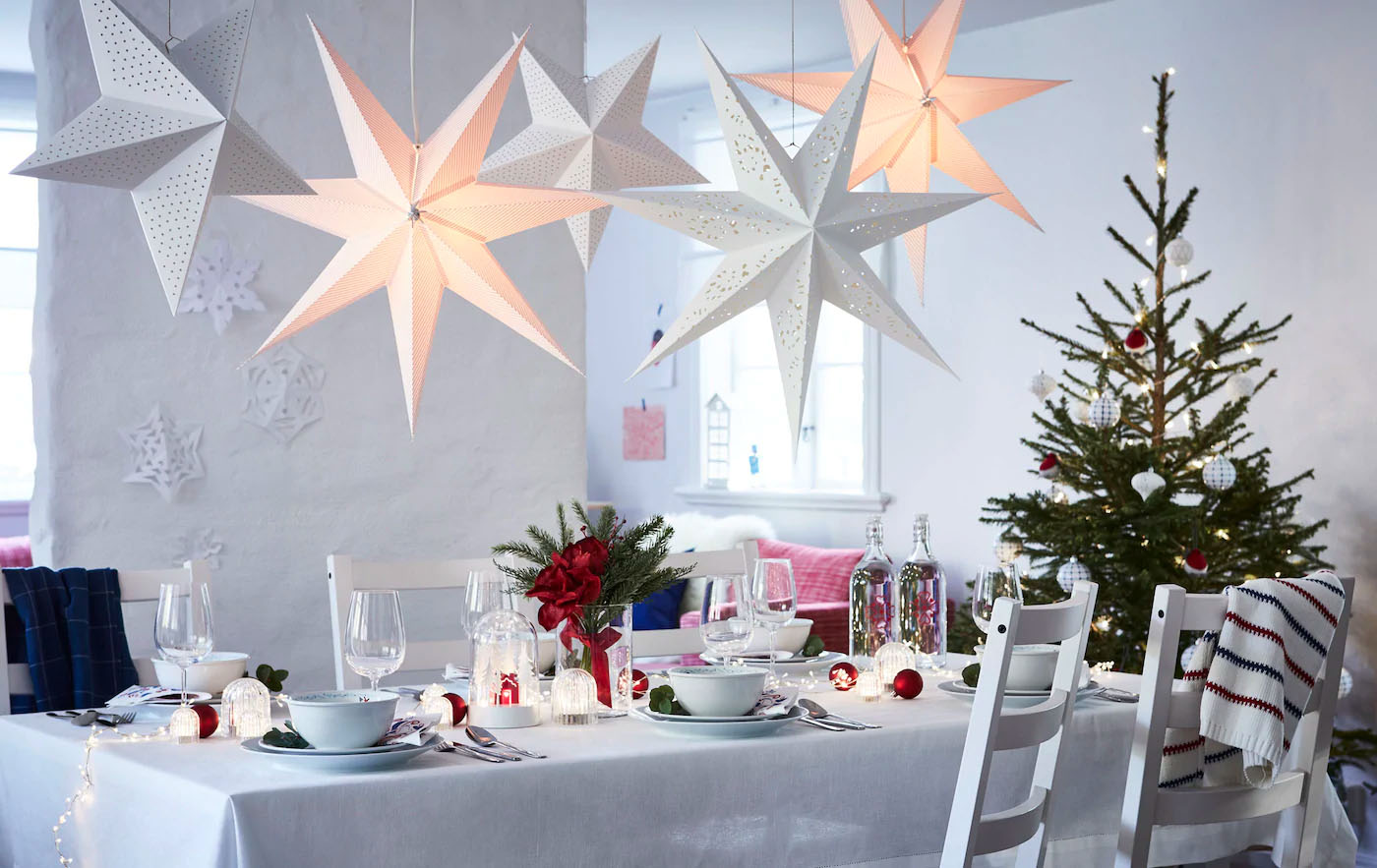 Make your own star lanterns to hang over the dining table, near the windows, in the hall way or the living room. These star lanterns can be scaled to make them bigger, decorated with your own cut out motives with a paper puncher and lit with a low power LED light bulb. With the right coloured paper, they will work with any room and decor. Just make sure they are no where near open flames like candles and tea light. Many thanks to Art Craft & Ideas by SD especially Kavita Mohi for sharing. Watch the full tutorial video below. Note that this is another project that requires scissors and craft knife so be careful when there are little ones around.
3. Paper Wreath for Christmas Decorations Ideas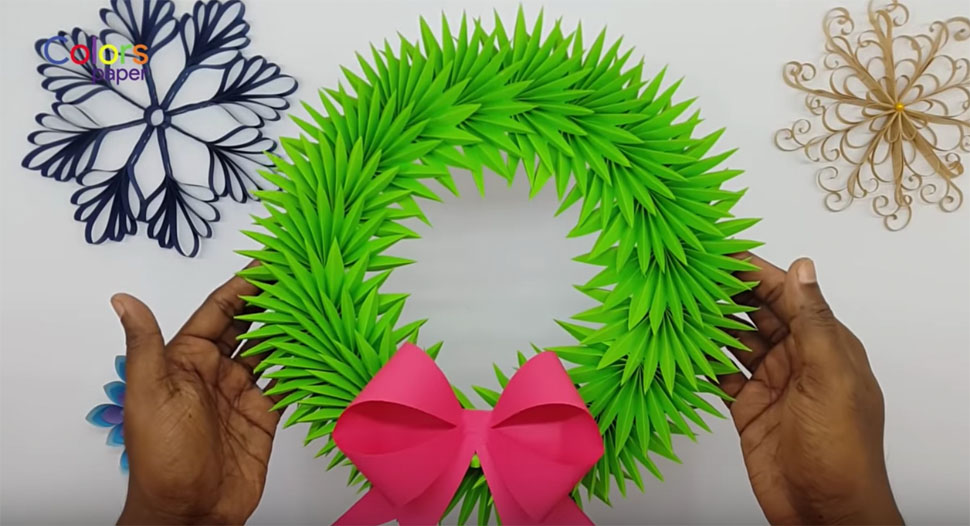 This video tutorial shows you how to create your very own paper Christmas wreath. Not only is it a 3D paper craft with pointy bushy effect but the tutorial also shows you how to create a 3D paper bow. Use of stapler and craft knife or scissors is require. Craft glue or glue gun is also needed to glue the smaller units to the circular base. Our thanks go to Colors Paper for creating and uploading the tutorial to create the paper wreath. We can now enjoy a wreath that is one hundred percent recyclable or can be used over and over again for years.
4. Origami Christmas Tree: Paper Christmas Decorations
A variation of the 3D Christmas tree above, but this time, a hanging variety for a real Christmas tree or as a hanging decoration in the house. The leaves are made up of four scaled parts, from small to big, glued together with the brown corrugated board added to the bottom as the tree stem. This creates a 2D, almost 3D version that goes nicely on the wall as decorations or in a card with pop-up effect. If you have the patience and time, create an equal part to glue to the back of the first one to form a 3D tree. Just don't forget to sandwich between the two halves, a string if you intend for this to be a tree ornament. Many thanks to BastIn for sharing.
5. Robin Star of 8 details by Maria Sinayskaya
If you need a star for your Christmas Tree, here is how to make one. This 8 pointed star requires 8 small square pieces of paper, 4 of each colour, light green and dark green if you wish to follow the design in the video. The modular origami Robin is designed by Maria Sinayskaya. You can follow the tutorial video above to fold and put together the star just over 6 minutes. In case you haven't noticed, this can be used as a fidget spinner of sort with the hole in the middle or as a shuriken toy. It may be a little small as a star for a big tree but works as an ornament too.
6. Origami Christmas Star
Don't really like the donut star in number 5, check out this 8 pointed with no hole in the middle. It is also folded from a single piece of paper instead of modularly combining 8 sheets. It can be challenging at times to execute this origami so we recommend using a bigger piece of square paper as they will be folds upon folds that will make a small star harder to put together. Scale down once you got the first one right. Our thanks goes out to JM's Origami Tutorials for putting together this video.
7. Paper Snowflake DIY 3D
If you think stars are difficult, the snowflake above takes origami to a whole new level. The three dimensional paper snowflake is assembled together by gluing 5 or more individual components. Once all 5 parts are glued together, it opens up like a fan to form a circular three dimensional snow flake. We would like to thank Yakomoga for sharing this tutorial. Glue and scissors are needed for this project.
8. Paper Diamond (Senbazuru)
Baubles are an essential Christmas tree ornament. Diamond or geometric baubles are your go to, to recreate those round hanging ornaments from paper. This origami decoration is made from two square sheets of paper of the same size and some strings. Finish off with a needle and some glue for that perfect Christmas bauble alternative. These can also be stringed together as a garland or to add to a garland as ornaments. Remember to choose different coloured paper to suit. Thanks to Senbazuru for uploading the video.
ALSO: Origami Diamond Ornaments
If you need more help with the diamond or geometric bauble, here is another video tutorial to follow. Watch the video above to make a modular fluted diamond by Molly Khan.
9. Origami Crystal Ornaments
A variation of the diamond or geometric modular diamond origami in number 8, here is a tear drop or crystal shaped origami piece. These can be used as a gift box, hanging decorations or three ornaments. Instead of two equal square pieces of paper, one square sheet of paper makes two baubles. The tutorial is cleverly put together to show the difference between tear drop shaped and equal diamond shaped designs. If you intend to use them as gift boxes for small items, check out the paper sizes in the description of the video to help you under stand how big or small you need to go. Paper sizes for a tear drop shaped box to fit kisses, Ferrero Rocher and Potpourri are offered. Our thanks go to Sweet Paper origami for sharing the tutorial.
10. 3D Christmas Snowflake
Last but not least, here is another snow flake but not one that doesn't require cutting. It is made by gluing 8 basic units together like in the previous snow flake and opening it up to reveal a nice three dimensional single sided snow flake that you see above.
Combined Tutorial Videos
In our search for some of the best origami tutorial videos, we have come across compilation of videos, a sort of mix tapes of tutorial videos put together by people like you and me. These videos are a good place to start, making a small collection of seasonal decorative pieces. Feel free to pick and mix the different designs. Whichever one you choose, you will be assured of hours of fun with the family. Happy Crafting.
8 AMAZING PAPER CHRISTMAS DECORATIONS TO DO IN 5 MINUTES. decorating ideas
7 DIY Christmas Crafts for Kids
RELATED: More Origami Resources