Monochrome or black and white laser printers with scanner, copier and print functions built-in are becoming more affordable. These budget all-in-one multifunction wireless laser printers are not only cheap to buy but are just as cheap to run.
Benefits of Wireless Laser Printers
If black and white printing is all you do, a laser printer is your answer. Not only does the toner cartridges comes with higher print yield compared to those from small black ink cartridges in inkjet printers, laser printers are faster, quieter and more robust.
They also offer sharper and more crisp print outs that do not smudge, are waterproof and are dry to touch as soon as it comes out. New laser printer also comes with plenty of connectivity options such as WiFi Direct, AirPrint, Cloud Printing, App printing. Some even supports NFC tap and print function making printing painless from NFC enabled devices.
This is on top of the wired USB port and sometimes Ethernet networking port to cable it directly to your computer or network. With some many connectivity functions available, it is therefore a standalone wireless network print server. One of those would have costs hundreds of dollars to buy a few years ago. A standalone print server is perfect for the home, home office and small office to share with a small group of users.
All-In-One Multifunction Printer
As a a Multifunction or All-In-One printer, it comes with a scanner that allows the printer to work as a copier for direct document duplication without using a computer. Simply put your document on the flatbed scanner or document feeder and hit copy. As a scanner, it can scan your document or photo to an app on a mobile device such as a smartphone or tablet on top of being able to scan to a computer.
What About Printing
Finally, there is the print function. Some multifunction printer goes as far as to include an automatic double-sided printing facility. This means, you can cut the use of paper to half by using both sides of the paper. With it being a budget laser printer it is suitable for low to medium demands.
The Line Up
We start off with one of the cheapest all-in-one laser printer in the market, the HP LaserJet Pro M29w. It is also one of the smallest printer as HP boast that the printer is a world's smallest. It is designed to take on any small printing tasks with print volume between 100 to 1000 pages a month without breaking a sweat. The printer takes as little as 7.9 seconds to warm up and print the first page and once running, prints at the speed of up to 19 pages per minute. It's not the fastest but for the price, we can't really complain.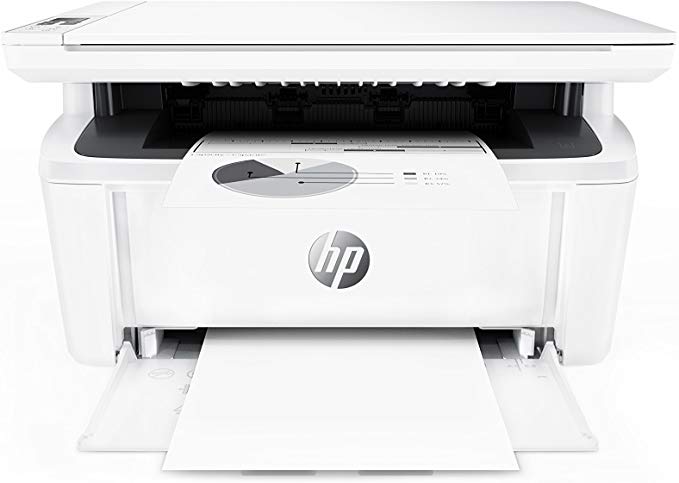 As with other wireless laser printers here, you can enjoy printing directly from mobile devices using HP Smart app. Conversely, it will also scan to the app easily once connected. The built-in wireless capability supports printing via WiFi Direct, with compatible devices, you can print without a network. and printing over the cloud using iCloud, Google Drive and Dropbox. Given its size, it does not come with a paper drawer. The front cover drops down to reveal an input tray that takes up to 150 sheets of paper.
Being small also means that the toner cartridge has a lower page yield. A standard yield black toner will print up to 1000 pages. It is worth mentioning that the scanner copier has an Easy ID copy function that lets you copy both sides of your identification card onto the one side of the paper.
Advantages
consistent speed with paper moving in and pages moving out continuously
low noise printing that produces good quality dark and crisp prints
mobile printing from smartphones, tablets and laptops
Google Cloud Print support means you can print from anywhere
Disadvantages
requires a desktop with USB connection for initial setup
takes time downloading software and drivers from HP as part of setup
not ease easy to setup as some of the other printers
no automatic double sided printing and no automatic document feeder
A slightly faster model in the same design, the HP LaserJet Pro M31w with printing speed of up to 21 pages per minute is also available.
| | |
| --- | --- |
| Functions | print, copy, scan |
| Print Speed | 19 ppm |
| Print Resolution | Up to 600 x 600 x 1 dpi |
| Dimensions | 10.4 x 14.2 x 7.8 inches |
| Mobile printing | Apple AirPrint, Dropbox, Google Cloud Print, Mopria-certified; Wi-Fi Direct, HP Smart App |
---
The Brother HLL2395DW is at the top end price wise in our line-up. A higher model to the equally popular HLL2390DW, the multifunction wireless printer supports copying, scanning and printing over local WiFi, NFC and cloud-based printing and scanning. While both printers look identical, the HLL2395DW prints faster at 36 ppm, comes with a 2.7-inch colour touchscreen and has an Ethernet port if you prefer to cable it.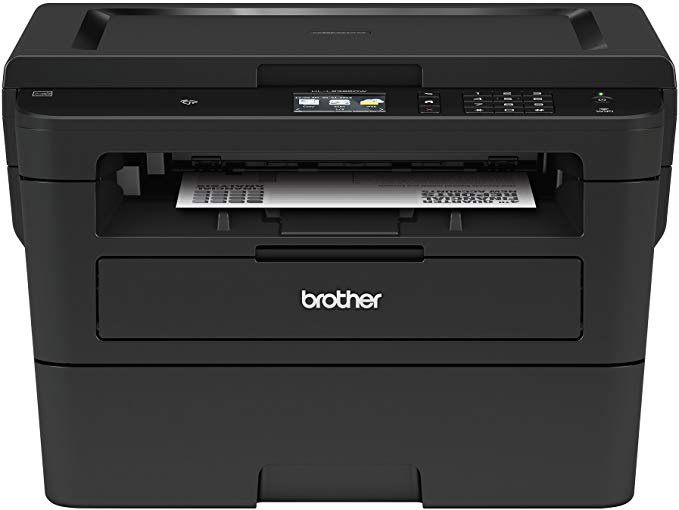 Elsewhere, you have a dedicated paper drawer with a big paper 250 sheets paper capacity, support for duplex printing and option to purchase a standard or high yield replacement cartridge capable of outputs of up to 1200 or 3000 pages respectively. Cloud printing and scanning support includes Dropbox, Google Drive, Evernote, OneNote and more.
Advantages
benefit of colour touchscreen for controls
easy to setup and connect to WiFi
reasonably priced, good value for what you get
great text quality and decent graphics and photos
low running cost and option for high yield cartridge means less swapping
Ethernet port for wired connection
Disadvantages
big and heavy and only does black and white
no automatic document feeder, ADF still reserved for mid to high end printers
not much else
Functions
print, copy, scan
Print Speed
36 ppm –

FASTEST

Print Resolution
600 dpi
Dimensions
15.7 x 16.1 x 10.7 inches
Mobile printing*

AirPrint, Google Cloud Print 2.0, Brother iPrint and Scan, Mopria, Cortado Workplace
At the time of writing, both printers are around the same price point so it becomes a no brainer to opt for this better model. Also, this printer is frequently on sale so do your research and nab yourself a bargain.
---
A higher model to the HLL2395DW and therefore more expensive, the Brother MFCL2710DW is another duplex printer that also includes fax function. This higher model also includes an automatic document feeder capable of handling up to 50 pages in one go. The All-In-One wireless printer comes with a dedicated paper drawer that can store up to 250 sheets of paper and is capable of printing speed up to 30 ppm. But what really amazes us is the high toner page yield. You can get an average of up to 3000 pages of black and white documents with their standard toner. It must be said that the included toner only comes with a low 700 page yield.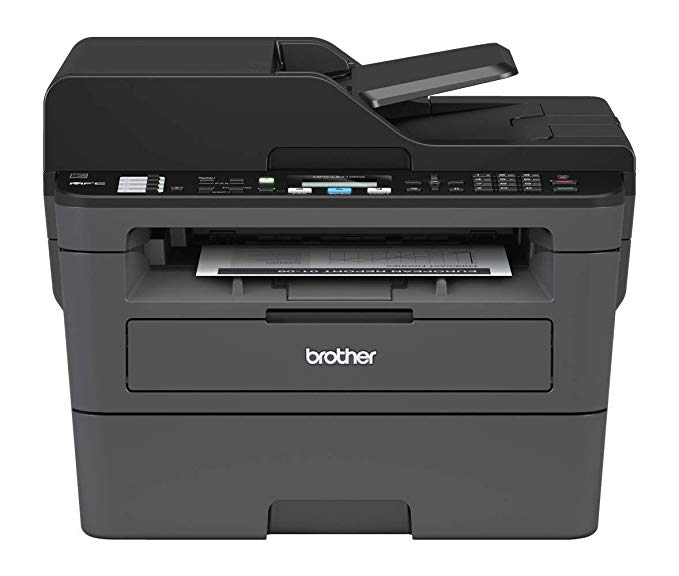 Advantages
4-in-1 with copy, scan, print and fax function
Super fast printing up to 36 ppm
Good text quality and quiet operation
Automatic duplex (double-sided) printing
Wired Ethernet on top of wireless connectivity
Fax function if that still floats your boat
Disadvantages
Difficult to navigate menu system
No colour touchscreen display
Low yield initial toner cartridge
While compact, it is still bigger others here
Requires replacement cartridge sooner
The printer is quick to print, cheap to buy and offers many functions for the price. However, this is still a budget printer and as such is designed for low volume print and copying.
Functions
print, copy, scan
Print Speed
36 ppm –

FASTEST

Print Resolution: dpi
Not specified
Dimensions
15.7 x 16.1 x 12.5 inches
Mobile printing*
AirPrint Google Cloud Print, Brother iPrint&Scan , Wi Fi Direct
---
The Samsung Xpress M2070 is a small and budget budget friendly wireless 3-in-1 printer that scans, copies and print. For ease of wireless connectivity, it supports Near Field Communication (NFC) Printing. What this means is that you can print directly with an NFC enabled mobile device. In addition to that it also supports mobile printing using Samsung Mobile Print app and wireless printing from PC or MAC.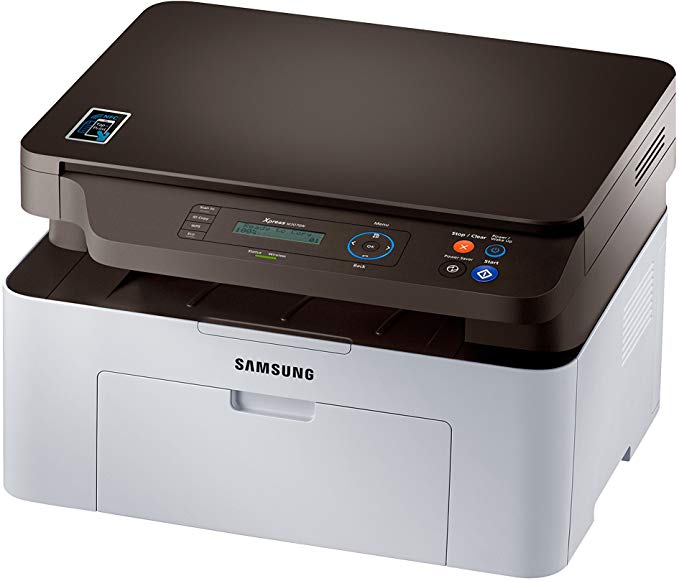 However, being a small printer, it is not without disadvantages. Designed for light use, there is no dedicated paper drawer. Instead, you lower the door in front of the printer that doubles as input tray and load the paper there. It is however very quick, and can print up to 20 page per minute. And, while a standard cartridge yields up to 1000 pages output, the cartridge it is shipped with only yields 500 pages so be prepared to buy a replacement toner cartridge real soon.
Advantages
Affordable printer, cheap to buy
Easy to setup and use & amazing print quality
Very fast printing with up to 20 ppm
Good scanning and copying speed
Take up very little space on the desk
App support for mobile printing
Tap and Print NFC support
Disadvantages
Low print yield initial cartridge
No dedicated paper drawer
Low paper capacity up to 150 sheets only
Slow colour scanning speed
No duplex printing support
Looks like a scanner stacked on a printer
A higher model, the Samsung Xpress M2070FW with automatic document feeder over the flatbed scanner is also available.
| | |
| --- | --- |
| Functions | print, copy, scan |
| Print Speed (ppm) | 20 ppm |
| Print Resolution | Up to 4800 x 4800 dpi |
| Dimensions | 16 x 14.2 x 10.0 Inches |
| Mobile printing* | USB 2.0, Wi-Fi Direct, Google Cloud Print, Apple AirPrint |
---
Last but not least, the HP LaserJet Pro M28w is marginally slower than the M29w on the top of the list printing at speeds of up to 18 ppm but is just as compact and quiet. For its compact design, it takes up very little space on the desk, perfect for home and small office. On the other hand, being small means you miss out of features like duplex printing, dedicated paper drawer and high resolution scanning. Remember, this has the same recommended low volume printing of 100 to 1000 pages per month as the first LaserJet on our list.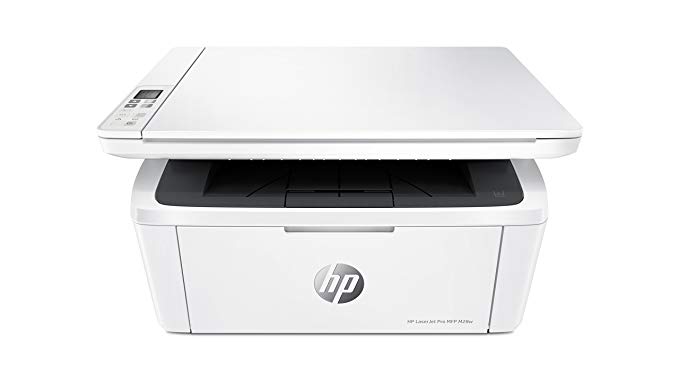 It will however do everything an wireless multifunction printer with scanner will do including printing over the cloud, WiFi Direct and mobile printing.
Advantages
takes up very little space with its small and ultra compact footprint
good quality print outs, can't really complain at this price
good print speed with low noise operation
super affordable
Disadvantages
low yield initial cartridge
standard cartridge prints up to 1000 pages only
very small ICON LCD display
no automatic duplex printing
small capacity 150 sheet input tray, even smaller capacity 100 sheet output tray
| | |
| --- | --- |
| Functions: | print, copy, scan |
| Print Speed | 18 ppm |
| Print Resolution | Black (best): Up to 600 x 600 x 1 dpi; Black (normal): Up to 600 x 400 x 2 dpi |
| Dimensions | 36 x 26.4 x 19.7 cm |
| Mobile printing* | Apple AirPrint; Google Cloud Print 2.0; Mopria-certifed; Wi-Fi Direct, HP Smart App |
---