Smartphones are getting bigger with displays going up to 6-inch or more. But, thanks to bezel-less designs, they don't feel as big as they used to. Here are 10 of the best big smartphones, flagship phablets from the best manufacturers in the world.
A Look at Giant Smartphones
Starting with the Apple iPhone 11 and Huawei P40 at 6.1-inch, we move to Pixel 3XL and Pixel 4XL from Google with 6.3-inch followed closely by Mate 20 Pro from Huawei at 6.39-inch and Galaxy S10+ from Samsung at 6.4-inch. Next, we have another Huawei, the P30 Pro with 6.47-inch display followed by Apple's flagship, the iPhone 11 Pro Max at 6.5-inch. Next is the OnePlus 8 with a 6.55-inch display. Lastly, the P30 Pro successor, the Huawei P40 Pro has a bigger 6.58-inch display.
Growing at a much higher rate is the ASUS ROG Phone II with 6.59-inch display. This is topped by OnePlus 7 Pro and OnePlus 7T Pro with a giant 6.67-inch display. Again, this is followed closely by Oppo Reno 10x Zoom with its 6.7-inch screen. Now, the new OnePlus 8 Pro has a 6.78-inch display. If that is still not big enough, aim for the Samsung Galaxy Note10+ with its towering 6.8-inch display.
Finally, the phone with the biggest display, bigger than all the smartphones on this list is Huawei Max 20 X with a huge 7.2-inch display.
Top 10+5 Best Big Smartphones with Bigger than 6-inch Display
Want the best big smartphone, you can't go wrong with these flagship phablets. With displays starting from 6.1-inch and maxing out at 7.2-inch, you can't go bigger and better anywhere else. Since publication, our list has grown from 10 to 15 with the inclusion of OnePlus 8 Pro, Huawei P40 Pro, OnePlus 8 and Huawei P40.
BONUS: Huawei Mate 20 X 7.2-inch
Display: 6.8-inch Dynamic AMOLED
Resolution: 1440 x 3040 pixels, 19:9 ratio 498 ppi density)
Topping our list in terms of screen size is Samsung's latest addition to its popular Note series, the Galaxy Note 10 Plus. Ever since the launch of the Note series in October 2011, Samsung has annually released numerous mouthwatering successors to the original Galaxy Note, and the year 2019 didn't disappoint either.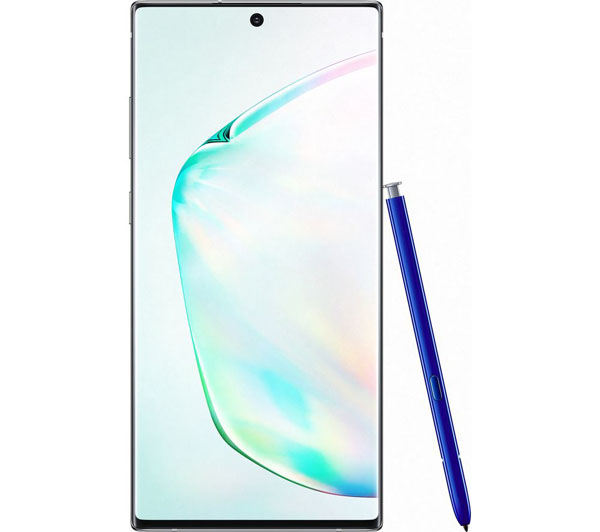 Officially released on August 7 2019, the Samsung Galaxy Note 10 Plus may not be the most powerful device on the market, but its 6.8-inch Quad HD+ Super AMOLED screen is so big that it takes up the entire front of the phone. Its trademark edge-to-edge design and curved display is carried over from Galaxy S10 save that the cut out for Note10+ is in the centre instead of the top right corner.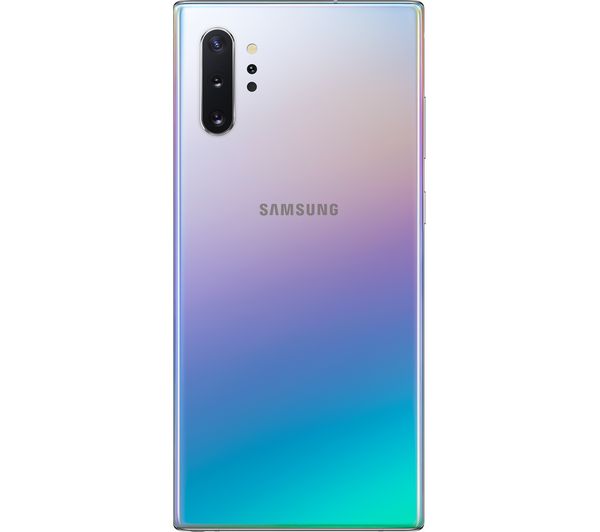 The pixel density, sharpness and brightness of the gorgeous display will definitely eat a little more battery power, but the device is powered by a massive 4,300mAh capacity battery. On top of that, it has plenty of memory with 12GB of RAM and a powerful Snapdragon 855 or Exynos 9825 chipset (region dependent) to ensure that you enjoy the device to the fullest. While you are doing that, the vapour chamber cooling system keeps the handset cool to touch.
---
The new generation OnePlus 8 Pro has a slightly bigger 6.78-inch display compared to the OnePlus 7T Pro with its 6.67-inch. The panel is super bright at 1300 nits, has a high 120Hz refresh rate and is packed up to the brim with pixels at QHD+ resolution. It also supports HDR 10+ and is A+ rated by DisplayMate. The smartphone is powered by Snapdragon 865 with faster LPDDR5 RAM memory and faster UFS 3.0 file management system with Turbo Write. Elsewhere, there is Smart 5G support, WiFi 6, Dolby Atmos, Warp Charge 40 wireless fast charging and Warp Charge 30T fast wired charging.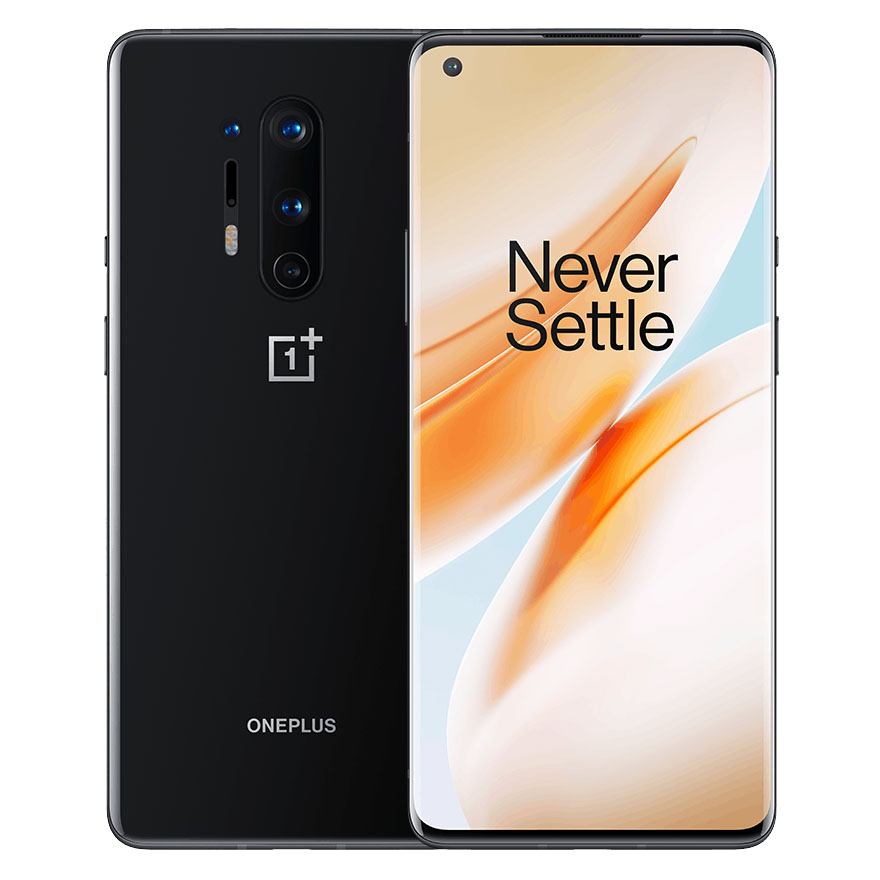 On the rear, you have a quad camera setup; the main shooter being a 48MP with OIS using 1/1.4-inch sensor, the second camera also a 48MP 1/2-inch sensor but with Ultra Wide Angle lense capable of 128 degree field of vision and 3cm Macro. The third camera is an 8MP Hybrid Zoom camera capable of up to 3x hybrid zoom and 30x digital zoom. Lastly, you have a 5MP Colour Filter camera for photochrome filter. Together these cameras let you shoot video in harsh lighting or backlit scenes with video stablisation. All that is enclosed in an IP68 rated case that will survive splashes and rain. Finally, three colour options are available, Onyx Black, Glacial Green and Ultramarine Blue.
---
Display: 6.67-inch Dynamic AMOLED
Resolution: 1440 x 3120 pixels, 19.5:9 ratio (~516 ppi density)
Coming in at second place with a hand-stretching 6.67-inch display is the OnePlus 7 Pro by Chinese smartphone manufacturer OnePlus Technology. Released on May 14, 2019, the OnePlus 7 Pro is the company's most expensive smartphone yet, and there are a million reasons why. It has a breathtaking 6.67-inch edge-to-edge display with eye-popping colors and clarity. Also, the display features an innovative in-display fingerprint sensor that is faster and more responsive than anything you've seen before.
Five months later, in October 2019, the OnePlus 7T Pro was launched. Essentially the same phone but with a slightly faster processor. Using the Qualcomm Snapdragon 855 Plus this time, the introduction of the new phone shows the company's commitment to give its customers the latest technology at the right price. With Snapdragon 855 Plus, it boasts 15% faster graphics rendering and processing speeds.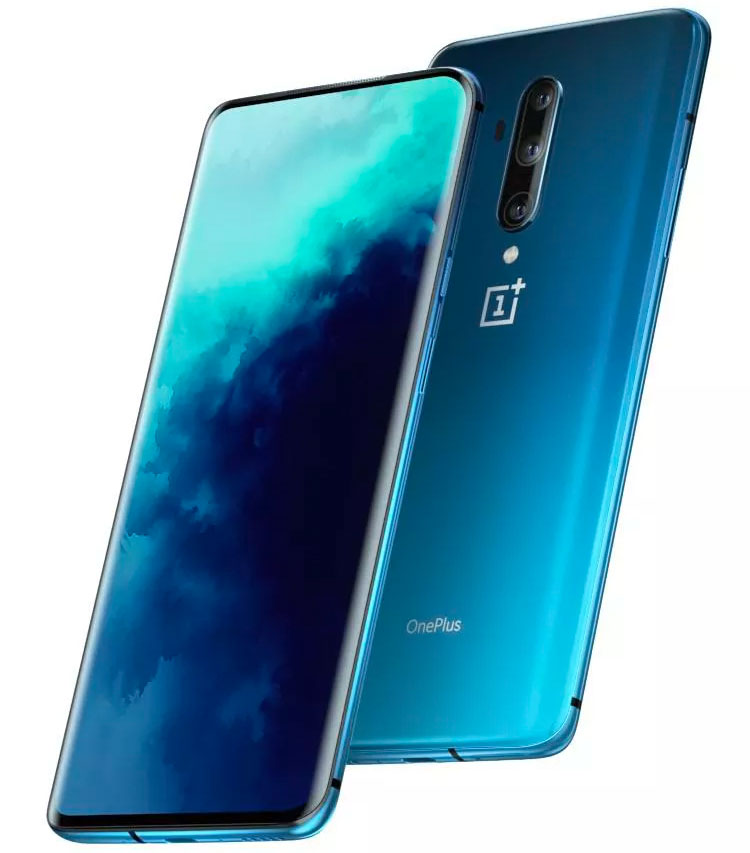 The 6.67-inch Fluid AMOLED 90Hz notchless display is a sight to behold with a higher QHD+ resolution than its predecessors. That's 3120 x 1440 Pixels altogether achieving 516ppi with a 19.5:9 aspect ratio. The device is powered by an impressive 4085mAh Li-Ion battery and Warp Charge 30T, so you have nothing to worry about when it comes to battery life and keeping it topped up. A must buy for lovers of beautiful displays and gamers. A future proof 5G version is also available in the form of the OnePlus 7 Pro 5G.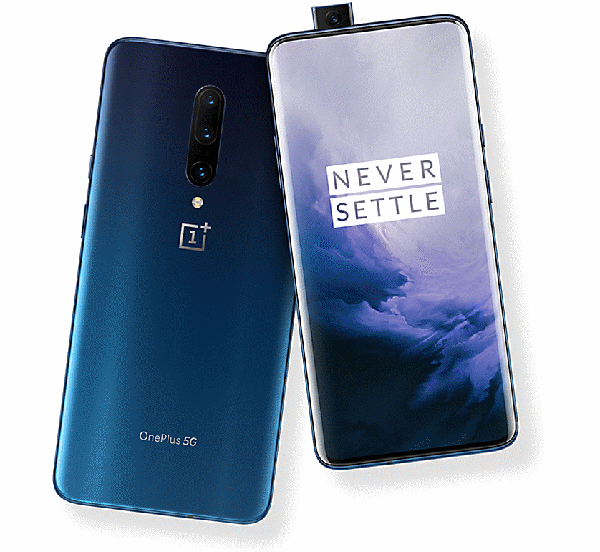 Display: 6.55-inch AMOLED
Resolution: 2400 x 1080 pixels, 20:9 ratio 402 ppi density
Don't forget the equally impressive OnePlus 7T, the smaller sibling of the OnePlus 7T Pro. At 6.55-inch the super smooth 90Hz display on the OnePlus 7T isn't far off from the 6.67-inch on the Pro. The Fluid Display is based on Super AMOLED and supports 1000 nit brightness, HDR10+, in-display fingerprint sensor and is TUV certified to be easy on the eye especially in the dark with blue light reduction.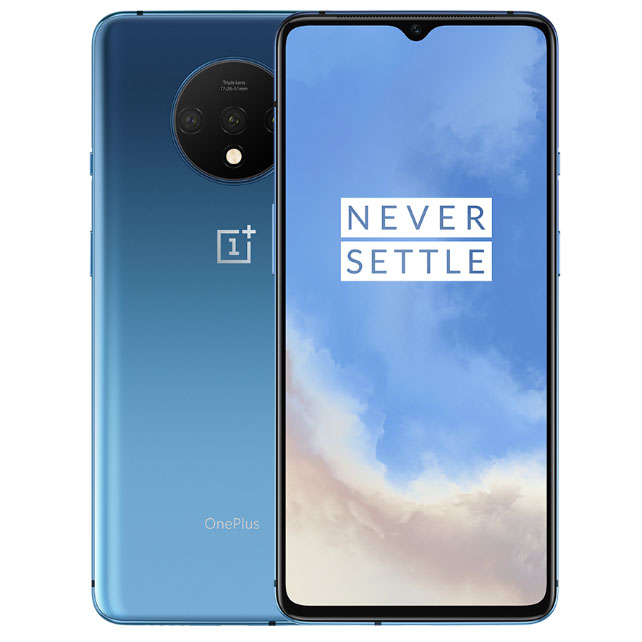 ---
Display: 6.6-inch AMOLED
Resolution: 1080 x 2340 pixels, 19.5:9 ratio 387 ppi density
Not a name you hear very often but this flagship smartphone with a quirky angled pop-up camera from Oppo, the Reno 10x Zoom has a real full view display with no notch or cut-out hole. But the biggest draw has to be the 10x Hybrid Zoom (16-160mm) using a combination of 13MP periscope telephoto lens, 8MP wide-angle lens and 48MP ultra clear main camera. At 10x zoom, you've got to have super steady hands, and thanks to dual optical image stabilisation (OIS) you can safely take fully zoomed shots with one hand without worrying about blurry image.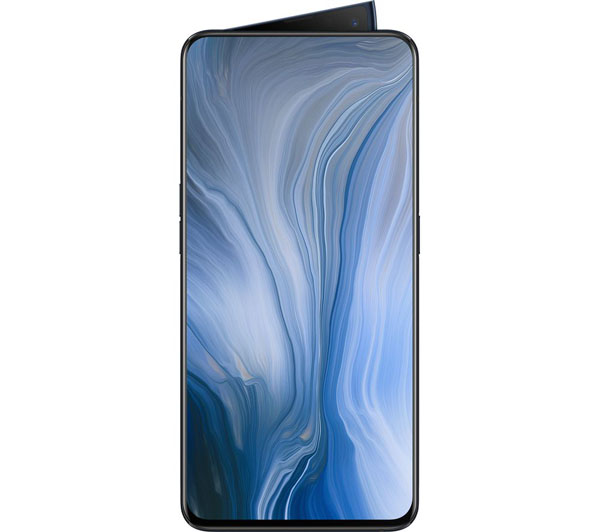 Other clever features include the Ultra Night Mode 2.0 achieved with Sony's 48MP ultra large 1/2.0″ sensor and equally large f/1.7 aperture. Together with MFNR and HDR software algorithms, it can capture amazing low light shots without over-exposure. The pop-up front facing camera houses a 16MP F2.0 sensor. The housing is pivoted to the left and takes only 0.8 seconds to deploy. It not only provides the front facing camera with soft light, there is also a receiver for bokeh effects and rear flash. And, in case you are wondering, there is a drop detection system that automatically retractions the camera to avoid damage to the camera.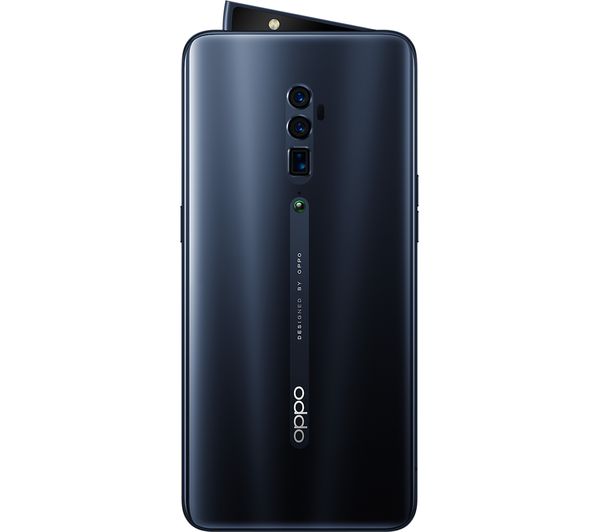 Aside from the 10x Hybrid Zoom camera and the pivot front camera, the phone features a stunning uninterrupted edge to edge screen like on the OnePlus 7T Pro. Again, there are no holes or notches to get in the way and Oppo has put much effort into reducing the bottom chin bezel, making it only 3.5m, barely noticeable. This means the Reno 10x zoom has a industry leading screen-to-body ratio of 93.1%.
---
Display: 6.59-inch AMOLED 120Hz/1ms 10-bit HDR display
Resolution: 1080 x 2340 pixels, 19.5:9 ratio 391 ppi density
Sold as a gamers' smartphone, the ASUS ROG Phone 2, from the Taiwanese tech company, ASUS is a beefy smartphone in both specs and size. Popular for its motherboards, graphics cards, gaming PC and laptop, ASUS brings their ROG brand to phones. We have seen what the ROG Strix tower PCs and Gaming Laptops are capable of, now enjoy the same gaming experience on the phone.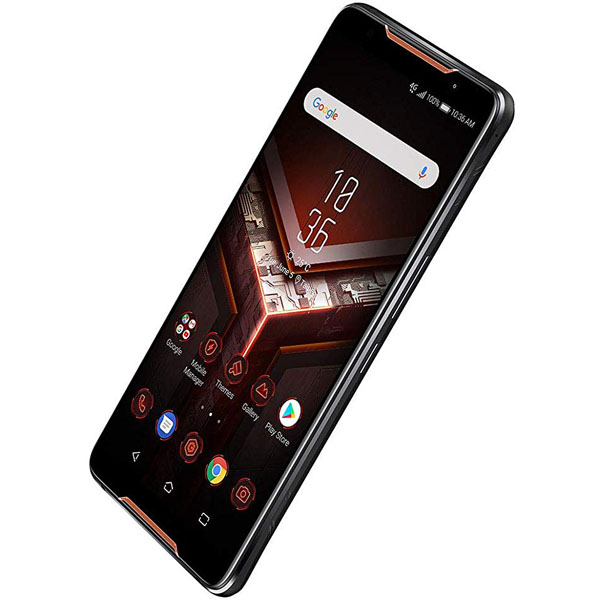 Currently in its second generation, the ROG Phone 2 uses the latest Snapdragon 855 Plus chipset. It is also the first to incorporate a high refresh display. Instead of 90Hz on the OnePlus, the ROG Phone 2 has an AMOLED display capable of 120Hz. It also has a super high capacity battery at 6000mAh and to keep that topped, the phone supports fast charging.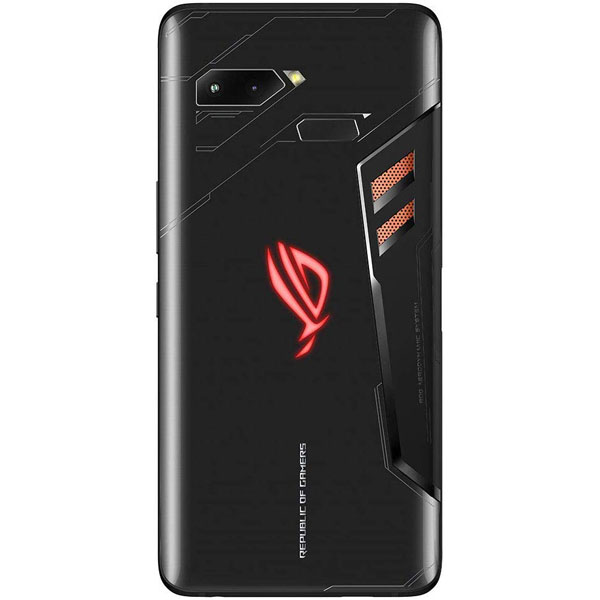 Features that will certainly delight gamers include side charging design so you can continue playing when the phone is plugged in and to keep the device cool, GameCool II vapor-chamber specially designed cooling system. There is a pair of front facing speakers on either side and dual surround vibration both on the phone and headphone to get in the game.
To power it all, the Snapdragon 855 Plus chip clicking in at 2.96GHz is paired with up to 12GB of memory. Internal memory options goes up to 1TB and with the chipset, the phone enjoys up to 2Gbps of Cat 20 LTE download speeds. But the real game changer is the world's first 120Hz/1ms AMOLED 10-bit HDR display.
---
The bigger of the two Huawei flagship, Huawei P40 Pro uses the same Kirin 990 5Gprocessor and 8GB memory as the P40 but comes with a bigger starting storage. at 256GB. It also has an extra rear sensor making it a group of 4 cameras for the main shooter. Up front is the 6.58-inch OLED display with up to 90Hz refresh rate and packs 2640 x 1200 pixel resolution. It is wrapped in an IP68 rated chassis allowing it to withstand up to 1.5meter of static water for up to 30 minutes. However, submersion in liquid and the resulting damage is not covered by the warranty.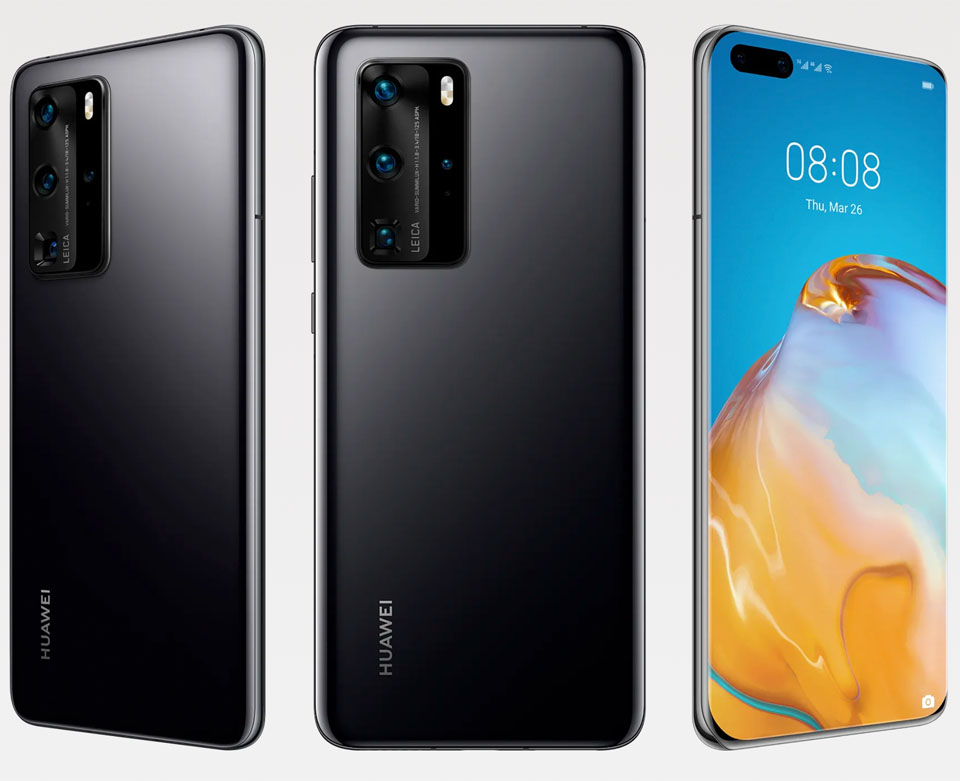 Back to the main shooter, the Ultra Vision Leica Quad Camera setup works in unison to offer the best in photography on a mobile device. Emphasis has also been placed on video capture. Starting with the main 50MP Ultra Vision Camera, this is a 1/1.28-inch sensor capable of taking in huge amount of light and capturing plenty of details. The 12MP telephoto camera up from 8MP on the P40 lets you take shots with up to 5x Optical Zoom, 10x Hybrid Zoom and 50x Max Zoom. Next, the 40MP Ultra Wide Cine Camera is yet another big 1/1.54-inch sensor that lets you capture ultra low light video, ultra slow-motion video, telephoto video, 4K time lapse video and cinematic video. Lastly, there is the 3D Depth Sensing camera offering real-time depth detection for professional level bokeh effects.
50 MP Ultra Vision Camera (Wide Angle, f/1.9 aperture, OIS) + 40 MP Cine Camera (Ultra-Wide Angle, f/1.8 aperture) + 12 MP SuperSensing Telephoto Camera (f/3.4 aperture, OIS) + 3D Depth Sensing Camera
---
The cheaper OnePlus 8 with a smaller 6.55-inch display loses a camera sensor for the main shooter giving it a 48MP triple camera setup. It also has a lower but still respectable 90Hz Fluid Display compared to 120Hz on the Pro variant. Still, the panel supports HDR 10+ and is A+ rated by DisplayMate. Beyond that, it is pretty much the same phone. Powered by the same Snapdragon 865 with 5G and uses UFS3.0 file management system for faster write speed, WiFi 6 and Smart 5G. The 4300mAh capacity battery supports Warp Charge 30T for fast wired charging. No wireless charging is offered. Finally, the handset is available in Onyx Black, Glacial Green and Interstellar Glow.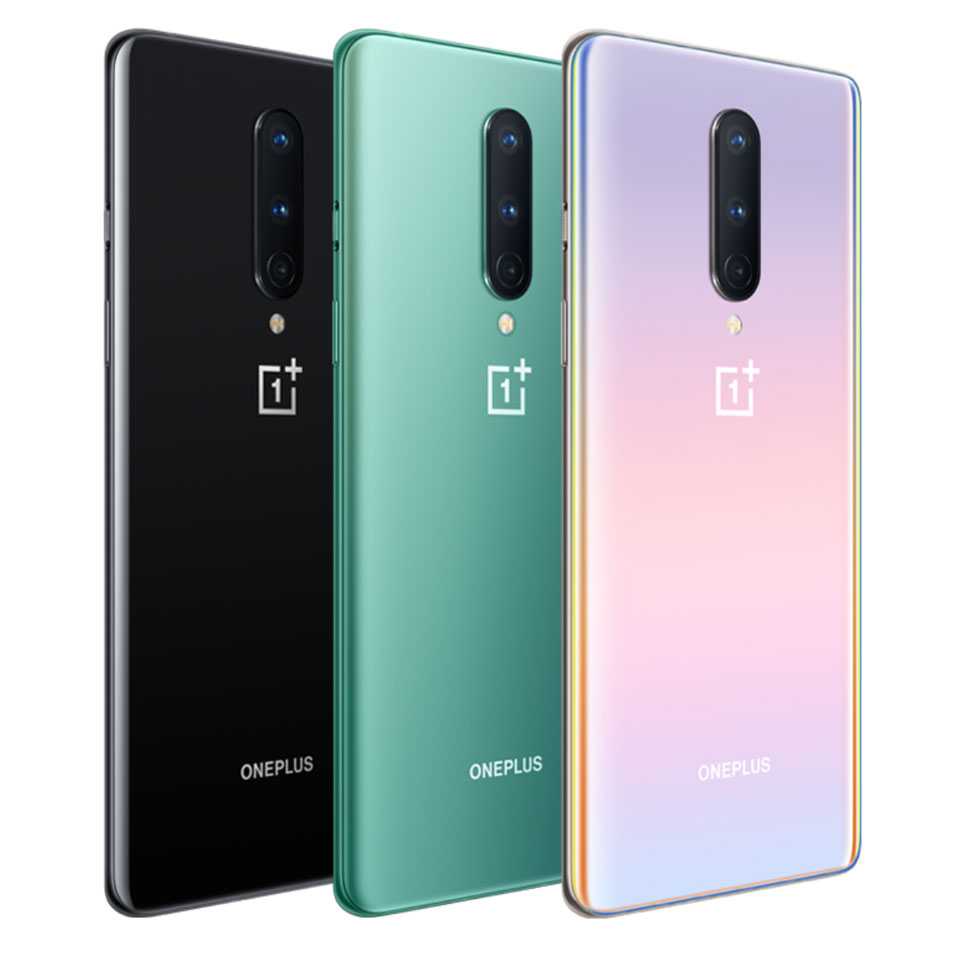 Back to the triple camera setup. The main camera is a 48MP 0.8µm sensor with OIS. A second camera is a 16MP Ultra Wide Angle camera with 116° field of view. The third is a Macro Lens camera with 2MP 1.75µm sensor. What is absent here is the telephoto lens which means the phone is not capable of optical zoom. For the front camera, you get a 16MP 1.0 µm sensor.
---
Like the first generation Reno, nothing gets in the way of the 6.5-inch display. No ugly notch or punch hole on the screen. A true full display phone with 91.1% screen to body ratio. It achieves this with a pop-up front cameras in a square tray. The rear shooter is a 48MP quad camera setup with the main camera being a 48MP ultra clear camera. The second camera is an 8MP Wide Angle camera with 119 degree field of view. The third and fourth cameras are 2MP mono camera and 2MP portrait camera. These cameras are aligned death center vertically on the back of the phone.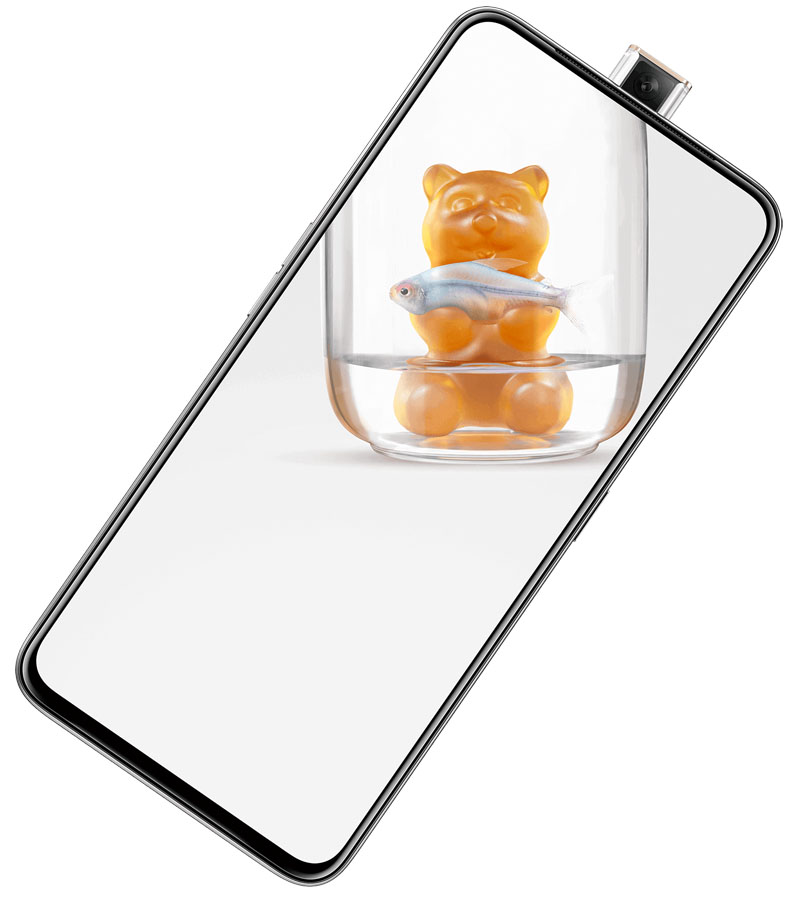 Compared to the straight Oppo Reno2 also with 6.5-inch display and quad camera setup, it swaps the 13MP telephoto lens for a 2MP portrait camera to keep the cost down. That and replacing the mid-range Qualcomm SDM730G for MTK MT6779 (P90) and 256GB for 128GB storage.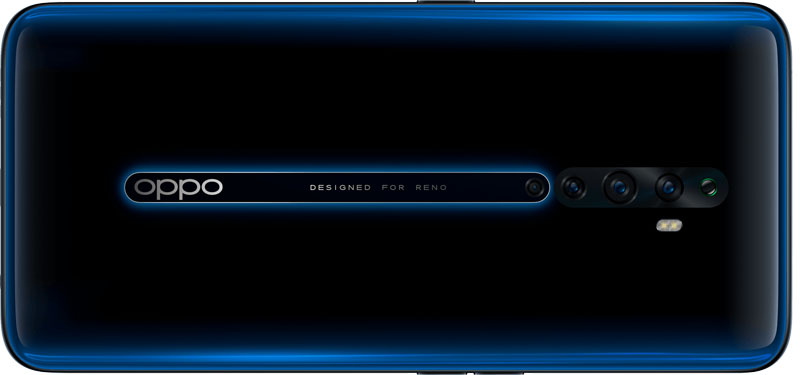 Like previous generation, the pop-up camera has a free fall sensor allowing it to retract the camera if the phone is dropped. Another trick it has up its sleeve is the RGB LEDs offering 12 different colours for atmosphere lighting. These are used as countdown timer for selfies and when the pop-up camera swivels out and in. The phone is powered by MTK P90 chip with 8GB RAM and 128GB ROM. It has a 4000mAh battery that supports VOOC Flash Charge 3.0 fast wired charging.
---
The world went crazy when Apple announced the release of its latest flagship devices for the year 2019, and the iPhone 11 Pro Max is actually worth the hype. There's the luxury of three killer rear cameras and excellent battery life, but what fascinates millions of iPhone users around the world is the gorgeous 6.5-inch Super Retina XDR display in front of the device with a resolution of 2688 x 1242.
The iPhone 11 Pro Max's massive screen is powered by a bigger and better battery at 3969mAh, bigger than previous versions, and promises more than 12 hours of uninterrupted internet surfing and gaming (if that's your thing). With 4GB of RAM and running on Apple's A13 Bionic chipset, the iPhone 11 Pro Max is just what you need if price is not a problem for you.
---
Huawei has been a mainstay in the smartphone industry for years now, and the Huawei P30 Pro is indeed a smartphone with superpowers. Released on March 26, 2019, the flagship device from Huawei comes with a large and visually-stunning 6.47-inch display, three powerful rear-facing cameras, and an excellent 4,200mAh capacity battery to power it all. With the beautiful FHD+ (2340 x 1080) 6.47-inch display, the Huawei P30 Pro joins only a handful of high-end smartphones in the market with an OLED screen that delivers more pixel density, contrast levels and brightness than any of its predecessors.
---
Display: 6.4-inch Super AMOLED
Resolution: Quad HD+
If you don't need a stylus, and still want that expansive Quad HD+ AMOLED screen Samsung is known for then the Galaxy S10+ is for you. Samsung's long standing flagship series, the Galaxy S received an update in 2019 with the 10th generation devices. The Samsung Galaxy S10 Plus is a beast very much like its bigger brother (The Note 10 Plus above). In terms of technology and performance, it is not far behind.
The 6.4-inch screen won't be as big as the 6.8-inch and therefore you won't have to stretch your finger as much. Spotting the brilliant-looking Quad HD+ AMOLED display, the device is so eye-catching that it tingles your retina. The screen also features an embedded ultrasonic fingerprint scanner for added security. On top of that Samsung has introduced a new Infinity-O display to elegantly house the front-facing camera. This is positioned in the top right corner.
Now, you may be thinking that the Samsung Galaxy S10+ is your biggest phone in the Galaxy S series. However, Samsung has gone against its own convention and introduced a bigger Galaxy S10 5G. This new 5G network capable phone has a 6.7-inch. That's 0.3-inch bigger than the S10+a and only 0.1-inch smaller than the Galaxy Note10+.
Still, the Galaxy S10+ has up to 12GB of RAM and up to 1TB storage, a huge 4,100mAh battery capacity enough for Internet browsing via WiFi for up to 17 hours and has kept the 3.5mm ear phone. The latter has been removed from Galaxy Note 10 and Note 10+. Consider the Samsung Galaxy S10 5G for 6.7-inch of display goodness.
---
Display: 6.39-inch OLED
Resolution: 2K+ 3120 x 1440, 538 PPI
It may not have a UHD+ resolution display but at only around half the price of some of the flagships here, the Huawei Mate 20 Pro is great buy. In fact, it has a 6.39-inch 2K resolution Full View display. That's still 3120 x 1440 resolution packing 538 ppi, which in our book is pretty good given that it is an OLED panel capable of a wide DCI-P3 colour gamut.
The flagship DNA continues with a powerful processor in the form of HUAWEI Kirin 980, up to 8GB of RAM memory and up to 256GB of ROM storage. To power all it, there is a high capacity 4200mAh battery that is rechargeable with a 40 W HUAWEI SuperCharge or wirelessly via optional 15W wireless quick charger.
But the icing on the cake has to be the Leica main shooter. It consists of three lenses; a 40 MP Wide Angle Lens, f/1.8 aperture, a 20 MP Ultra Wide Angle Lens, f/2.2 aperture and 8 MP Telephoto, f/2.4 aperture. For the front shooter, it uses a 24 MP, f/2.0 aperture camera that supports 3D depth sensing.
---
Display: 6.3-inch P-OLED
Resolution: 1440 x 2960 pixels, 18.5:9 ratio (~523 ppi density)
Google maintains that a single lens rear camera and clever AI is all the Google Pixel 3XL needs to capture amazing quality images but all that is about to change. The tech giant introduced Google Pixel 3XL back in November 2018 with a big 6.3-inch OLED display. Oddly, even with the use of OLED panel, the phone still maintains a big bottom chin. It also has a bigger than normal notch.
Display: 6.3-inch P-OLED
Resolution: 1440 x 3040 pixels, 19:9 ratio (~537 ppi density)
Fast for to October 2019, Google introduced the new Google Pixel 4XL with a similar sized display. The difference here now is that the bottom chin bezel is now smaller but the notch is removed in favour of a big forehead bezel. This results in a slight increase in size. But that is not the only thing that changed. Against their own stand of only one rear camera is enough, the Pixel 4XL features a Dual camera setup. They consists of a 16MP main camera and a 12.2 MP wide angle camera. It also gets a Motion Sense sensor that enables you to control the phone with quick gestures to wake, navigate music track, snooze alarm and silence calls.
The next generation Google Pixel 4XL (see above) also spots a 6.3-inch display but comes with a much improved rear facing camera and usual spec bump.
---
Display: 6.1-inch Liquid Retina HD Display all-screen LCD with IPS technology
Resolution: 1792×828‑pixel resolution at 326 ppi with TrueTone, Wide P3 Colour Gamut, 1400:1 contrast ratio, Haptic touch and 625 nits max brightness
Rounding off our list of smartphones with over 6 inches, is Apple's cheaper iPhone 11 with 6.1-inch display. Replacing the iPhone XR, the iPhone 11 has a liquid Retina LCD that supports True Tone and now, Haptic Touch. This is different to iPhone 11 Pro which has an OLED panel, also known as Super Retina XDR display that support for HDR films and photos.
Elsewhere, the iPhone 11 now comes with dual main camera instead of one on the iPhone XR. It has a 12MP ultra wide and a 12MP wide camera on the back and a 12MP TrueDepth selfie camera. But the biggest advantage of the iPhone 11 is that it shares the same processor, the A13 Bionic chip with the flagship iPhone 11 Pros. At a much lower price tag, this makes the entry iPhone 11 a great buy.
---
The 6.1-inch OLED display packs Full HD+ resolution at 2340 x 1080 pixels. Wrapped in an IP53 rated chassis, the Huawei P40 is splash, water and dust resistant. The keyword here is resistant. The phone will not do well submerged in water and is not covered by the warranty.
Powered by Huawei Kirin 990 5G chip, with a huge 8GB memory and 128GB ROM storage, the flagship phone is fast for anything you can throw at it. But, the key difference here when compared wiht its bigger sibling the P40 Pro is in the optics department. For the rear camera setup, it comprises of 3 versus 4 cameras. What is missing is the 3D Depth sensing camera. The camera sensors are also slightly smaller. It comes with a 50MP Wide Angle main camera, 16MP Ultra Wide Angle camera and an 8MP telephoto camera with Optical Image Stabiliser.
Working together as a highly unified system, the Leica triple camera setup offers pro level photography. Starting with the main 50MP Ultra Vision Camera, it has a 1/1.28-inch Ultra Vision Sensor with 2.44 μm super large pixel size capable of taking in plenty of light and detail to build a clear shot. The 16MP Ultra Wide Angle camera is capable of 2.5cm macro shot, perfect for taking super close up images as well as super wide angle shots. With the 8MP telephoto camera, it offers 3x Optical Zoom, 5x Hybrid Zoom and 30x Max Zoom in total.
50 MP Ultra Vision Camera (Wide Angle, f/1.9 aperture) + 16 MP Ultra-Wide Angle Camera (f/2.2 aperture) + 8 MP Telephoto Camera (f/2.4 aperture, OIS)
Even in a smaller package, the phone comes with a 3800mAh battery, while the onboard AI makes the most of this to offer all day use. When you need to top up, use the 22.5W Huawei SuperCharge for fast charging. Available in silver frost, black or blush gold.
---
Display: 7.2-inch OLED display
Resolution: 1080 x 2244 pixels, 18.7:9 ratio (~346 ppi density)
Breaching the top end of the 6-inch mark is the Huawei Mate 20 X. With a whooping display at 7.2-inch the phone is huge, inching into tablet territory. It is everything one wants on a flagship smartphone with a humungous OLED display. With a big display and chassis comes more room for battery too and the Huawei Mate 20 X delivers with a super sized 5000mAh battery.
Even though the display is big, it comes in a compact body with zero bezel bar the chin. The backplate while is made of glass has micro-engravings on them. This not only gives it an aesthetic appeal particularly in the way it filters the colour layer and reflect light for a glittering effect but offers a non-slip and anti-fingerprint finish. The latter is important for one handed operation especially with a phone this size.
There is even a 5G version in the form of the Huawei Mate 20 X 5G.