Ebook readers have grown in size. There are now bigger than 6-inch e-readers with some up to 10-inch. But, they don't stop there. Modern e-readers come with comfort lighting. It allow users to change the colour of the display in the evening to warmer hue, thereby reducing harmful blue lights.
The New Amazon Kindle Oasis 2019
The Amazon Kindle Oasis 2019 followed this trend. The big e-reader with 7-inch display based on e-ink has back lighting that changes colour. You can adjust the colour of the backlighting to make it warmer in the evening with a pale yellow warm glow. As a result, it reduces the amount of blue light from the display. According to research, staring at blue light before going to sleep especially those from tablets, smartphones and e-readers can throw off your sleep cycle and disrupt your sleep.
Calmer Eye-Friendly Warm Lighting
The pale yellow, eye friendly light can be activated manually or set to come on automatically according to the time of the day. The ability to adjust the lighting brings it in line with todays' devices. New smartphones and tablets now support this. Most importantly, the feature help reduce prolonged exposure to blue light which can cause discomfort to the eye besides disrupting your sleep cycle.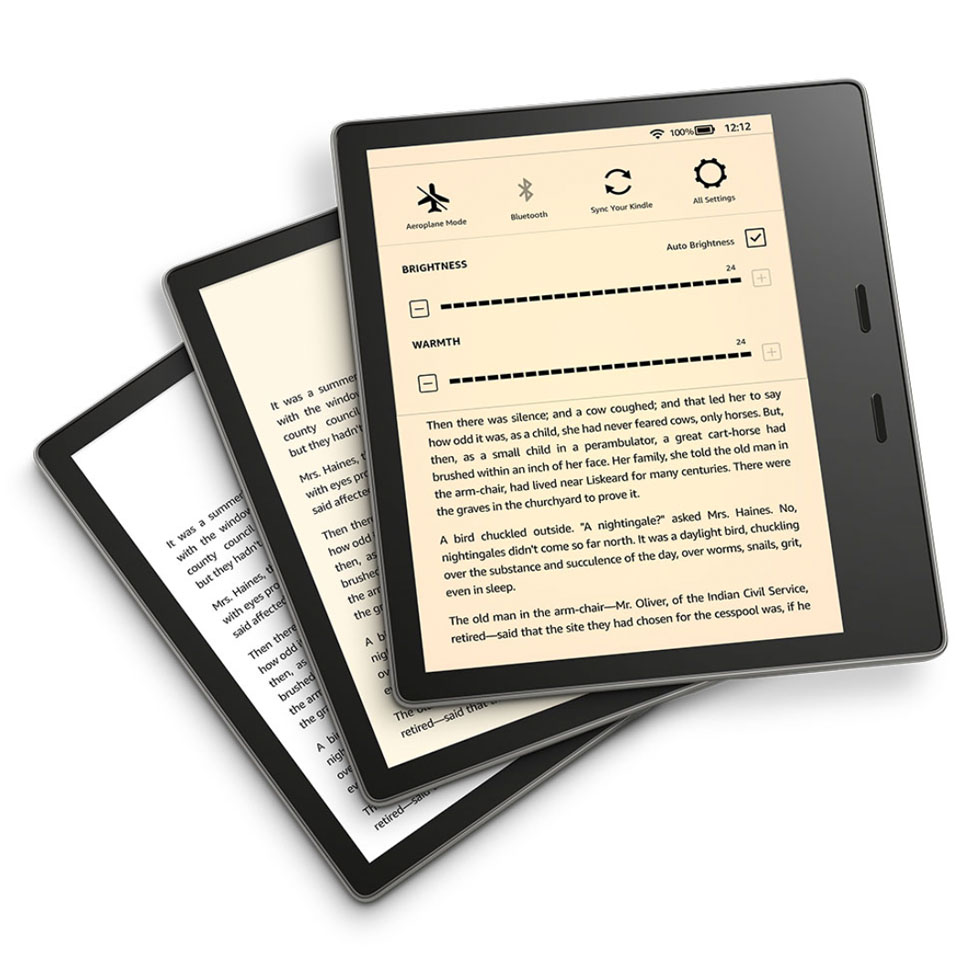 Sleek Design
Kindle Oasis has a thin and light ergonomic design. The right bezel is wider as it accommodate page-turn buttons. From the side profile, the eReader is super thin at only 3.4mm. But nearer the big bezel this goes up to 8.4mm. This is great for one headed reading as it feels more balanced and grippy.
Furthermore, it weighs only 188grams so your wrist won't feel tired holding this up. Plus, the screen itself is a touchscreen. On the subject of the screen, the panel is a 7-inch 300ppi flush front Paperwhite display with adjustable warm light as we have mentioned before. The Kindle Oasis is available in either Graphite or Gold.
Waterproof
In addition to the sleek design and flush screen, the unit is also IPX8 rated which means it is waterproof. It is built to withstand splashes at the beach or pool side. If you like to catch up on your book in the bathtub, the Kindle Oasis isn't afraid of being dropped into the tub too. It is protected against immersion up to 2 metres of fresh water for up to 60 minutes.
Reads Like Paper
The matt, non-reflective surface with backlighting lets you read easily both indoor and outdoor. Using e-ink technology, it reads like printed paper and response quickly to page turns. That is to say, it refreshes quickly to show the next page when called upon. Use this to read books, newspaper or even illustrated books. The latter is in gray scale or line art.
Going Beyond E-Reader
Being part of Amazon's ecosystem of services, the Oasis also supports Audible audiobooks. This means you while it does not have an onboard speaker or audio jack, you can use a Bluetooth headset or speaker to listen to audiobooks. If you are into listening instead of reading, we would recommend going for the bigger 32GB version instead of the 8GB version. The extra storage will allow you to download audiobooks.
4G Connectivity
To connect to the Internet from anywhere, a 32GB WiFi + Free 4G version is also available. This is subject to availability in your geographical region. The added 4G connection means you can download new books from anywhere. Don't worry if you think having 4G means another mobile contract. Amazon will pay for the mobile data so you don't have to. This is great for when you are nowhere near a hotspot or WiFi connection especially when you are out on a short local break. You can find out more about the Free 4G from October 2019.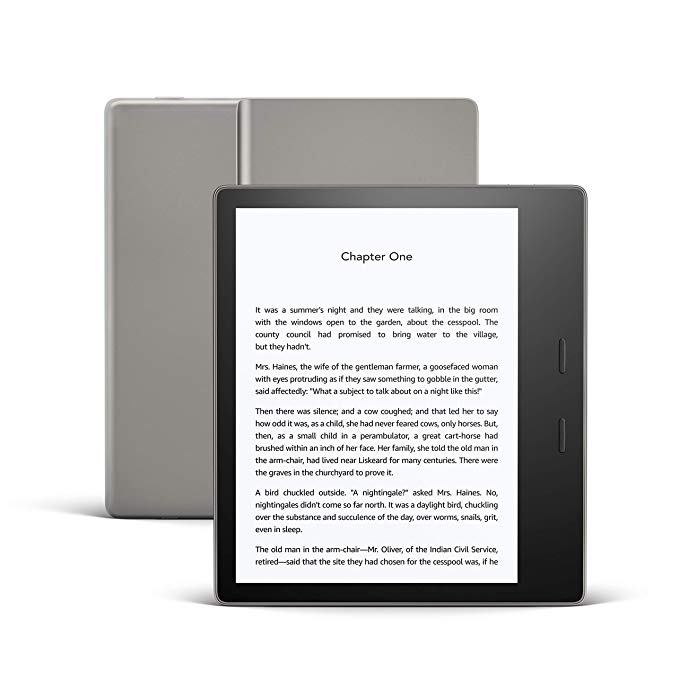 What You Need to Know
Key features include 7-inch glare-free E-Ink display, 300ppi resolution, 25 LEDs front lighting, 8GB or 32GB storage, weeks of battery life, Audible via Bluetooth, flush front design, Waterproof IPX8, Adjustable warm light, Auto-adjusting light sensors, Ergonomic design, Auto-rotating page orientation, page-turn buttons and WiFi and WiFi with 4G connectivity option on 32GB model.
Technical Specifications
Display
Amazon's 7" Paperwhite display with next-generation e-paper and built-in light, 300 ppi, optimised font technology, 16-level grey scale.
Size
159 x 141 x 3.4-8.4 mm
Weight
188 g.
Actual size and weight may vary by configuration and manufacturing process.
System Requirements
None; fully wireless and doesn't require a computer to download content.
On-Device Storage
8 or 32 GB, holds thousands of books.
Cloud Storage
Free cloud storage for all Amazon content.
Battery Life
A single charge lasts up to six weeks, based on half an hour of reading per day with wireless and Bluetooth off and the light setting at 13. Battery life will vary based on light settings and wireless usage. Audible audiobook streaming over Bluetooth will reduce battery life.
Charge Time
Fully charges in approximately 3 hours from a 5W USB power adaptor or computer via USB cable.
Wi-Fi Connectivity
Supports public and private Wi-Fi networks or hotspots that use 802.11b/g/n standards with support for WEP, WPA and WPA2 security using password authentication or Wi-Fi Protected Setup (WPS).
| | |
| --- | --- |
| Setup Technology | Amazon Wi-Fi simple setup automatically connects to your home Wi-Fi network. Learn more. |
| Content Formats Supported | Kindle Format 8 (AZW3), Kindle (AZW), TXT, PDF, unprotected MOBI, PRC natively; HTML DOC, DOCX, JPEG, GIF, PNG, PMP through conversion; Audible audio format (AAX). |
| | |
| --- | --- |
| Waterproofing | Waterproof (IPX8), tested to withstand immersion in 2 metres of fresh water for 60 minutes. Learn more. |
| Included in the Box | Kindle Oasis, USB 2.0 charging cable and Quick Start Guide. |
| Generation | All-new Kindle Oasis 10th generation (2019 release). |