With the DJI Osmo Mobile 2 gimbal, the company brings three axis stabilisation from their drones to mobile users allowing them to mount their smartphone to capture picture perfect shake-free stills and record butter smooth video footage. DJI takes this one step further by introducing a 4K video camera and reducing the entire package with DJI Osmo Pocket
With the DJI Osmo Mobile 2, the gimbal works well and is compatible with all major smartphones but the setup is clunky to say the least. For start, the gimbal is huge. Mount your big screen smartphone and you have an even bigger setup. It won't fit in your pocket on its own and will need a serious backpack if the phone is mounted.
Every time you mount the phone, it needs to be calibrated and balanced or the motors controlling each axis will overwork and heat up. Also, once your phone is mounted, you can't change to landscape or portrait without fiddling with the knob and rebalancing the gimbal again. Connecting external accessories is also tricky as the clamp stops you from accessing the ports.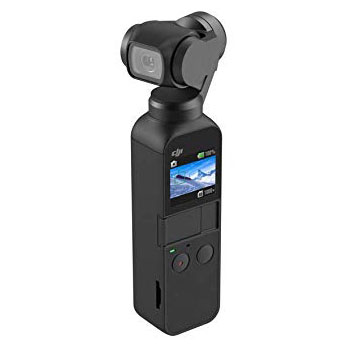 DJI Osmo Pocket: the all in one Gimbal and Video Recorder
What if you can just replace the phone with a purpose built cameras and reduce the size of the entire setup to make it more portable and pocketable. This is exactly what DJI has done for the DJI Osmo Pocket. It's no action camera but it brings the 3-axis gimbal and stabilised camera to the masses in an affordable package.
Such a setup already exists on DJI's professional drones. All you are getting is the camera and 3-axis stabiliser combined with a battery, touchscreen display and control buttons.
Quick Fire with Power and Record Buttons
Forget about mounting and balancing your smartphones. Just pull out the DJI Oslo Pocket and start shooting super steady videos and stills. The mechanically stabilised three axis camera comes with a nice grippy handle, conveniently located buttons, battery and touch screen. Not only is it compact, it's super lightweight too coming in at only 116 grams.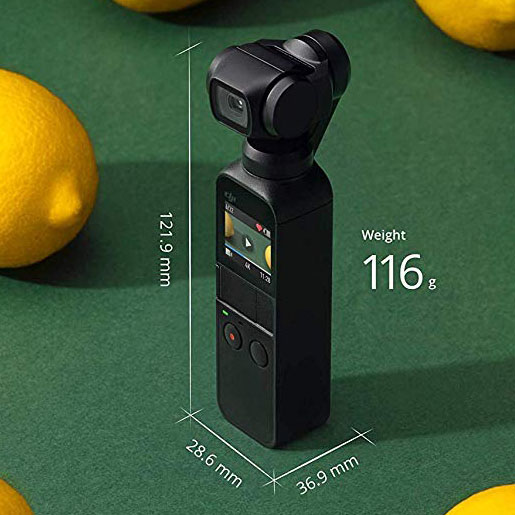 Ultra HD Sensor for 4K Footage Recording
It uses a 1/2.3-inch sensor capable of capturing 4K video footage at 60fps and 12MP stills. The 26mm F/2.0 lens has a wide 80-degrees field of view. It's not super or ultra wide but enough for most applications. It can also record Full HD videos at up to 120fps for slow motion playback. For stills, there are three shooting modes; panorama, time lapse and motion lapse. When capturing stills, use the automatic setting or choose to manually control the shutter speed, white balance and ISO settings.
Track Your Subject or Face
Like the smartphone and gimbal combination, use the app or tap on the screen to track faces or objects. Once locked in, the gimbal will automatically move the camera to follow the subject. Also, this time around, DJI has included a case. Instead of making you buy an expensive travel case, or third party equivalent, DJI Osmo Pocket includes a cover to protect the gimbal and lens that is small enough to fit in the pocket.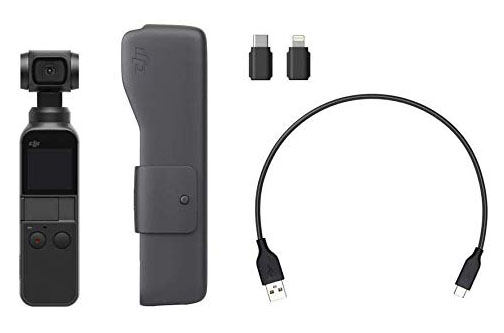 Hook Up Your Smartphone for Intuitive Controls
A lot of you will ask, how do you navigate the settings and controls on a screen so small. In most cases, a swipe here and a tap there together with a press of the buttons will be sufficient to get you around. But, if you would rather have the convenience of a big screen, hook it up to a smartphone using included Lightning or USB-C connector. The problem with doing this is you then go back to a clunky-ish setup with the handheld camera mounted to the Lightning of USB-C port of the smartphone, see visual below.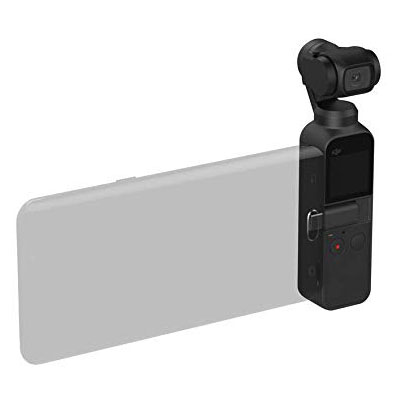 DJI Controller Wheel: an essential accessory
To save you from the hassle, get the optional DJI Controller Wheel. It offers easier and smoother controls of the camera. The DJI Controller Wheel goes into the connector on the handheld camera, the same location for the smartphone adapters. This allows one to pan and tilt the camera smoothly and more precisely without hooking up a smartphone.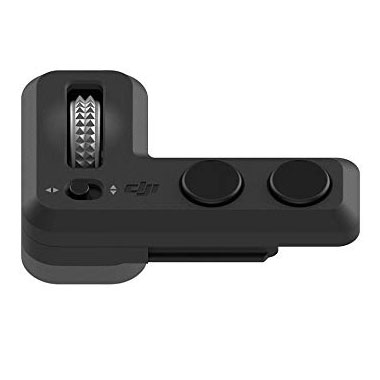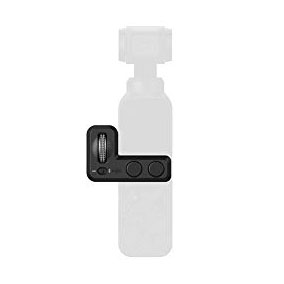 DJI Controller Wheel on Amazon
---
DJI Mimo App
To extract and manipulate the captured videos, you can either download the recording from the microSD card to the computer or use DJI's Mimo app. The latter has a limitation in that it can only transfer Full HD clips and not Full HD or 4K clips.
The app will do a good job editing, trimming and joining your clips on the smartphone and when ready output this to the photo album or share it on social media. And, you can do this quickly and intuitively with minimal fuss. The only downside is, it won't however mash and create 4K videos.
Upload Your Videos
That heavy lifting will need to be performed on a laptop or desktop. Once you have your 4K clips on the computer you can use your video editor of your choice be it Adobe Premier or iMovie. This will produce the best result from your captured clips with no loss in quality.
What We Like
Compact and light, the DJI Osmo Pocket is a great companion for videographers. It even comes with protective case to keep the lens and gimbal safe.
Ideal for shooting butter smooth video footage on the move.
Combine this with the smartphone for more controls and functions including manual panning.
Level up with the optional Controller Wheel for better controls.
Given its size it is perfect for everyday photography dare we say you can even leave the smartphone at home (or not, it's entirely up to you)
What We Are Not Too Keen On
Small screen is a little limiting
No joy stick for panning, needs optional Controller Wheel or smartphone
Linking up a smartphone offers better control but setup is clunky
No 4K manipulation with Mimo App on smartphones only Full HD when serious flagships can handle the task.
Key Features:
Lightweight & Portable
Mechanical Stabilization
Expansive Accessories
4K 60fps Video
Intelligent Shooting
Related: