If you are used to working on a desktop or workstation with dual monitor setup and wished that you have the same when you are out and about or working in the cafe, here are 8 best portable USB-C monitors that will make that happen.
The keyword here is USB-C. We focus mainly on the USB-C monitors for new generation laptops, tablets or smartphones that support this. These portable displays will also work for desktops with USB-C connectivity as a second or third monitor, if you can find such a desktop.
Flexibility and Portability
For portability, these monitors are designed to be slim, lightweight and compact with either an integrated stand or a smart cover. They are bus powered so there is no need for a separate power adapter. This makes packing easier, simply slip it in your bag and you are travelling with an extra monitor.
In addition to that, some monitors support auto-rotating function and together with the flexible stand or smart case, it can be used in landscape or portrait mode to suit the users' requirement.
Based on IPS panel for improved and wider viewing angles, they produce stunning images at relatively high refresh rate suitable even for avid gamers. As for resolution and sharpness, most monitors come with at least Full HD or 1080p quality. That's 1920 x 1080 pixel resolution, a good level of sharpness for a screen at 15.6-inch or 13.3-inch.
What's more, some model includes HDMI and/or mini DP connections to support even more devices, such as set top boxes, streaming sticks, smartphone, tablet and gaming console.
Why do you need a portable USB-C monitor
In general, portable monitors are great to improve productivity. They make work easier for those doing research on the laptop especially when working across multiple windows. This removes the need to flip between tabs or between apps saving you time and making work easier and quicker. Think big excel spreadsheets.
Beyond increasing productivity, portable external monitors can also be used for presentation either in landscape or portrait mode. It works particularly well when presenting to a small group of people and even better when you have a small 12 or 13-inch laptop as the bigger 15.6-inch external monitor makes viewing easier.
For those who need some downtime, the second screen can be a media player for streaming content or as an extended display for gaming in landscape mode. In portrait, it can be used to browser the Internet, stay up to date on social media and for instant messaging.
An external portable monitor is also great for the creatives. Graphic designers can use it to show off their design proofs and gather feedback. Photographers can use the monitor to display and edit captured images. Website builders can preview their webpage in a separate window and review this with the client.
Use these portable monitors to complement the display on the laptop or tablet to facilitate and improve viewing of spreadsheets, word documents, photo and video editing.
Weighing around 1.8 to 2.4 pounds for a full size 15.6-inch monitor, entrepreneurs can take it anywhere with them. It doesn't weigh them down and they can set up shop anywhere you go. It's like having a mobile office. Travel bloggers can make the most of the second screen to publish their photos and updates. Mobile workers with long hauls, transits and commutes can use the additional display and make the most of their time.
Plug and Play
The single most important feature of USB-C portable monitor is that they are user friendly and work immediately upon plugging in. Older operating systems may require additional drivers but most new machines with USB-C would be running new operating systems to boot. As for compatibility with smartphones and tablets, this will depend on the model. The same cannot be said for monitors with USB-A connectors where DisplayLink drive is required
Top 5 Best Portable USB-C Displays
We take a look at 8 of the best portable USB-C monitors, perfect for mobile workers and travellers.
Small bezel, slim body and front access buttons make the Asus ZenScreen MB16AC a perfect portable monitor with stylish good looks thrown in for special measures. It comes with an ASUS Smart Case that protects the screen and act as a stand when folded. However, if you do not need to travel with the display, use the ASUS ZenScreen pen to prop the display up.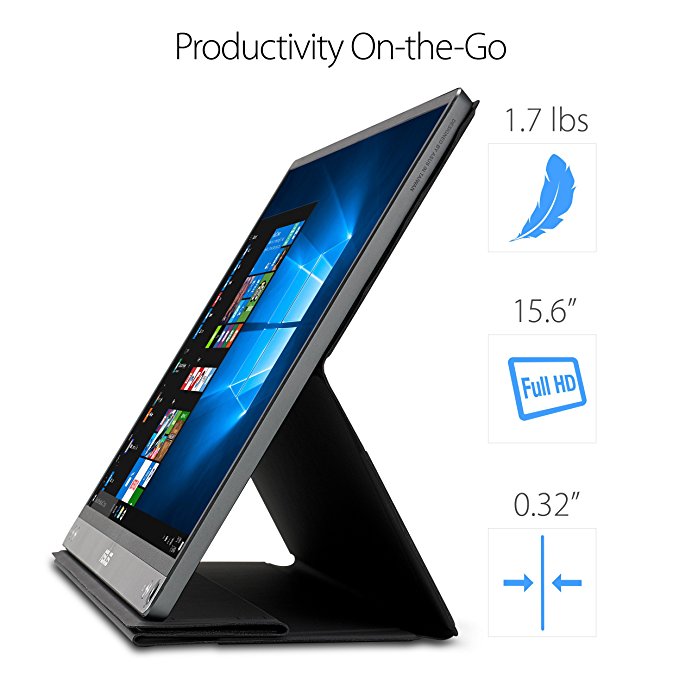 ASUS ZenScreen MB16AC on Amazon
Inserting the pen into the Smart Pen hole lets you use the display in portrait or landscape mode. Automatic screen rotation is only available on Windows with ASUS DisplayWidget installed. With ASUS Eye Care technology and TUV Rheinland-certified flicker-free backlighting and blue light filter, it goes further to ensure minimal eye fatigue from prolonged use.
It may be a bit misleading but the ASUS Smart Pen hole refers to the hole and not the pen. The ASUS ZenScreen pen is a conventional pen and not a stylus. The display is not a touchscreen and does not come with digitiser for use with pen input. What is useful is that it comes with a USB Type-C to Type-A adapter if you have to connect it to a Type A port.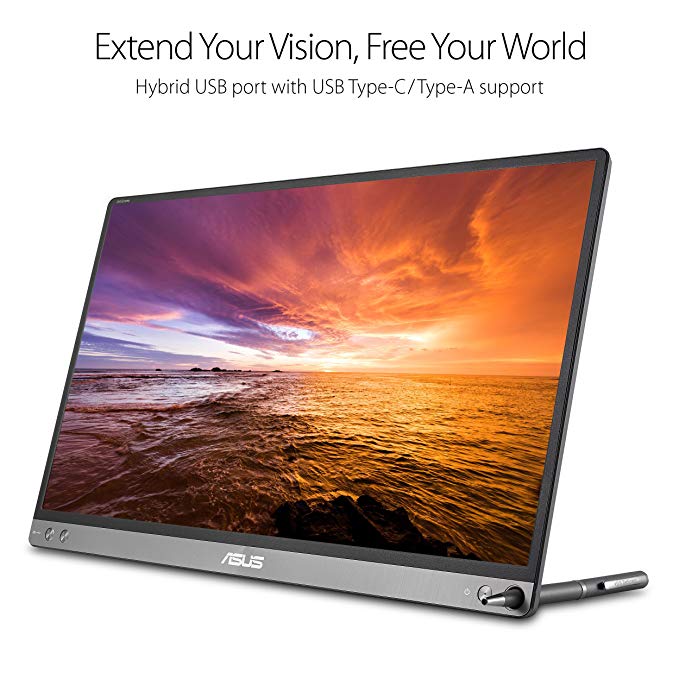 Full HD IPS panel with Eye Care

Brightness(Max)- 220 cd/㎡, Refresh Rate: 60Hz

USB Type-C with Type-C to A adapter
Pen included that doubles as stand

Weight: 1.7 pounds (780 grams)

Dimensions- 8.9 x 0.3 x 14.2 inches (8mm slim)
Cheaper than the ASUS ZenScreen MB16AC but still equally impressive, the ASUS MB169C+ is another portable monitor with USB Type-C interface. It is only ever so slightly thicker than the former at 8.5mm slim and weighs 20 grams more at 800 grams. The bezel is also visibly bigger than the premium model above.
It comes with the ASUS Smart Case but the controversial ASUS ZenScreen pen is absent. This means there is no hole in the bottom right corner of the display which is a relieve for some. It's worth noting that the case only stands the display up in landscape mode with two fixed tilt settings. Elsewhere, it supports all DP Alternate (Alt) Mode or DisplayPort over USB-C devices without the need for additional drivers. It requires just the one cable for video signal and power.
Finally, the panel also comes with Blue Light Filter which minimises harmful blue light to reduce eyestrain from prolonged use.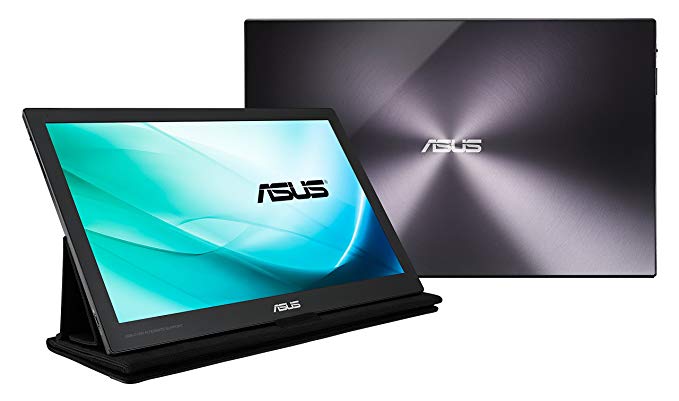 15.6-inch Full HD (1920 x 1080) IPS display
IPS panel, Flicker Free with Low Blue Light
Slim: 8.5mm, Weight: 800 grams
Taking the premium ZenScreen MB16AC screen one step further is the ASUS ZenScreen Go MB16AP. The MB16AP has a built-in battery which helps to keep you working longer. Standard bus powered portable monitors take their power from the connected device. This is a drain on the mobile battery. Using the ZenScreen Go takes you further.
Even with the battery, it is not very much heavier and maintains the same profile as the MB16AC, keeping the bezel to a minimum at 6.5mm thin on top and sides. Buttons are easily accessible at the bottom of the display and the USB-C port is on the left side of the screen when deployed in landscape. ASUS Smart Case protects the screen and doubles as a stand but you can also use the included ZenScreen pen and seat this in the hole on the bottom right corner to support the display be it in portrait or landscape. Again, the display will automatically rotate with the right OS and software.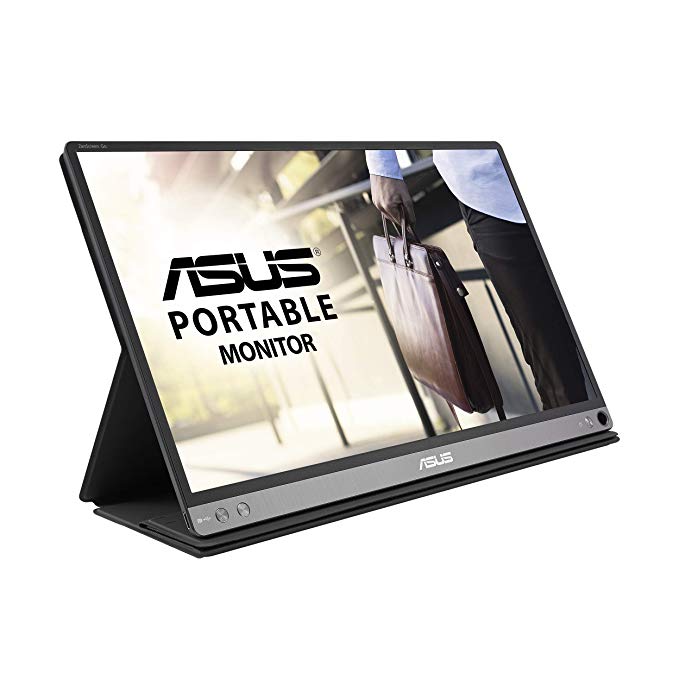 ASUS ZenScreen Go MB16AP on Amazon
15.6-inch IPS Display with Full HD 1080p Resolution (1920 x 1080)
Built-in Battery with up to 4 hours use per charge with 7800 mAh capacity
Complete with foldable smart case that doubles as stand and screen protector
Brightness(Max) : 220 cd/㎡, Refresh rate: 60 hertz
Slim: 0.3 inches slim (8mm) & Weight: 1.87 lb (848 grams)
The 15.6-inch display is being marketed as a 16-inch screen but we know better. Still, the AOC portable monitor is a slimline and sleek little number. With a foldable stand that works to support the display in either portrait or landscape mode. Like the ASUS displays, it automatically pivots when used with devices that supports USB-C DP Alt Mode. The Full HD display is extremely portable and versatile measuring only 8.5mm and weighing 800 grams. This makes it on par with the ASUS MB169C+ portable monitor.
15.6-inch Full HD monitor 1920 x 1080 pixel resolution
Widescreen IPS LED
Smart Cover
Glossy Black
Slim 8.5 mm, Weight: 800 grams
5. Lepow 15.6-inch USB-C Portable Monitor
The little known Lepow serves up a 15.6-inch Full HD portable monitor with USB-C and mini HDMI connectivity. It also comes with its own built-in speaker and 3.5mm audio jack. It can be used with a laptop or smartphone but the presence of the mini HDMI port means it is even more versatile. You can hook it up to a game console, streaming stick or setup box.
The included smart cover functions as a screen protector during your travels with soft lining to keep the display safe. It folds out and turns into a stand when deployed. Even with all those connectivity options and on board speaker, it manages to keep its figures down to 0.3 inch slim and 1.76 pounds light, that's around 800 grams.
Full HD 1080 IPS
Built-in Dual Speakers 2 x 1W
Slim: 0.3-inch (7.62mm)  Weight: 798 grams
Others: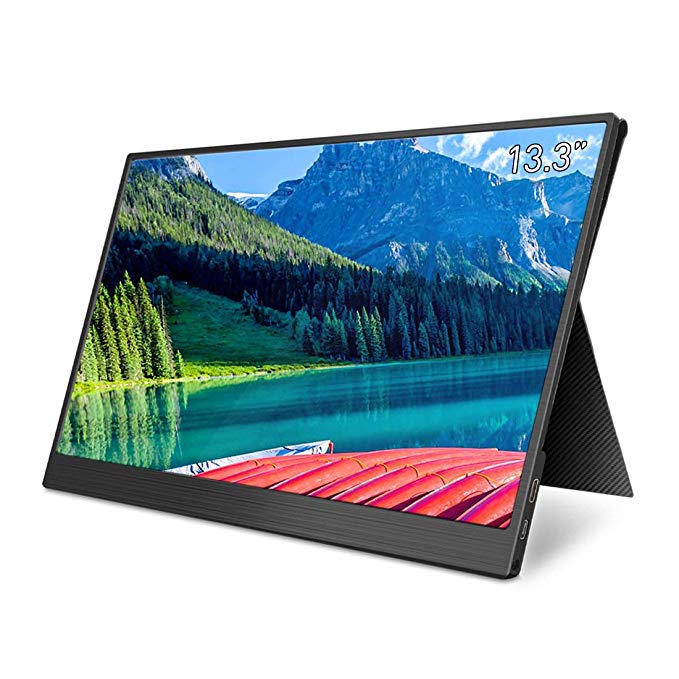 Full HD 1920×1080 IPS Monitor
Dual USB Type-C/ 1x Mini HDMI
Built-in Speaker
Ultra Thin Measuring 0.34-inch
USB Powered Screen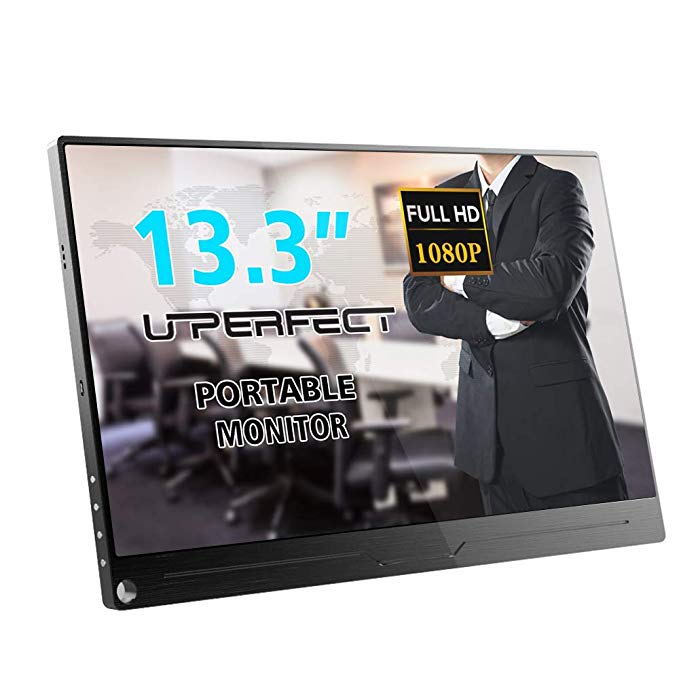 UPERFECT Portable Monitor on Amazon
1920×1080 IPS Screen Fit with
HDMI Type-C OTG Mini DP
Built-in Speaker Gaming