After the iPad Air 2, new iPads with 9.7 inch screen launched in 2017 were simply known as the iPad. iPads with bigger screens however, such as the 10.5 inch and the 12.9 inch with Apple Pencil support were introduced as iPad Pro's.
At the end of 2018, the 3rd generation of iPad Pros were launched. These have a totally different design to the original iPads with smaller and even bezels, display with rounded corners and squared edges. The displays comes in 11-inch or 12.9-inch. Fast forward to 2019, Apple revived the iPad Air line bringing it back with a 10.5 inch display and Apple Pencil support. In many ways, it is the same as the iPad Pro 10.5 we saw in 2017.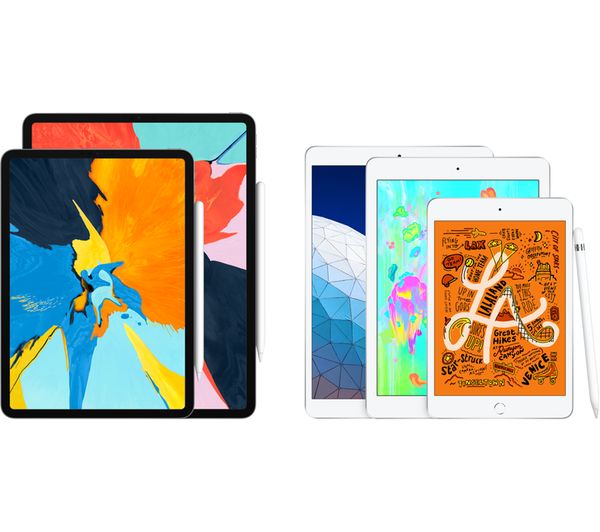 We see this as a way for Apple to rebrand and sell the second generation iPad Pro with 10.5 inch display first released in 2017. In fact both products are very similar in terms of specs and identical in design. This was launched alongside the iPad mini 4 also with Apple Pencil support.
In terms of display size, this slots the iPad Air 3 with 10.5-inch display between the small iPad 9.7 and the more expensive and new iPad Pro 11. While the iPad Pro 10.5 (2017) has been discontinued, you may still find this in the Apple refurbished store with a lower price tag. But would you consider this over the iPad Air 3? Here are the differences between the two iPads:
Differences Between the new iPad Air 3 10.5 (2019) vs iPad Pro 10.5 (2017)
| | |
| --- | --- |
| iPad Pro 10.5 (2017) | iPad Air 3 (2019) |
| A10X Fusion chip | A12 Bionic chip with Neural Engine |
| 4GB RAM (More Memory) | 3GB RAM |
| 64, 256, 512GB storage | 64, 256GB storage |
| heavier 469/477 grams | lighter 456/464 grams |
| Rear 12MP camera (Better Camera) | Rear 8MP camera |
| 4K video capture at 30fps (Better Videos) | 1080p Full HD video capture |
| video optical image stabilisation | auto image stabilisation |
| Four Speakers (On both sides) | Two Speakers (both on one side) |
| Bluetooth 4.2 | Bluetooth 5.0 |
| Display with ProMotion technology variable refresh rate up to 120Hz (Better Display) | Display with 500 nits brightness, fixed refresh rate at 60Hz |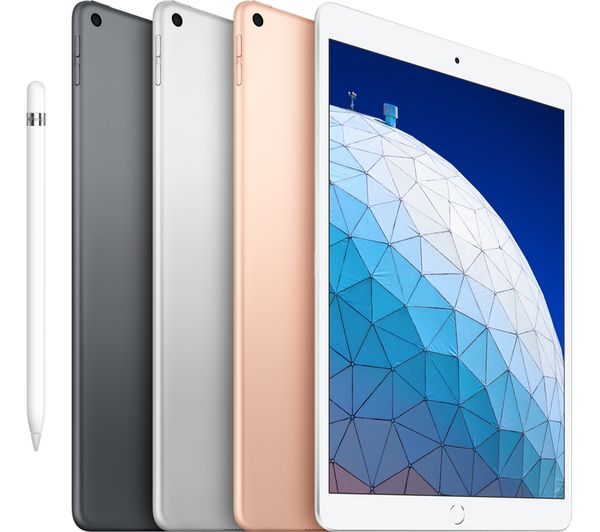 Apart from the processor, the iPad Pro 10.5 (2017) is better than the iPad Air 3 (2019). It has a better display that supports ProMotion with variable refresh rate, better sound quality with quad firing speakers, better camera with 4K video capture and optical image stabilisation and more memory.
iPad Air 3 (2019) Review
Being the mid-range device meant the iPad Air 3, while based on earlier design is bound to be a favourite. It offers a choice for those looking for something more than the entry level iPad 9.7 and those who can't justify buying the new iPad Pro. Here are where the iPad Air 3 excels in and how it compares to the other iPads.
1. Price
The cheapest iPad is still the entry level iPad with 9.7-inch display. However, if you want a bigger device and don't have the money for an 11-inch iPad Pro let alone the 12.9-inch then the new third generation iPad Air 10.5-inch is your best bet. The new iPad Pro 11-inch and 12.9-inch launched in 2018 are priced significantly higher.
At the risk of pricing themselves out of the market just like in the case of iPhone XS and XS Max for the mobile phone market, Apple re-introduce the iPad Air as a mid-range option. Starting from $499 it is more expensive than the entry level iPad (starting at $399) but considerably cheaper than the iPad Pro 11 which starts at $799. The iPad Pro 12.9 has an eye watering price tag that starts from $999.
2. Performance
The iPad Air has one of the latest processors, the Apple A12 Bionic chip with 64‑bit architecture and Neural Engine. It is second only to the fastest chip from Apple for mobile devices, the A12X Bionic chip found in the iPad Pros and iPhone XS, XS Max and XR. The chip is also significantly faster than the A10 Fusion Chip in the iPad 9.7.
3. Storage Options
There are only two storage options, the 64GB and 256GB compared to four on the iPad Pro with 64GB, 256GB, 512GB or 1TB being the choices. This is not at all a disadvantage for iPad Air as 256GB or even 64GB would be sufficient for most users. The entry level iPad 9.7 also has two storage options albeit only half that of the iPad Air at 32GB of 128GB storage.
4. Memory
The iPad Air has 3GB RAM memory, 1GB smaller than iPad Pros with 64GB, 256GB or 512GB storage where it comes with 4GB RAM memory. When compared to iPad Pros with 1TB of storage, it only has half that as the most expensive iPads with 1TB storage comes with 6GB of memory. On the other hand, when compared to the 2GB memory on the entry level iPad 9.7 it is 50% more.
5. Size and Weight
While the iPad Air is only marginally bigger in length and width, it is slimmer and lighter compared to that the entry level iPad. It achieves this even when it has a bigger 10.5-inch display compared to 9.7-inch. It is at least 13 grams lighter and 1.4mm thinner.
iPad 9.7 2018 (6th gen) : 240 x 169.5 x 7.5 mm (9.45 x 6.67 x 0.30 in) 469/478 grams
iPad Air 10.5 2019 (3rd gen): 250.6 x 174.1 x 6.1 mm (9.87 x 6.85 x 0.24 in) 456/464 grams
iPad Pro 11: 247.6 x 178.5 x 5.9 mm (9.75 x 7.03 x 0.23 in) 468 grams
iPad Pro 12.9: 280.6 x 214.9 x 5.9 mm (11.05 x 8.46 x 0.23 in) 631/633 grams
When compared to iPad Pro 11, the iPad Air is actually 3mm taller (in portrait mode) given its bigger top and bottom bezels. The new iPad Pro 11 has even bezels all around. However, when comparing the width (in portrait mode) it is 4.4 mm wider. When holding both devices, you can't really tell which is thicker as the iPad Air 10.5 is only 0.2mm thinner. Weight wise, the iPad Pro 11 is up to 12 grams heavier.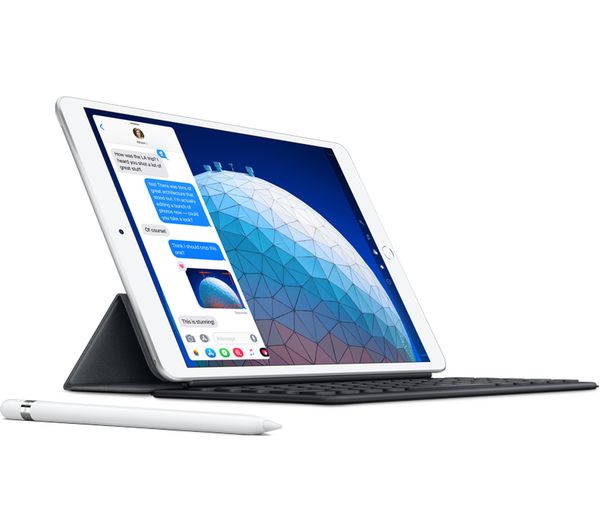 6. Support for Smart Keyboard and Apple Pencil
The 3rd generation iPad Air will support Apple Pencil and Smart Keyboard but uses the same as those used on 10.5-inch iPad Pro back in 2017. This means no wireless charging and magnetic docking for Apple Pencil and Smart Connector on the chassis for smart keyboard.
7. Display
The iPad Air 10.5-inch display only falls behind the iPad Pro display due to the lack of ProMotion technology. This fixes the refresh rate of the display at 60Hz while iPad Pro displays can vary depending on the application for optimum viewing experience with a maximum of 120Hz.
Still, it is much better than the display on the iPad which lacks DCI-P3 colour gamut and True Tone support. This makes the iPad Air 2019 display more advance and brighter. Sharpness wise, there are more or less equal at 265PPI but a bigger 10.5-inch display means higher resolution to match.
iPad 9.7 (2018): 1536 x 2048 pixels, 4:3 ratio (~264 ppi density)
iPad Air 10.5 (2019): 1668 x 2224 pixels, 4:3 ratio (~265 ppi density)
iPad Pro 11 (2018): 1668 x 2388 pixels (~265 ppi density)
iPad Pro 12 (2019): 2048 x 2732 pixels, 4:3 ratio (~265 ppi density)
8. Battery
With a newer more efficient processor as well as slightly bigger chassis, the iPad Air last longer than the entry level iPad. From a full charge, tests have shown that it can outlast the small iPad with up to 35.5% longer usage time. The battery also lasts 8% longer compared to iPad Pro 11 and 6.9% longer compared to iPad Pro 12.9. This is due to the A12 having fewer cores, 2 instead of 4 in the A12X and fewer GPU cores 4 instead of 7 in the A12X.
9. Camera
Apple had to cut some corners here with the iPad Pro. To differentiate it from the iPad Pro, the iPad Air does not come with TrueDepth sensor for the front facing camera leaving out support for Face ID and Animoji. The main rear facing camera is also an 8MP sensor compared to the higher 12MP sensor on the iPad Pro. iPad Air lacks 4K video recording capability and Optical Image Stabilisation. Users will just have to make do with Full HD 1080p recording. Personally, I don't see this as a show stopper. Given that most people use their smartphone to capture stills and videos and not the tablet, the lack of 4K video capture in the iPad Air is not a deal breaker.
PROS
A much needed mid-range option between the entry level iPad and the high-end iPad Pro
Great performance from A12 processor with Neural Engine
Cheaper than the iPad Pro
Supports Smart Keyboard
CONS
Still with first generation Apple Pencil, no wireless charging or magnetic docking
Display lacks ProMotion but super bright
Old and dated design, basically a rebadged iPad Pro 10.5 with faster processor
Speakers on one side only
No TrueDepth sensor so no support for Face ID or Animoji
---
Best iPad Air 10.5 (2019) Alternatives
Let's look at the alternatives when considering the iPad Air 10.5
1. Samsung Galaxy Tab S5e 10.5-inch Tablet
The latest Samsung Galaxy Tab S5e with 10.5-inch display is not only available with WiFi or WiFi and LTE connectivity but two memory and storage configurations. There is the 4GB RAM memory and 64GB storage option and the 6GB RAM memory and 128GB storage option.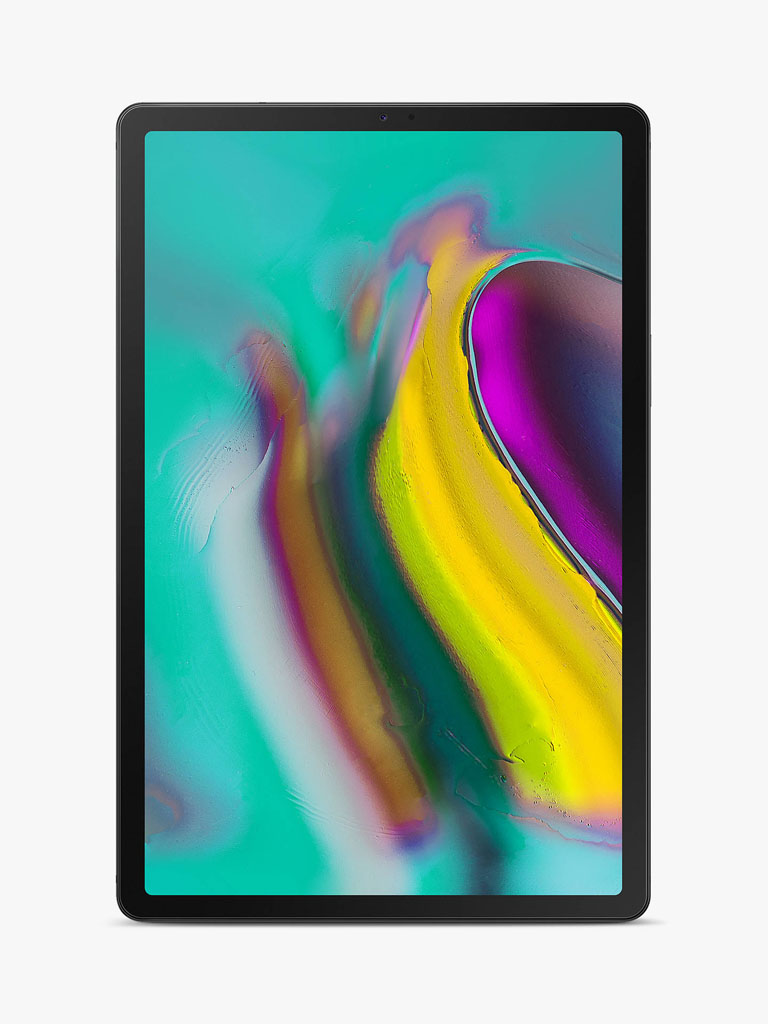 Like the iPad Pro, the display on the Samsung Galaxy Tab S5e has a smaller frame or bezel and comes with rounded corners. This not only reduces the bulk of the device but increases the screen to body ratio giving more focus to the display.
The Galaxy Tab S5e is also slimmer at 5.5mm and lighter at around 400 grams compared to the iPad Air. Samsung achieves this with strong metal unibody design metal and reduced bezel. But the biggest pull for going with the Galaxy Tab S5e has to be the 10.5-inch super AMOLED display. It displays everything in vivid colour, optimal brightness, super sharp and plenty of details.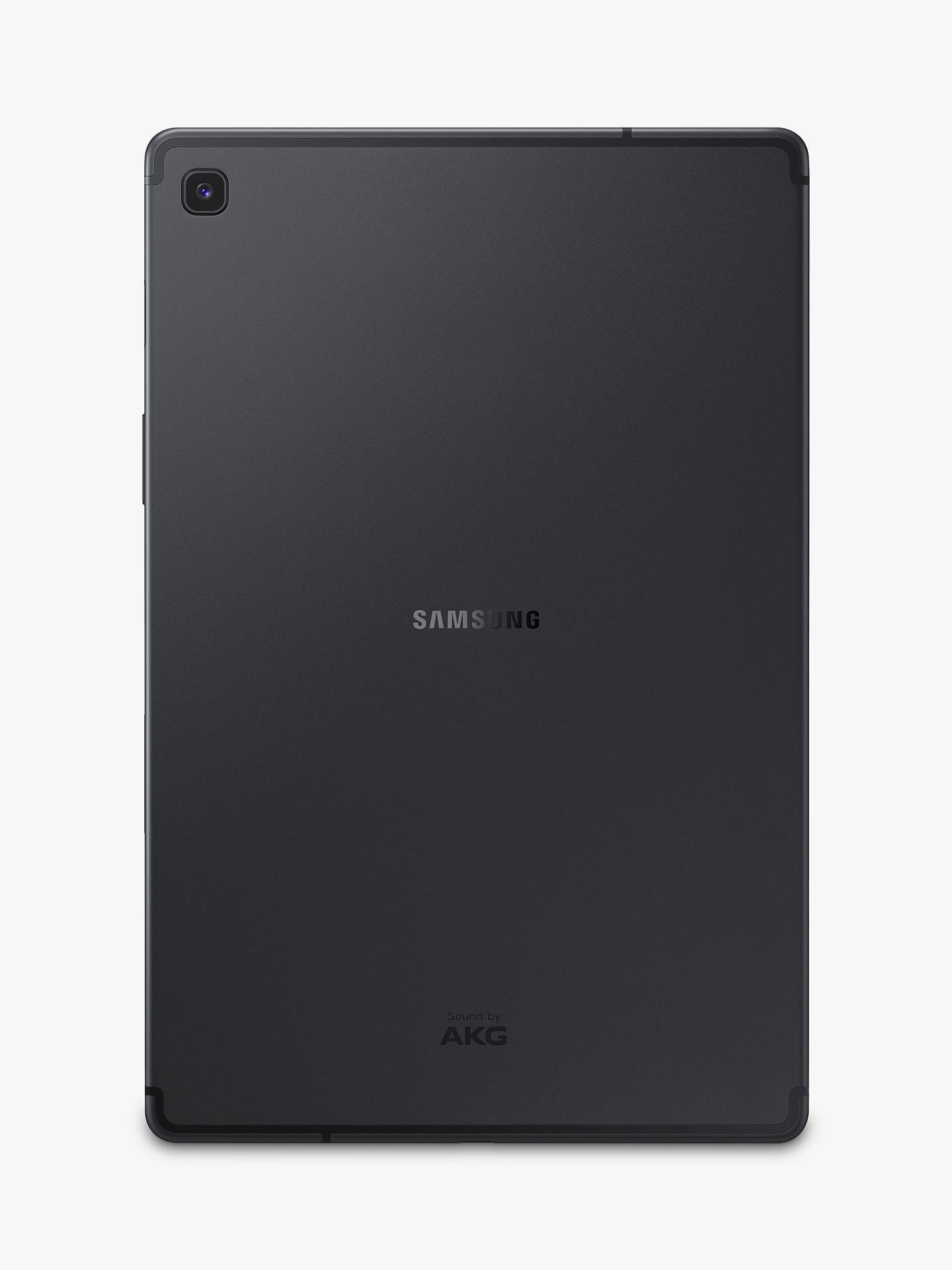 With the huge capacity 7040mAh battery, Samsung claims that it will offer up to 14.5 hours of use per charge. In practise, it is somewhere around 10 hours. Other notable features include the quad firing speakers tune by AKG, the 8MP front facing camera for web chat and selfie, the 13MP rear facing camera and reversible USB type-C connector for fast data transfer and charging.
PROS
Updated design with slimmer bezel and display with rounded corner
Excellent speakers on all four corners of the device with Dolby Atmos and AKG support
Brilliant Display as you would expect from Samsung with SuperAMOLED
Face recognition and Fingerprint sensor on the power key for single action
Choice of memory and storage options
Ultra slim and ultra light
CONS
No S Pen support so no stylus input
---
2. Microsoft Surface Go
The Surface Go is a smaller version of the successful Surface Pro now in its 6th edition. Already a successful tablet in its own right, the device, like the Samsung Galaxy S5e is available in two configuration, 4GB RAM memory and 64GB storage or 8GB RAM memory and 128GB storage.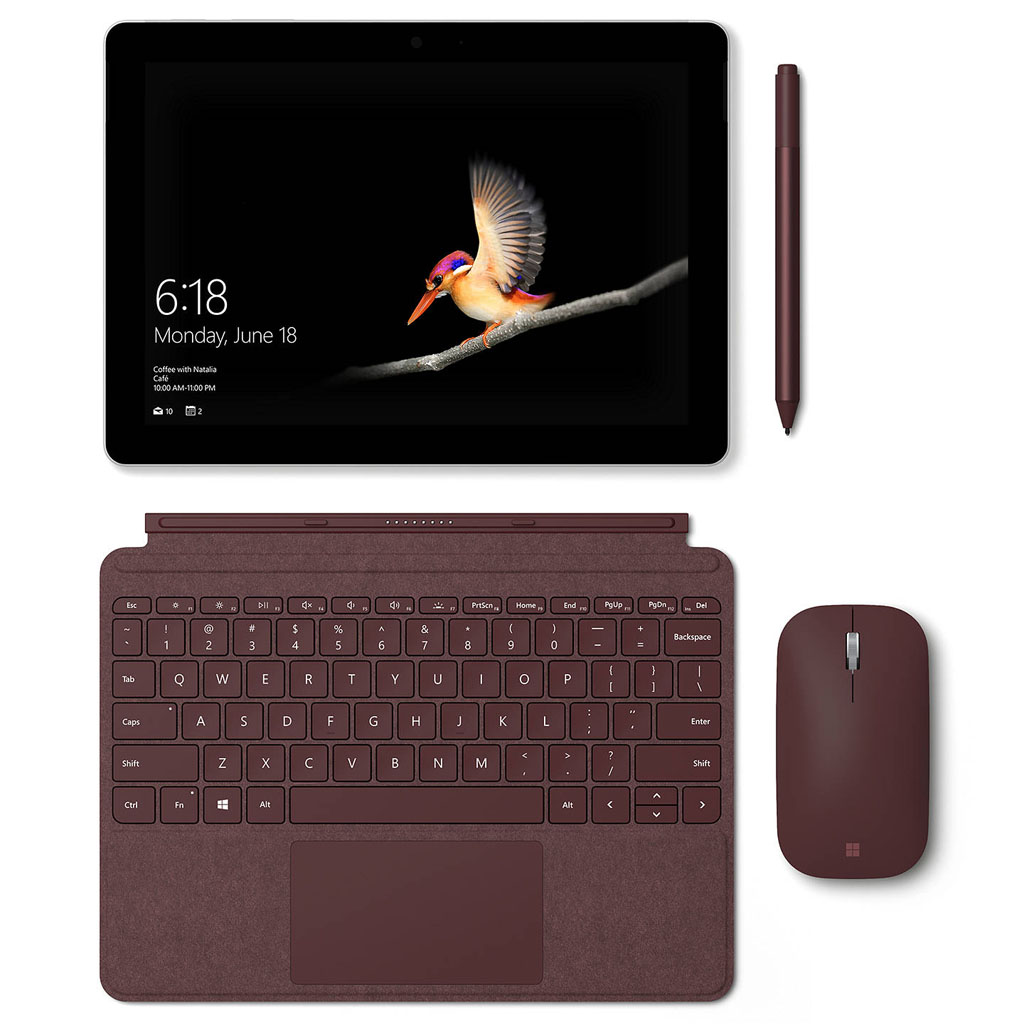 The display however is slightly smaller at exactly 10-inch but nearly as sharp with pixel density at 217PPI. The iPad Air achieves a higher 265PPI. While the display is smaller, the Surface Go is considerably thicker at 8.3mm and heavier at 522/532 grams.
Like the iPad Air, the Surface Go support a specially designed Surface Go Type Cover Keyboard and Surface Pen input device. It goes further by including a kickstand like its bigger sibling. Powered by an energy efficient Intel® Pentium® Gold Processor 4415Y it will last up to 9 hours on a full charge with 4G LTE option available.
Relying solely on the embedded graphics adapter, the Intel HD Graphics 615, it is only suitable for some light gaming. It won't be anywhere close to a gaming laptop or the iPad Air with its dedicated GPU.
The cameras however are sub par, with the front facing camera at 5MP and rear camera at 8MP, both capable of 1080p Full HD video capture. However, the real advantage of the Surface Go is being able to choose between Windows 10 Home in S mode or Window 10 Pro operating system and the ability to load and run any Windows applications in Tablet or Laptop mode.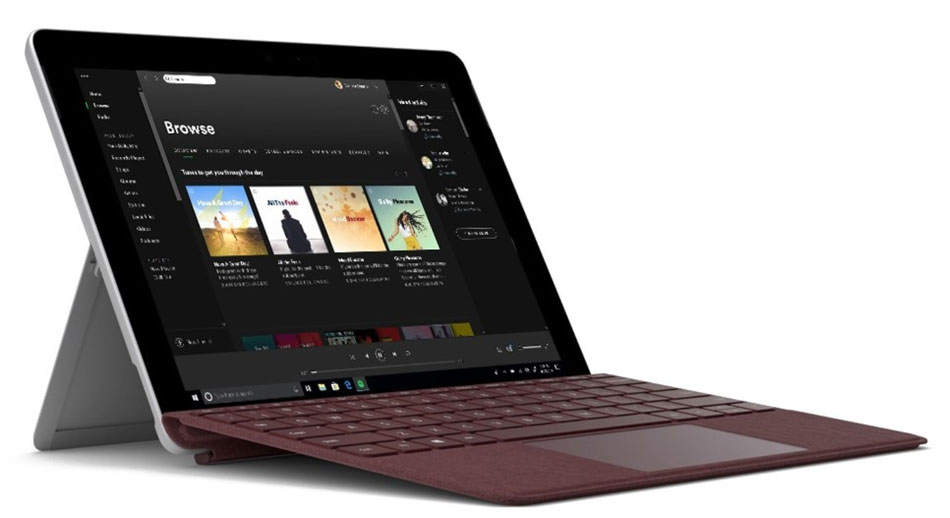 PROS
choice of operating system
ability to load and run desktop applications
keyboard cover, mouse and pen input support
laptop mode is a welcome addition to what is essentially a compact tablet
CONS
Not great at handling graphic intensive games
Not exactly cutting edge processor but memory and solid state drive helped with performance
---
3. Samsung Galaxy Tab S4 with S Pen
The previous generation Samsung Galaxy S4 is still a powerful device and a strong entry in our iPad Air alternative live. The device features a vivid and sharp 10.5-inch Super AMOLED display. And, like the Galaxy S5e, it comes with four point speakers specially tuned by audio manufacturer AKG to product Dolby Atmos surround. This makes the Samsung Galaxy S4 equally great as a entertainment and multimedia tablet as it is for work.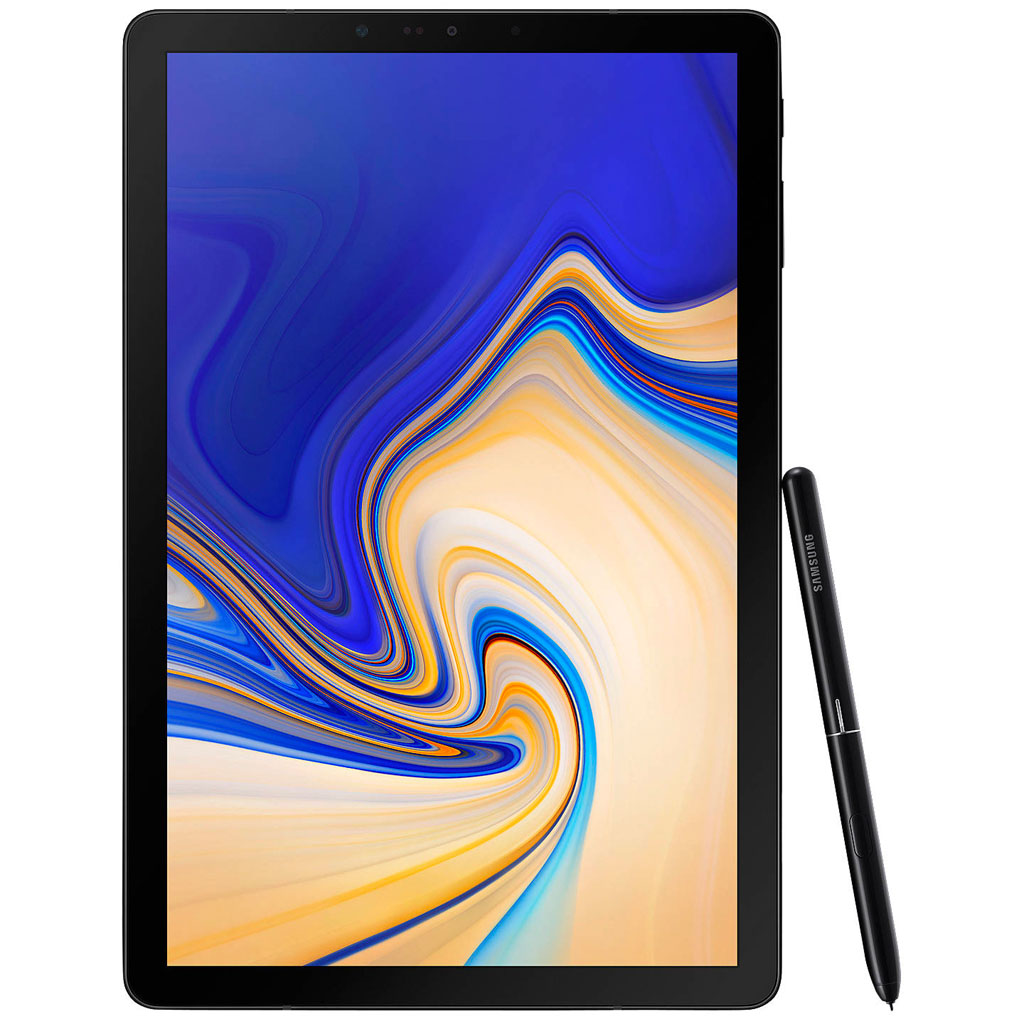 As a productivity tool, the powerful processor, spacious 4GB RAM memory and sufficient 64GB storage will take you through everything swiftly. The S Pen is included in this case while the Keyboard Book Cover is available separately. Use the S Pen for taking notes, navigating and opening apps, drawing, editing photos, amending documents and more.
There is also an option to turn the tablet into a desktop using Samsung DeX with an optional HDMI adapter, something that only the iPad Pro can do. Using the Samsung DeX USB-C to HDMI cable, connect the tablet to a big screen up to 4K and launch DeX mode.
PROS
Brilliant Super AMOLED Display
S Pen stylus included
Option to connect to a big screen and use as a desktop
Fast processor, spacious memory and storage
CONS
no finger print reader, just face-recognition
---