Our favourite childhood toy, Lego, has been around since 1932. For decades, children have been playing with them building various sorts of structures – buildings, castles, Lego people, animals, cars… You name it, but it is really more than just a mere toy. Lego sets incorporate creativity and STEM activities with productive entertainment.
From fiery rockets to fidget spinners, Lego provides plenty of engaging activities for budding engineers. Next time you want to buy a toy for a child, try a set of Legos and encourage the kid learn from it.
From fiery rockets to fidget spinners, Lego provides plenty of engaging activities for budding engineers.
Click To Tweet
Here are some of the top Lego activities that young engineers must try.
1. Lego Starter Robot – Notch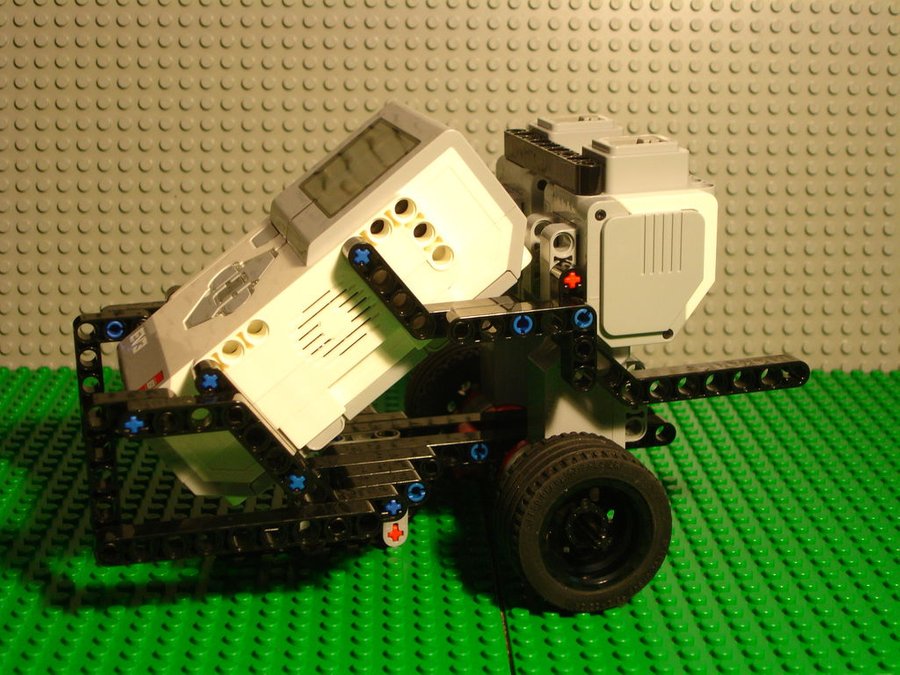 Brought to you by Lego Mindstorm, Notch is a nifty Lego robot with several attachments points for motors and sensors. You can build Notch with Lego EV3 Home and Education editions, NXT 1.0, and NXT 2.0 Education edition. Instructables has a great tutorial to help you out with your very first Lego robot. It has listed down each step with pictures. To build the robot, you have to attach wheel, right and left bases followed by supports and pegs. After you have successfully built Notch, work your way through other generations and polish your skills to participate in Lego Mindstorms competitions including World Robot Olympiad!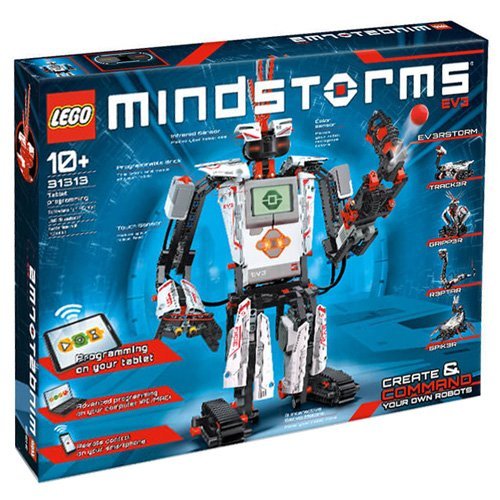 Next time you want to buy a toy for a child, try a set of Legos and let the kid learn from it.
Click To Tweet
2. Lego Catapult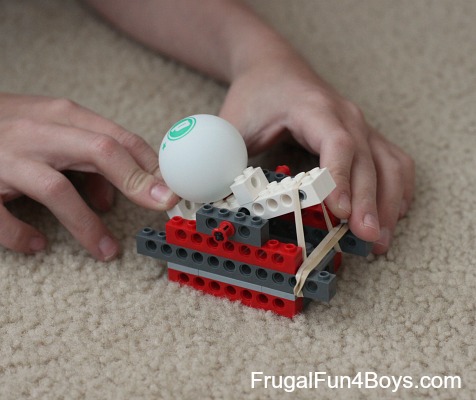 Highly recommended for ages 7 +, Klutz LEGO Crazy Action Contraptions Craft Kit is a wonderful Lego set that will keep your kids occupied for hours. Enough of movies and toys – it is time to do some constructive and fun tasks. Your little engineer will love the project. The kit features 105 Lego bricks, gear, and axles to create up to 16 science projects including a fantastic catapult! The kit has a manual with step-by-step instructions in case you need help. To build a catapult, take 2 2×6 flat pieces and 2 4×1 flat pieces to form a square. Next, make arms from 2 10×1 bricks and 2 1×2 bricks, and connect them via grey pegs. Slide the rod through the grooved parts of the brick and hold them together with red bushings. Loop around the rubber band at one end and apply torque. Now, shoot the ball with a good force! You can check out the instructions at Frugal Fun 4 Boys.
Ideal Lego sets to use for this build are from the Lego Technics family, suitable for more experienced builders.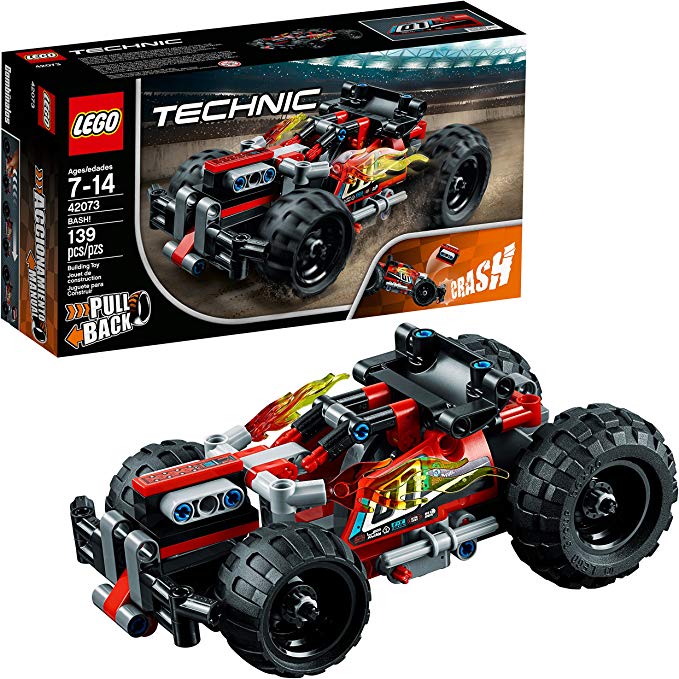 More advanced Lego Technic sets goes beyond stacking bricks, children learn to link them in ways the classic Lego bricks couldn't
Click To Tweet
3. Lego Balloon-Powered Car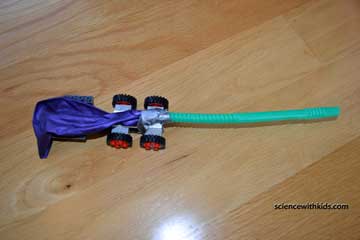 This is a really cool and simple Lego experiment that teaches kids the important rules of physics such as Newton's second law of motion. The project requires a few cheap pieces including flat Styrofoam pieces, Lego building blocks, wheels& axles, balloons, straws, and duct tape. Measure the width of axles to finalize the size of your car body. Trace the shape of the car on a flat Styrofoam piece with a width slightly less than the car body and cut it out. If you have building blocks, you can use them instead of Styrofoam. Connect axles and wheels to the car body with duct tape and ensure that the wheels are able to move and spin. Next, fit a straw tightly into the mouth of balloon and attach it with a piece of tape. Once you have attached the balloon and straw to the wheels and car base, set the car and blow the balloon. Release the air and watch it go off. Make multiple cars and let your kids have a blast by having a Lego car race! Follow step by step instructions at Science with Kids.
Lego experiments teach kids the important rules of physics.. Try these!
Click To Tweet
4. Lego Water Wheel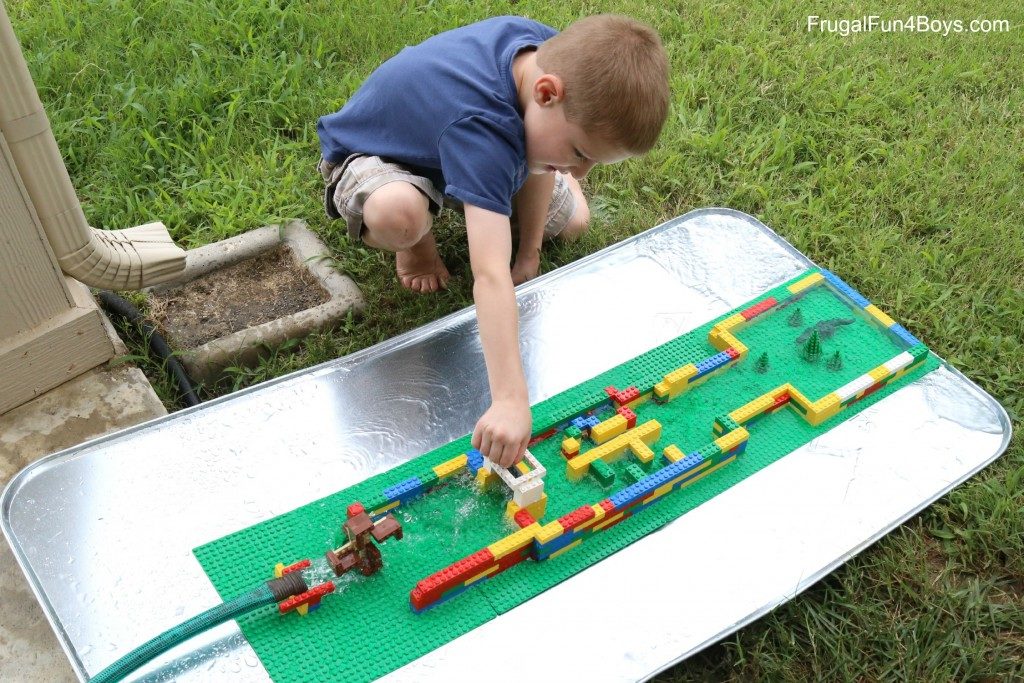 Lego Water Wheel is an awesome STEM-based project ideal for sunny days. Children can spend quality time outdoors and learn about fluid dynamics. Frugal Fun 4 Boys carried out the experiment and they have listed out each step on their site. It does seem a little complicated as it has many parts, but in reality, it is not that difficult. Let me summarize it for you. With the help of duct tape, connect base plates to a large board or a tray. To build a water wheel, use a propeller brick and aim the hose directly at it. Have the wheel move in only one direction, and let the kids figure out which way the water would flow. Next step is to create a door with axle bricks' pivots. The door will stay block the flow of water if closed physically. You can also build a boundary around the tray to keep the water contained. Watch the Lego water wheel spin around here!
The best set to build this if you are just starting off and do not have any Lego bricks lying around is one of the Lego Classic Boxes.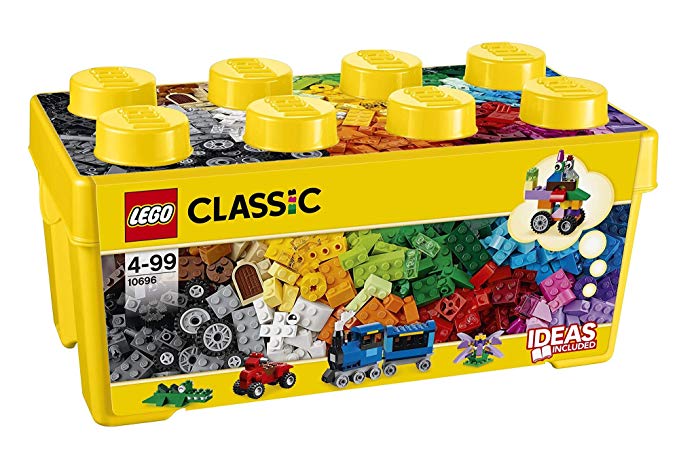 Lego fidget spinner or water wheel? What will your kids try this summer?
Click To Tweet
5. Lego Duplo Paint Machine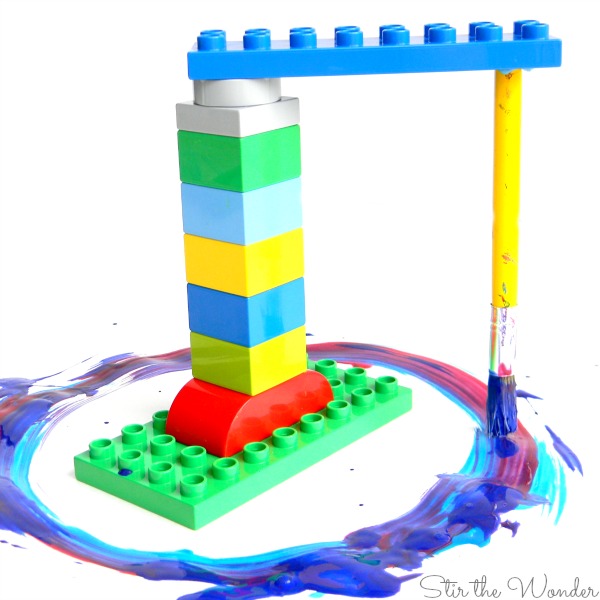 Combine engineering, art and Lego bricks and you have a marvelous STEM project to keep your kids constructively busy. While it is preferable to use Duplo bricks for this activity, other Lego bricks will work just fine too. You need to have Duplo turntable bricks, 2×2 Duplo bricks, 2×8 Duplo plate, 4×8 Duplo plate, paintbrush, paints, white paper sheets, paint tray and blue sticky tack. Prop up turntable brick and attach Duplo bricks and plates over it to create a paint machine. Connect blue sticky tack to the plate. Adjust the height according to your paintbrush. Apply some paint to the paintbrush and attach it to the blue sticky tack. Put the machine over a white sheet of paper and spin it around to create circles on the paper! It is a fun little experiment perfect for preschoolers! Check the full tutorial at Stir the Wonder.
For older kids, check out the Lego Simple Drawing Machine made with Technic pieces, and the Electric Power Functions Motor.
6. Lego Fidget Spinner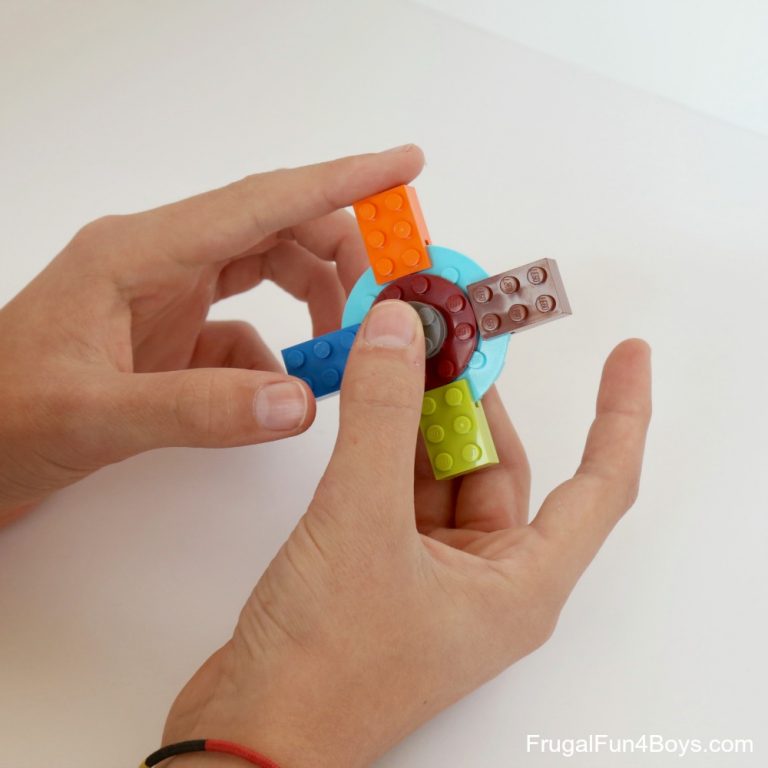 The fidget spinner mania took over the world not long ago. They created such a rage and became popular among kids and grown-ups alike.  If your child adores fidget spinners, help them build one with Lego bricks! Take a 6 x 6 round plate and put a 4 x 4 round plate over and under it. Slide a 2 x 2 round tile onto the axle. Place a round turquoise plate onto the axle and one 2 x 2 plate. You can add arms to make your spinner spin faster. Check out the full tutorial at Frugal Fun for Boys or watch the video.
Productive and fun! Try out these Lego projects!
Click To Tweet
7. LEGO Brick Wind Car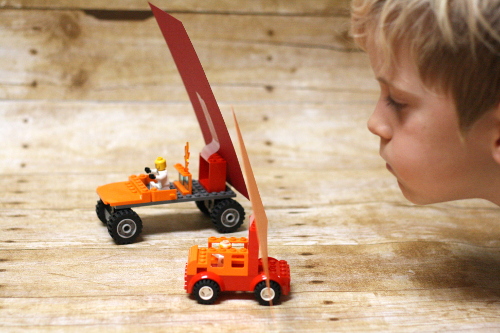 If your kids loved the balloon-car experiment, make an upgrade to wind-powered car! The first step is to build a basic car with Lego bricks, axles, and wheels. Make sure the car is stable at every angle. Once the basic setup of the car is done, cut out 'sails' from a chart paper and stick them to the windshield. The final step is to give the paper a good blow to give your car a speedy spin! If there are multiple children, have a race!
8. Lego Marble Run
Are your kids into marbles and Lego? Lego Marble Run is the perfect project to try this summer vacation. Stem It has an awesome tutorial for it! The first step is to get a large base plate to create the base for the marble run. Next step is to create a maze out of bricks, Lego-shooting weapons, Lego people, trees and animals, and everything Lego! It will take a lot of time and creativity, but it is worth the trouble. Once it is done, throw your marble and watch it run around. Check the neat video below!
[youtube https://www.youtube.com/watch?v=GW1bUpEsC7M]
If you need more bricks to design and build your marble run, get a large creative brick box from the Lego Classic range.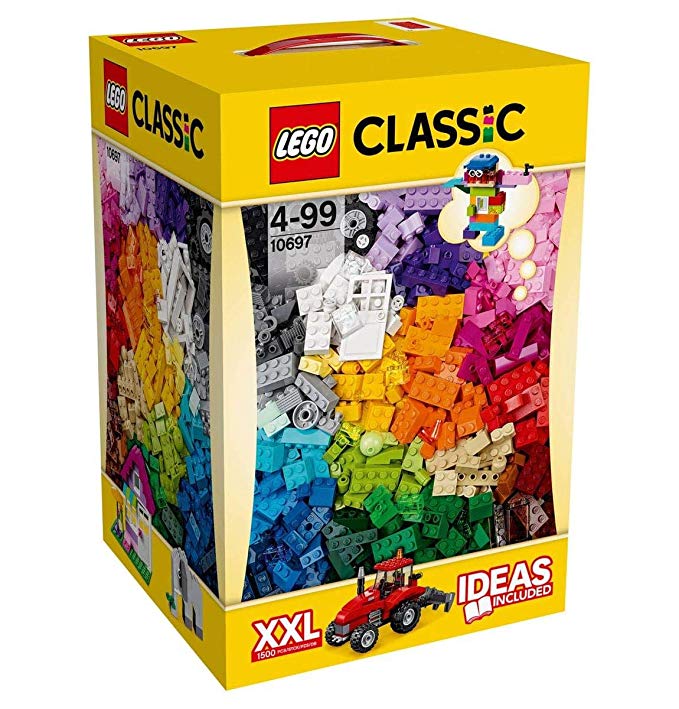 9. Lego Conveyor Belt
When my nieces first saw conveyor belt on a school trip to a factory, they were awed by it. They weren't sure how it worked so we decided to show it to them via Lego bricks! Frugal Fun 4 Boys has yet another neat tutorial that you must try! You can either use a hand crank or a power supply to make your conveyor belt run. You need two sets of wheels with an x-shaped hole in the middle, so you can easily slide them onto axles. Construct the frame with enough room for the belt. To make a belt, use strips of felt material and glue the ends together. Build the ramp, chute, and a container with bricks. You can now attach a LEGO power function motor to the axle and watch the conveyor belt speed up! Watch it in action right here!
[youtube https://www.youtube.com/watch?v=4-hG_IfD5Mw]
10. Lego Boat
Want to sail away across the sea? How about on a Lego boat? To build a Lego boat, you will require Lego bricks, pennies, and a small tub filled with water. First, design your boat on a paper until you are satisfied. Next, build your boat with bricks until it floats on the water. Now, add pennies on to the boat one by one. See how many pennies your Lego boat can hold. Keep redesigning it until the boat holds the maximum number of pennies. Watch the complete tutorial at Kids Steam Lab.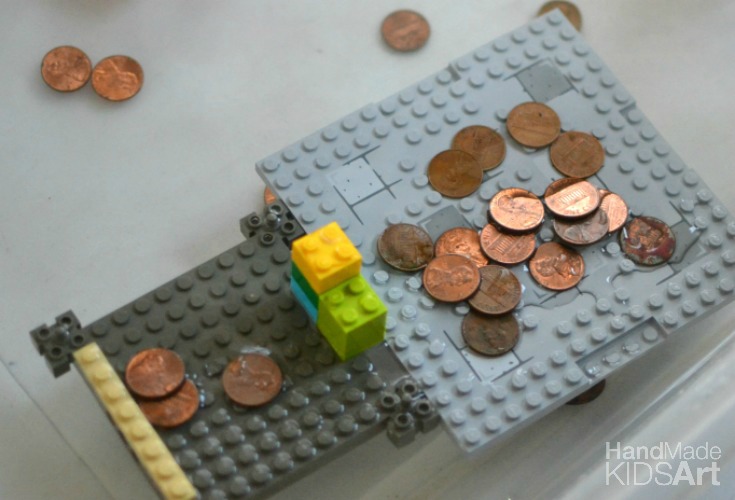 11. Lego Pulley
Simplest of all machines, a pulley consists of a wheel on an axle to support movements. To teach your kids the basics of physics, building a Lego pulley is a great initiative. Lego has a great lesson plan for students in grades 5 to 6 that teaches them the mechanics of machines starting with simpler designs and advancing to more complex ones. Check out Lego Education and learn to build different kinds of pulleys.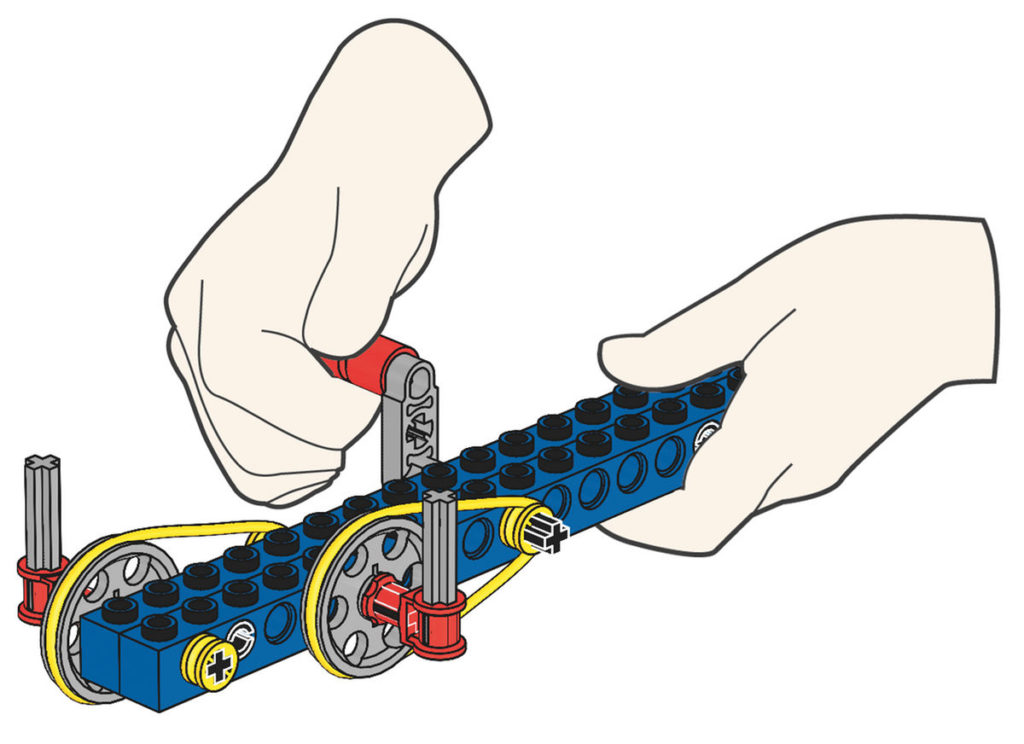 12. Lego Zipline
If your kids are dreaming of zip-lining through a tropical rain-forest, perhaps bring their dream to life by letting a Lego man go on an adventure! To build the adventurous sporty tool, you need a Lego man and bricks. Attach the Lego man to the base plate and create boundaries around him. Next, set up your zipline by knotting a rope tightly on two ends. Tell your Lego man to have a blast and watch him fly above trees and rivers. Visit littlebinsforlittlehands for a complete guide.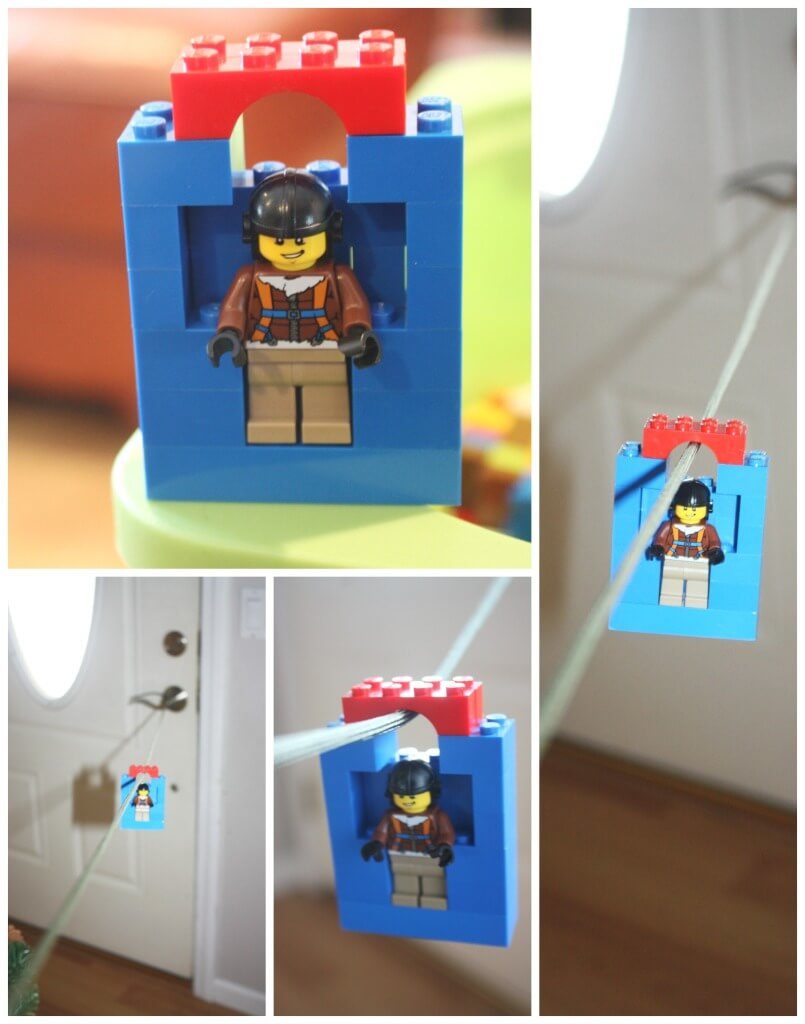 13. Lego Balance
Lego balance is a fun little math and engineering project. Frugal Fun 4 Boys built the balance and had a lot of fun figuring out how much their toy car and crocodile weigh. On a large base plate, build the balance and baskets with connector pieces. Make sure to build the baskets exactly the same or they won't be even. Once the baskets are completed, add objects on each one and compare their weights!
14. Lego Paper Plane Launcher
Packed with fun and engineering lessons, the STEAM activity will keep your children busy in a productive manner. There are two designs mentioned at Frugal Fun 4 Boys; a simpler one and a more complex one. The advanced project is a lot more fun. You will need Lego Technic bricks and axles, a pull-back motor, gears, and large wheels. Build the base and attach two large gears and two small gears. Connect the motor to one of the large gears. The motor will spin the large gear, which in turn will spin one of the small gears and the other large gear. The second large gear will then spin the second small gear. Insert rods into the smaller gears which will turn the wheel and launch the plane. Finish building the launcher and attach your plane and watch it fly away! Read the full guide here.
15. Lego Candy Dispenser
A great project with a yummy treat! To build the candy dispenser, you need base, reservoir, lid and a slider. Create the base with 8×8 bricks and top them with plates. Make stacks of brick and connect it to left and right side of the base. Next step is to connect the slopes to the base. Add a layer of bricks on the top. Build your candy reservoir with transparent bricks. Cover it up by building a lid over it. Make slider with plates and insert it in the model. Fill it up with candies and enjoy! Check the picture guide at Instructables.
[youtube https://www.youtube.com/watch?v=GnnXB9wJa9A]
If your child shows interest in engineering projects, you can enroll them in hands-on STEM-based Lego platforms. Various workshops are held throughout the year that teach children basic engineering rules through Lego activities. For instance, a program named 'Young Engineers' conducts a number of Lego bricks activities for children in UK. They have camps, workshops and they even arrange a session for a birthday party!