When considering an All-In-One Desktop PC, one approach is to get the most powerful unit your budget allows. Due to its design, you won't be looking to upgrade yourself it in any way, not like a conventional desktop. Here, we explore ten seriously powerful AIOs with Intel Core i7.
Some of the All-In-One desktop PCs we reviewed come with a choice of processors, memory and storage configuration. Processors can come from both sides of the divide, AMD or Intel. For purposes of this article, we focus on AIOs with Intel Core i7 processors.
There are two Intel Core i7 in use for the AIOs in our list. These are the Intel Core i7-8700T and the Intel Core i7-8550U. The former is a hexa-core chip running hot at 35W and therefore is much faster, needing active cooling and more room while the latter is an energy efficient quad-core chip with a typical running power of 15W. Both are capable of boosting up their speed to 4.0GHz when needed. See table below for a quick performance comparison between the two Intel Core i7s.
| | |
| --- | --- |
| Processor | Benchmark |
| Intel Core i7-8700T @ 2.40GHz | 12742 |
| Intel Core i7-8550U @ 1.80GHz | 8297 |
Source: CPU Benchmark by PassMark
AIOs with Intel Core i7 processors are available with 24-inch or 27-inch displays. To make it easier, we have listed the best AIOs according to size of its display. Starting with 5 from the 24-inch range followed by further 5 more from the 27-inch range.
Best 24-inch AIOs Best 27-inch AIOs
---
Best 24-inch All-In-One Desktop PCs
1. Dell Inspiron 24 5000 All-in-One PC 23.8-inch (Intel Core i7)
The 5000 series may be the mid-range option sitting between the 3000 and 7000 series but this Dell Inspiron 24 5000 with Intel Core i7 8700T is anything but mid-range. Not only does it come with a hexa-core processor with 12MB cache, clocks in at 2.4GHz with a turbo boost frequency of up to 4.0Ghz, it also has a discrete graphics card, the GeForce GTX 1050 with 4GB GDDR5 dedicated graphics memory. This makes it a high performance machine both for work and gaming.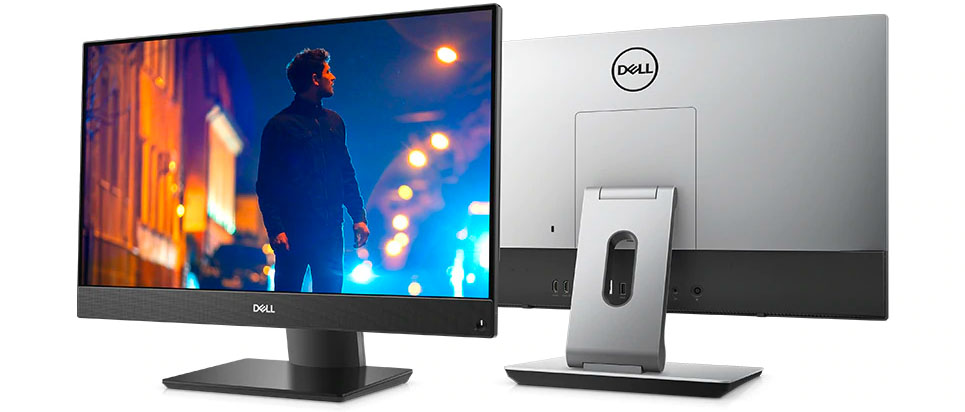 Dell Inspiron 24 5000 on Amazon
Elsewhere, you get 16GB DDR4 memory, super fast 128GB/256GB SSD storage and a spacious 1TB HDD storage. There 23.8-inch Full HD display is wrapped in what Dell term's InfinityEdge bezel, super narrow black bezel that puts the display forward and nothing else. To achieve this, it adopts a pop-up mechanism for the web cam so it can be hidden away when not in use and give it that virtually borderless top bezel. If you prefer your gaming console, HDMI-in port lets you turn the Inspiron into a Full HD monitor. The unit is not short of ports either as it has six USB ports including one Type-C and USB3.1 with PowerShare on the side, 2 USB 2.0 and 2 USB 3.1 Gen 1 on the rear.
Features and Details
Intel® Core™ i7-8700T Processor Hexa-core 2.40 GHz / 4.0 GHz 12 MB cache
RAM: 16 GB / Storage: 1 TB HDD & 128 GB SSD
Graphics: NVIDIA GeForce GTX 1050 4 GB
Dell Wireless Mouse and Keyboard
Ports on the side is pretty handy
PROS
Blazing fast performance
Supersize memory
Great as a gaming machine
Pop-up web cam
CONS
Uninspiring design
Sound could be better
---
2. HP Pavillion 24 All-In-One PC 23.8-inch (Intel Core i7 or AMD Ryzen 7)
The HP Pavillion is a fantastic machine that stops at nothing. While an Intel Core i7 model is available, this here is 23% cheaper using instead an AMD Ryzen 7 processor. An even cheaper version based on Ryzen 5 is also available. But let's get back to the Ryzen 7. The chip comes with AMD Radeon Vega 11 graphics engine perfect for the casual gamer. The faster Ryzen 7 model also comes with 8GB memory, super fast 128GB SSD storage combined with a spacious 2TB HDD. It sounds great too with B&O Play speakers built-in.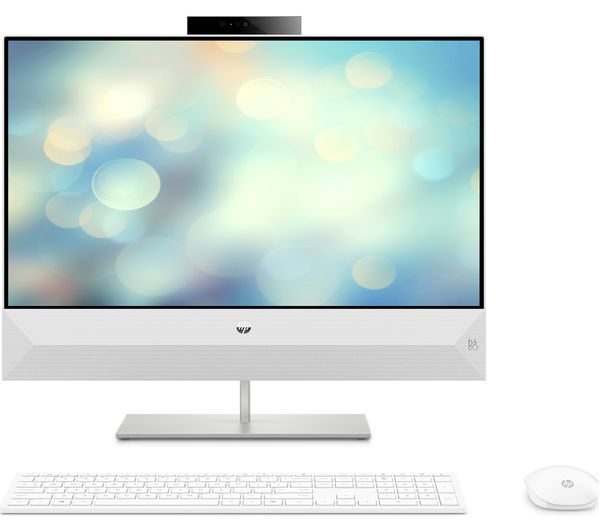 Features and Details
23.8" diagonal Full HD IPS WLED-backlit display (1920 x 1080)
AMD Ryzen 7 2800H (3.35 GHz base frequency, up to 3.8GHz burst frequency, 4MB cache) or Ryzen 5 2600H (3.25 GHz / 3.6 GHz, 4MB) processor
8GB DDR4 SDRAM memory
128GB SSD Storage and 2TB HDD Storage (1TB HDD Storage with Ryzen 5)
PROS
Fast processor performance
Powerful visual and audio integrated
Sleek design with good sound system
Plenty of storage
Gaming fire power
CONS
Compact and colour co-ordinated wireless keyboard and mouse
The Full HD web cam housing is rather big
Wireless adapter takes up a USB port
No ports on the side(s)
For even more power, the HP Pavilion 24 with Intel Core i7-8700T processor (2.4GHz to 4.0GHz with Turbo Boost) and dedicated NVIDIA GeForce GTX 1050 GPU may just be what you are looking for.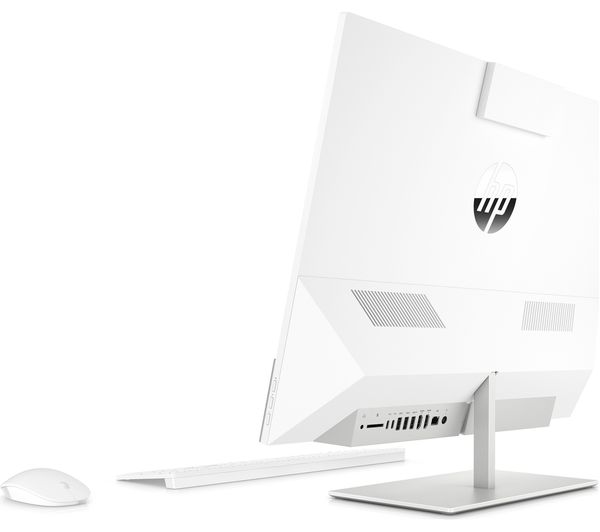 ---
3. LENOVO IdeaCentre 520 All-In-One PC 23.8-inch (Intel Core i5 or i7)
The Lenovo all-in-one PC brings excellence performance and premium look at a reasonable price. It is ultra slim and has a sleek design and you will be astonished by its performance. The Intel Core i7-8700T processor features 12MB of cache, and 6 cores that can automatically dial up its speed depending on the complexity of the task, from 2.40GHz to 4.00GHz. For graphics, the system relies on AMD Radeon 530 GPU. This powers the 23.8-inch Full HD display which is virtually borderless with its ultra narrow bezel. Some models include Intel Optane tech but we would take SSD storage any day.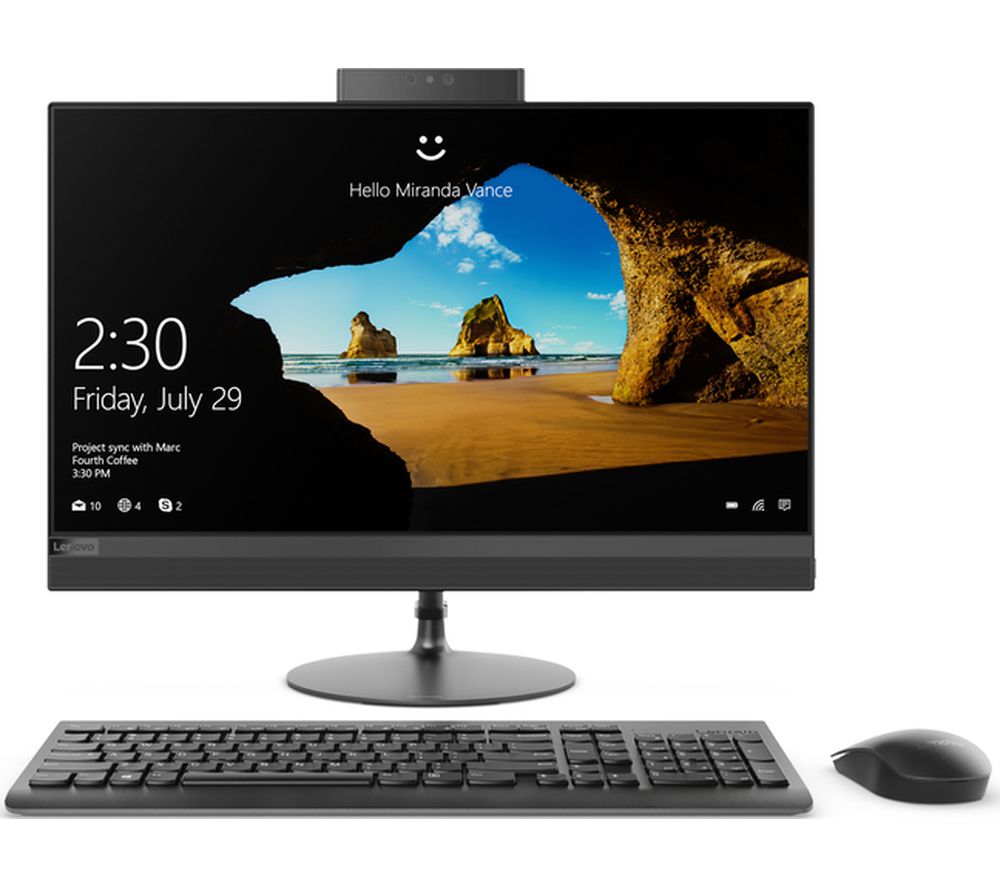 LENOVO IdeaCentre 520 on Amazon
Features and Details
23.8" Full HD (1920 x 1080) 16:9 WVA LED backlit LCD, 250 nits, antiglare, borderless
Intel Core i5-8400T or Core i7 8700T processor
Up to 256GB PCIe SSD storage + 1TB / 2TB HDD storage, DVD drive
8GB DDR4 with 16GB Intel Optane on Core i5 model
PROS
Blazing fast processor performance, absolutely no lag
Attractive design with borderless monitor
Pop-up web cam
HDMI in and out ports
CONS
Outdated keyboard and mouse design
Sound can be a bit tinny
Cheaper models based on AMD Ryzen 3 and Ryzen 5 chips are also available and are generally very well received. Ryzen 5 processors are great for gaming with up to 256% increase up graphics performance compared to the Intel Core i5-8400 above.
---
4. Lenovo IdeaCentre 730s All-In-One PC 23.8-inch (Intel Core i7)
There are two models we have seen with Intel Core i7-8550U processor but with different memory and storage configurations. There is the more expensive model with 16GB RAM and a combination of 2TB HDD and 256GB SSD storage. This would be our preferred choice. However, the slightly cheaper model has equally convincing specs. It comes with 8GB RAM and a combination of 2TB and 256GB SSD storage. The more expensive model also has dedicated AMD Radeon 530 with 2GB GDDR5 memory.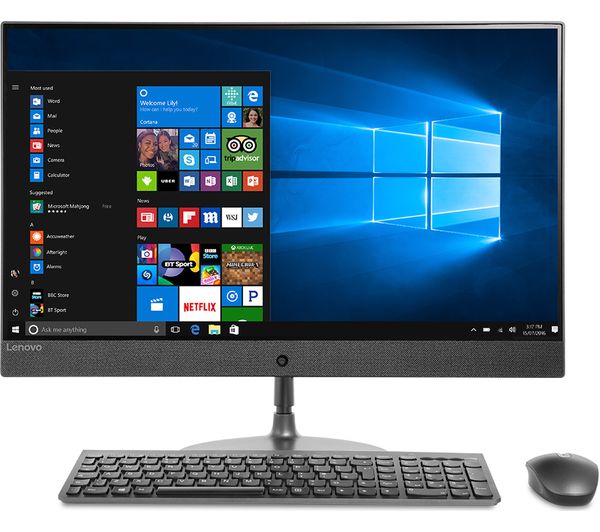 Design wise, you get an ultra thin All-In-One PC in stylish space grey, more compact than some conventional monitors at the same size. The 23.8-inch Full HD display is ultra thin with near zero bezel except for the bottom bezel which carries the web cam and speakers. The Lenovo 730s is definitely one of the smallest we have seen. The only let down is in the sound department, the dual 3W speakers just do not hack it.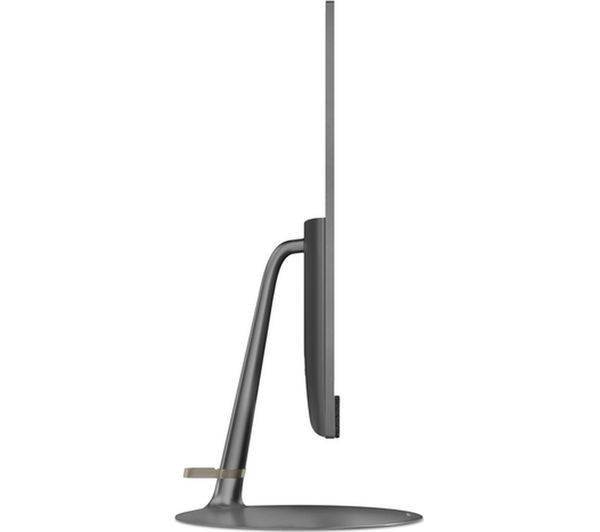 Features and Details
23.8" Full HD (1920 x 1080) 16:9 WVA LED backlit LCD, 250 nits, antiglare, borderless
Intel® Core™ i7-8550U Processor Quad-Core 1.8 GHz / 4.0 GHz 8MB cache
RAM: 8 GB / 16GB RAM and Storage: 1 TB / 2 TB HDD & 128 GB / 256 GB SSD
PRO
Ultra compact design, even smaller than conventional monitors
Super fast processor with choices of memory and storage combinations
Superb styling, sleek and good looking
Wireless keyboard and mouse come ready paired but keys are a bit on the small side
CONS
All ports are located on the back of the display near the center making it difficult to access
Sounds tinny, definitely need separate speakers
Fan can be a little loud sometimes when pushed
---
5. Acer S24 All-In-One PC 23.8-inch (Intel Core i7)
At the heart of the gold edition Acer S24 is the Intel Core i7-8550U processor. It comes with ample memory at 16MB and a combination of super fast 256GB SSD storage and spacious 1TB HDD storage. Together, the processor, memory and storage makes for a powerful machine. It will run any process intensive software you throw at it. With that much memory, one does not have to worry about opening multiple applications including photo and video editing software and multiple browser tabs.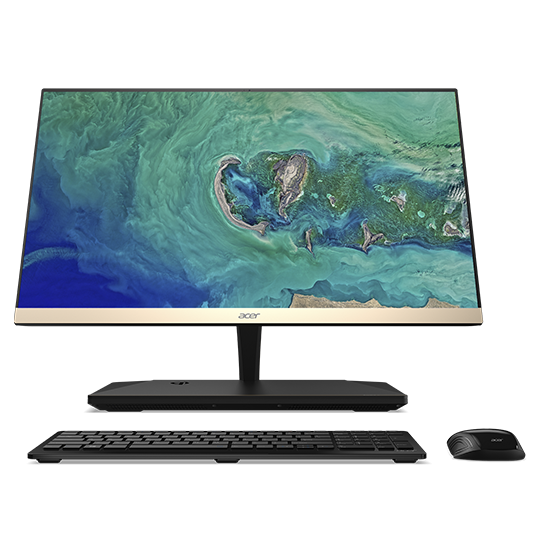 The unit has a bigger monitor base compared to other AIOs as it houses all the computer components leaving the monitor super slim at 5.97mm thin. The base also doubles as a wireless charging pad for Qi compatible devices and as a chamber for the subwoofer and speakers delivering Dolby Audio Premium virtual surround sound. The well thought out system has all its ports, buttons and jack placed on either sides of the base for quick and easy access. Two HDMI ports however are found on the rear.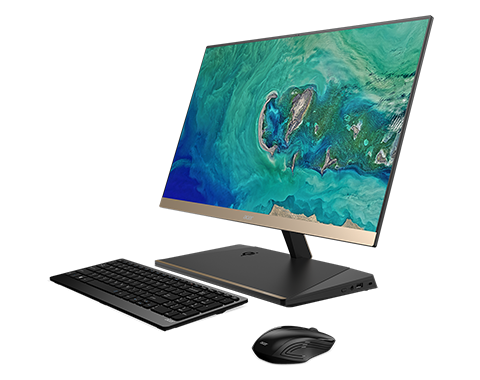 Features and Details
23.8" Full HD (1920 x 1080) 16:9 IPS LCD backlit LED with Bluelight Shield
Intel® Core™ i7-8550U Processor Quad-core 1.8 GHz / 4.0 GHz 8 MB cache
16GB DDR4 RAM and 256GB SSD with 1TB / 2TB HDD storage
Dolby Audio Premium and Acer TrueHarmony from Dual Speakers and Integrated Subwoofer
Wireless Mouse and wireless keyboard
PROS
Elegant and beautifully design AIO with super thin profile in black and rose gold
Blazing fast performance
Tonnes of storage and memory
Amazing Sound
Wireless charging is a bonus and future proof
CONS
---
Bigger 27-inch All-In-One PC
Now for the bigger 27-inch All-In-One PC. This would make it just as big as the iMac 27-inch but not nearly as high resolution as 5K on the iMac. Some displays are Full HD (1920 x 1080 pixels) while others are UHD (3840 x 2160 pixels). Naturally, our choice will be to go for ones with UHD display but this will push the price up significantly.
6. DELL Inspiron 7000 All-in-One PC 27-inch (Intel Core i7)
The Dell Inspiron 7000 all-in-one PC that features a big expansive display measuring 27-inch diagonally. As with Dell, the Inspiron 7000 is customisable and available with any configuration that your heart desires. TheUHD graphics 630 gives you a thrilling experience in the world of both real and virtual. But as we are compiling a list of AIOs with Core i7 CPU, the Inspiron 7000 we chose comes with the 8th Generation Intel® Core™ i7-8700T processor (12MB Cache, up to 4.0 GHz), nothing less.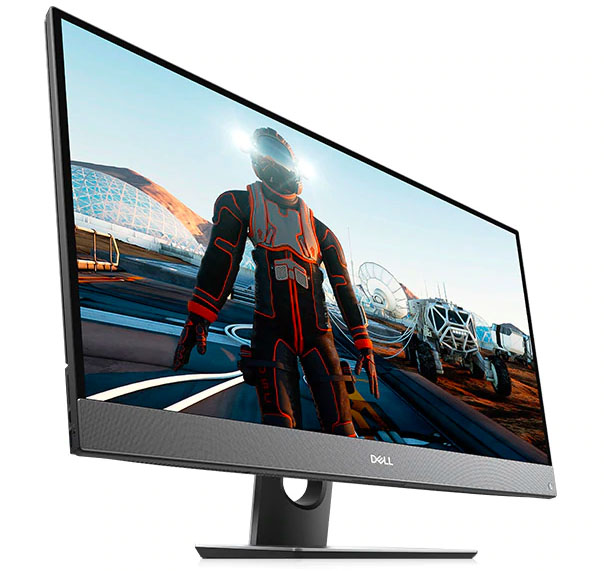 Like the small Inspiron 5000 that top our list for the 24-inch variety, the Dell Inspiron 7000 also features InfinityEdge display and pop-up web cam. It also comes with built-in speakers but what we are most excited about is the Ultra HD display. And, for the gamers out there, you will be glad to know that not only will you get a super sharp and big display but a powerful graphics card to boot.
Features and Details
27" Full HD or UHD IPS WLED-backlit display and frameless 10 point- multitouch (optional)
8th Generation Intel Core i7-8700T processor (12MB Cache, up to 4.0 GHz)
Up to 16GB DDR4 memory, 128GB / 256GB PCIe M.2 SSD and 1TB 7200rpm Hard Drive
NVIDIA® GeForce® GTX1050 with 4GB GDDR5 graphics memory
PROS
Incredible processor performance
27-inch UHD display blows FHD displays out of the water
Wireless mouse and keyboard
CONS
---
7. HP Pavilion 27 All-In-One PC 270-inch (Intel Core i7)
The HP Pavilion brings style and performance right to your doorstep. HP has done it again, the all silver finish, matching keyboard and mouse does let it stand out from the boring black panels we have seen. What is more, the 27-inch display is a Quad HD panel making everything super sharp and crisp. It even comes with DVD writer and 3-in-1 memory card reader.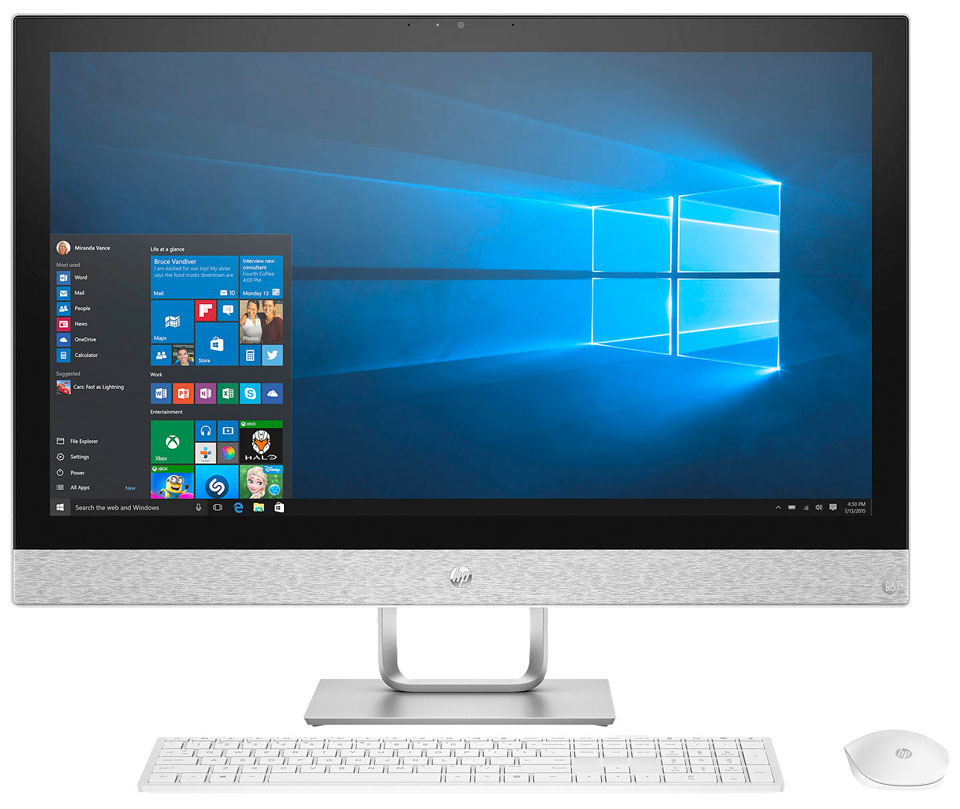 With an industry-leading 8th generation Intel Core i7-8700T hexa-core processor, 8GB RAM and a combination of 128GB super fast SSD storage plus 2TB hard disk drive will chew and spit out everything you throw at it at break neck speed. You will have the power and storage to do it all. We would have liked it if there is more memory but 8GB is plenty for most things. Then there is the discrete AMD Radeon 530 graphics with 2GB dedicated graphics memory to open up doors to the gaming world for anybody.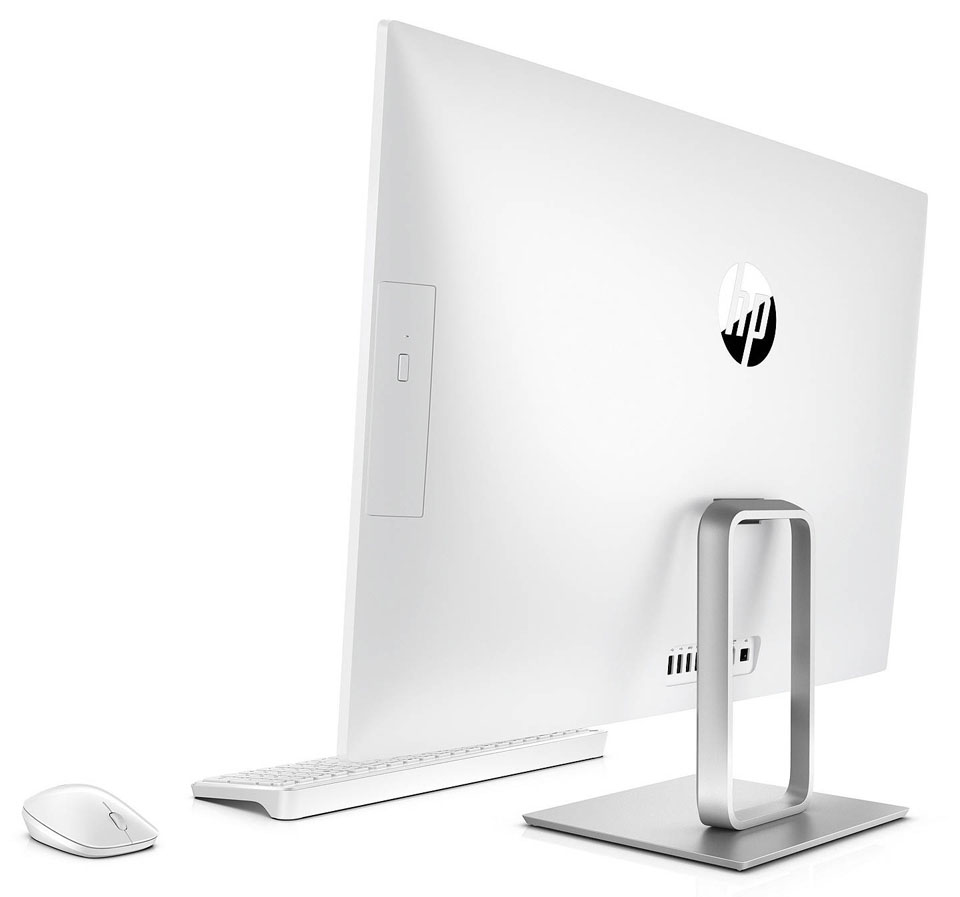 Features and Details
27" Ultra HD IPS display 2560 x 1440 pixels resolution
8th Generation Intel Core i7-8700T (6 cores) 2.4GHz to 4.0GHz with Turbo Boost
AMD Radeon 530 Graphics (2 GB GDDR5 dedicated)
PROS
Beautifully designed All-in-One computer in Blizzard White
Crazy amount of storage
An exceptional processor performance.
Powerful integrated audio and visuals that can serve as an Entertainment system with HDMI input
CONS
---
8. HP Envy All-In-One PC 27-inch (Intel Core i7)
Another entry from HP, this time the HP Envy All-In-One PC also with 27-inch Ultra HD monitor but with integrated touchscreen. It also takes on a whole new design language, one that is darker and more rectangular with sharp edges while maintaining a mysterious and sleek outlook. It differentiate itself from the rest where instead of jamming all the components behind the display, HP has opted instead to use a set-top box styled base. This is the machine that will make iMac users green with envy especially when it supports touch.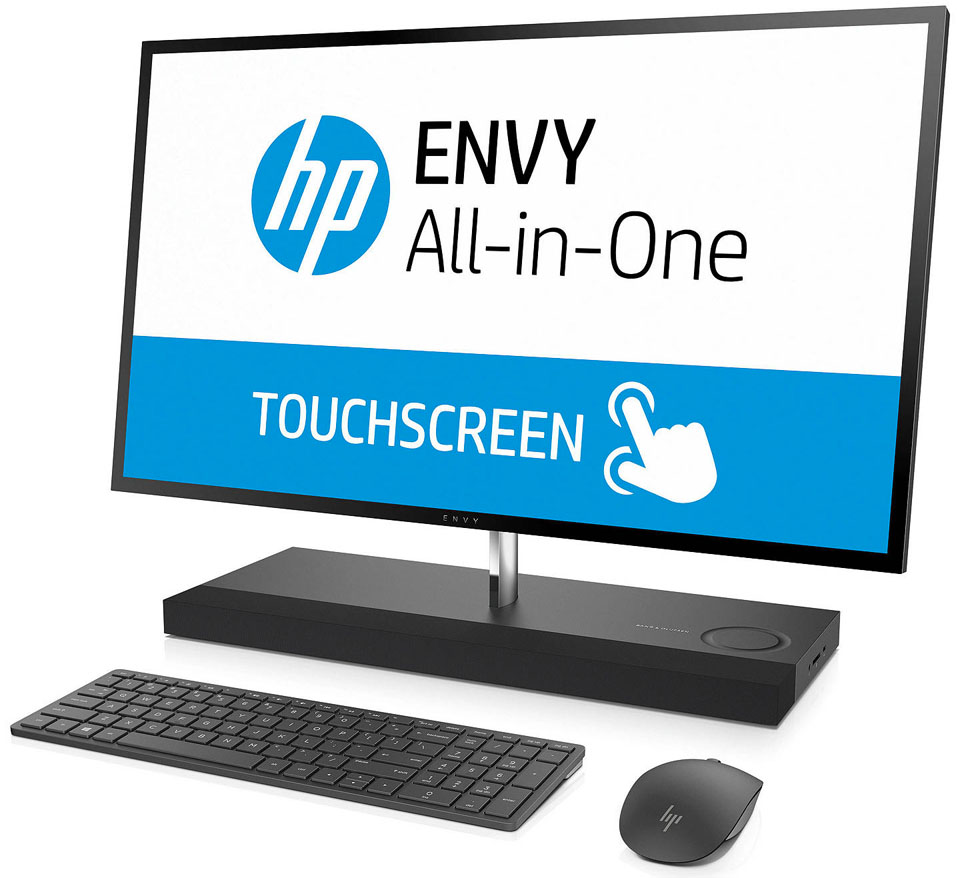 One thing we like about the display besides it being UHD and touch enabled is that it is attached on a hinge that allows it to tilt up to back up to 35° back. It may not be 45° back to make it flat like MS Surface Studio but at that angle and with touch support, it feels a lot like a Studio.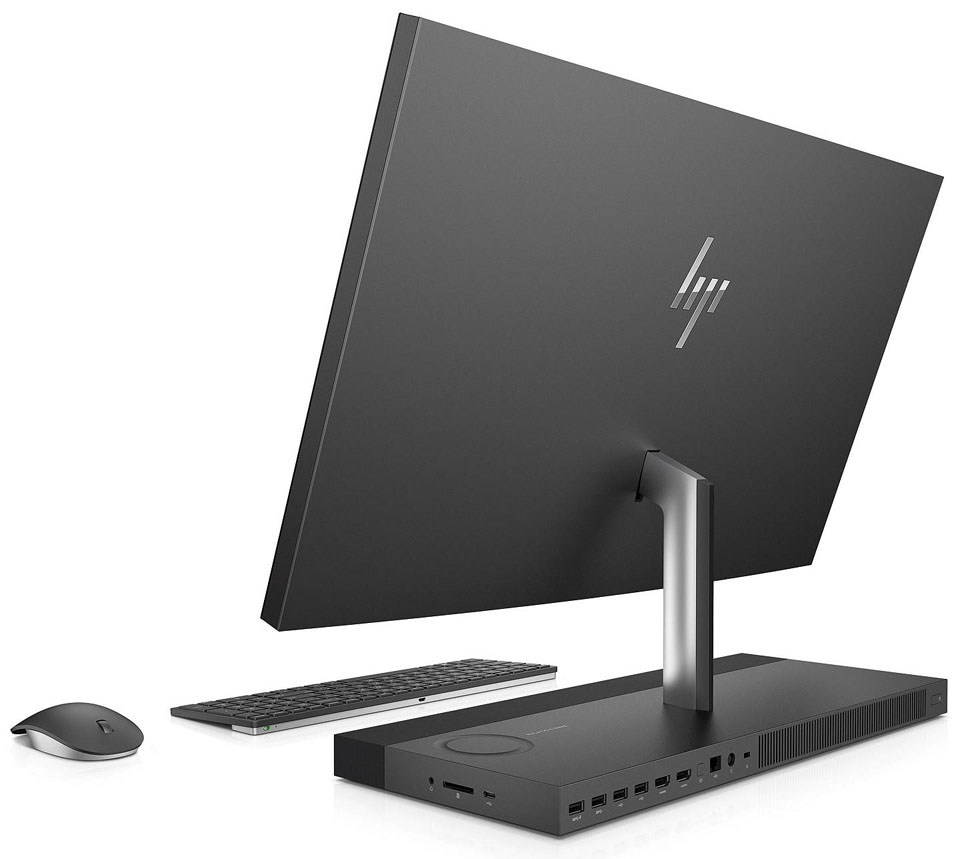 Features and Details
68.6 cm (27″) diagonal 4K IPS eDP anti-glare WLED-backlit touch screen
Intel® Core™ i7-8700T (2.4 GHz, 6 cores)
256GB PCIe NVMe M.2 SSD and 2TB 5400 rpm HDD
NVIDIA® GeForce® GTX 1050 (4 GB GDDR5 dedicated)
8 GB DDR4-2666 SDRAM (2 x 4 GB)
PROS
Stunning design with floating glass Micro Edge display balanced perfectly on a thin metal stand
Incredible performance with sufficient memory and plenty of storage
Superb sound system powered by Bang & Olufsen, dual 8 W speakers
Screen can be tilted backward
CONS
Could do with double the memory
---
9. Acer U27 All-In-One PC 27-inch (Intel Core i7)
The Acer U27 bucks the trend of going bezel free. The display is wrapped around a visibly big black border akin to that found on iMacs. Still, Acer is able to keep the AIO ultra slim, slimmer than the iMac winning it the coveted IF design award. It comes with a specially designed Fanless Acer LiquidLoop™ cooling system to silently maintain the CPU performance, keeping it running at optimum temperature.
Powered by an Intel® Core™ i7 8550U Processor paired with 8GB of memory with 16GB of Intel Optane storage accelerator, the system will load anything in a fly. It does this by creating a bridge between the memory and storage. For storage, it comes with 1TB spindle disk drive. A notable feature of this AIO apart from its proven good looks is the Dolby Audio Premium sound system with integrated subwoofer. This means the system is not only good at crunching numbers, photo and video editing but you can do that along with your favourite jam.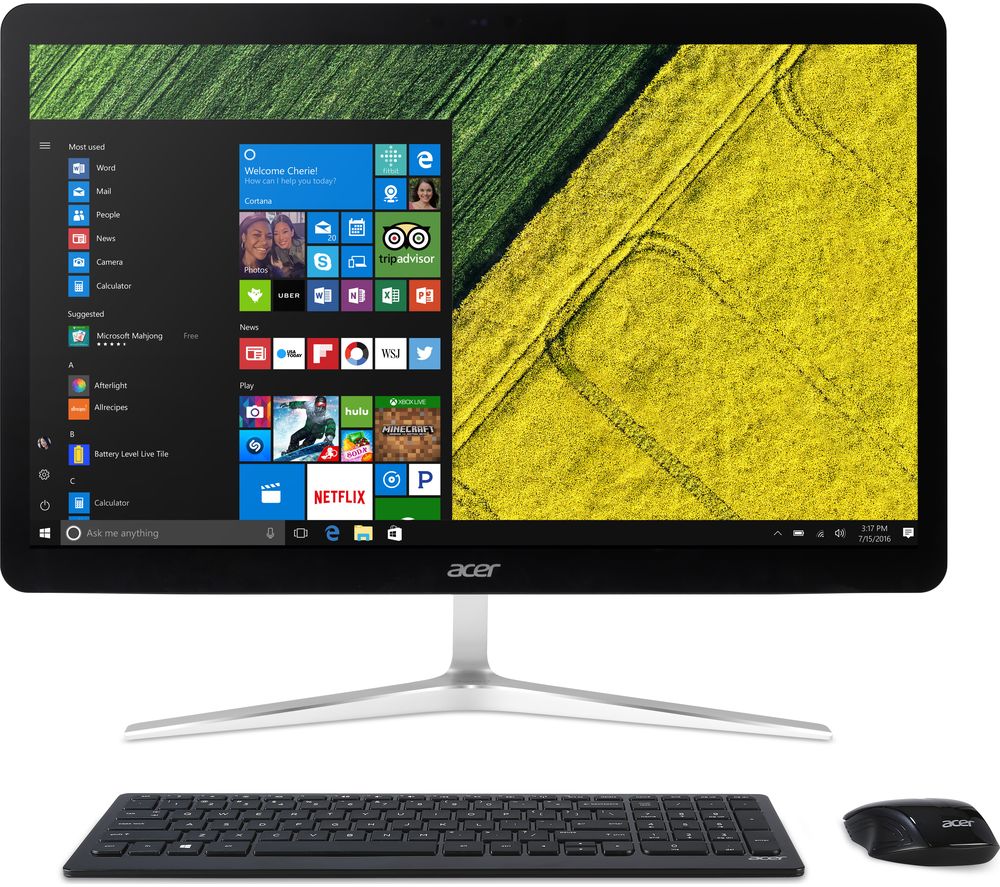 Features and Details
27-inch Full HD 1920 x 1080p LED display with 10-point multi touch support
Intel® Core™ i7-8550U Processor Quad-core 1.8 GHz / 4.0 GHz 8 MB cache
8GB RAM memory supports up to 32GB with 16GB Intel Optane memory
ITB HDD (5400 rpm) storage
Optimised Dolby sound with 2.1 speaker setup
PROS
10 point touch screen
Award winning design
Intel Optane memory is a welcome addition
CONS
lack of SSD storage but made up for with Intel Optane storage accelerator
Keyboard and mouse looks dated
---
10. ASUS Vivo All-in-One PC 27-inch (Intel Core i7)
The ASUS all-in-one desktop PC comes with 8th generation Intel® Core™ i7 8550U processor for uncompromising performance and a huge 27-inch display. It doesn't stop there, as it also comes with a super fast SSD storage and a conventional 1TB spindle hard drive for additional space. The operating system being loaded on the 128GB SSD storage does make it boot up much faster than those than relies on mechanical hard drives. Here is a system that will let you complete your homework assignments, reply to emails, handle large amount of data and files and even play some light games with NVIDIA GeForce MX150 Graphics. Multi-touch capable display is also available. Smaller 23.8-inch and 21.5-inch ASUS Vivo AIOs are also available.
Features and Details
27" Full HD Touchscreen (1920 x 1080 pixels) WideView Display with ASUS NanoEdge Bezel (Multi-touch optional)
Intel Core i5-8250U processor (up to 3.40 GHz) or Intel® Core™ i7 8550U
8GB DDR4 RAM (up to 16GB)
1TB HDD + 128GB SSD (up to 2TB HDD + 256GB SSD)
PROS
Wonderful processor performance
Sleek design with one of a kind solid metal monitor stand
Combination of 128GB SSD storage and 1TB HDD makes it a dream to use
Huge touchscreen display
CONS
web cam is located at the bottom bezel means you have to look down during a video chat
some ports are located at the bottom of the display hampering access
---