There is a disconnect between the conventional graphics tablet, which is essentially a slate based input device and the screen. Marry these together and you get the best of both worlds, being able to use the stylus and actually see what you draw on the built-in display.
Traditionally, graphic tablets with built-in display are expensive and only reserved for professionals. More and more graphics tablets with display have since come into the market, making them more competitively price and affordable. This is good news for the creatives, both professional, teachers and students allowing them to access the tools required to draw, sketch, paint and design on CAD and 3D sculpting, Illustrator and Photoshop.
Tablets with Stylus Support: With actual standalone tablets that support stylus being more and more common, think iPad, iPad Air, iPad Pro, Galaxy Tab S series and 2-in-1 convertible PCs, stylus input becoming more and more common.
Desktop with Stylus Support: The same support is now carried onto the desktop with All-In-One PCs that support stylus input. Sold as the ultimate creative tool, the Microsoft Surface Studio 2 a prime example, a truly brilliant piece of technology inspiring many to create on an expansive and immersive display with the stylus like putting brush or pen on paper.
Graphics Tablet with Built-in Display: Both aforementioned options present a limitation. Each of these require you to fork out for a new device entirely that supports the stylus. To use your existing laptop or desktop, and to make the most of your investment, take advantage of a graphics tablet with built-in display.
Sometimes known as Graphics Tablet Monitor, these displays doubles as a standard monitor and input device. It can be a second monitor if you already have a Full HD or 4K monitor or as a dedicated graphics tablet. Our recommendation would be to get the biggest display you can afford. The bigger the graphics tablet, the more room it offers to let your creative juices flow uninterrupted.
Looking for a smaller more portable drawing tablet: If you are only after small portable graphics drawing tablets up to 13-inch for a even cheaper pen display, see Portable Graphics Tablets with 12 and 13-inch Screens:
Portable Graphics Drawing Tablets with Screen Up To 13-inch
Top 10 Best Budget Graphics Drawing Tablets with Screen
The different sizes of drawing tablet with monitor we considered here range from 11.6-inch to 21.5-inch. The bigger the monitor the better and easier it is to illustrate on. However, one would sacrifice on portability and the ability to take the tablet anywhere when choosing a bigger drawing monitor. We would consider drawing tablets up to 15.6-inch as portable, anything bigger than that would need a permanent place on the desk given its built-in stand and bulkiness. Sizes considered are:
11.6-inch – to take anywhere with you
13.3-inch
15.6-inch
19.5-inch
21.5-inch – to be stationed on desk
What is Classed as Budget Drawing Tablet with Screen
To put it in prespective, when it comes to creative pen displays, the incumbent provider, Wacom sets the standard and pretty much dominates the market until now. Their entry level pen display, the Wacom One with 13.3-inch screen starts at around 400 dollars. The next one up, the Wacom Cintiq 16 which is more mainstream will set you back around 650. It's bigger sibling, the Wacom Cintiq 22 goes for nearly double at around 1200.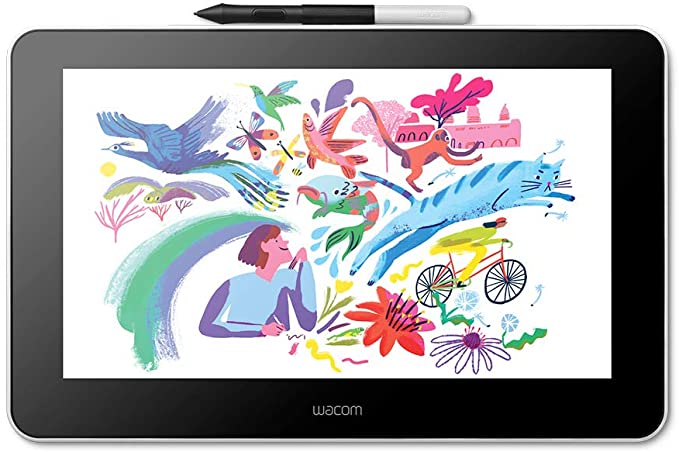 Now, compare this with their professional line preferred by power users, the Wacom Cintiq Pro 13, 16, 24, 32 starts from around 800 to an eye watering 3300 dollar. In searching for budget pen display, we look at comparing the prices based on size of the display with what is available out there. Looking at the price tags on Wacom's offerings, we can safely say that the drawing tablet with display in our line-up are much better value without compromising on performance.
The Huion KAMVAS 13 with its 13.3-inch Full HD display and battery-free stylus is the best alternative to the Wacom One above. The panel is packed with 1920 x 1080 pixels, has high colour accuracy rated at 120% sRGB and comes with a wide 178° viewing angle. That screen is also fully laminated with minimum parallax effect, void of any air gap between the laminate and display.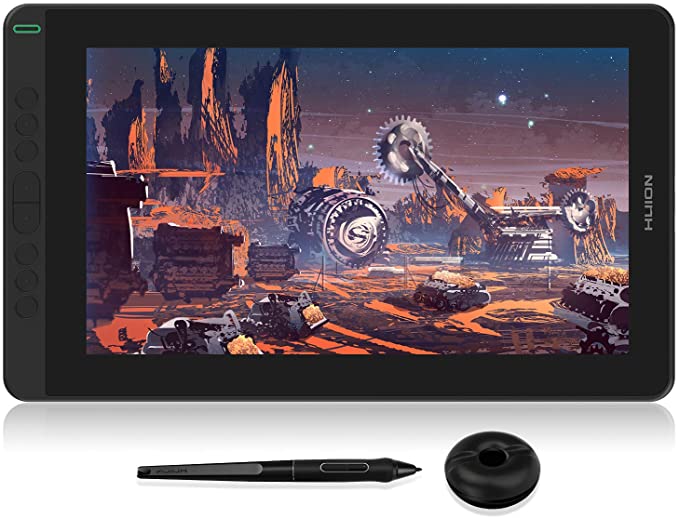 Search HUION Kamvas 13 on Amazon
Accompanied by the Huion PenTec3.0 PW517 that supports 8192 pressure levels and 60 degrees of tilt using capacitive pressure sensor, it offers an accurate and natural drawing experience. The unit is also portable, thin enough at 11.8mm and lightweight at 980 grams to pack it in the backpack and take it with you.
It can be powered via an AC power adapter or using a USB Type-C cable. There are two Type-C ports for connectivity, one that supports the supplied 3-in-1 USB-C to HDMI, USB and Power adapter cable and the second, for direct Type-C to Type-C connection. However, a Type-C to Type-C cable is not supplied.
It doesn't stop there, the KAMVAS 13 comes with 8 programmable hot keys that are customisable according to your workflow and apart from Windows and Mac, it also works with Android operating system. A higher model, the Kamvas Pro 13 is also available (see list below) based on the same display panel but uses an anti-glare glass and customisable keys with a touch bar.
---
1. GAOMON PD1561 15.6-inch Drawing Tablet
The Gaomon PD1561, the successor to PD1560 may not be the biggest but comes with Full HD resolution with 178° super wide viewing angle. The tablet comes with 10 shortcut keys and 5 menu keys on the left side of the display. You can program these for your favourite action. The stylus is battery powered so will need up to 2.5 hours to full charge when flat. Extra nibs are provided in the pen holder.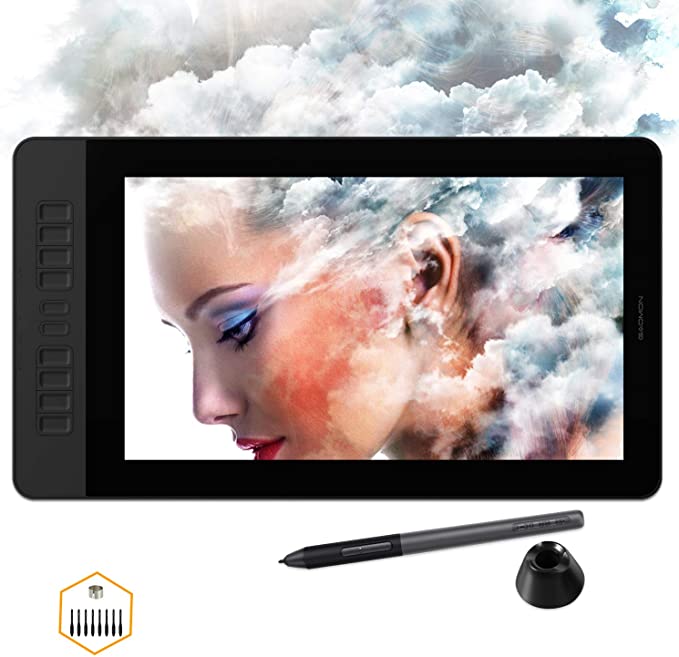 Search GAOMAN PD1561 on Amazon
8192 Levels Battery Free Passive Pen with 2 buttons, Pen Holder and Nibs, Arm Stand
15.6-inch Full HD 1920 x 1080 HD IPS Screen 72% NTSC colour gamut
Drawing Tablet with 10 Shortcut Keys
Windows & Mac Laptop & PC
HDMI and USB connections on computer
shortcut buttons on one side
---
2. Huion KAMVAS 20 19.5-inch Drawing Tablet (GT-191)
The drawing monitor comes with a variable tilt stand, adjustable from 20 degrees to 80 degrees angle allowing for the best working angle. The stylus is battery-free so requires no charging. The big 19.5-inch display offers sufficient contrast and is capable of 120% sRGB colour gamut and wide 178° viewing angle. The display panel is lined with anti-glare glass to reduce glare and strain on the eyes. At this size, it is more suited as a tabletop unit with a sturdy stand. It does not however, come with any shortcut buttons so works well as a second display.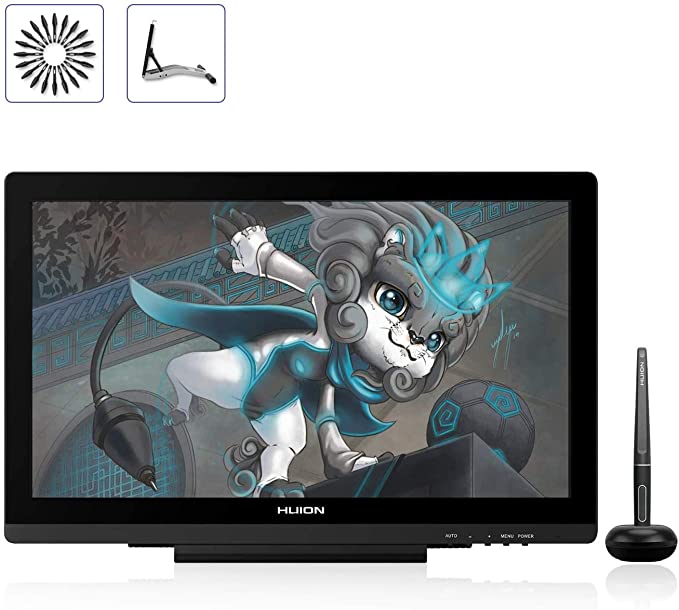 Search HUION KAMVAS 20 on Amazon
8192 Pressure Sensitivity Powered Stylus
19.5-inch Full HD Screen 16:9
Adjustable stand
Windows and Mac
HDMI and USB connections on computer
No shortcut buttons
---
3. Huion KAMVAS Pro 13 (GT-133) 13.3-inch Graphics Drawing Monitor –

ULTRA-SLIM
The second Huion on our list, the KAMVA Pro 13 GT-133 has a slim and portable profile. No bigger than a big tablet, the graphics monitor only measures 11 mm thin and weighs 910 grams. It may not have the biggest display, but at 13.3-inch, it's big enough to get on with some light design work. It also has an updated 3-in-1 cable solution with Type C interface on the tablet end. Power is fed into the three-way adapter that combines power, stylus signal input (USB-A) and video (HDMI) at the computer or laptop end. Unlike the bigger GT-191, the GT-133 comes with 4 programmable keys and 1 touch bar, found on the left side of the drawing tablet. A separate adjustable stand is included, which supports 6 angles, folds flat and weighs only 765 grams.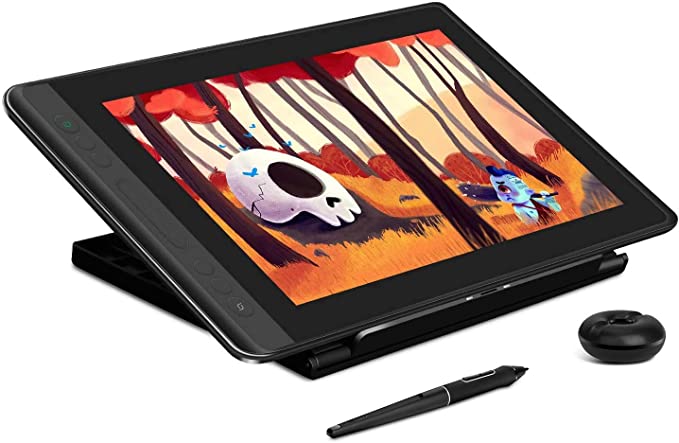 Search HUION KAMVAS Pro 13 on Amazon
8192 Pen Pressure
13.3-inch Full HD Screen
Tilt Function
Battery-Free Stylus
Shortcut buttons and touch bar
Stand included
HDMI and USB connections on computer
---
4. XP-PEN Artist22 Pro 21.5-inch Drawing Pen Display Graphics Monitor
XP-Pen offers a wide range of drawing tablets with monitor built-in. Sizes starts from 11.6, 13.3, 15.6 to 21.5-inch with the Artist 22 Pro. Choice of connectivity includes HDMI, DVI and VGA for video and USB for digitiser input. The 21.5-inch display features 1080p Full HD resolution with 77-82% Colour Gamut and IPS technology for vibrant colours and ultra wide viewing angle. What the Artist22 Pro lack is the array of button on the side. For that you will need the Artist22E Pro. The stylus is rechargeable. Here is a monitor that also doubles as a writing and drawing tablet.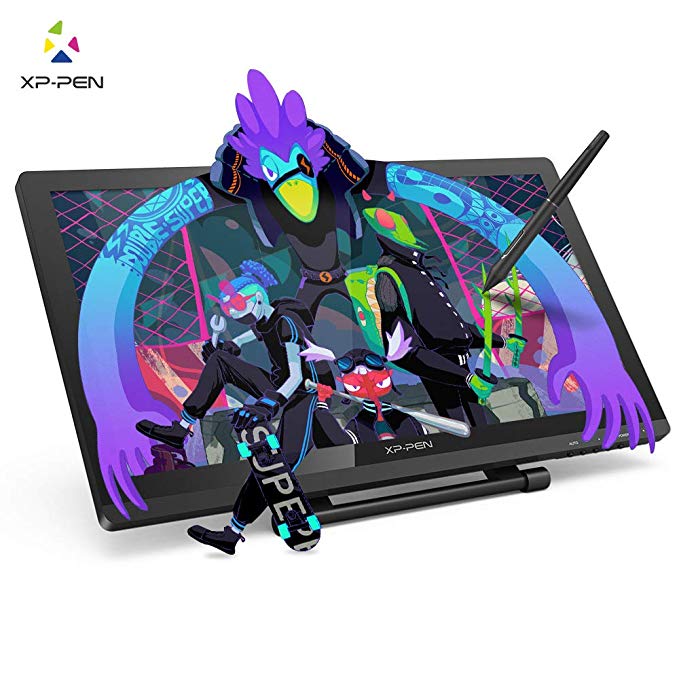 Search XP-PEN Artist22 Pro on Amazon
8192 Levels of Pressure Sensitivity Powered Stylus
21.5-inch Full HD 1920×1080 Screen with adjustable stand
Digital Drawing Monitor with
Windows and Mac compatible
Adjustable Stand 15 to 85 degrees.
No shortcut buttons
---
5. XP-PEN Artist15.6 Pro 15.6-inch Drawing Monitor –

ULTRA-SLIM
The updated Artist15.6 Pro can be powered via USB negating the need for a wall adapter. It uses one HDMI cable for video signal and two USB connections for signal and power. The Full HD generous display features 120% sRGB colour accuracy with IPS technology for 178 degree wide viewing angle It also comes with a fully laminated technology bring the nib of the stylus closer to the display by removing the air gap between the display and protective glass. This also reduces glare with anti-reflective coating. Down the left side of the display are 8 customisable shortcut keys and a red dial in the middle. The entire package measures no more than 11mm thin. A separate stand is included.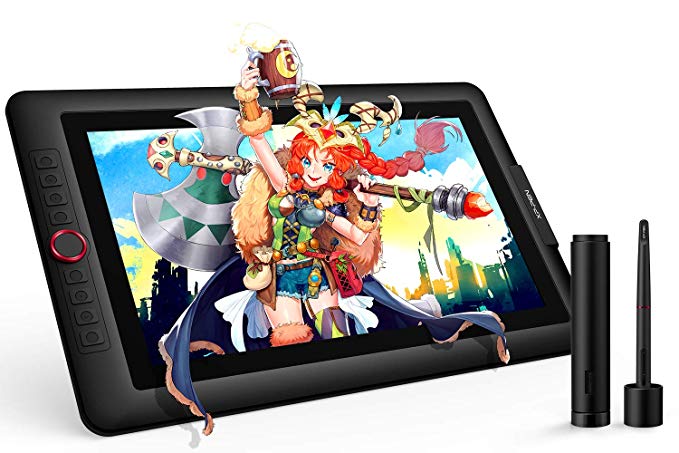 Search XP-PEN Artist156 Pro on Amazon
Full HD 15.6-inch IPS Graphics Display Tablet
8192 Pen Pressure Level
Battery Free Pen Stylus
Shortcut keys and red dial
HDMI and USB-A connections to the computer
---
6. XP-PEN Artist22E Pro 21.5-inch Drawing Monitor
The Artist22E Pro is in every way the same as the Artist22 Pro, except that you get a huge array of programmable shortcut keys, 16 customisable buttons on its side. You can set the buttons function according to your creative habits. The 21.5-inch IPS  display pushes Full HD resolution, with 77-82% colour gamut mounted on a tilt adjustable stand offering 15-85 degree working angles. And, just like the Artist22, it offers a plethora of connectivity options; VGA, DVI and HDMI and USB for video and stylus input.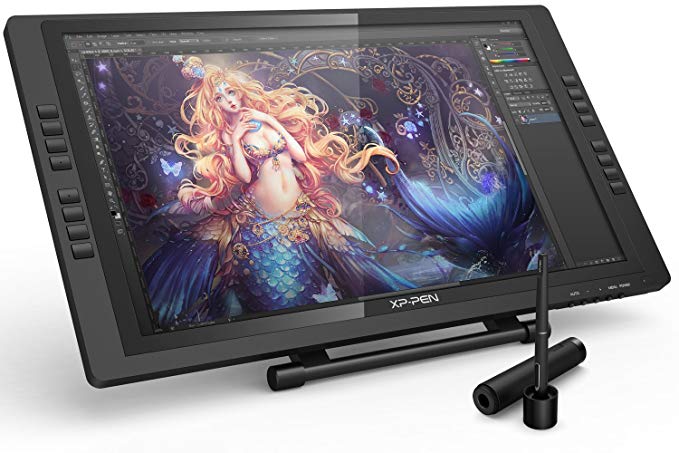 Search XP-PEN Artist22E Pro on Amazon
21.5-inch Full HD IPS Monitor with adjustable stand
8192 Level Pen Pressure Powered Stylus
Windows and Mac Compatible
Plenty of shortcut buttons on either sides
VGA 15-pin D-sub input, DVI input, HDMI input, USB-connector
---
7. Huion KAMVAS Pro 16 15.6-inch Graphic Drawing Monitor –

ULTRA-SLIM
The Huion graphic drawing tablet is a mid-size entry with a slimline body. While the drawing surface is big, it still only measures 11mm thin, similar to a 15-inch tablet, although not a standalone product. Connect it to a Mac or PC and use it as a second display. Move your favourite design app to it and start creating with the battery-free stylus.
That big 15.6-inch Full HD display is fully laminated and lined with anti-glare glass. It is designed to be as close to the display panel as possible to help reduce parallax so that the nib of your stylus goes right above the cursor or brush on the screen. The panel is also colour accurate up to 120% sRGB wide gamut. Next to this display is a cluster of shortcut buttons and touch bar. With 6 programmable express keys and touch bar you never have to reach for your keyboard to adjust the brush or scroll through the page. Note that some reseller may include a stand with the purchase.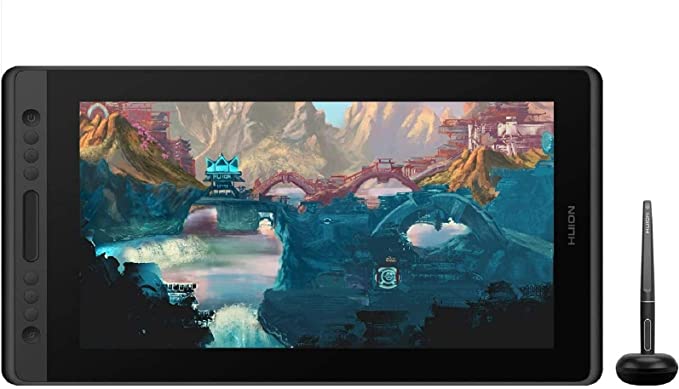 Search HUION KAMVAS Pro 16 on Amazon
8192 Level Pressure Sensitive Powered Pen with Battery-free
15.6-inch Full HD IPS Screen
Mac and PC
6 express shortcut keys and 1 touch bar
Type-C port with 3-in-1 cable with HDMI connection
stand optional although some reseller may include this as a bundle
---
8. XP-PEN Artist15.6 15.6 Inch Drawing Monitor –

ULTRA-

SLIM
The standard option to the Artist15.6 Pro is the cheaper but equally capable Artist15.6. The noticeable difference here is the missing red dial on the left edge. All that is left are 6 custom shortcut keys. Still, the drawing monitor features a battery free passive stylus for hassle free sketching on a 15.6-inch Full HD 1920×1080 IPS 16:9 Display with 178° degree. For connectivity, you will need a HDMI and USB port on your laptop or desktop. MacBooks will need a Type-C to HDMI and USB adapter. The drawing tablet still comes in the same ultra thin 11mm body but lacks a stand.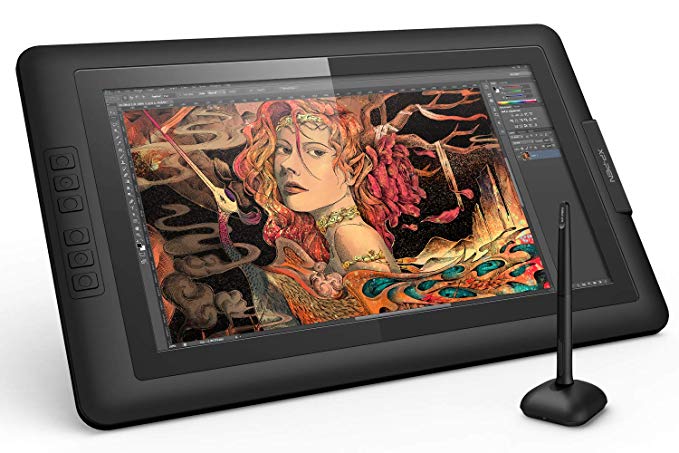 Search XP-PEN Artist156 on Amazon
Pen Display Graphics Digital Monitor
15.6-inch Full HD screen
Battery-Free Passive Stylus
HDMI and USB connections on computer
Shortcut keys
---
9. Huion KAMVAS Pro 20 Graphic Drawing Tablet
It may not be cheap but this big graphic tablet from the KAMVAS series from Huion is a professional drawing tablet with 19.5-inch Full HD display with 178° wide angle viewing, 15.7 million colours and 120% sRGB rich colour gamut. What is more important is that it comes with 8 customisable shortcut keys and 1 touch bar on each side, something that pro-level users are after. These buttons can be mirrored to perform the same function or set to perform 16 different functions. It also uses the new battery-free stylus as the other drawing tablets in the series and offers a vast connectivity options in the form of HDMI, VGA, USB and DP Port. The adjustable stand lets you work at different angles from 20 to 80 degrees.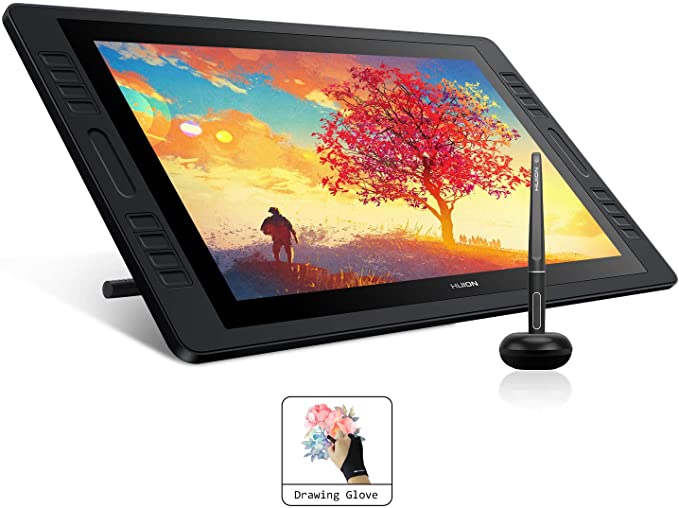 Search Huion KAMVAS Pro 20 on Amazon
8192 levels pressure powered pen
19.5-inch Full HD IPS display with adjustable stand
MacOS and PC compatible
Plenty of shortcut keys and touch slider
HDMI, VGA, DP Port and USB connections
---
10. XP-PEN Artist12 11.6 Inch FHD Drawing Monitor –

SMALLEST
The smallest drawing monitor in our list with a display measuring just slightly bigger than the standard tablet, the XP-PEN Artist12 comes with a 11.6-inch Full HD panel. It means that the image is super sharp given that it packs the same amount of pixel compared to the bigger 13.3, 15.6 or 19.5 and definitely that 21.5-inch display on our list. It can be restrictive given its size no matter what you work on but if a cheap and portable drawing tablet is what you are after, you can't go wrong with this one. Smaller does mean cheaper here and the XP-PEN Artist 12 is perfect for starters. Plus, it comes with 6 customisable shortcut keys and a touch slider. The latter can be used as a zoom slider to compensate for the size of the display.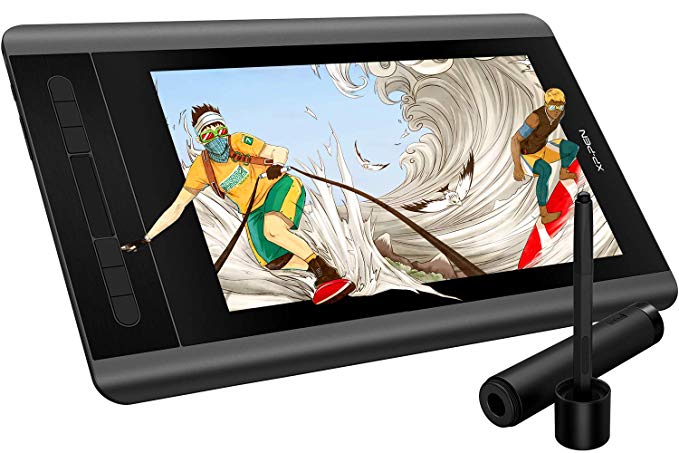 8192 level pressure sensitive pen
11.6-inch Full HD screen
6 shortcut keys and 1 touch bar
PN06 Battery-Free Multi-Function Pen
Also consider: GAOMON PD1161 11.6-inch Drawing Tablet. It comes with a battery free 8192 level pressure sensitive pen with tilt support. The 11.6-inch also supports Full HD resolution and next to the screen is an array of 8 shortcut keys customisable for your application. The entire package weighs 866 grams so it is portable too.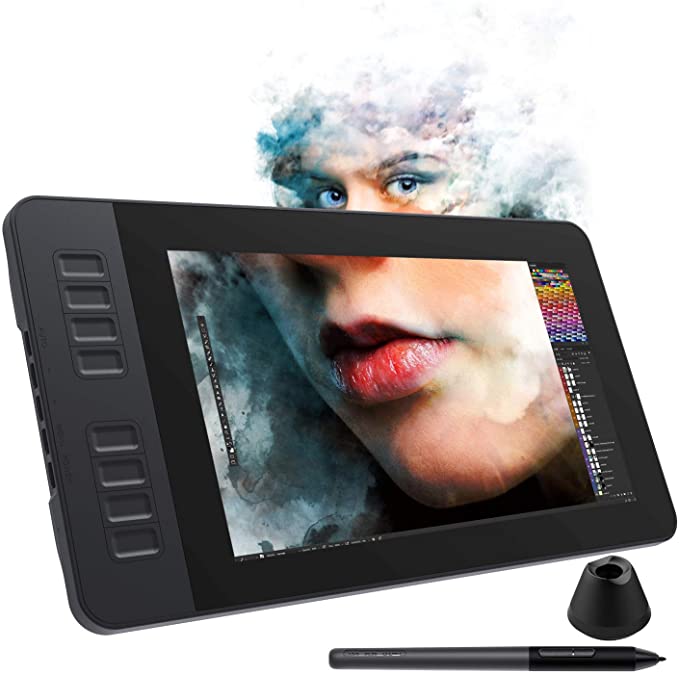 Search GAOMON PD1161 on Amazon
---
Graphic Drawing Tablets with Display Bigger than 20-inch
So far, we have balanced the size and cost of our graphic drawing tablets to fit with the budget list above. For bigger graphic drawing tablets, choose  XP-PEN Artist22 Pro (above), XP-PEN Artist22E Pro (also above) or the Huion Kamvas Pro 22 for a 21.5-inch display. For an even bigger pen display, pick the Huion Kamvas Pro 24 with 23.8-inch 2.5K QHD display. Again, these will cost more but nowhere near the astronomical prices of its Wacom equivalents.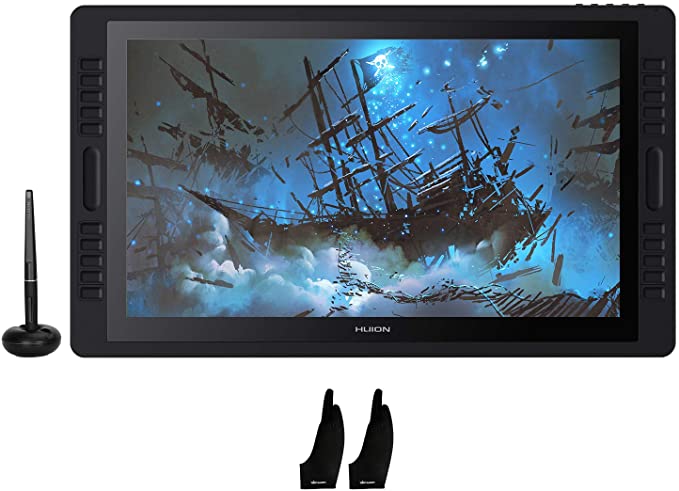 Search Huion KAMVAS Pro 22 on Amazon
Search Huion KAMVAS Pro 24 on Amazon
Your Expensive Options
If money is no object, consider one of these Wacom tablets. But be warned that it does come with a hefty price tag.
Wacom Cintiq Pro 24 Touch Graphic Tablet Pen
Wacom Cintiq Pro 32 Touch
Wacom 16-Inch Cintiq Pro Graphics Tablet with Pro Pen 2
Wacom 13-Inch Cintiq Pro Full HD Interactive Pen Display